Mexicali chopped salad is a bright, colorful and fresh salad. Perfect for summertime light lunch! And the creamy cilantro dressing isn't to shabby either.
Summer is just around the corner. My girls had their last day of school on Wednesday and I'm so happy to no longer have to pack lunches and even more so, wake up at 6:30 to drop my oldest off at the bus stop.
Speaking of lunch, let's chat about this here salad. If I was to pick a salad that represents summer best, this would be it.
Mexicali chopped salad is brightly colored with vibrant vegetables and drizzled with an easy, fresh homemade salad dressing… I could eat this every single day. Actually, I did last week and just might this week too.
Avocados are a staple must-buy when grocery shopping. Whether they're for making guacamole or salsa… sliced, diced or even blended into dressings, avocados are at home atop any summer salad.
So versatile… so good.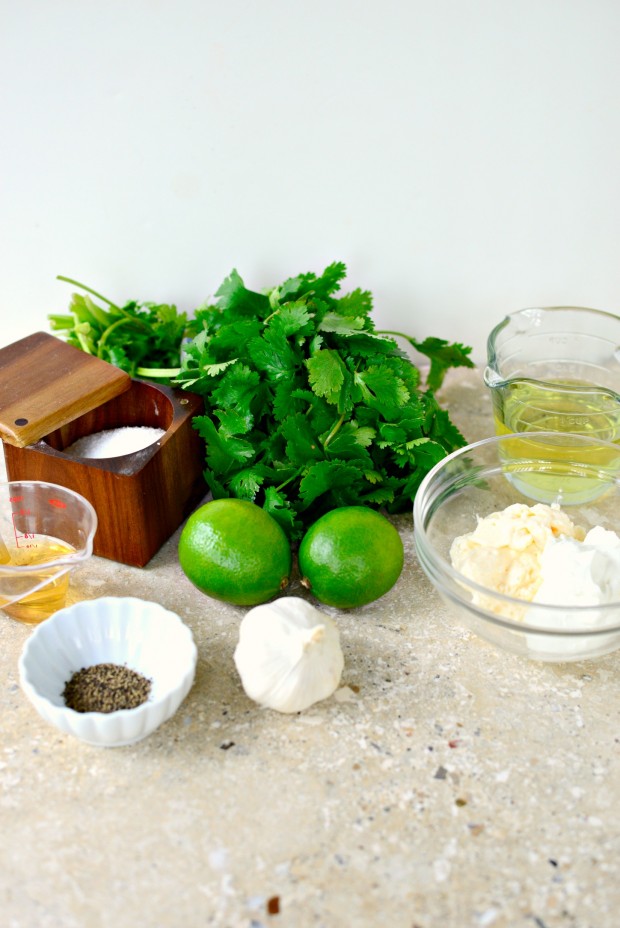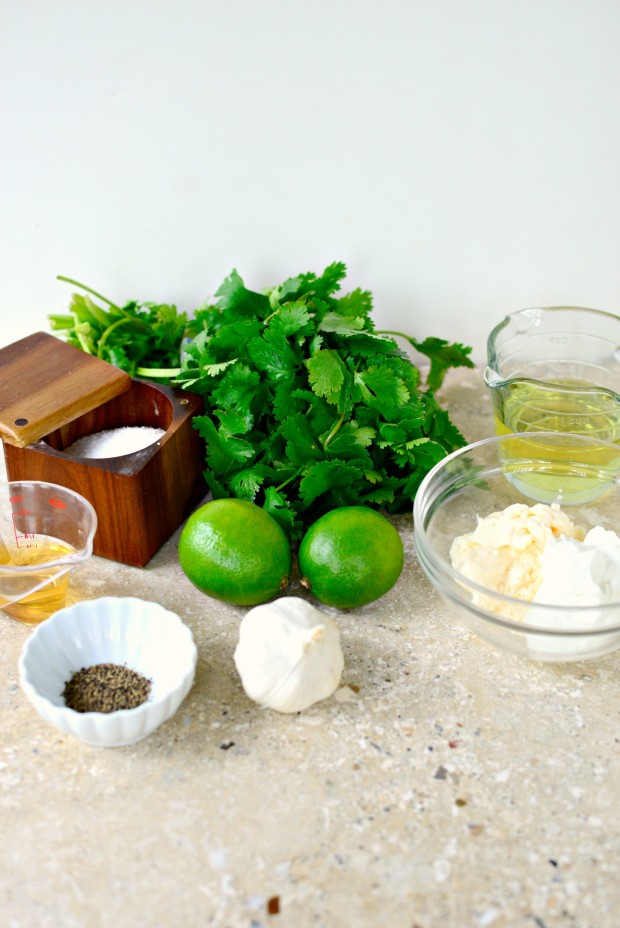 This creamy and dreamy dressing tastes amaZING. As you can see it only calls for a few ingredients, a mini blender and 5 minutes of your time.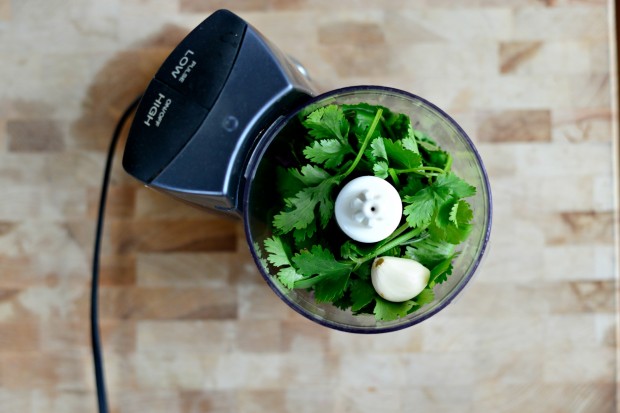 Throw a heaping cup of cilantro and 1 clove of peeled fresh garlic.
Add in a 1/4 cup both sour cream and mayonnaise and 1/2 teaspoon kosher salt and 1/4 teaspoon of coarsely ground black pepper.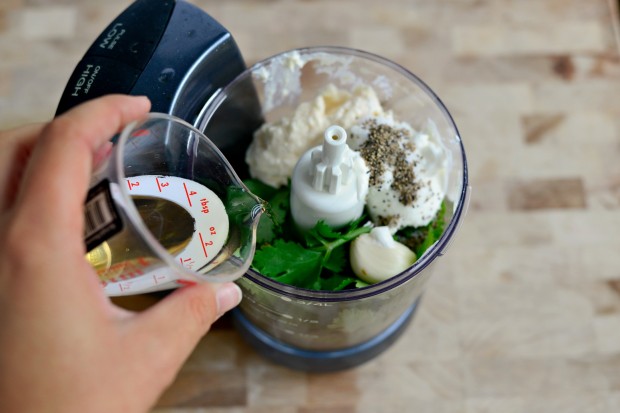 Add in two tablespoons of white wine vinegar…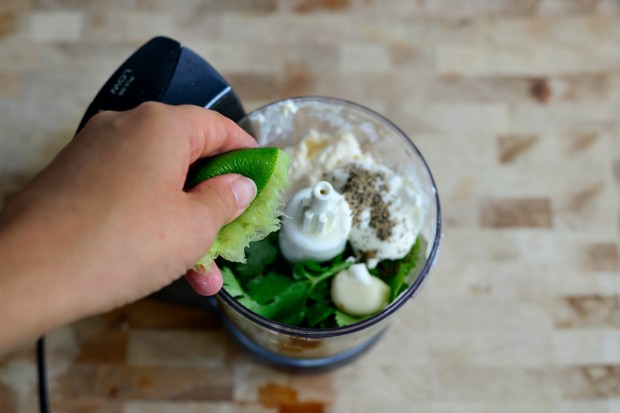 The juice of two limes or about 2 tablespoons, depending on just how juicy those limes are. My limes were pretty dry and not very juicy so I had to use two… but if you land a big, super juicy lime… then that might be all you need.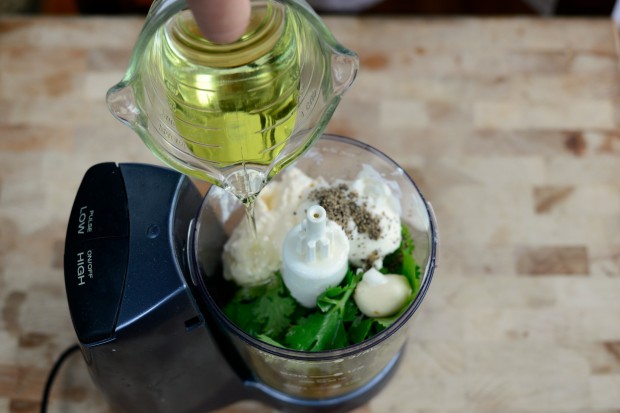 Lastly, pour in a half cup of grapeseed oil.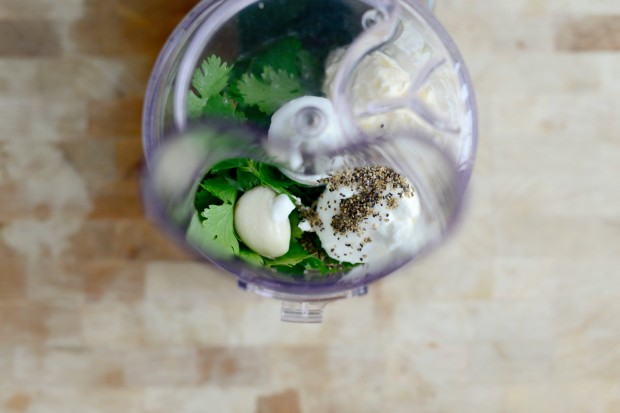 Secure the lid…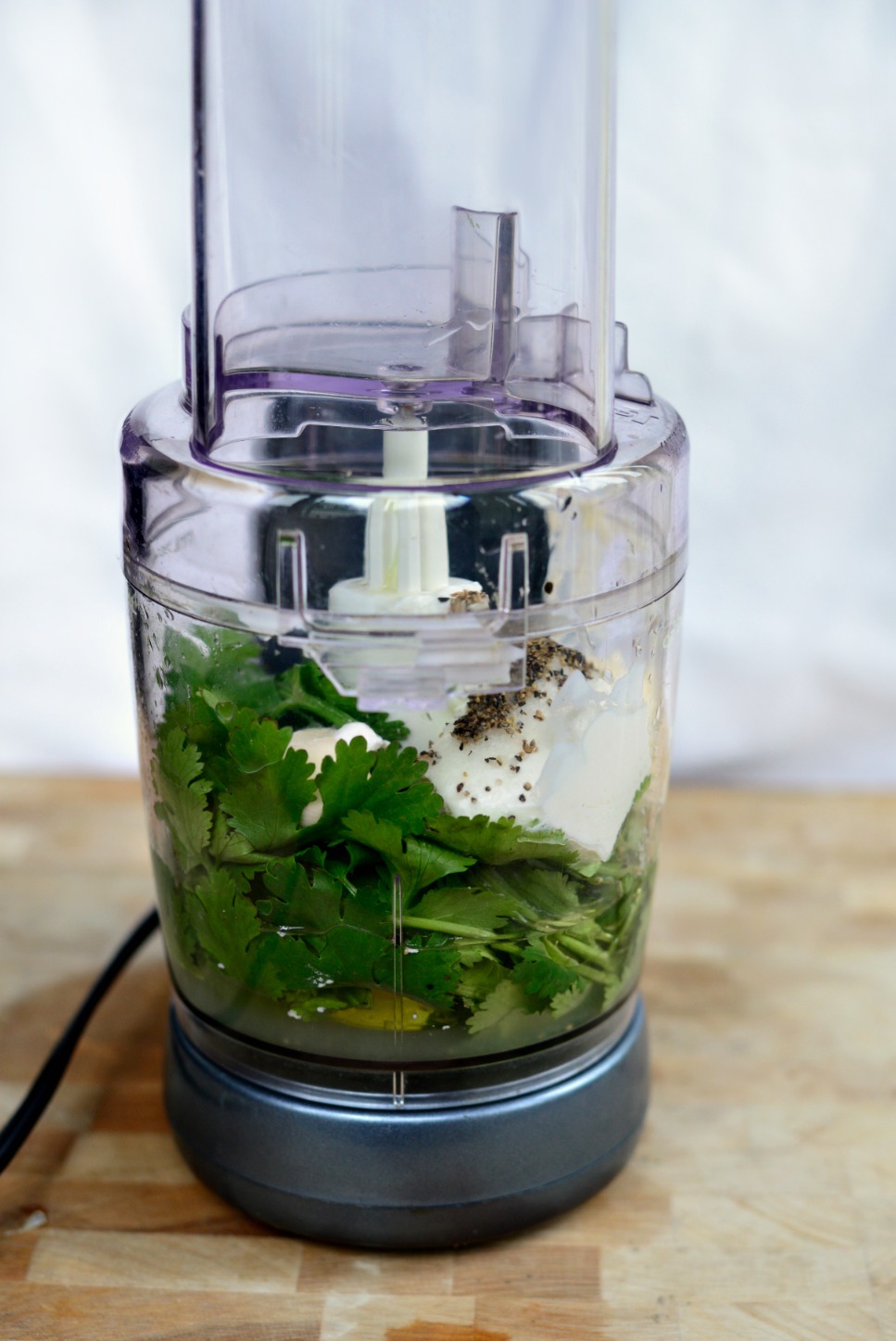 …and blend away!
There it is. Now just pour into a jar or container with an airtight lid and refrigerate until you're ready to use. This dressing should last a week… or 4 salads.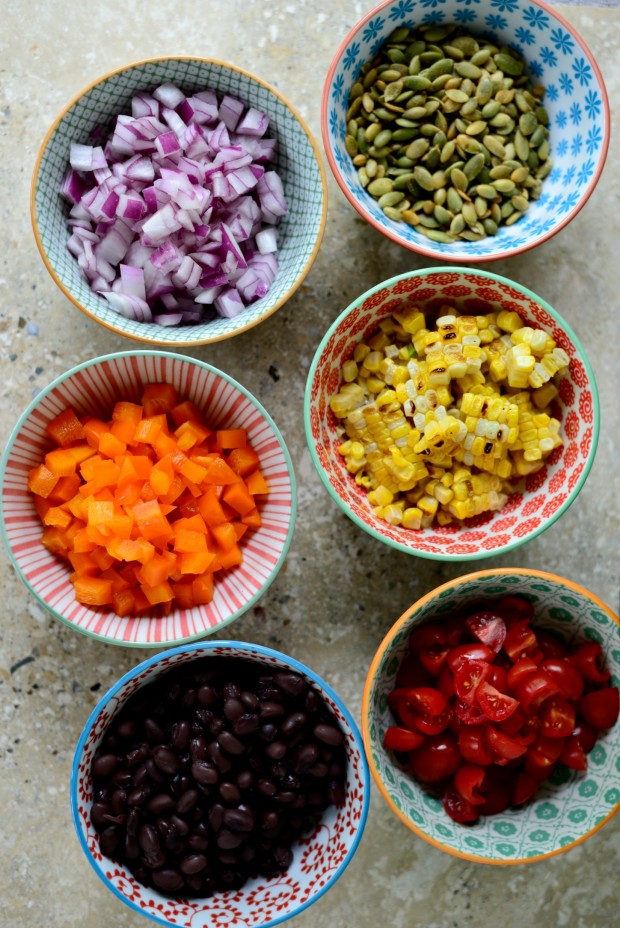 The toppings for this Mexicali chopped salad are cherry or grape tomatoes, orange sweet bell peppers, grilled corn, roasted pepitas, avocados [not pictured], red onion and black beans. Obviously I'm representing the rainbow here.
Now for the greens. I bought a big head of romaine… not the kind in the bag, but the one that looks like it was pulled from an actual garden and is usually damp from water mist. Funny story actually. I was scared out of my mind while I was reaching for this romaine head when suddenly I was getting sprayed. I'm positive that I looked ridiculous because I jumped back three feet and maybe I even yelped a little. I'm even more positive that there's someone in some control room with cameras and a finger on the spray'em button playing tricks on those poor souls who reach for the produce.
Top the chopped romaine with some of the grape tomatoes, orange peppers and corn… I LOVE grilled corn so expect to see lots of recipes calling for it over the next few months.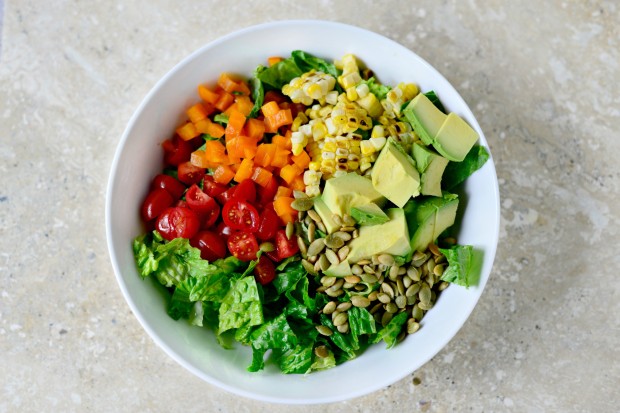 Avocado and toasted or was it roasted pepitas give this salad a touch of  crunch and a up the creamy factor.
Even if you're not making this salad, remember to add fresh Avocados from Mexico to your favorite summer dishes — including side salads and salad entrées — for a burst of creamy yet refreshing flavor.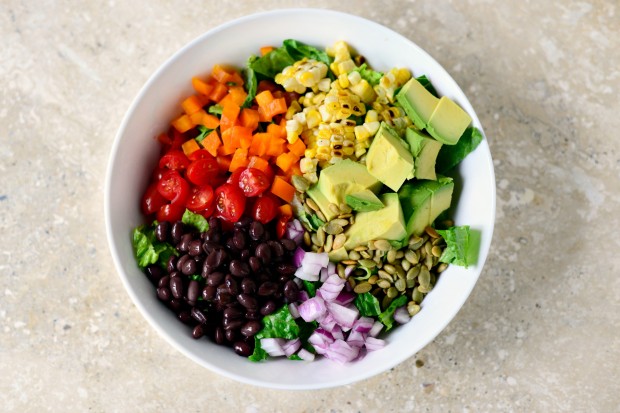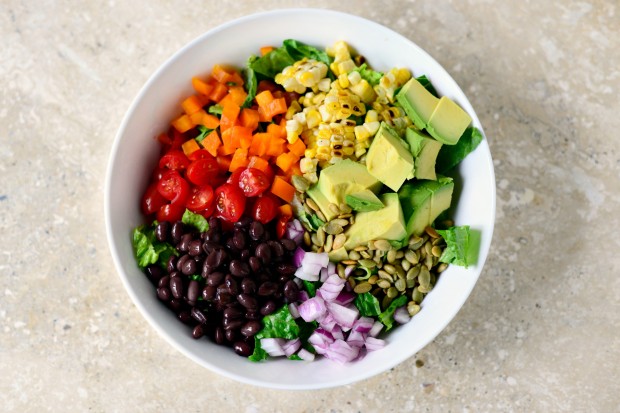 Red onion for that sharp bite and black beans not only add texture but protein to keep you going.
Taste the rainbow.
Wait, don't forget to grab the dressing!
And pour it ALL over the Mexicali chopped salad.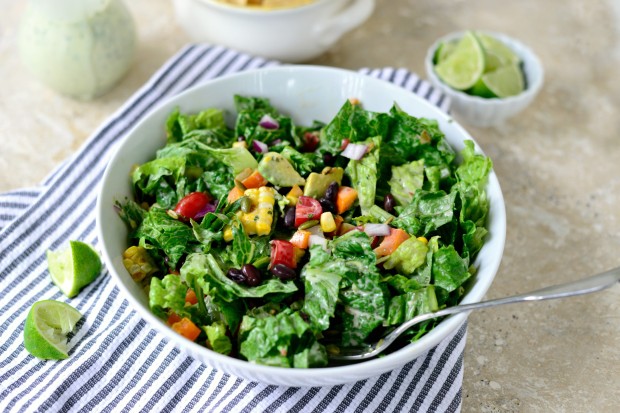 Then squeeze some extra lime over top, or maybe that's just me. I'm in love with extra lime in everything; Mexicali chopped salad, gin and tonics… you're picking up what I'm laying down here. I also sprinkle it all with a little flaked sea salt and give the whole big bowl of salad a toss. The ripe avocados sort of blend in with the salad and dressing, intensifying the creamy factor.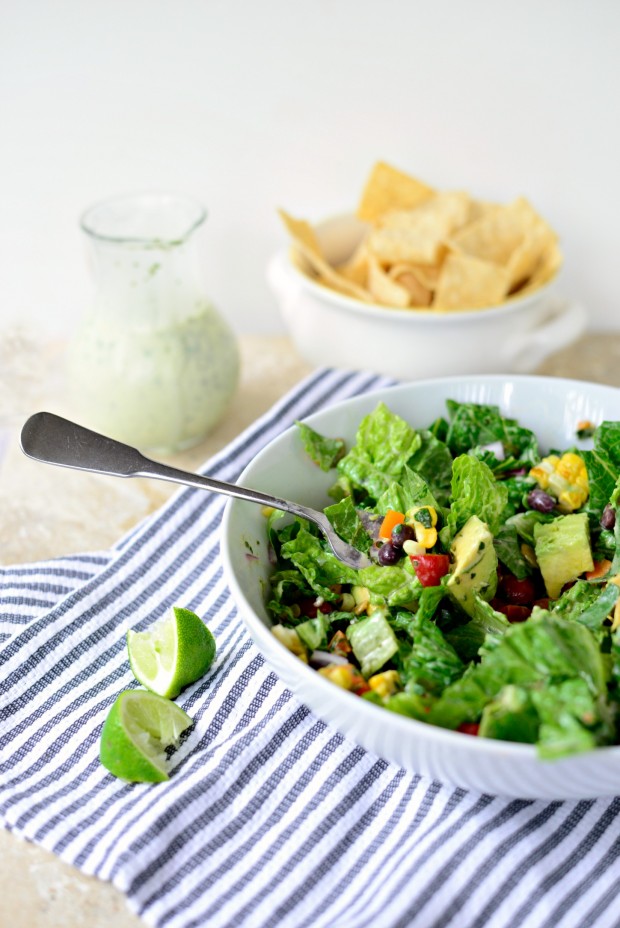 Grab a fork and go to town on this fresh Mexicali Chopped Salad. Eventually I ditched the fork and went straight for the tortilla chips and like I do with my burrito bowl from Chipotle; I dunk, chew and repeat.
PS. the thing I love best about a salad with lots of add-ins… is when the lettuce is gone and all those goodies have collected in the bottom of the bowl and coated perfectly in dressing. Delish.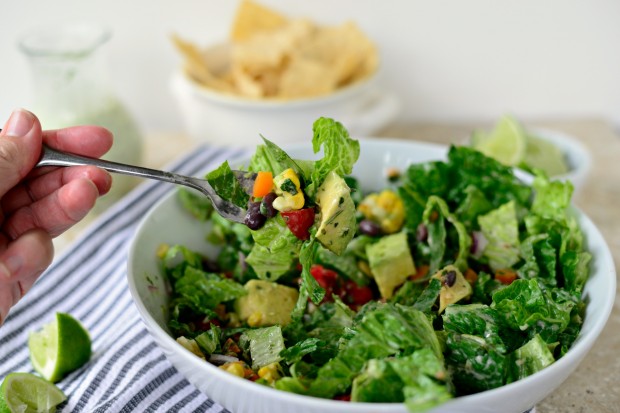 Summer is a time when we like to eat fresh and light. Fresh Avocados from Mexico are a nutritious addition to your summer spread, containing good fats and nearly 20 good-for-you nutrients with 50 calories per 1 oz. serving. From tomatoes and sweet corn to watermelon, avocados complement the seasonal produce of the summer and enhance the flavor of grilled meats.  Fresh Avocados from Mexico are available year round so you can add that creamy, rich texture and delicious flavor to the best seasonal produce any time of year.
The deets: Enter the form below to have a chance to win this amazing prize pack. You can also win an Avocados from Mexico prize pack valued at approximately $300 by uploading a picture your favorite salad to Instagram and tagging @avocadosfrommexico with #summersalad.
$100 grocery gift card
Wooden Salad Bowl Serving Set
OXO Stainless Steel Salad Spinner
Over the Sink Cutting Board
Avocado Cuber
Salad Dressing Emulsifier
Avocado Tea Towel
Cheryl Forberg's Flavor First
You can also follow Avocados from Mexico on Twitter and on Pinterest or check out facebook or www.avocadosfrommexico.com for more recipes and tips.
This is a sponsored post on behalf of Avocados from Mexico. I received compensation for this post, however all opinions stated are my own.
Enjoy! And if you give this Mexicali Chopped Salad recipe a try, let me know! Snap a photo and tag me on twitter or instagram!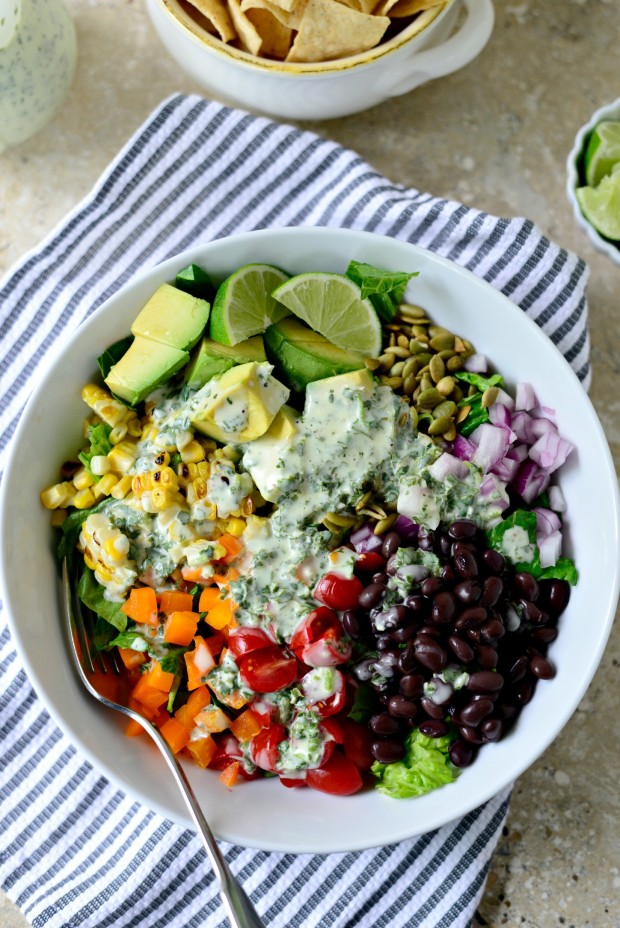 My cookbook Simply Scratch : 120 Wholesome Homemade Recipes Made Easy is now available! CLICK HERE for details and THANK YOU in advance! 
[this post contains affiliate links.]
This post may contain affiliate links.
Buy the Cookbook: Simply Scratch : 120 Wholesome Homemade Recipes Made Easy Now available on Amazon »
THANK YOU in advance for your support!