This is my version of a favorite pizza-chain's Spicy Mediterranean pizza. This version has a twist, Roasted Red Pepper Pizza Sauce!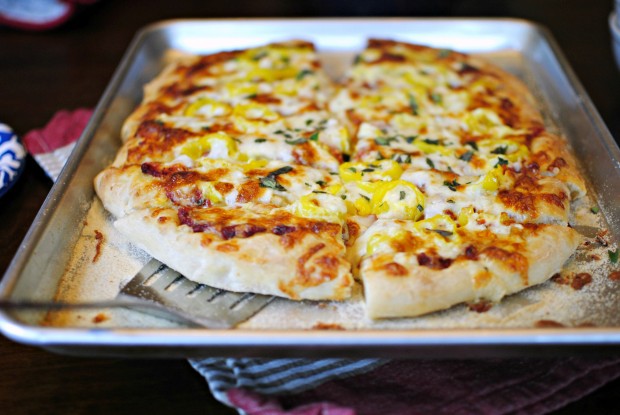 There's absolutely no way I could post pizza sauce recipe and NOT give you something to spread it on.
The inspiration for this pizza comes from a mostly Michigan-based pizza chain that my friend Ann and I order from on the regular while at work for lunch. There it's called "The Spicy Mediterranean", but since I don't find it very spicy, like at all, I didn't want to confuse anyone with that kind of title. This pizza really isn't spicy… unless you throw on some red pepper flakes!? Who's with me?
To Make This Mediterranean Pizza You Will Need:
semolina
mozzarella cheese
mild or spicy banana pepper rings
freshly crumbled feta cheese
fresh oregano leaves
I lightly, and I mean lightly, rubbed some olive oil on a large, rimmed baking sheet. Then sprinkled the tablespoon of semolina all over the bottom of the pan. The semolina will help the pizza from sticking while giving the crust some crunch factor.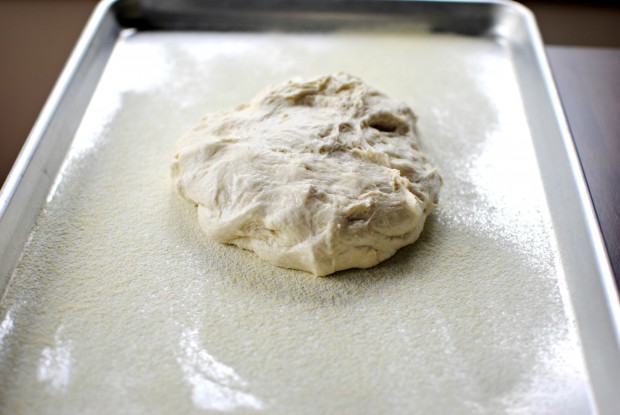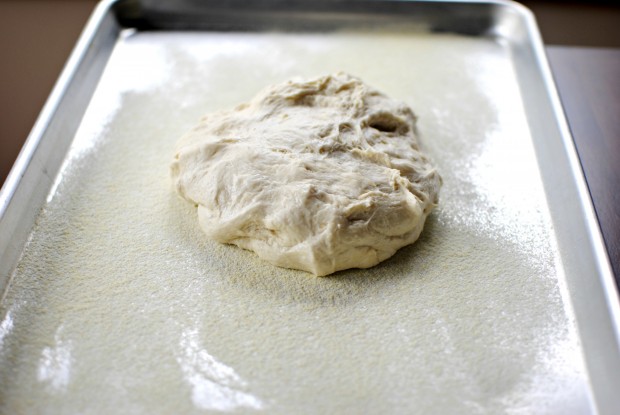 After you've made the dough and let it do that whole rise thang, plop it onto the semolina'd sheet pan.
Using your fingers… stretch the dough out. Nothing perfect… think rustic.
Next, spread as much or as little of the roasted red pepper pizza sauce all over the dough leaving a little bit of an edge for your fingers to have something to hold on to.
Then sprinkle with 1-1/2 cups of freshly grated mozzarella or farmer's cheese.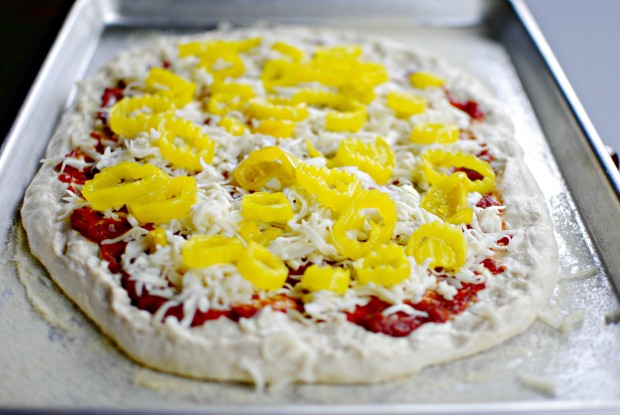 Next, top with as many banana peppers as you'd like the sky's the limit here or about 1/2 cup.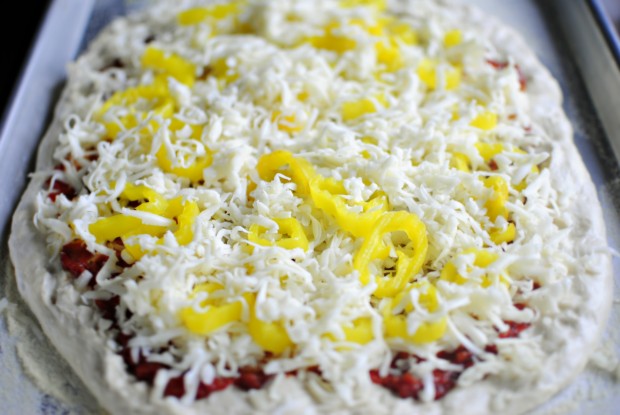 Then top with the remaining 1/2 cup grated mozzarella.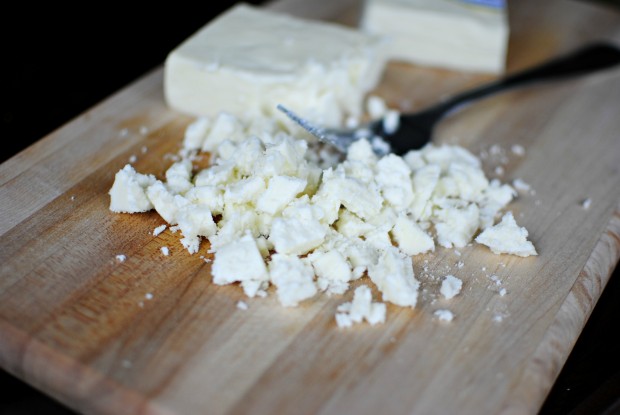 Next, measure out about 1/4 cup of Feta cheese.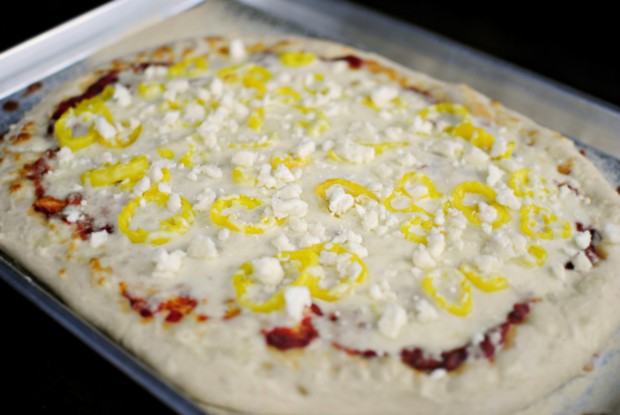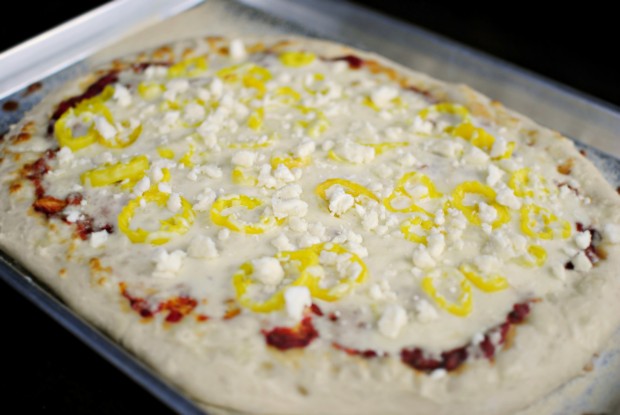 And then sprinkle it over top. I almost forgot this key cheese, because after shooting the ingredient shot I popped it back into the fridge so it would soften too much. Well after my pizza was in the oven for like 10 WHOLE minutes I about freaked-the-heck-out because I almost forgot the Feta! Ya can't make a Mediterranean pizza without the Feta. End of story.
Lastly, bake the pizza in a 400° oven for 15-20 minutes or just until the cheese is bubbly and a golden brown.
Sprinkle on torn pieces of oregano…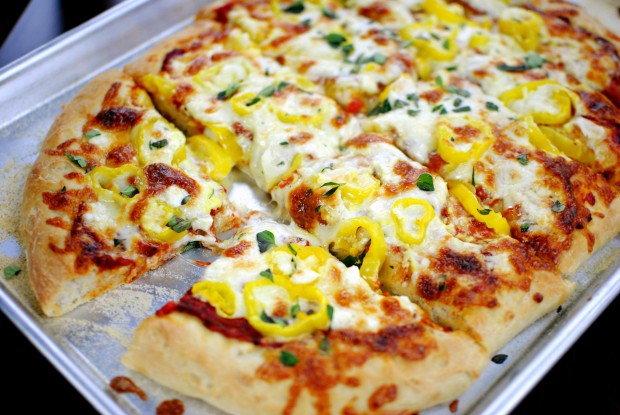 Slice and serve.
There's a zillion different ways you could go with this pizza. Olives, sliced red onions or even grilled chicken to add some protein. But this is how I like it. The sauce is incredible. Every time I open my fridge and see that bright red sauce, I reminisce about this pizza.
If I had to pick just one thing to eat for the rest of my life? It would be pizza, perhaps this pizza.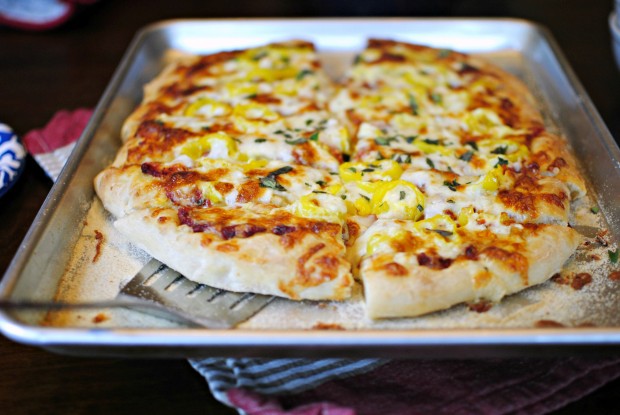 Enjoy! And if you give this Mediterranean Pizza recipe a try, let me know! Snap a photo and tag me on twitter or instagram!
This post may contain affiliate links.
Buy the Cookbook: Simply Scratch : 120 Wholesome Homemade Recipes Made Easy Now available on Amazon »
THANK YOU in advance for your support!