Want something to warm you up on these frigid winter nights? Let me introduce you to this Lamb Shawarma Stew. This comforting bowl is a stick-to-your-ribs kind of meal. Cooked ground lamb, carrots, zucchini, yellow squash and mushrooms (among a few others) marry in a shawarma spice infused, fire-roasted tomato broth/sauce. Topped with greek yogurt (for some delicious tang) and fresh cilantro and mint for a pop of green and freshness. Serve with toasted naan bread to wipe your bowl clean. This recipe makes a lot! Serves 6-8+ in a little over an hour!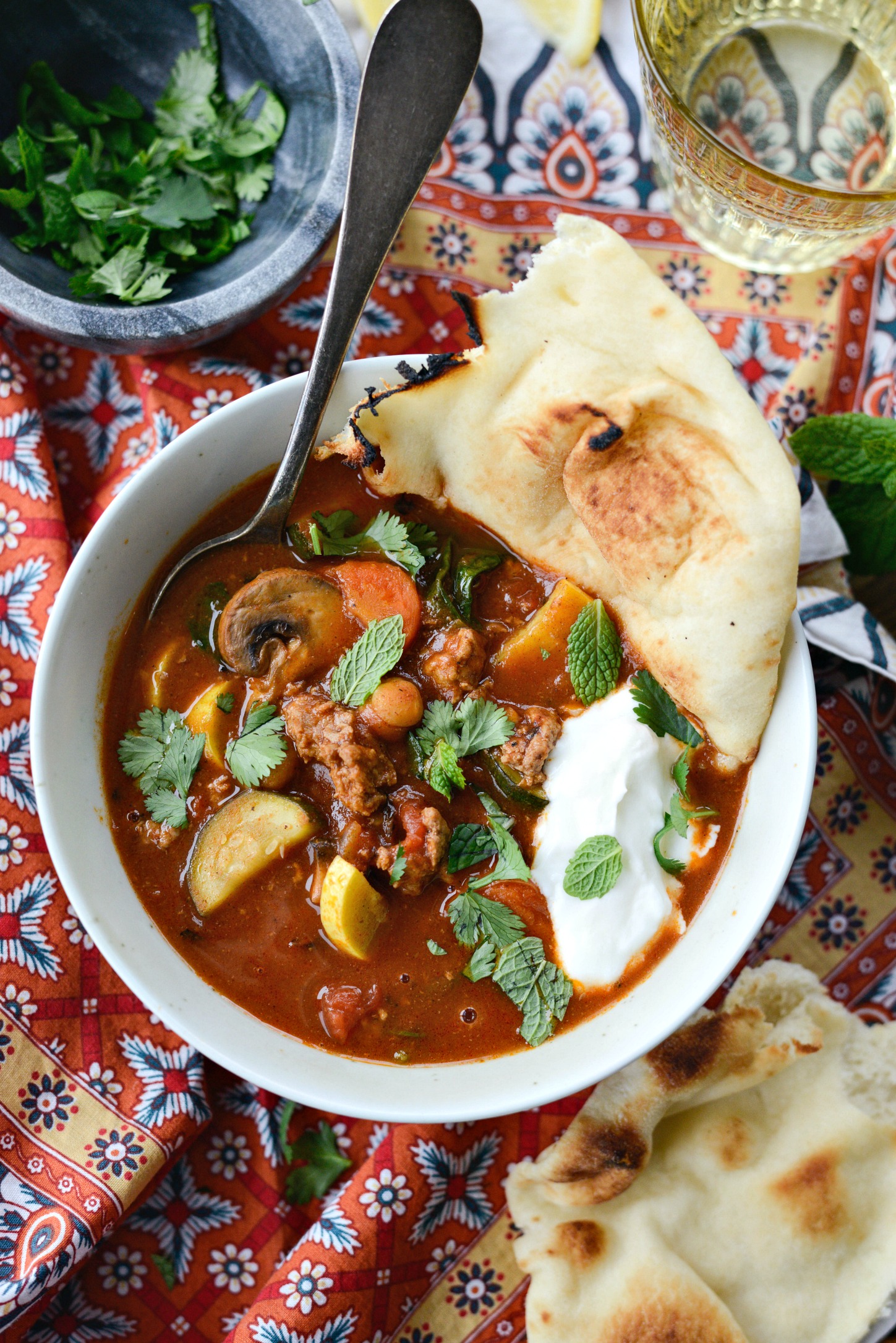 See?! I told you I had a recipe that put that homemade shawarma seasoning to use. In a hearty stew was the perfect place. If you love lamb, alltheveggies and shawarma…I guarantee you will love this stew!
It has been holding steady in the low twenties here in the mitten and is currently snowing and we're expected to get 6-10 inches. And for the life of me can't stay warm. I legit walk around in leggings, thick socks, a thermal shirt under a flannel, with a blanket scarf around my neck and sometimes I linger by the heat vent when our furnace kicks on. Our thermostat my read 72° but I'm not buying it. Probably should just Amazon Prime myself a snuggie and be done with it. Do they even make snuggies anymore?
And, if you can believe it, I get even more dramatic when I'm cold.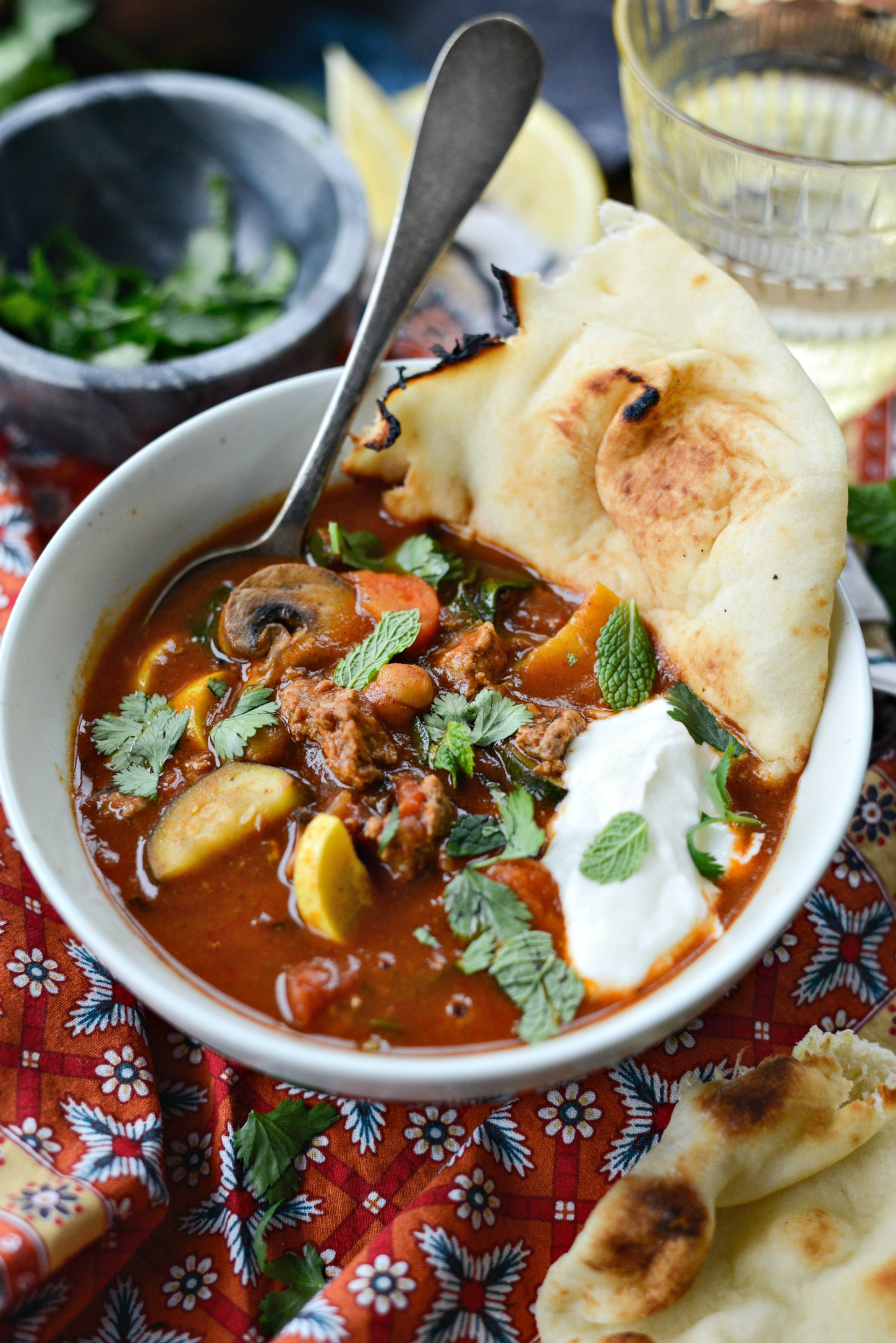 However while I'm wearing all the clothes, Joey Tribbiani style, I like cozy comfort foods like soups and stews. I especially love a stew (or soup) with lots of different textural and flavors going on. Feel free to use whatever vegetables you like or have on hand. Eggplant? Go for it. Abhor mushrooms but have leftover roasted cauliflower? DO IT.
To Make this Lamb Shawarma Stew You Will Need:
onions
carrots
ground lamb
tomato paste
garlic
homemade shawarma seasoning
zucchini
yellow summer squash
mushrooms
chickpeas
raisins
fire-roasted tomato sauce
vegetable broth
kosher salt
freshly ground black pepper.
Remember, you can totally customize this and use the vegetables you prefer.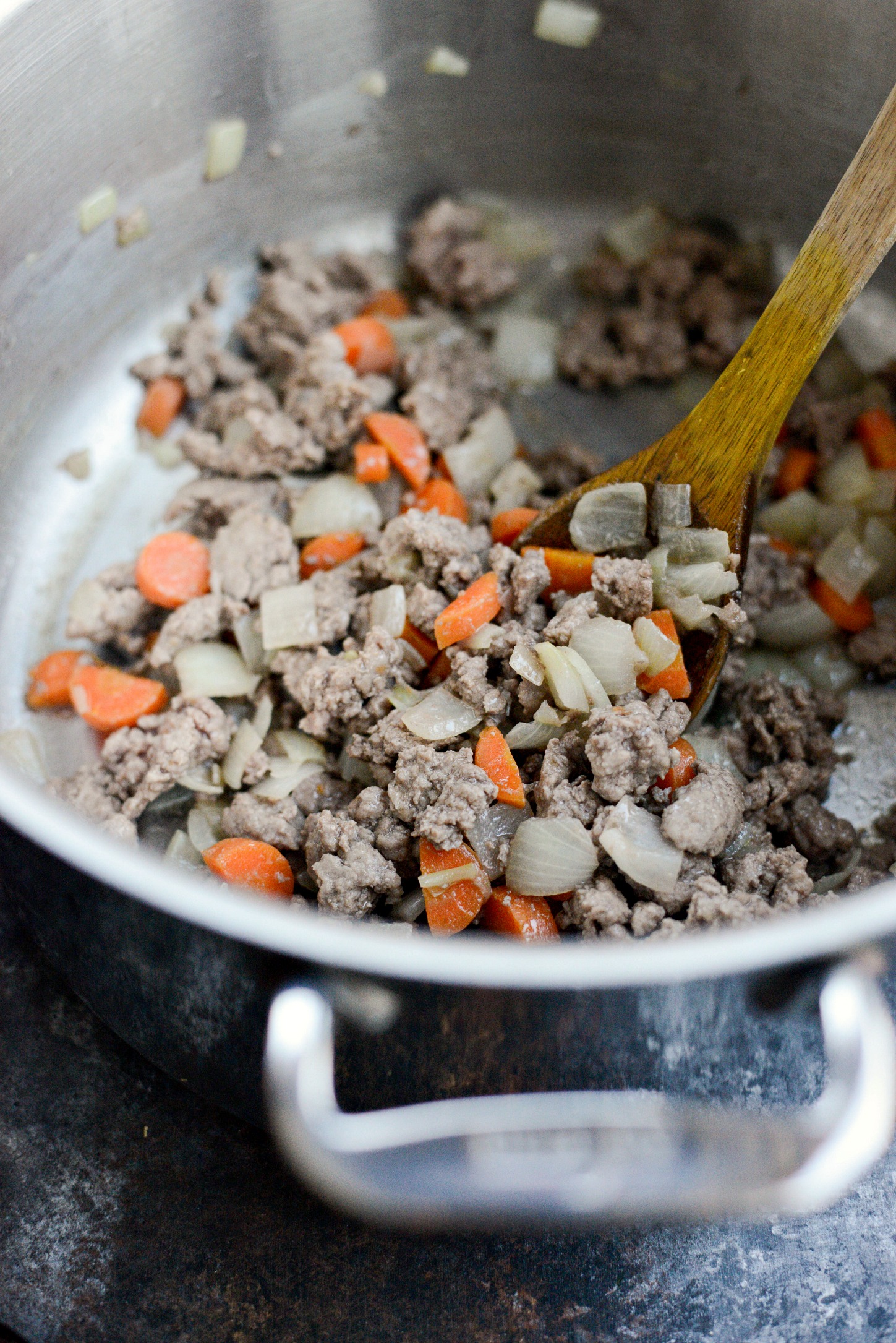 In a large soup pot or dutch oven, add 1 tablespoon of olive oil. Heat over medium to medium -low and sauté the onions and carrots with a pinch of salt, about 8 to 10 minutes. Then add in the pound of ground lamb, use as wooden spoon to break it up into small crumbles.
Once the lamb is fully cooked and no longer pink, add in 2 tablespoons of tomato paste. Stir and cook for 1 to 2 minutes or until the paste begins to caramelize on the bottom of the pot.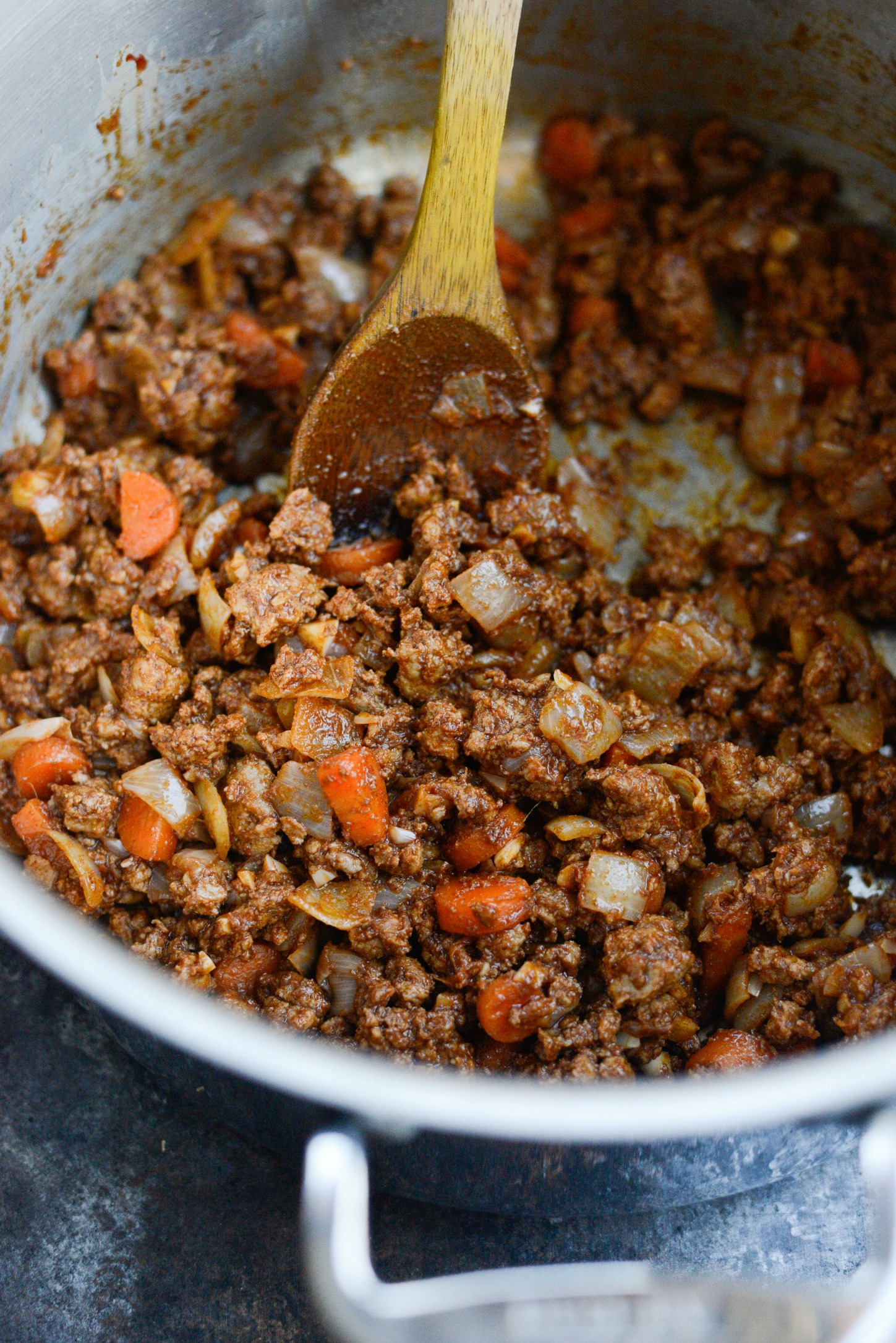 Add in the 4 cloves of minced garlic and then 2 tablespoons of the shawarma seasoning, stir to combine and cook for 1 to 2 more minutes.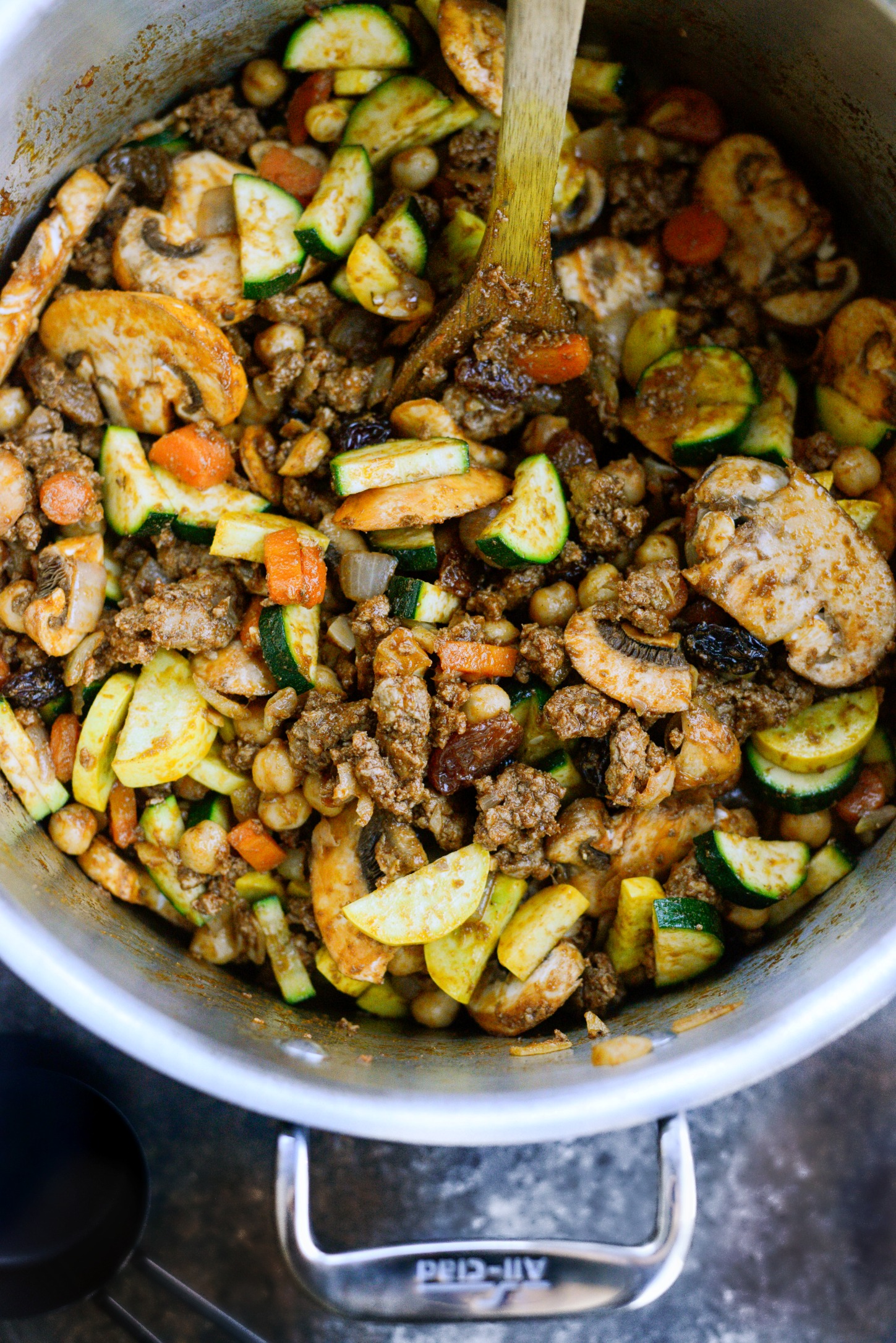 In goes the prepped zucchini, yellow squash, 8 ounces mushrooms, [1 (15 ounce) can, drained and rinsed] chickpeas and 1/2 cup of raisins. Gently toss to combine and cook for about 5 minutes to start softening them up.
Why raisins? I think raisins add a touch of sweetness while avoiding any added sugar to this tomato based stew.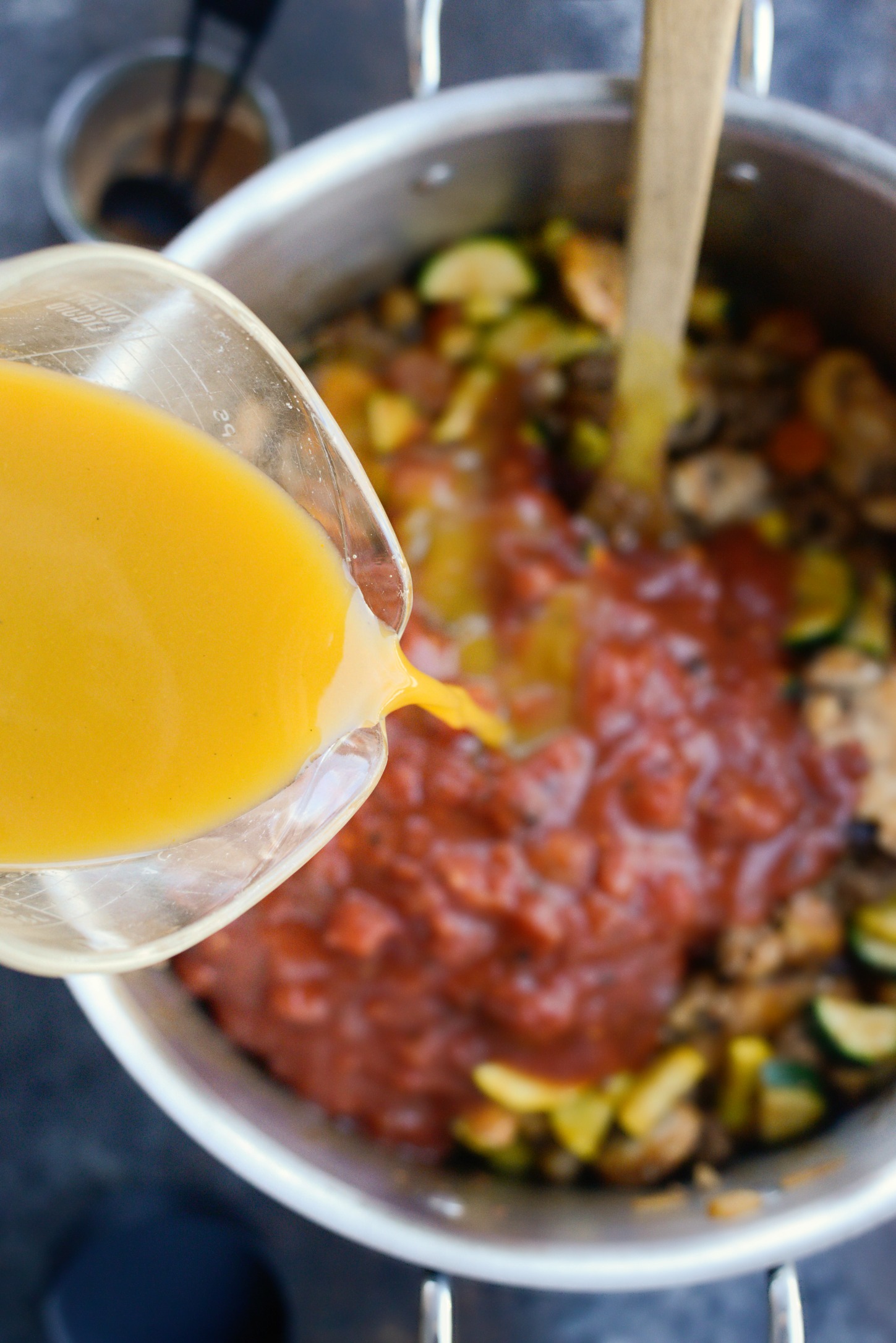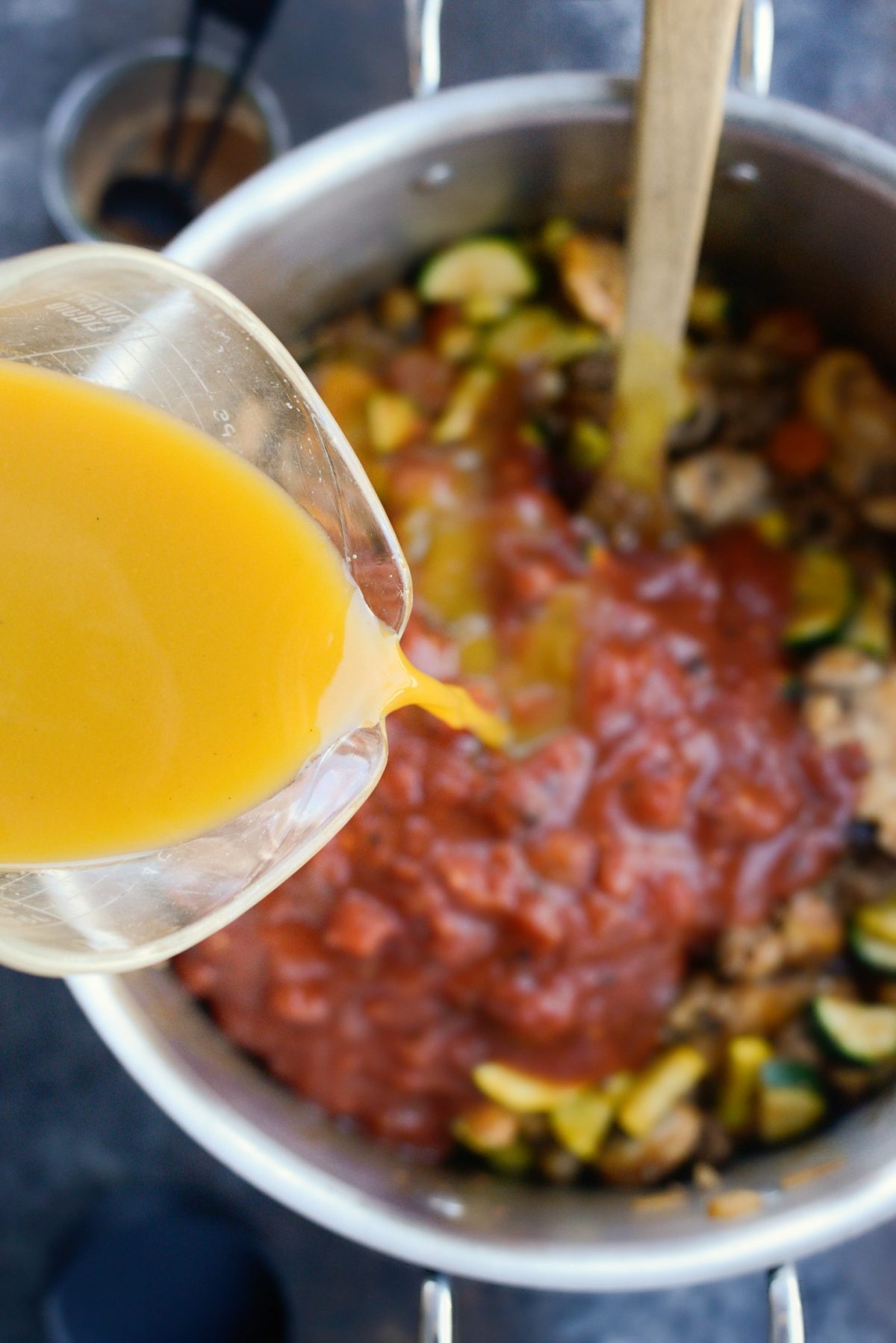 Lastly, add in 1 (28 ounce) can of crushed fire-roasted tomatoes, a quart of vegetable broth and 1 cup of water. Cover, bring to a simmer and reduce heat to low and cook for 30 minutes. Uncover and continue to simmer for 10 minutes more minutes.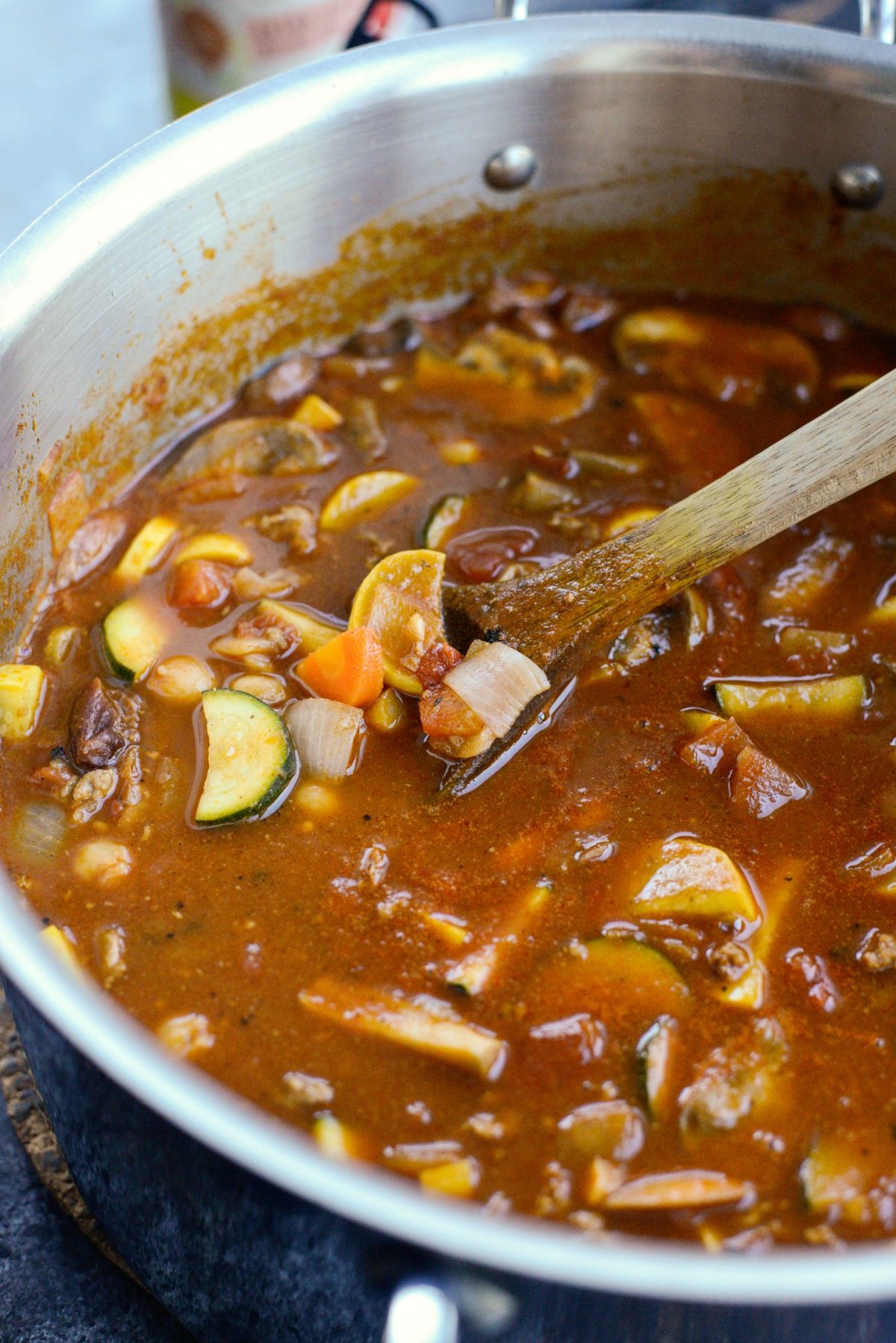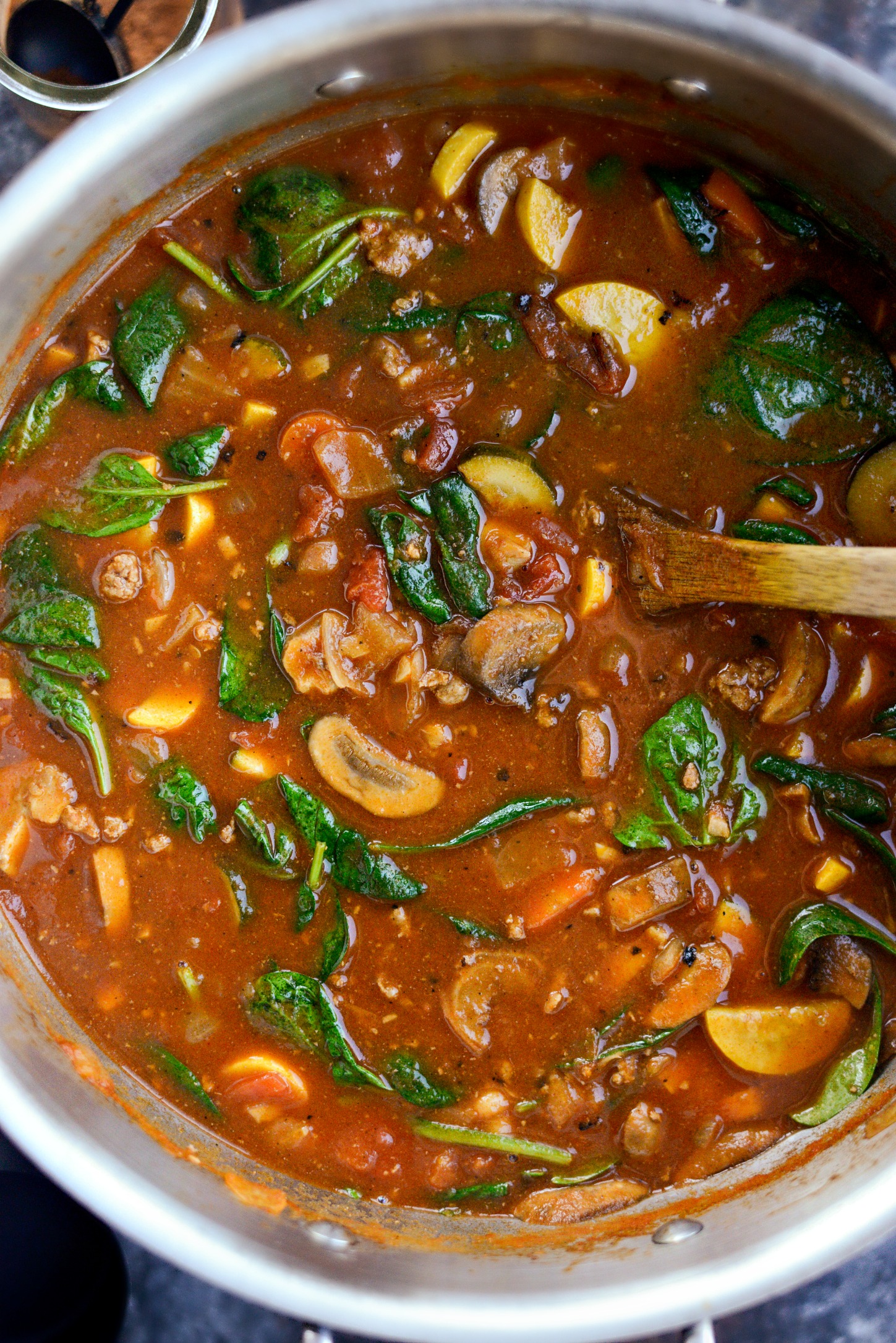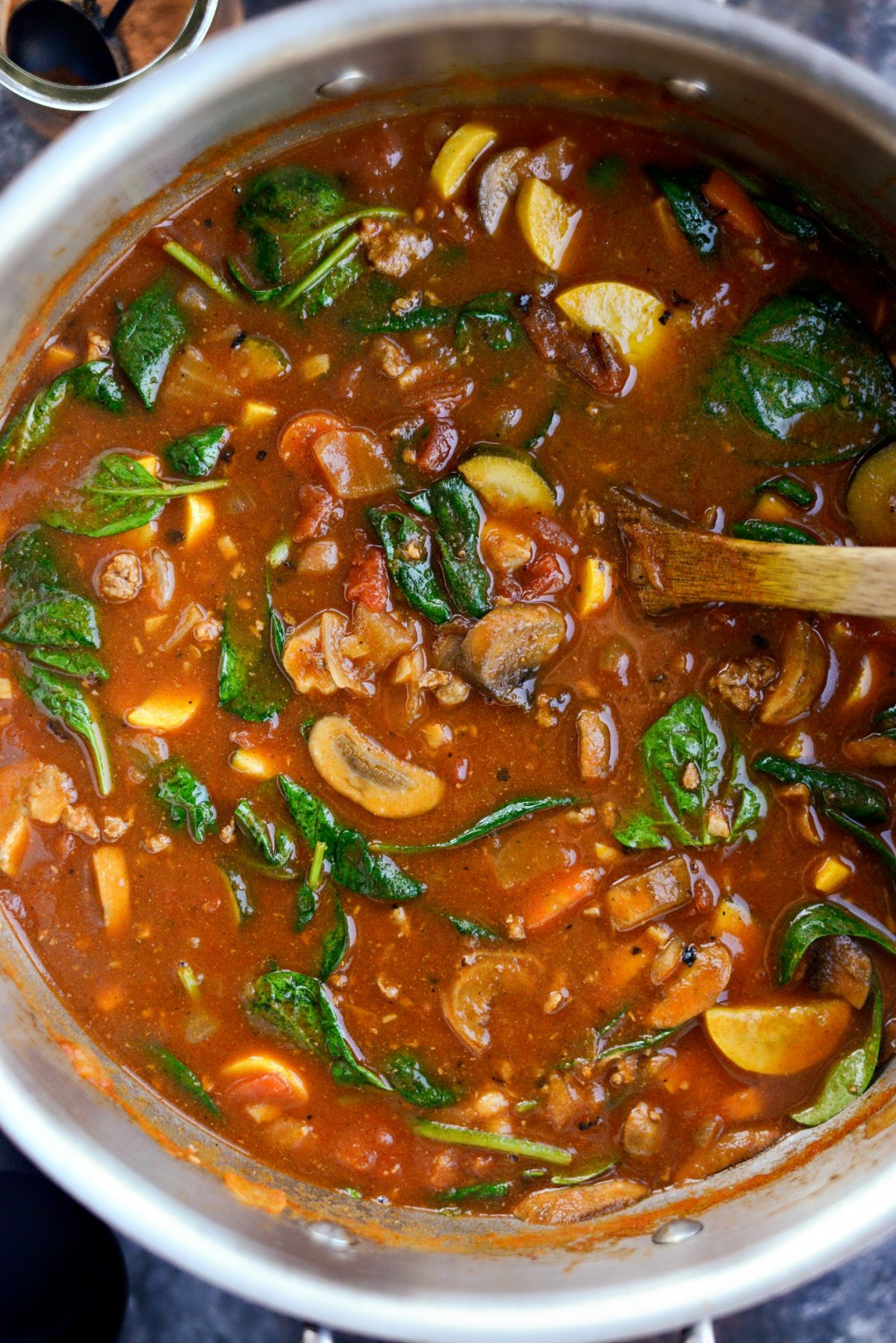 At the last minute, I decided to add a couple handfuls of spinach to round it all out. This of course is optional but I feel it adds another layer of texture. When the spinach has wilted, season to taste with 1-1/2 to 2 teaspoons kosher salt and 1/2 teaspoon freshly ground black pepper.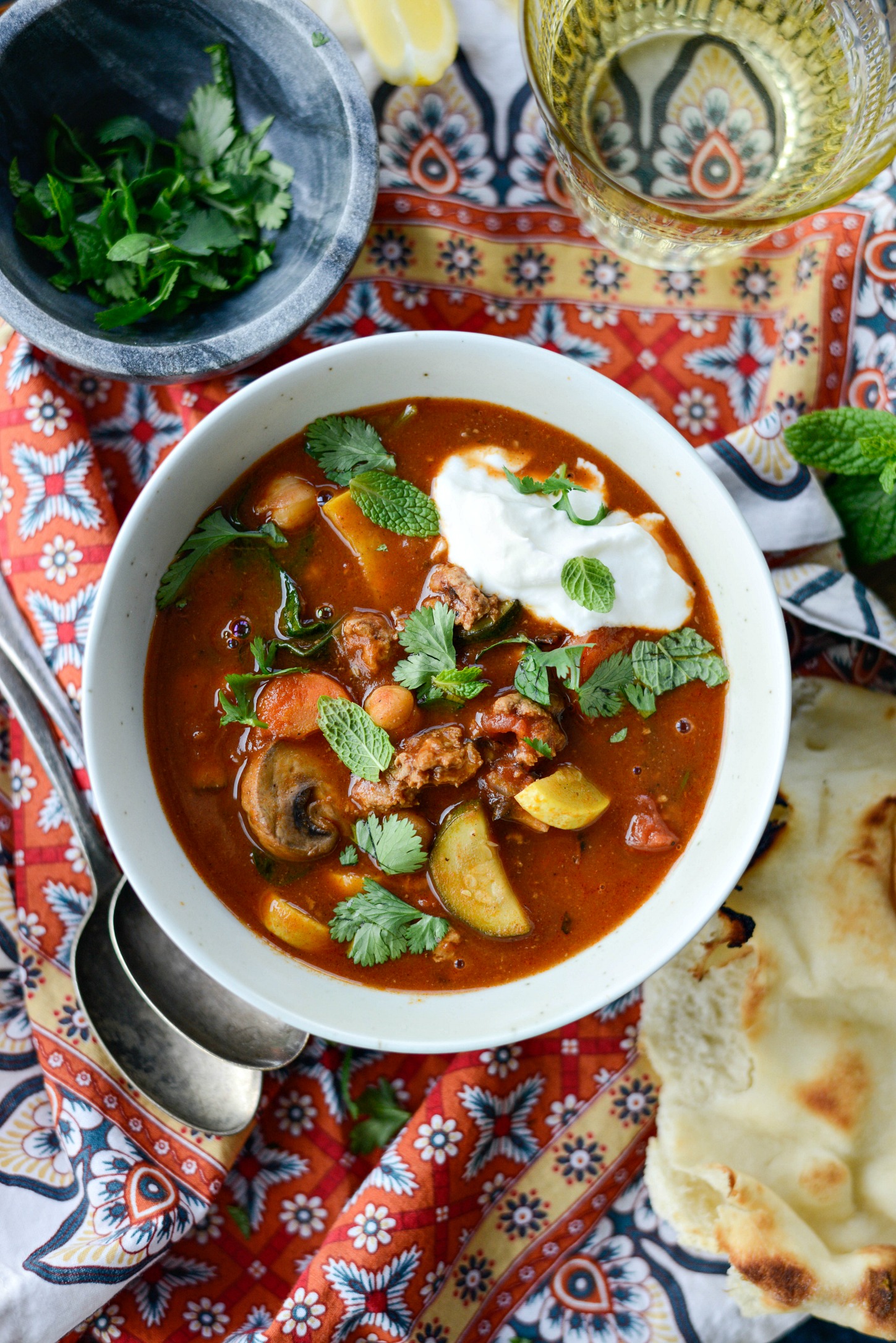 Finally, ladle the lamb shawarma stew into bowls and top with whole milk greek yogurt, this adds a delicious tang to the robust stew. I also highly recommend a sprinkle of chopped fresh cilantro and mint for a pop of bright green and their herby freshness.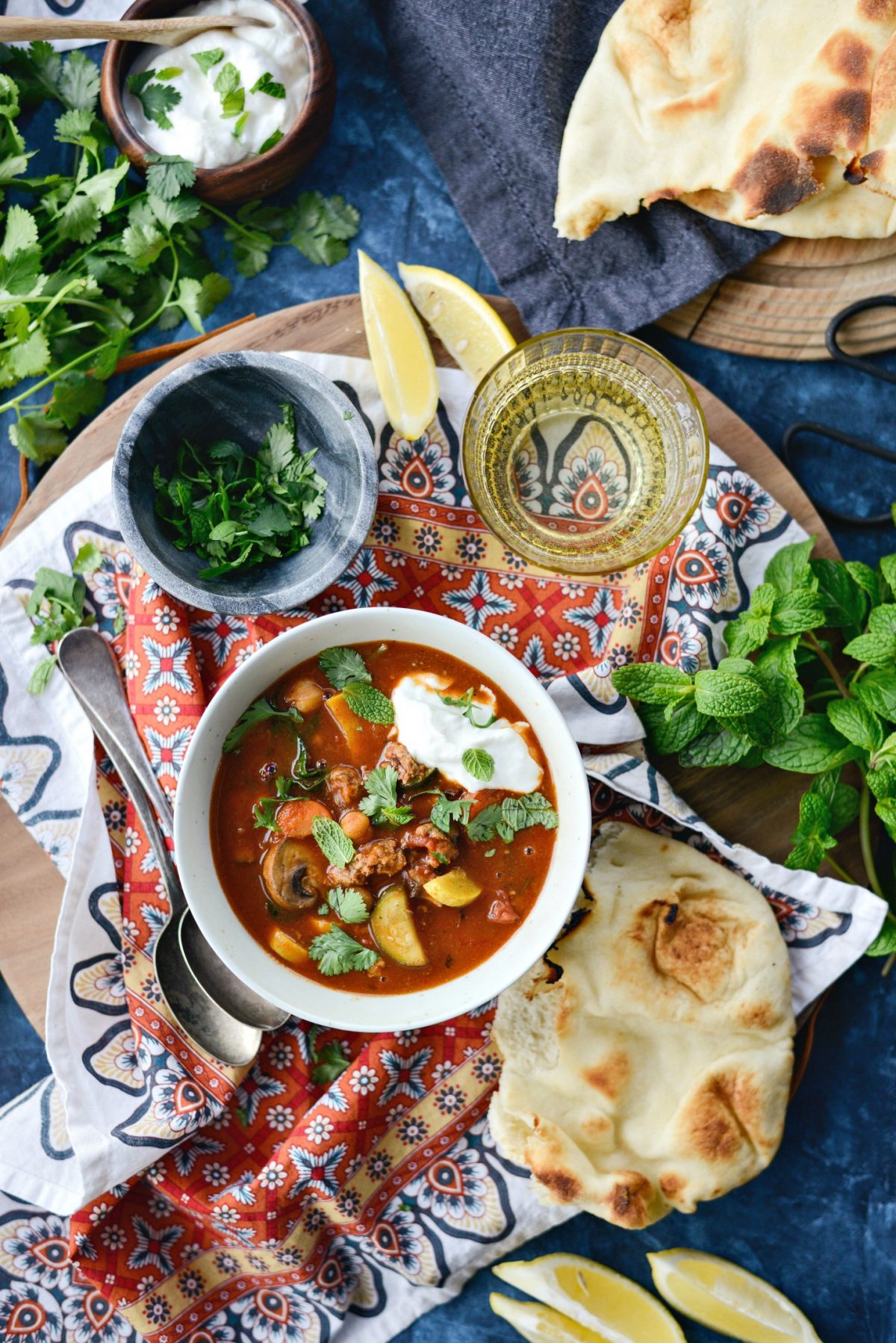 If you're not avoiding carbs or gluten, serve the lamb shawarma stew with toasted naan bread which will help you wipe your bowl clean ;).
Enjoy! And if you give this Lamb Shawarma Stew recipe a try, let me know! Snap a photo and tag me on twitter or instagram!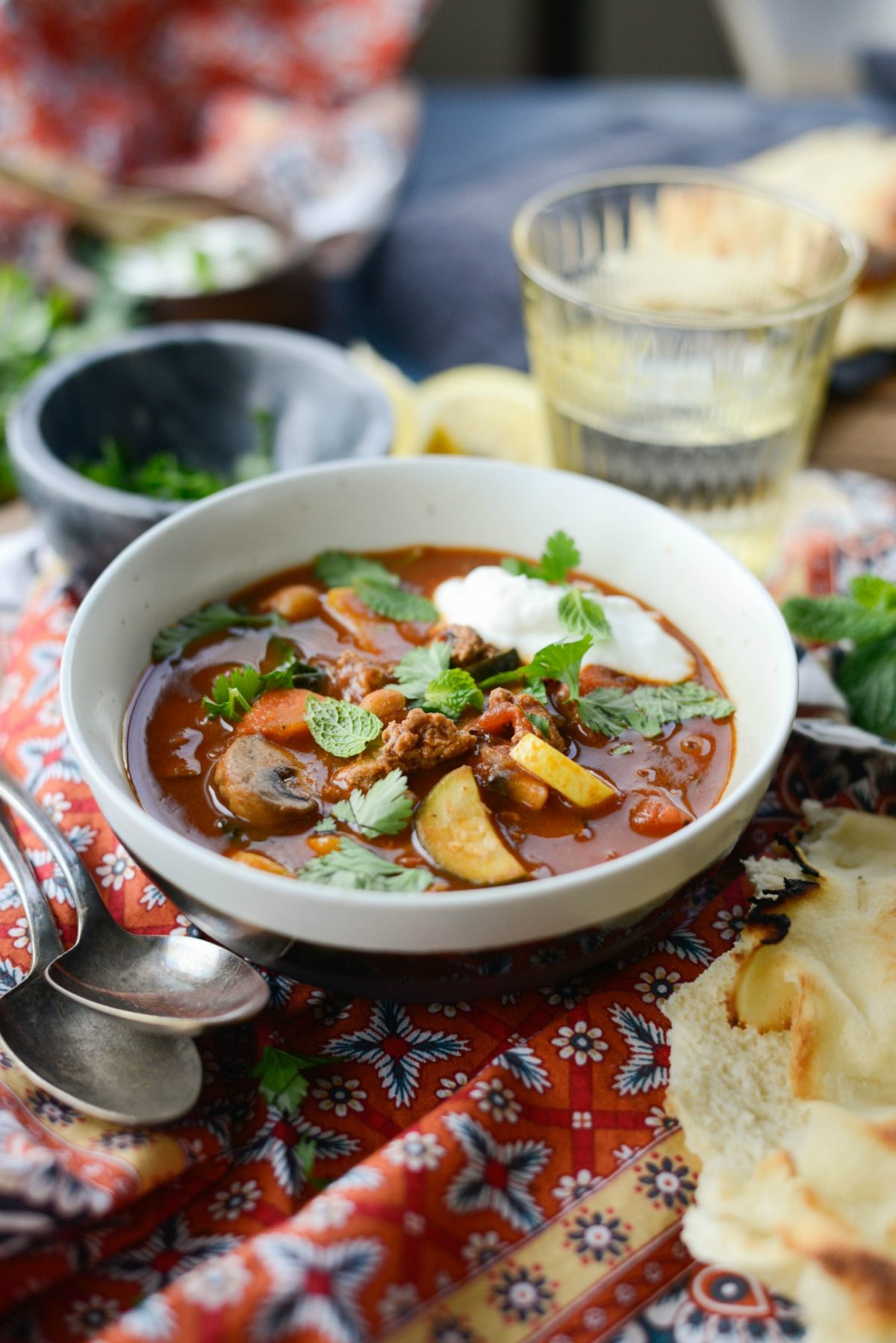 This post may contain affiliate links.
Buy the Cookbook: Simply Scratch : 120 Wholesome Homemade Recipes Made Easy Now available on Amazon »
THANK YOU in advance for your support!