Kimchi Fried Rice is deliciously flavorful and quick to prepare! Day old rice is tossed with garlic, ginger, kimchi and gochujang for a slightly spicy yet majorly addictive fried rice.
Kimchi fried rice might just be your new favorite.
The first time I had kimchi was at a Korean bbq restaurant a few years back. I ordered bibimbap and with it came little bowls of different condiments and extra toppings. I'm pretty sure I ate everyones kimchi that night. What can I say? It was love at first spicy bite.
So when I discovered kimchi fried rice (two of my favorite things) I thought I had died and went to heaven.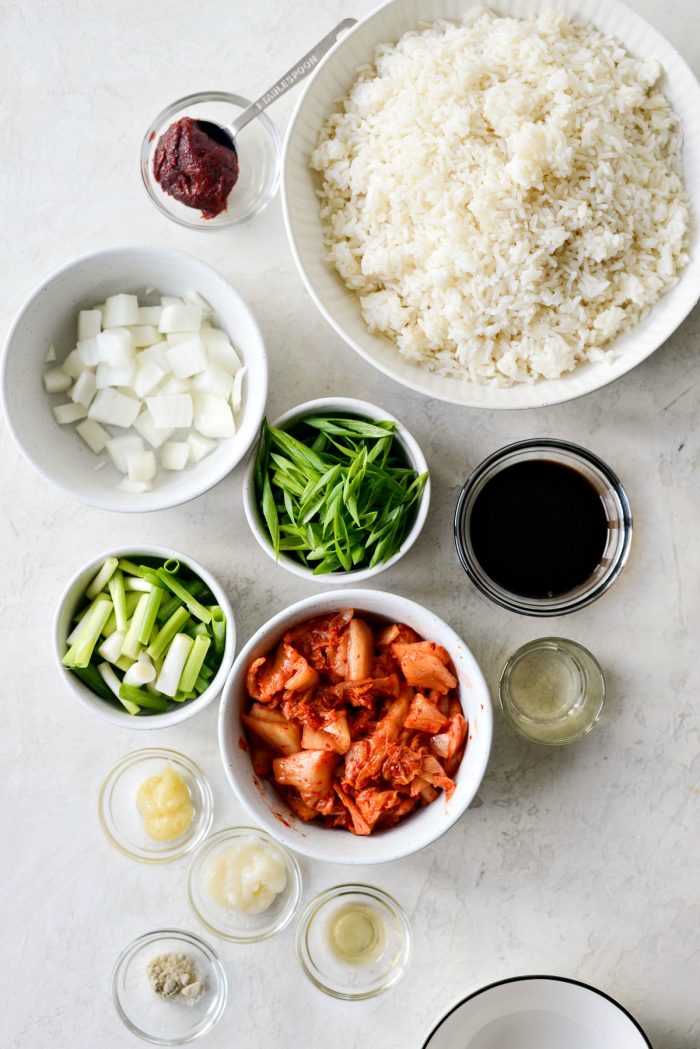 To Make This Kimchi Fried Rice You Will Need:
light olive oil
yellow onion
green onions
garlic
ginger
kimchi – make sure you use a good quality
gochujang
white pepper
low-sodium soy sauce (or low sodium tamari)
toasted sesame oil
day old cooked jasmine rice
Optional Toppings and Garnishes:
fried eggs
sesame seeds
green onions
sliced nori
What Is Kimchi?
Kimchi is salted and fermented cabbage, traditionally Napa cabbage with Korean radish. It can be flavored by green onion, korean chili pepper, ginger and garlic.
Not all kimchi are created equal.
When testing this recipe I tried 5 different kimchi from 3 different grocery stores. Three of them were different brands and 2 were different kinds of the same brand. One was shelf stable (strongly disliked) while most were found in the refrigerated section near produce. Only 1 brand stood out and was beyond delicious. I'm sure there are other brands out there, I've heard King's was really good, I just couldn't find it anywhere.
The winning kimchi was the brand Mother In Law's. I tried their "spicy" and the traditional recipe with Napa cabbage. While I LOVED the spicy, I felt the less spicier one would work better for this recipe. I add gochujang to it and so I didn't want it to be overly spicy. With that said, do what you like.
If you have the perfect kimchi recipe PLEASE send it my way!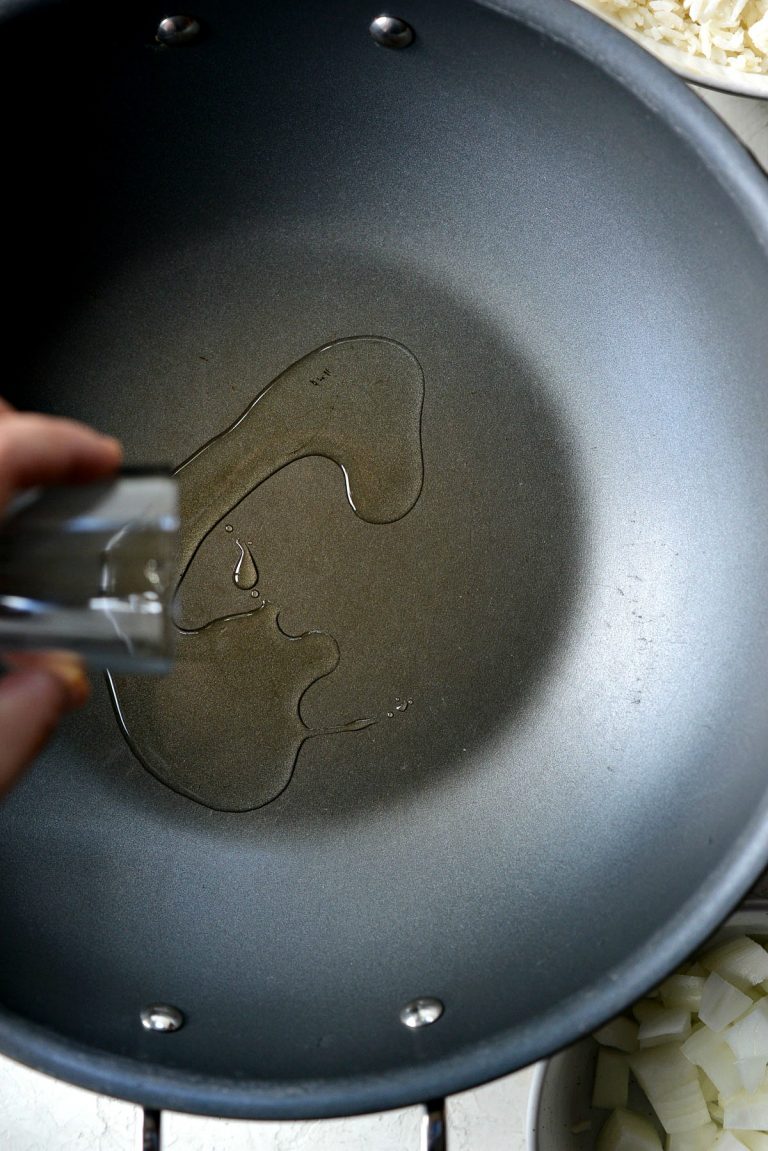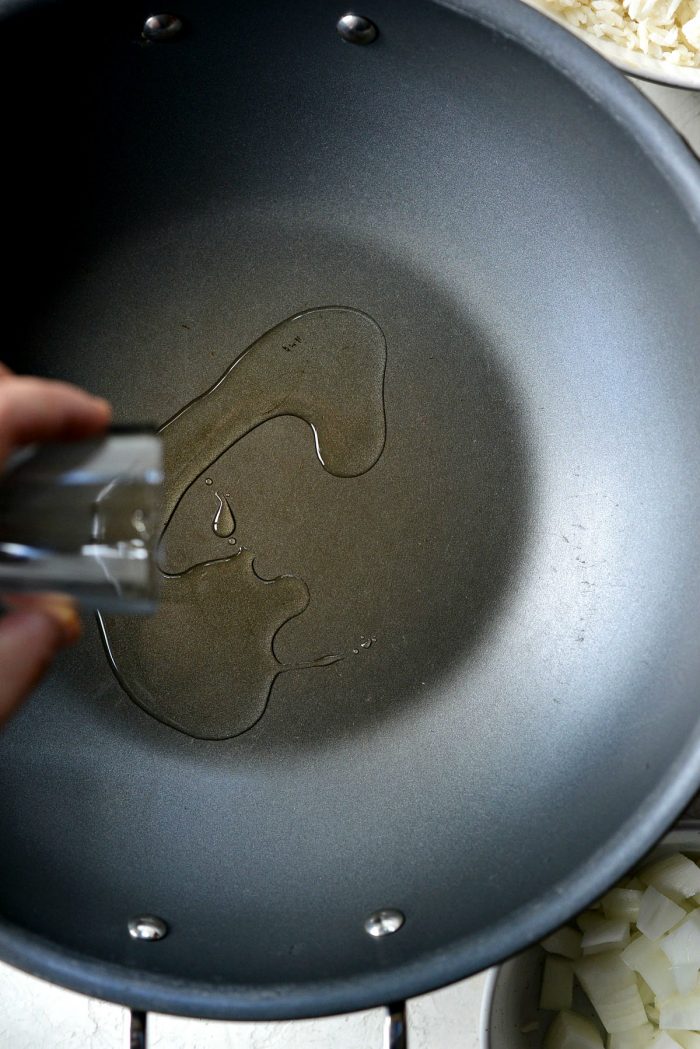 Start by heating a wok with 1 tablespoon light olive oil on meidum-high heat.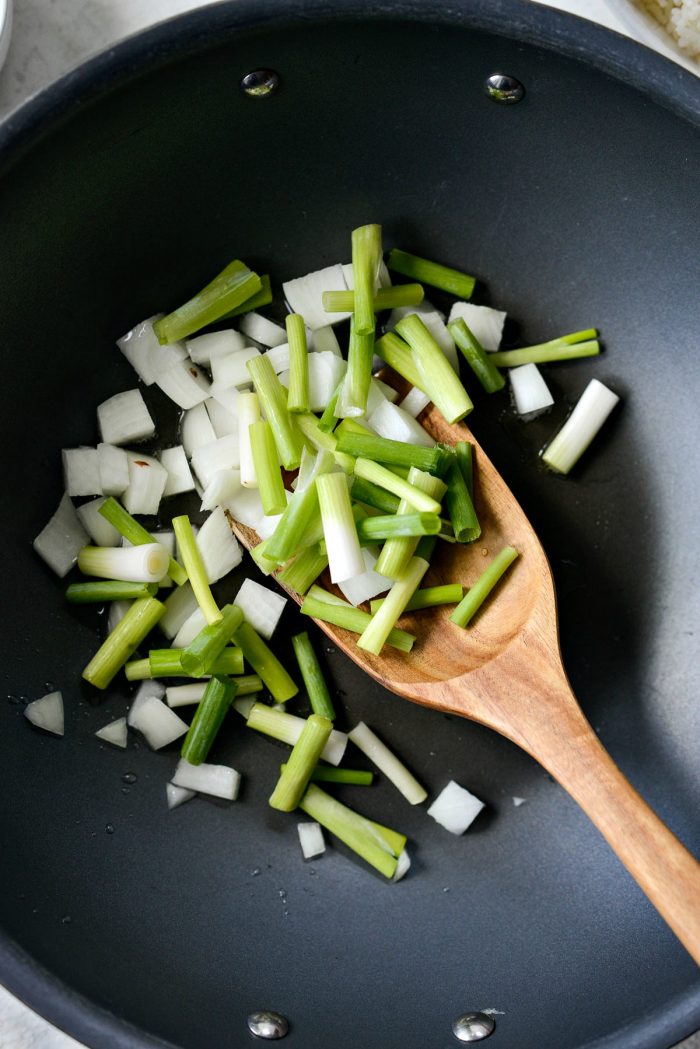 Once the oil is shimmering, add in 1/2 cup diced yellow onion and the white and light green parts from 6 green onions. Thinly slice the leftover dark green parts of the onion and set aside for garnish.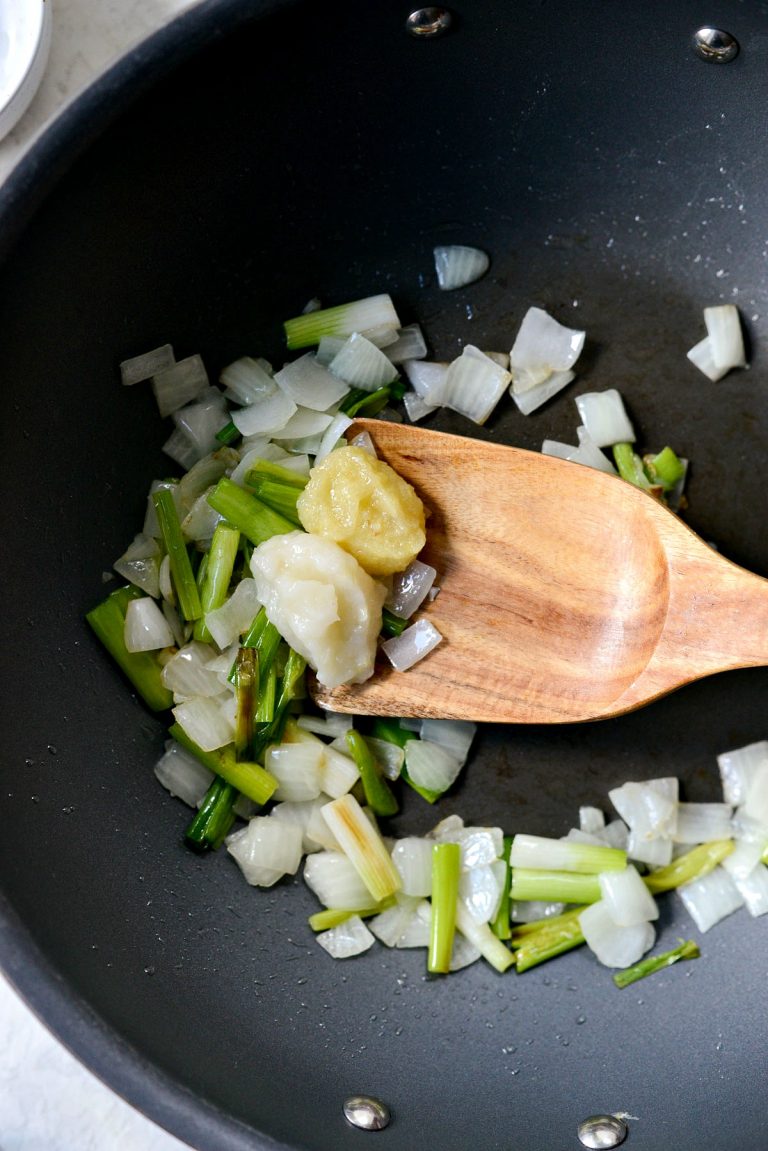 Once the vegetables are tender, add in 1 teaspoon grated ginger and 2 cloves grated garlic. Stir and cook 1 minute.
Add in 1 cup roughly chopped kimchi.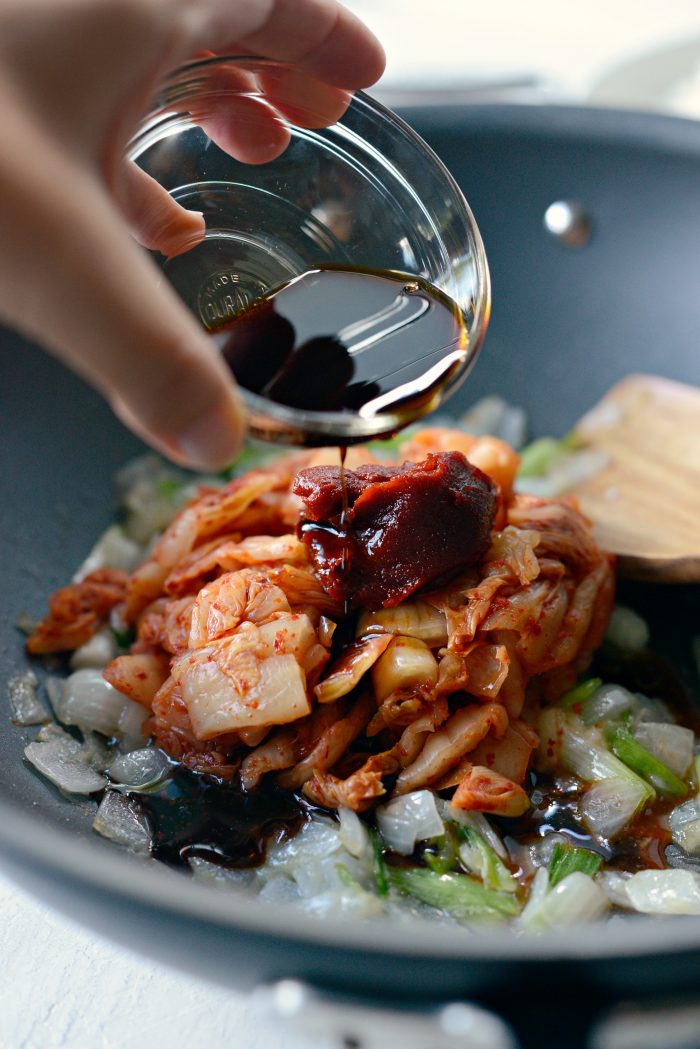 Next, measure and add 1 tablespoon gochujang, 2 tablespoons low-sodium soy sauce, 1/2 teaspoon toasted sesame oil and 1/4 teaspoon ground white pepper.
Stir and cook until heated through.
Lastly add in 4 cups leftover cooked jasmine rice.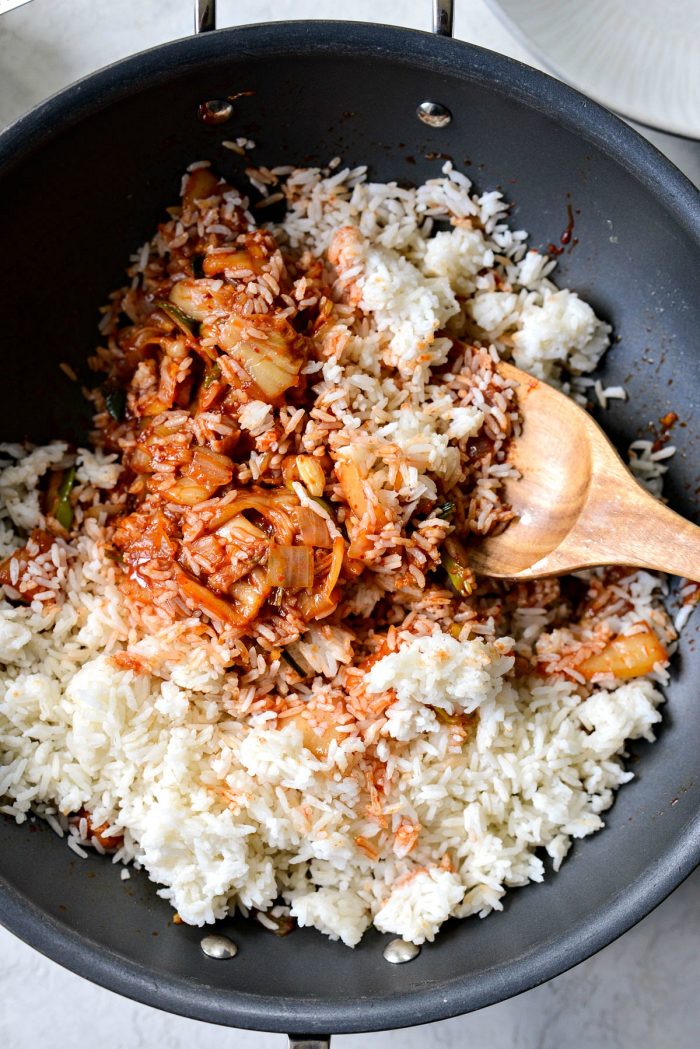 Toss to coat and heat through.
Smells amazing!
I may or may not have shoveled this spoonful into my mouth. But I'll never tell.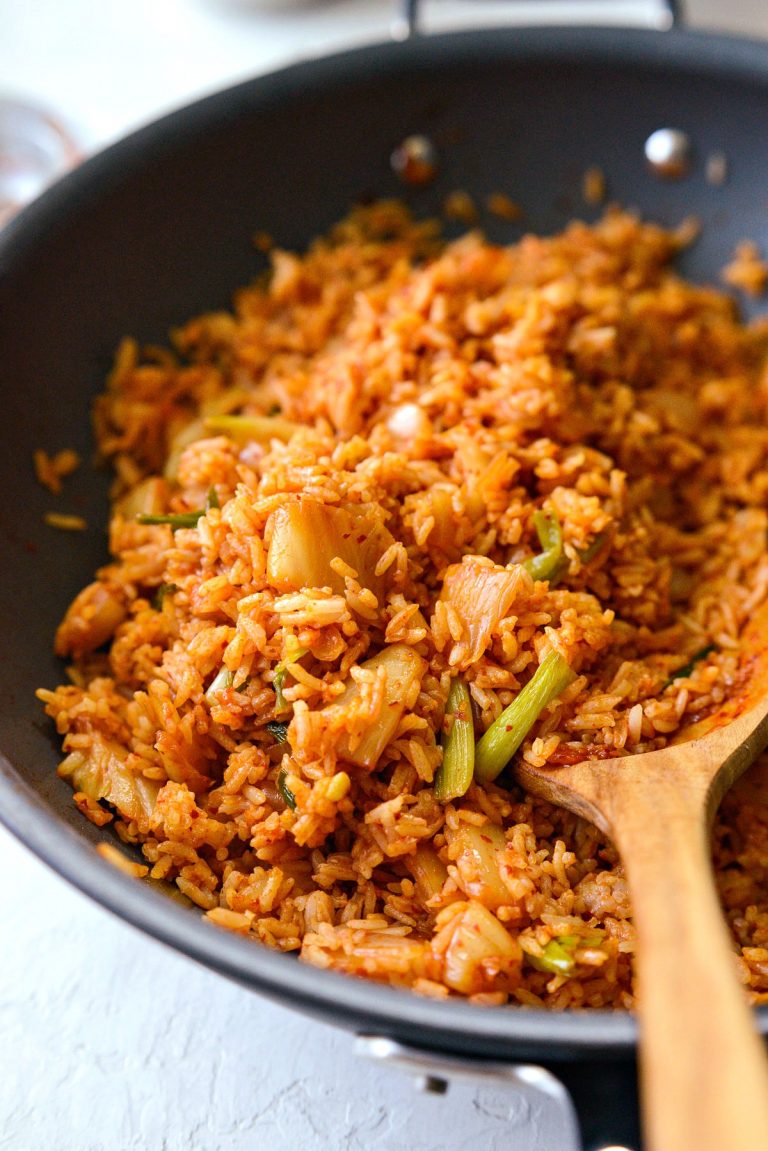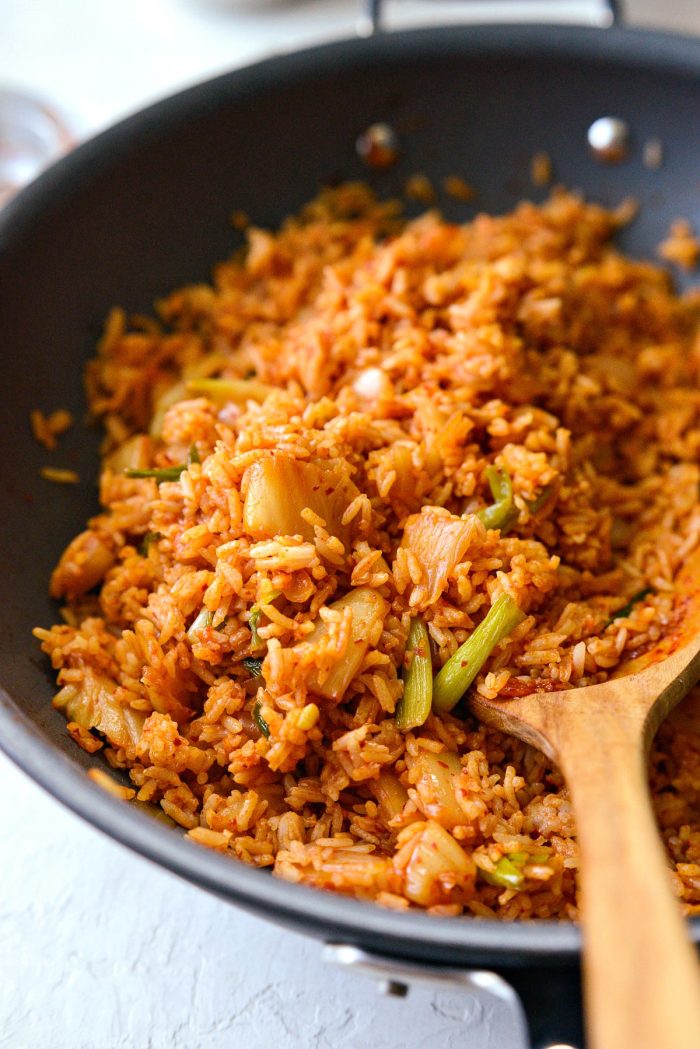 Serve as is or keep scrolling for toppings!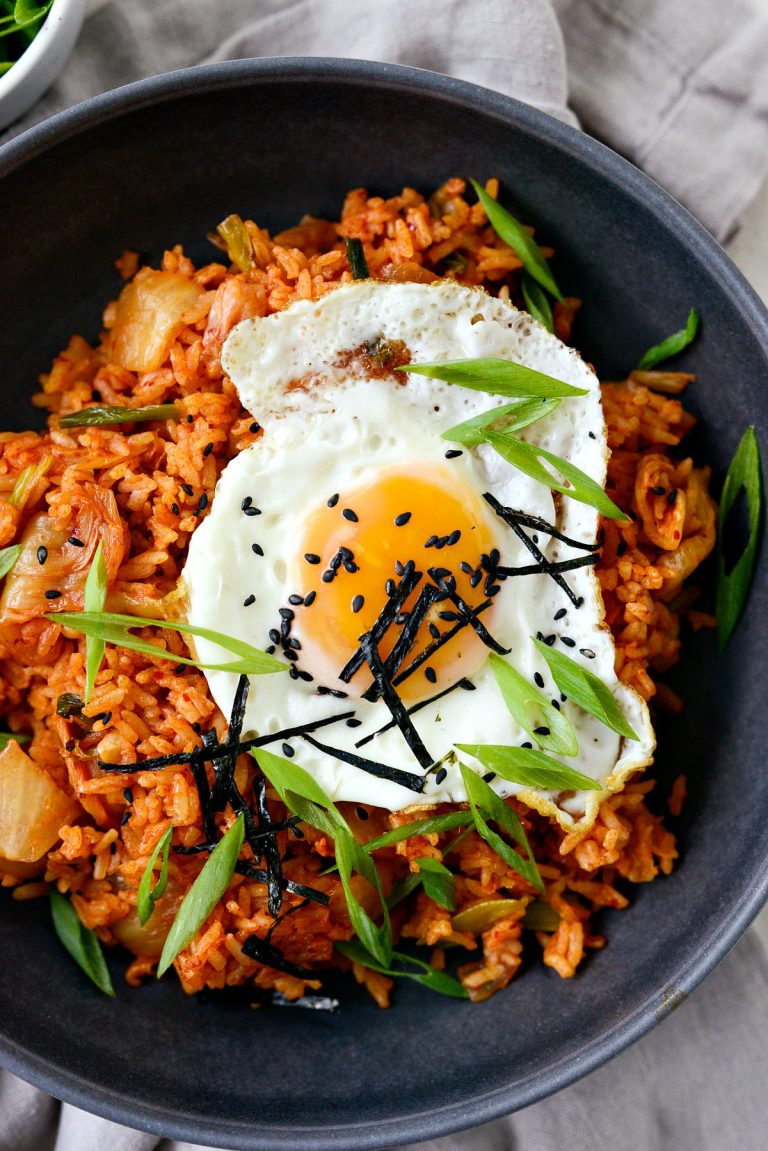 Kimchi fried rice is delicious as is, but with a fried egg on top with sliced green onions, black sesame seeds and thinly sliced nori is how I like it!
We've also had it as the base to these korean bbq beef bowls. SO good.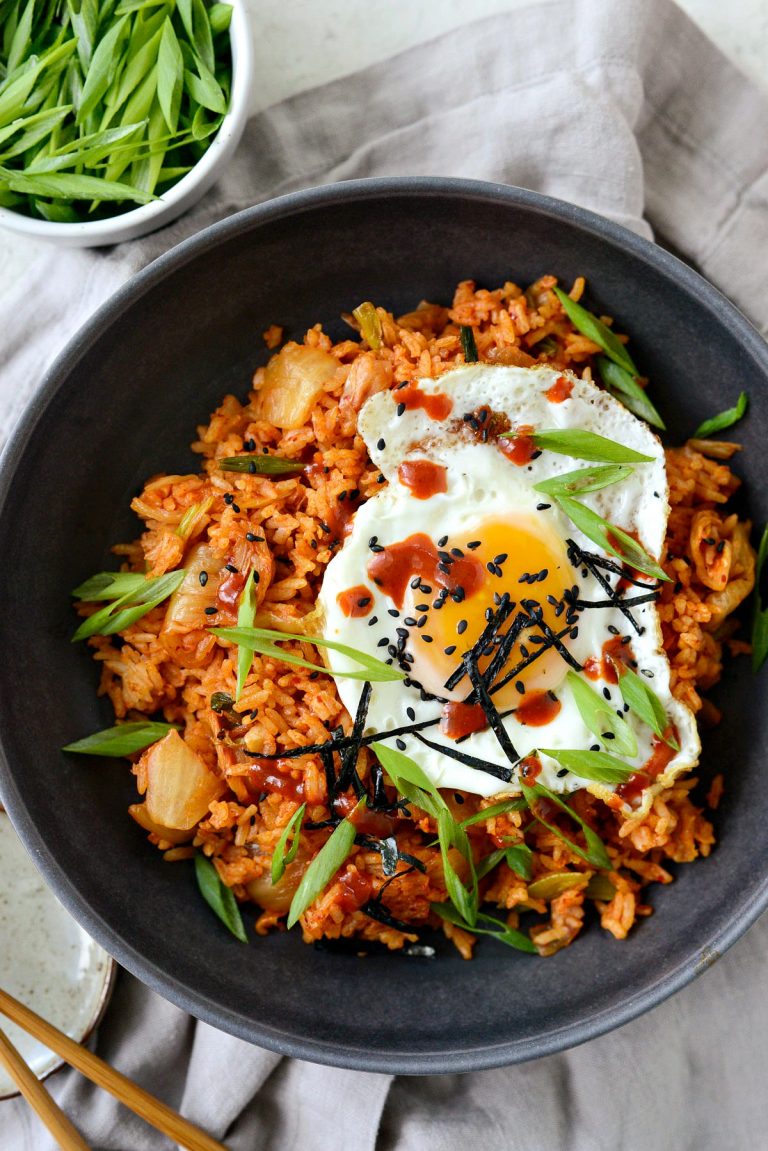 Break the yolk and toss it in with the rice. So much flavor is packed into this one little recipe it's beyond incredible.
Enjoy! And if you give this Kimchi Fried Rice recipe a try, let me know! Snap a photo and tag me on twitter or instagram!
This post may contain affiliate links.
Buy the Cookbook: Simply Scratch : 120 Wholesome Homemade Recipes Made Easy Now available on Amazon »
THANK YOU in advance for your support!