In our house, pizza Friday is a thing. Maybe not every Friday because life happens, but when I do I'll make a batch of homemade pizza dough. Sometimes I just make one large pie or divide it up for a build-your-own-pizza situation. No matter how you slice it, pizza dough is a perfect blank canvas to get creative with toppings or for just about anything!
Pizza dough is pretty universal too! Besides pizza, you can roll it thin for a flatbread, stuff it with ingredients for a homemade calzone or roll up toppings for Stromboli. You can even make breadsticks out of it. I originally had shared this recipe years back, but it was apart of a pizza recipe so it was a little tricky to find. I have some fun recipes planned for this dough, so I decided to make it its own recipe post.
This homemade pizza dough is my one and only, my go-to and I will never use any other recipe. Ever.
To make this homemade pizza dough, you will need:
1/2 teaspoon honey
1 cup warm water
2-1/4 teaspoons or 1 (1/4 ounce) packet active dry yeast
olive oil
2-1/2 cups unbleached flour
3/4 teaspoon kosher salt
In a bowl, combine the flour and kosher salt and set aside.
Dissolve the honey in 1 cup of warm water that is around 110-115°F.
Then stir in the active dry yeast and let it stand for 10 minutes so the yeast has time to gobble up the honey in the water and blooms.
Alternatively, you can do this in the bowl of your stand mixer. I only did this in a glass bowl so you can see how it looks easier this way than in a dark stainless steel bowl.
Add the yeast mixture to the bowl of your stand mixer – if you didn't already start off this way, that is fitted with the paddle attachment, and add in 1 teaspoon of olive oil. Mix on low speed to combine.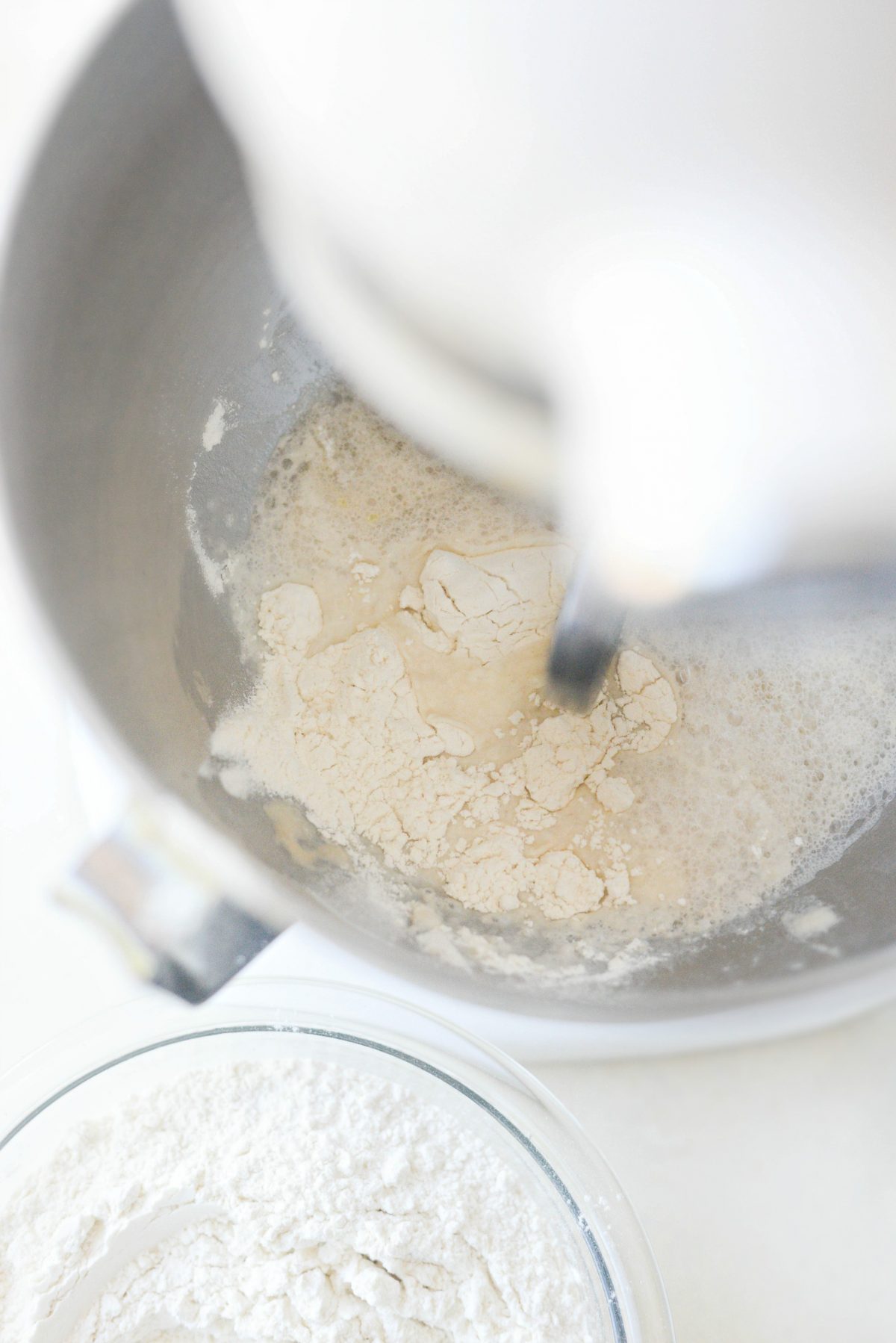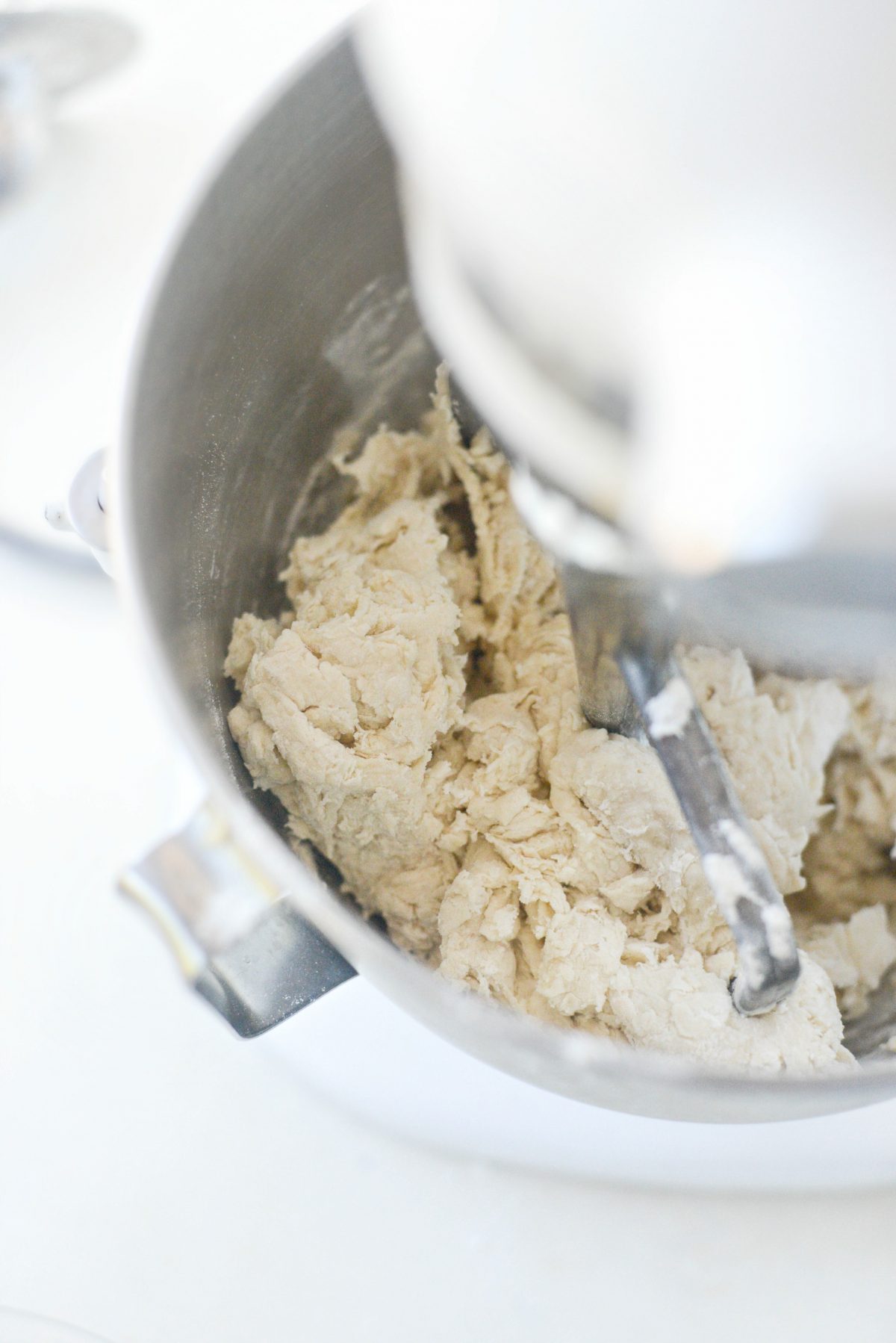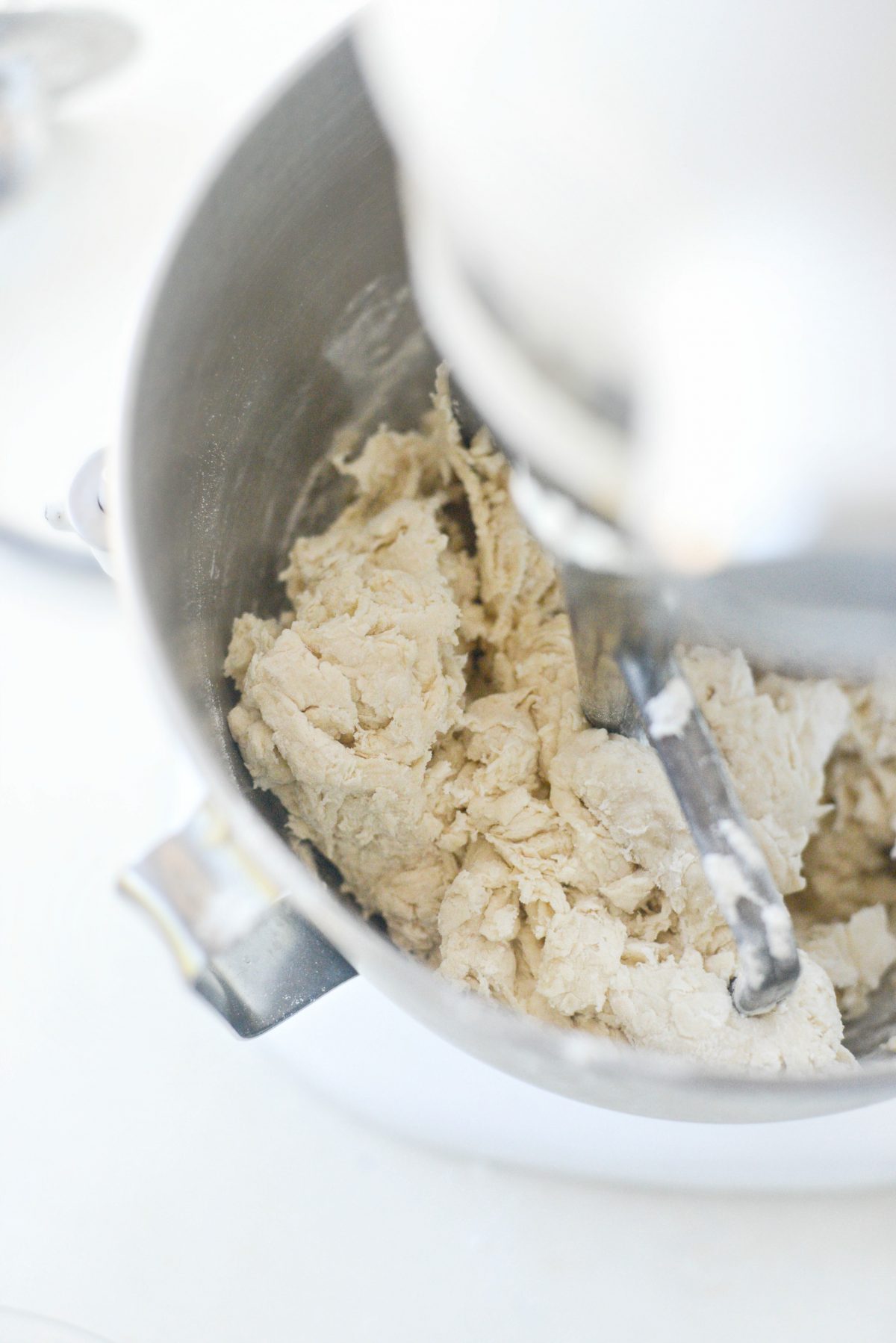 With the mixer on low speed, gradually add in the flour until incorporated.
Then scrape off the dough from the paddle attachment and switch over to the dough hook. Mix on low speed until a smooth dough forms, this should take around 6 minutes or so.
Next form the dough into a smooth ball and add to a large bowl that has a teaspoon of olive oil in it. Gently roll the dough in the olive oil until coated, smearing the oil along the inside of the bowl to coat its sides. Cover with a tea towel or kitchen towel and allow it to rise for 1 hour.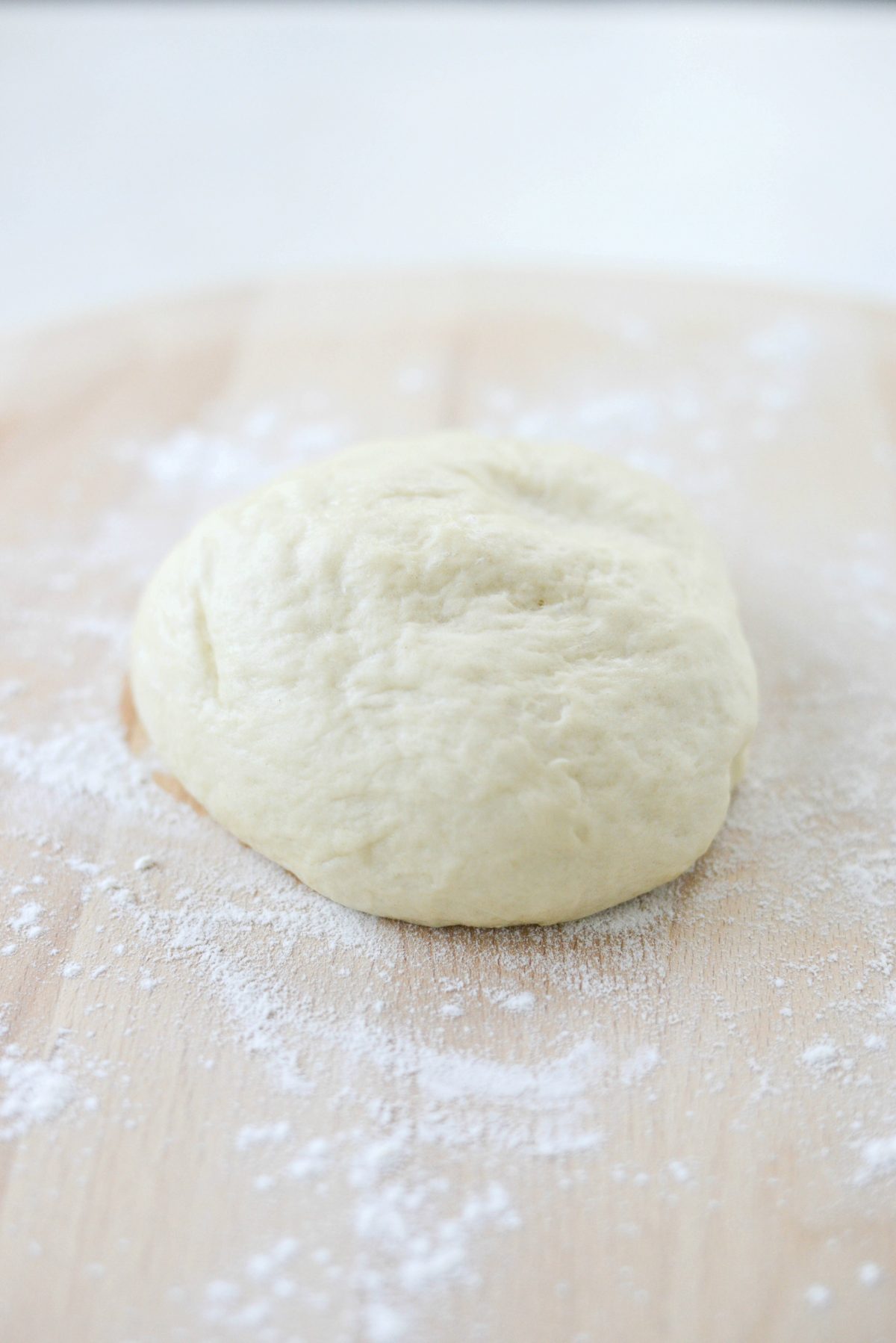 Once the dough has risen, turn it out onto a clean, lightly floured surface. Use your hand to "punch" down the dough, releasing the air inside of it.
Stretch the dough to the fit the desired pan or to a shape you need and follow the instructions for the recipe you're using so you have accurate temperatures and times. Whether it's for pizza, flatbread or breadsticks times and temperatures may vary.
It's as simple and as straightforward as that!
To find pizza recipes click here. For my whole wheat pizza dough, click here.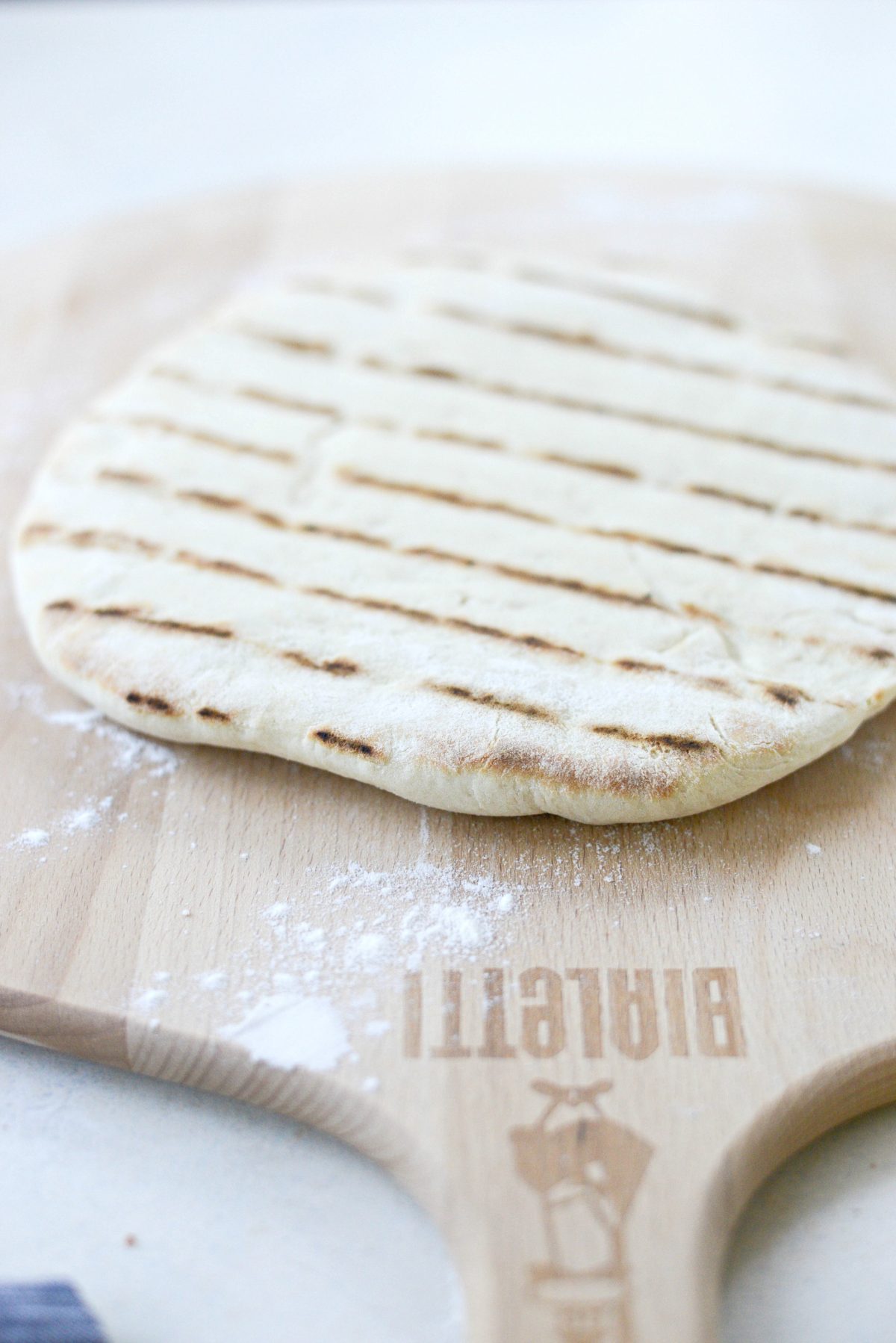 Enjoy! And if you give this homemade pizza dough recipe a try, let me know! Snap a photo and tag me on twitter or instagram!

This post may contain affiliate links.
Buy the Cookbook: Simply Scratch : 120 Wholesome Homemade Recipes Made Easy Now available on Amazon »
THANK YOU in advance for your support!