This is the Best Homemade Funfetti Cupcakes recipe! Who needs store-bought cake mixes when you can make these perfect from scratch cupcakes at home? Fun for all ages! Yields 24 cupcakes.
It happened and I'm not sure how to feel about it.
I mean I knew it was going to happen someday. But I didn't know it was going to happen so fast. I wasn't sure if I should cry, scream, crawl under my covers and pretend it's not true or fist pump.
My daughter turned 10. As in TEN. Years. Old.
I mean she literally was just born, well what feels like yesterday! Her blonde hair in ringlets, her thighs so chubby her onesie pajamas couldn't zip past them. I can still see her with her warm and rosy chubby cheeks, and see her pleasantly plump little feet padding across the floor while she carries every lotion, tube-of-whatever, or cream all gathered up in her arms.
Now it's all about Monster High dolls, chapter books, skinny jeans and converse shoes. Pierced ears, peace signs, feathers and yet she proudly wears her Great Grandma's ring on her finger. But one thing still remains; she's beautiful, smart and caring. Her smile infectious, her laugh contagious. And most importantly, no matter if she likes it or not, Haileigh is still my baby. Even if she is the oldest. Okay, okay I'm pulling up my big girl pants and moving on. Tomorrow.
For her 10th birthday she wanted cupcakes, the funfetti kind. With that came the challenge, to make funfetti from scratch. Hmmm. Cake flour -check, eggs -Cchhheckk, sprinkles chickity-check. It's was as easy as pie-err cake!
First things first, you need to gather all of your ingredients.
First crack and separate the yolks from the whites. Not sure what I'm going to do with those yolks, but I'll save them find a purpose – like a frittata! A special thanks to my oldest daughter for taking such excellent shots for me so I could use both of my hands. Photographer in the making??
Next add in the vanilla and the whole milk.
And whisk until the ingredients are well combined.
Then sift the flour, sugar, baking powder and salt into a separate bowl.
The dry ingredients should be light and airy.
Then place the dry ingredients into your mixing bowl fitted with a paddle attachment.
Next add in the softened butter and mix on low to medium-low speed until creamy!
Sprinkles! Who doesn't love sprinkles? They're right up there with scratch-n-sniff stickers, Faygo pop and hubba-bubba (the blueberry flavor!) *sigh*
Jimmies are the BEST sprinkles for funfetti cakes. They work waaaay better than the flat circular or the nonpareil sprinkles. Promise.
Then sprinkle them into the cake batter (see what I did there?) and gently fold them in by hand.
Consider sneaking off to a quiet corner with the spatula.
Next, line the muffin tin with fun paper cup liners or if you'd rather, use plain colored liners.
Next, fill the cups half way with the funfetti cake batter. Okay… okay, mine are more than half filled. I like tall cupcakes. 🙂
Then bake the cupcakes in a preheated 350°oven for 18-20 minutes or until a cake tester comes our clean. Watch carefully so not to over bake.
Let cool completely before frosting. I frosted these cupcakes with this cream cheese frosting but buttercream frosting works great too! Cream cheese was at my daughter's request. 🙂
Lastly, top the frosted cupcakes with a few sprinkles which only further adds to their cuteness.
I probably should taste test these for quality control. Plus I'm dying to see what they looked like inside!
While the cake is fluffy and moist, the frosting is creamy and sweet. Above all they are fun and certainly bring a smile to your face. The perfect combination.
I also let my girls frost their own homemade confetti cupcakes because they're kids, and kids love to be apart of the baking process. I think they did pretty good!
The cake itself isn't overly sweet, which is how I like it! I still have a dozen or so left… who wants to stop by and help me finish them off? Inbox me!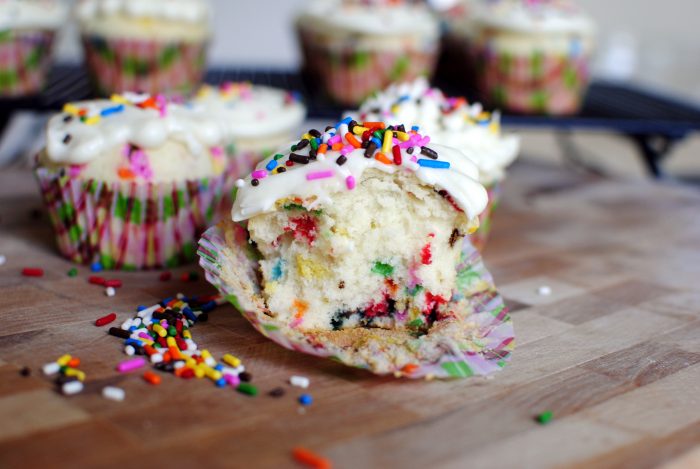 Enjoy! And if you give this Homemade Funfetti Cupcakes recipe a try, let me know! Snap a photo and tag me on twitter or instagram!
Yield: 24 cupcakes
Homemade Funfetti Cupcakes
The Best Homemade Funfetti Cupcakes! Who needs store-bought cake mixes when you can make these perfect cupcakes at home? Yields 24 cup cakes or 2 (9-inch) cakes.
Ingredients
4 large egg whites
1 cup whole milk
2 teaspoons pure vanilla extract
3 cups cake flour, sifted
1½ cups granulated sugar, sifted
4 teaspoons baking powder
1/4 teaspoon kosher salt
3/4 cup unsalted butter, softened
1/2 cup rainbow sprinkles, plus more for garnish
1 recipe for cream cheese frosting or vanilla buttercream
Instructions
Preheat oven to 350° and line a cupcake pan with paper liners.

Combine the egg whites, vanilla whole milk. Whisk together and set aside.

In a large mixing bowl; sift the dry ingredients. Fitted with a paddle attachment, blend the dry ingredients with the butter and half of the milk and egg mixture. Scrape the sides and bottom of the mixing bowl, and then slowly add the remaining mixture and stop mixing once combined.

Fold in sprinkles and fill paper liners half way. Bake in preheated oven for 17-20 minutes. Watch carefully so you don't over bake.

Lastly, frost with the prepared cream cheese frosting and sprinkle with remaining sprinkles.

Refrigerate any uneaten cupcakes.
Serving: 1cupcake, Calories: 357kcal, Carbohydrates: 48g, Protein: 4g, Fat: 17g, Saturated Fat: 10g, Polyunsaturated Fat: 1g, Monounsaturated Fat: 4g, Trans Fat: 1g, Cholesterol: 47mg, Sodium: 171mg, Potassium: 69mg, Fiber: 1g, Sugar: 36g, Vitamin A: 566IU, Calcium: 75mg, Iron: 1mg
This post may contain affiliate links.
Buy the Cookbook: Simply Scratch : 120 Wholesome Homemade Recipes Made Easy Now available on Amazon »
THANK YOU in advance for your support!