This homemade bean and bacon soup is made entirely from scratch and yet just as easy! I soaked navy beans overnight and then simmered them with sautéed onions, carrots and celery in a light tomato and chicken broth. A one pot soup I know you'll love! Oh and my favorite part is the many pieces of Applewood bacon throughout!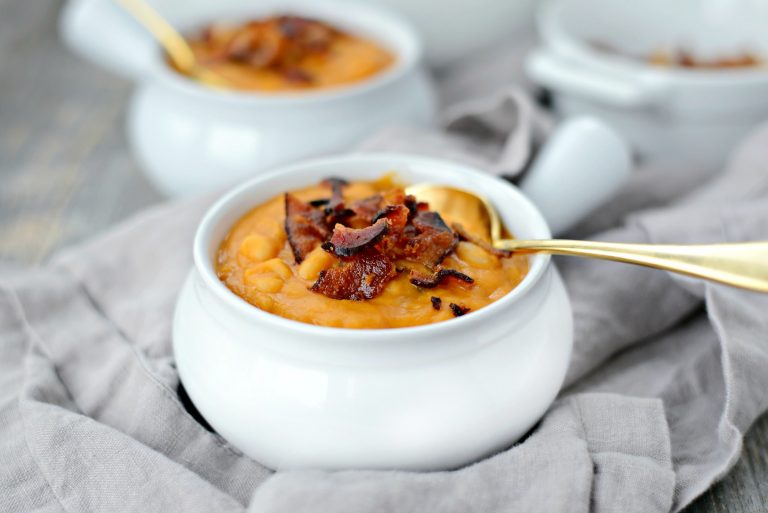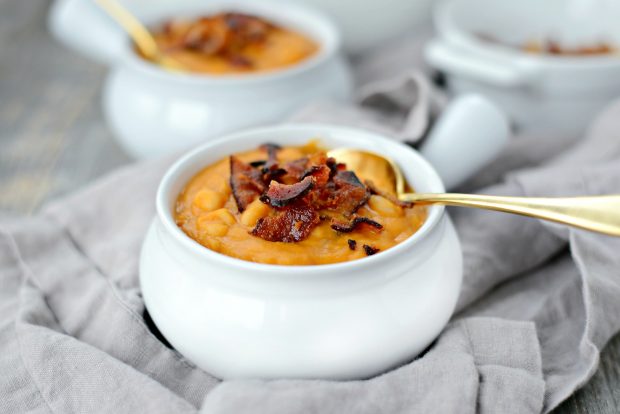 One of my all time favorite soup was (is still?) bean and bacon soup.
I always had my fingers crossed for more than one piece of bacon in my bowl.
I decided to make a homemade bean and bacon soup because I was craving it. It had been so long since I had it that all I could think about was grilled cheese and that soup. In fact this homemade bean and bacon soup inspired me to make another throwback recipe. If you saw, the other day I went all nostalgic and posted a childhood throwback to my favorite double decker grilled cheese sandwich. Which went perfectly with this soup might I add.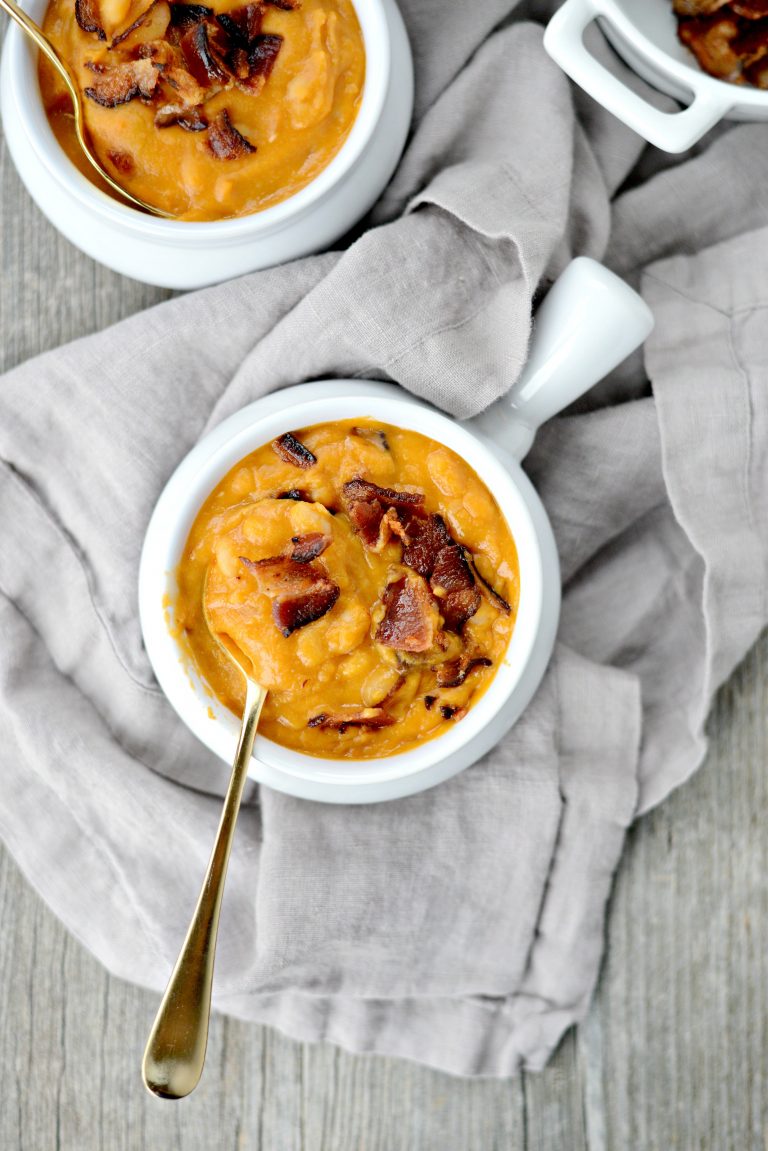 This soup has the perfect bean to bacon ratio. The Applewood smoky flavor is there and not over powering, just as I remember it to be. This lunch or (dinner!) soup and sandwich combo took me back to that time as a kid, sitting at my parents table, looking out at the back yard and inhaling my soup.
Only this time, I had way more than a couple pieces of bacon in my bowl.
TO Make This Homemade Bean and Bacon Soup You will Need:
navy beans
cold water
thick-cut applewood smoked bacon
yellow onion
carrot
celery
garlic
low-sodium chicken broth
tomato sauce
a pinch of sugar
kosher salt
freshly ground black pepper
The Night Before:
Sort through the beans and discard any debris. Add the sorted beans into a large bowl, cover with cold water and soak over night.
Day of:
Add 4 slices of bacon into a 6 quart Dutch oven, heated it to medium so the fat would slowly release and cooked it until crispy (turning every so often). Transfer the cooked bacon to a paper towel lined plate and repeat with the last four slices. Then drain off all of the fat and measure 2 tablespoons and add back into the pot. Once the bacon has cooled, give it a rough chop.
Then add in the 3/4 cup diced yellow onion and 1/2 cup of both diced celery and carrot and a pinch of kosher salt.
Stir the vegetables, coating them in the bacon fat. Cover and cook over medium-low for 8 minutes or until softened. Next, add in the garlic and cook for 1 minute.
Add in the soaked (drained) beans, 6 cups of low-sodium chicken broth, 1 cup tomato sauce with pinch of sugar.
I have also included instructions using canned beans in the recipe printable. 😉
Then give it all a stir, cover and bring to a boil. Reduce heat to medium-low, leave the the lid askew, only a sliver and simmer the soup, stirring only occasionally for 1 hour and 30 minutes or until the beans are tender.
You'll know the soup is done when the liquids have reduced and beans are tender and soft.
Depending on how thick or thin you want your soup to be, transfer 1/3 to 1/2 of the soup into a blender.
Remove the plug from the lid and carefully hold a kitchen towel over the hole and puree until smooth.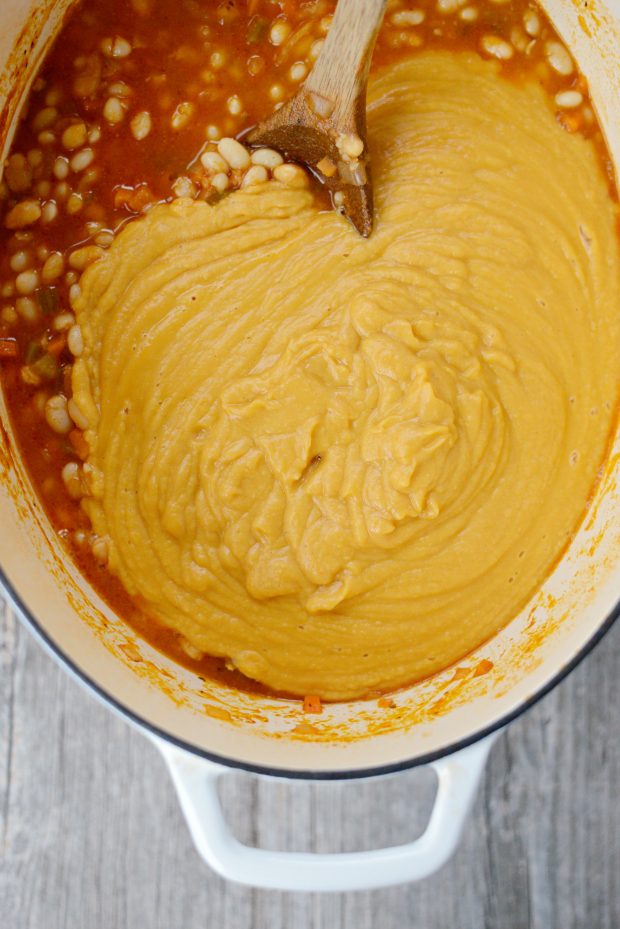 Then add the pureed soup back to the pot and stir to combine.
If your soup is too thick, add a few splashes or more of the broth until it reaches a desired consistency.
I did not because we were heading out the door for my daughter's indoor softball game and I had impatient eyes on me while I took these last few shots, so that's why mines looks a little too thick. It was still good though!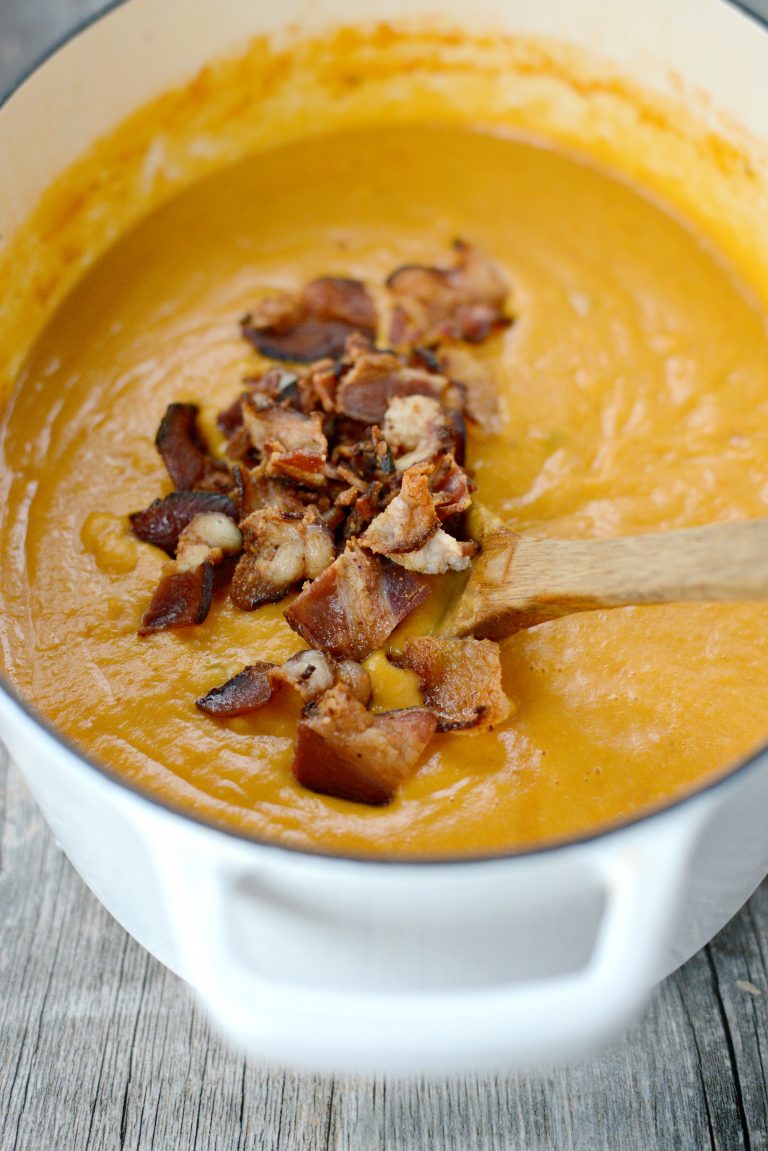 Finally add 1/2 of the chopped bacon into the pot.
Lastly, ladle the hot soup into bowls, topping with as much of the remaining bacon as your heart desires.

Enjoy! And if you give this Homemade Bean and Bacon Soup recipe a try, let me know! Snap a photo and tag me on twitter or instagram!
This post may contain affiliate links.
Buy the Cookbook: Simply Scratch : 120 Wholesome Homemade Recipes Made Easy Now available on Amazon »
THANK YOU in advance for your support!