Got lots of Halloween Candy laying around? Make these super fun Halloween Candy Cookie Bars! Homemade cookie dough mixed with chocolate and peanut butter candies are first baked and then pressed with all the best goodies and spooky eyes! Yields 18 bars.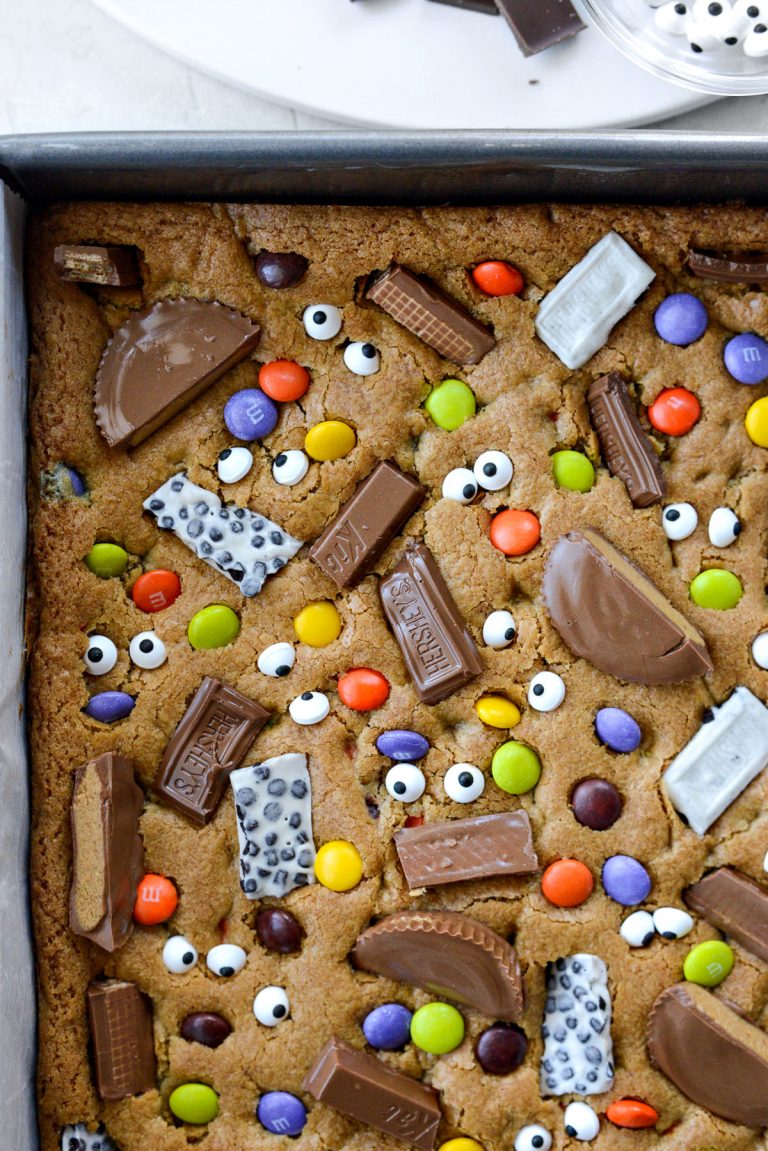 Seriously – How fun are these cookie bars?
Halloween is tomorrow and we all are going to be up to our eyeballs (get it?) in candy amiright? Earlier this month, Pat and I made a trip to Costco and bought 4 packages of full-size candy bars to hand out. Only except we dipped into them that same weekend and all the Reese's peanut butter cups are now gone and the KitKat bars are almost gone as well. #nowillpower
With that said, I did pick up some extra bags of candy. After opening the bag, I wanted to eat them all. <—see no will power. None. I then thought of ways I could eat allthecandy. I know right? The smell of halloween candy is the BEST. This is what inspired me to make these fun Halloween Candy Cookie Bars.
I used our favorite candy bars. Reese's pb cups, KitKat bars, Hershey and I even made a special trip to pick up candy eyeballs. They add a little somethin-somethin don't you think?
To Make These Halloween Candy Cookie Bars You Will Need:
unbleached all-purpose flour
baking soda
kosher salt
unsalted butter
dark brown sugar
granulated sugar
eggs
vanilla
Reese's Pieces
chocolate M&M's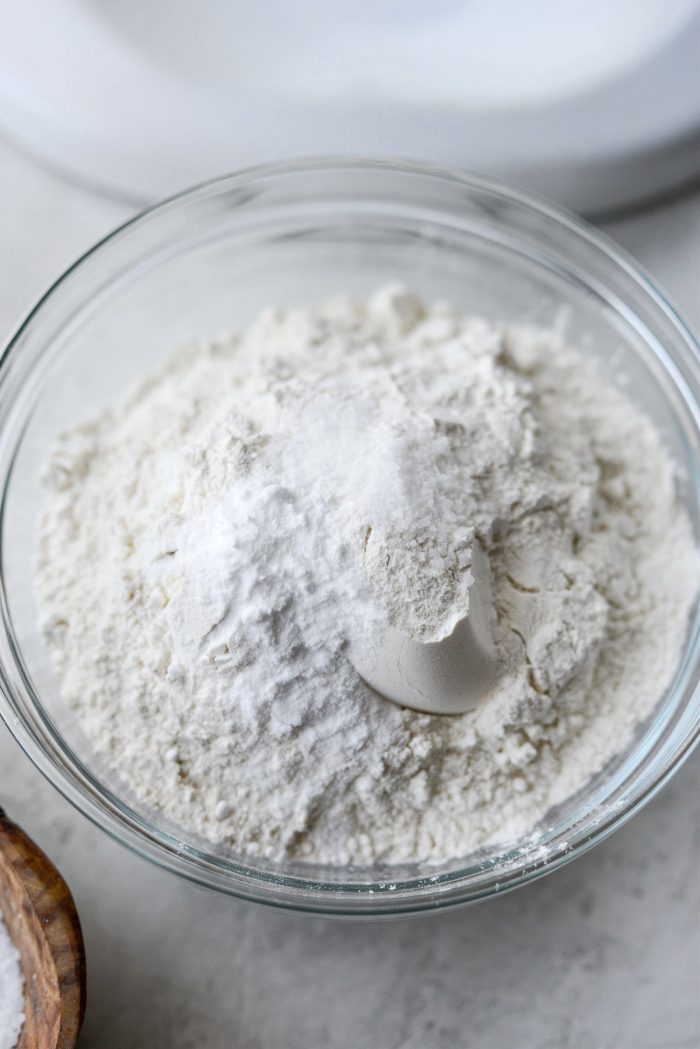 First, line a 9 x 13 x 2 baking pan with parchment paper and lightly spray with nonstick spray. Then, in a medium bowl, combine 2-1/4 cups unbleached all-purpose flour, 1 teaspoon baking soda and 3/4 teaspoon kosher salt. Stir and set off to the side.
Next, in the bowl of your stand mixer, add butter and both sugars.
Blend on medium to medium-low speed until creamy.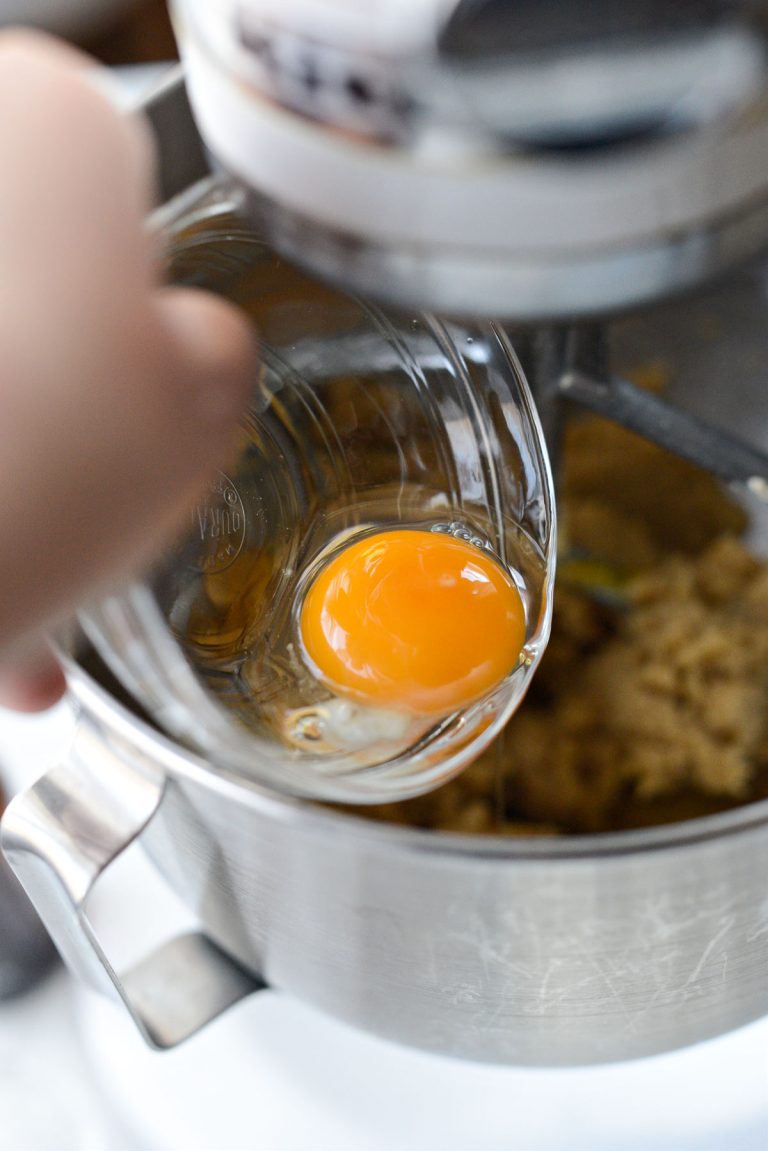 Add one egg at a time, mixing well after each one.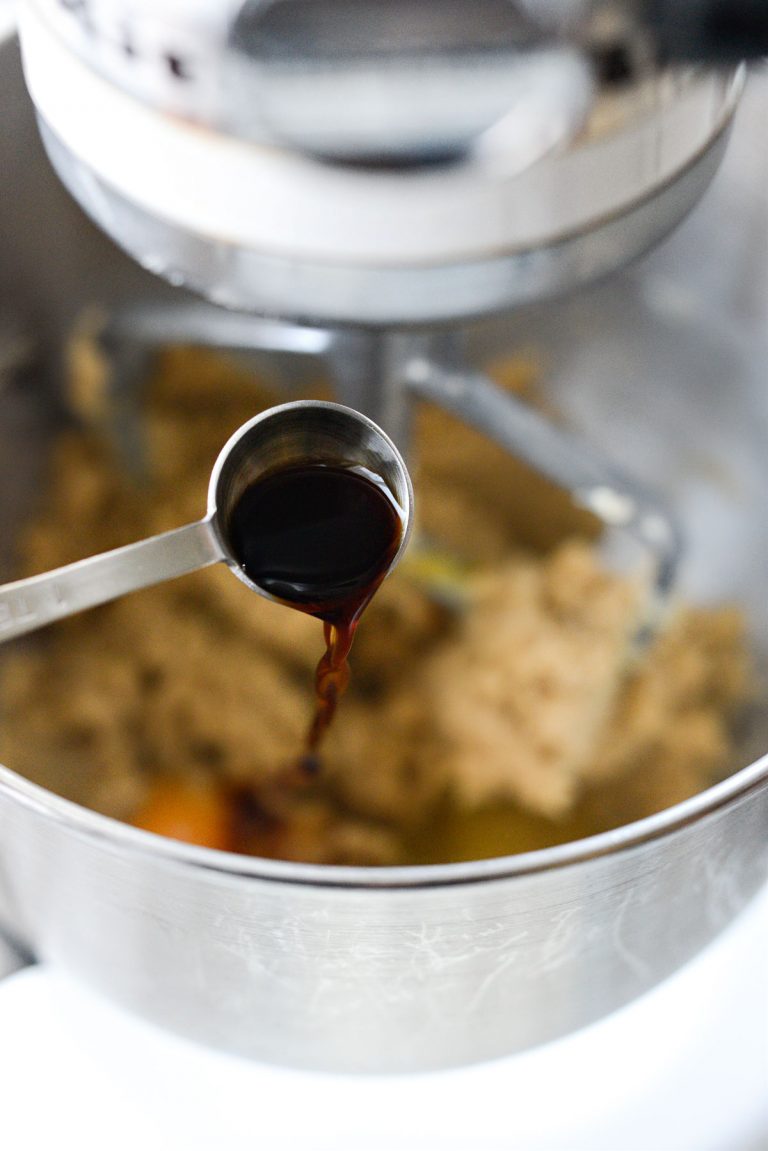 Measure and add 1-1/2 teaspoons vanilla extract with the last egg.
Continue mixing until the last egg and vanilla have been incorporated. Scrape down the sides and bottom of the bowl.
Add half of the flour mixture and mix on low until just incorporated, before adding the rest.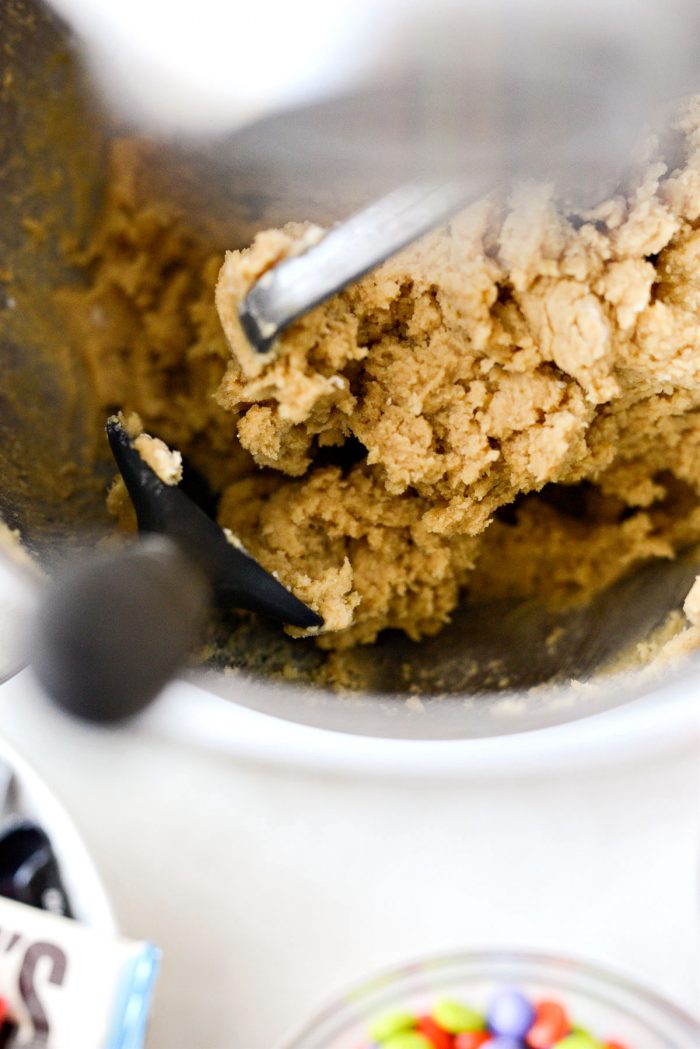 Again, scrape down the sides and bottom of the bowl one last time.
To the cookie dough, add 1/2 cup each Reese's pieces and chocolate M&M's.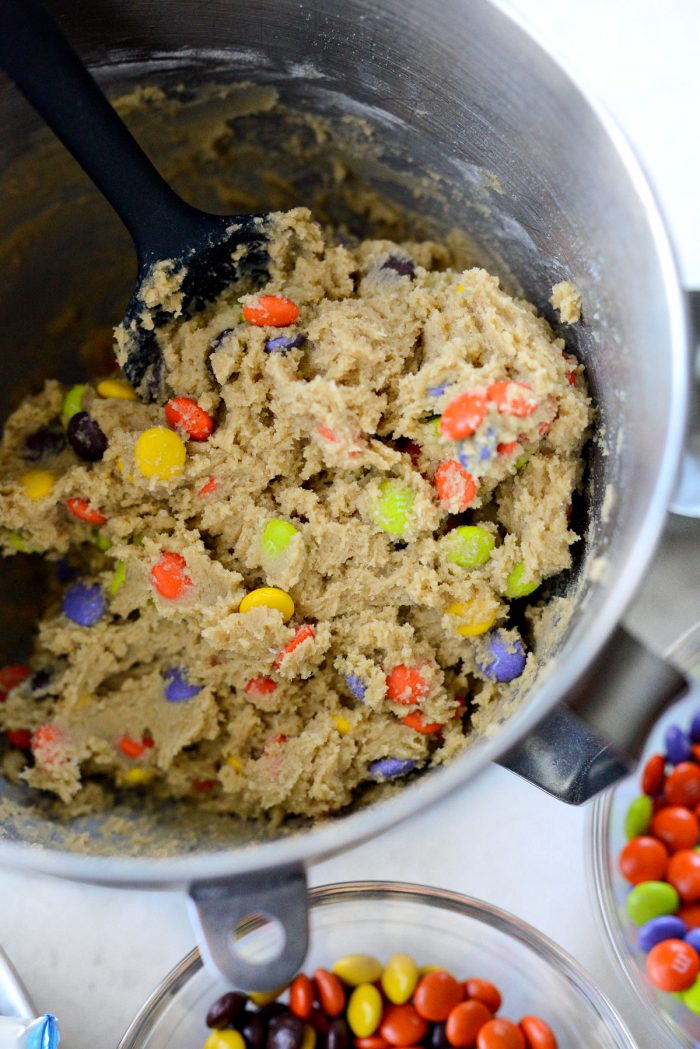 I mix by hand until the candies are mixed throughout.
Transfer the dough to your prepared pan.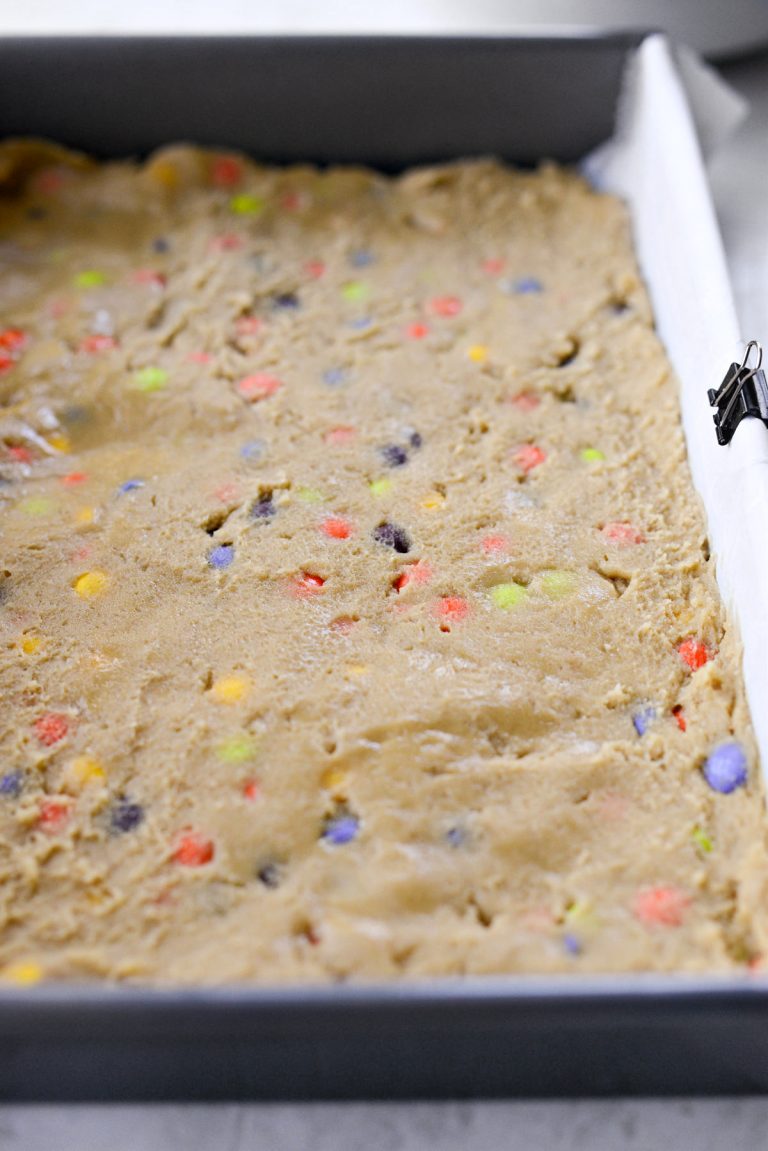 Either lightly spray your fingers with nonstick spray or use a sheet of wax paper or parchment to press the dough evenly in the pan.
FYI the wax paper/parchment route is the cleanest.
Slip the pan onto the middle rack of your preheated 350° oven and bake for 18 to 20 minutes. Rotate the pan halfway through.
Meanwhile unwrap, break up and or chop the chocolate candies. I used peanut butter cups, Hershey's bars, KitKat bars, more M&M's, Reese's Pieces and some candy eyes. But you could also do snickers, butterfingers, take 5's … I now have another variation to consider.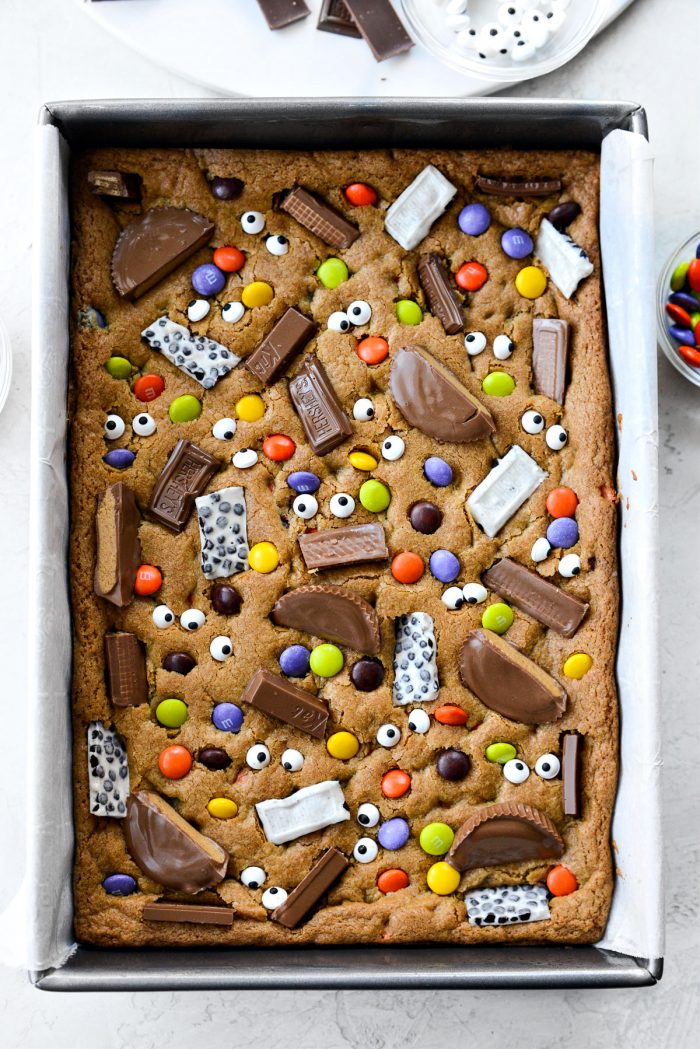 Once the cookie bars have come out of the oven, immediately press the candies into the top of the bars. Doing this while the top of the cookie bars are soft is the only way you will get them to stick. Promise.
Why not bake the bars WITH the candy bars on top? In my opinion, the oven does weird things to the chocolate. I don't think candy bars should be baked either – unless they are IN the dough.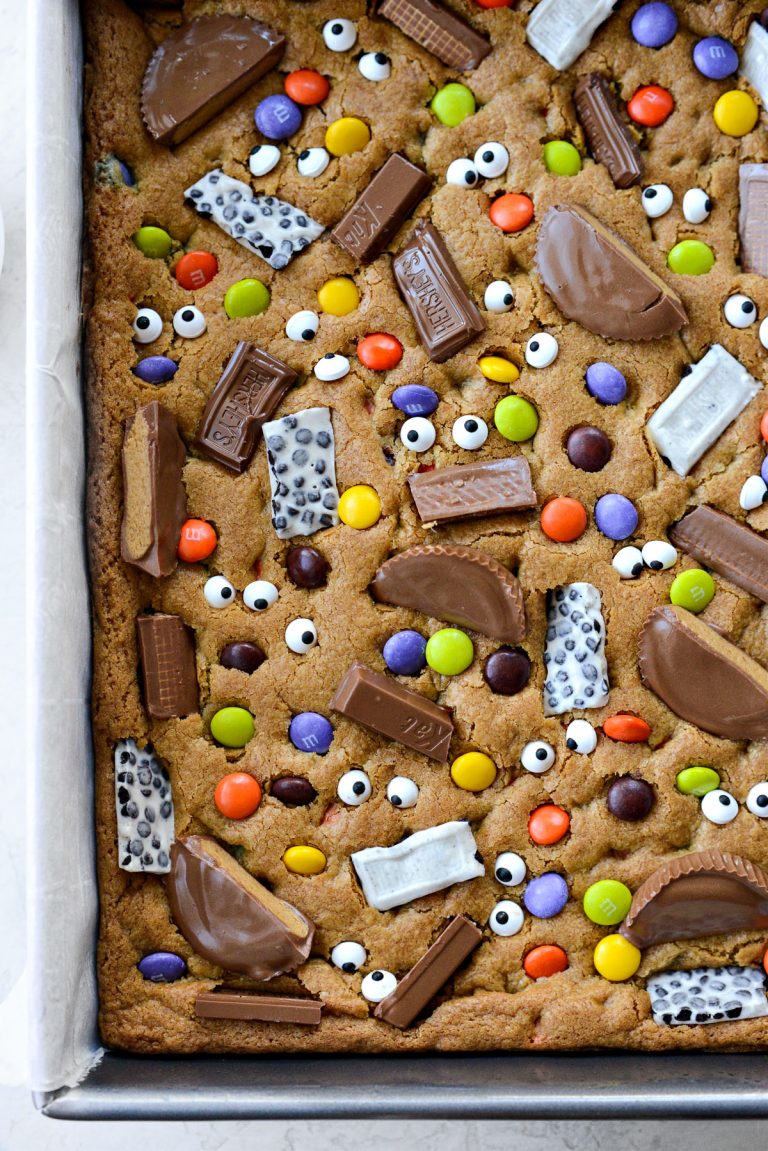 I mean… how CUTE?
Allow the bars to cool completely before slicing into squares and serving.
Ps. I'm the worst at cutting dessert bars. obviously.
Enjoy! And if you give this Halloween Candy Cookie Bars recipe a try, let me know! Snap a photo and tag me on twitter or instagram!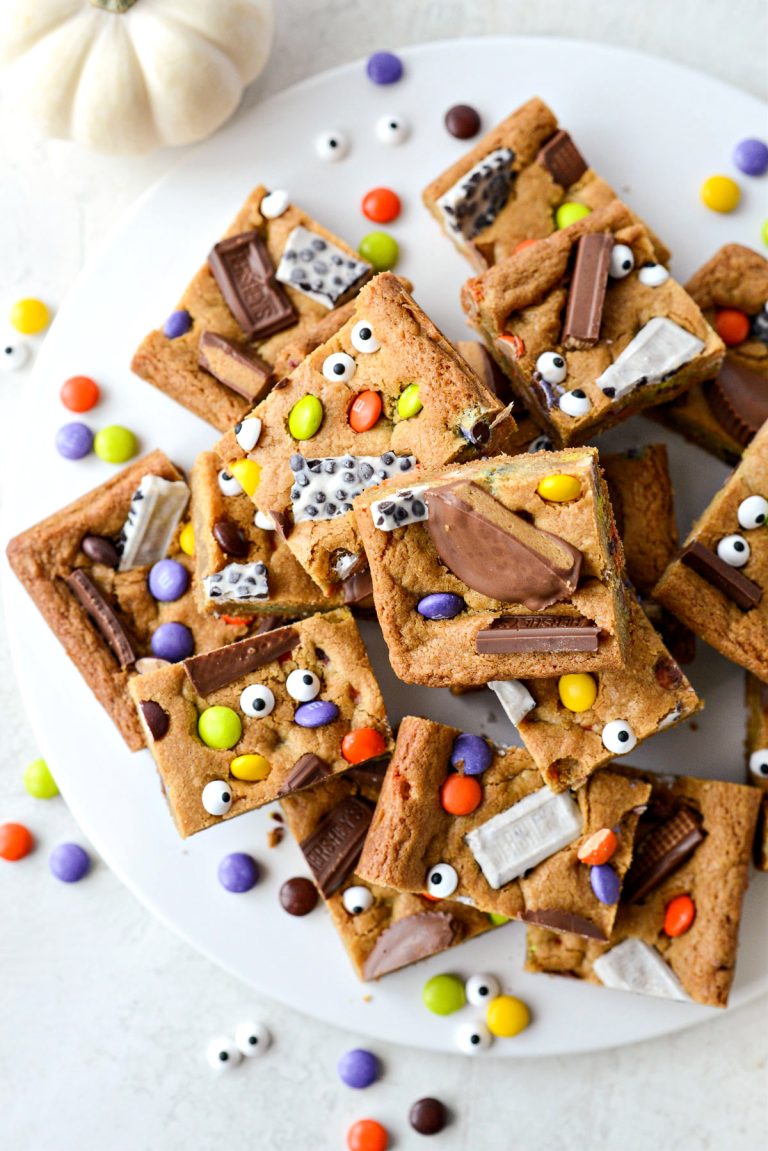 This post may contain affiliate links.
Buy the Cookbook: Simply Scratch : 120 Wholesome Homemade Recipes Made Easy Now available on Amazon »
THANK YOU in advance for your support!