These Grilled Sesame Steak Skewers are simple and yet exploding with flavor. Sirloin steak soaks in a sesame ginger marinade for a few hours before threaded onto skewers with red onion and grilled until sticky and caramelized. Serves 4 to 6 in 30 minutes (not including the time it takes to marinate).
What is better than getting a ton of yard work done? We had such a beautiful day on Saturday that Pat and I spent most of the day outside. Together we picked up a lot of sticks and pulled even more weeds. While Pat cut the grass I weeded out and scaled back my herb garden, getting it primed and ready for planting.
It took us all day, but it was nice to check that box off of the never ending list of stuff we need to do.
We only have a few more weekends until the busy travel summer softball season begins, with both of our girls playing this year. PLUS Mal made the varsity dance team for the upcoming school year when she starts high school (I still can't believe she will be a freshman!) and that begins this summer as well. This may just be our busiest year yet! But I think I say that every year.
Afterward all that yard work, we grilled. It was only hotdogs, because we didn't have the energy for much more but they were the BEST hotdogs ever. I actually LOVE grilling and have grilled most nights this week, with the exception of the evenings Malloree had middle school softball games. This year, I have vowed t take full advantage of any and all the warm weather days we have. It was so cold for so long, I can't help but feel like it may snow again. Heck, it is Michigan after all, it could happen.
Our motto this year is: if it's nice out, we will grill. 😉
Earlier in the week, I made these grilled sesame steak skewers. Cubed sirloin marinates for a few hours in a quick marinade consisting mostly of garlic, ginger, tamari, brown sugar and sesame oil. After the steak marinates, it gets threaded onto skewers with red onion (and any veggies you choose) and grilled. I then reduce the marinade (cooking out any bacteria etc.) and glaze the skewers while they grill, making them sticky and delicious.
Heaven on a stick, I tell you.
To Make This Grilled Sesame Steak Skewers:
garlic
ginger
dark brown sugar
oyster sauce
tamari
toasted sesame oil
olive oil
toasted sesame seeds
cubed sirloin steak
white pepper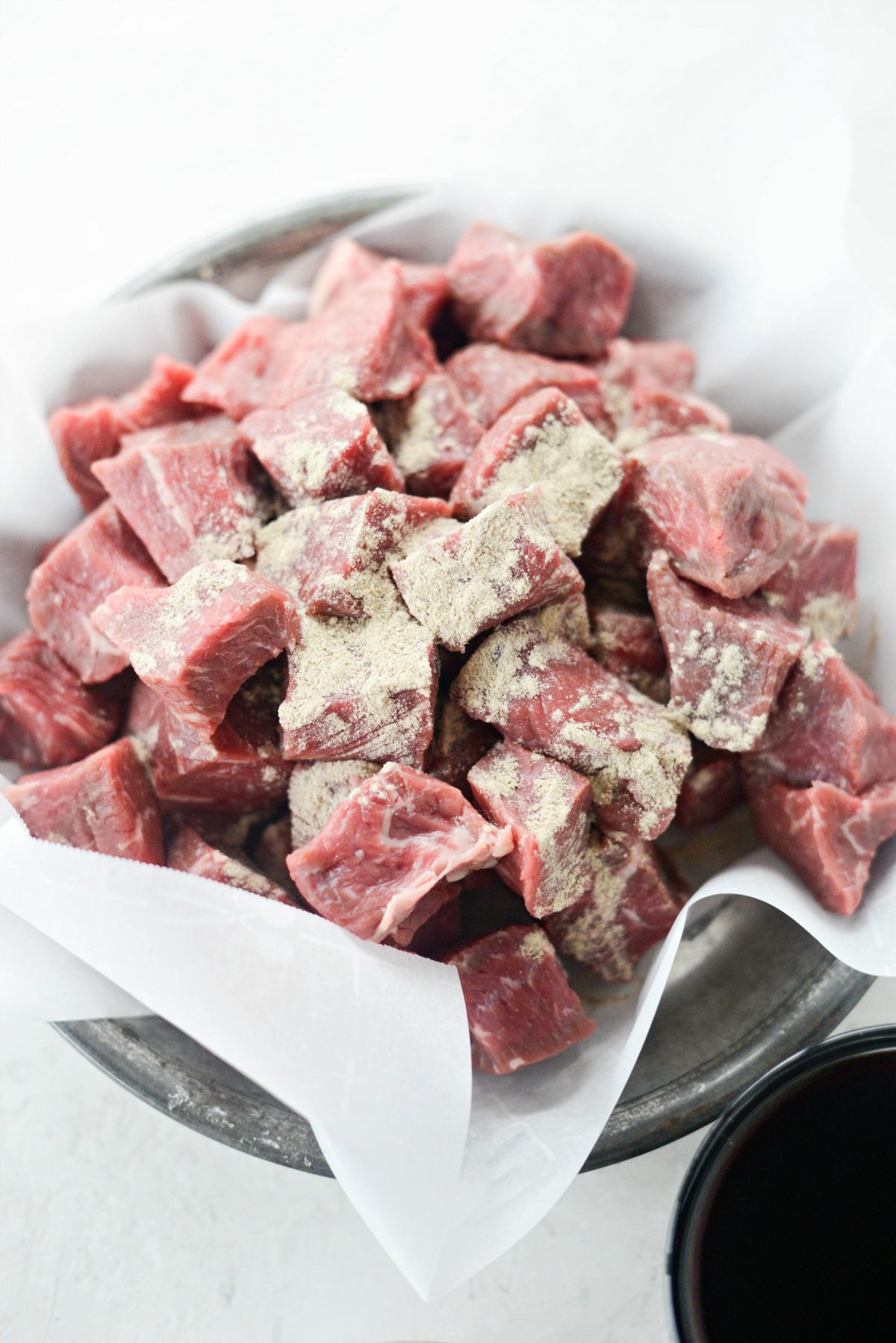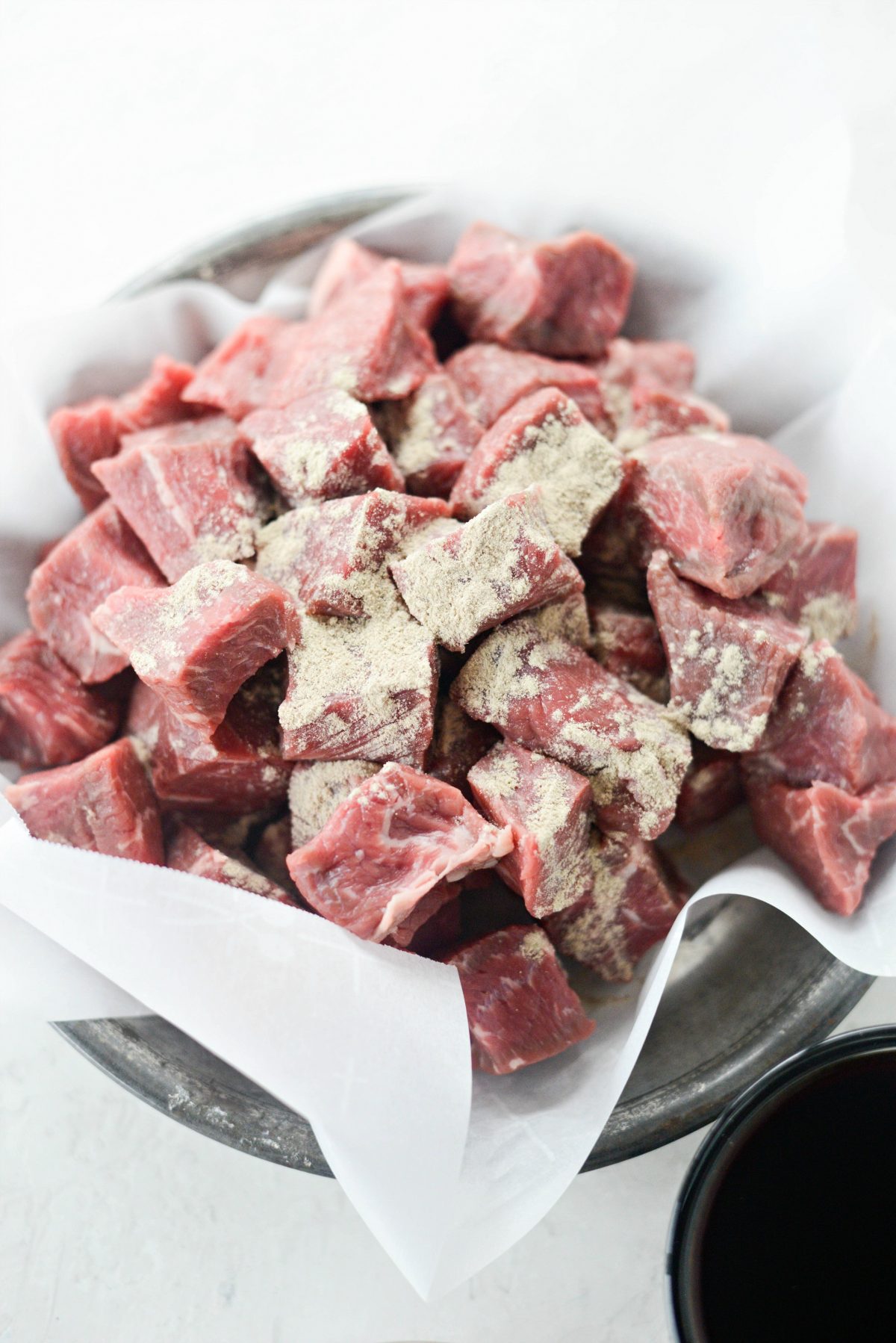 Toss 1-1/2 pounds of cubed sirloin steak with 1/2 teaspoon ground white pepper and scoot to the side.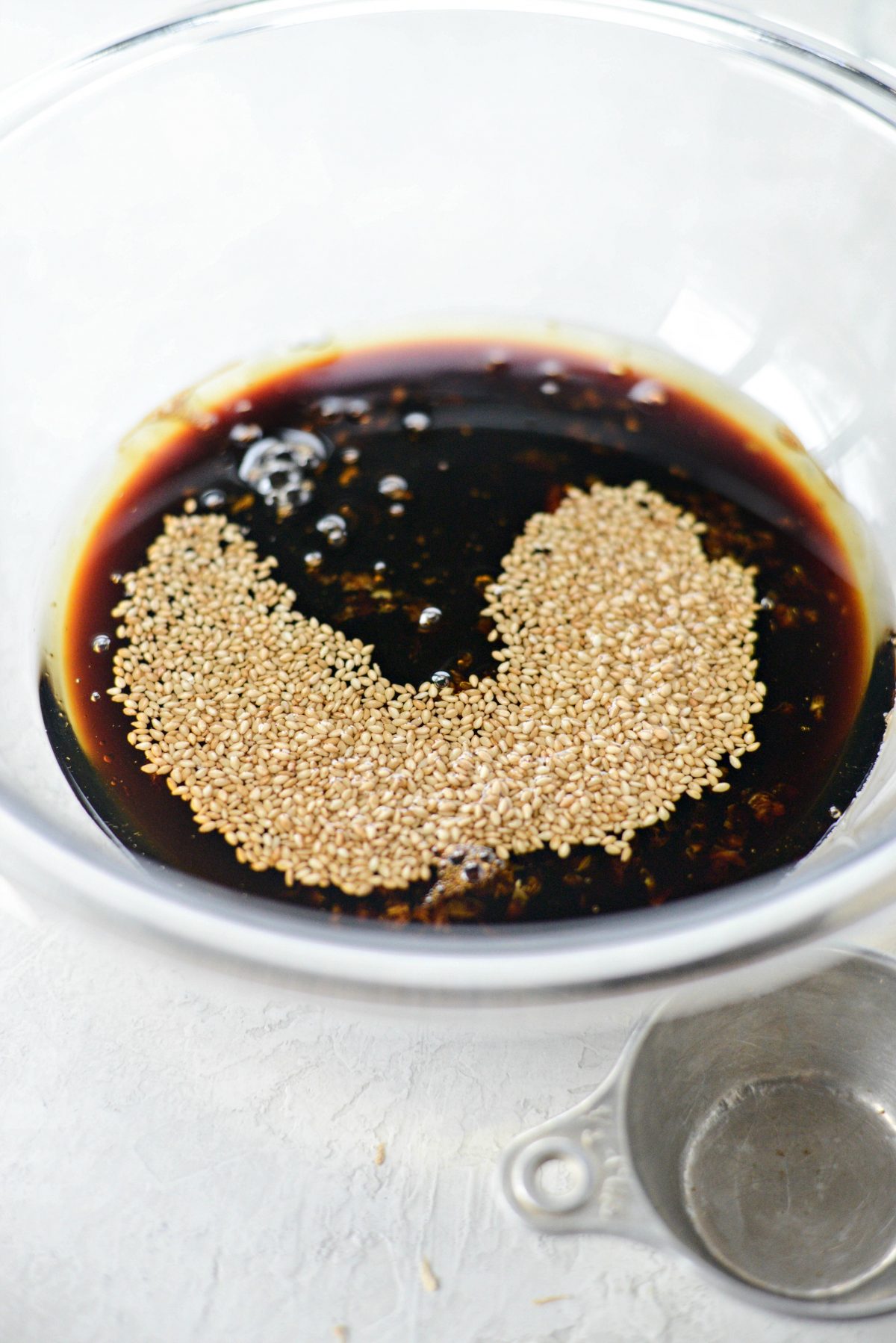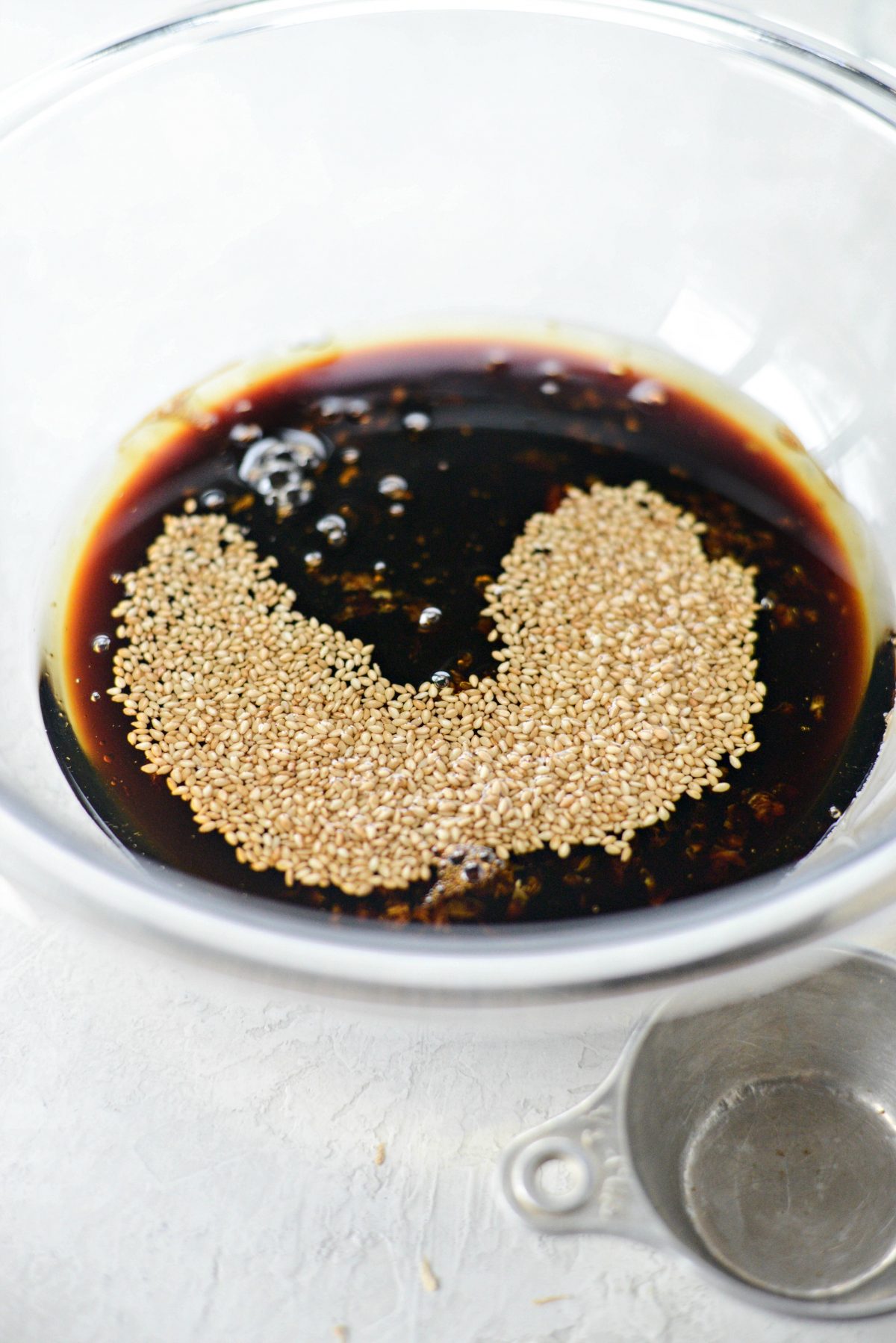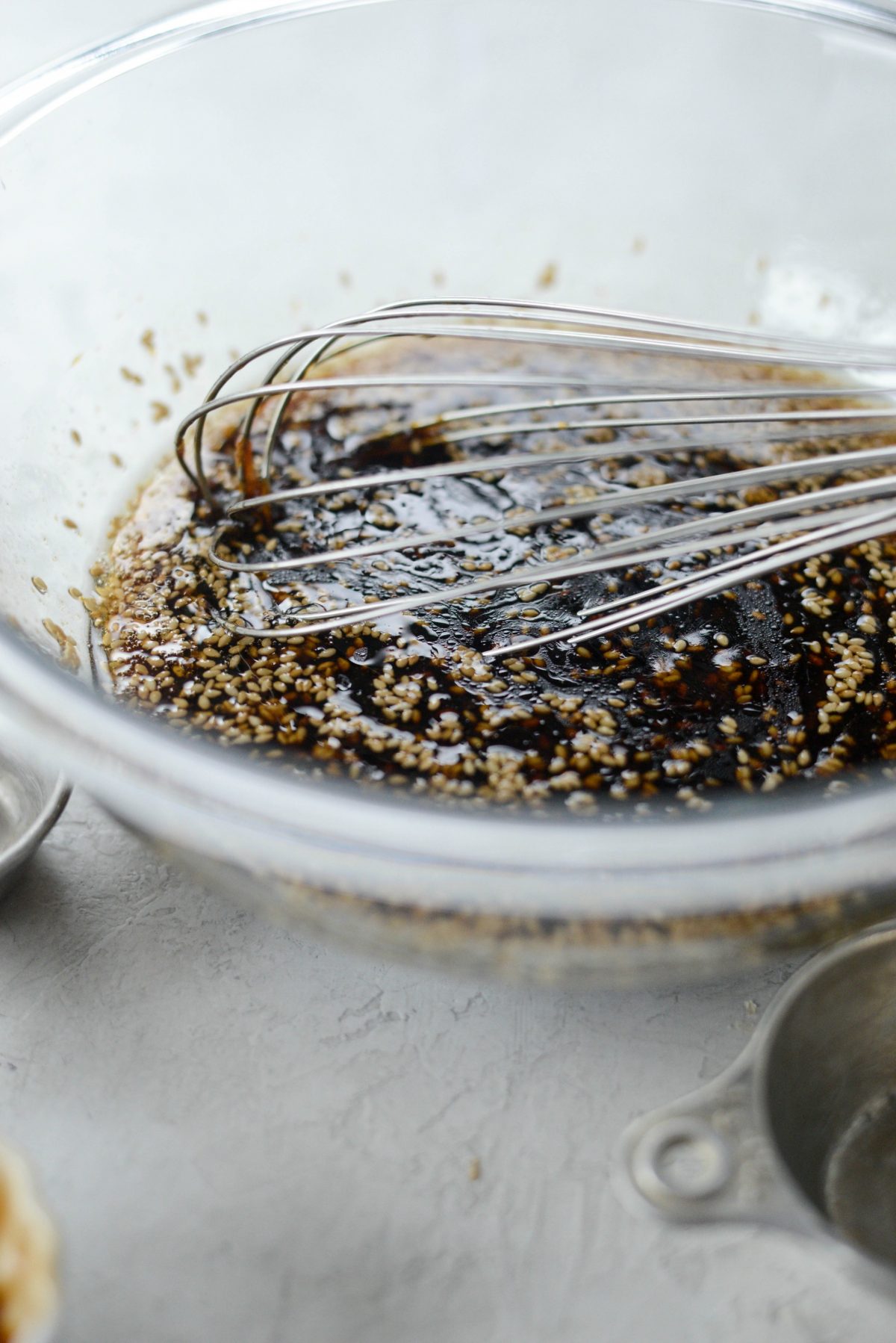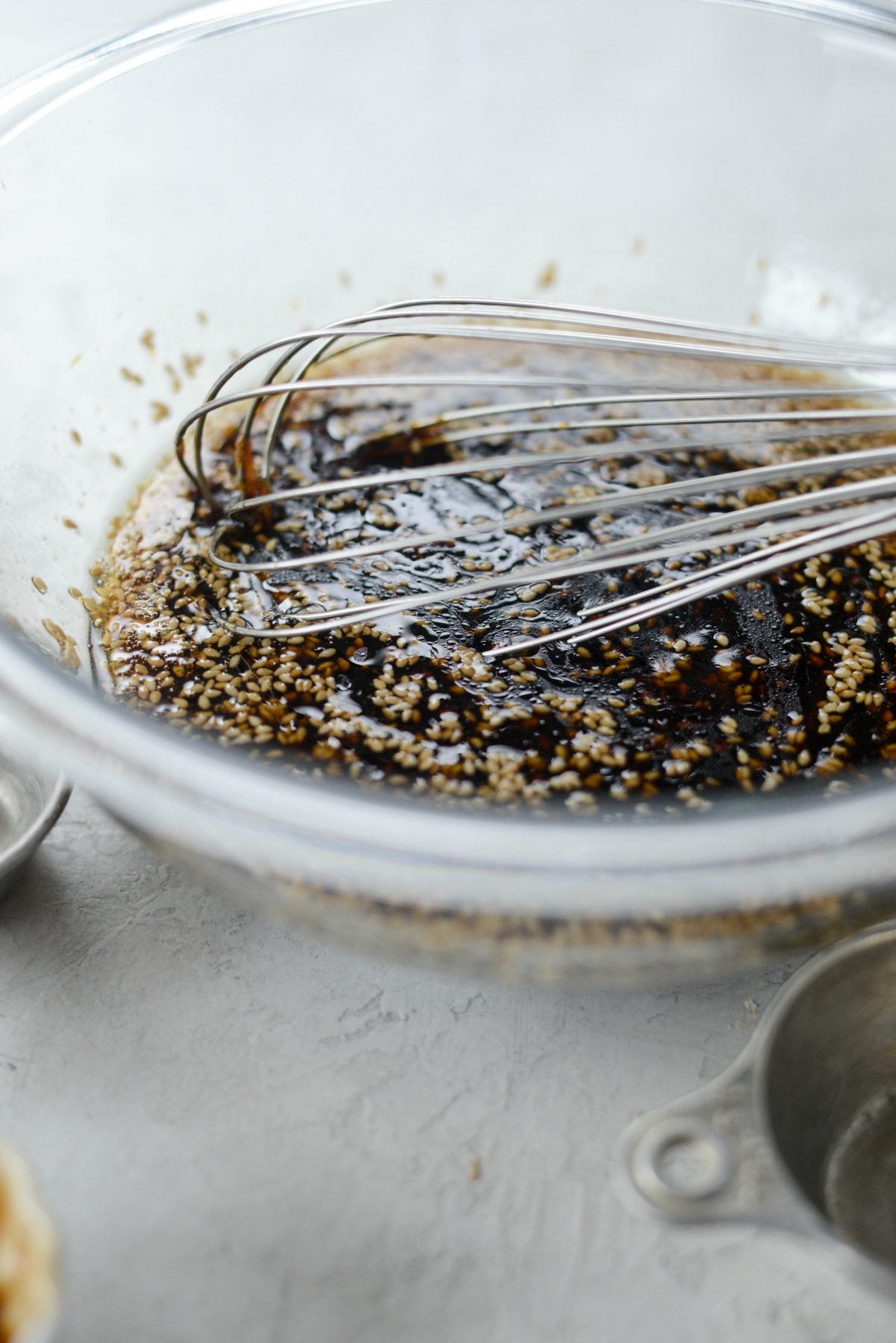 In a large bowl add 6 cloves grated fresh garlic, 1 tablespoon grated fresh ginger, 1/3 cup dark brown sugar, 2 tablespoons oyster sauce, 2/3 cup low-sodium tamari (or you could use low-sodium soy sauce), 1/4 cup toasted sesame oil, 1/4 cup light olive oil and 1-1/2 tablespoons toasted sesame seeds. Whisk to combine.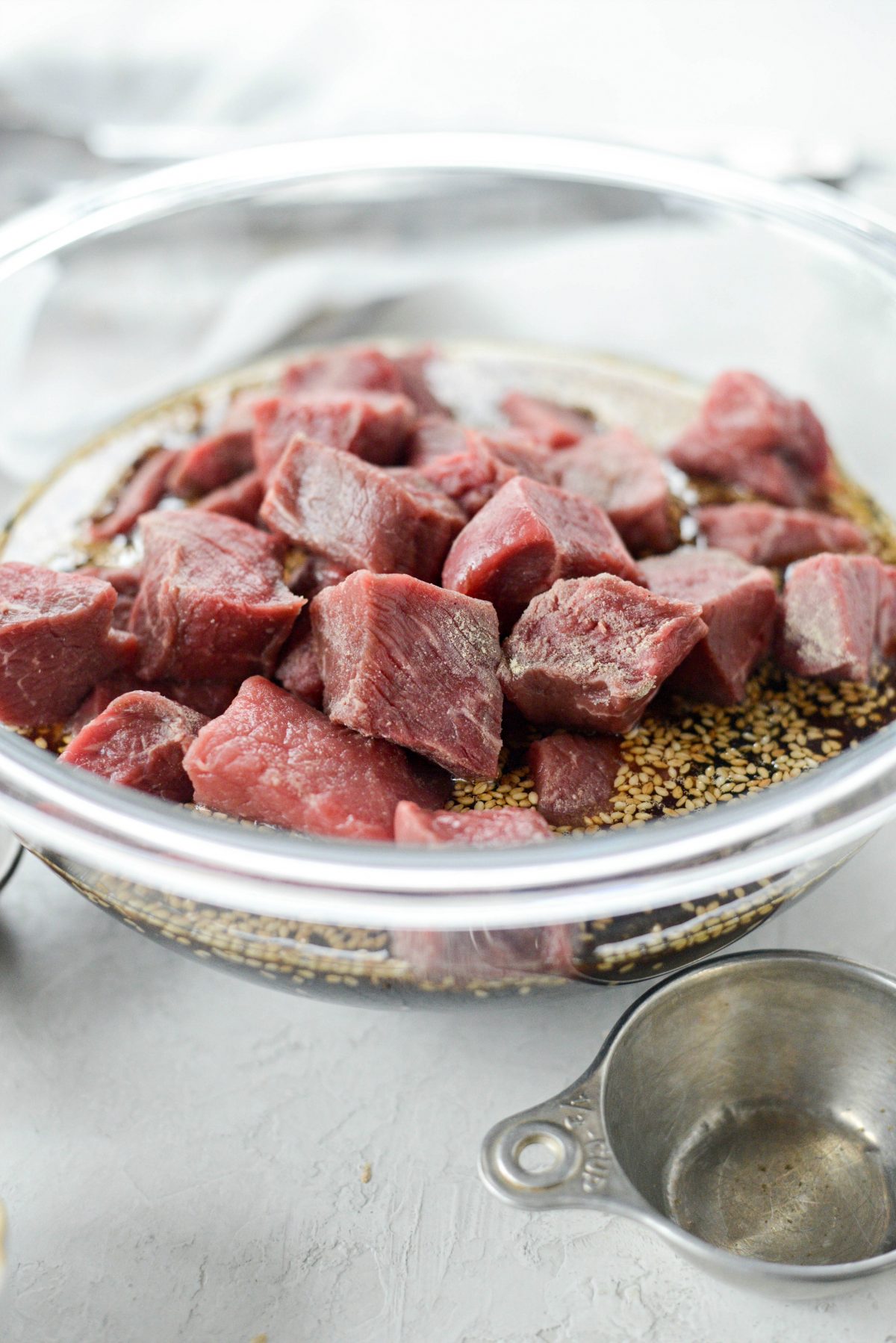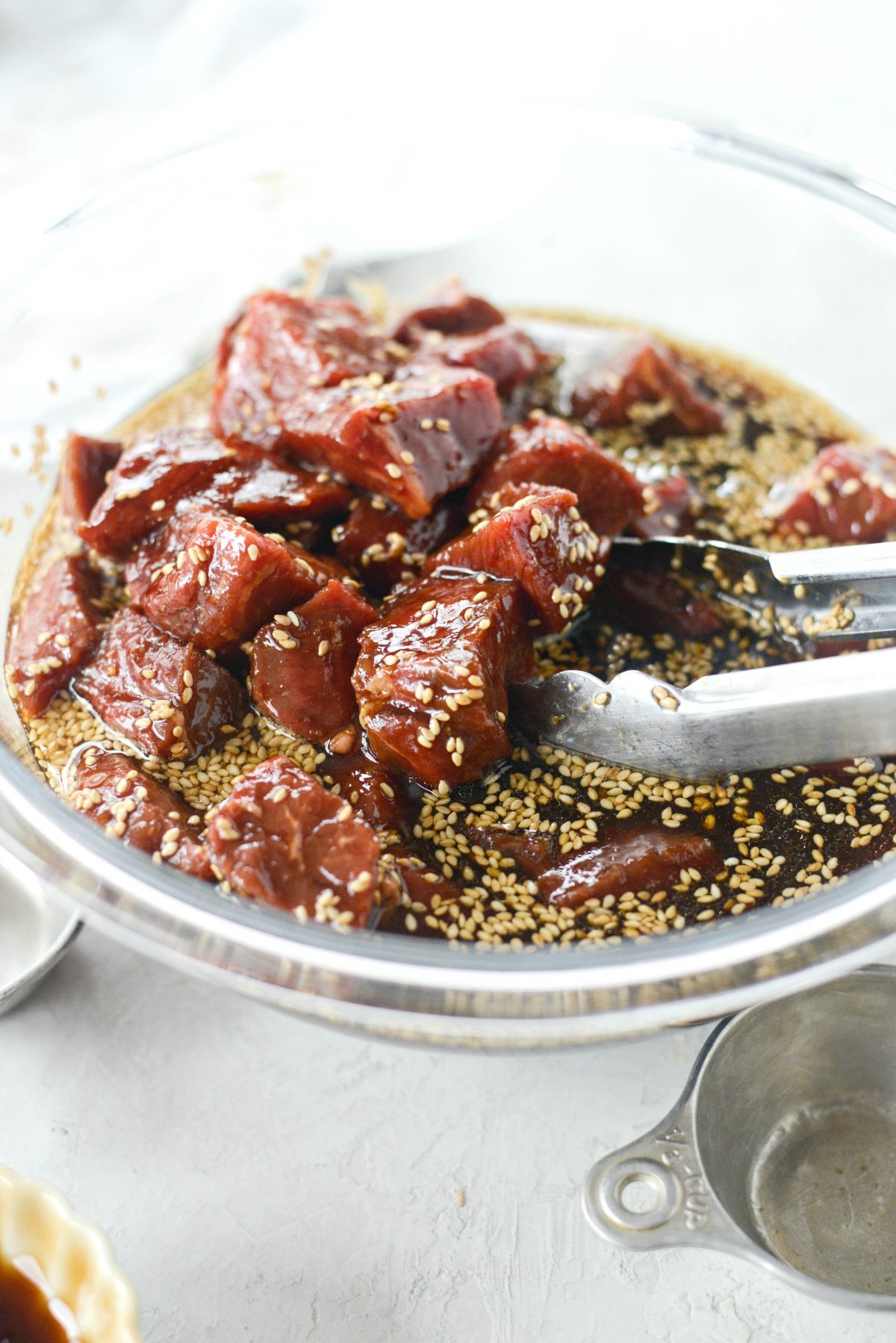 Add in the seasoned steak and use tongs to toss and coat. Submerge the steak into the sesame marinade, cover tightly and refrigerate for 2 to 4 hours. Easy-peasy.
Thread the steak with largely diced red onion onto metal skewers (soak wooden skewers for at least 30 minutes if using those instead) and preheat your grill to 450°.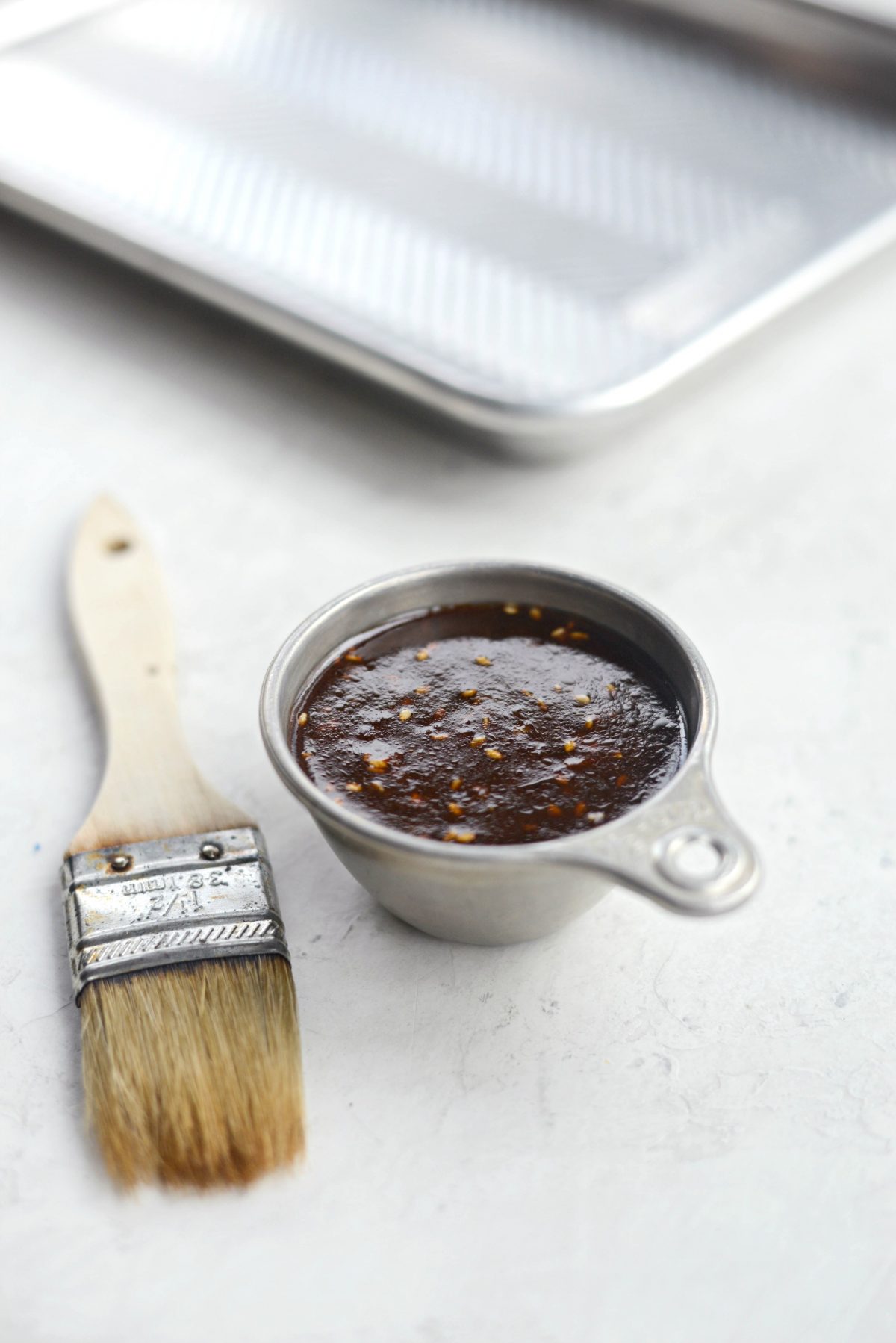 Meanwhile, pour the marinade into a skillet and bring to a boil. Cook for 5 minutes before whisking in a slurry of 1-1/2 tablespoons of both cornstarch and cold water. Once thickened, remove the sauce/glaze off of the heat and measure out 1/2 cup.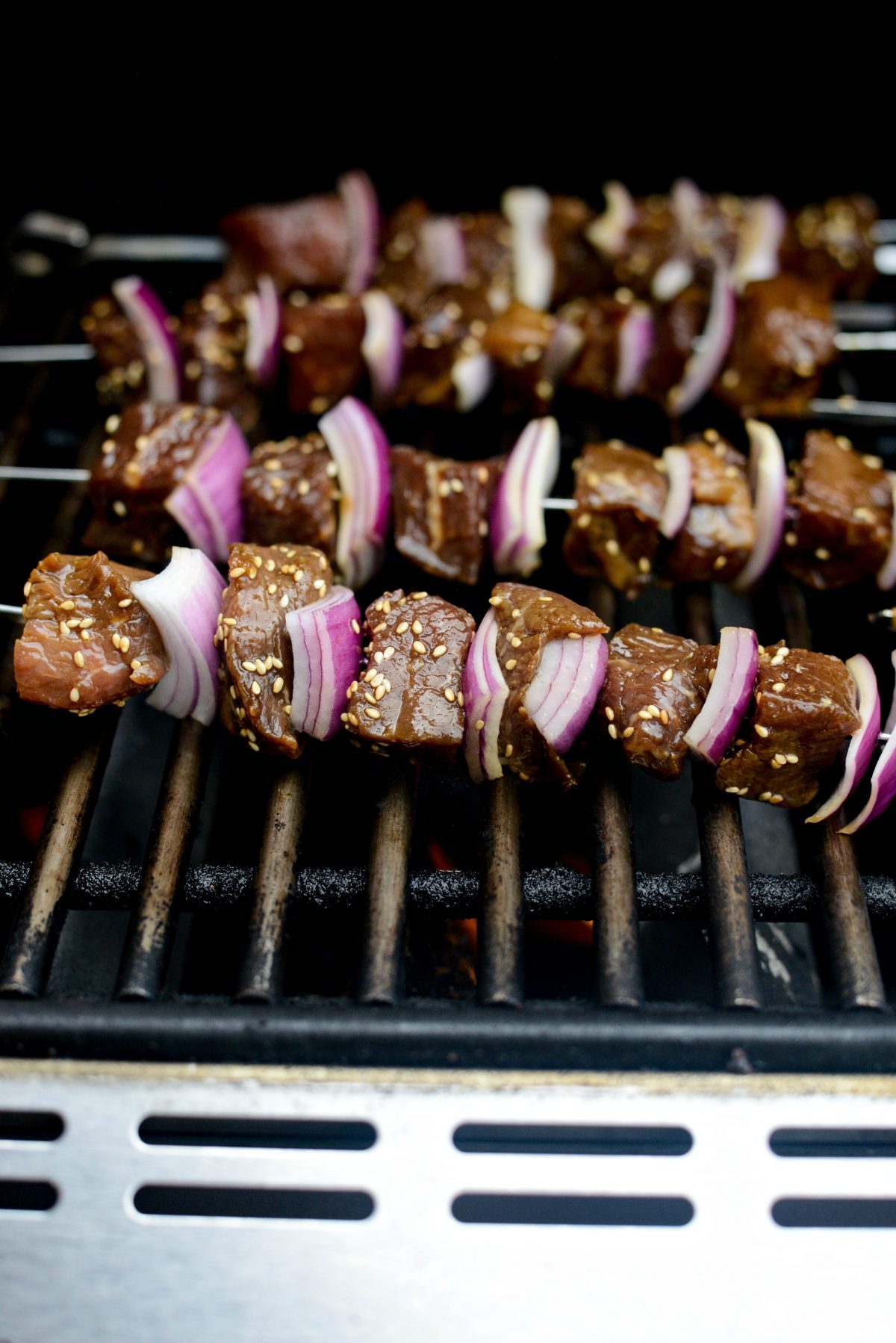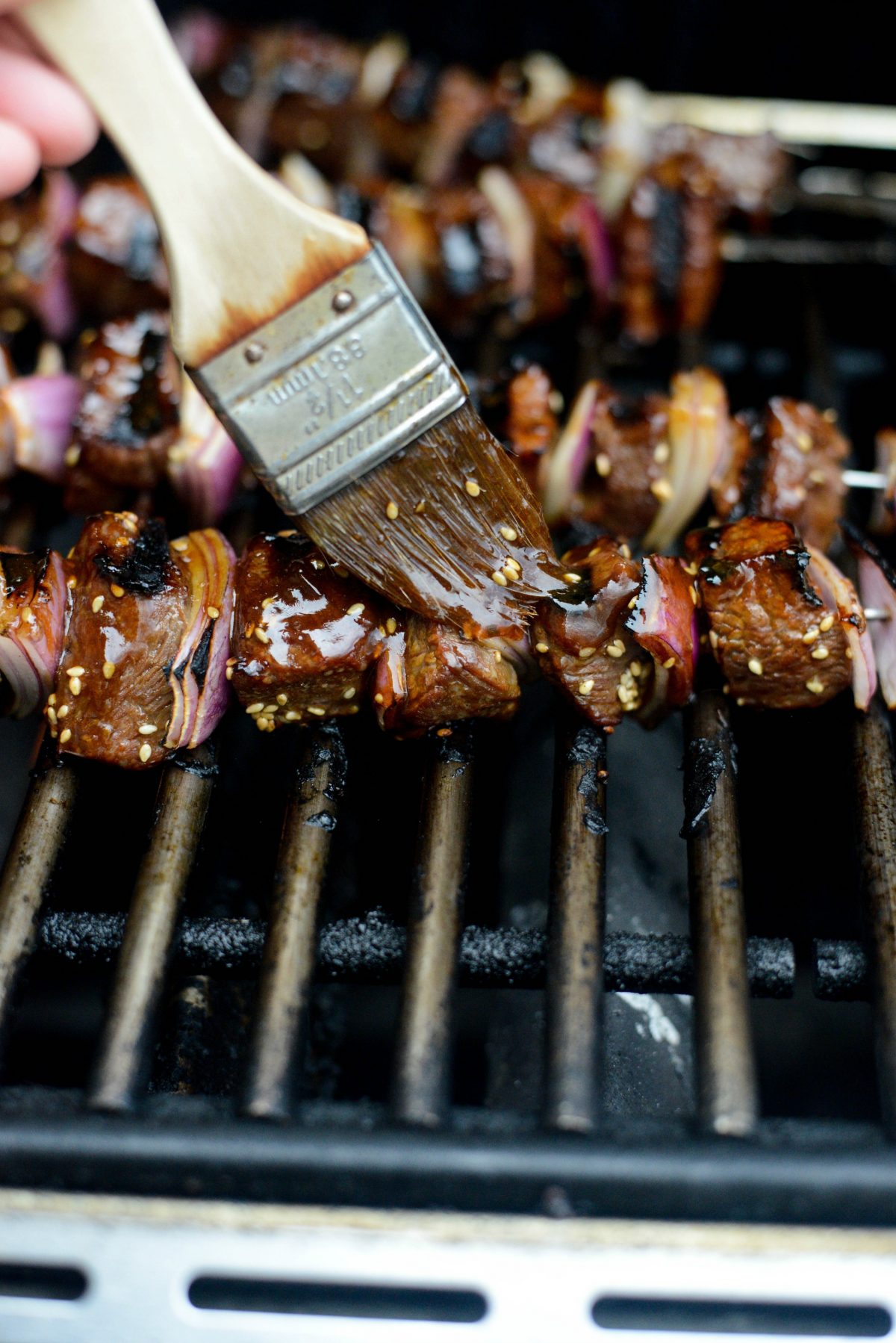 Place the skewers onto your preheated grill grates. Cover and grill for 6 to 8 minutes or until a grill marks form and the skewers easily release from the grill. Turn and brush the skewers with the glaze and cook for an additional 2 to 4 minutes. Brushing on more glaze as your go.
Remove the skewers once they have good grill marks and are sticky.
and smell heavenly.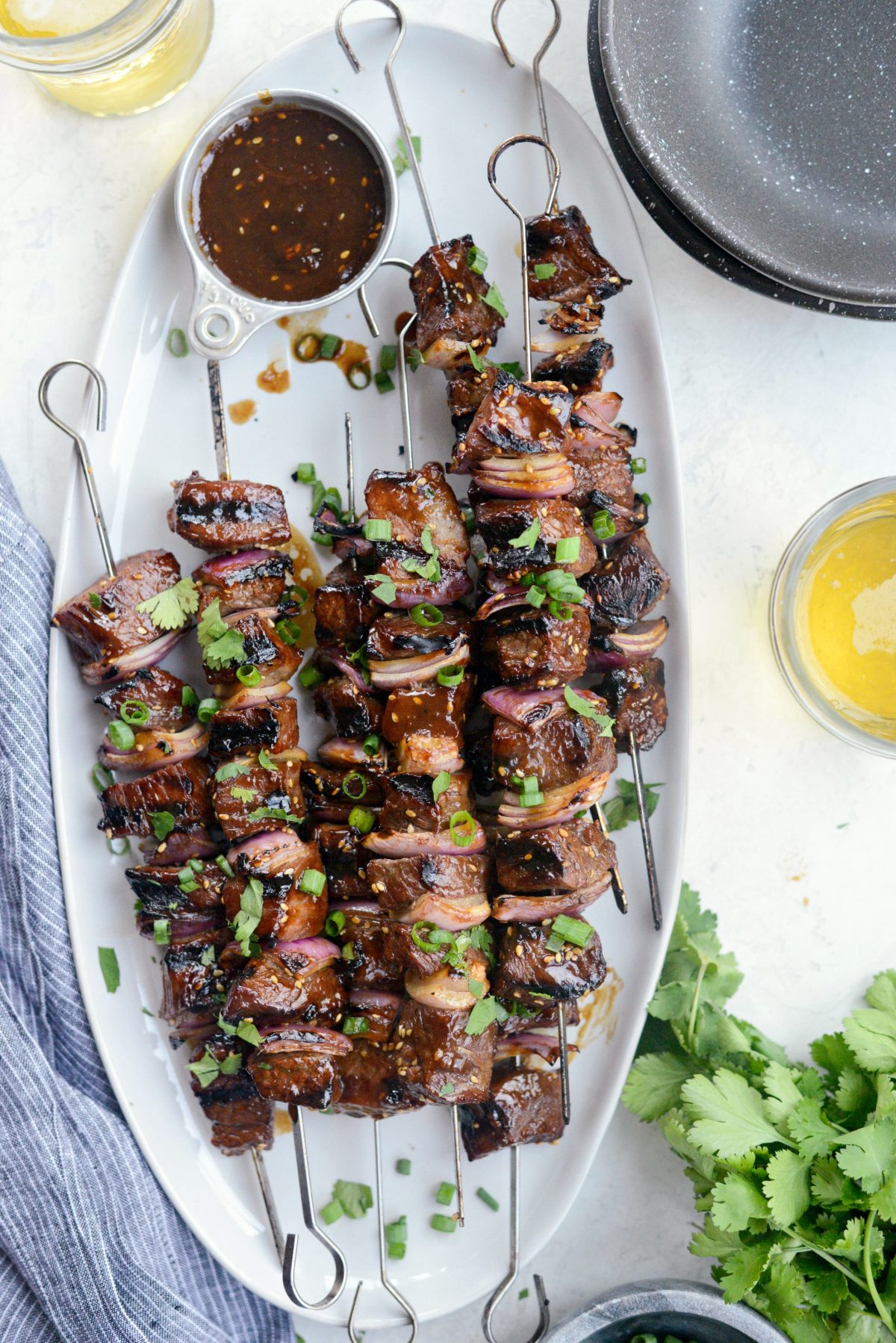 Scatter sliced green onions and chopped fresh cilantro over the steak skewers with any remaining sauce on the side.
Serve with quinoa, brown rice or perhaps this cilantro lime cauliflower rice? SO SO GOOD! My entire family gave these grilled sesame steak skewers double thumbs up! The exterior of the steak is crispy and sticky, while still being tender and flavorful.
Enjoy! And if you give this Grilled Sesame Steak Skewers recipe a try, let me know! Snap a photo and tag me on twitter or instagram!
This post may contain affiliate links.
Buy the Cookbook: Simply Scratch : 120 Wholesome Homemade Recipes Made Easy Now available on Amazon »
THANK YOU in advance for your support!