This Corned Beef Sandwich with Swiss on Rye Sandwich is SO deliciously amazing! Put that leftover corned beef to use by layering on rye bread with cheese, homemade Russian dressing, pickles and then grill to perfection!
I have a major sandwich crush going ON and I'm so excited to tell you all about it.
So, it's like if a Reuben and a Cuban sandwich had a sandwich-baby (a Creuban perhaps??) this would be it. And I'm infatuated.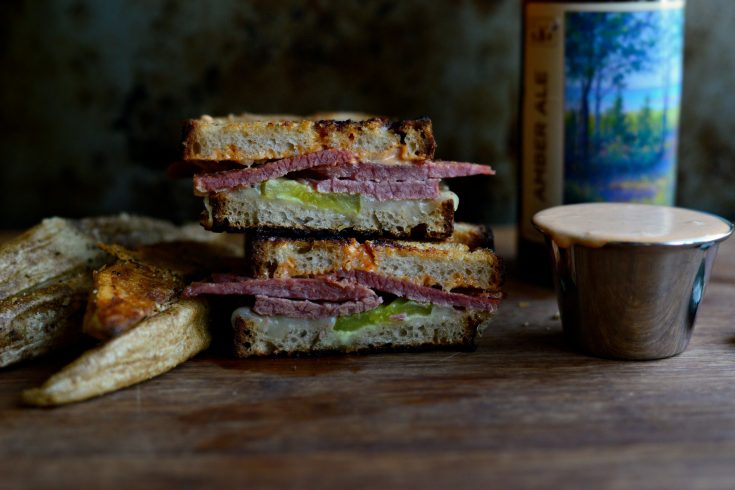 It's no accident that every year I make an extra large corned beef brisket on St. Patrick's Day strictly for the leftovers. I absolutely love to have leftover corned beef cubed up in breakfast potato hash with a fried egg on top with its cascade of drippy yolk. Have Mercy. However, it's also delicious stuffed in-between rye bread for the ultimate corned beef sandwich.
If you're ever wondering what to do with leftover corned beef. The answer: THIS SANDWICH.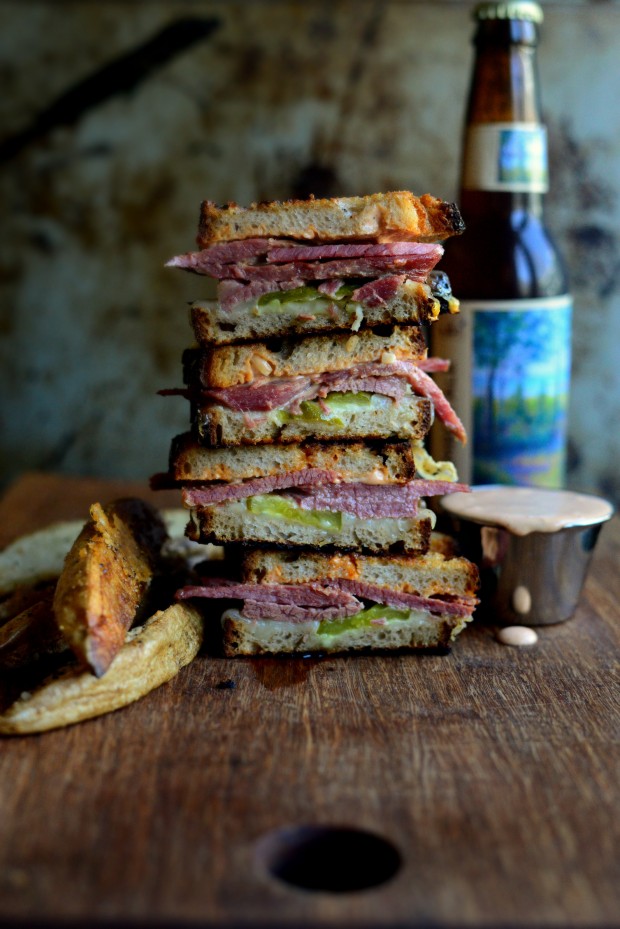 In this sandwich, thin slices of corned beef are layered with Swiss cheese, pickles and the BEST homemade, from scratch Russian dressing ever in-between slices of rye bread. Which is then buttered and grilled. Thus creating the ultimate sandwich.
First things first, make the Russian dressing. Start by adding about 1 tablespoon of minced yellow onion into a bowl with 1/2 cup mayonnaise. Then for a little kick, you could add some horseradishes well, maybe a teaspoon or so? I'm not much of a fan of horseradish, so I do not.
Next measure and add in 2 tablespoons ketchup and 1/2 to 1 teaspoon of (Frank's) hot sauce.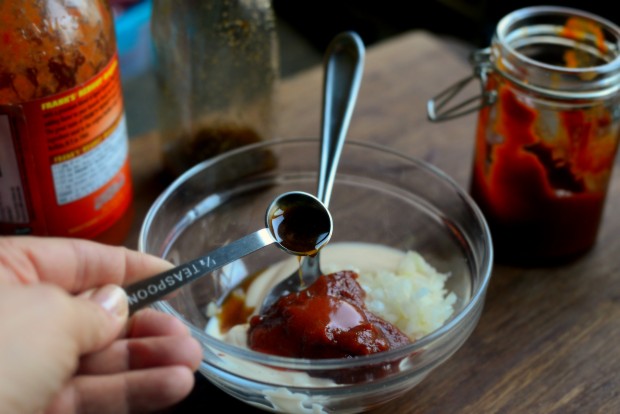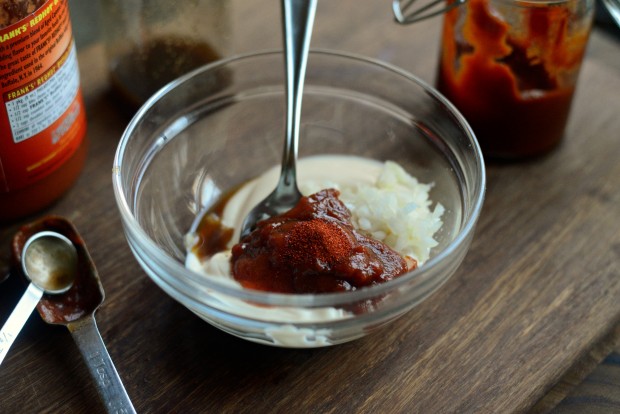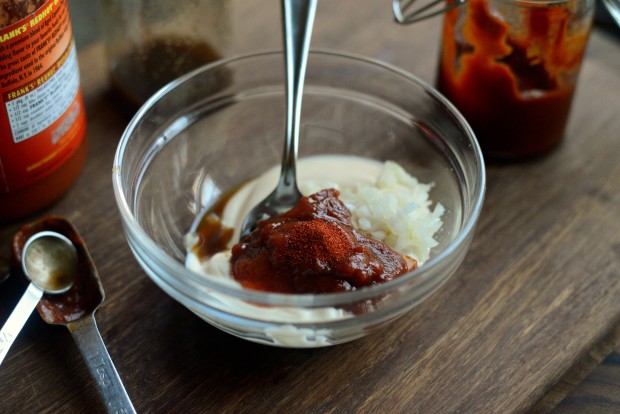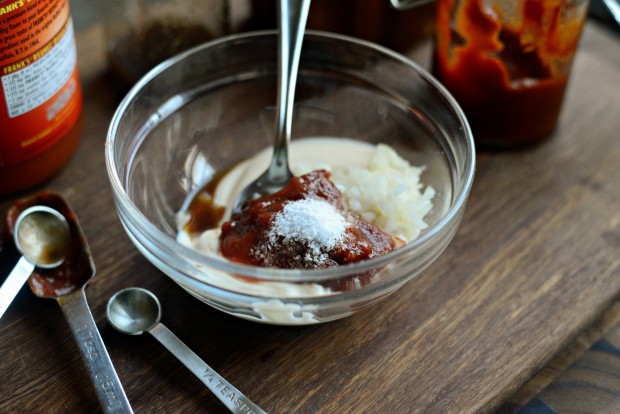 Next add 1/2 teaspoon of Worcestershire sauce with 1/4 teaspoon of paprika and then season with 1/4 teaspoon of kosher salt.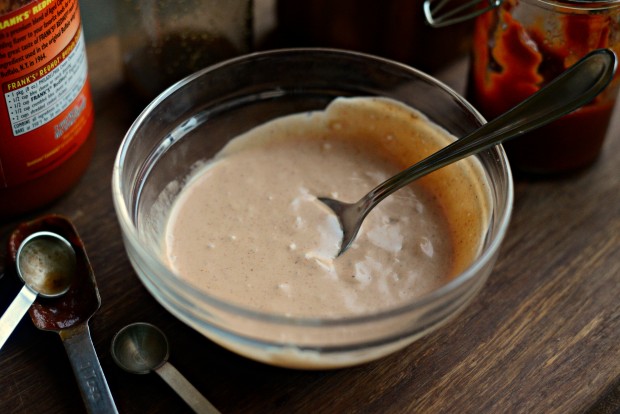 Then stir until smooth and gloriously delicious. This dressing/sauce is ready to go. You can cover it with plastic wrap and pop it in the fridge (or not) until you're ready to start slathering.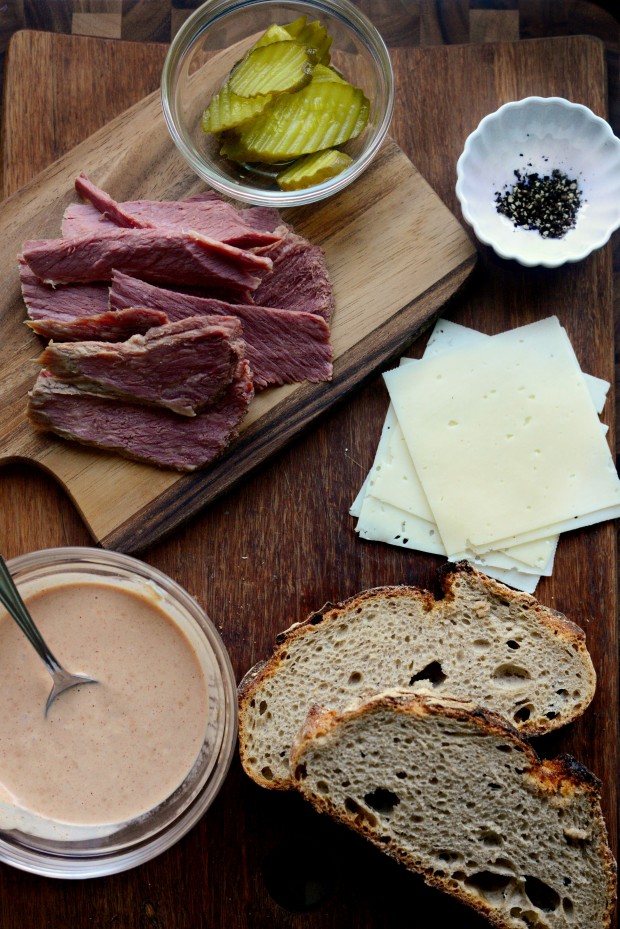 Finally it's time to build these Corned Beef Sandwich sandwiches! Here's what you will need:
A few slices of corned beef
really good quality (seedless- is my personal preference) rye bread
pickles
swiss cheese
Russian dressing
Let's do this.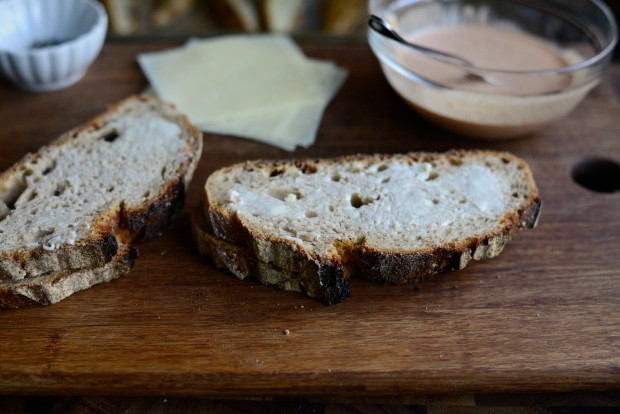 First, butter the bread. This goes without saying, but ya know.
Next, slather with a little (or a lot) of the Russian dressing on the inside of on half. I could literally eat this stuff by the spoonful.
Then stack up the corned beef, a few slices of pickles and then some coarsely ground black pepper.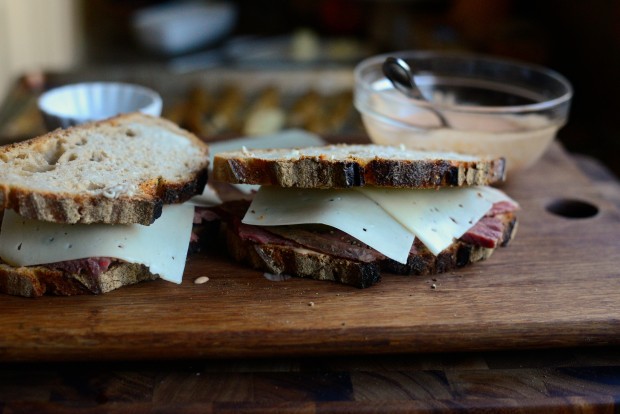 Lastly, top with slices of Swiss and the second slice of buttered rye – butter side facing up (obvi).
Now, I was multi-tasking in the kitchen, making two recipes at once and totally skipped the whole "here's a picture of the sandwich on my cast iron grill pan" but I'm thinking you get the idea. Sorry 'bout it.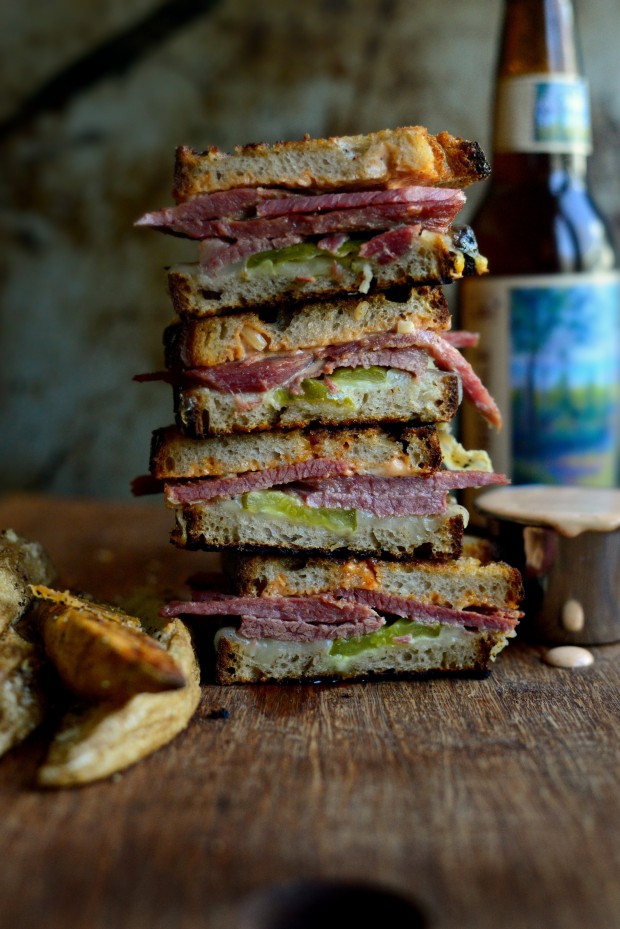 Now THIS is a sandwich you can sink your teeth into. Literally and figuratively.
I made these two Corned Beef Sandwiches for Pat and I yesterday. He had gotten off work early in the afternoon and we had a lunch date at home. After the first bite we started fighting each other off to dunk our sandwiches in that little cup of sauce. With that said, you may want to double the Russian dressing recipe.
The grilled bread, the corned beef with the pickle and Russian dressing it's all so delicious. A lick-your-fingers-kind-of-messy sandwich and I'm not mad about it.
While you're at it, make these Black Pepper Parmesan Frico Potato Wedges too!
Enjoy! And if you give this Corned Beef Sandwich recipe a try, let me know! Snap a photo and tag me on twitter or instagram!
Yield: 4 servings
Grilled Corned Beef and Swiss on Rye Sandwich
Thin slices of corned beef are layered with Swiss cheese, pickles are sandwiched between rye bread and only the BEST homemade, from scratch Russian dressing. Yields 4 (1/2 sandwich) servings.
Ingredients
FOR THE RUSSIAN DRESSING:
1/2 cup mayonnaise
1 tablespoon finely minced onion
2 tablespoons ketchup
1 teaspoon Frank's Red Hot, or less to taste
1/2 teaspoon Worcestershire sauce
1/4 teaspoon paprika
1/4 teaspoon kosher salt
FOR THE SANDWICHES:
4 slices rye bread
4 tablespoons salted butter
10 pieces thinly sliced corned beef
6 pickle slices
freshly ground black pepper
4 slices Swiss cheese
Instructions
In a bowl combine the mayo, onions, ketchup, hot sauce, Worcestershire sauce, paprika and salt. Stir until smooth. Refrigerate until ready to use. Makes about 3/4 cup.

Heat a cast iron grill pan over medium to medium-high heat.

Butter two sides of the rye and slather a few spoonfuls of the Russian dressing on the inside of one slice. Next, layer the corned beef, pickles, black pepper, Swiss cheese and remaining slice of buttered rye.

Place the sandwich onto hot grill pan and cook for 3 to 4 minutes or until grill marks appear and the cheese has melted.

Cut in half and devour.
Serving: 0.5sandwich, Calories: 455kcal, Carbohydrates: 19g, Protein: 8g, Fat: 38g, Saturated Fat: 14g, Polyunsaturated Fat: 13g, Monounsaturated Fat: 10g, Trans Fat: 1g, Cholesterol: 59mg, Sodium: 884mg, Potassium: 126mg, Fiber: 2g, Sugar: 4g, Vitamin A: 579IU, Vitamin C: 2mg, Calcium: 171mg, Iron: 1mg
This post may contain affiliate links.
Buy the Cookbook: Simply Scratch : 120 Wholesome Homemade Recipes Made Easy Now available on Amazon »
THANK YOU in advance for your support!