Grilled asparagus drizzled with a delicious balsamic honey and Dijon vinaigrette. This grilled asparagus recipe is super easy and delicious! 
I'm pretty positive  I could eat my weight in asparagus. Like it would be nothing for me to polish of this whole dish. Trust me, I didn't but totally could and I'm not ashamed to admit it.
I love asparagus shaved on pizza or flatbread, in pasta or a quiche but especially when it's grilled and drizzled with a lusciously creamy balsamic honey-dijon vinaigrette and a squeeze or two of grilled lemon. Close your eyes and picture these beauts saddled up next to salmon, grilled chicken or steak, I mean it's looks so fancy but really is as easy as it gets. My favorite kind of recipe.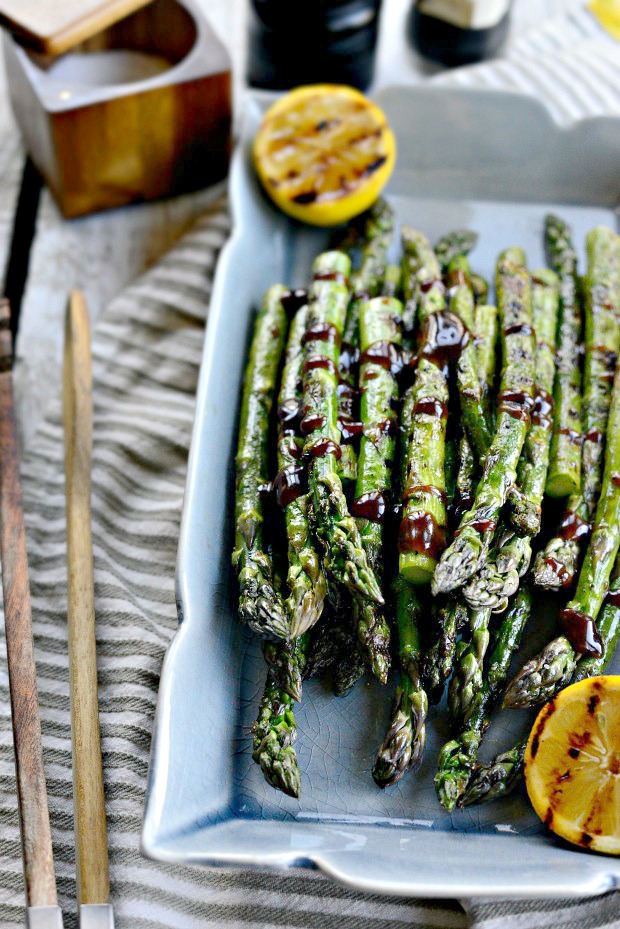 It's a simple side dish that packs a ton of flavor. A great thing about this vinaigrette, besides it tasting amazing, is that it's a salad dressing made in a jar, which means you get to pile all the ingredients into it and shake, taking only minutes to make. It also can be used as a dreamy salad dressing too! It's the perfect combination of mildly sweet and tangy and majorly fantastic.
I mean just look at that glossy-ness.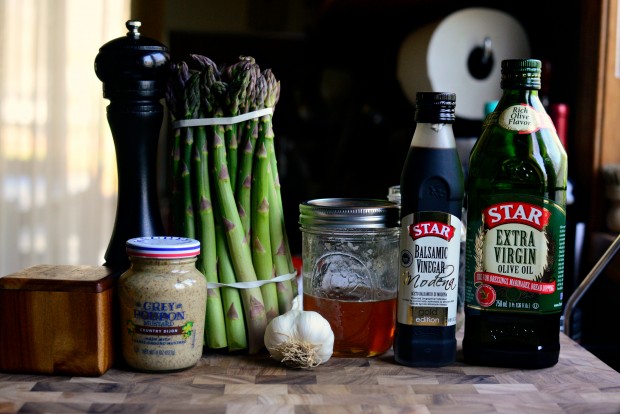 So it's pretty basic stuff. All things you probably have in your fridge or pantry.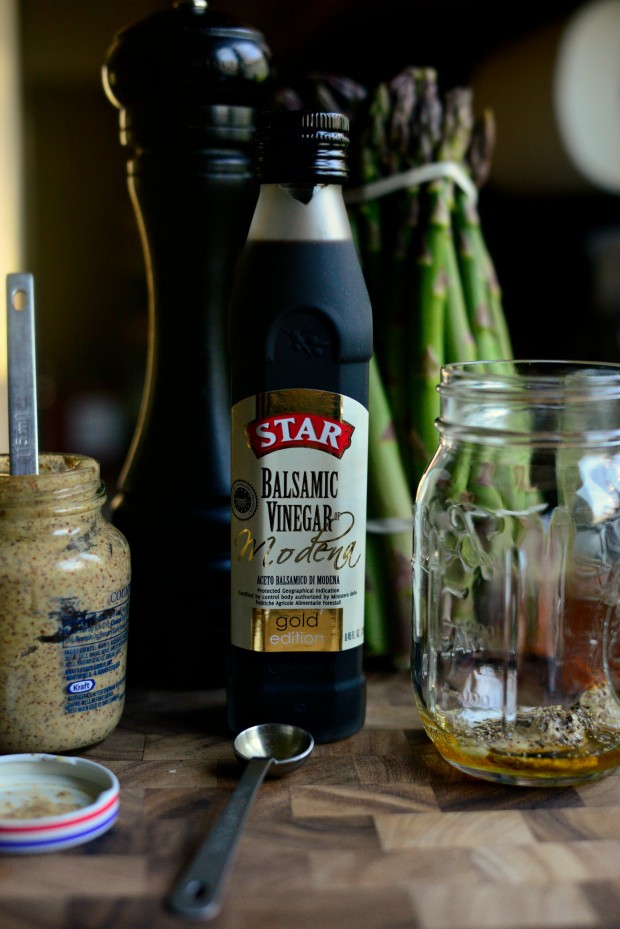 I'm particularily fond of the STAR Balsamic Vinegar Modena. I find it to be thicker than traditional balsamic, smooth and flavorful! I'm oh so grateful they send me this in the mail to make recipes with and I love it. You can find it at Walmart or you can buy it online here.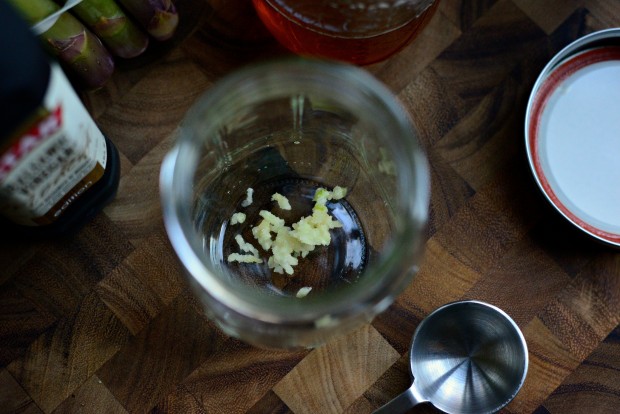 Start by adding a finely minced (or squeeze it through a garlic press) clove of garlic.
Add in a 1/2 tablespoon of honey…
1/2 tablespoon country Dijon Mustard…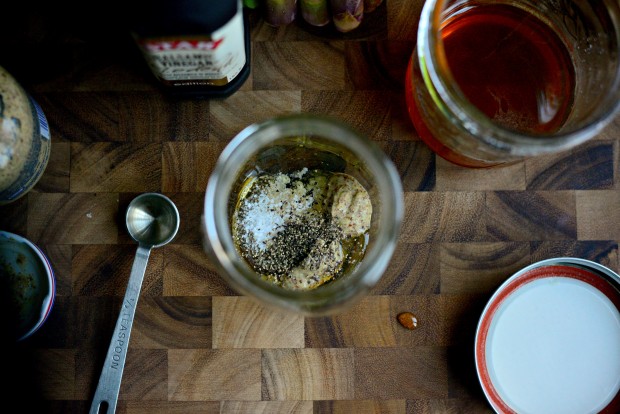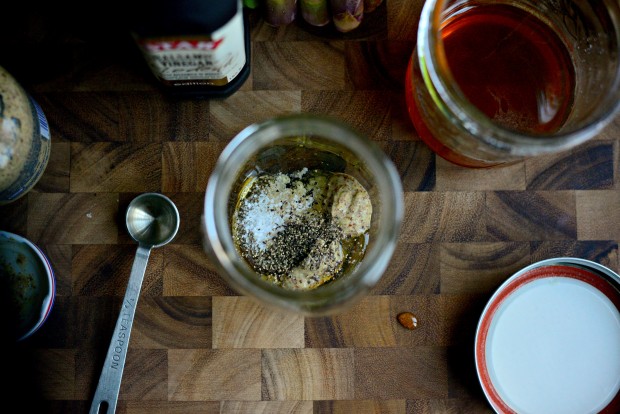 1/2 teaspoon kosher salt and 1/4 teaspoon black pepper.
Pour in 1/4 cup of the balsamic vinegar.
And then 3/4 cup extra virgin olive oil.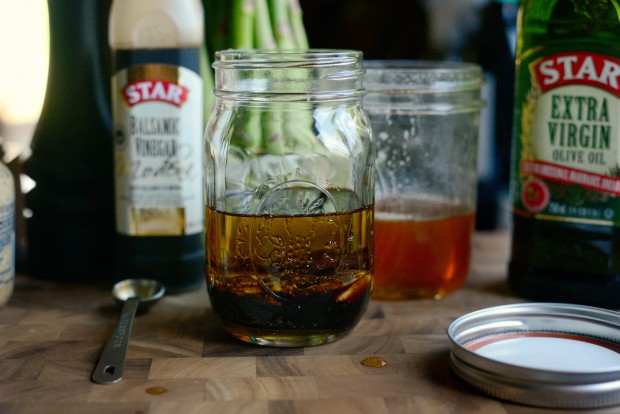 Thatsssss it.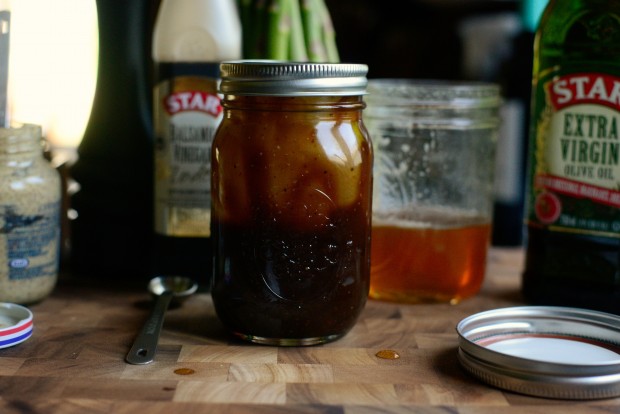 Shake it until the honey, salt and pepper are mixed throughout.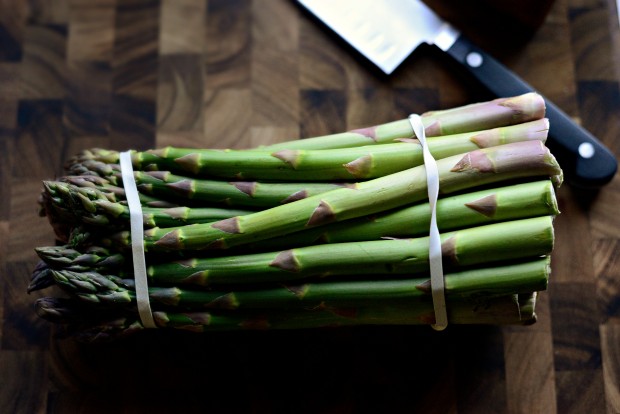 Grab a bunch of asparagus.
I typically trim the asparagus above or below the last rubber band.
Give them a rinse, then pat dry and place into a shallow dish.
Drizzle with a tablespoon or so of olive oil.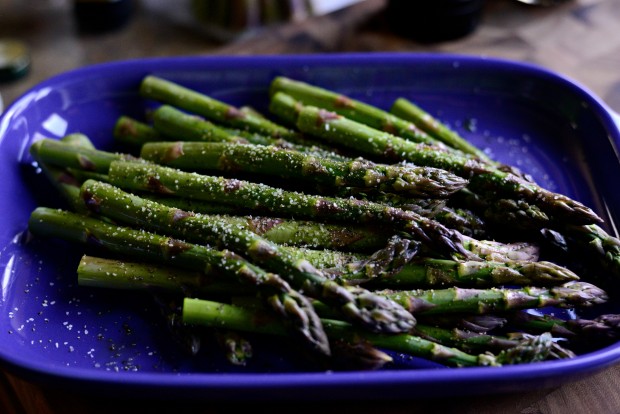 Season with pinches of kosher salt and black pepper.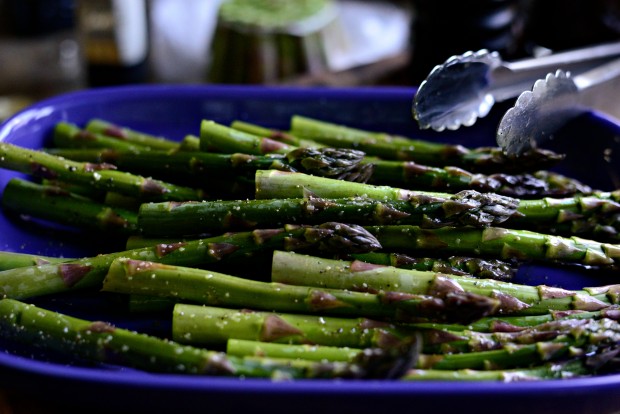 Toss to combine…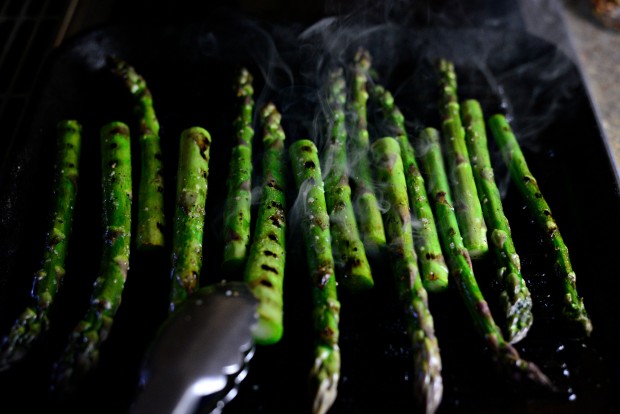 On a preheated outdoor grill or grill pan, grill the asparagus for 4 to 5 minutes a side or until tender but still with some bite to them.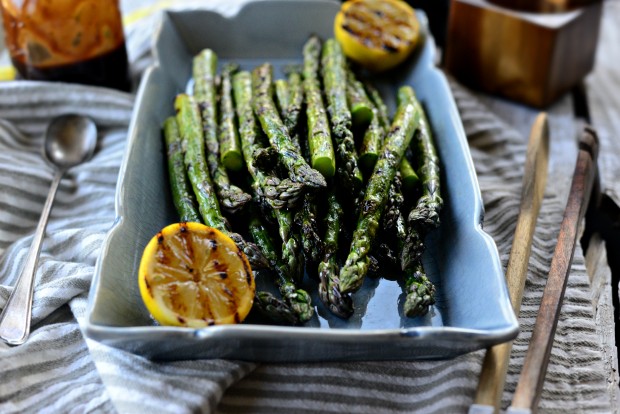 I also slap a halved lemon on the grill for about 2 to 3 minutes.
I'm always looking for the asparagus to be tender but with some bite still left to it. Then simply drizzle with the balsamic honey-Dijon vinaigrette and a squeeze of lemon before serving.
In my world it's a meal all in itself.
Enjoy! And if you give this Grilled Asparagus recipe a try, let me know! Snap a photo and tag me on twitter or instagram!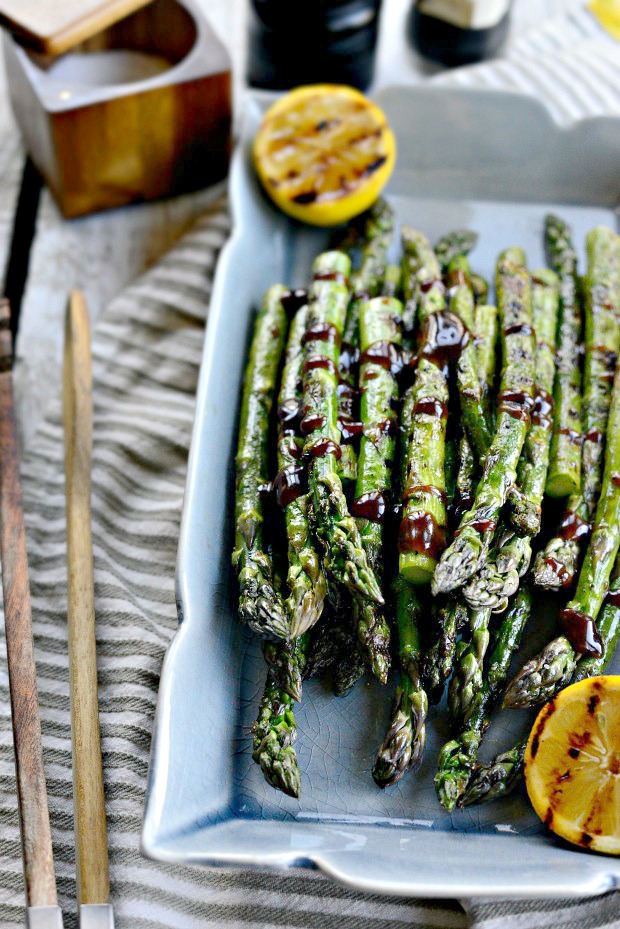 My cookbook Simply Scratch : 120 Wholesome Homemade Recipes Made Easy is now available! CLICK HERE for details and THANK YOU in advance!
Yield: 6 servings
Grilled Asparagus with Balsamic Honey-Dijon Vinaigrette
Grilled asparagus drizzle with a mildly sweet and tangy vinaigrette. It's a simple side dish that packs a ton of flavor, and pair beautifully next to fish, chicken or beef.
Ingredients
1 clove garlic, finely minced
1½ teaspoons country-style Dijon mustard
1½ teaspoons honey
1/2 teaspoon kosher salt, plus more for asparagus
1/4 teaspoon freshly ground black pepper, plus more for asparagus
1/4 cup balsamic vinegar
3/4 cup extra virgin olive oil, plus more for asparagus
1 bunch asparagus
1 lemon, cut in half
Instructions
In a small glass jar add the garlic, mustard, honey, salt, pepper, vinegar and olive oil. Secure lid and shake to combine. Set aside or refrigerate until ready to serve.

Preheat a grill or grill pan to medium-high heat. In a shallow dish toss the asparagus with a tablespoon of olive oil and two pinches of salt and pepper.

Grill the asparagus for 4 to 5 minutes per side until just tender. Transfer grilled asparagus to a serving dish and drizzle with desired amount of vinaigrette.

Quickly grill lemon halves and squeeze a tablespoon of juice over top. Serve immediately.

.
Notes
Any remaining dressing can be saved and refrigerated for another purpose
Serving: 1g, Calories: 275kcal, Carbohydrates: 8g, Protein: 2g, Fat: 27g, Saturated Fat: 4g, Polyunsaturated Fat: 3g, Monounsaturated Fat: 20g, Sodium: 213mg, Potassium: 194mg, Fiber: 2g, Sugar: 5g, Vitamin A: 572IU, Vitamin C: 14mg, Calcium: 28mg, Iron: 2mg
[this post contains affiliate links.]
NOTE: STAR Fine Foods has been gracious to send me this balsamic vinegar for review and recipe development. As always, all opinions expressed are my own.
This post may contain affiliate links.
Buy the Cookbook: Simply Scratch : 120 Wholesome Homemade Recipes Made Easy Now available on Amazon »
THANK YOU in advance for your support!