This Grilled Asian Shrimp Salad with Crispy Wontons is bright and fresh with flavor! Tender butter lettuce is topped with sliced avocado, grilled shrimp, cool cucumbers and juicy mandarin oranges. Drizzled with an delicious toasted sesame dressing and crispy baked wontons and almonds for crunch. Serves 2 to 4 in 35 minutes.
This salad. It's the kind of salad I would order at a restaurant.
Buttery soft lettuce leaves are topped with slices of avocado, green onions, cool cucumbers and mandarin orange segments. And if that wasn't already amazing, I scattered grilled shrimp, sliced toasted almonds and crispy baked wontons. THE dressing is the perfect finishing touch to this already amazing salad.
There's a ton texture and flavor here that you and your tastebuds will no doubt love.
To Make This Grilled Asian Shrimp Salad You Will Need:
1 pound shrimp – thawed if previously frozen
kosher salt
white pepper
a few large heads of butter lettuce (also called Boston and Bibb)
1/4 cup toasted almonds
4 to 6 mandarin oranges
2 to 3 Persian cucumbers
2 small avocados
4 to 6 ounces wonton wrappers
olive oil spray
For the toasted sesame dressing:
3 tablespoons low-sodium tamari
3 tablespoons rice wine vinegar
2 tablespoons toasted sesame oil
2 tablespoons peanut or light olive oil
1 tablespoon sugar
1 tablespoon grated fresh ginger
1 teaspoon grated fresh garlic
2 teaspoons toasted sesame seeds
First things first, the dressing. It's a super simple vinaigrette consisting primarily of tamari, ginger, garlic and toasted sesame oil. It's my FAVORITE Asian-inspired dressing and my go to for salads similar to this one.
Grab a small-ish mixing bowl. Next measure and whisk together the low-sodium tamari, rice wine vinegar, toasted sesame oil, peanut or light olive oil, sugar, grated fresh ginger, grated fresh garlic and toasted sesame seeds. Then set it off to the side until ready to serve. Because the oil will separate itself from the dressing, you will need to stir it once again before serving.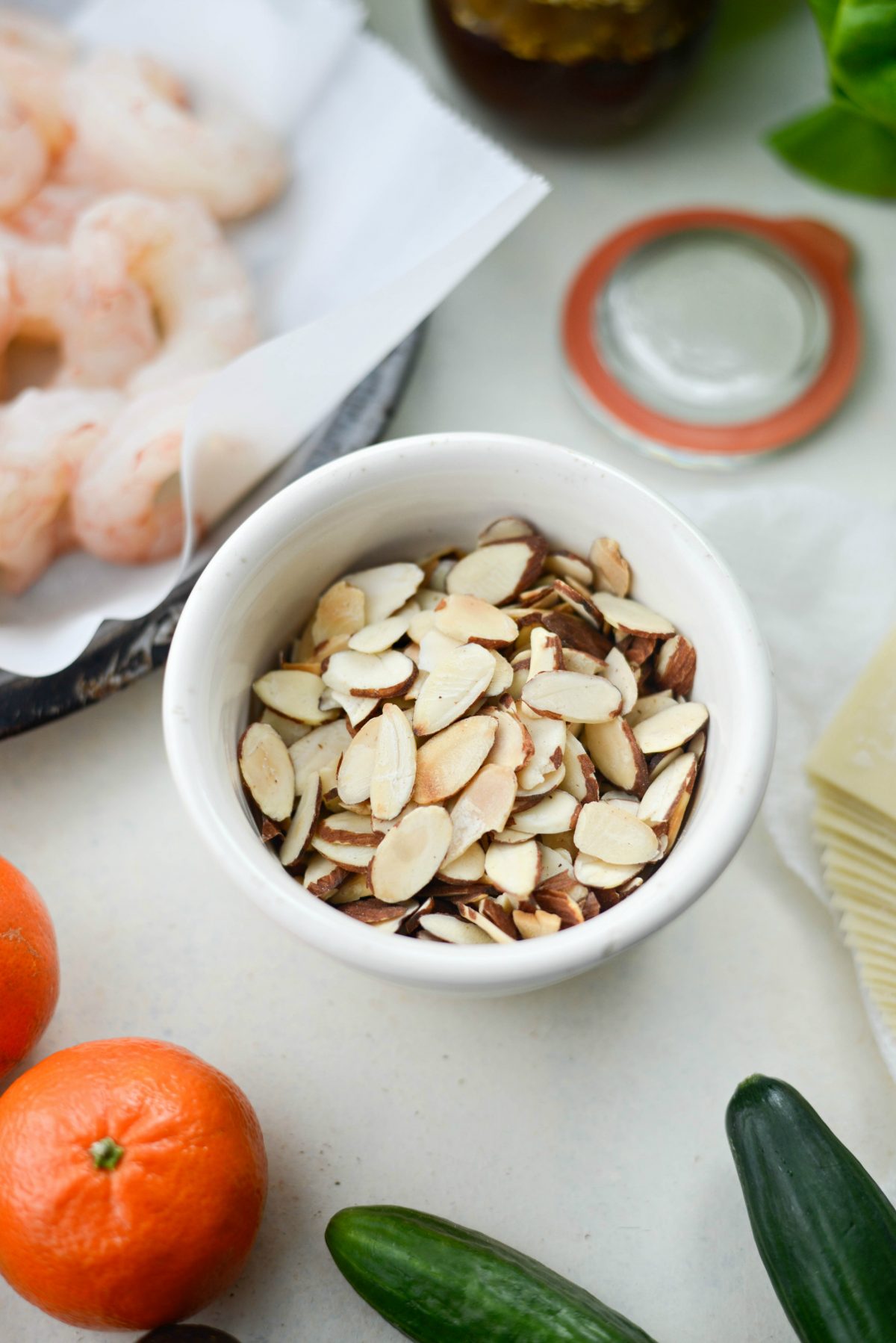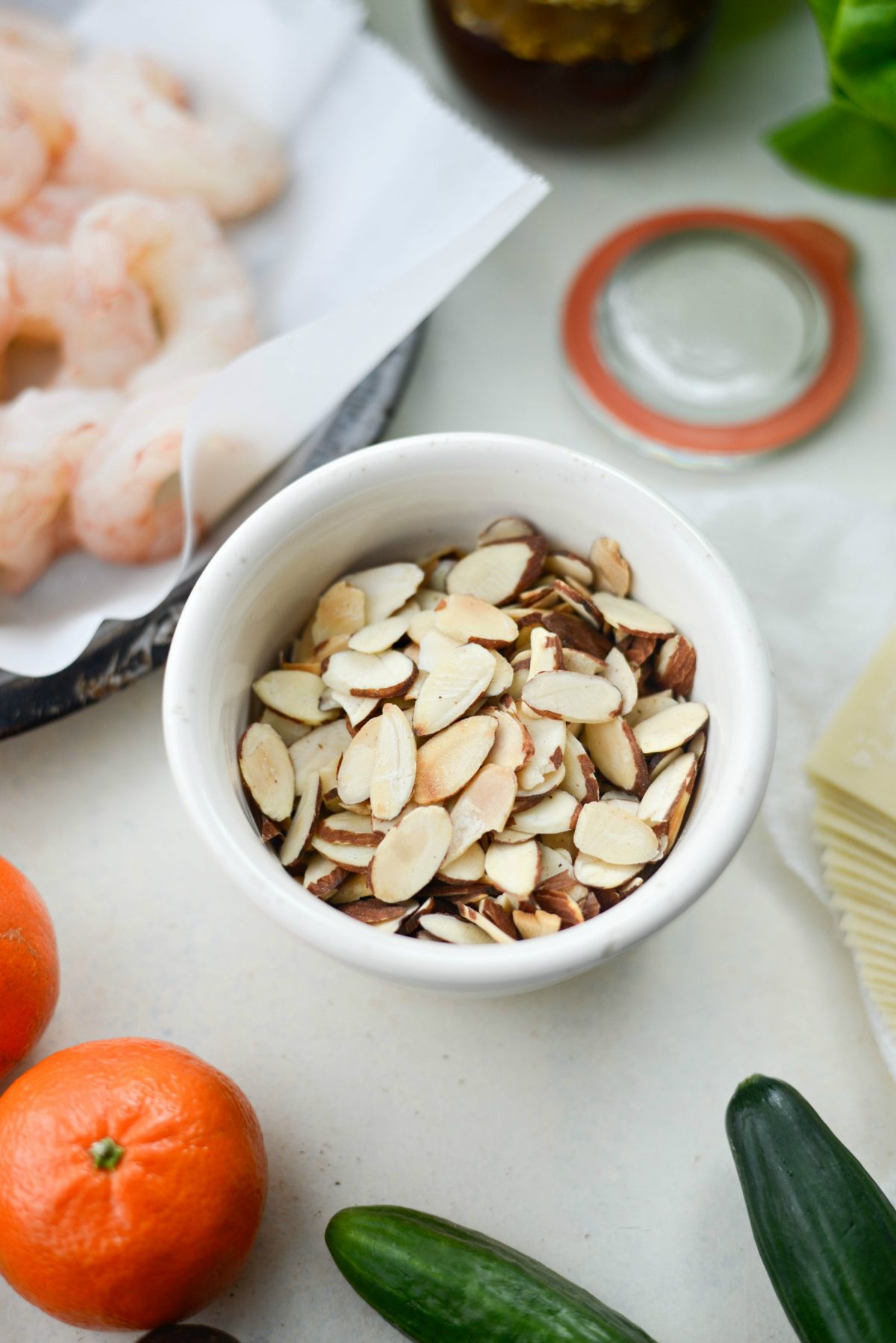 Meanwhile, toast up some sliced almonds in a dry skillet for about 5 minutes or until fragrant and lightly golden brown. Because there are quite a few steps in this recipe, albeit easy steps, I do prefer to do some of them in advance. However many steps, the end result is worth every single one.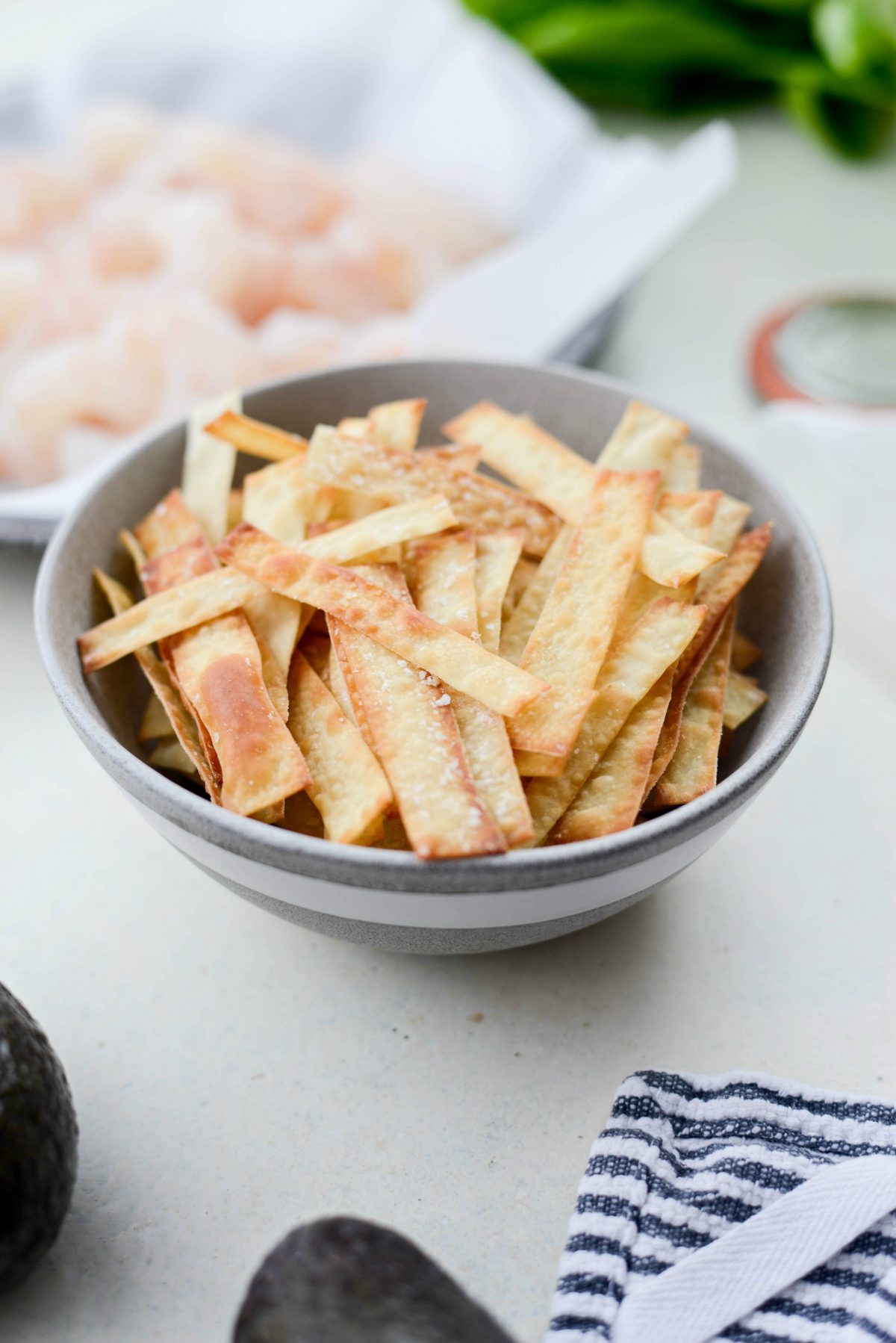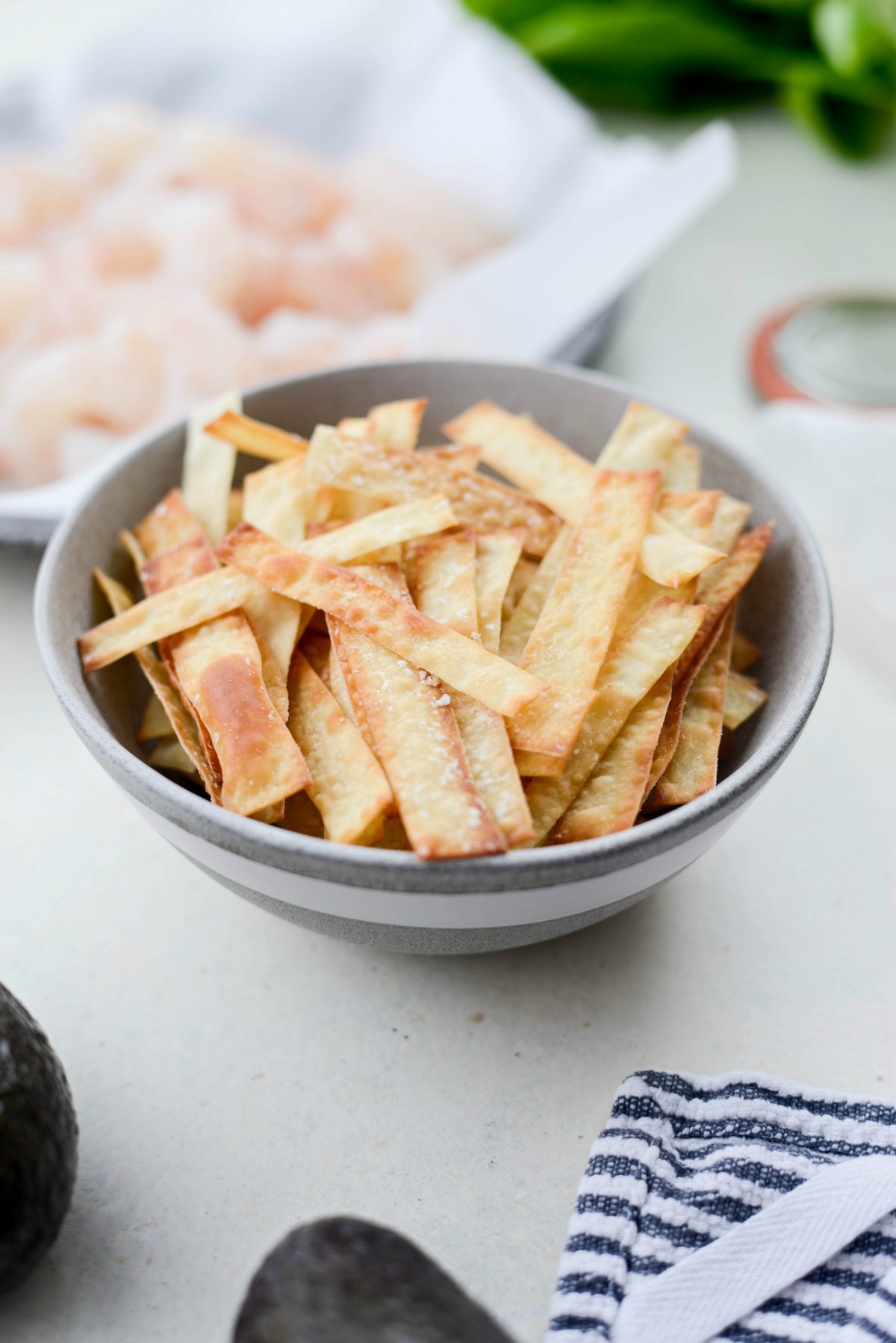 Next, to make the crispy wonton strips, slice 4 to 6 ounces of wonton wrappers into 1/2-inch strips. Spray a silicone baking mat (or parchment) with olive oil spray and lay the strips flat. Spray the top of the wonton strips with more olive oil and sprinkle with a few pinches of kosher salt. Then bake for 3 to 4 minutes in a preheated 400° oven, rotating the pan halfway through to ensure even crisping.
I love these crispy wontons!
There's a restaurant near us that serves them on their salad and they're amazing. However they're deep fried and not so healthy. Because we're baking the wontons, it will save you calories while not skimping on flavor or delicious crunch.
Finally! Toss 1 pound of shrimp (thawed if frozen and patted dry) with a couple pinches of kosher salt and a few shakes of white pepper. Next spray a grill pan with olive oil and preheat over medium heat. Grill shrimp for 3 to 4 minutes a side or until opaque and fully cooked.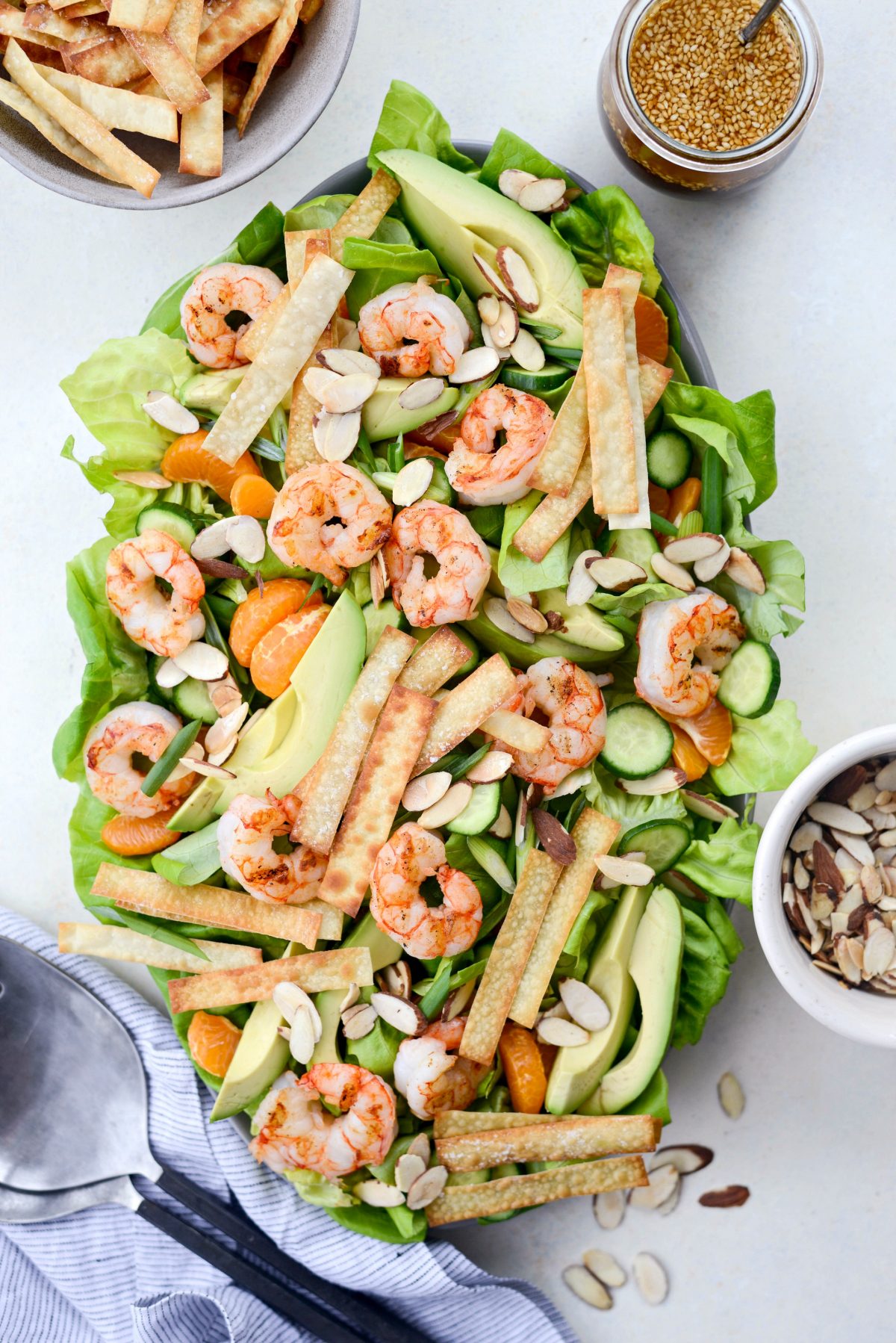 Next, divide the chopped butter lettuce leaves onto plates (or a large platter) and then top with the mandarin segments and sliced avocado. Then top with cooked shrimp, sliced cucumbers, green onions, toasted almonds and wonton strips.
Pro Tip: whenever I use mandarin oranges in a salad, I always toss them in a smidgen of olive oil to hide those white veins. It's purely for aesthetic.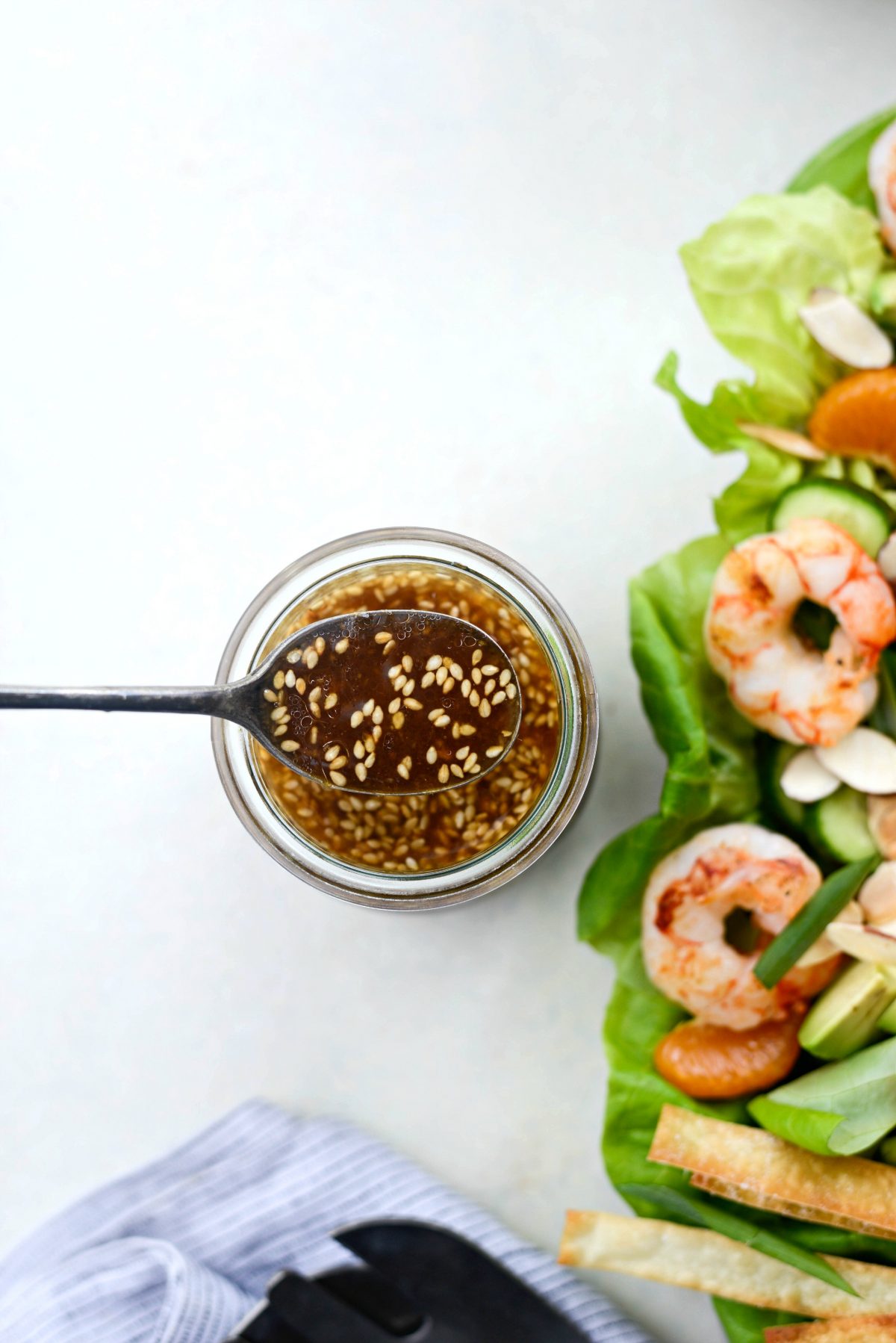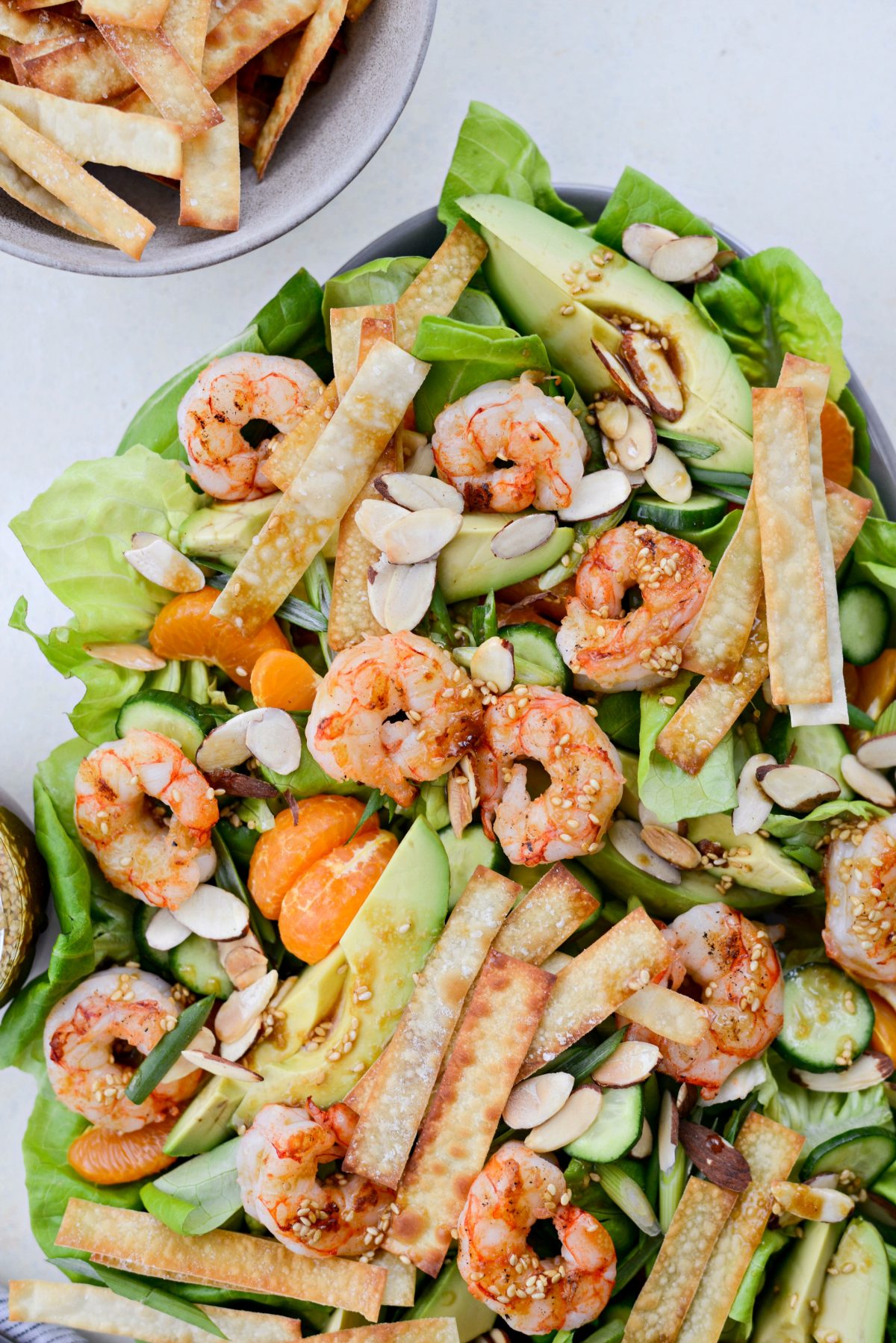 Lastly, drizzle the salad with the Asian toasted sesame dressing. Now all that's left to do is grab plates and your forks and get yourself ready for one killer salad.
I really love the bright citrus with the cool cucumber. And also the buttery shrimp and avocado melts in your mouth and is a tie with the crunchy almonds and wontons. All in all, it covers all my bases. It's so SO good.
How To Get Ripe Avocados To LAST:
The trick to storing ripe avocados so they last is a no-brainer, it's easy and effective and has saved me SO much money. First buy hard to the touch, bright green avocados and allow them to ripen on the counter. Once they are black, soft to the touch (NOT squishy) pop them into the fridge. Because here is where they will last for quite a few days! You guys this has changed my life and I owe this trick to my sisters. No more wasted avocados!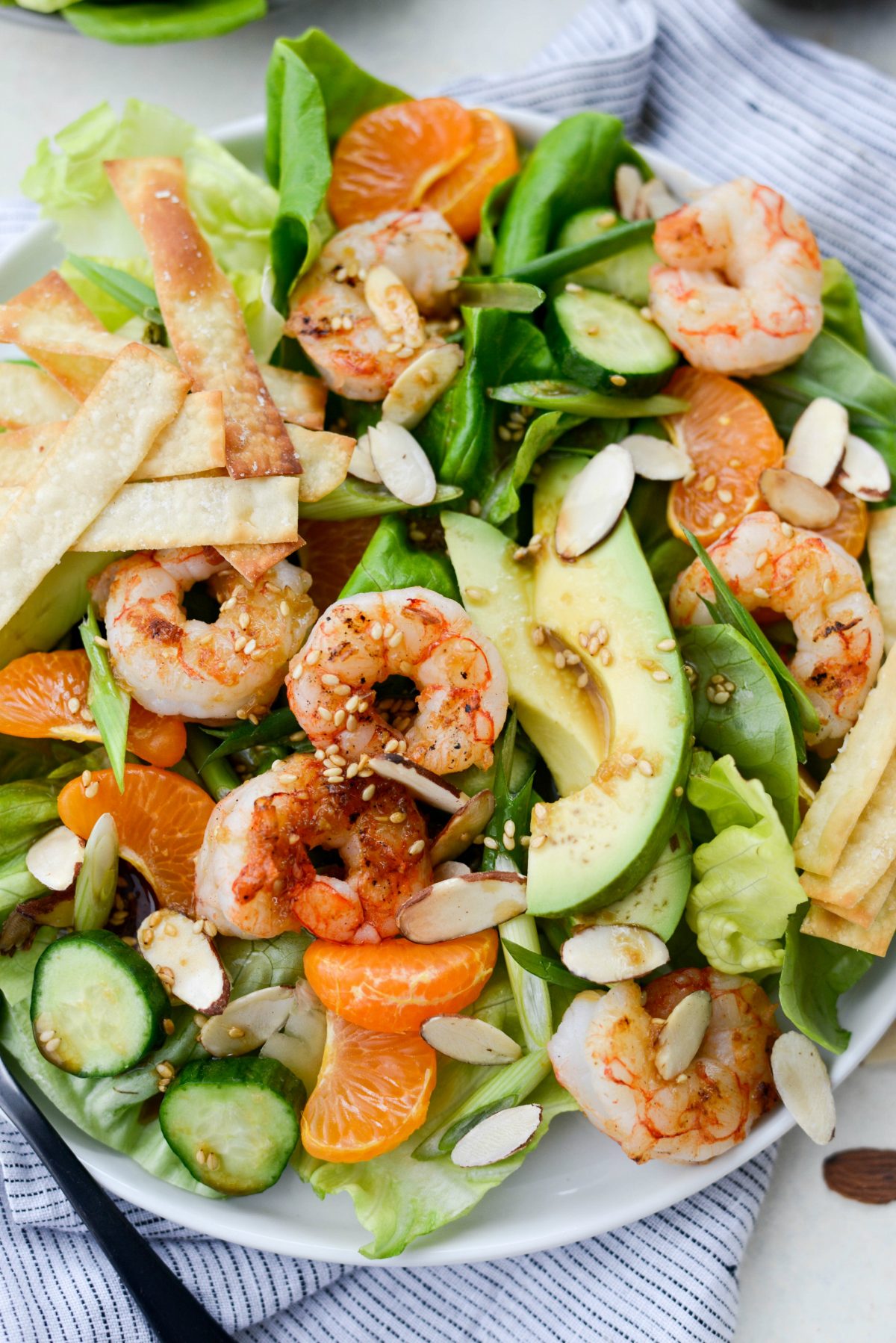 Enjoy! And if you give this Grilled Asian Shrimp Salad recipe a try, let me know! Snap a photo and tag me on twitter or instagram!
This post may contain affiliate links.
Buy the Cookbook: Simply Scratch : 120 Wholesome Homemade Recipes Made Easy Now available on Amazon »
THANK YOU in advance for your support!