A fancy BLT grilled cheese sandwiches. This is a fun twist on a traditional BLT. Griddled until golden and gooey with Fontina cheese!
I almost hit you with another mile long recipe title.
So I decided to save you about three whole minutes by swapping out – 'sundried tomato pesto, peppered bacon, spinach, Fontina cheese and honey roasted garlic mayo' for the word "fancy".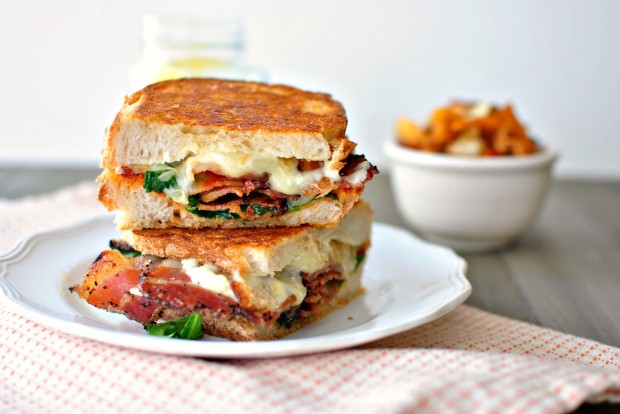 As my final sammie for Grilled Cheese Month, the Sun-dried Tomato and Walnut Pesto has asked me to create one ooey gooey sandwich featuring, you guessed it cheese. Wellllll of course I picked my favorite cow's milk cheese to slap in between bread and grill: Fontina.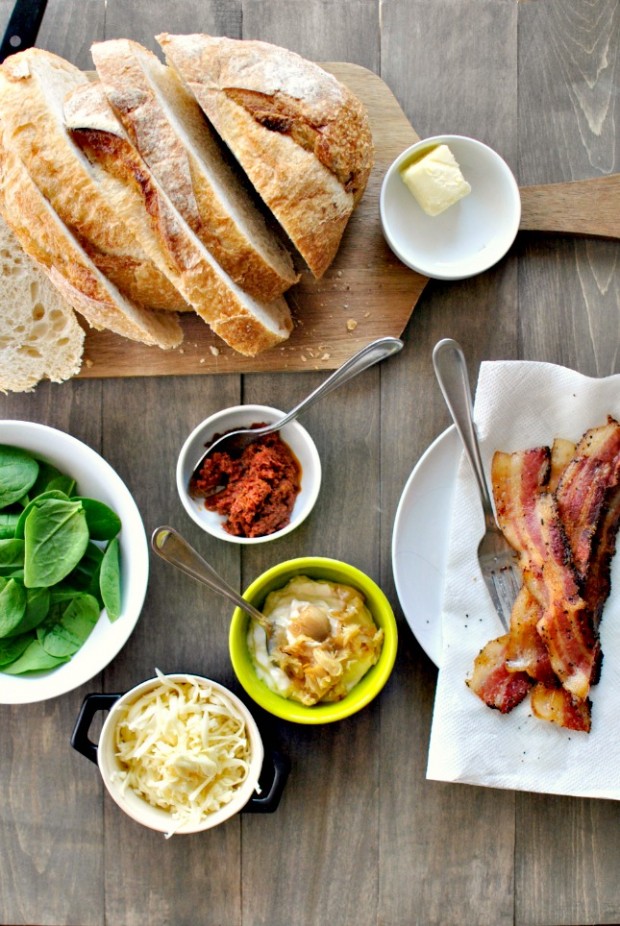 I wanted to take a classic sandwich [the BLT] and fancify it by using sundried tomato pesto, peppered slab bacon, baby spinach [instead of regular iceberg] and I also whipped up a killer honey roasted garlic mayo to bring it all home. Oh yeah and I sandwiched it all between thick slices of sourdough bread, baby.
As if you need another post dedicated to showing you how to build a grilled cheese, I know. However, I cannot resist. Plus, who doesn't love watching food being made?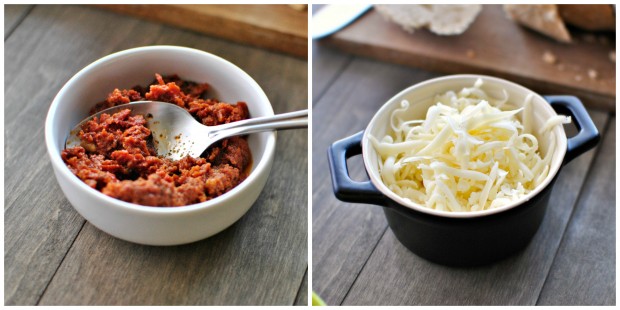 So sundried tomato pesto is pretty magical. It's great tossed with hot pasta, on toasted slices of baguette and now… grilled cheese sammiches.
I whipped up my sundried tomato walnut pesto that I made almost two years ago. I didn't have any fresh basil so I skipped it this time. Still it's pretty amazing.
And then I grated up 6 ounces of Fontina cheese. The more the merrier, right?
The mayo. Ohhhh this mayo. Honey roasted garlic is pretty simple and pretty flipping amazing. I first saw it on Amy Thielen's show Heartland Table on Food Network and I pretty much have been obsessing about it ever since.
Basically you place two heads of garlic [top third of the garlic head lobbed off] into an oven safe dish, drizzle them with about a tablespoon of honey each, cover with foil and roast in your preheated 375° oven for about 45 minutes. Remove the garlic from the oven, use tongs to remove the roasted heads of garlic to a clean bowl to cool. Once cool enough to handle, squeeze out those little jewels of goodness right into a bowl. Cool completely before mixing with a half cup of mayo.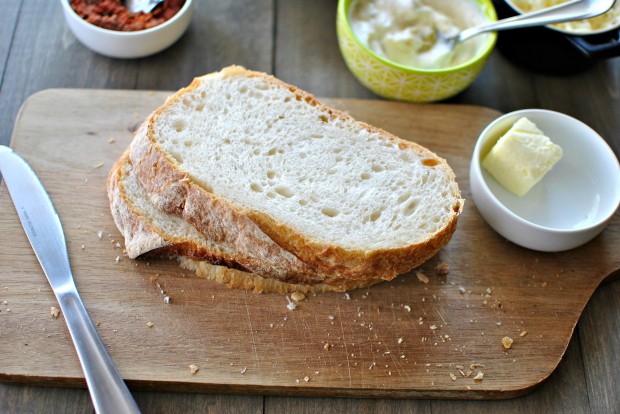 I bought a big, fat loaf of sour dough and sliced them extra thick.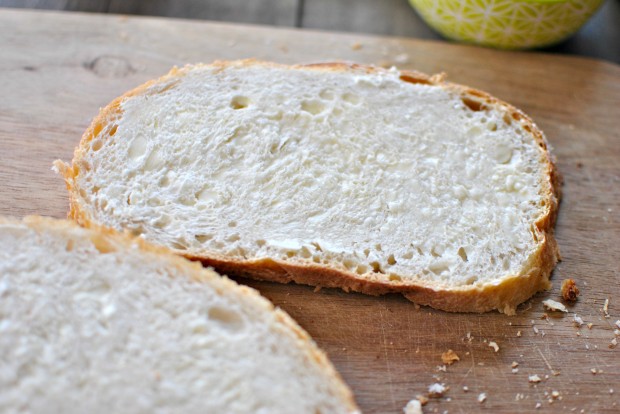 Then I slathered one side of each slice of bread with 1/2 tablespoon butter
… topped two of the un-buttered sides of bread with 1 tablespoon or so of the sun-dried tomato pesto.
Top with 1/4 cup Fontina.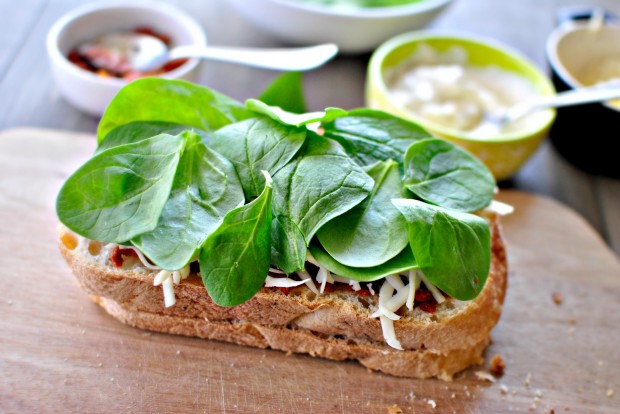 …A handful of baby spinach…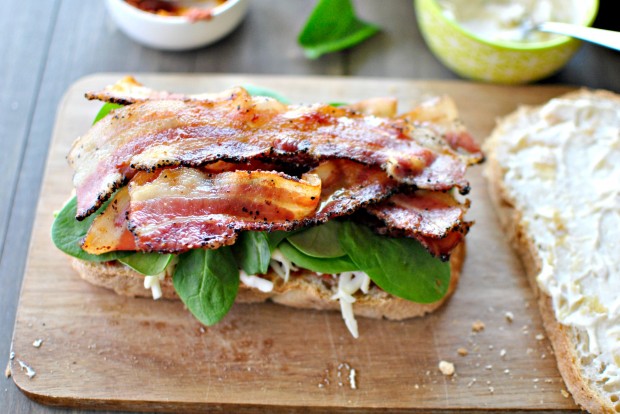 … stack up the crispy, thick slices of peppered bacon… about 4 slices. Oh, per sandwich. Yes.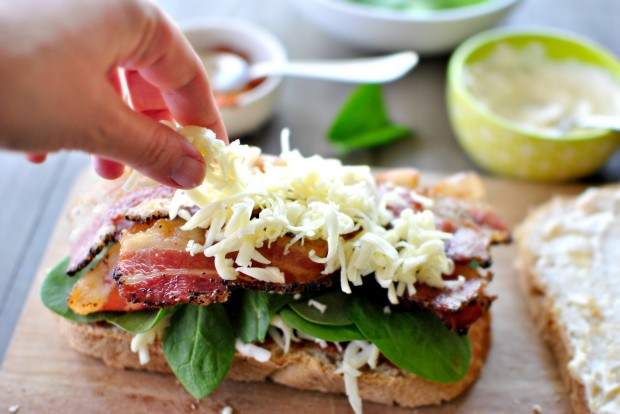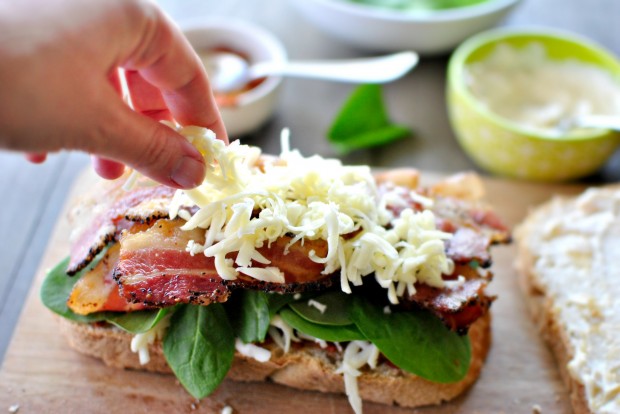 Another 1/4 cup Fontina…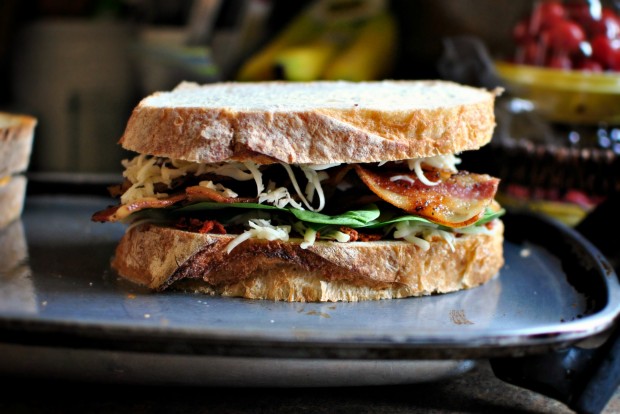 Then griddle until golden and glorious. Buttered bread meet griddle, it's a beautiful thing. I used a domed lid to cover the sandwich and help speed up the cheese melting process.
I normally don't recommend this, but one whole sandwich can be a shared among two people. Of course you don't have to listen to me. I mean it's not like I shared this with anyone. But it is one mamma-jamma of a sandwich that you may need to unhinge your jaw for it. Just sayin'.
Fancy BLT grilled cheese sandwiches are my favorite!
Hello there, gorgeous. Carb-coma here I come.
Enjoy! And if you give these Fancy BLT Grilled Cheese Sandwiches a try, let me know! Snap a photo and tag me on twitter or instagram!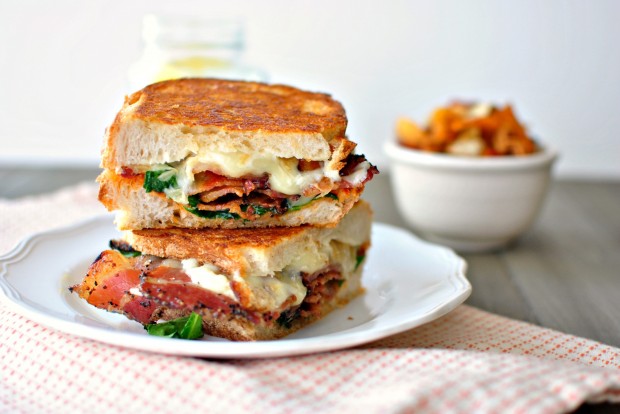 My cookbook Simply Scratch : 120 Wholesome Homemade Recipes Made Easy is now available! CLICK HERE for details and THANK YOU in advance!
Yield: 4 servings
Fancy BLT Grilled Cheese Sandwiches
A fancy twist on a BLT. Griddled until golden and gooey with Fontina cheese. This recipes yields 4 (half sandwich) servings
Ingredients
4 slices sourdough bread
2 tablespoons butter
2 tablespoons sun-dried tomato pesto
1 cup grated fontina cheese
1 cups baby spinach, loosely packed
8 slices thick-cut peppered bacon, cooked until crispy
2 heads garlic
1 tablespoons honey
1/4 cup mayonnaise, homemade or store bought
Instructions
FOR THE MAYO:
Slice off the top third of both heads of garlic. Place the garlic into an oven-safe baking dish and drizzle with honey. Cover tightly with foil and bake in a preheated 375 degree oven for about 45 minutes. Remove the garlic using tongs and let cool. Once safe to handle, squeeze the garlic cloves into a bowl and cool completely. Add a halve cup of mayo to the honey roasted garlic and mix, breaking up the roasted garlic cloves. Refrigerate until ready to use.

Preheat griddle to 350°.

Butter one side of each of the slices of sourdough bread. On the un-buttered side smear a tablespoon on each sandwich half. Top both with a little grated Fontina, spinach, peppered bacon and more grated cheese. Top with the remaining slices of sourdough, butter-side-up and griddle until golden. Cover with a domed lid or tented foil to speed up the melting process.

Slice in halve and serve.
Serving: 1g, Calories: 788kcal, Carbohydrates: 44g, Protein: 26g, Fat: 57g, Saturated Fat: 22g, Polyunsaturated Fat: 12g, Monounsaturated Fat: 19g, Trans Fat: 1g, Cholesterol: 107mg, Sodium: 1248mg, Potassium: 341mg, Fiber: 2g, Sugar: 7g, Vitamin A: 1265IU, Vitamin C: 7mg, Calcium: 253mg, Iron: 3mg
[this post contains affiliate links.]
This post may contain affiliate links.
Buy the Cookbook: Simply Scratch : 120 Wholesome Homemade Recipes Made Easy Now available on Amazon »
THANK YOU in advance for your support!