Get your cheese fix with this Easy Baked Mac and Cheese! Cheddar and jack cheese melted into a simple sauce, tossed with elbow macaroni and then layered making this the cheesiest baked mac and cheese!! Serves 6 in under an hour.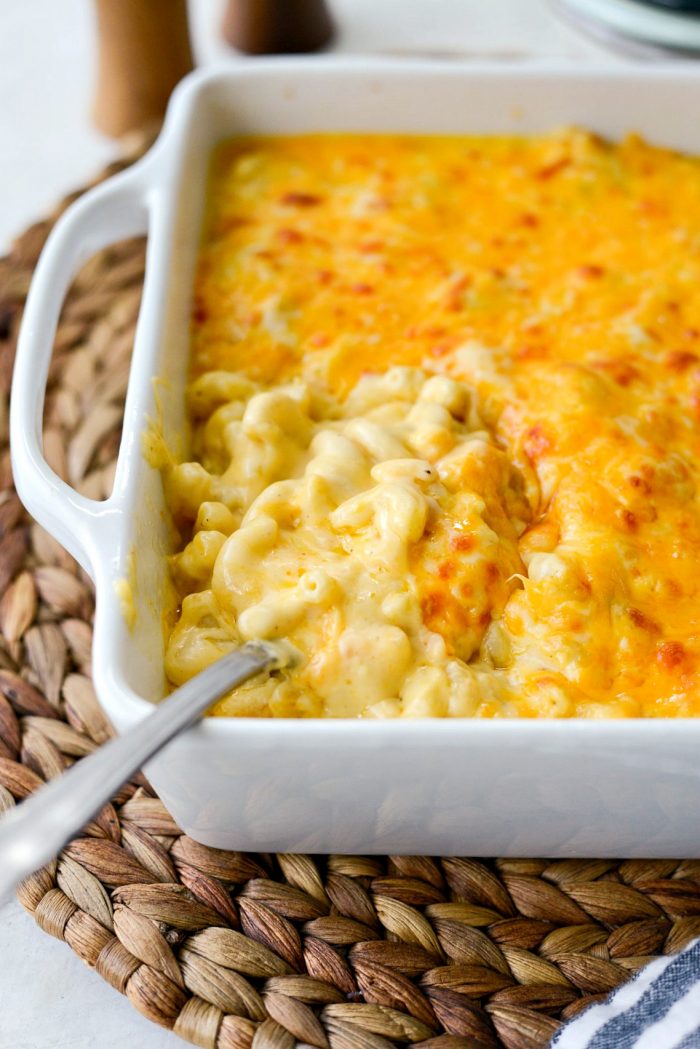 Let's get to the point, shall we? Who here has had mac and cheese that the sauce has either been absorbed into the pasta (i.e. there's no sauce) or the sauce has broken, making it clumpy and gloppy? 🙋🏻‍♀️I've made so many baked macaroni and cheese recipes and all end up either too dry or (gasp!) curdle-y. After years of bad mac and cheese, I was determined to make a homemade macaroni and cheese that was creamy and dreamy.
With that said, I have a theory. One, is that bad mac and cheese is both baked at too high of a temperature and for far too long. The combination of both makes the milk solids separate. This recipe however, is mostly done in a skillet before being baked at a lower temperature for 10 minutes and then a quick trip under the broiler for those undeniable crispy brown bits.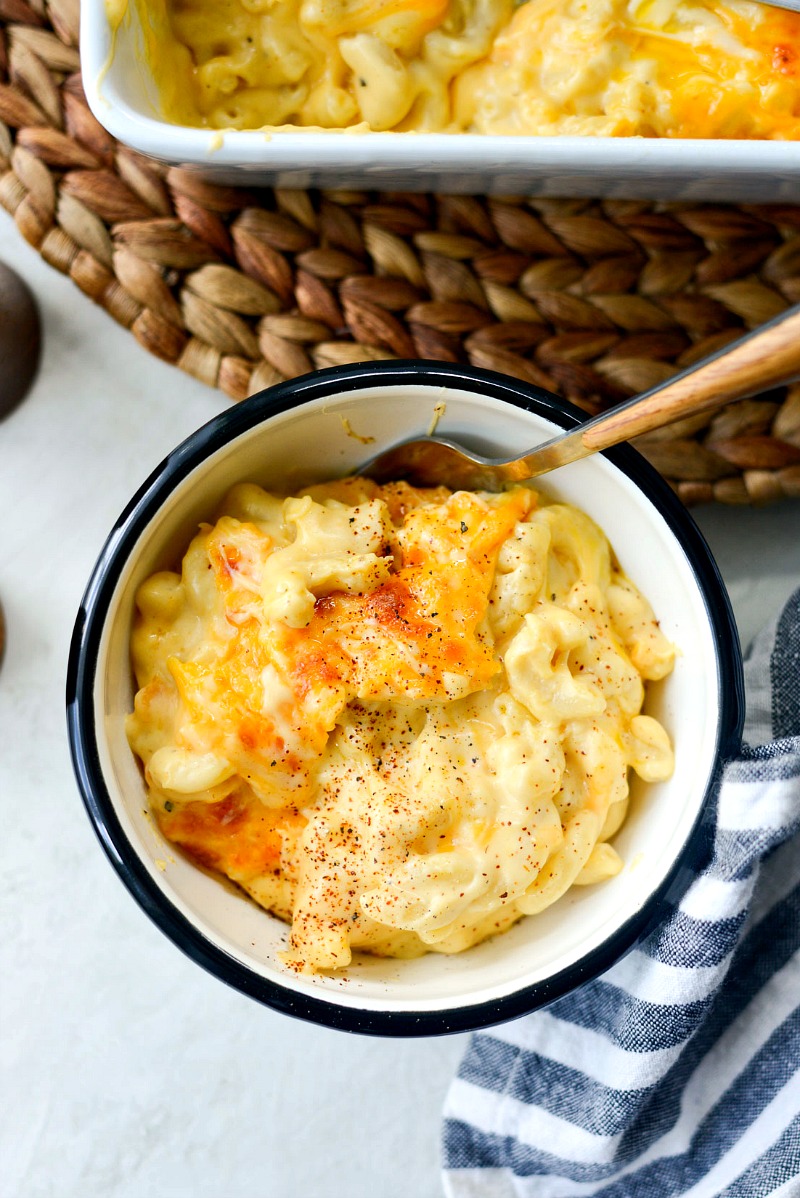 Yielding the best baked Mac and cheese, I've ever made.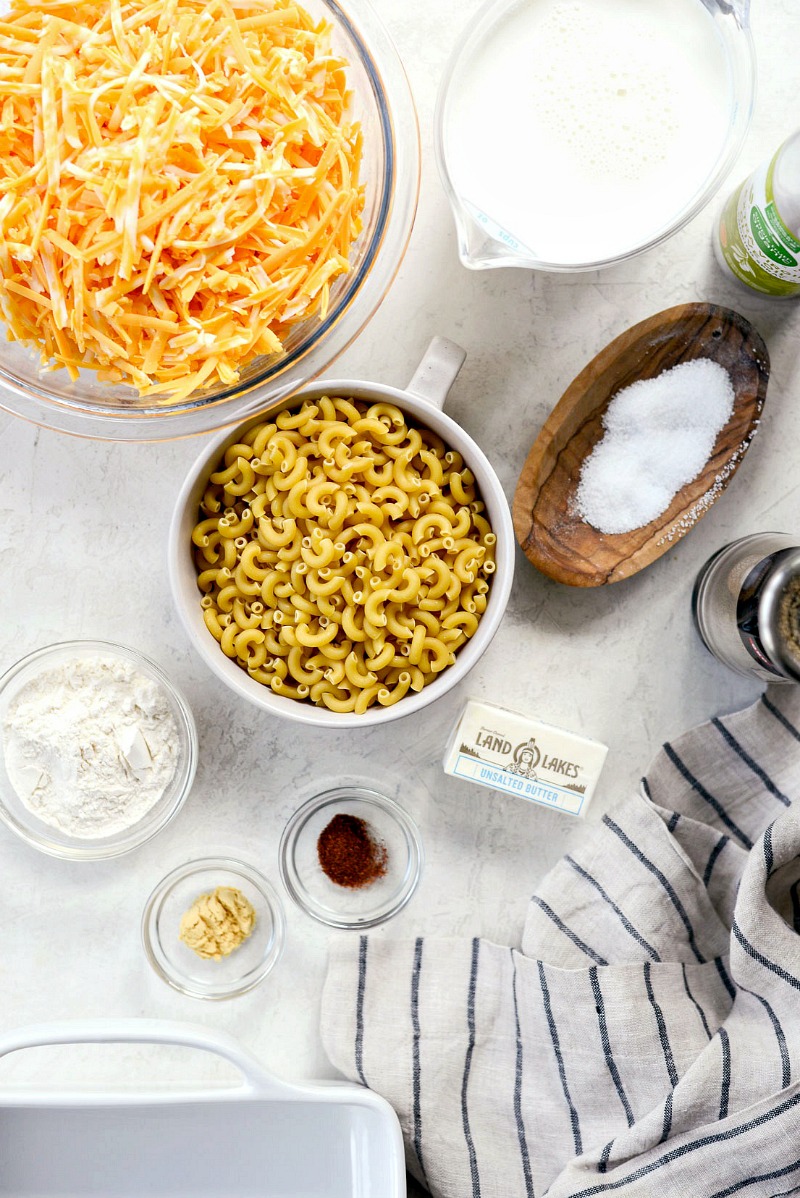 In This Easy Baked Mac and Cheese You Will Need:
olive oil spray
dry elbow pasta
sea salt
unsalted butter
unbleached all-purpose flour
half & half
sharp cheddar cheese
cheddar jack cheese
kosher salt
freshly ground black pepper
dry mustard
paprika
In a bowl, combine both the 1-1/2 cups freshly grated cheddar and cheddar jack. For an extra cheese Mac and cheese, add in an extra 1/2 cup of cheddar jack.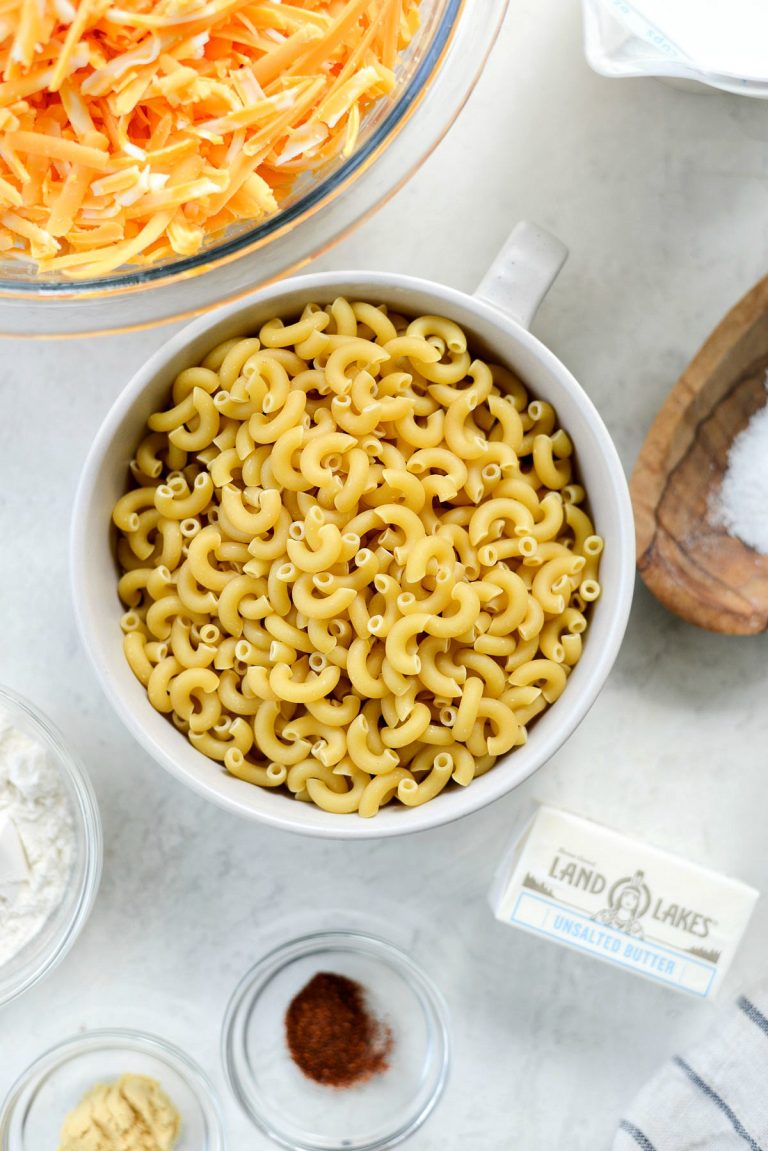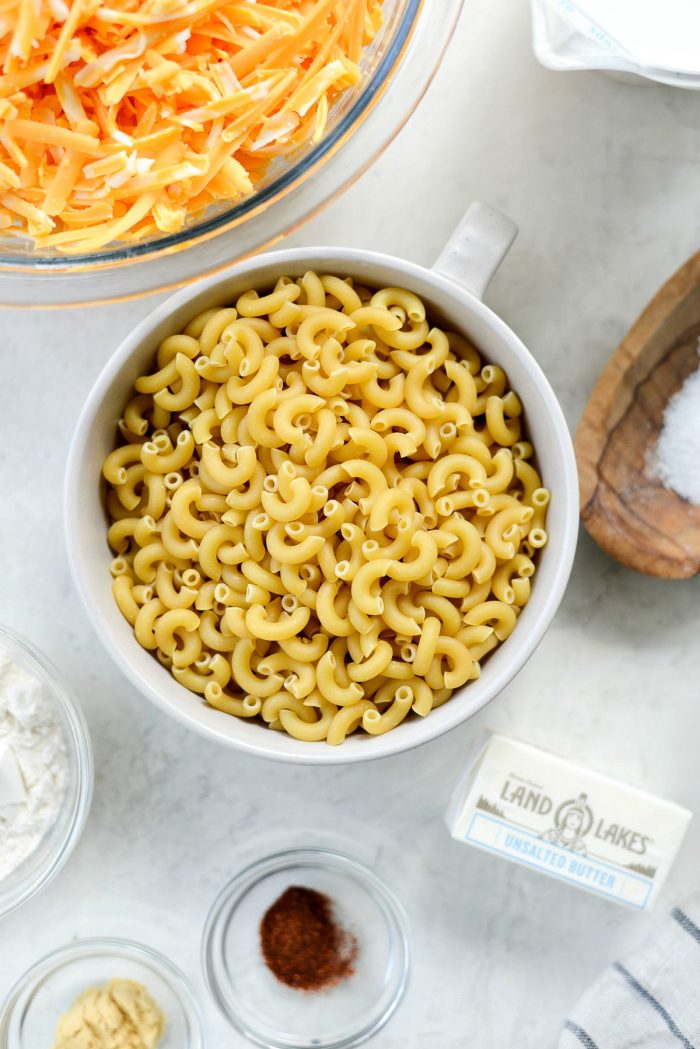 Add 2 tablespoons of sea salt to a boiling pot of water. Add in 10 ounces (not a full box!) of elbow pasta and cook 1 to 2 minute shy of the package directions. Drain into a colander.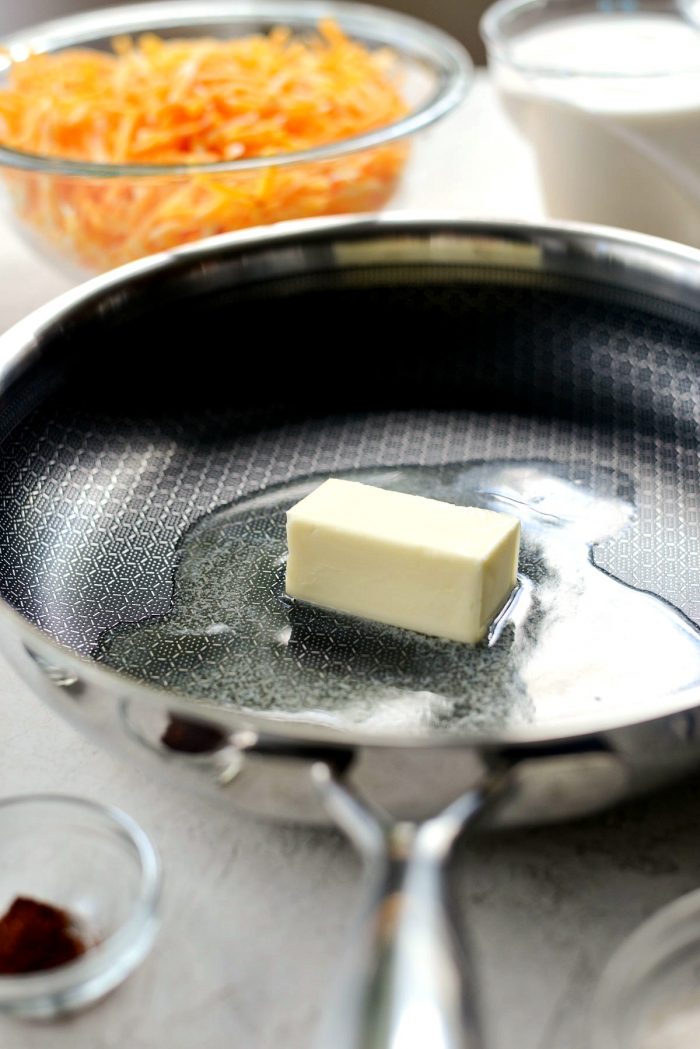 Meanwhile, in a 10-inch skillet, melt 4 tablespoons of unsalted butter over medium heat.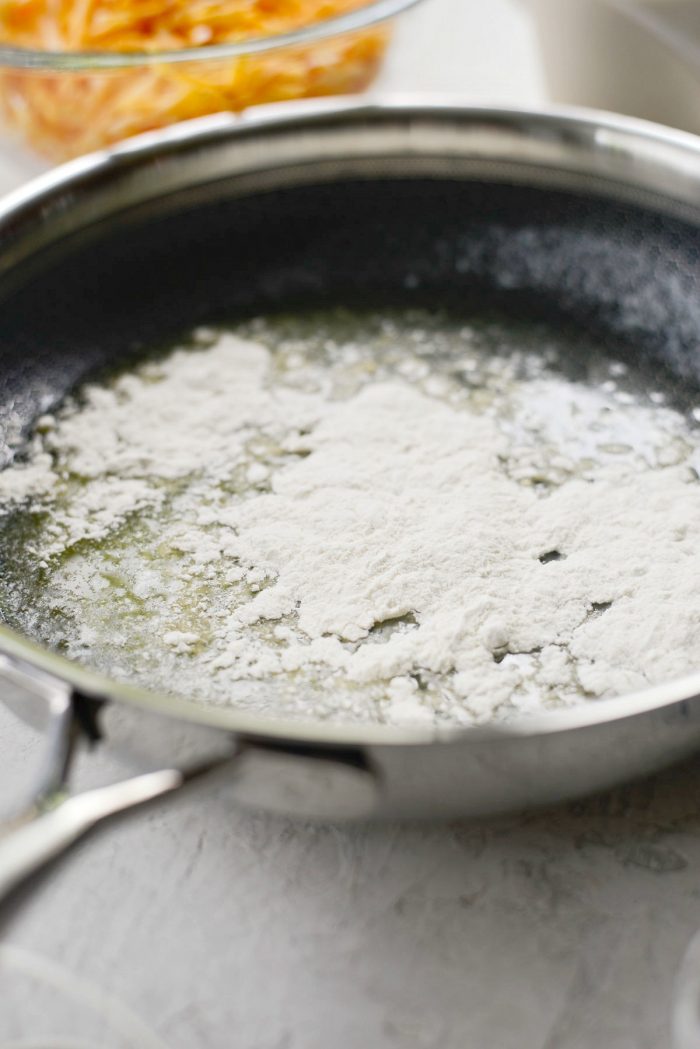 One melted, sprinkle in 1/4 cup flour.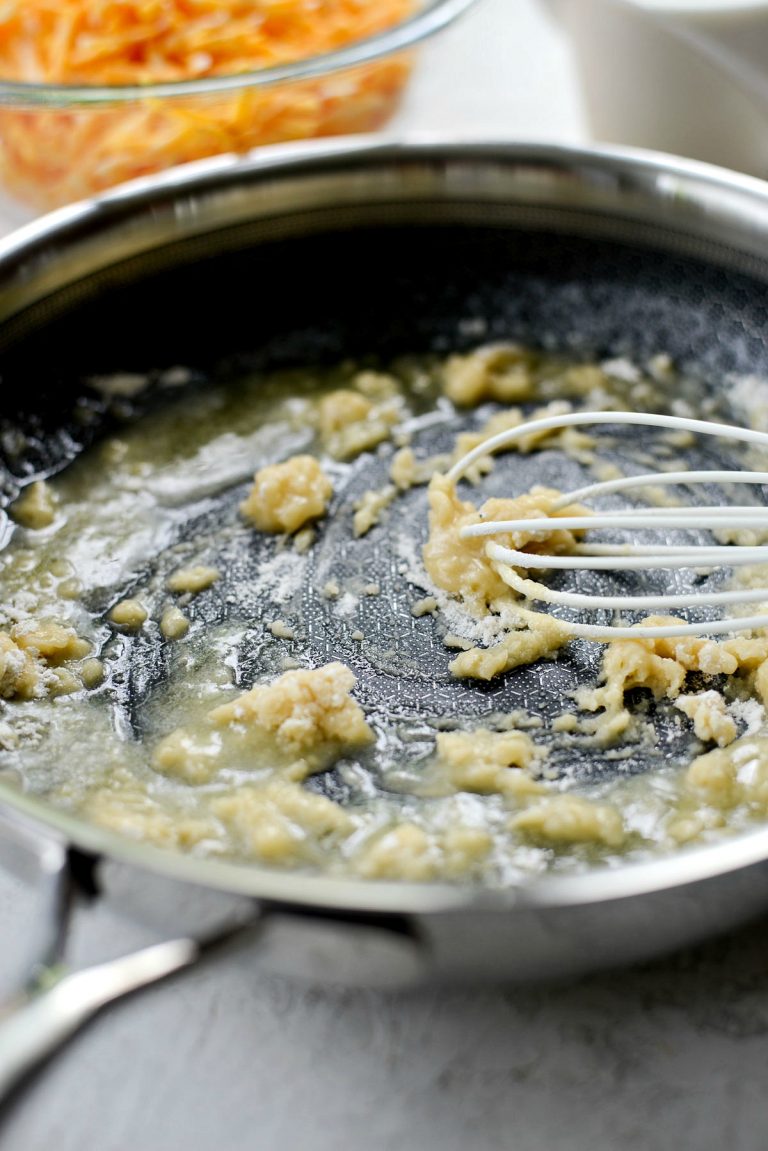 Continue to whisk while the flour/butter mixture cooks for 1 minute. While whisking, slowly pour in 2 cups of half & half.
Continue to whisk until the mixture has thickened to the consistency of a creamy soup.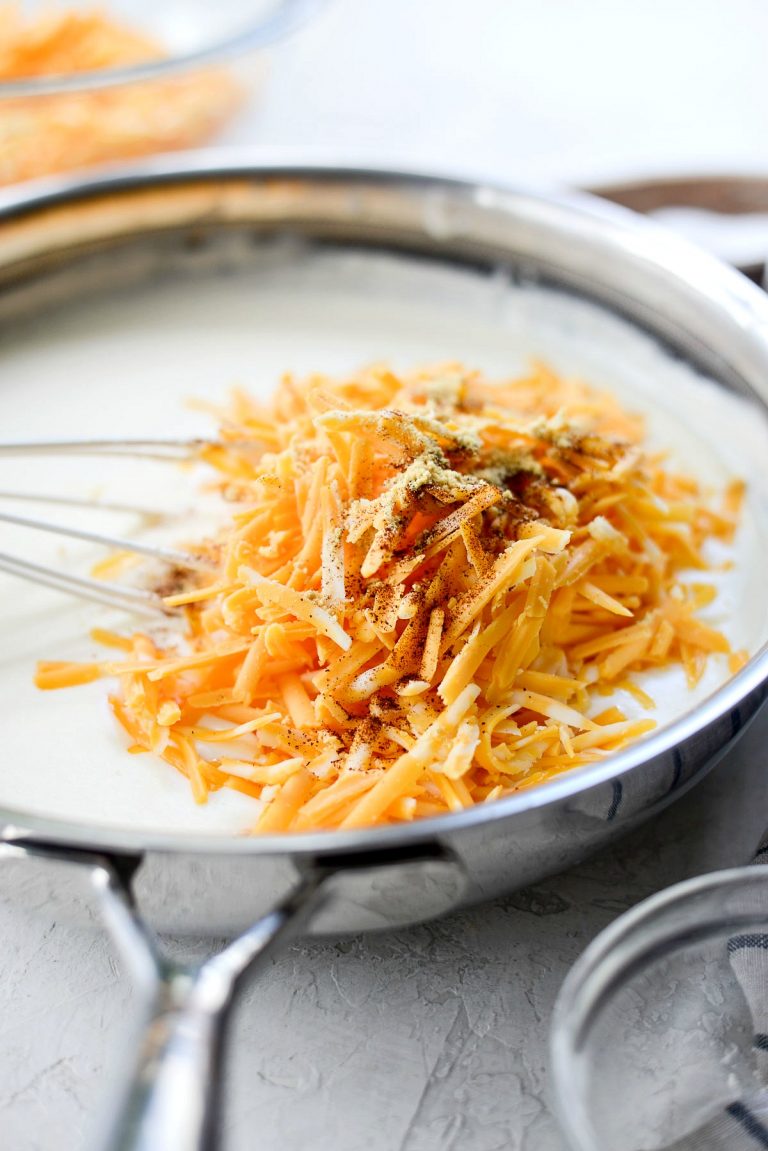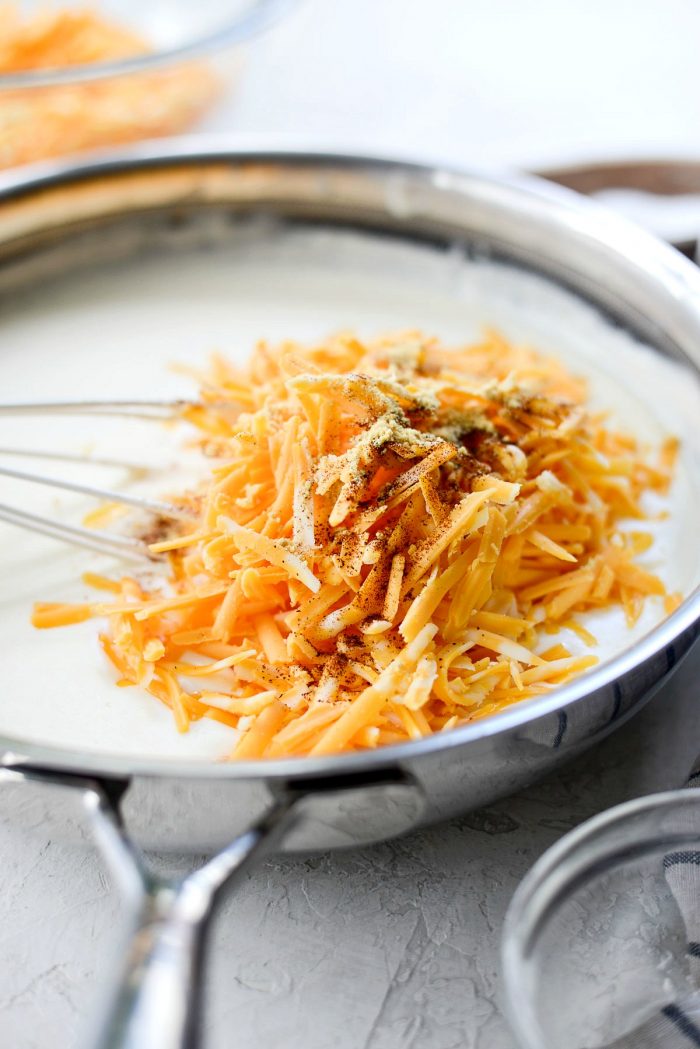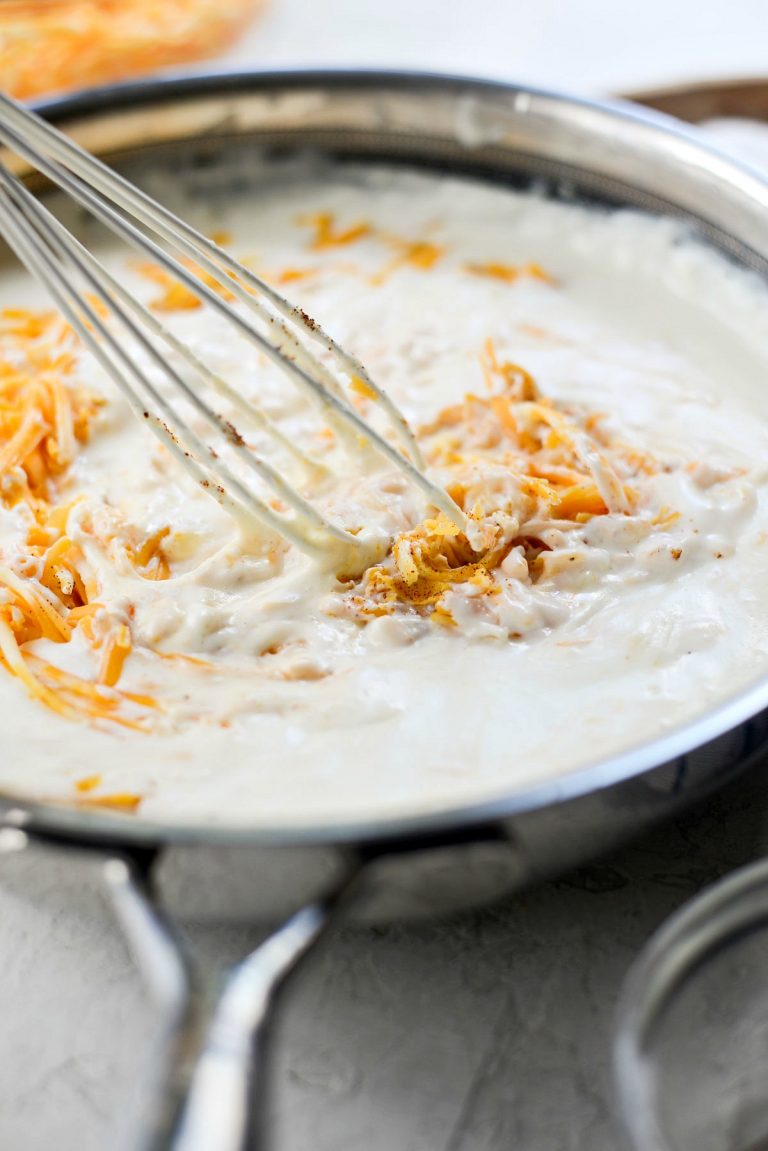 Next, stir in 1-1/2 cups of the combined cheeses, 1/2 teaspoons dry mustard and 1/4 teaspoon paprika. Season with 1/2 teaspoon kosher salt and black pepper to taste.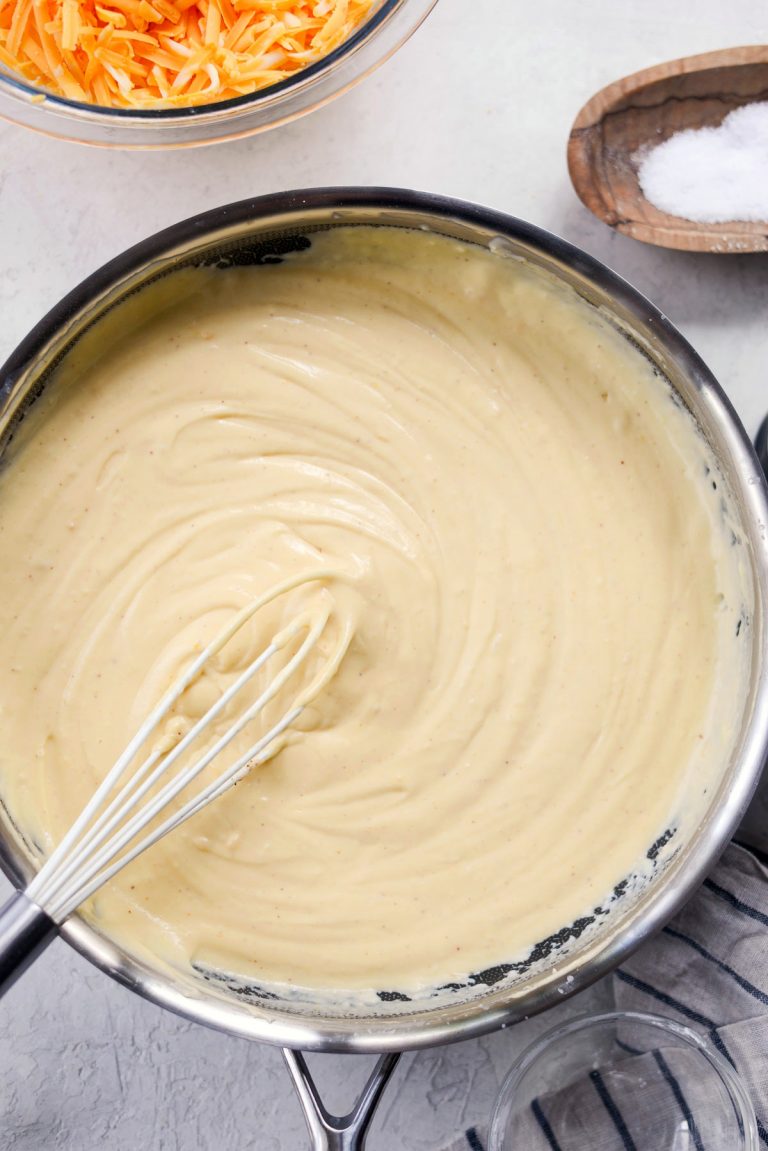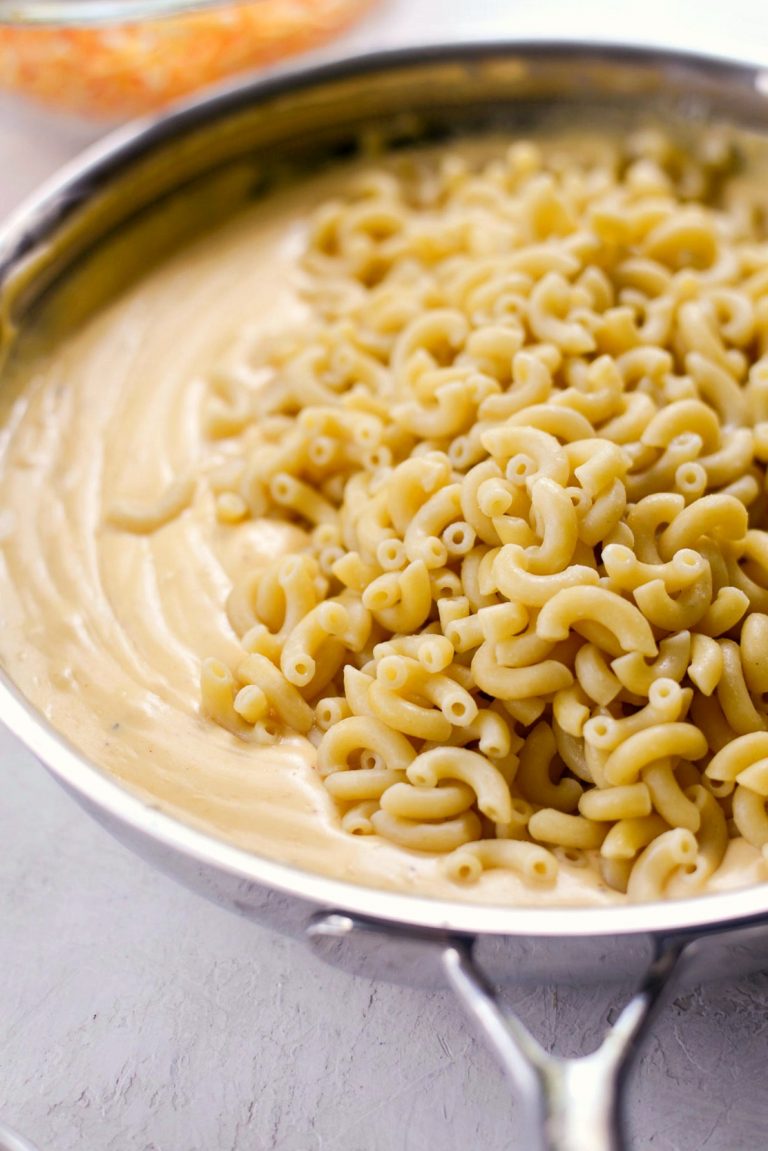 Once the cheese sauce is smooth, add in the partially cooked pasta.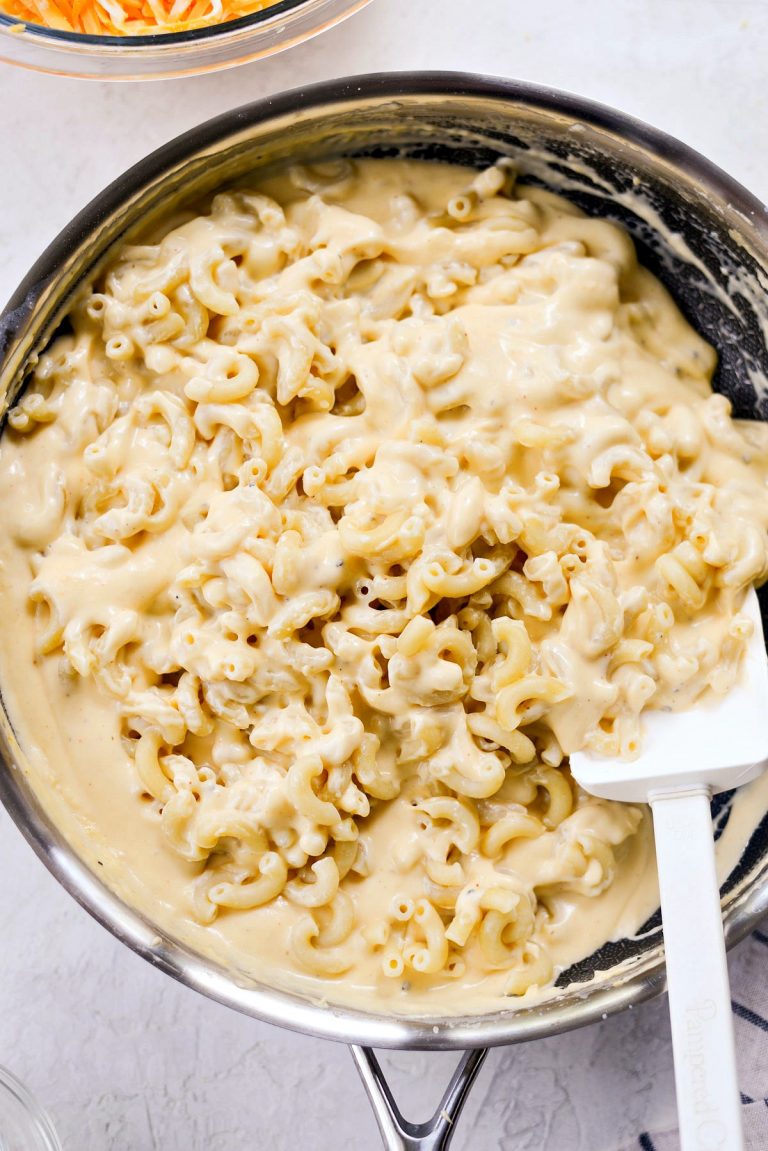 Using a rubber spatula, toss the pasta in the cheese sauce to coat.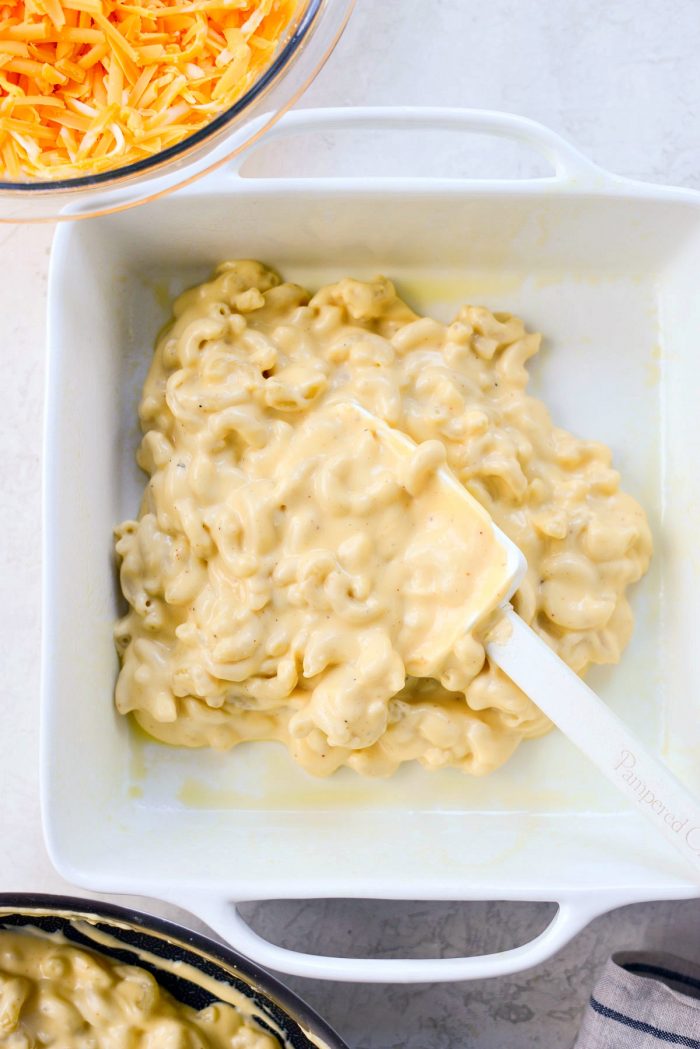 Add half of the macaroni and cheese sauce to a lightly sprayed casserole dish. Top with half the remaining cheese, the rest of the macaroni and cheese and the last of the shredded cheese.
yum cheese!
Bake on the middle rack of your preheated 325° for 10 minutes. Then switch the broiler on to high and broil until the top is lightly golden in spots, about 1 to 2 minutes.
SO creamy.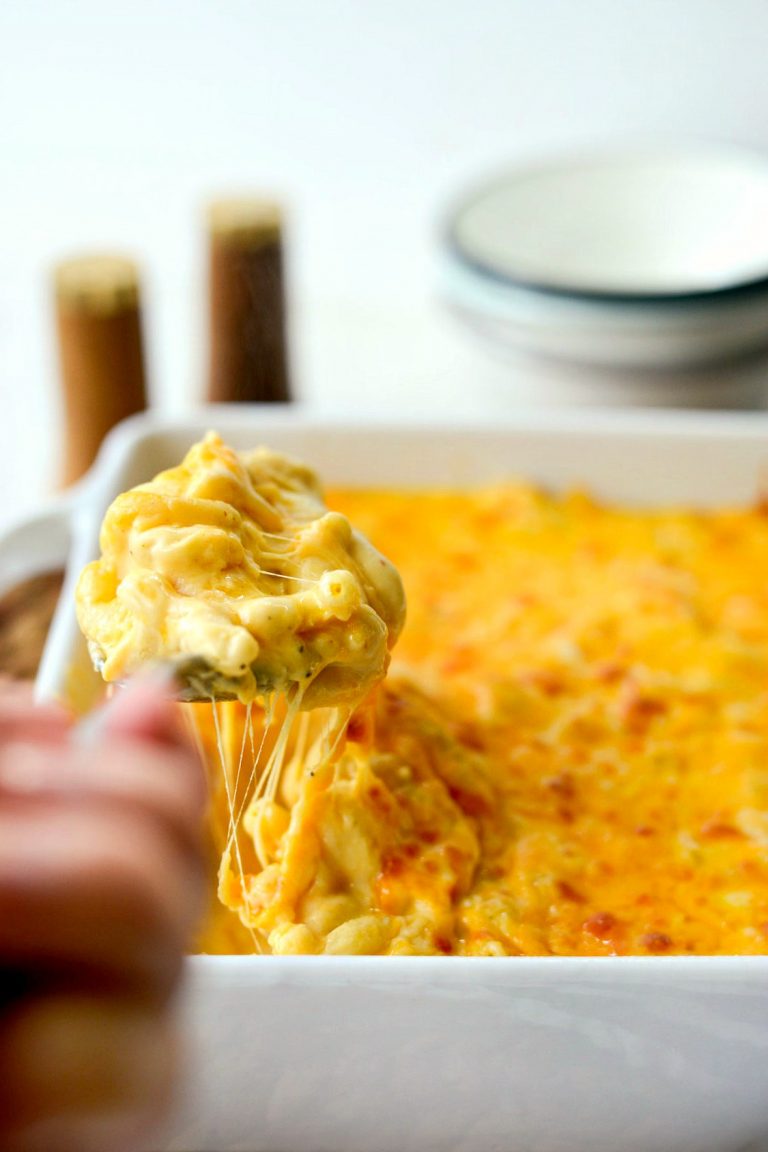 And pretty much the cheesiest of cheesy mac and cheeses out there. With bonus crispy cheesy bits and cheese pulls for days.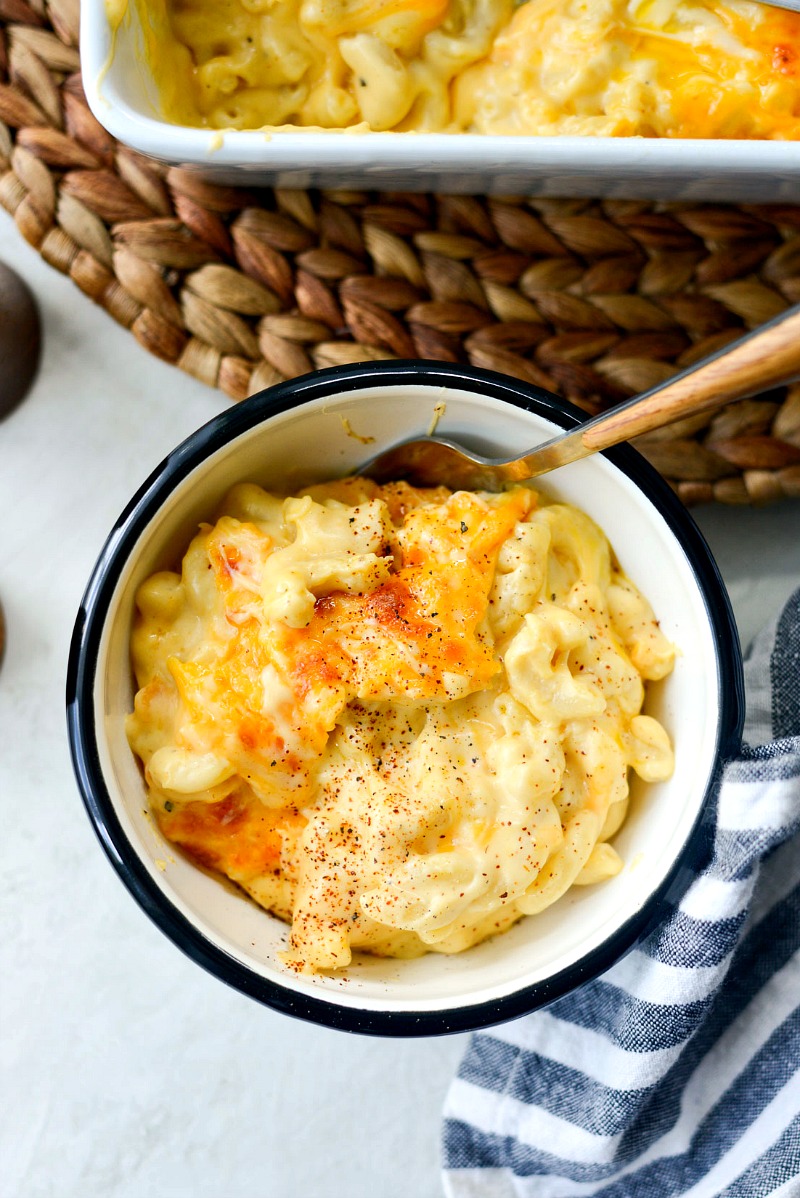 Enjoy! And if you give this Easy Baked Mac and Cheese recipe a try, let me know! Snap a photo and tag me on twitter or instagram!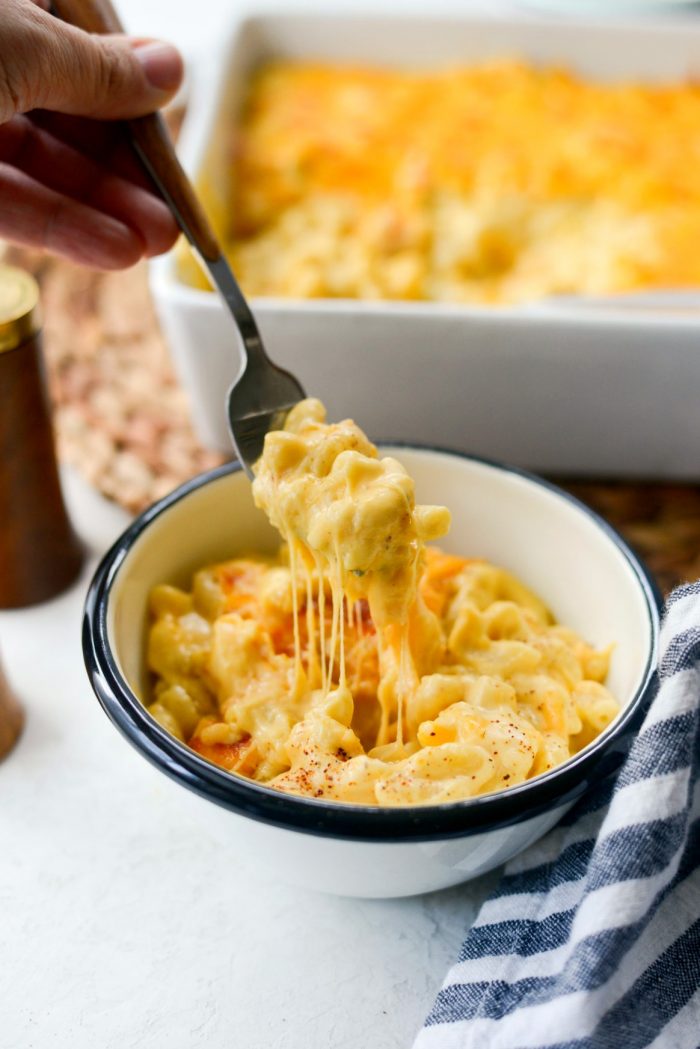 This post may contain affiliate links.
Buy the Cookbook: Simply Scratch : 120 Wholesome Homemade Recipes Made Easy Now available on Amazon »
THANK YOU in advance for your support!