Crispy skinned barramundi with caramelized lemon and brown butter crumbs is utterly delicious! Serve this buttery fish with rice, sauteed vegetables or a leafy green salad.
I have fallen in love with barramundi.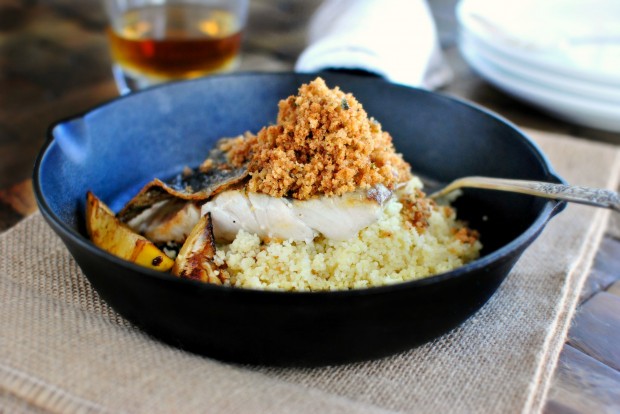 You remember last month when I shared with you that killer Thai Coconut Curry Poached Barramundi, right? Well I'm still fan-girling over this fish. For my friends that may have missed it… barramundi is a healthy and sustainable fish that you can find at your local Trader Joes, Whole Foods and many more retailers. Barramundi is a firmer white fish that is high in protein, low in fat and fewer calories than salmon… no offense salmon, we still love you.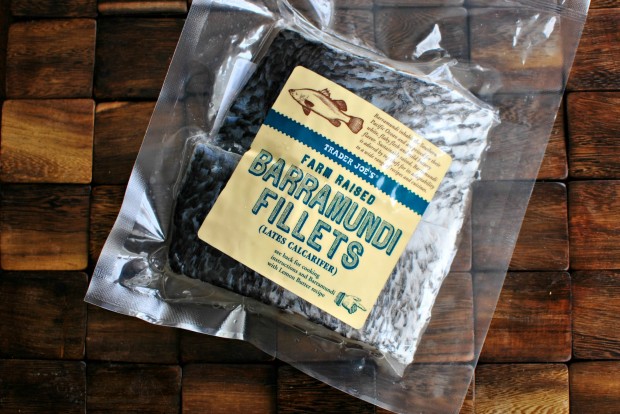 So while I was at Trader Joe's picking up more barramundi, it dawned on me that I wanted to make a recipe that was easy and showcased the fish in its entirety. No fancy sauce, no fancy herbs… just lemon. Okay and brown butter crumbs and couscous… but hey.
This recipe takes about twenty-five minutes tops. All you need is lemon, butter (holla!), Panko breadcrumbs, s & p… parsley flakes are totally optional however the barramundi is a necessity.
For the crumbs, start by melting four tablespoons of butter in a small skillet.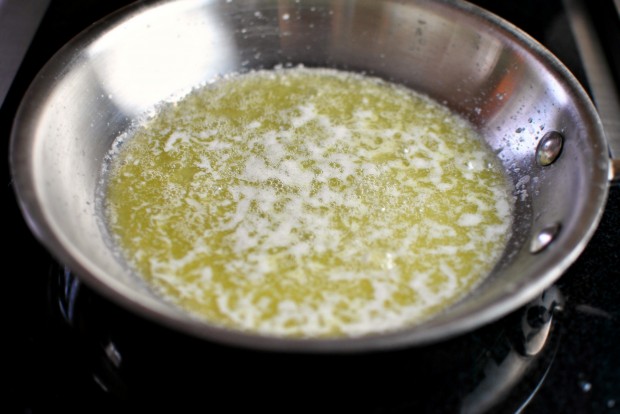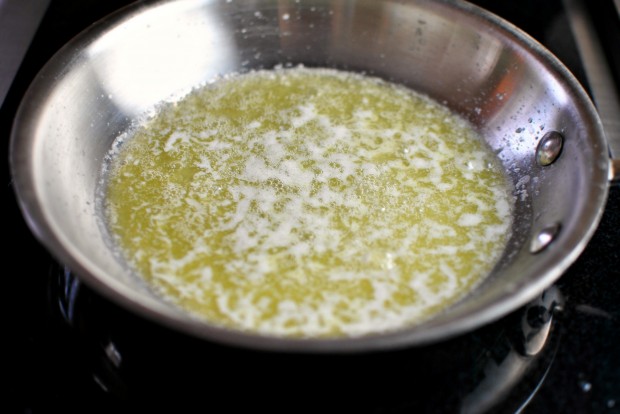 Heat over medium heat. The butter will begin to bubble and foam a bit.
Once the milk solids start turning that golden brown color…
…it's time to turn off the heat and throw in the Panko. I chose whole wheat Panko crumbs because I had it in my pantry but you could use either kind.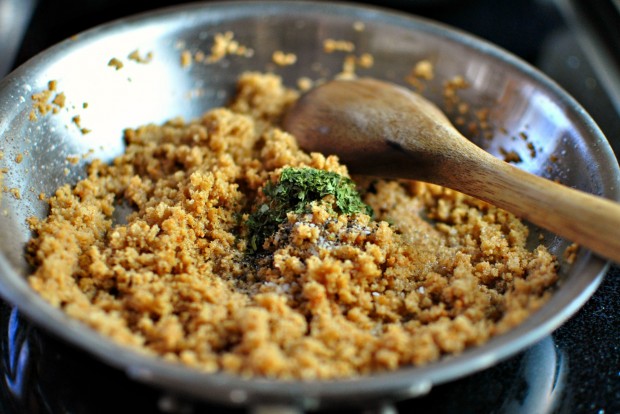 Season with kosher salt, black pepper and the parsley flakes (which I primarily use for color).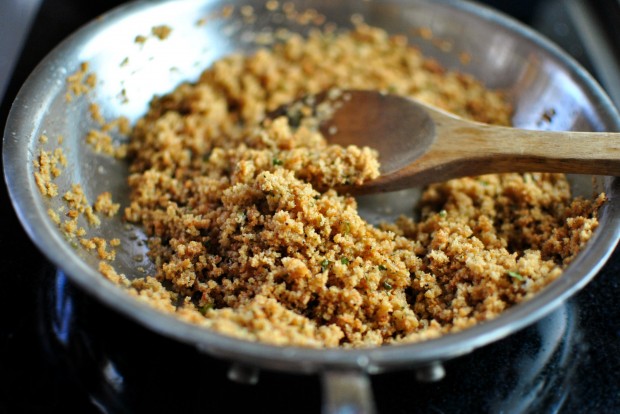 Stir and set off to the side.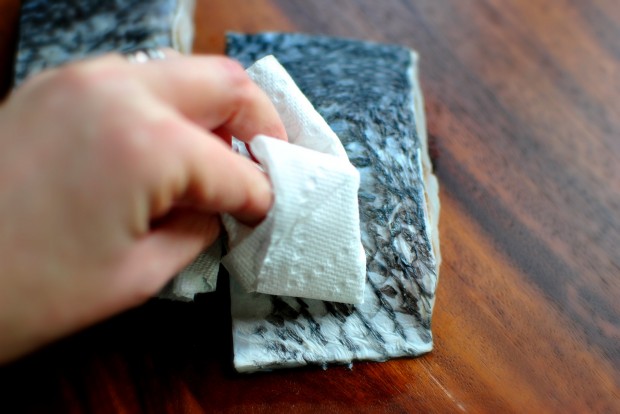 Barramundi has excellent skin for crisping. To achieve the ultimate crispy skin you'll want to pat the skin dry with a piece of paper towel.
Heat a 10 inch skillet with enough extra light olive oil to coat the pan. Once the pan is hot, lay the barramundi down skin-side first and season the top with more salt and pepper.
Press firmly with a spatula so the skin crisps evenly. Cook the fish for 6-8 minutes or until 3/4 of the way cooked.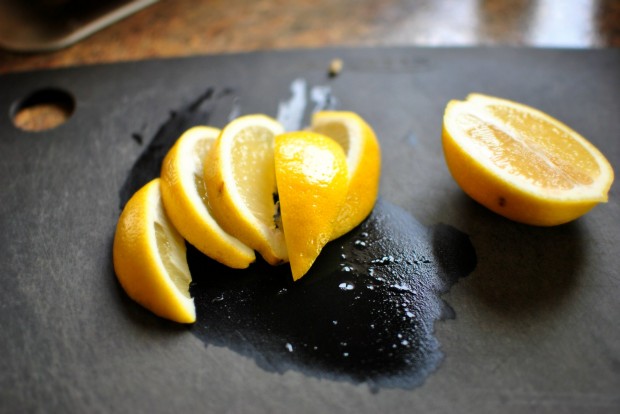 Meanwhile I sliced up a half a lemon into 6 wedges.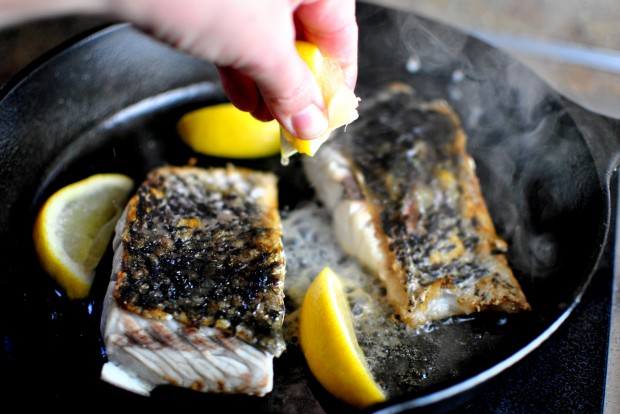 Then I ever-so-carefully flipped the fish, dropped in a few lemon wedges to caramelize and squeezed two lemon wedges into the center of the pan and not over that perfectly crisped skin.
Oh and you'll know when the fish is ready to flip because the skin comes away from the pan effortlessly. Continue to cook the fish for 3-4 more minutes letting it absorb that lemon juice, turning the lemon wedges once they have turned a deep brown on one side.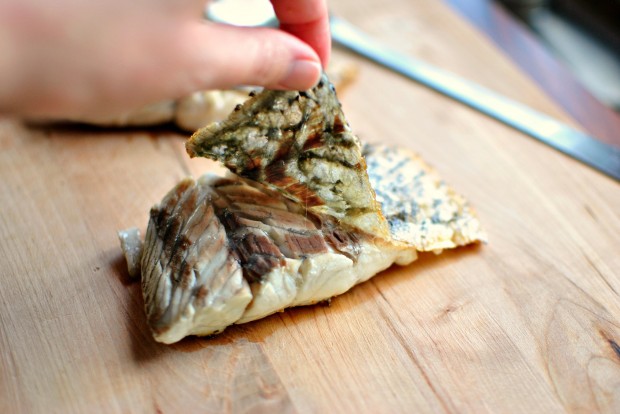 Once the barramundi is fully cooked, remove the fish to a plate or cutting board and carefully peel back the skin.
Throw the skin back into the pan (crispy side facing up) to crispy up the underneath. This should only take a minute or two. This step is totally optional, but it give the skin a crispy chip-like texture that I happen to love.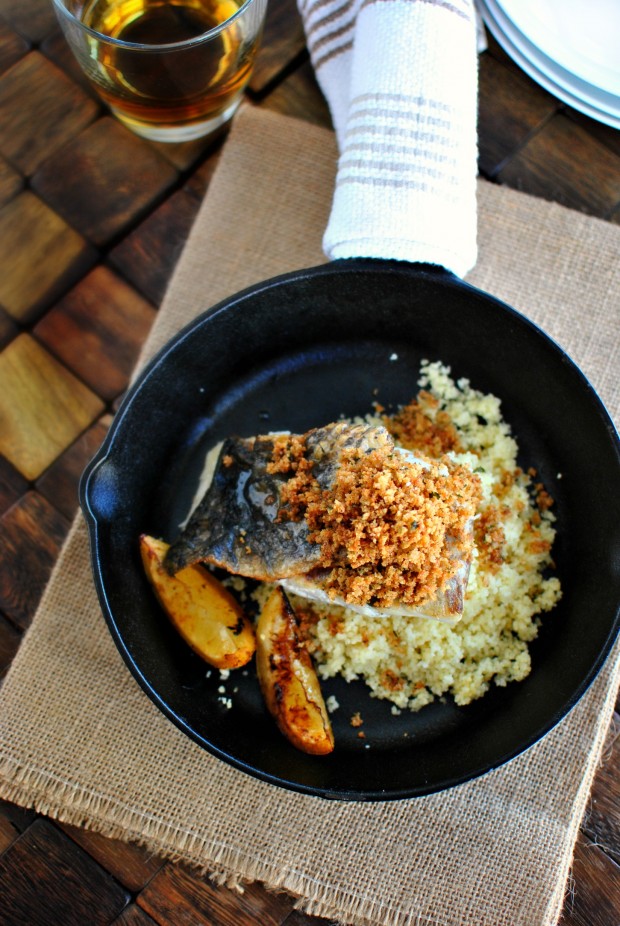 Serve the crispy skinned barramundi over couscous, rice or whatever you have on hand. Then top the Barramundi with Caramelized Lemon with the brown butter crumbs and garnish with a few of the caramelized lemon wedges. You'll get to squeeze those beauts over top.
This barramundi with caramelized lemon dish is so rustic and yet so elegant. It all comes together easily and the flavor combo is one that any fish lover will enjoy. I made this recipe for my daughter and I and we both scraped our plates clean. I just know you'll love this as much as we did!
Want more recipes featuring this fab-o fish? Here are eight delicious and inventive ways to enjoy barramundi.
Enjoy! And if you give this Barramundi with Caramelized Lemon recipe a try, let me know! Snap a photo and tag me on twitter or instagram!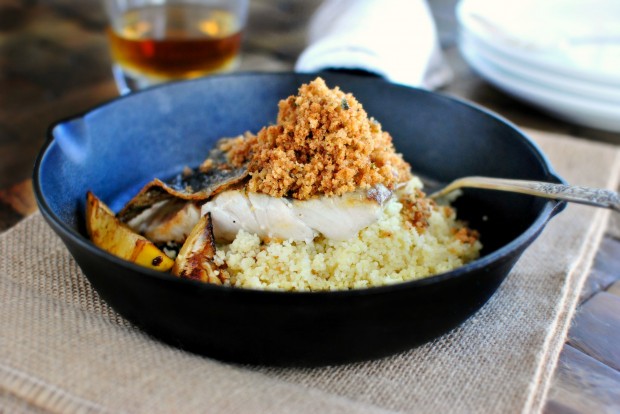 My cookbook Simply Scratch : 120 Wholesome Homemade Recipes Made Easy is now available! CLICK HERE for details and THANK YOU in advance!
[this post contains affiliate links.]
This post may contain affiliate links.
Buy the Cookbook: Simply Scratch : 120 Wholesome Homemade Recipes Made Easy Now available on Amazon »
THANK YOU in advance for your support!