This Creamy Pancetta, Leek and Pea Macaroni and Cheese is majorly delicious! Crispy pancetta, sauteed leeks, peas all in a creamy macaroni and cheese!
One of my favorite pasta dishes in life is linguine tossed with pancetta, Parmesan and peas. I could eat it all day every day.
So I had a great idea. I took my favorite pasta combo and threw it in copious amounts of cheese. Three to be exact. I threw in some peas to make it *wink* healthy-er *wink*. The end result is a creamy, lusciously cheesy mac and cheese that you'll no doubt lovingly hate me for. Sorry not sorry.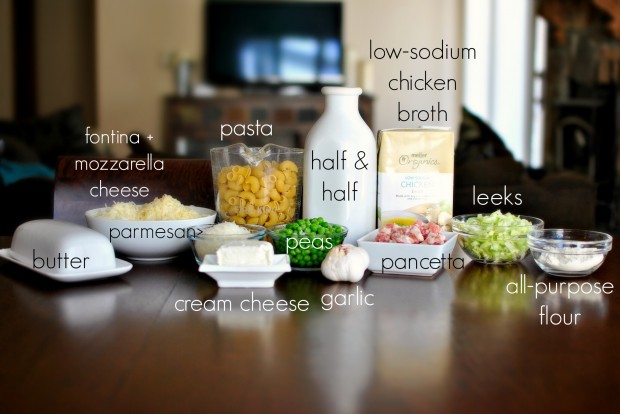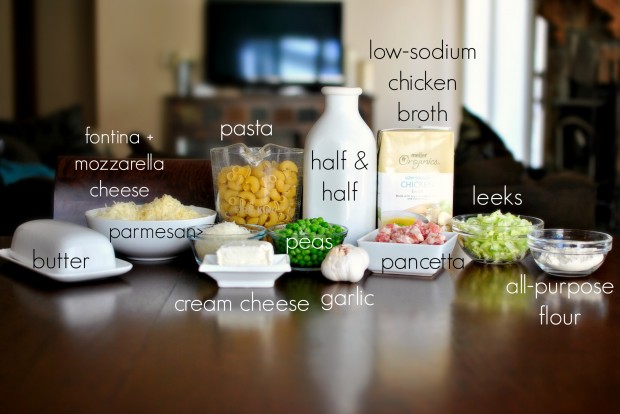 In this particular mac and cheese I wanted it to be ultra smooth, creamy and mild. So I picked my favorite cheeses; mozzarella, Fontina and Parmesan. It's the perfect cheese trifecta.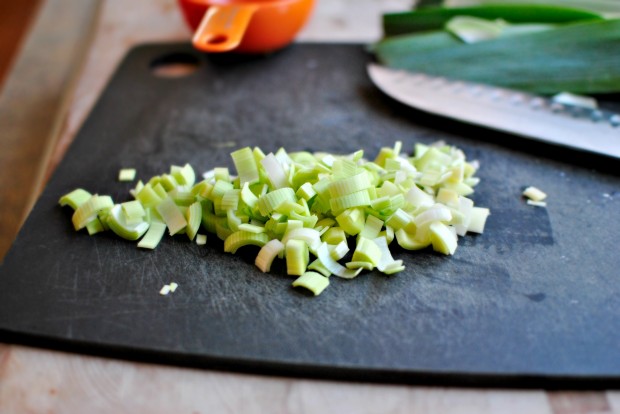 Trim off the white roots and the dark leafy parts to on medium-sized leek. Halve and then quarter the light green part and slice, it should be about a cup of sliced leeks all together.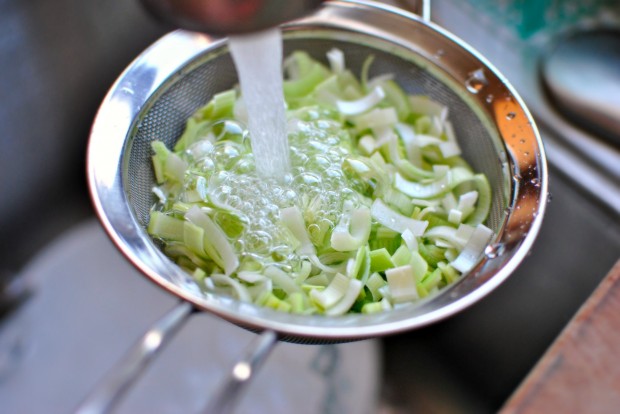 I threw them into a mesh strainer and rinsed them good with cold water.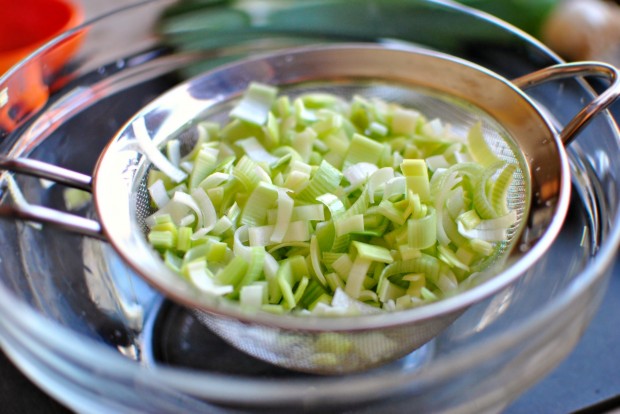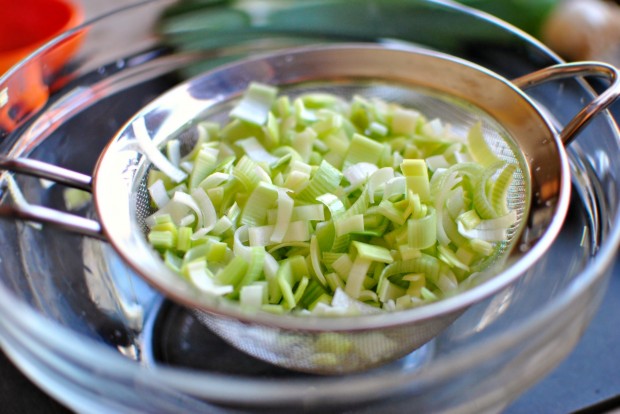 And then let them drip-dry while I worked on prepping the rest.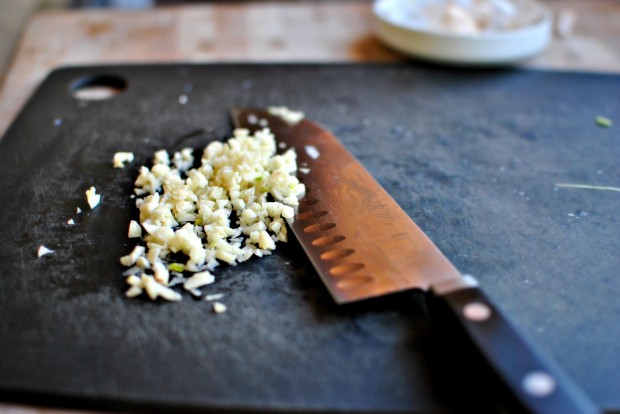 Smash, peel and mince up three good-sized cloves of garlic.
In a two-cup liquid measuring cup pour in a cup of low-sodium chicken broth and to that pour in 3/4 cups of half & half.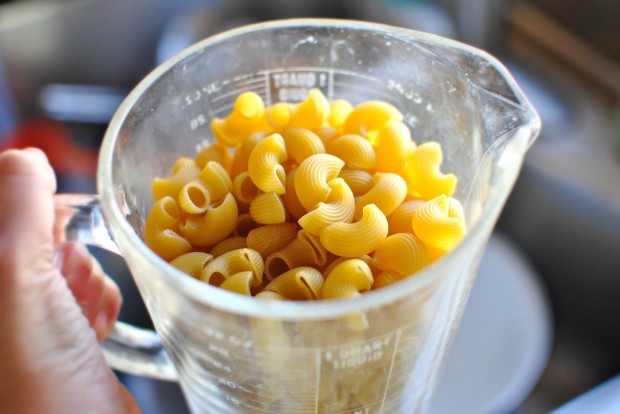 Bring a pot of salted water to a boil. Add in the 12 ounces of pasta and cook as directed on the package. Meanwhile I start the cheesy sauce. If the noodles are done before the sauce, drain into a colander and keep tossing the pasta every so often as the sauce finishes so it doesn't form a huge pasta clump.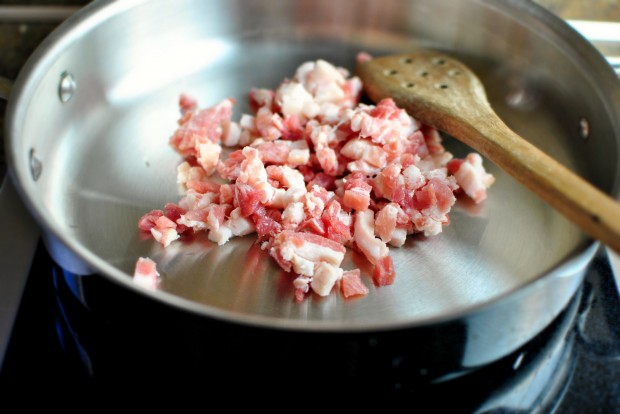 Start with a cold pan and add in the diced pancetta. Heat the pan over medium heat to slowly render out the fat in the pancetta.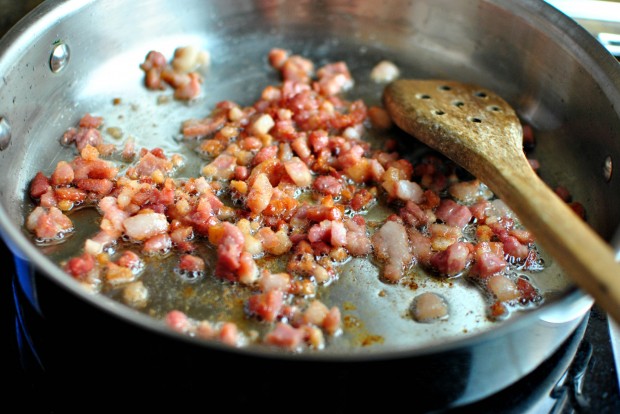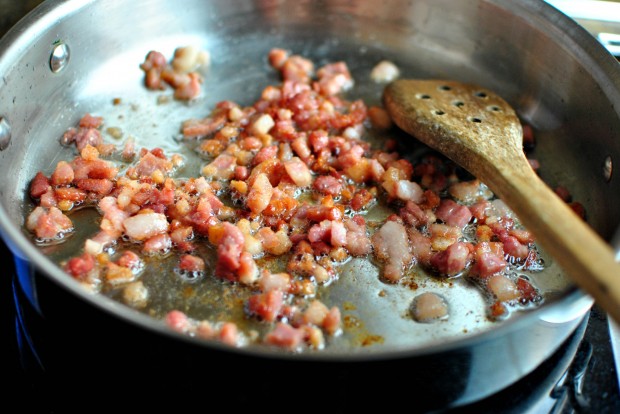 Cook the pancetta for 8 to 10 minutes until crispy, stirring occasionally.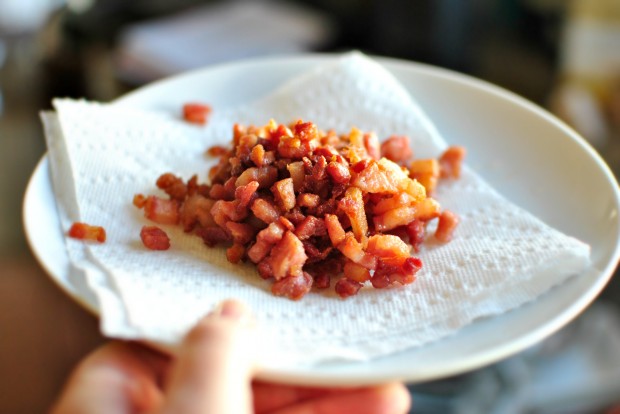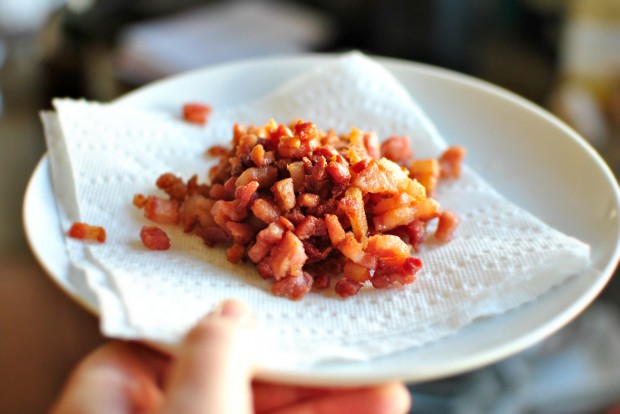 Use a slotted spoon to remove the crisped pancetta to a paper towel lined plate.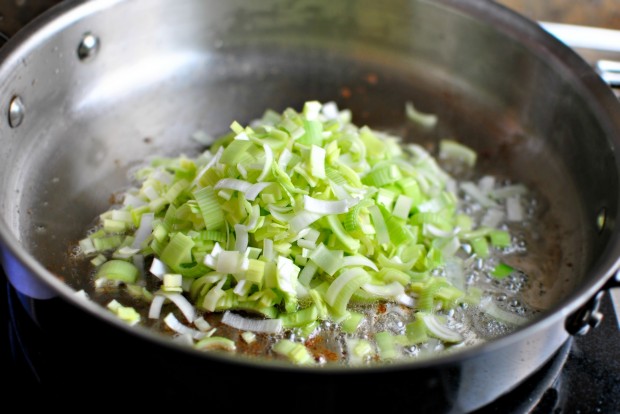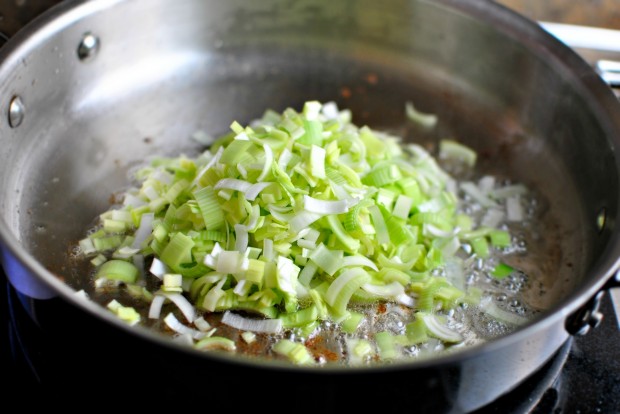 Add the sliced leeks to the remaining fat in the pan.
Cook the leeks until they are soft, about 5 minutes. What is it about the smell of leeks cooking in pancetta fat. Seriously someone should bottle this stuff.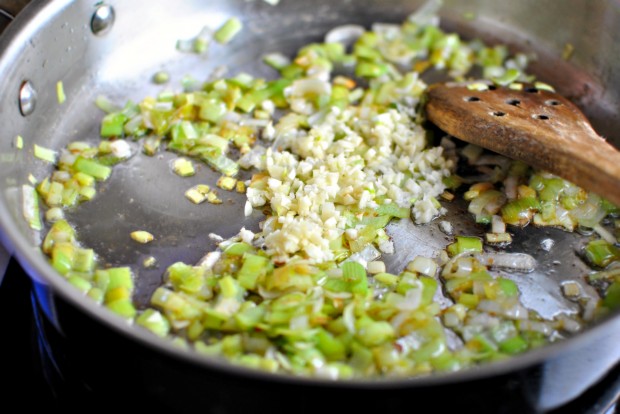 Add the three minced cloves of garlic to the softened leeks…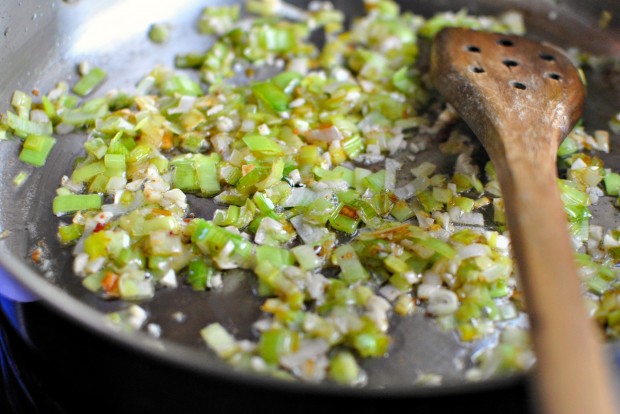 …and cook for a minute or two until the garlic is fragrant.
Add in a tablespoon of butter and the three tablespoons of all purpose flour.
Whisk the flour, butter, the remaining fat and leeks in the pan to form a paste and cook that for a minute.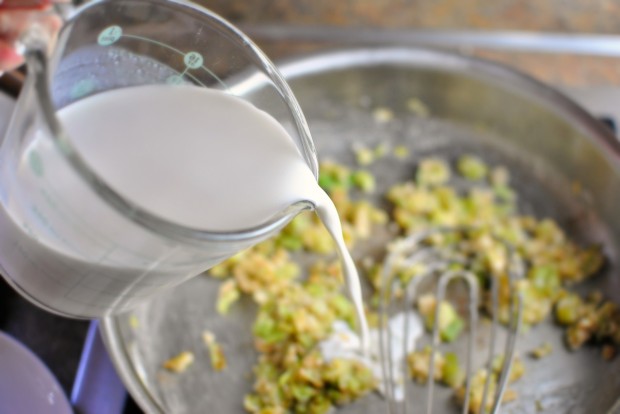 While you whisk, slowly pour in the broth and half & half.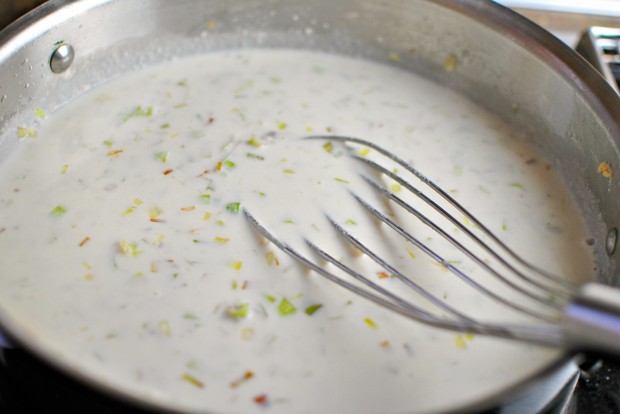 Keep whisking over medium heat until the sauce starts to thicken.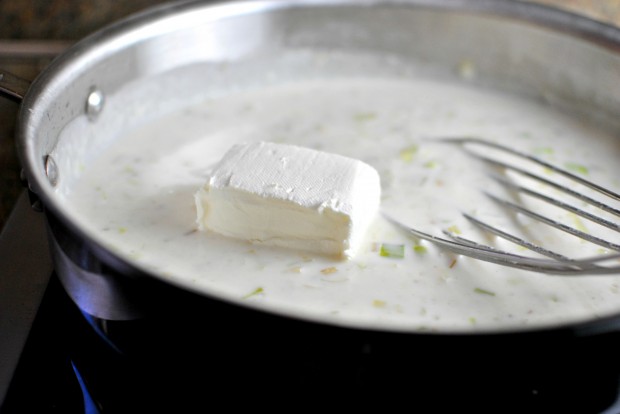 Once that happens, add in the quarter cup of cream cheese and whisk until smooth.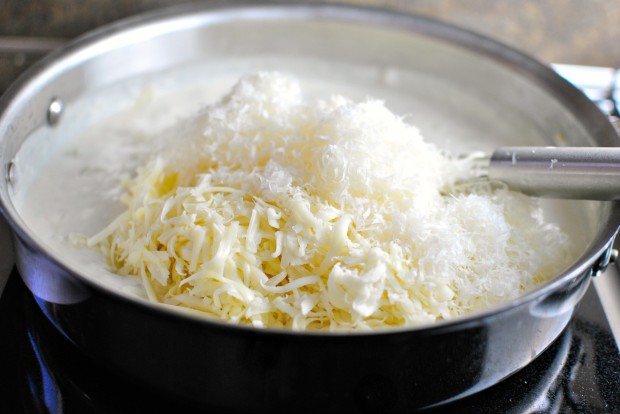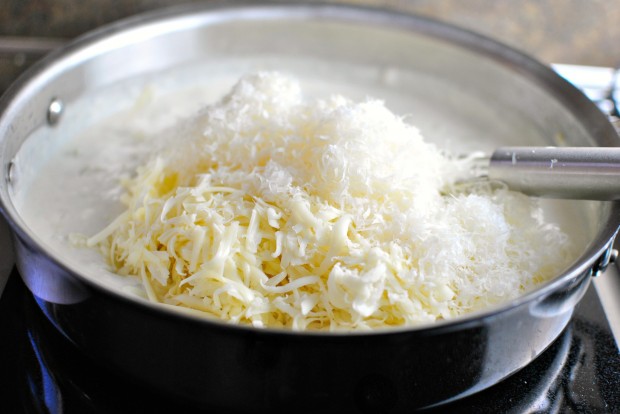 Once smooth, add in all the cheese. That's 1-1/4 cup of both Fontina and mozzarella and a half cup of freshly grated Parmesan.
Easy, breezy and definitely cheesy.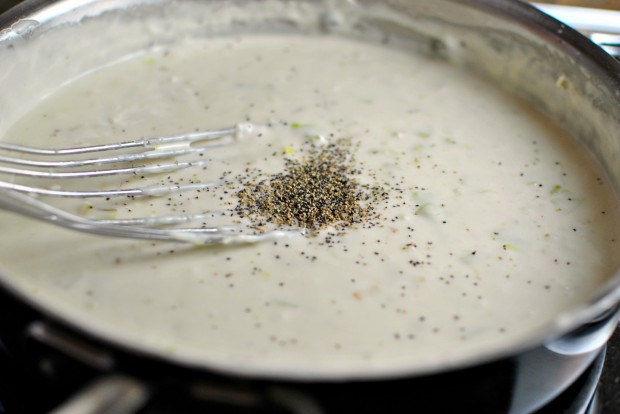 Add in a 1/4 teaspoon of coarse black pepper.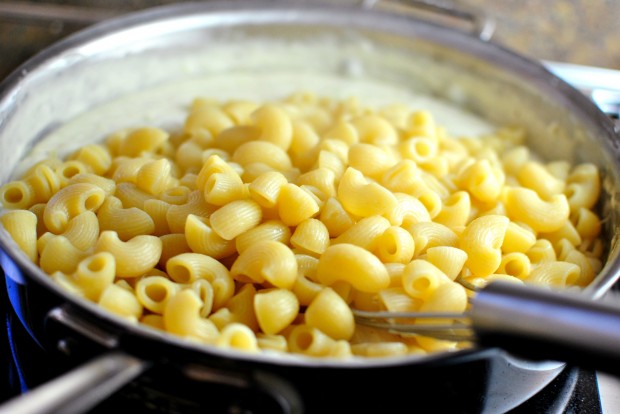 Then throw in the cooked and drained pasta.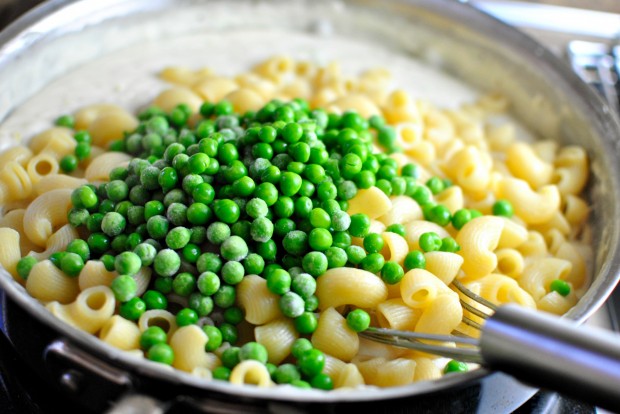 The peas.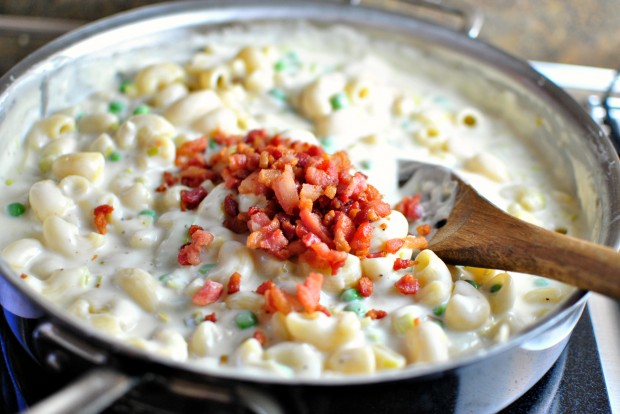 And half of the crispy pancetta.
Stir and heat until the peas are warmed through.
Serve at once with a sprinkling of the reserved pancetta.
I'm not kidding when I say this Creamy Pancetta, Leek and Pea Macaroni and Cheese is G-O-O-D. It's so luxurious and cheesy. We served it up with a fresh salad and a loaf of seedy-whole grain bread for the ultimate mac and cheese dinner.
My whole family LOVED this switch up on mac and cheese… but seriously, is there a mac and cheese recipe that isn't scrumptious? I think not.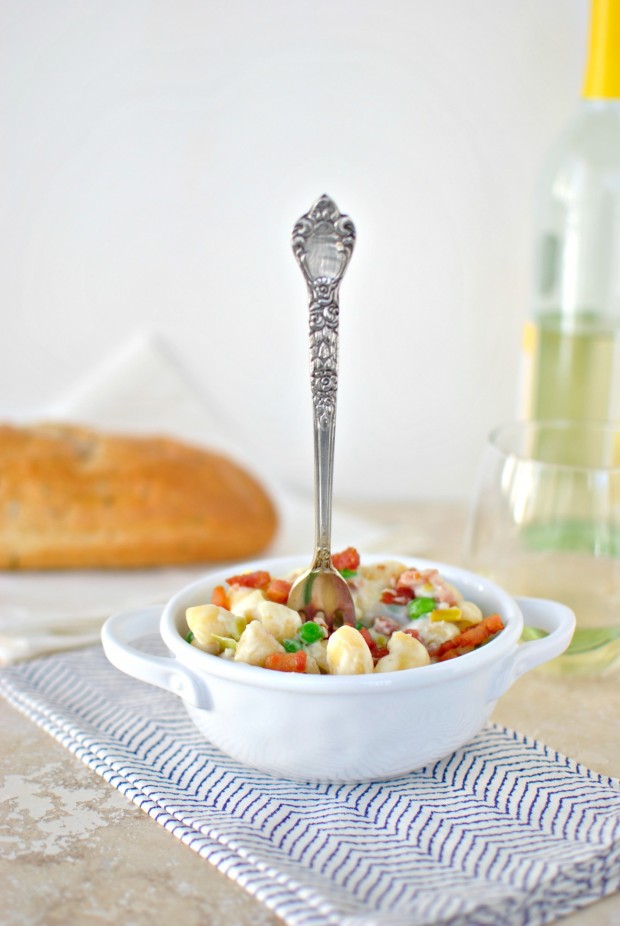 Enjoy! And if you give this Creamy Pancetta, Leek and Pea Macaroni and Cheese recipe a try, let me know! Snap a photo and tag me on twitter or instagram!
My cookbook Simply Scratch : 120 Wholesome Homemade Recipes Made Easy is now available! CLICK HERE for details and THANK YOU in advance! 
[this post contains affiliate links.]
This post may contain affiliate links.
Buy the Cookbook: Simply Scratch : 120 Wholesome Homemade Recipes Made Easy Now available on Amazon »
THANK YOU in advance for your support!