Chimichurri Grilled Chicken is as simple as it gets. Boneless, skinless chicken breasts (or thighs) marinate for only a few minutes in a flavor-packed chimichurri before grilled until perfectly cooked. Then slice for tacos or fajitas, chop to top your favorite salad or simply enjoy as is. Serves a small crowd or a family with plenty of leftovers in under 30 minutes.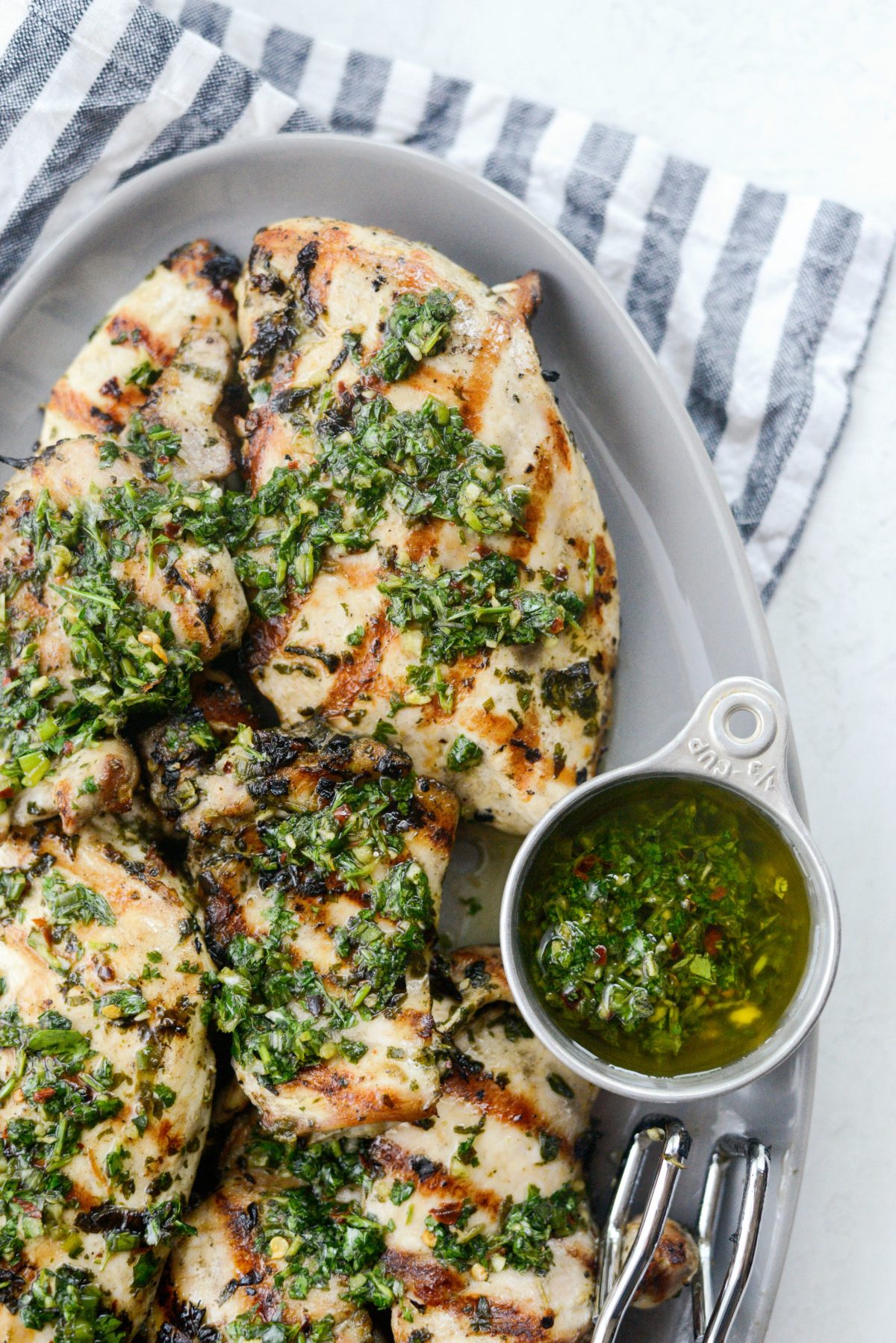 I do realize I've been posting quite a few chicken recipes. I really didn't plan for this to happen, it's just that most of the time I plan better – ha ha! But in all fairness, we do eat a lot of chicken for dinner. And when a recipe is crazy easy and tastes THIS good, it's hard to sit on it and wait to share it.
If you recall, last week I posted my recipe for cilantro chimichurri sauce, but knowing there's two types of people in the world – those who love cilantro and those who do not- this traditional (parsley) chimichurri can also be used. And what I love about all chimichurri is that it's a grilling sauce that you can top just about any grilled protein or vegetable with and it's DELISH! It's really just that versatile!
Trust me no matter which sauce you choose, the cilantro or parsley version, I know you will LOVE this simple grilled chicken recipe. It smells amazing, tastes amazing and did I mention it's easy? Being that's it's Monday, I think we all could use a little easy in our lives.
To Make this Cilantro Chimichurri Chicken You Will Need:
boneless skinless chicken breasts
If you made the cilantro chimichurri sauce then your already winning at dinner and halfway there! Just pull our your chicken (breasts or thighs) and let them sit on the counter for about 20 or so minutes to take the chill off.
I used a combination of both thigh meat and chicken breasts. I slipped my breasts into a gallon-size re-sealable baggie and used the flat side of a meat tenderizer and pounded them until a 1/2-inch or so thick and then placed them into a large bowl.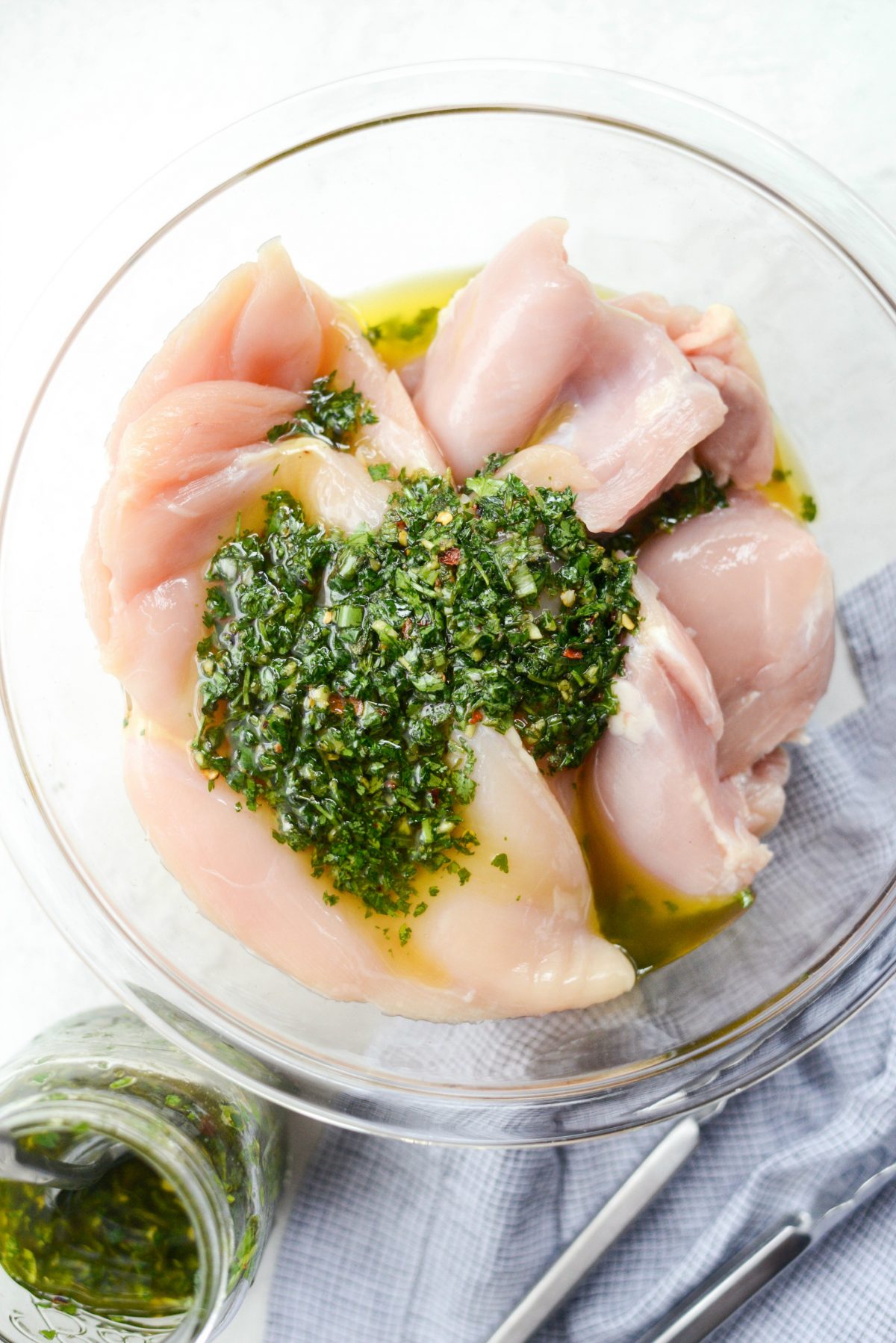 Next, depending on how much chicken you're planning to grill will depend on how much of the chimichurri sauce you'll need. For about 2 pounds of chicken, I used about a 1/2 cup. Because you will need some of the sauce for after grilling, do not dump its entire contents in with the chicken.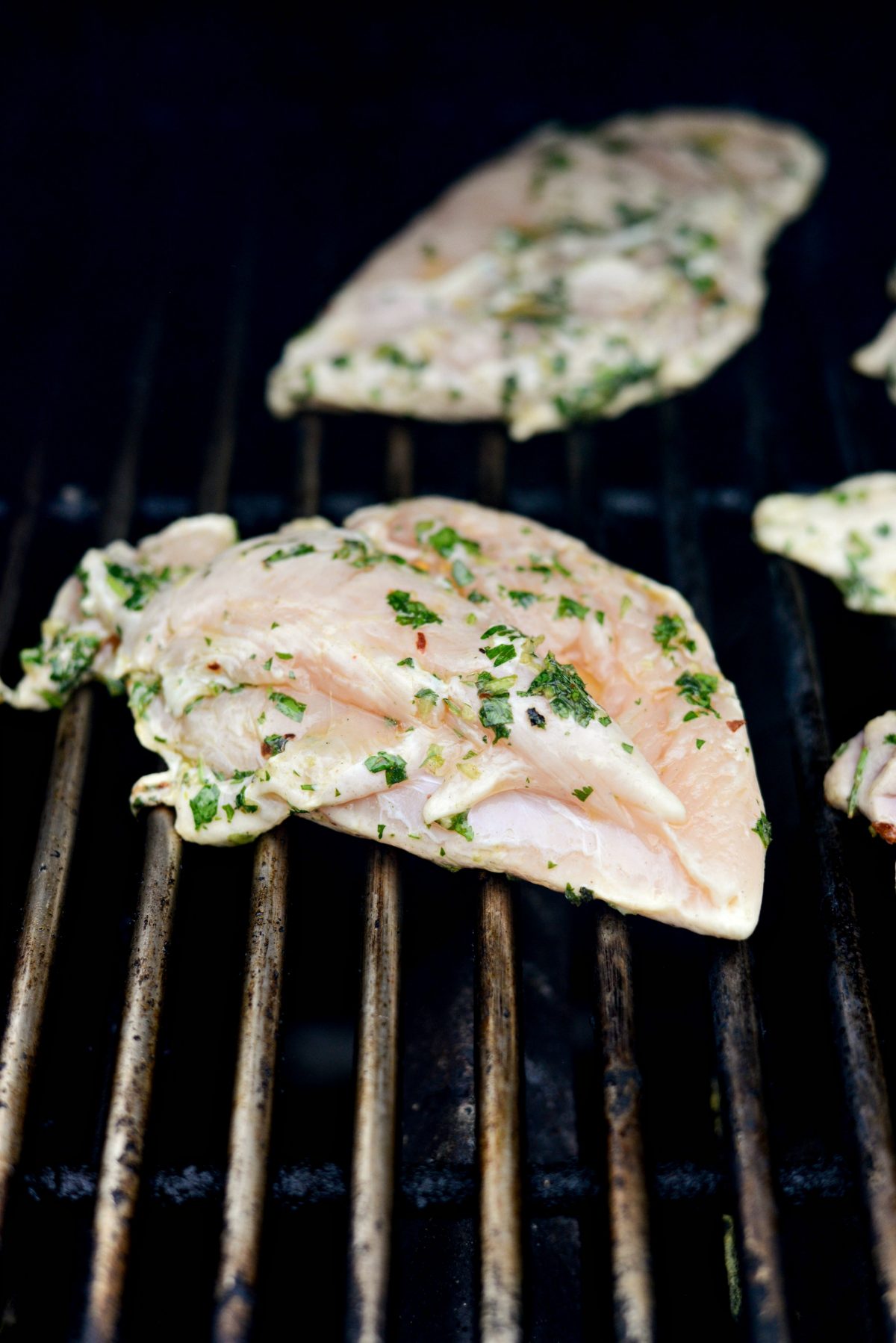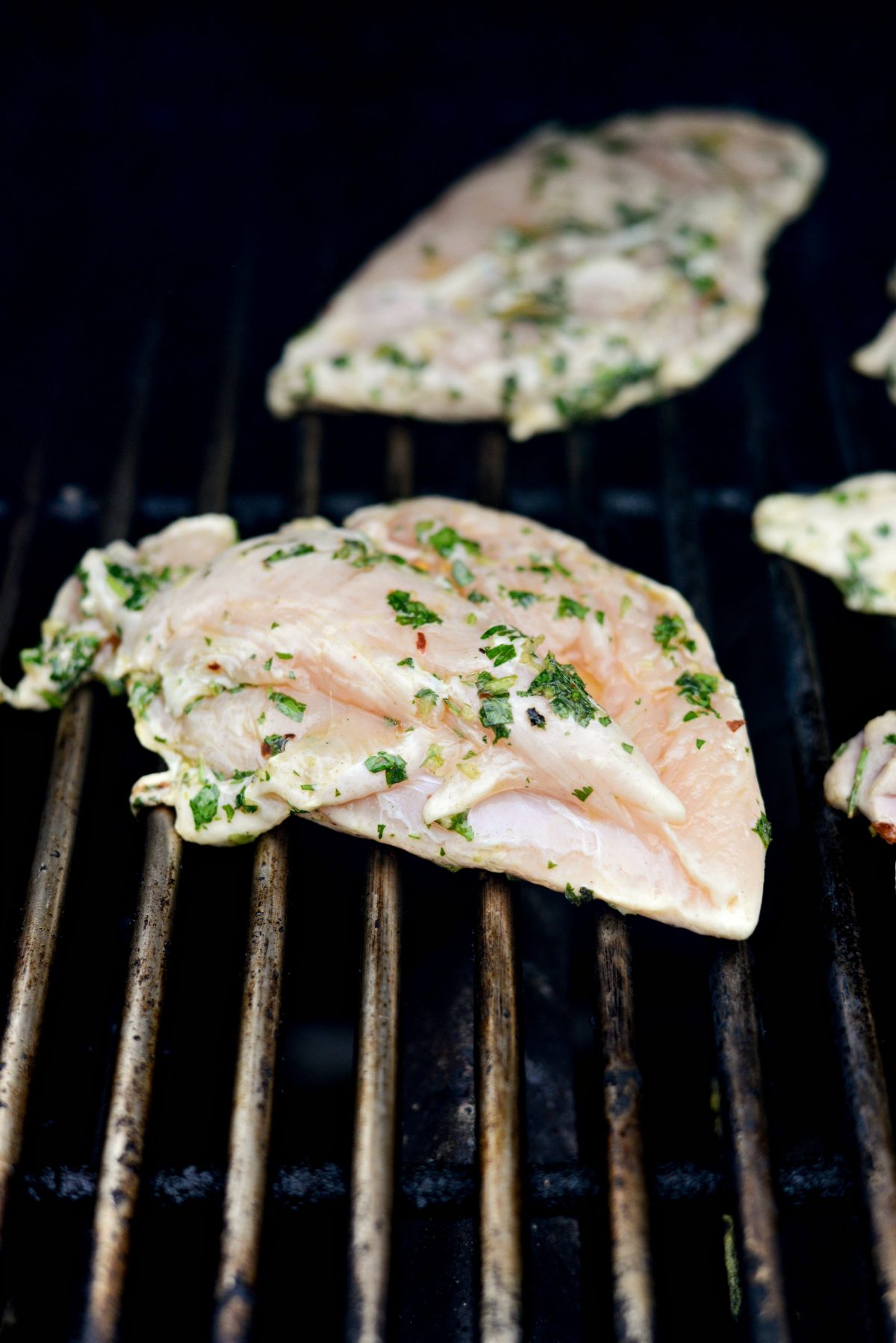 Lastly, while the chicken marinates on your counter, preheat your grill to about 450°. Grill chicken breasts for 6 to 8 minutes per side, depending on size. Chicken thighs will take less time, around 4 to 6 minutes a side (again, depending on size).
Once grilled, allow the chicken to rest for about 4 to 5 minutes before topping with extra chimichurri sauce and slicing.
Serve with any extra chimichurri on the side – because there's no such thing as too much chimichurri.
A few ways we've enjoyed this chimichurri grilled chicken is sliced or finely chopped on a salad. We use all the toppings and add-ins with extra chimichurri as the dressing. Also, stuffed into wraps filled with your favorite fixings is another favorite. And then fajitas coming in as a close second.
Alternatively your could dice up chicken, marinate and thread onto skewers for kebabs.
Options = endless.
Enjoy! And if you give this Chimichurri Grilled Chicken recipe a try, let me know! Snap a photo and tag me on twitter or instagram!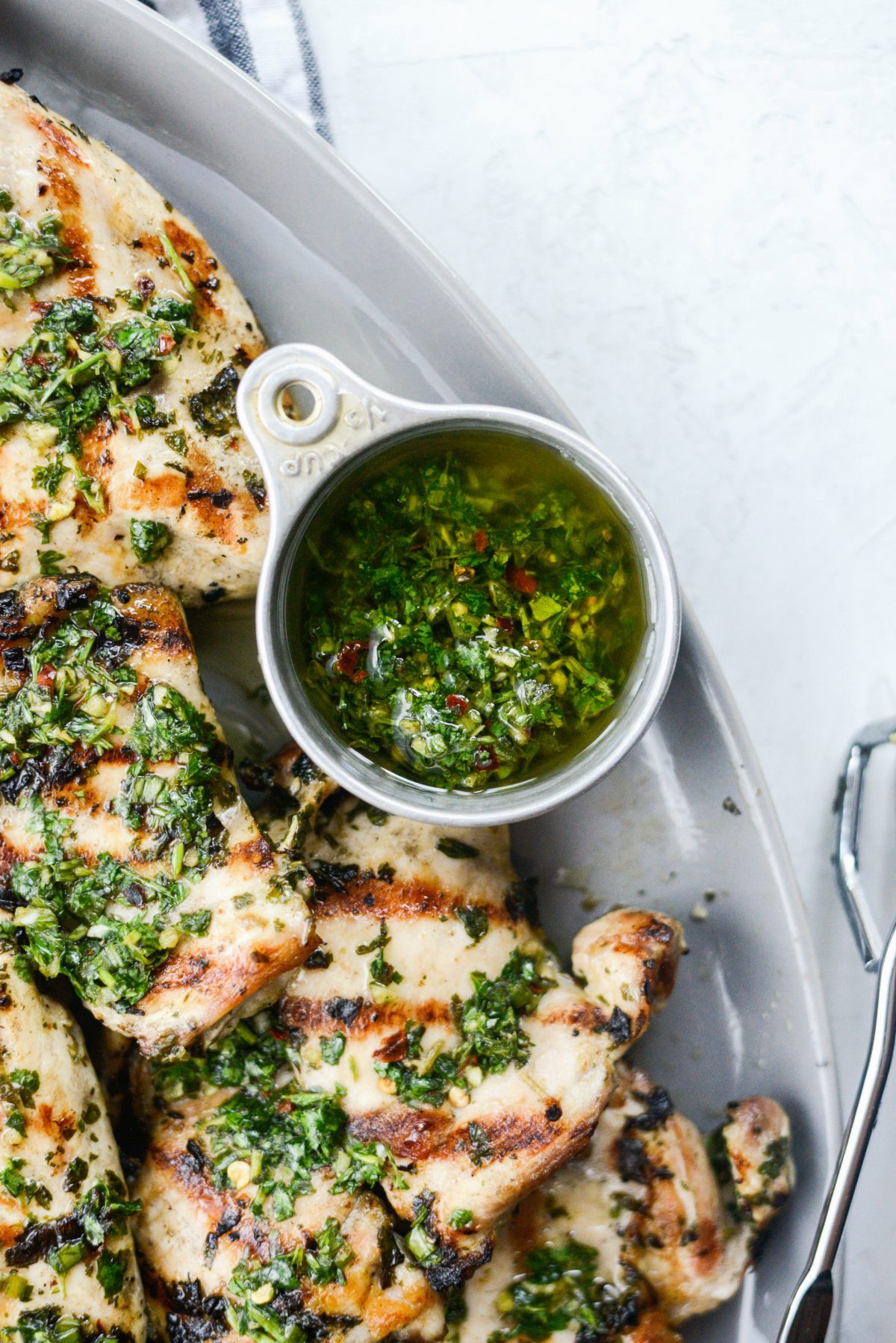 This post may contain affiliate links.
Buy the Cookbook: Simply Scratch : 120 Wholesome Homemade Recipes Made Easy Now available on Amazon »
THANK YOU in advance for your support!