Homemade chocolate chip coffee ice cream is deliciously vanilla-y, coffee-y and chip-y this ice cream is. It's like a frappe in ice cream form.
My goal for spring/summer 2014 is to make more ice cream.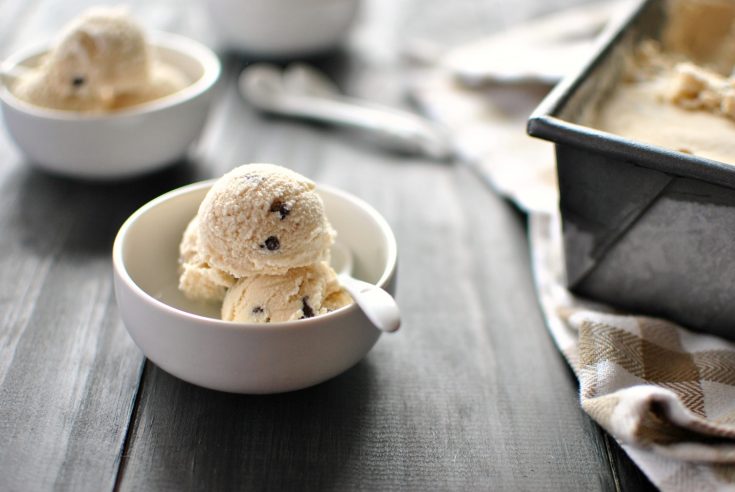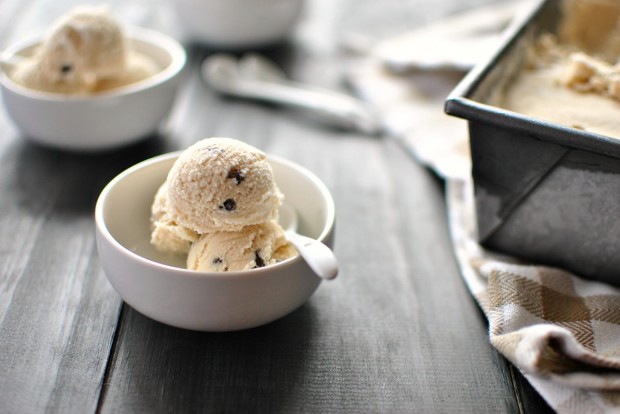 I set realistic goals, no? It's not like it's hard to make it. Not like giving up ice cream would be… yeah, that's so not ever going to happen. Ice cream is my utter weakness. If I had to pick a favorite… it would be mint chocolate chip orrr plain chocolate. I put down many-o-cups in my lifetime and to be frank… I'm sort of an ice cream snob. Maybe I should say I was a snob because I truly do love trying new ice cream flavors, but I always seem to go back to the simple and classic ones.
Soooo with that being said… I combined my favorite beverage in the whole wide world (coffee) with cute tiny chips of chocolate in a simple ice cream base. I then waited patiently for it to freeze and then waited even more for it to soften so I could scoop it out… all so I could happily spooned it right on into my face in 2.2 seconds, which I think is a record.
I'm thinking I could have just skipped a step somewhere and consume it through a straw in its non-frozen state. Who am I kidding, patience was never my bag.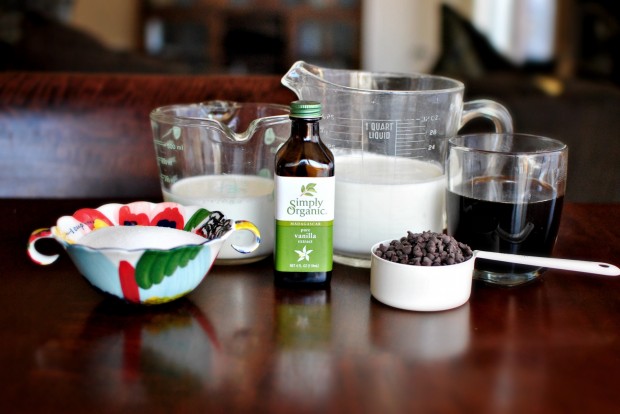 What I particularly like about this recipe is that there isn't a custard base. Not that I oppose it but I just like the less dirty dish approach. Ya with me?
First, measure out 3/4 cup of sugar and pour it into a large 8 cup liquid measuring cup.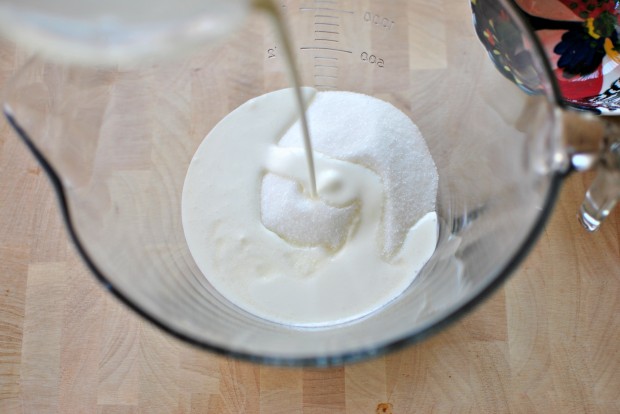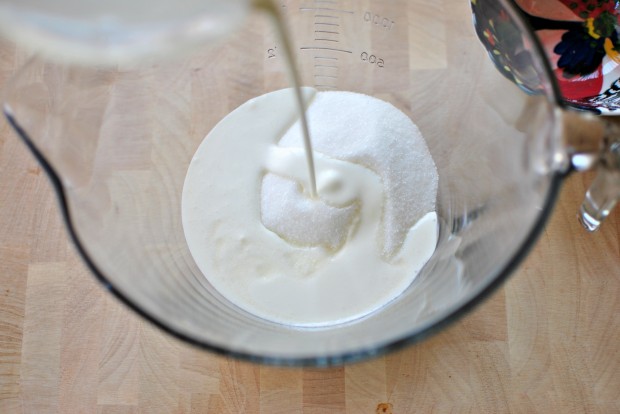 Next pour in two cups of heavy cream.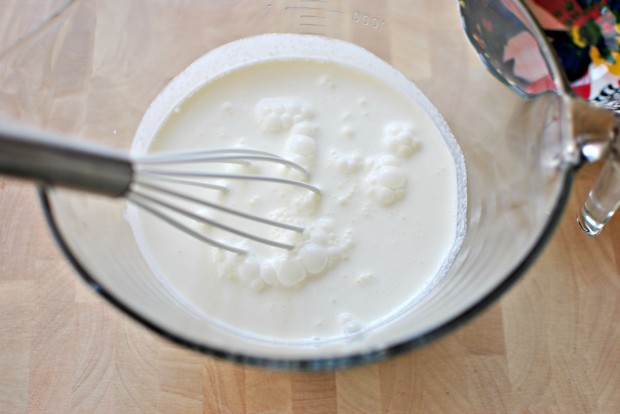 Then whisk until the sugar dissolves and the cream is frothy.
Next add in a cup of whole milk…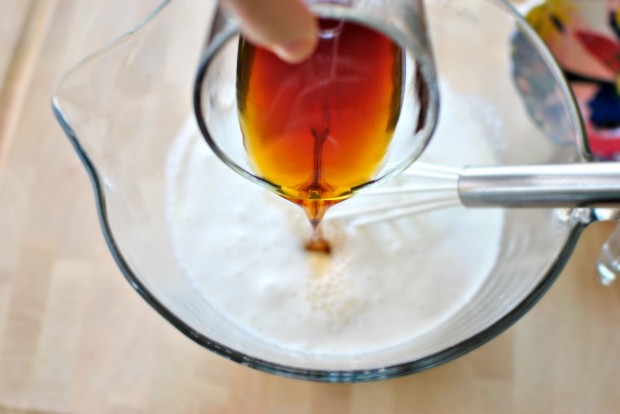 And then a cup of cooled, medium roast coffee brewed strong.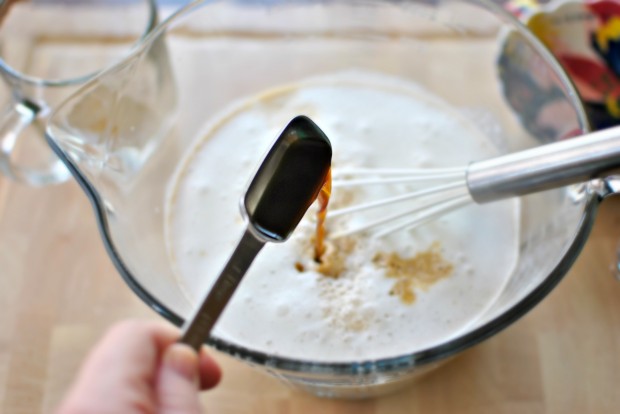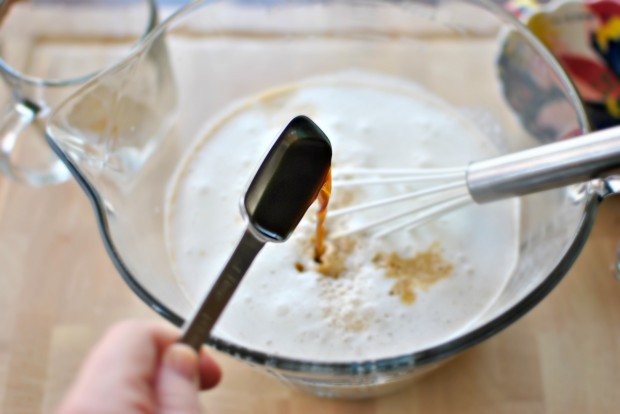 Next measure and add in a tablespoon of pure vanilla extract…
…and then whisk until combined.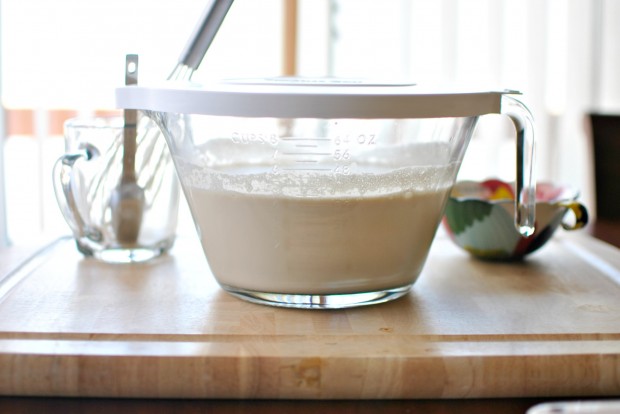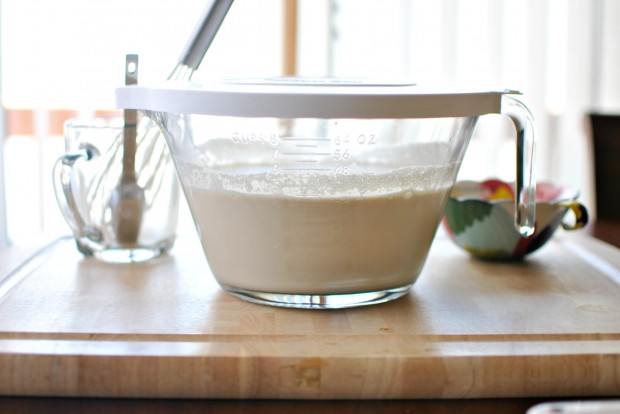 Then cover and refrigerate for an hour or two.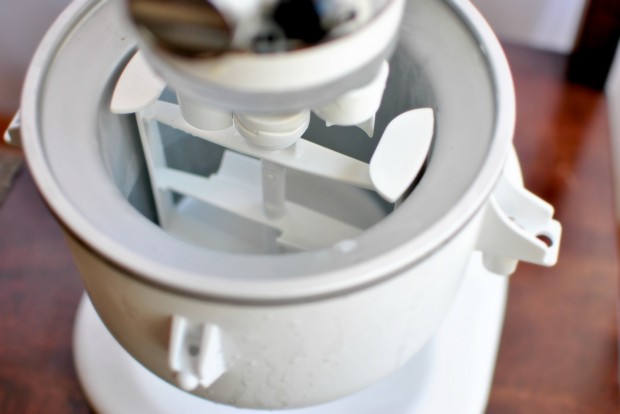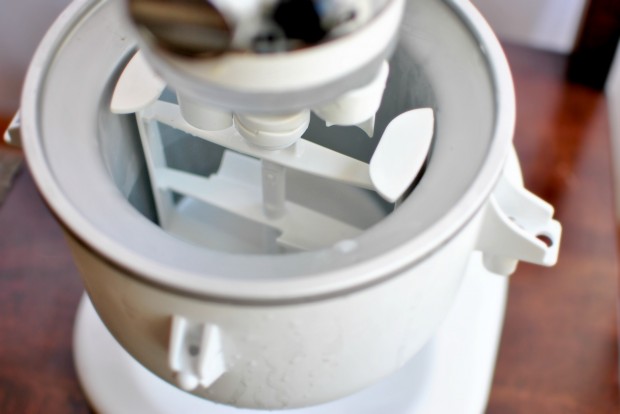 Next take out your ice cream maker.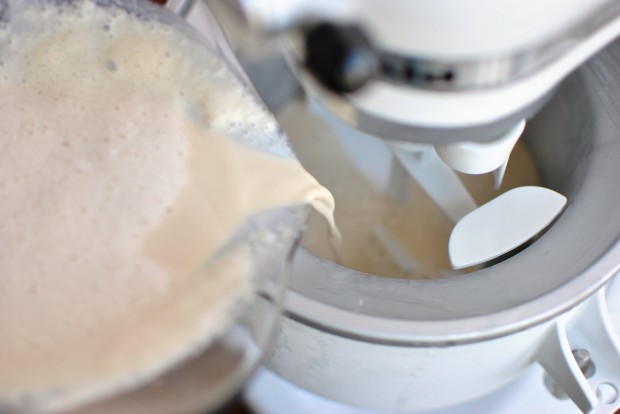 And then pour in the chilled coffee ice cream base.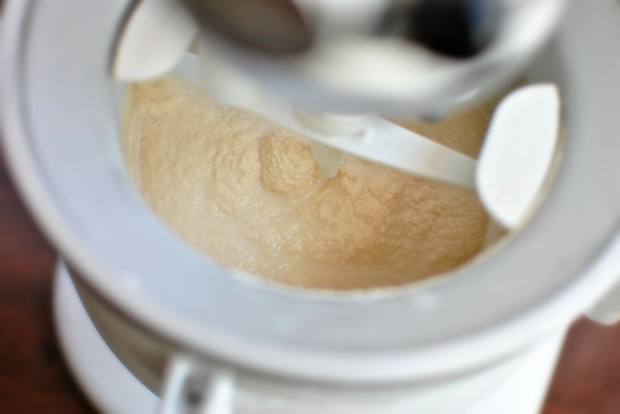 Next turn your mixer on (following your ice cream maker instructions) and churn until it's thick and semi-frozen.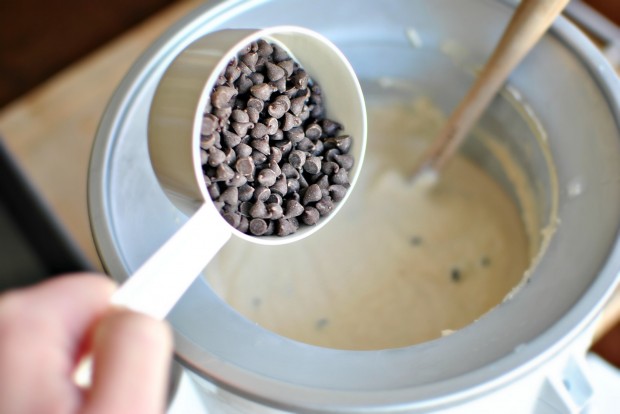 Then add in the mini chocolate chips and stir to combine.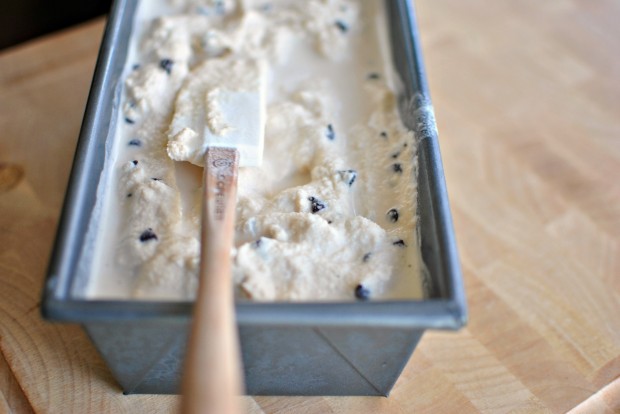 Next, pour it into any freezer safe container. I used a metal pan because the metal pan helps speed up the freezing process.
Lastly put a little plastic wrap on top and froze it over night.
Once the chocolate chip coffee ice cream is frozen, it will be hard, so I suggest pulling it out a good 20-25 minutes ahead of time before scooping and serving.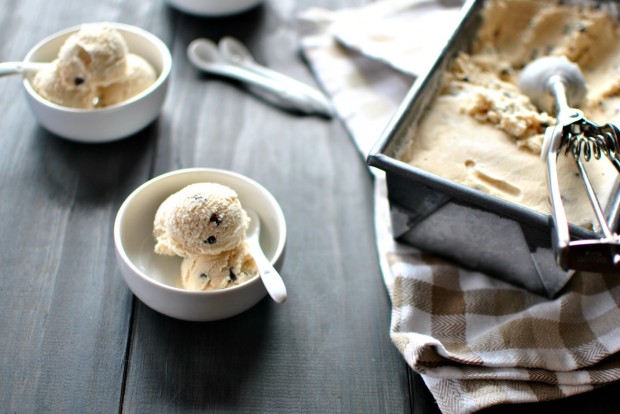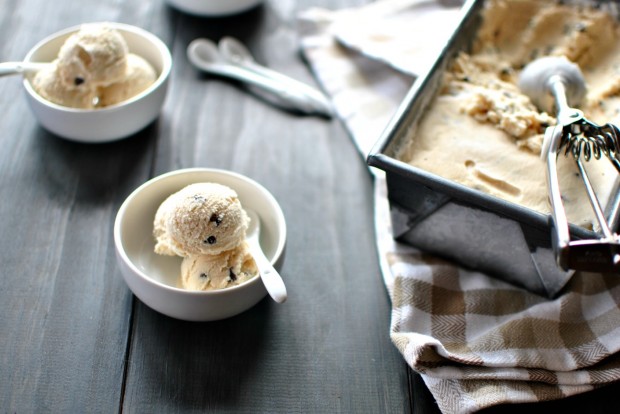 Serve in tiny bowls with tiny spoons.
That's a lie.
Big bowls. Even bigger and even bigger spoons. Because who would use such tiny spoons for anything?
What's not a lie is how deliciously vanilla, coffee and chocolate chip-y this Chocolate Chip Coffee Ice Cream is. It's like a frappe in ice cream form. Like if coffee, coffee creamer and chocolate chips had an ice cream baby. Too far?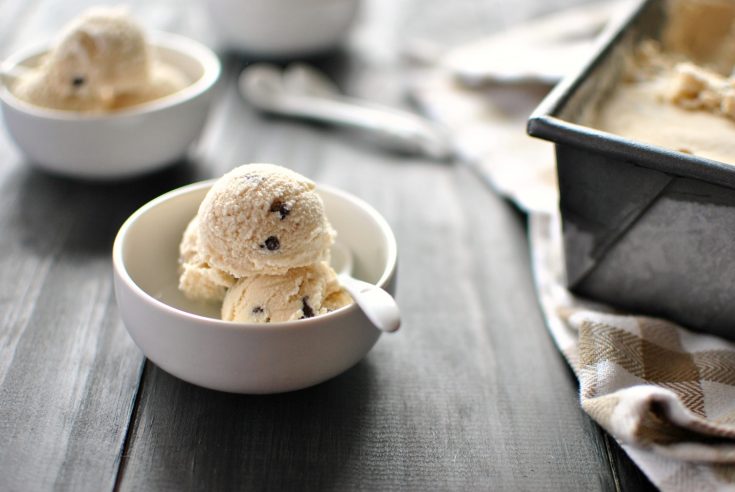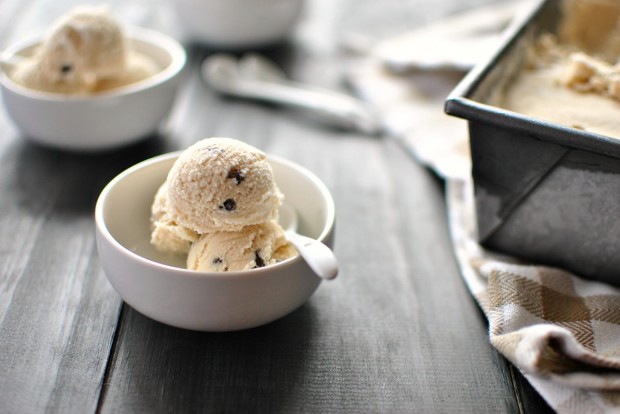 Enjoy! And if you give this Chocolate Chip Coffee Ice Cream recipe a try, let me know! Snap a photo and tag me on twitter or instagram!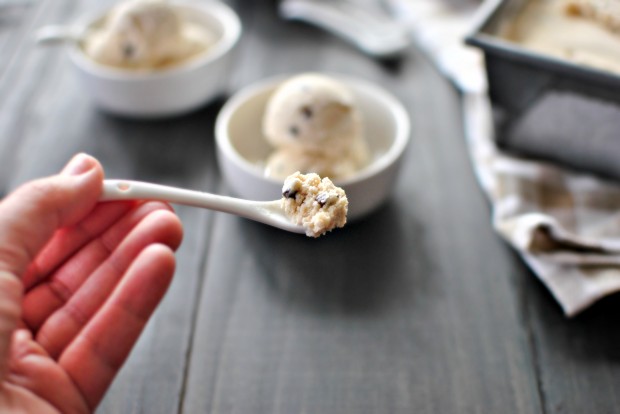 My cookbook Simply Scratch : 120 Wholesome Homemade Recipes Made Easy is now available! CLICK HERE for details and THANK YOU in advance!
[this post contains affiliate links.]
This post may contain affiliate links.
Buy the Cookbook: Simply Scratch : 120 Wholesome Homemade Recipes Made Easy Now available on Amazon »
THANK YOU in advance for your support!