Smoky and spicy, this Chipotle White Bean Turkey Chili is cozy comfort in a bowl. Sautéed onions, garlic and ground turkey is cooked with spices, white beans and tomato sauce for a quick and healthy meal. Serves 6 in under an hour.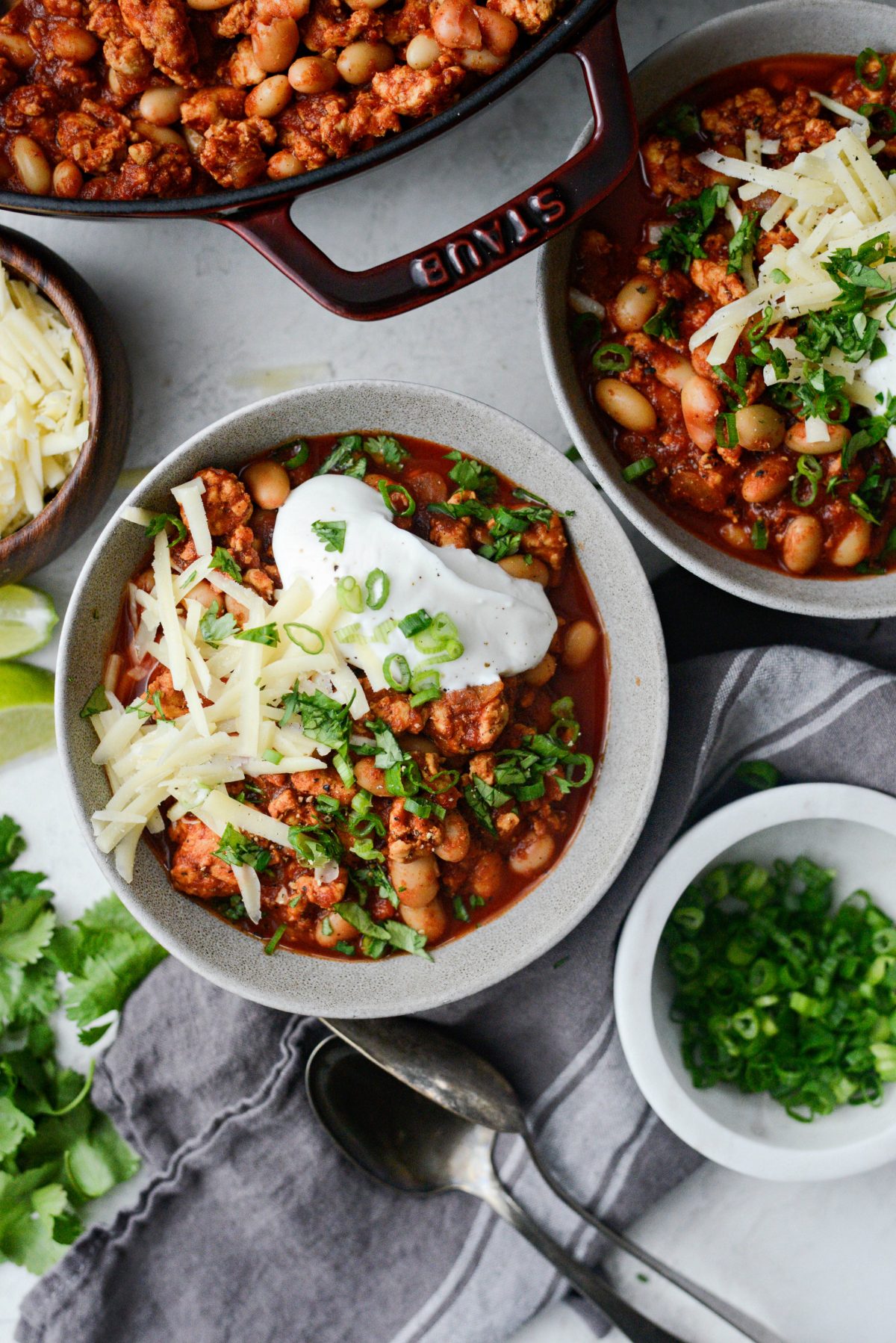 The weather has been all over the place.
Once day it's sunny and warm and then the next it's cold, cloudy and rainy. It's been unpredictable and yet, totally predictable because, hello it's Michigan.
However, no matter what crazy fall or winter weather is happening outside, I'm always game for a bowl of chili. Because there's nothing better than a bowl of chili to warm up with. This chipotle chili is leaner with ground turkey instead of beef, and a little meaner with a ground chipotle chili powder for that deliciously smoky, back-of-the-throat heat.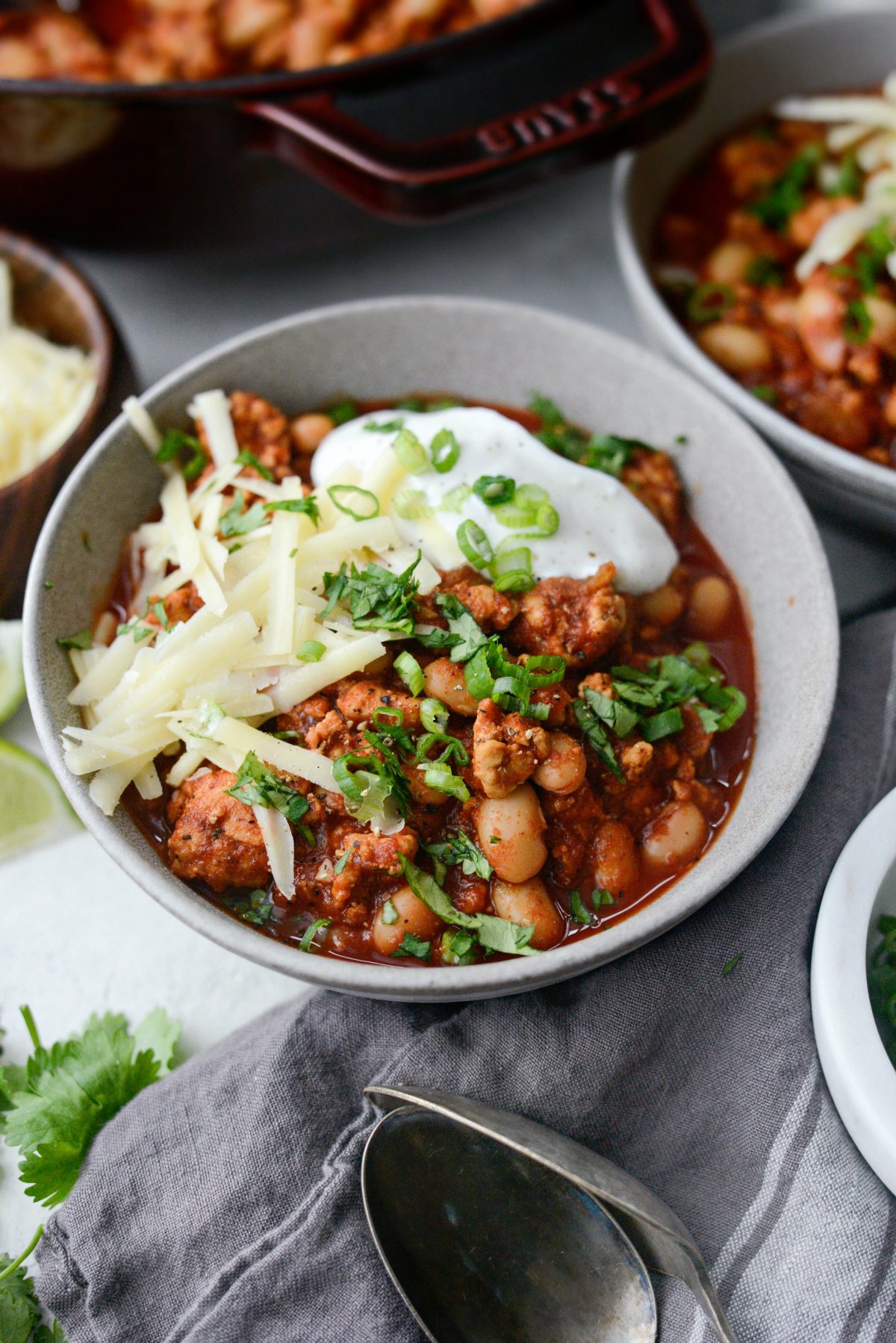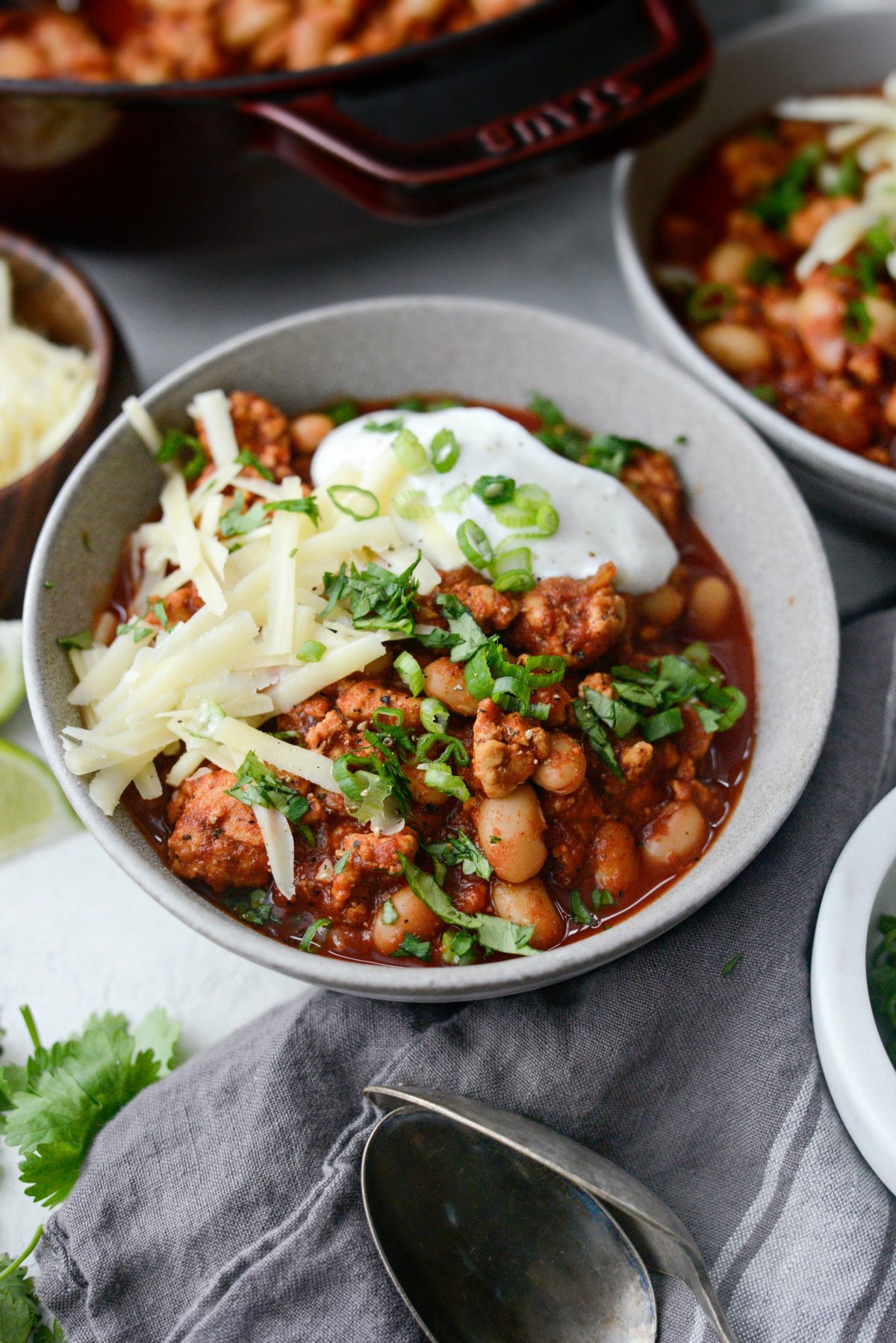 In under an hour you will enjoy a bowlful of hearty, smoky, soul warming chipotle white bean turkey chili. It's the perfect thing after a day of yard work and raking up leaves.
To Make This Chipotle White Bean Turkey Chili You Will Need:
olive oil spray
yellow onion
garlic
extra lean ground turkey
chili powder
chipotle powder
ground cumin
dried oregano
white beans (like navy or great northern)
2 (15 ounce) cans tomato sauce
Next, dice up 1 cup of yellow onion and also mince up 3 cloves fresh garlic.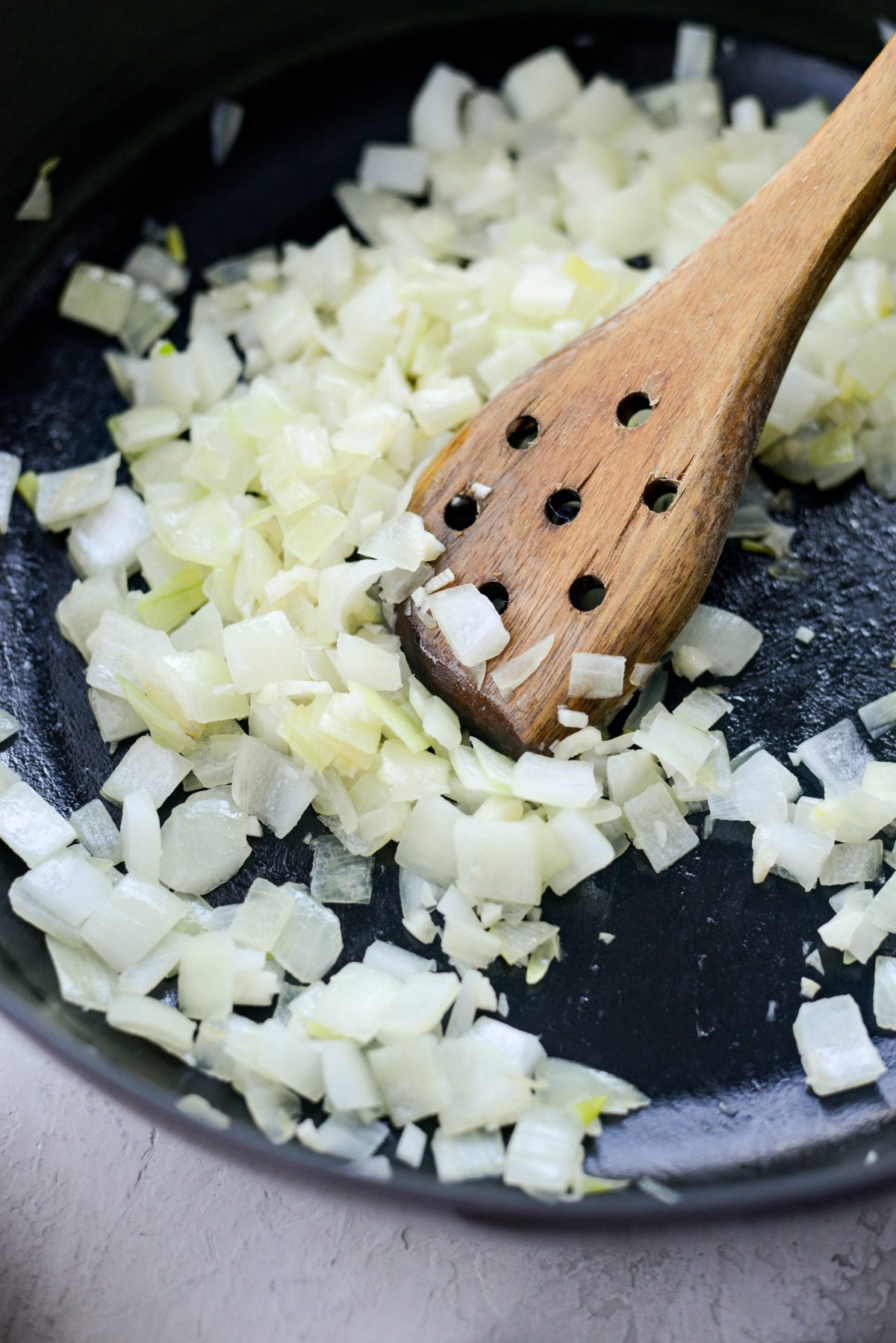 Spray a large, deep-sided pan or Dutch oven with olive oil and heat over medium. Once hot, add in the onion, garlic and a pinch of kosher salt, cooking until softened, stirring occasionally for about 8 to 10 minutes.
Then add in the 2 pounds of extra lean ground turkey.
Using a wooden spatula, break the ground turkey into small crumbles and cook until no longer pink.
Measure and add 2 teaspoons chili powder, 2 teaspoons ground chipotle powder, 1-1/4 teaspoon ground cumin, 1/2 teaspoon dried oregano.
Stir and cook for 1 more minute to open up those spices.
Add in the 3 cans of rinsed and drain white beans.
If soaking your own beans, here's my fool-proof method for soaking and cooking dried beans.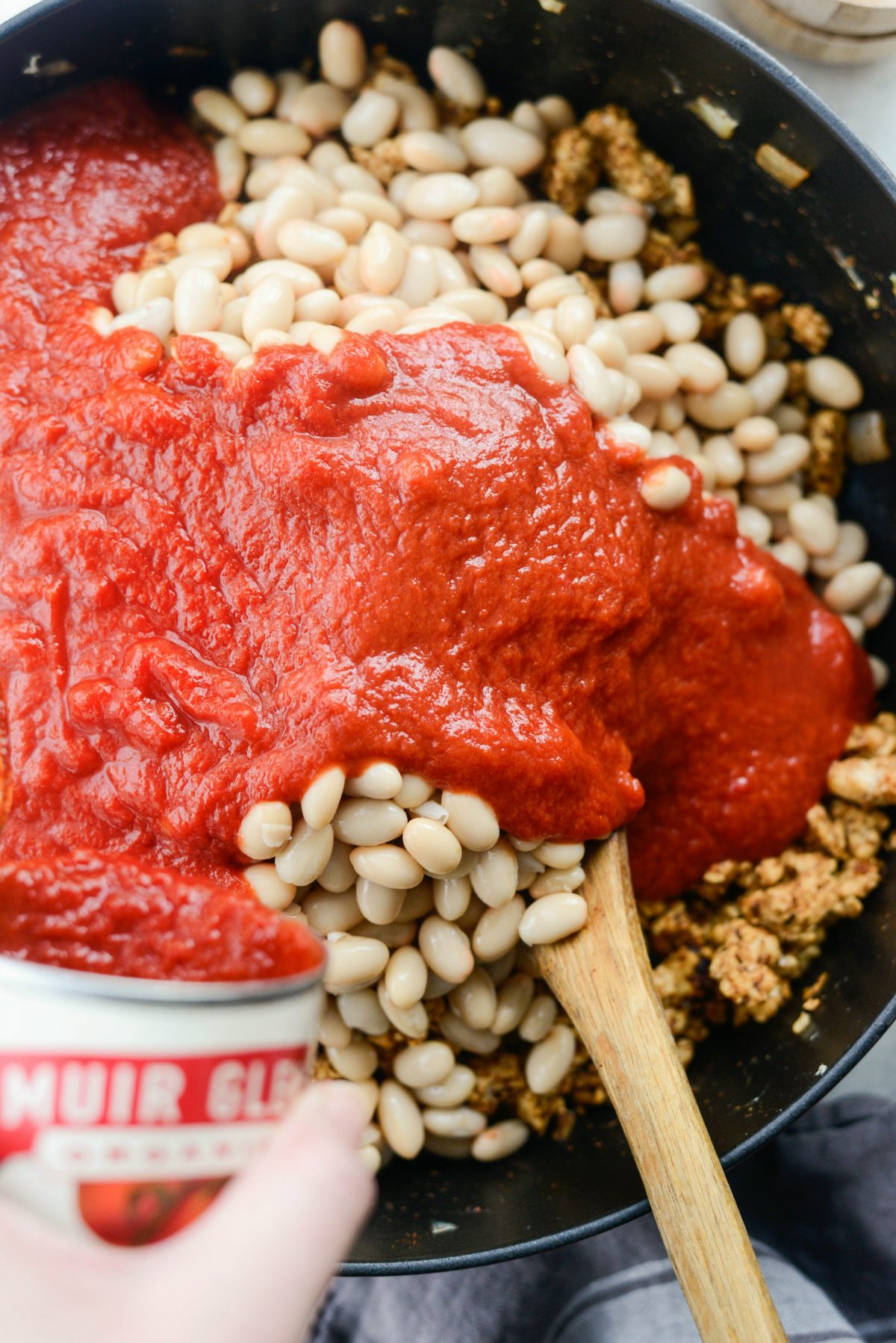 Lastly, add 2 (15 ounce) cans of tomato sauce along with a 1/2 cup of water, this will thin the chili out a smidge.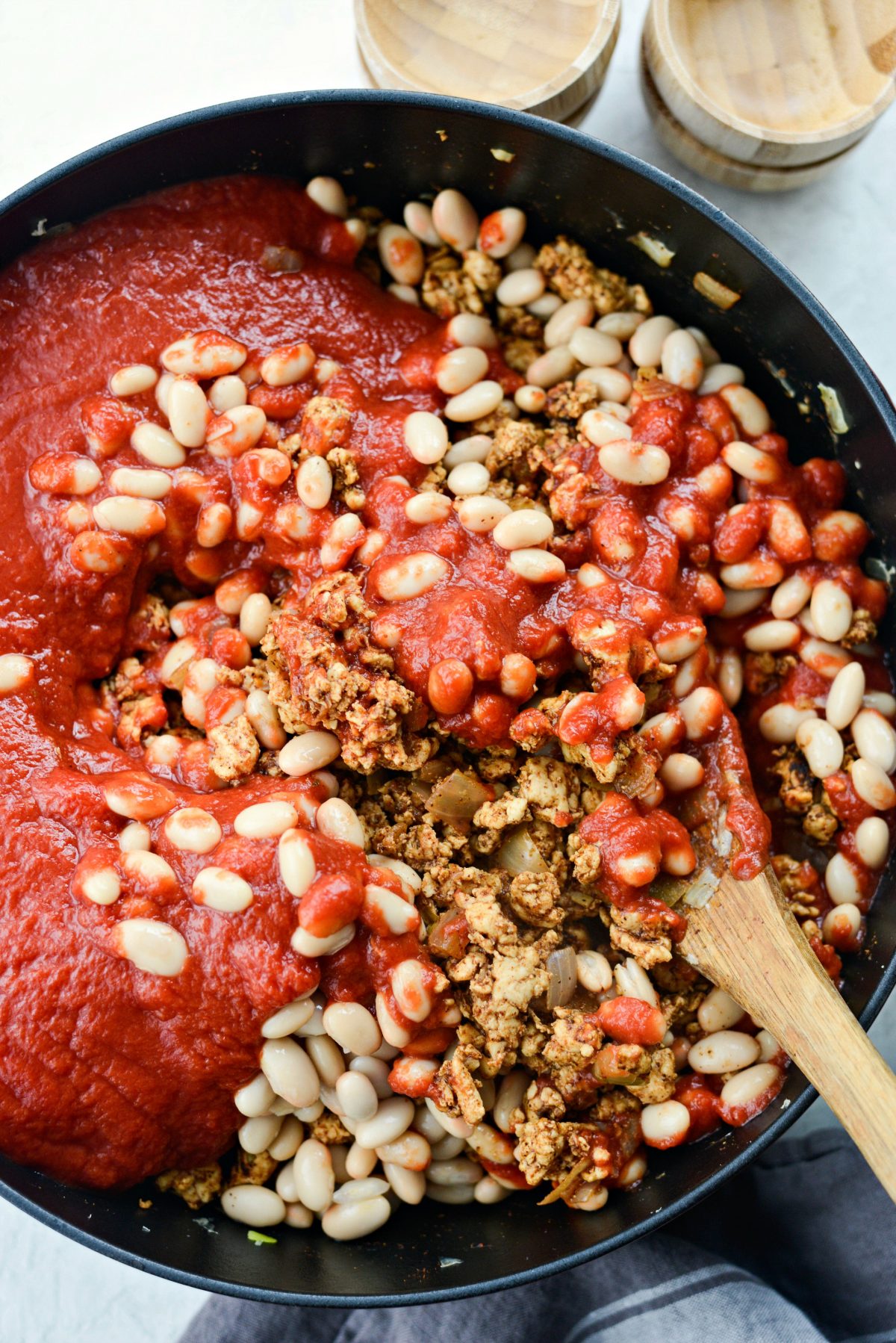 I like to add the water to the empty can and swirl it around to catch any leftover sauce.
Stir the sauce and water into the meat and bean mixture.
Cover and simmer for 30 minutes, stirring occasionally.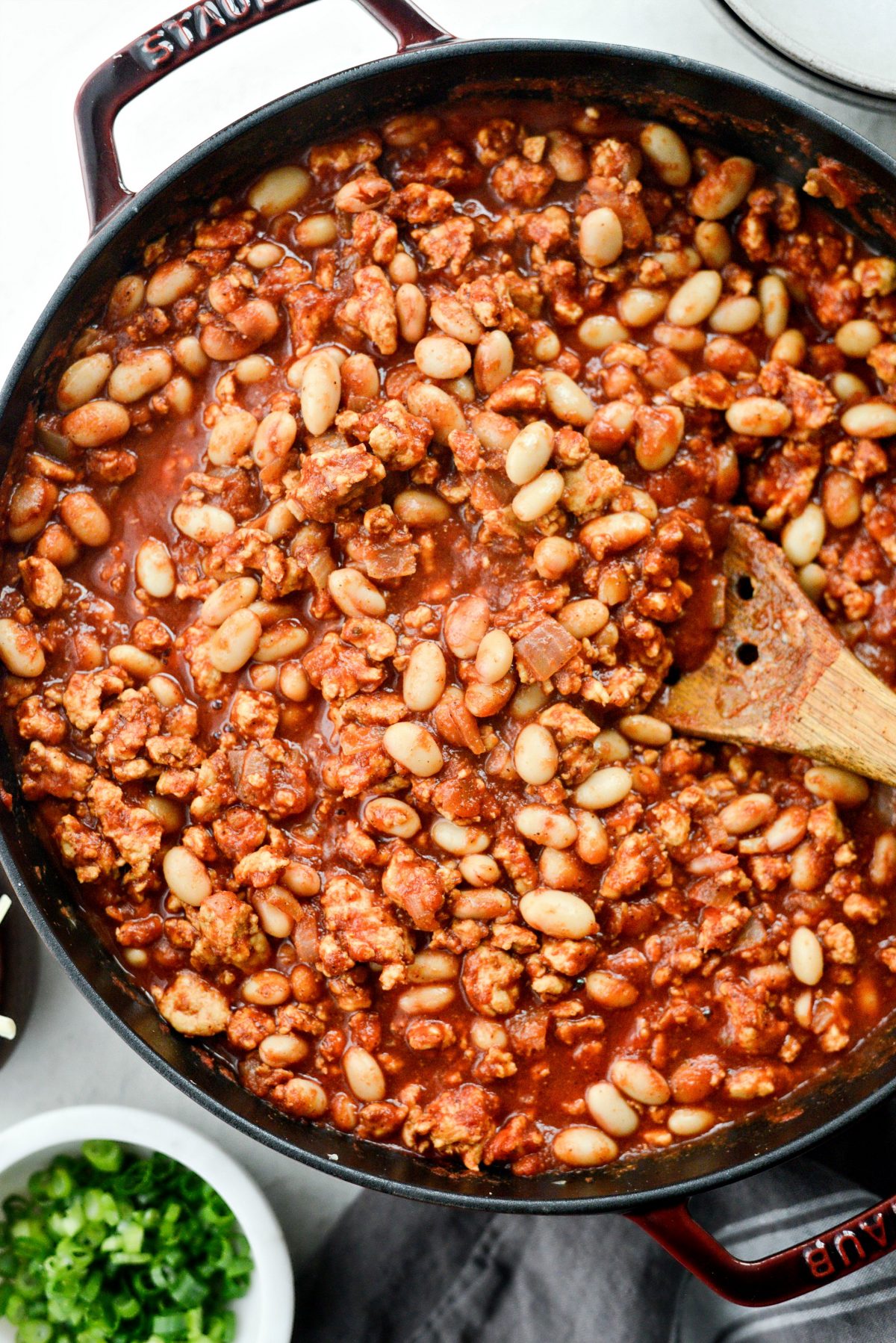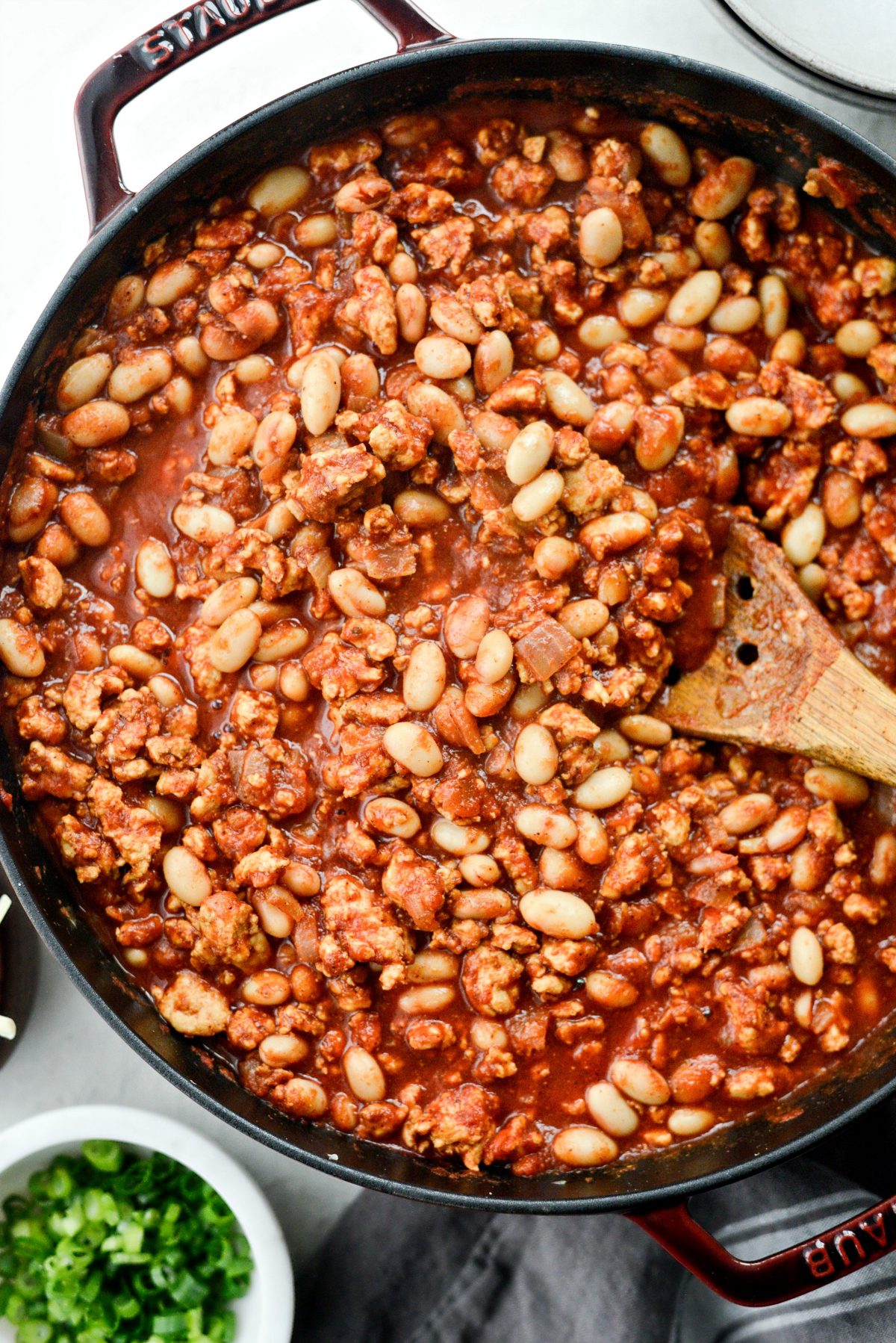 YUM!
Finally the chipotle white bean turkey chili is ready to be served.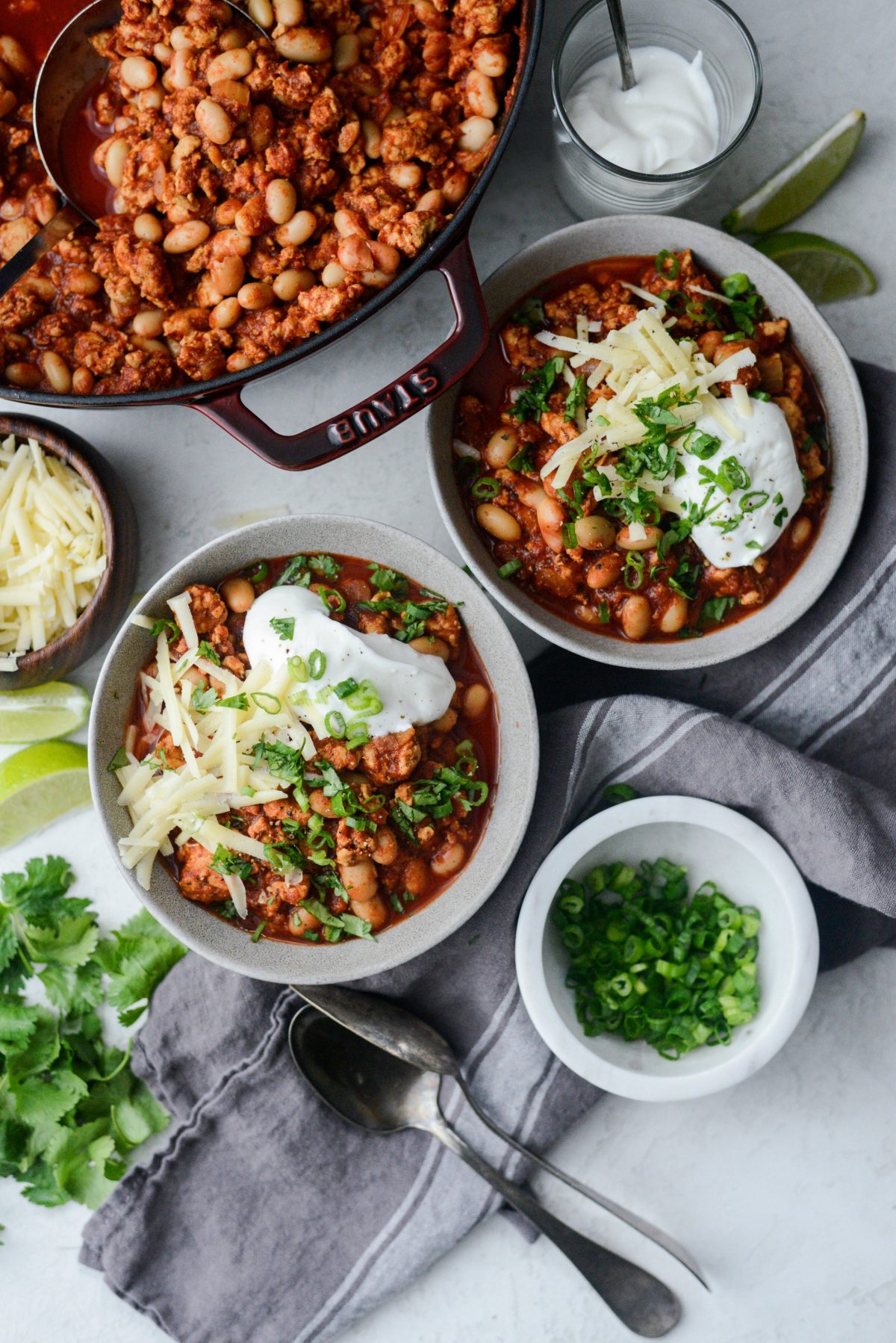 As we all know, chili is all about the toppings because they add texture and add flavor, making chili that much more delicious.
I highly suggest, topping your bowl of chili with sour cream or plain greek yogurt, shredded sharp white cheddar, sliced green onions, cilantro and a squeeze of lime.
Lastly, and more importantly serve this chili with corn tortilla chips.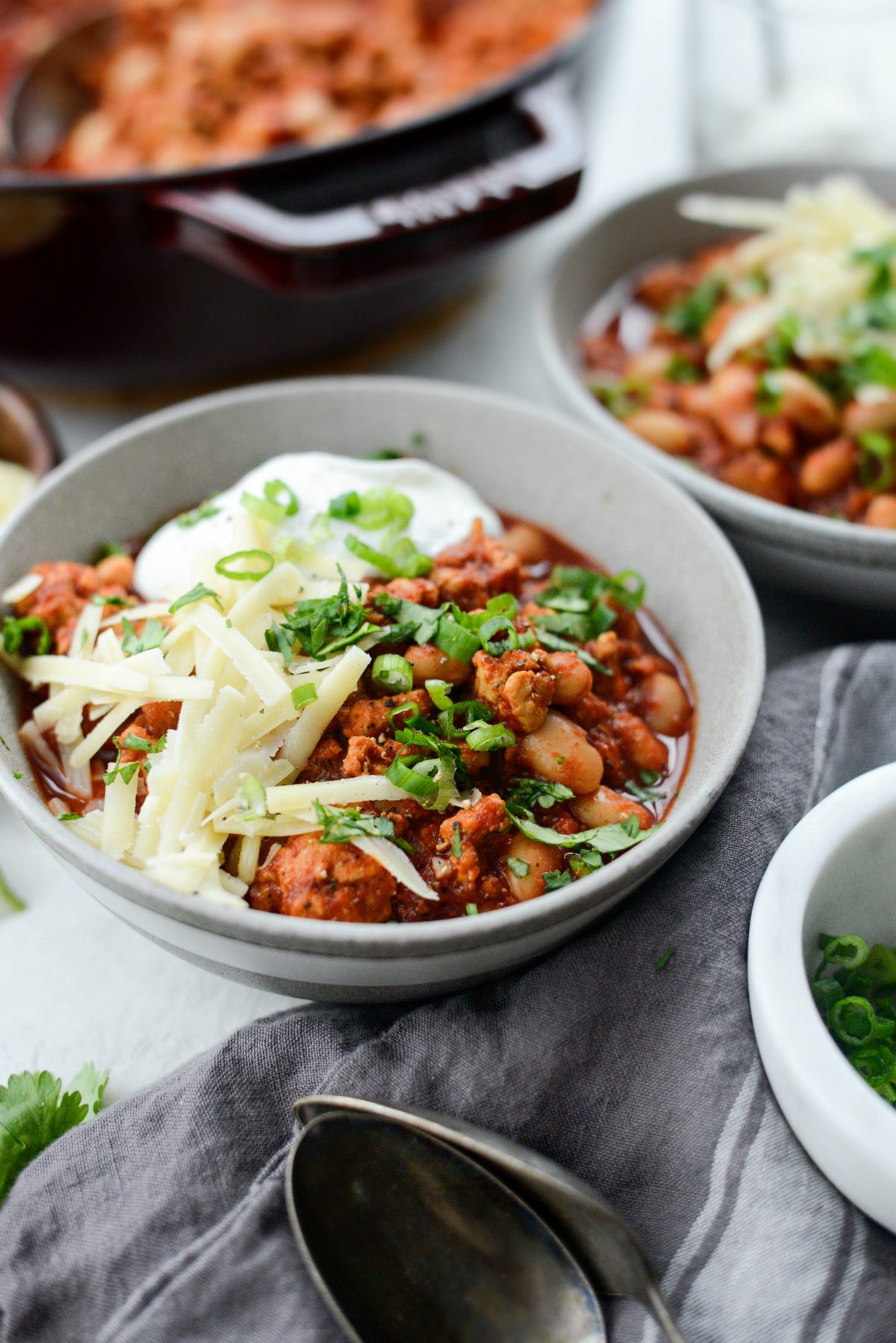 Get your spoons ready!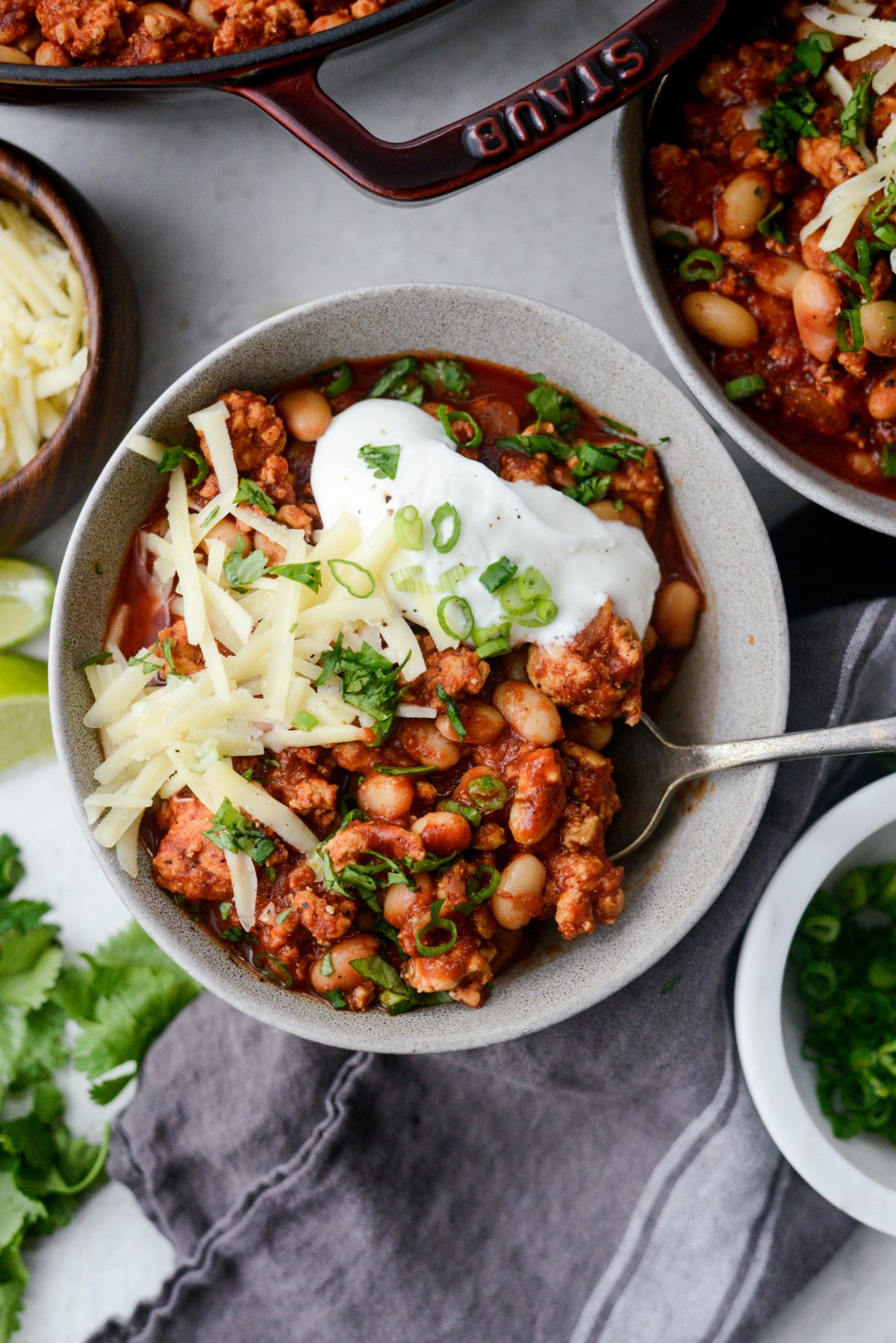 How To Freeze Chili And Reheat Later:
COOL: make sure the chili is completely cool before freezing. Never place hot or very warm items in the freezer (or fridge!) as it can thaw and negatively affect the nearby food.
PORTION: when cool, divide chili into portions. Whether it's a single serving, two or four, portion the cooled chili into either freezer safe bags or air-tight containers. I prefer using freezer safe bags and removing as much air as possible, this helps with storing.
FLATTEN: once portioned, lay flat on a rimmed baking sheet and freeze for a few hours. Like in this post.
STORE: stack the flat frozen chili portions vertically or horizontally saving so much freezer space. Store chili in the freezer for up to 6 months.
REHEAT: I prefer to thaw frozen chili overnight in the fridge. However you can soak in a sink of lukewarm water for 20 to 30 minutes – flip every so often and change out the water at least once or twice. You can also defrost in the microwave until thawed. Lastly, add thawed chili to saucepan or dutch oven and heat until thoroughly heated throughout.
For more delicious chili recipes click HERE!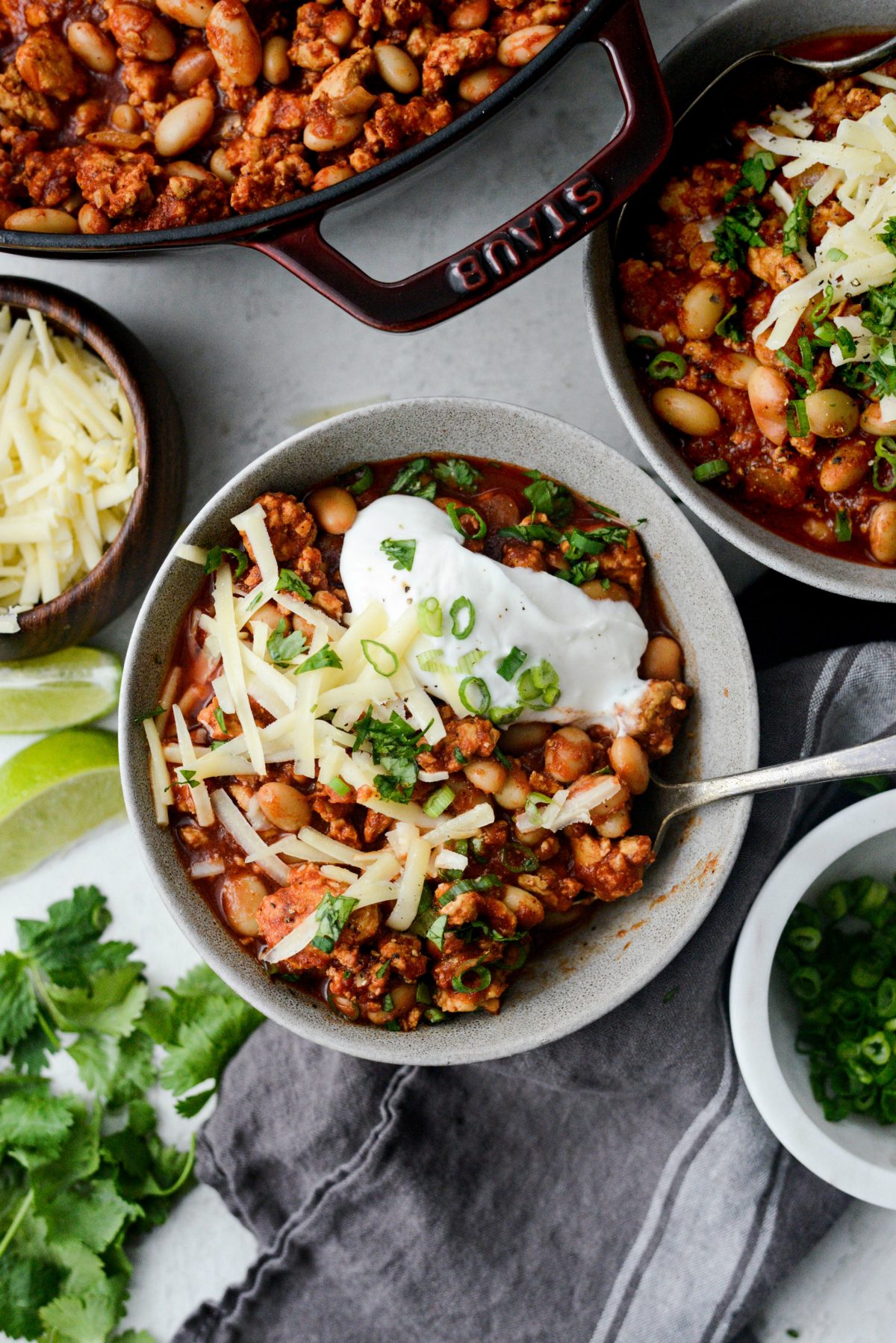 Enjoy! And if you give this Chipotle White Bean Turkey Chili recipe a try, let me know! Snap a photo and tag me on twitter or instagram!
This post may contain affiliate links.
Buy the Cookbook: Simply Scratch : 120 Wholesome Homemade Recipes Made Easy Now available on Amazon »
THANK YOU in advance for your support!