In these chimichurri steak fajitas, flank steak is marinated in homemade chimichurri and grilled, sliced and stuffed into corn shells with grilled veggies!
Last April, two of my sisters and I flew down to visit our fourth sister Christine for a long, and much needed sisterly-wine-drinking-chocolove filled weekend.
While I was there I got to experience a few new things.
Like Blue Point oysters on the half shell… holy-raw-oyster-heaven those are phenomenal, I was instantly smitten. Then there was this whole hush-puppy-crack-ball appetizer (we renamed it while we were there), it's basically deep fried balls of corn batter… ohmygosh. But, the night before we flew out to come home, Christine and her husband Aaron made us these fantastic chimichurri steak fajitas.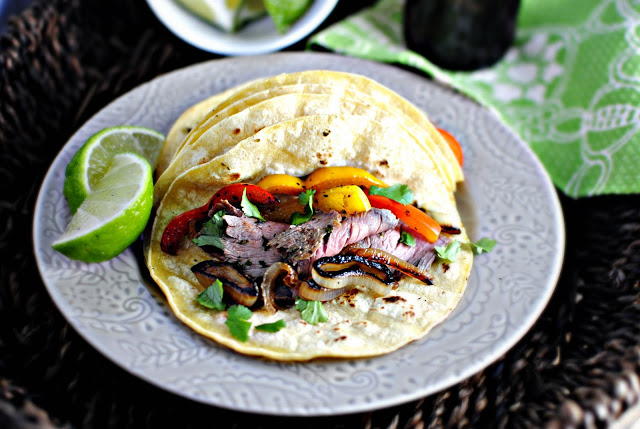 Chimichurri is Argentinian condiment usually served with grilled meat i.e. flank steak. But this steak is marinated in the sauce and then grilled to perfection and then topped with scorched onions and peppers, and wrapped in a toasty corn tortilla. You don't have to stop there, go ahead and top them with whatever else you'd like as the options are truly endless!
Place your flank steak in a deep baking dish. I had a two pound-er, but buy what you would for yourself or family. These do make excellent leftovers btw.
Pour the chimichurri over top.
Flip to coat. Go ahead, massage it in there… you know you want to.
Let marinate for an hour or two.
Next, allow the steak to come up to room temperature by letting it sit on your counter for 30 minutes. While that's going on you can start on your onions and peppers.
Oh, and whomever decided to put together a mixed bag of onions, I love you.
Then slice two onions. Two red, or one red and one sweet… whatever. Just trim the top off, cut in half and slice into half moons.
In a cast iron skillet, add the oil and drop in the slices of onions. It should sizzle-sizzle.
Season with some salt, stir and let them sit for a few to brown.
Stir every few minutes.
Once they are soft and caramelized to your liking, transfer to a clean dish.
I have a crush on that extra-dark one in the center.
Next, add in the peppers.
I like my peppers where they are soft, but still colorful and firm.
Next, remove when they are charred but not soggy and lifeless. Pull those of the heat while you grill your steak. You can always add them back to the pan to heat up while your steak is resting.
Preheat your grill to 400°. Find the hottest spot on your grill and place your steak there.
The size of your flank steak with depend on how long you should cook it for. I cooked mine for about seven to eight minutes per side.
Meanwhile, it's the perfect time to start on the tortillas. I like using the yellow corn variety. Not only do I love the color, but the flavor with the steak, onions and peppers is pheeee-nomenal!
Then in the same skillet that you used for the onions and peppers, don't add any extra oil or fat, just heat and toast the tortillas for about a minute on each side and repeat.
Before slicing, always let your steak rest (under tented foil) for at the least 5-7 minutes. The foil will help keep it warm. Slice it thin on an angle against the grain of the steak. Otherwise it will shred.
Lastly, serve the chimichurri steak on the toasted corn tortillas with the caramelized onions and peppers. You can always add additional condiments like lettuce, avocado, sour cream, hot sauce, cilantro and a squeeze of a lime wedge.
It was the perfect summer-esque meal that I was in desperate need of in January!
Enjoy! And if you give this Chimichurri Steak Fajitas recipe a try, let me know! Snap a photo and tag me on twitter or instagram!
Yield: 6 servings
Chimichurri Steak Fajitas
In these chimichurri steak fajitas, flank steak is marinated in homemade chimichurri and grilled, sliced and stuffed into corn shells with grilled veggies!
Ingredients
1 to 2 pound flank or skirt steak
1 recipe chimichurri sauce
1 tablespoon light olive oil
2 medium onions, sliced into half moons
1 medium red bell pepper, seeds removed and cut into strips
1 medium yellow bell pepper, seeds removed and cut into strips
1 medium orange bell pepper, seeds removed and cut into strips
kosher salt
small yellow corn tortillas
FOR SERVING:
fresh cilantro
greek yogurt or sour cream
1 avocado, sliced
hot sauce
lime wedges
Instructions
Pour the chimichurri over the flank steak and let marinate for an hour or two. Remove a half an hour before ready to grill and bring it up to room temperature.

Preheat a cast iron pan over medium/medium-high and add a half a tablespoon of bacon fat or olive oil. Once hot add in sliced onion. Leave for a few minutes so it has a chance to caramelize and darken, stir only a few times until the onions are soft, golden and to your liking.

Remove the onions and add in the sliced peppers. Like the onions, only stir a few times so the peppers have a chance to char a bit. Remove once the peppers how you like them. Start toasting the corn tortillas in the same pan about a minute or so on each side.

Preheat your grill to 400 degrees. Place the marinated flank steak on the hottest part of your grill and cook it for about 7-8 minutes per side, depending on the size of your flank steak and how you like your steak cooked. Remove and let rest for at least 5-7 minutes under a foil tent.

Once rested, slice the flank steak thinly on a slight angle going against the grain of the steak. Serve on a toasted corn tortilla with the charred peppers and onions with any other toppings you may like.
Serving: 1g, Calories: 222kcal, Carbohydrates: 10g, Protein: 18g, Fat: 13g, Saturated Fat: 3g, Polyunsaturated Fat: 1g, Monounsaturated Fat: 7g, Trans Fat: 1g, Cholesterol: 48mg, Sodium: 57mg, Potassium: 563mg, Fiber: 4g, Sugar: 3g, Vitamin A: 1338IU, Vitamin C: 93mg, Calcium: 22mg, Iron: 2mg
This post may contain affiliate links.
Buy the Cookbook: Simply Scratch : 120 Wholesome Homemade Recipes Made Easy Now available on Amazon »
THANK YOU in advance for your support!