Light, fluffy and sweet! This Caramelized Apple Dutch Baby is just what the weekend was made for. This dutch baby recipe comes straight out of my dear friend and fellow food blogger, Megan's [Country Cleaver] newly released cookbook Cast Iron Gourmet. The recipe can easily be cut in half for one, left as is to feed 2 one or doubled to feed 4 (you may need a few skillets for this). Feel free to use whatever seasonal fruit to top your German pancake. It's apple season in the mitten so I decided to top my Dutch baby with caramelized apples and a sprinkle of powdered sugar and cinnamon.
Simple, straightforward and beautiful!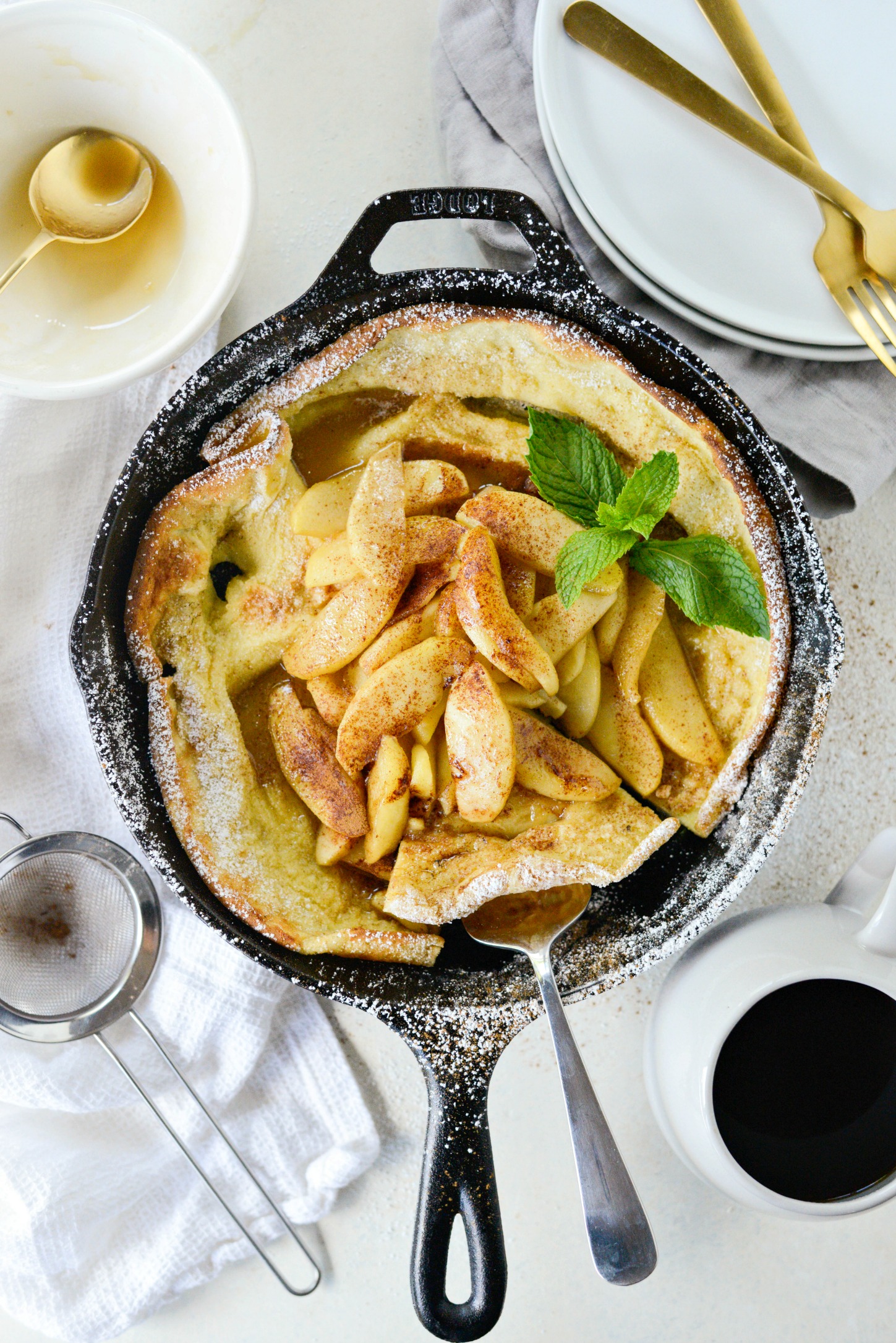 Most of you may already know, Megan — she's the food + lifestyle blogger, photographer and home cook extraordinaire behind Country Cleaver.com. Megan is also my longtime blogging friend. I can't really recall for sure how it all started, but I do remember we quickly became friends. We finally met up in 2013 in Austin, Texas for a conference and endured many sleepless nights in a condo that was directly over a bar in down town. Best weekend ever.
Over these 8 years, I witnessed her success unfold and with that, her love for a good cast iron skillet and heavy bottomed Dutch oven. When she announced that she was writing a cookbook, it made total sense she would write a book and create brilliantly crafted recipes showcasing it. To see her dream come into fruition is a fantastic and magical thing.
I immediately preordered my copy and when my UPS delivery guy dropped it off at my front door, I grabbed it and quickly plopped down on my couch.
Megan's book is a true gem. In it, you'll find chapters like One Pot Wonders, Artisanal Carbs, 5 Ingredients or Less and For Your Sweet Tooth [to name a few]. She also gives tips on purchasing the right cast iron or enameled cast iron pot and pan for the job. Megan also includes instructions on how to maintain your cast iron and which fats are best for the kind of cooking you'll be doing.
She's thought of it all.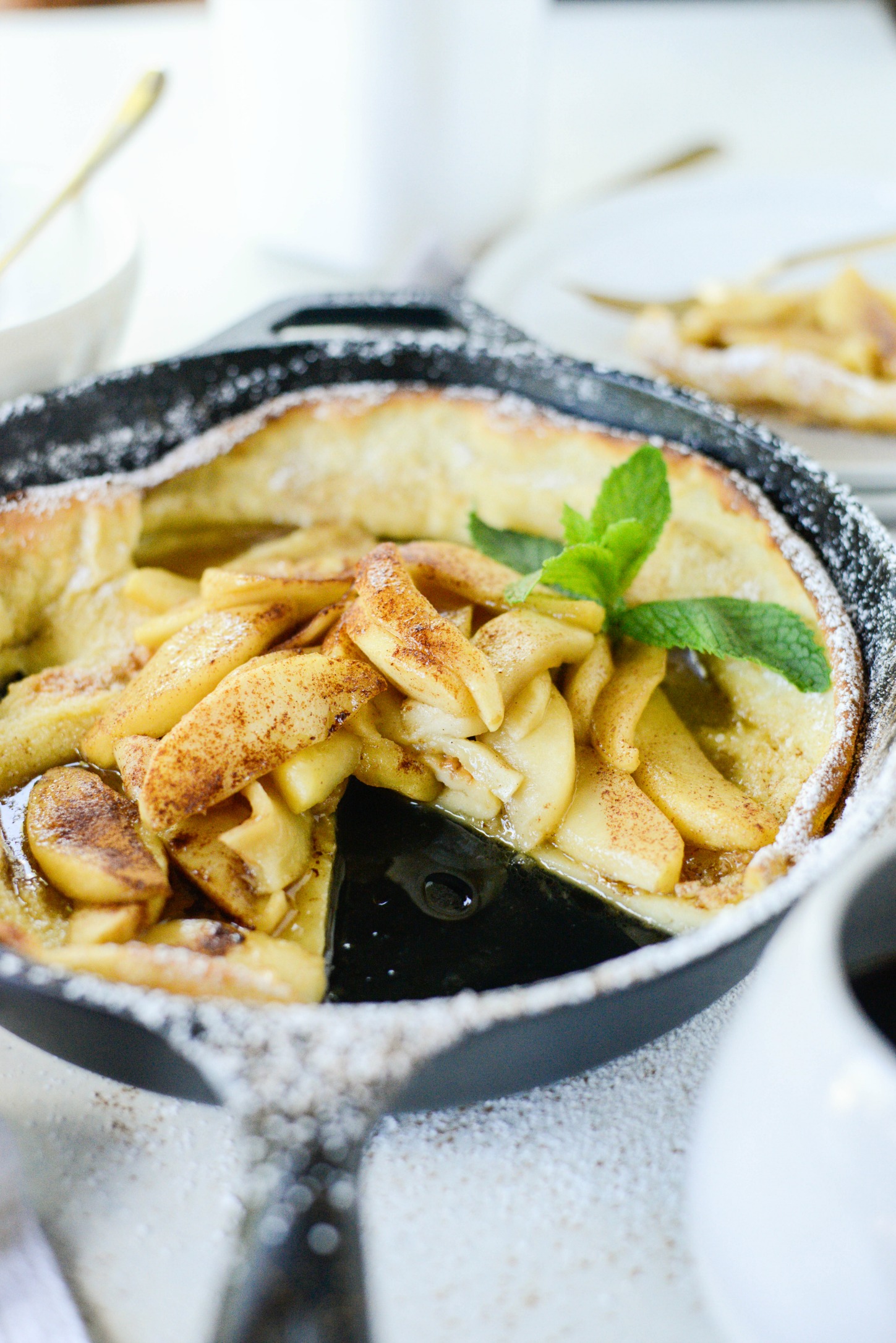 Armed with a cup of coffee and sticky post-it notes, I marked just about every page in the book. Some of her 77 recipes include Coq au Chardonnay, Roasted Vegetable and Ricotta Polenta, Apple Cider Croissants, Herb and Goat Cheese Frittata Doughnuts and my personal favorite, Half Assed Apple Pie. You can see how it's possible to run out of sticky notes, right?
Megan's written voice and style is evident throughout the book and the photos are absolutely gorgeous!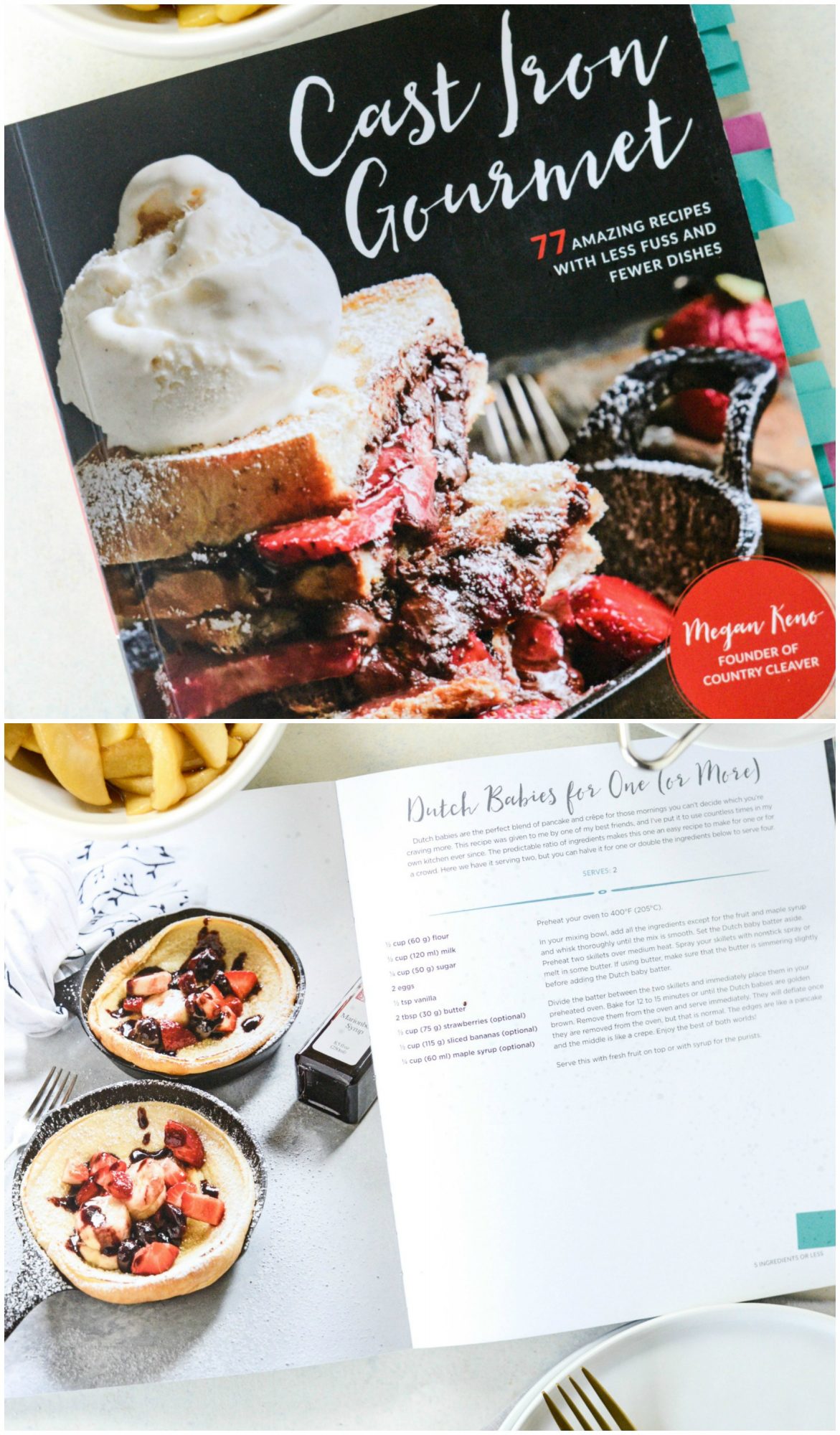 My eyes (and stomach) kept me coming back to her Dutch Baby for One (or More) recipe because I only made a Dutch baby once in my life and it didn't end well. Needless to say, I never made one again. Megan's recipe gave me hope for redemption! No fancy ingredients needed, just a hot pan and an oven. My mind was set. There's just something about those fluffy German pancakes that are just so rustically beautiful!
Megan suggests topping it with fresh berries and bananas. Jam or lemon curd would be lovely too. Or, for the purist, just some butter and maple syrup. Since it's apple season here in the mitten, I thought Megan wouldn't mind me adding a seasonal touch to her already fabulous recipe, so I caramelized some apples.
Breakfast. Is. Ready.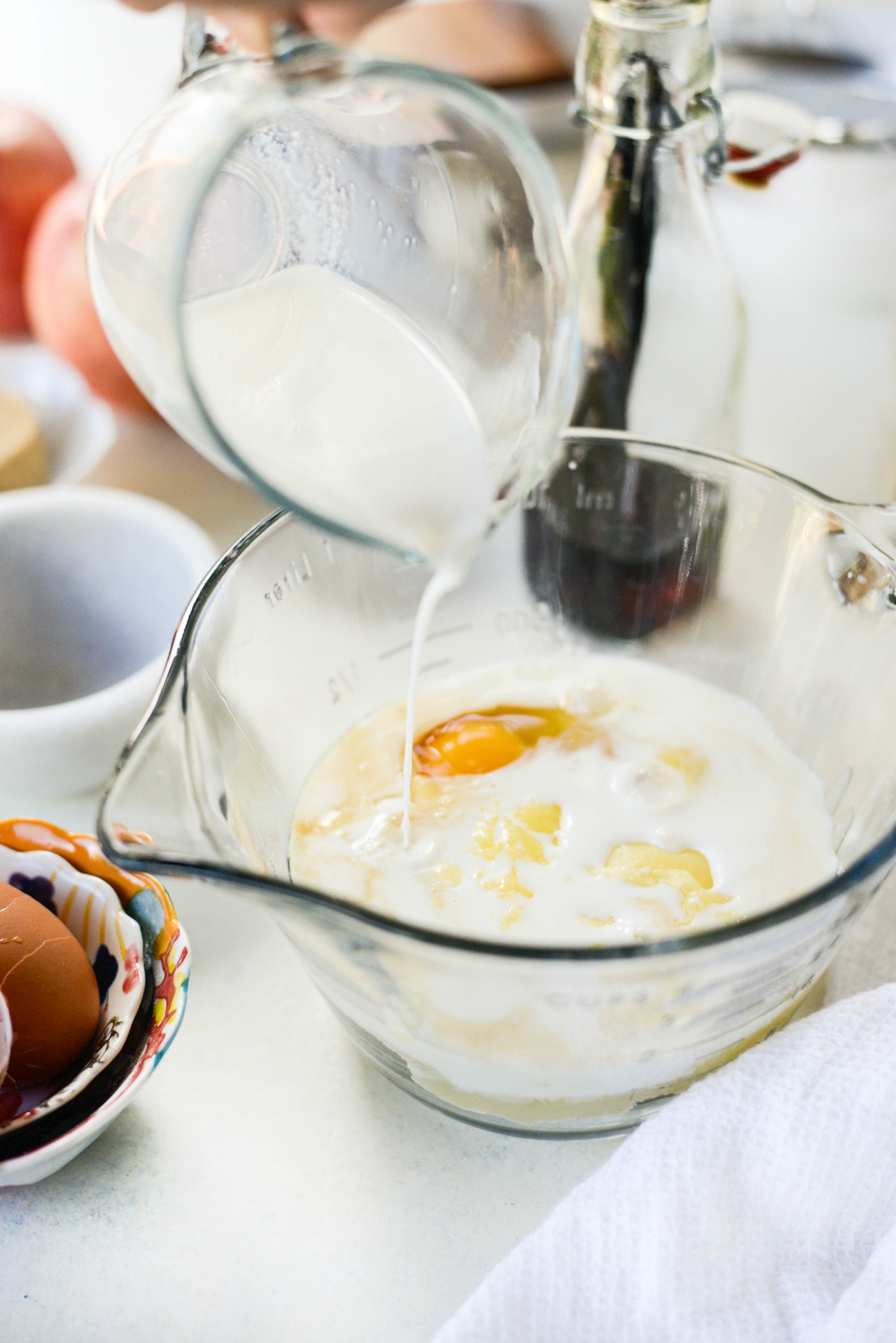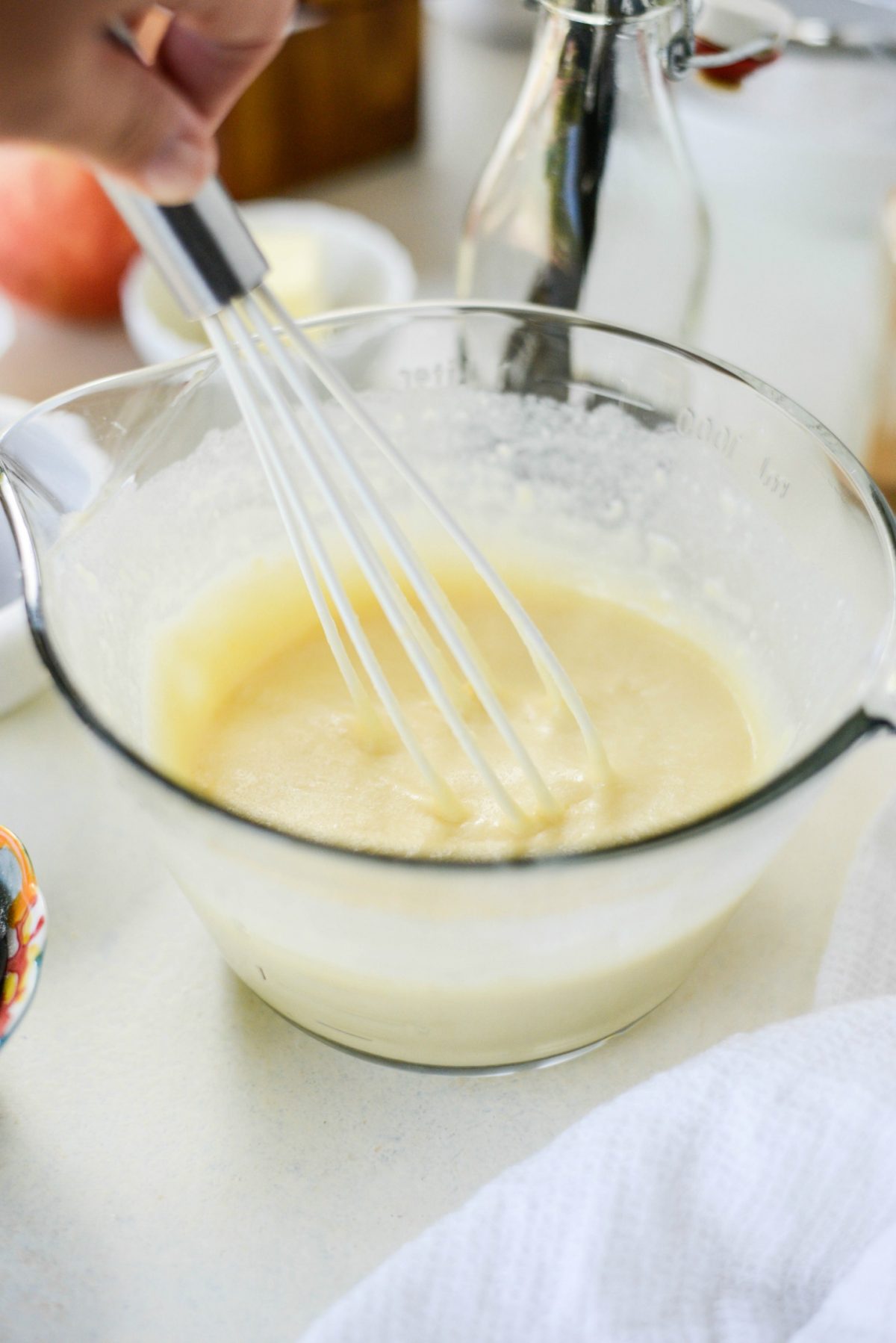 In a mixing bowl; add 1/2 cup of both flour and milk, 1/4 cup of sugar, 2 eggs, 2 tablespoons melted (and cooled) butter and 1/2 teaspoon of vanilla extract. Whisk until smooth and set aside.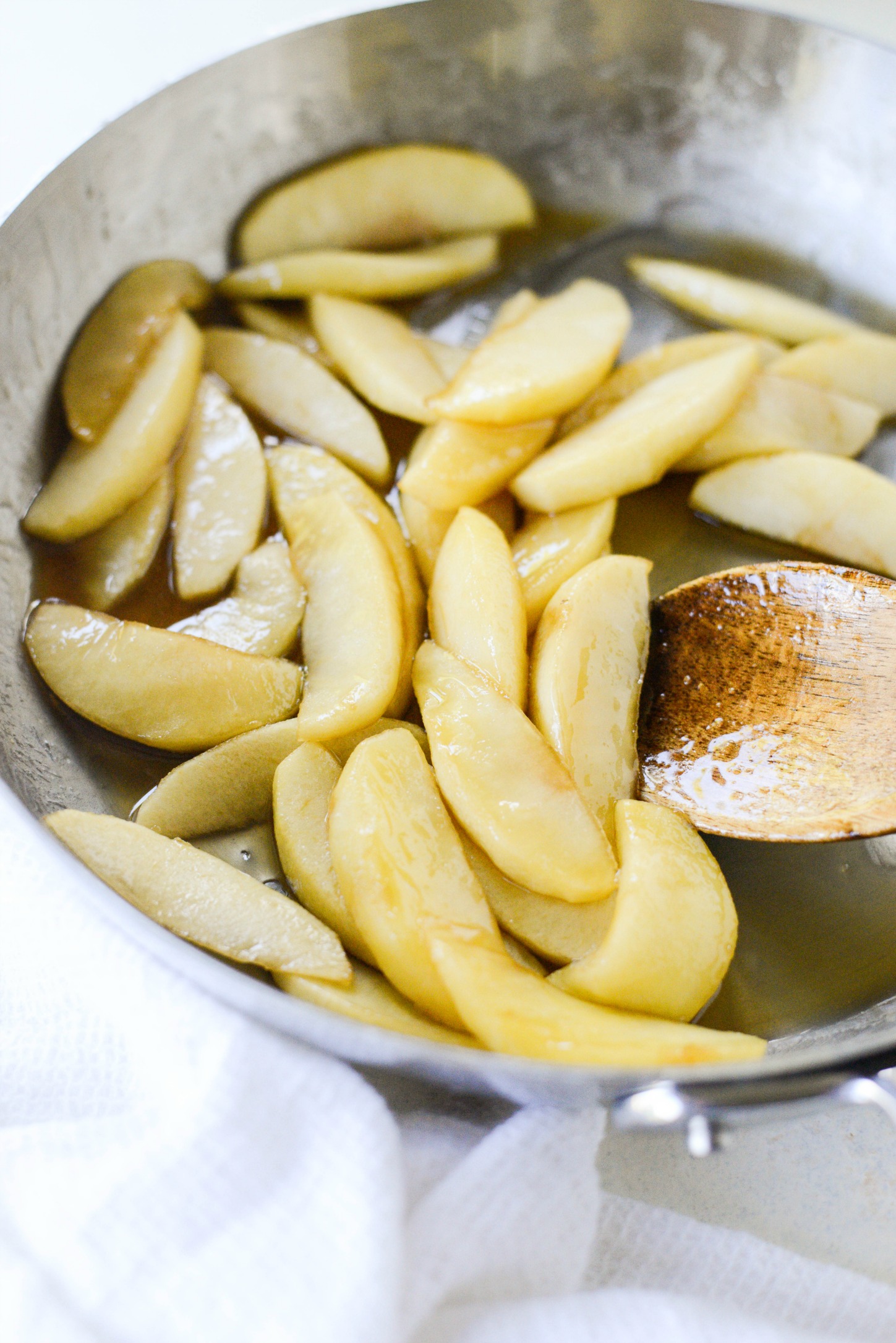 In a 10-inch skillet, melt 2 tablespoons of unsalted butter. Once melted add in 1/4 cup of light brown sugar, apple slices and a pinch of kosher salt. Stir and cook on medium-high until apples have caramelized and are tender.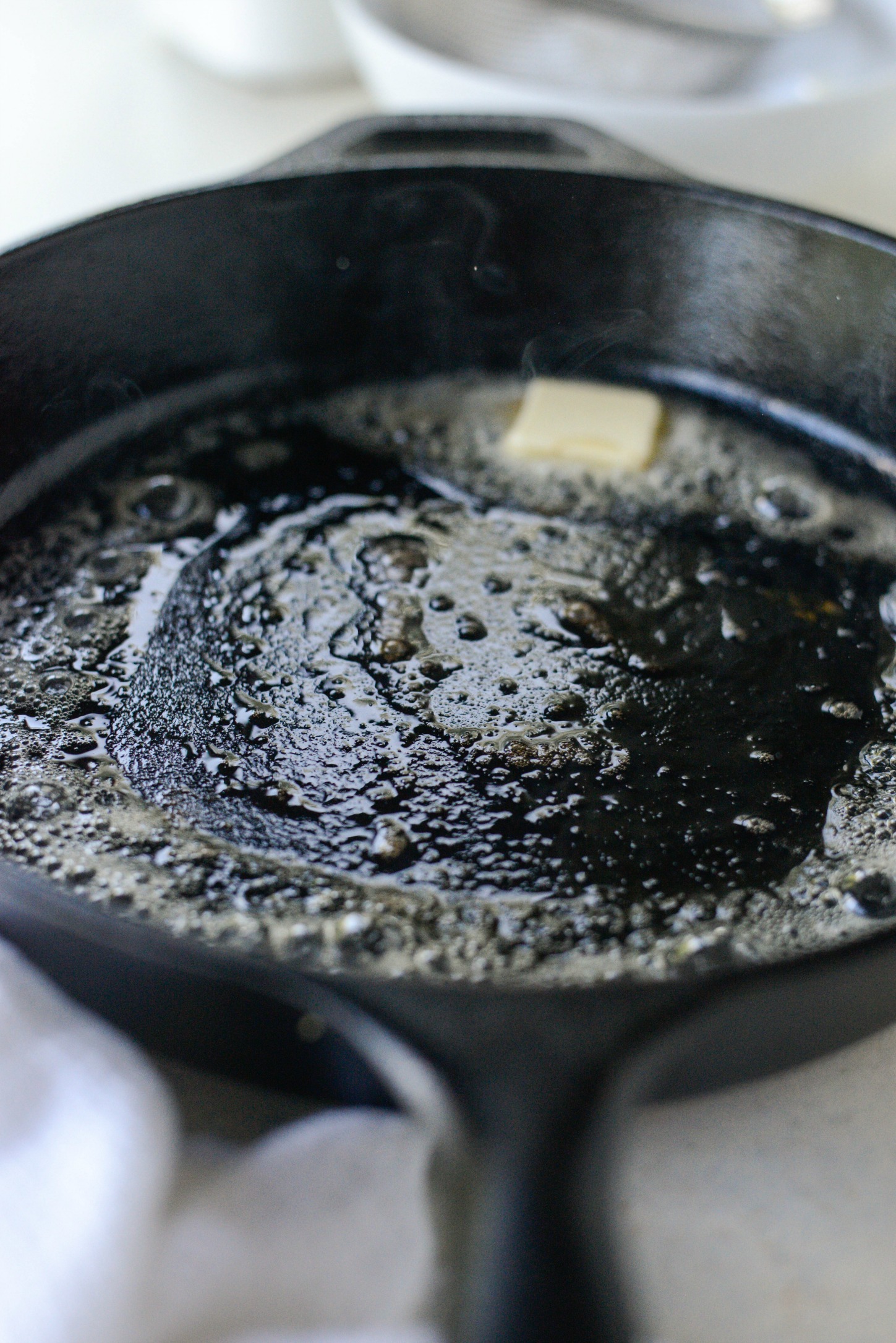 Next, heat a 10-inch skillet on medium until warm, add 2 tablespoons of butter and melt thoroughly. The butter should sizzle and be bubbling.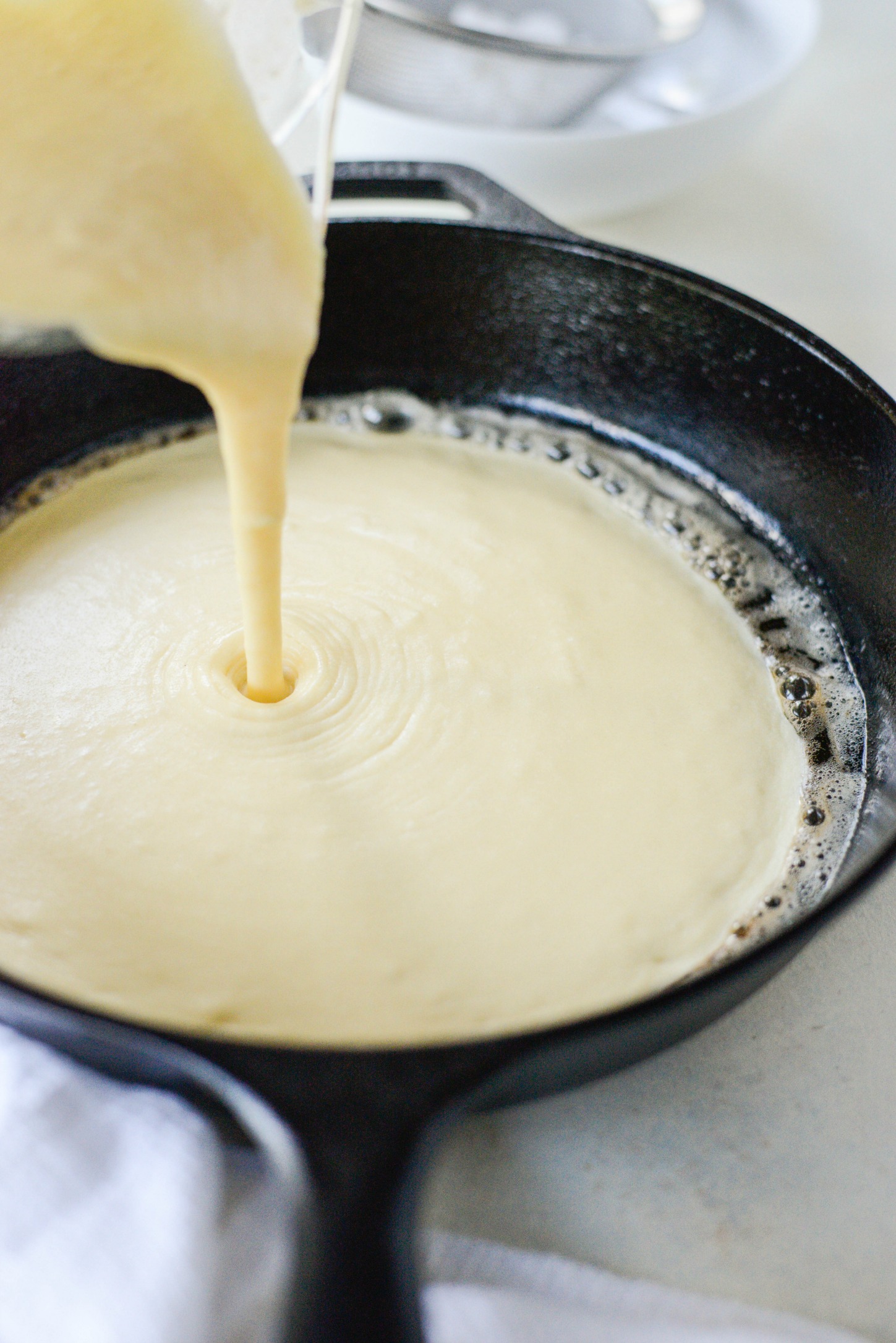 Immediately pour in the dutch baby batter and then slide the skillet into your preheated 400° oven.
12 to 15 minutes later you've got yourself on hot and fluffy Dutch baby, baby!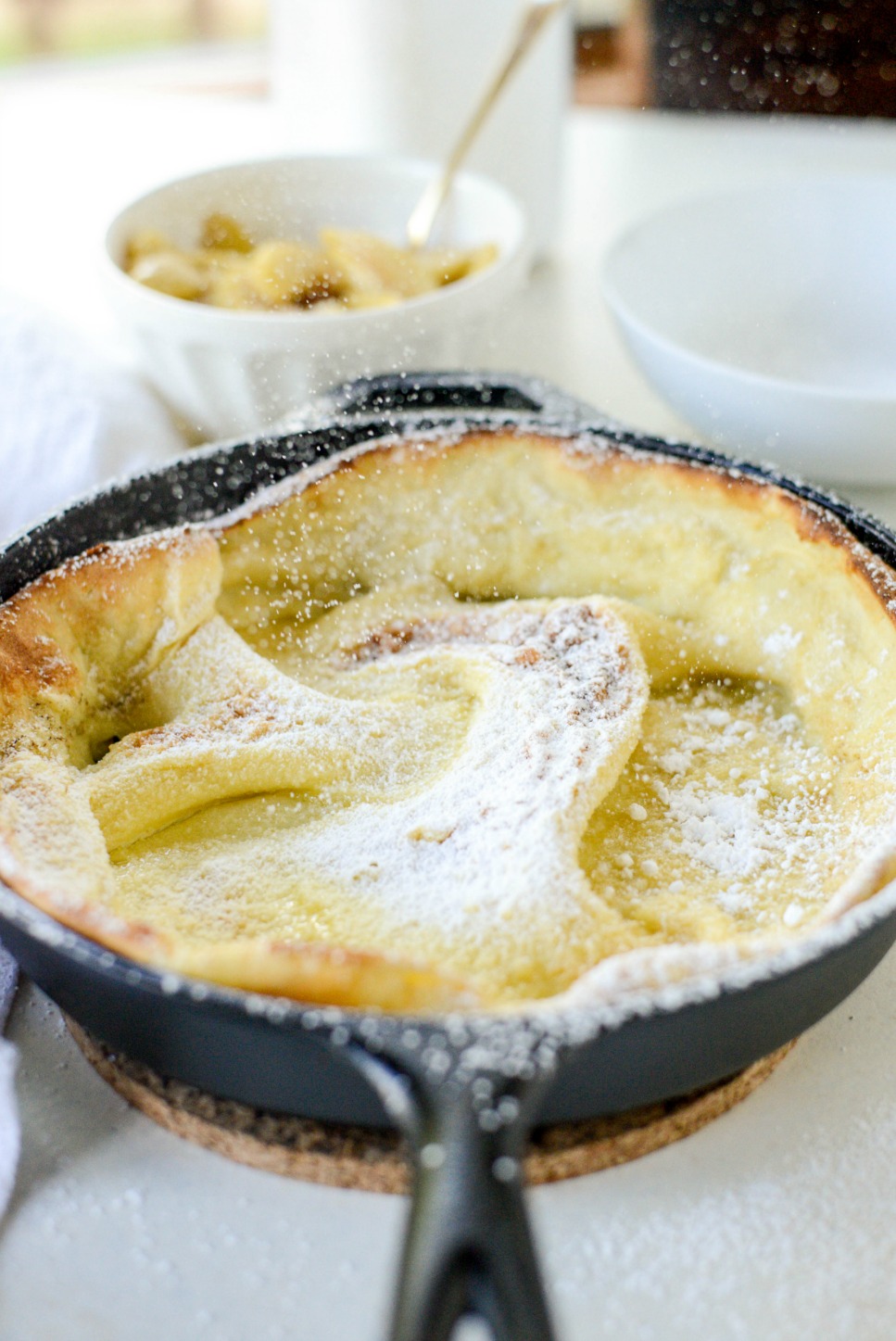 The pancake will deflate quite a bit as it cools, but I immediately sprinkled a generous amount of powdered sugar over top.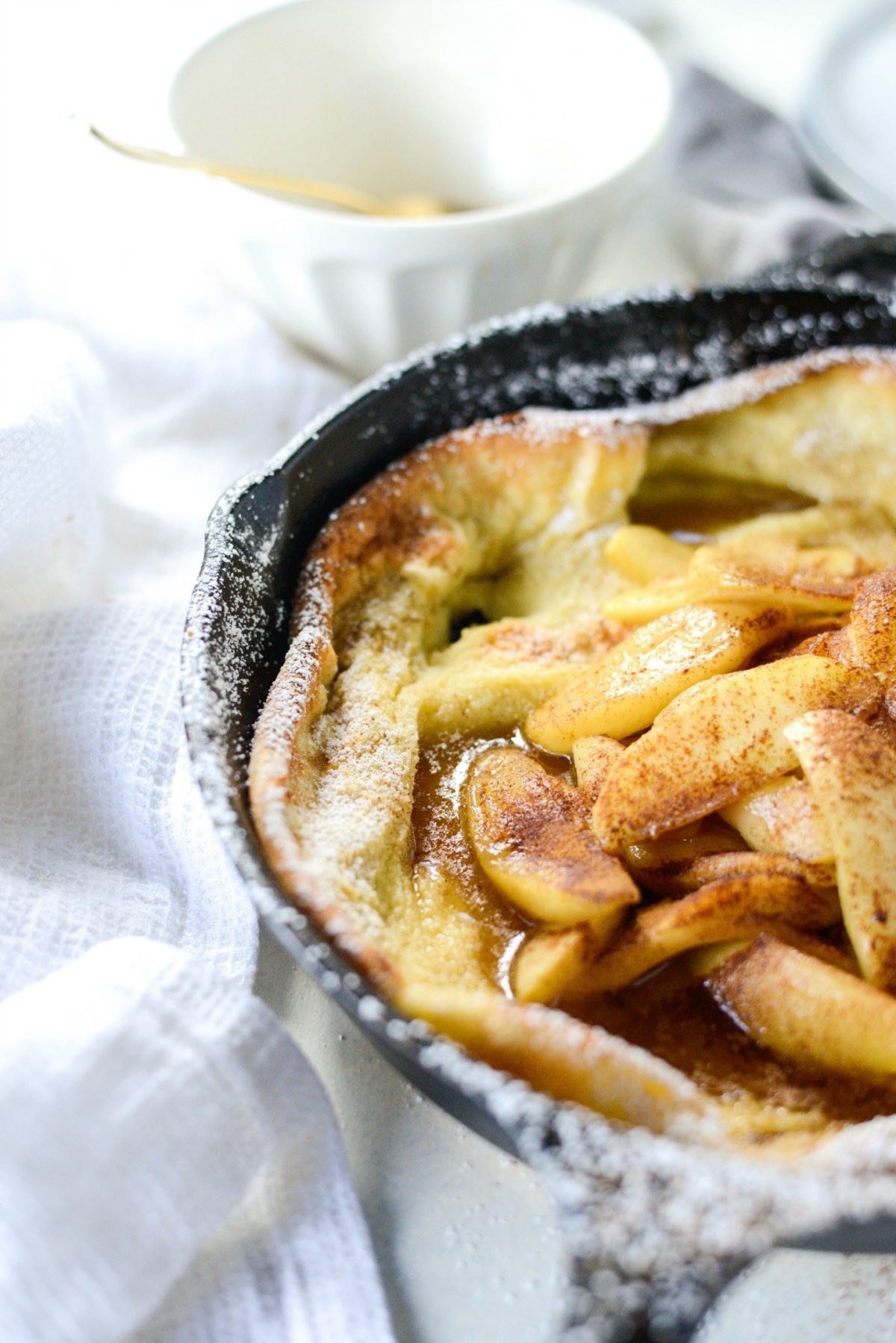 Then I topped it with all those caramelized apples, drizzle it with the caramel from the pan and dusted it with a little ground cinnamon.
I mean…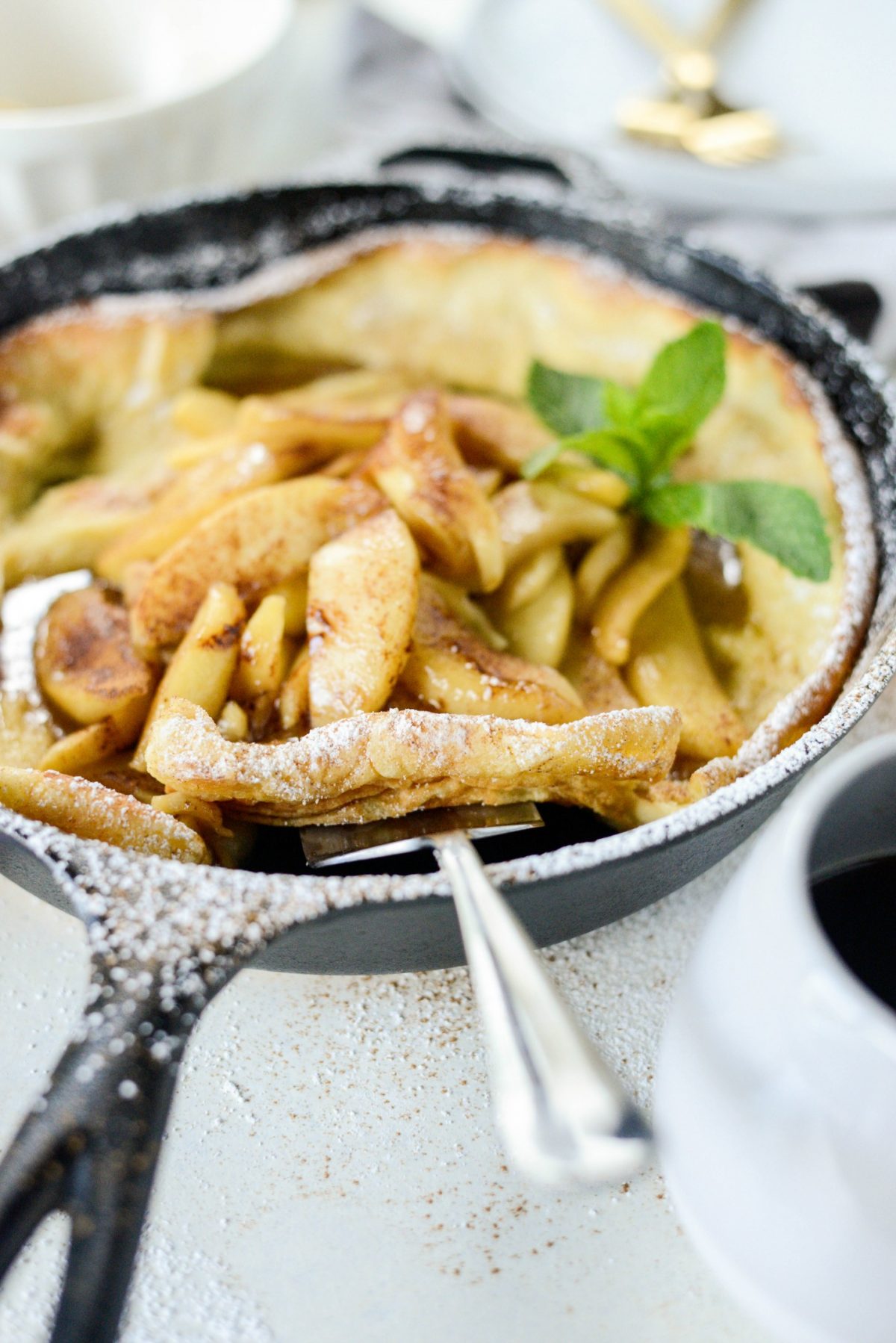 In the recipe, Megan describes her Dutch baby perfectly; "The edges are like a pancake and the middle is is like a crepe. Enjoy the best of both worlds!"
Amen.
Congratulations, Megan! Your book is beautiful and you should be so proud!
Enjoy! And if you give this Caramelized Apple Dutch Baby recipe a try, let me know! Snap a photo and tag me on twitter or instagram!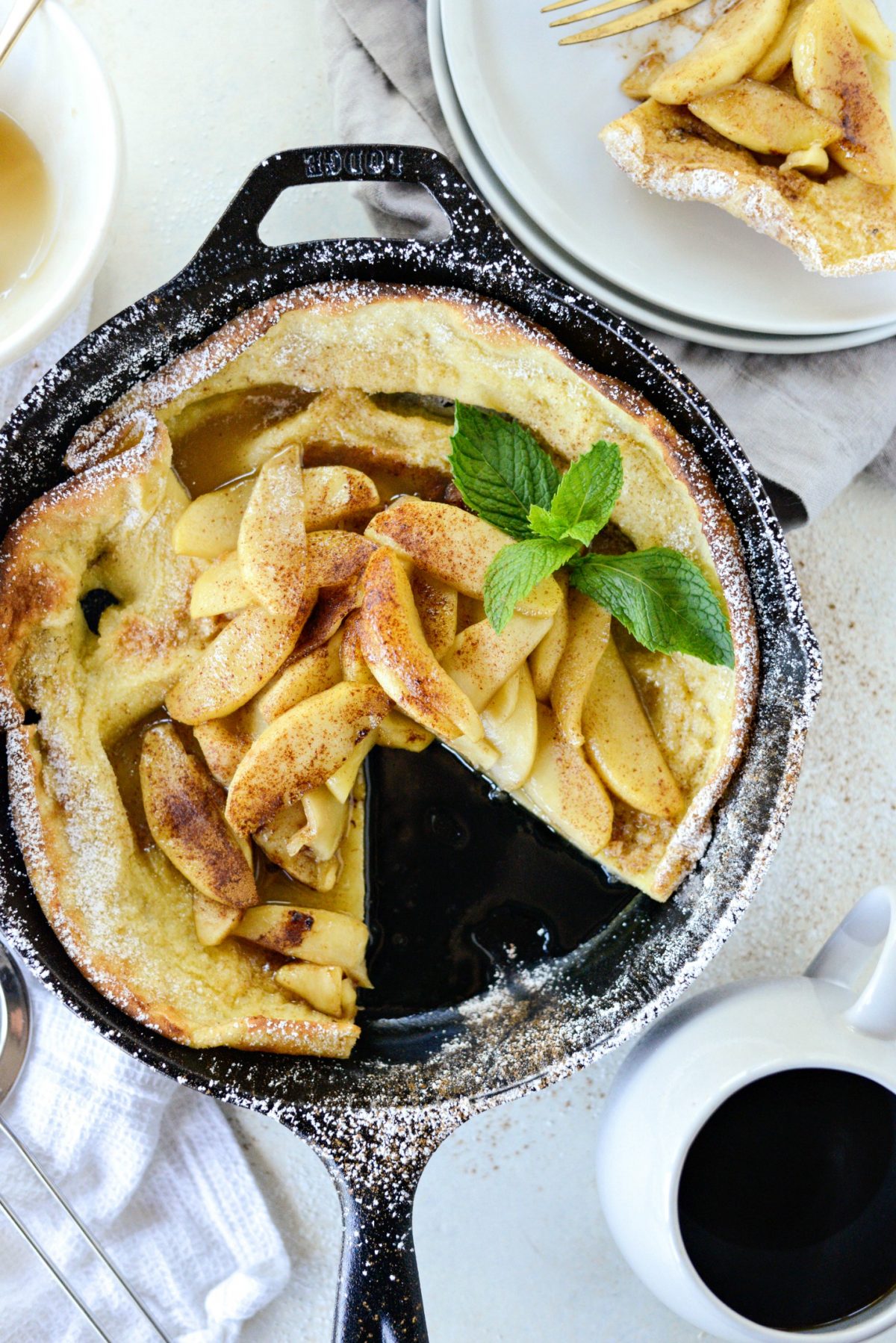 My cookbook Simply Scratch : 120 Wholesome Homemade Recipes Made Easy is now available! CLICK HERE for details and THANK YOU in advance!
[this post contains affiliate links.]
This post may contain affiliate links.
Buy the Cookbook: Simply Scratch : 120 Wholesome Homemade Recipes Made Easy Now available on Amazon »
THANK YOU in advance for your support!