I love this Cajun Tilapia! The flavorful combination of my homemade Cajun spice blend and this homemade lemon tarragon tartar sauce is out of this world.
You guys, you guys, YOU GUYS!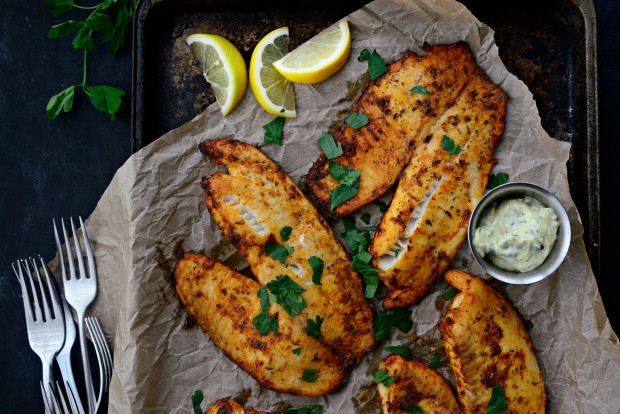 Do I have a tasty recipe for you! First let me just say that I'm a huge tilapia fan. Okay-alright, so I love all fish types equally, but I lurve this particular fish because it's family-friendly. Meaning, everyone in my family will eat it. Which is something I can't say about salmon (boo-hoo). #iblamemyhusband.
As you know, I'm an even bigger fan of quick and easy dinner recipes that take 10 minutes in the oven. The fact you broil the fish on foil that can be tossed in the trash afterwards so there's essentially ZERO dishes… is a straight-up perk.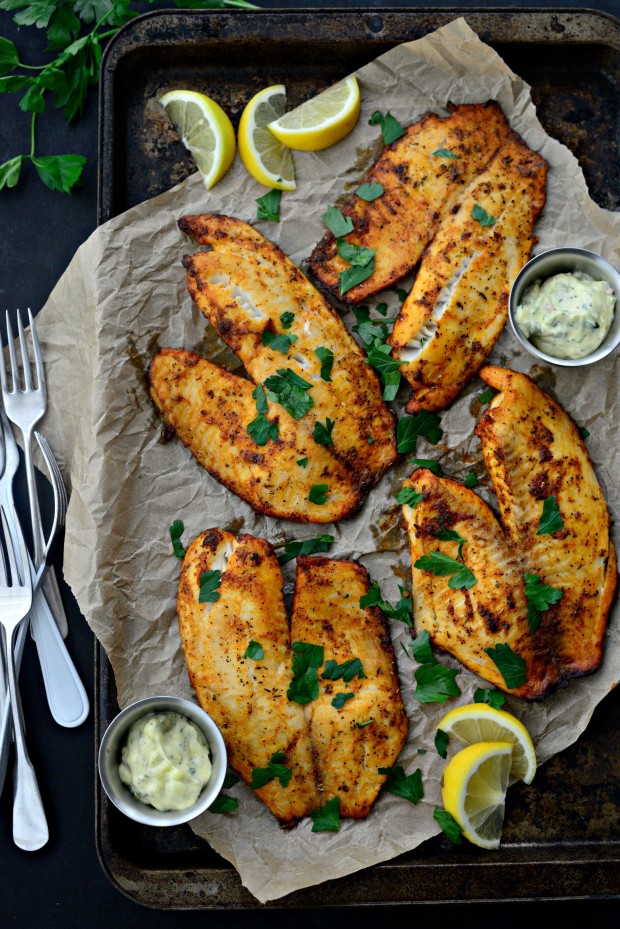 There's one last thing I have to say: this is super yummy. AND easy. annnnnd I could eat it every single day of my life. Basically this recipe is an all around winner-winner-Cajun-tilapia-for-dinner situation
Okay, bye. (let's make some tartar!)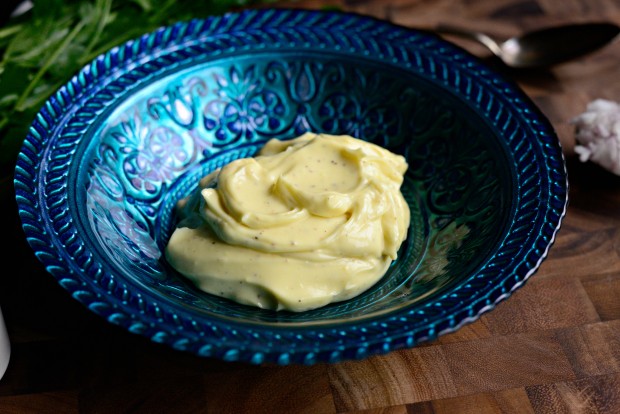 First add 1/2 cup of mayonnaise (store bought or homemade) into a pretty bowl. Because why not?
Then add in 1/4 cup of finely diced dill pickles.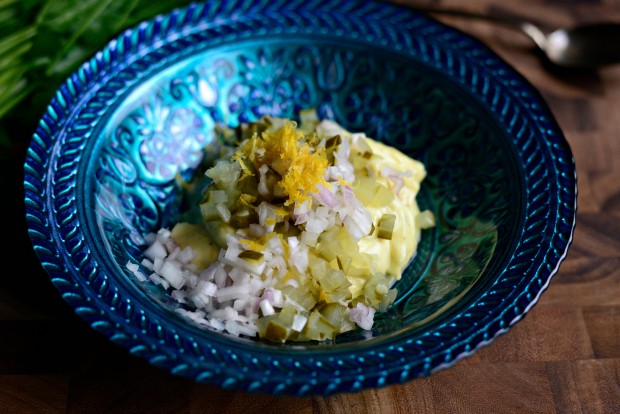 Next add 1 tablespoon diced shallots and 1/2 teaspoon lemon zest… add more if you like it real, real lemony.
And then finely mince up 1 teaspoon fresh tarragon leaves and 1 tablespoon minced fresh parsley.
Go ahead and taste and then season with a pinch or two of kosher salt. I added a bit of black pepper because I like my things peppery.
Lastly, give it a stir and refrigerate until you're ready to dollop it onto some Cajun tilapia filets.
Speaking of Cajun. Are you ready for the Cajun marinade slash rub slash amazingness? Okay, good. Measure 3 tablespoons of safflower oil into a shallow dish.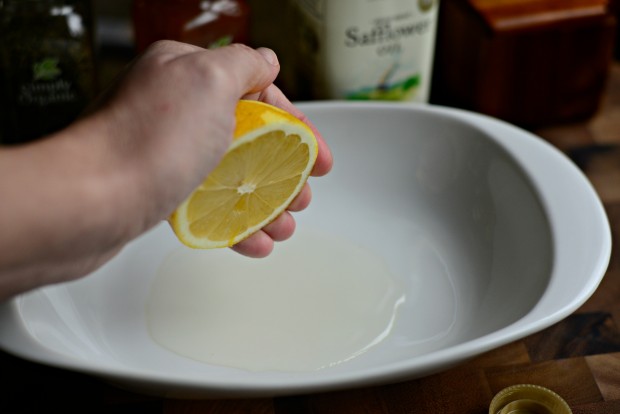 Squeeze in the juice of 1 whole lemon.
Add in 1 tablespoon of cornstarch.
Add in 1 teaspoon paprika and 3/4 teaspoon of both garlic powder and oregano (I rub it in my fingers to break it up somewhat)…
…then measure and add in 3/4 teaspoon of dried thyme, onion powder and 1/4 teaspoon of cayenne, 1/4 teaspoon of black pepper and 3/4 teaspoon of kosher salt.
Finally whisk to combine.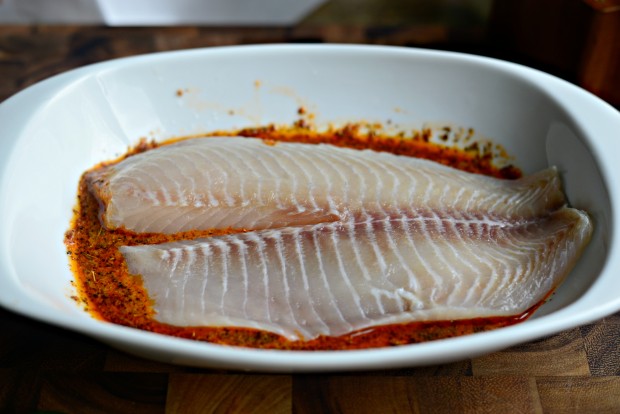 Then dip. Dip. Dip.
And flip.
So glossy.
Next, place the four Cajun slathered tilapia filets, bottom side facing up, onto a lightly oil and foil-lined sheet pan and slide it under your preheated broiler for 5 minutes. Carefully flip and slide the fish back under the broiler for 4 to 5 more minutes.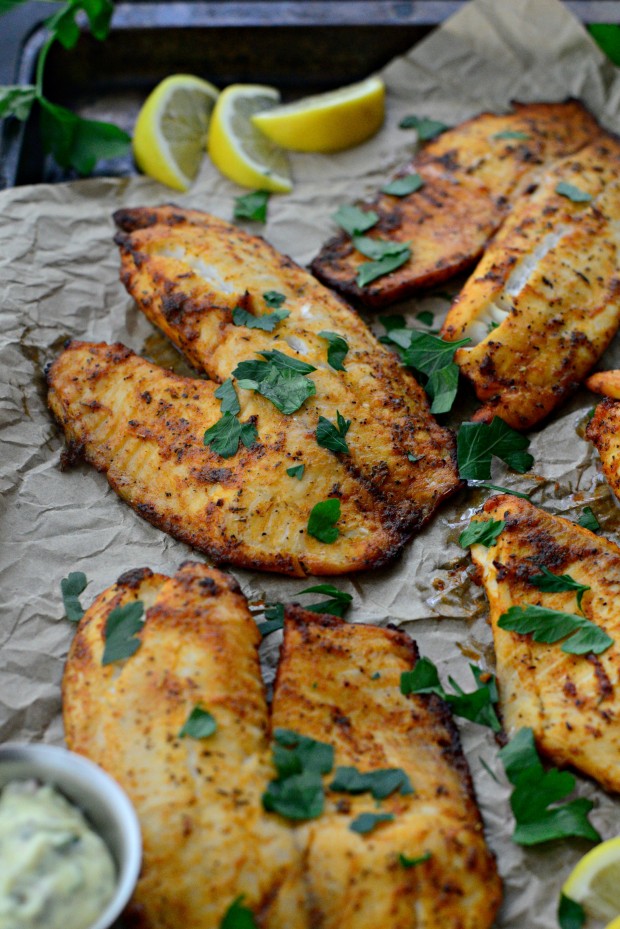 You'll know the fish is ready when it's opaque and flakes easily.
Ps. those crispy edges are my favorite.
So is that tartar sauce.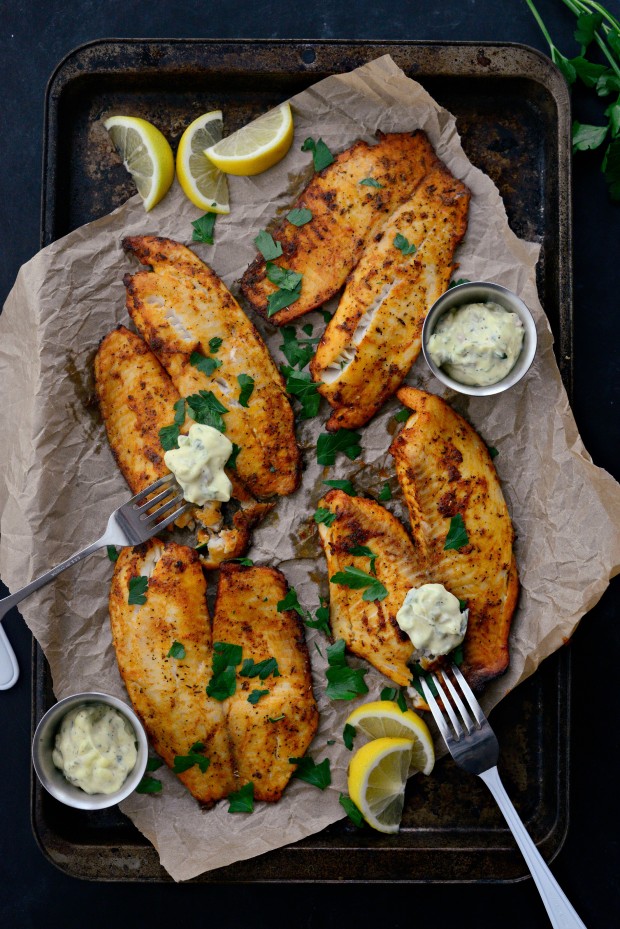 So is eating off the pan.
You guys, this tilapia recipe is fabulous! The flavorful combination of my Cajun spice blend, flaky tilapia and this homemade lemon tarragon tartar sauce is out of this world. The fish is melt-in-your-mouth tender, light and a smidgen spicy while the tartar sauce cools it down a tad while still enjoying the bright lemony and fresh herbaceous flavors. Are you sold on this or what??
And the leftovers? Out. Of. This. World.
Enjoy! And if you give this Cajun Tilapia recipe a try, let me know! Snap a photo and tag me on twitter or instagram!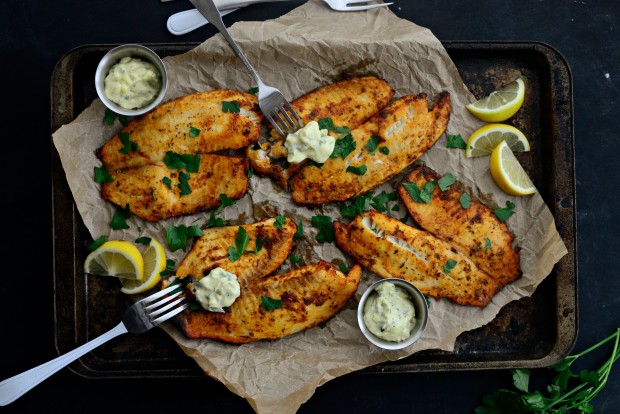 My cookbook Simply Scratch : 120 Wholesome Homemade Recipes Made Easy is now available! CLICK HERE for details and THANK YOU in advance!
[this post contains affiliate links.]
This post may contain affiliate links.
Buy the Cookbook: Simply Scratch : 120 Wholesome Homemade Recipes Made Easy Now available on Amazon »
THANK YOU in advance for your support!