This Cajun Chicken Pasta is full of flavor. Spicy Cajun chicken (by using my homemade Cajun seasoning!) with sweet bell peppers, mushrooms and tomatoes tossed with fettuccine in a wine cream sauce! SO delicious.
This spicy Cajun chicken pasta is my jam.
I first posted this recipe back in 2012. That's almost 5 years ago! Where has the time gone?
Recently I was digging around in the archives of this blog, looking for something "new" to make for dinner, when my eyes landed on this recipe. I remember making this all the time and then noticed how horrible the photos were and thought– Ummmm, no one would ever want make this just by looking at these photos!
So I made this for dinner tonight and gave my old recipe an update. Not only by updating the photography (so you actually might want to make it) but also the recipe itself. The whole thing got simplified, so less dishes are dirtied and it's more home-cook friendly.
I love making this Cajun chicken pasta as much as I love to eat it. This slightly spicy and creamy pasta dish is absolutely my idea of comfort food.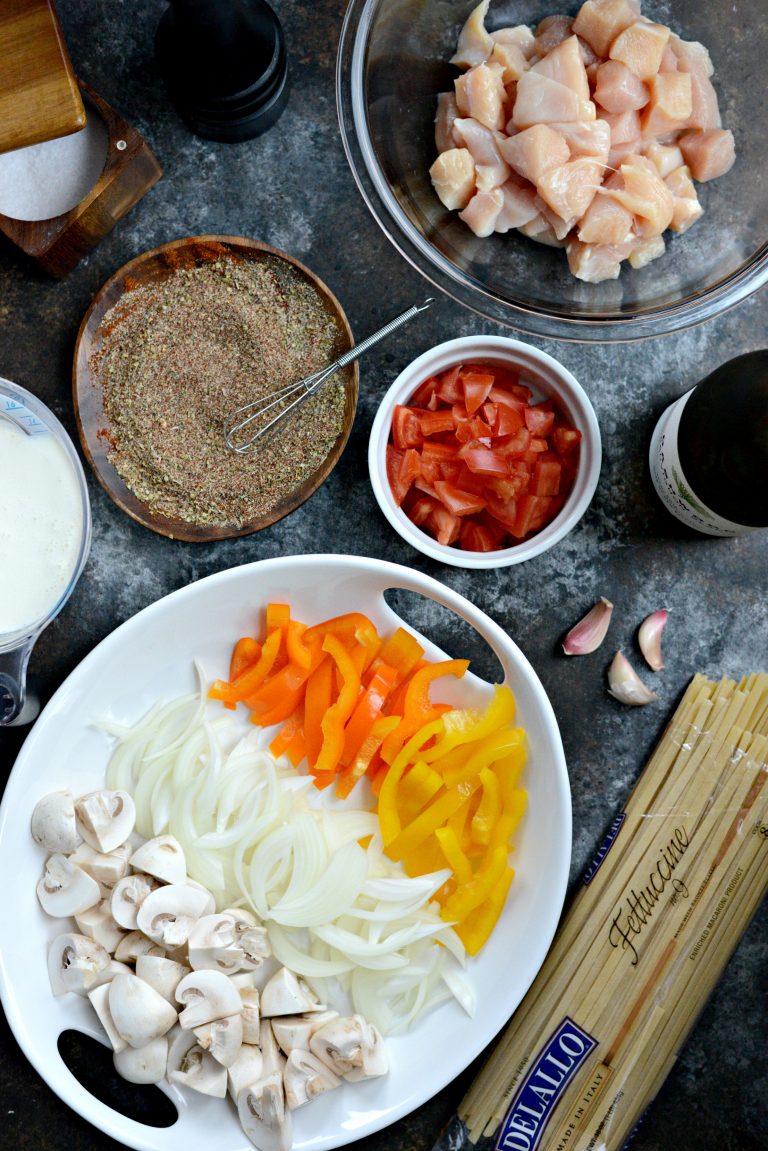 Start prepping all of your ingredients. If you work during the day, this can be done in advance. It will help speed things along and dinner will run smoother.
Generously season 1-1/4 pounds of cubed chicken breasts with the 1-1/2 tablespoons of Cajun seasoning. I like making my own Cajun seasoning so I can control the spice.
Heat up a few tablespoons of olive oil in your skillet over medium-high heat. When the pan is nice and hot; add in the seasoned chicken in an even layer and cook for 3 to 4 minutes before turning. Cook for about 8 to 10 minutes
total. Once cooked transfer the chicken to a clean plate.
Now that the chicken is cooked, it would be a good time to drop in 3/4 of a pound of fettuccine. Follow the package directions, most take 8 o 12 minutes so make sure you have enough time to make the sauce. My rule of thumb is that the sauce can always wait for the pasta, the pasta should never wait for the sauce.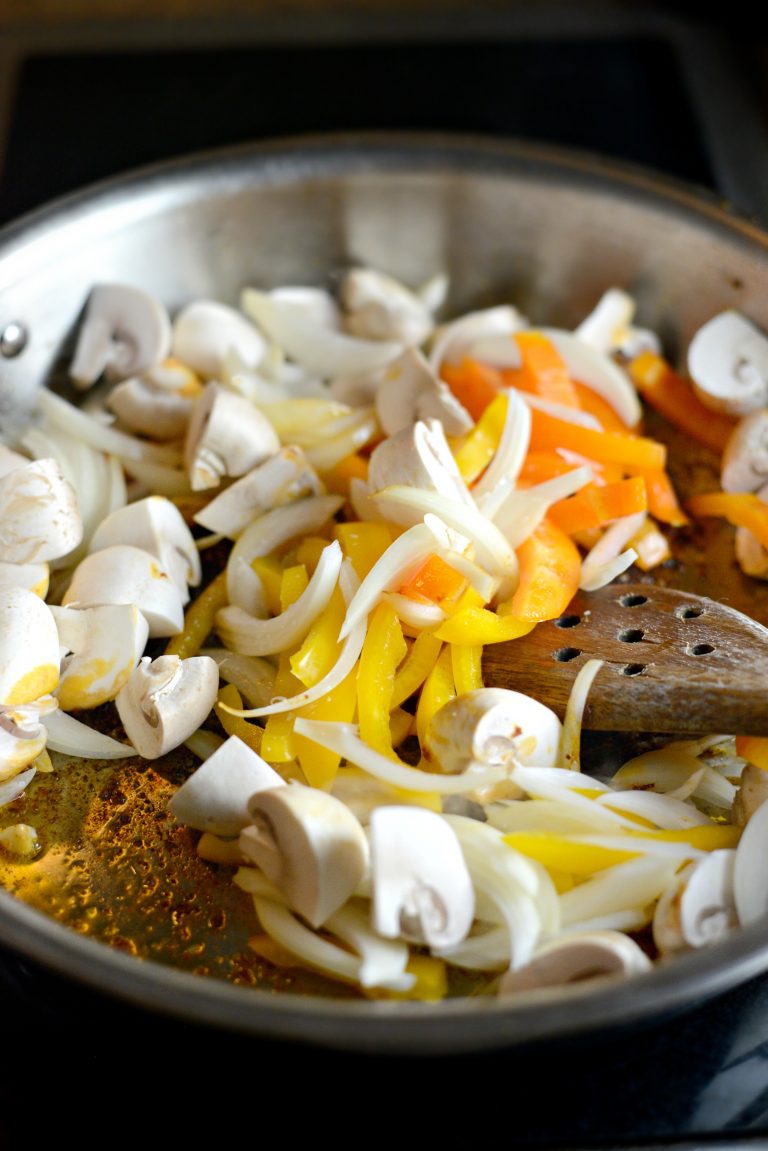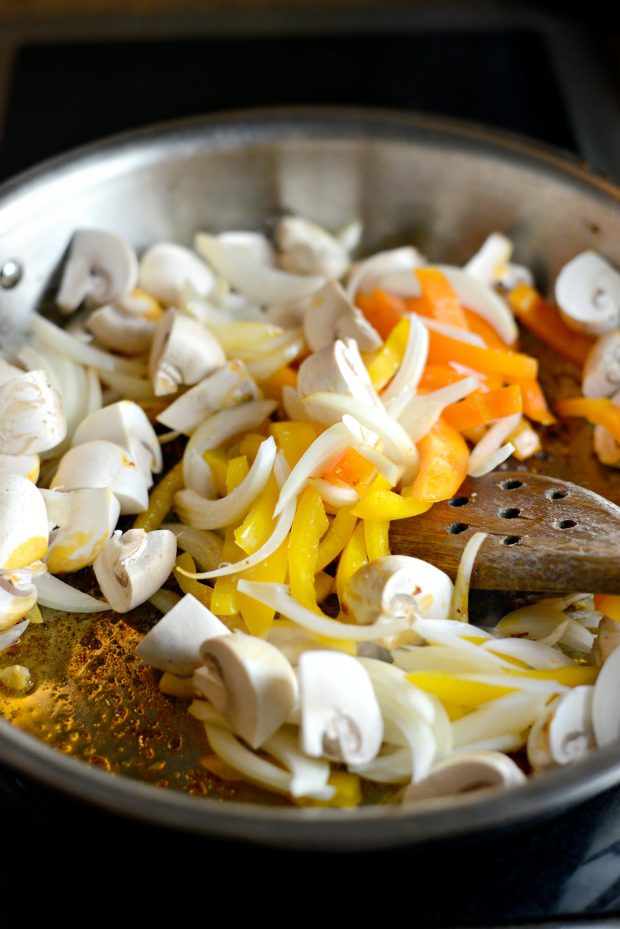 Add a little more olive oil if needed to the skillet and toss in the thinly sliced onions, peppers and the quartered mushrooms.
Once the vegetables start to soften but are still a little firm, add in the minced garlic and cook 1 minute.
Next, pour in the wine and use a wooden spoon to scrape up any delicious browned bits on the bottom of the pan and reduce for a minute or two.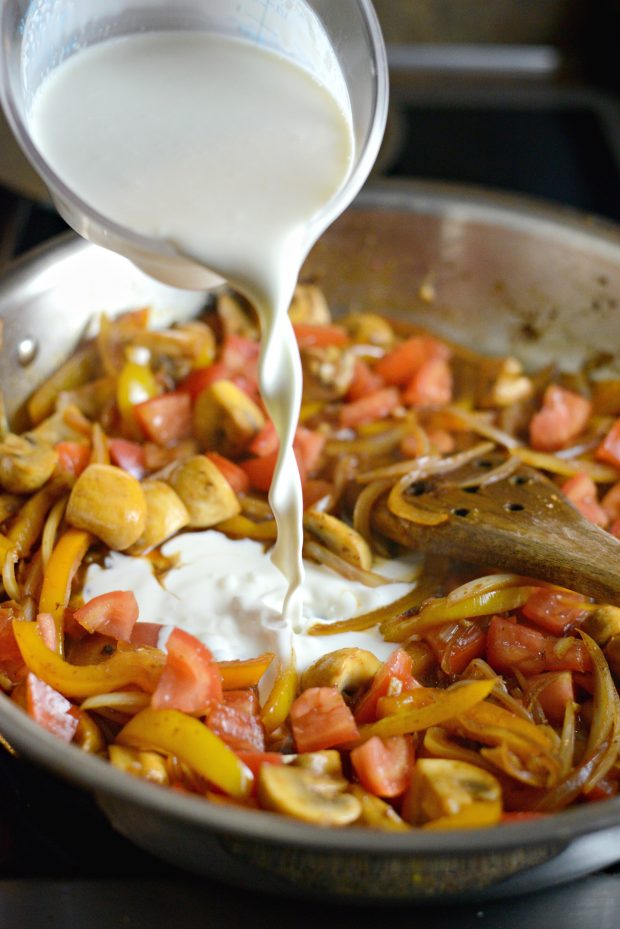 Next, reduce the heat to medium-low and add in the diced tomatoes, whole milk and heavy cream.
Stir to combine and season with 1/2 teaspoon of kosher salt and 1/4 teaspoon of black pepper. Then bring the sauce up to a bubble and cook, stirring often until thick.
Once the pasta is cooked, drain and add it along with the cooked Cajun chicken to the vegetable cream sauce.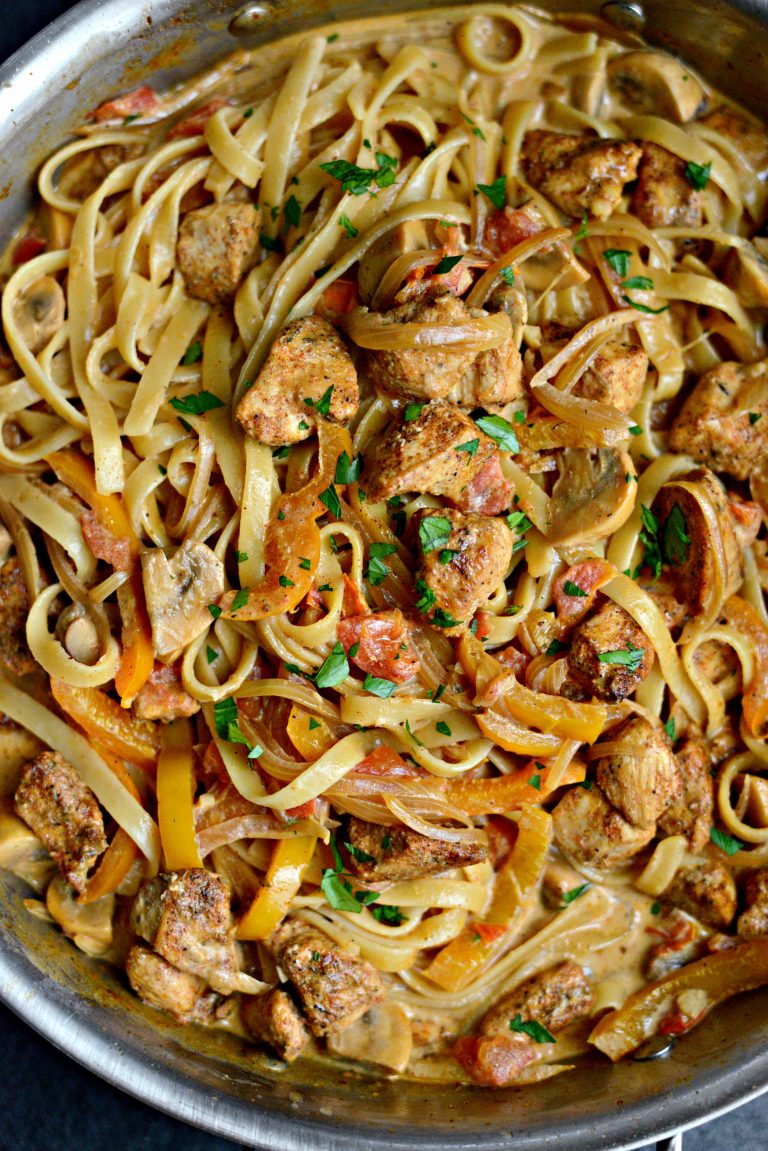 Give it all a toss, taste and season with more salt and pepper if needed. Lastly, sprinkle with a little chopped parsley before serving.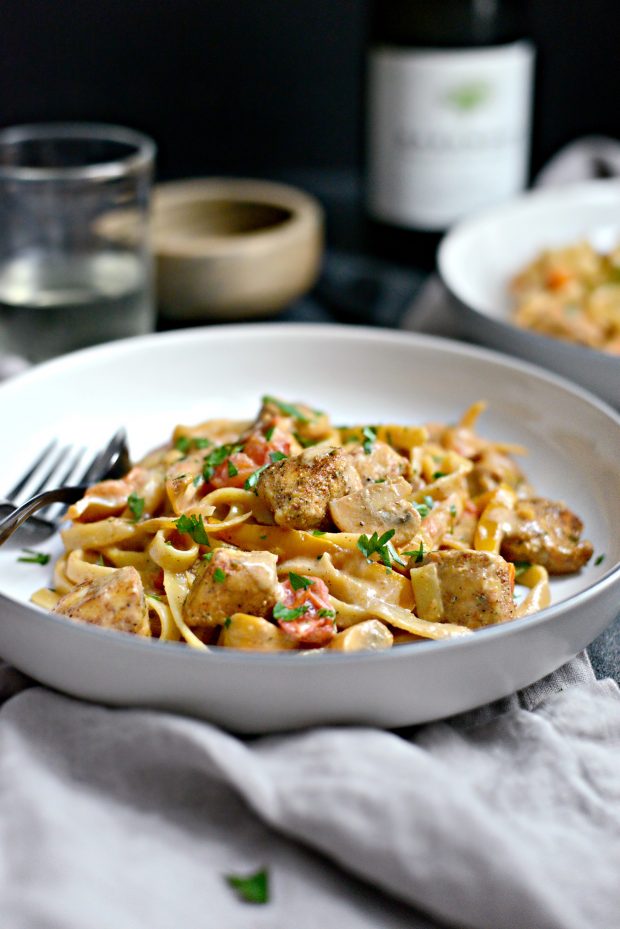 The flavors in this pasta dish are wonderful! It has some heat, but it's a delicious addictive heat and the luscious creamy sauce is just lovely. And it's so close to being classified as a one-pan meal, making this recipe simple for any night of the week.
I serve it with a fresh garden salad and maybe a glass of white wine to wash it all down.
Enjoy!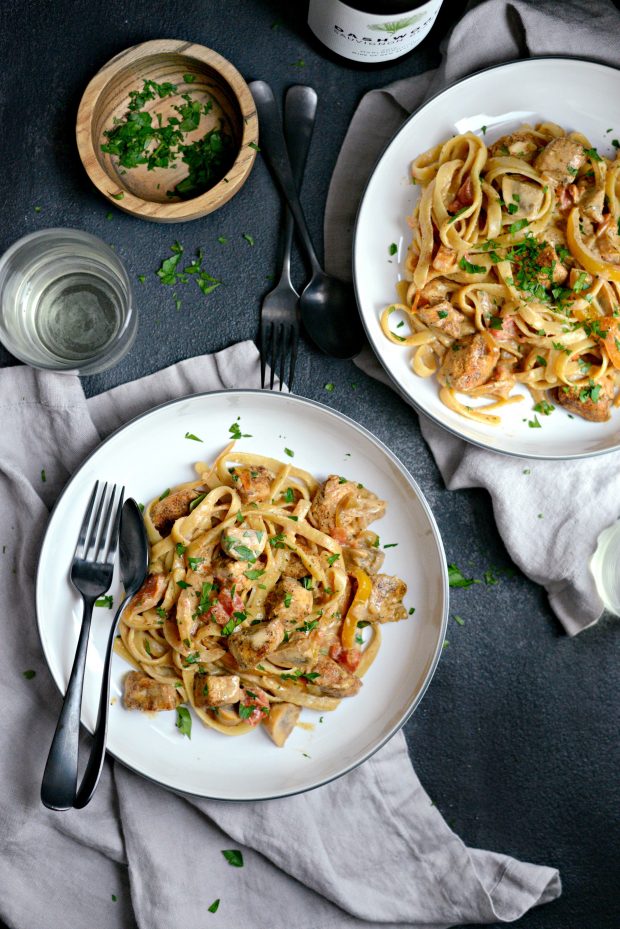 My cookbook Simply Scratch : 120 Wholesome Homemade Recipes Made Easy is now available! CLICK HERE for details and THANK YOU in advance!
[this post contains affiliate links.]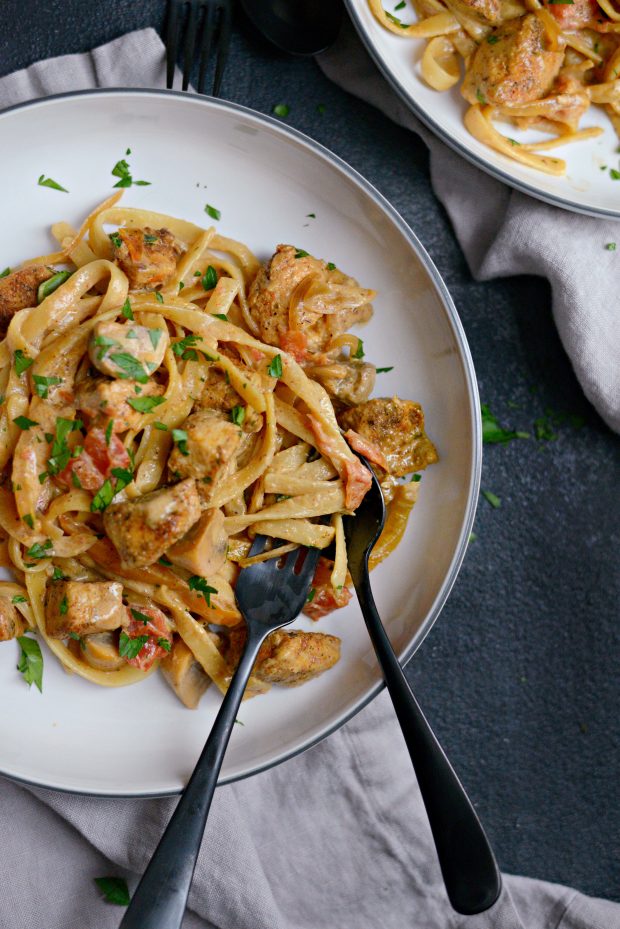 This post may contain affiliate links.
Buy the Cookbook: Simply Scratch : 120 Wholesome Homemade Recipes Made Easy Now available on Amazon »
THANK YOU in advance for your support!