Wine Braised Pork Shoulder served over fontina grits is the cozy comfort in a bowl. Slowly braised pork nestled into creamy cheesy grits, topped with gravy, pickled red onions and fresh minced parsley. It doesn't any cozier than this.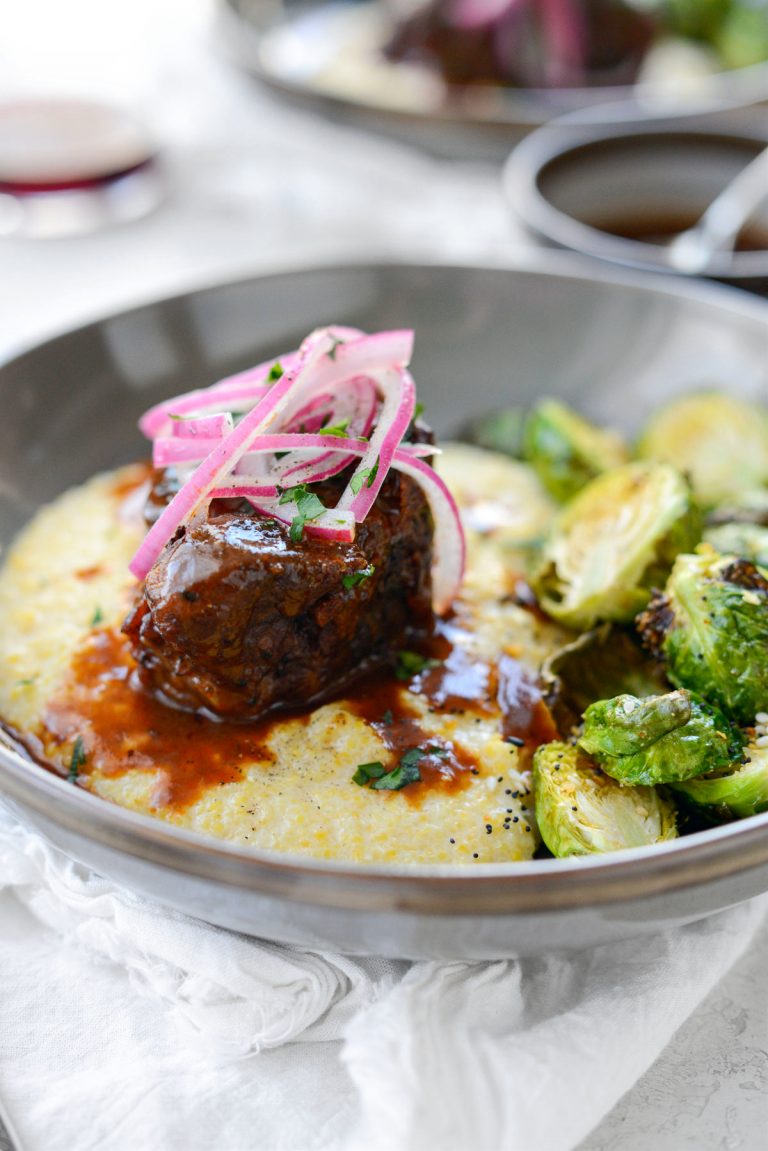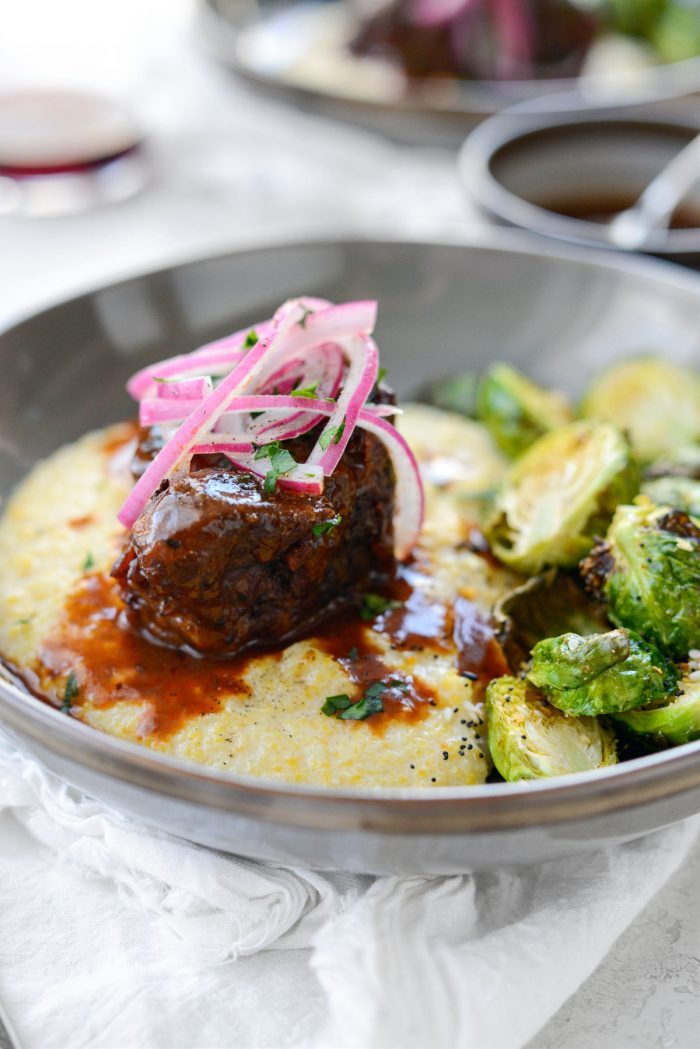 Friends, meet my ultimate comfort meal. Braised pork shoulder.
Slowly braised pork that sits on creamy cheesy grits. Oh man. When I go into a restaurant I always have the best intentions of ordering the salmon and a salad and walking away feeling good about myself. Yet the moment my eye's land on something warm, comforting and usually has the words "smoked" or "braised" in the title, I'm a total goner. Because in that instance my stomach takes over the decision making and I end up going with the comfort food every time.
Earlier this month I was celebrating my Aunt's 60th birthday at one of my favorite restaurants and on the menu was smoked pork with cheddar grits. Needless to say I was completely sold on that alone.
Well, that and a glass (or two) of Merlot and I was in my happy place. And then later, a food coma.
After my plate was cleaned I knew I had to make something similar at home.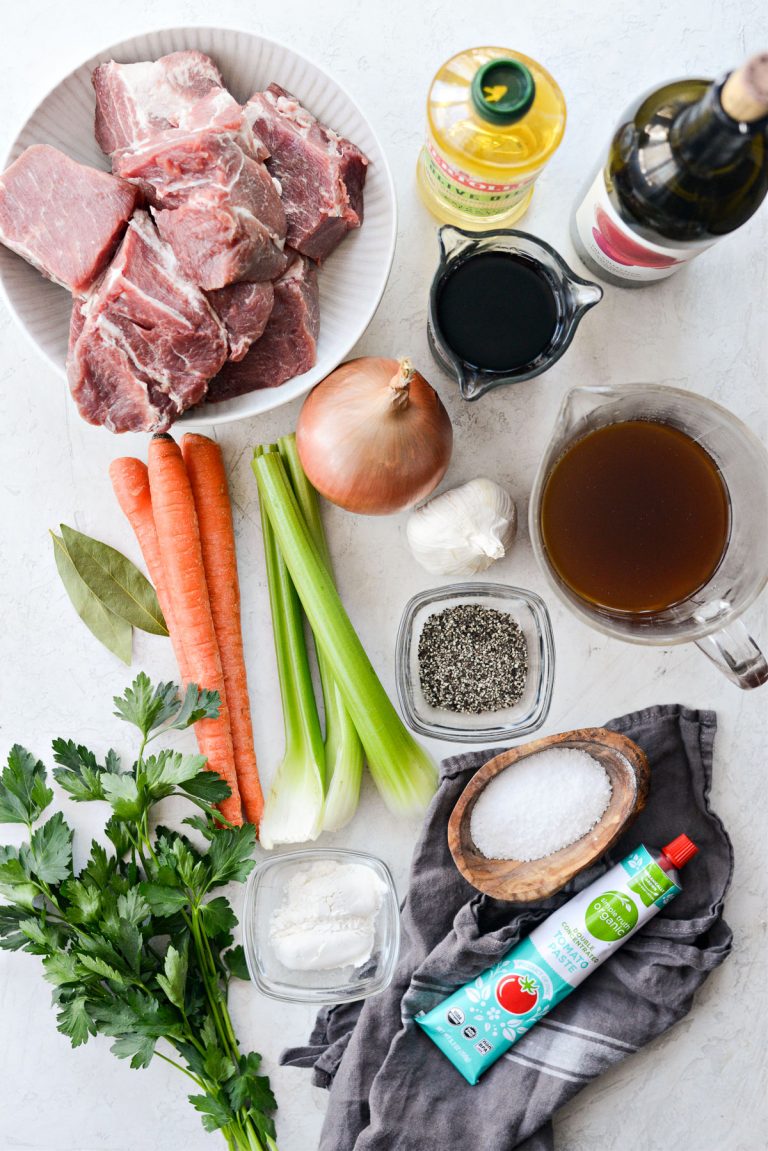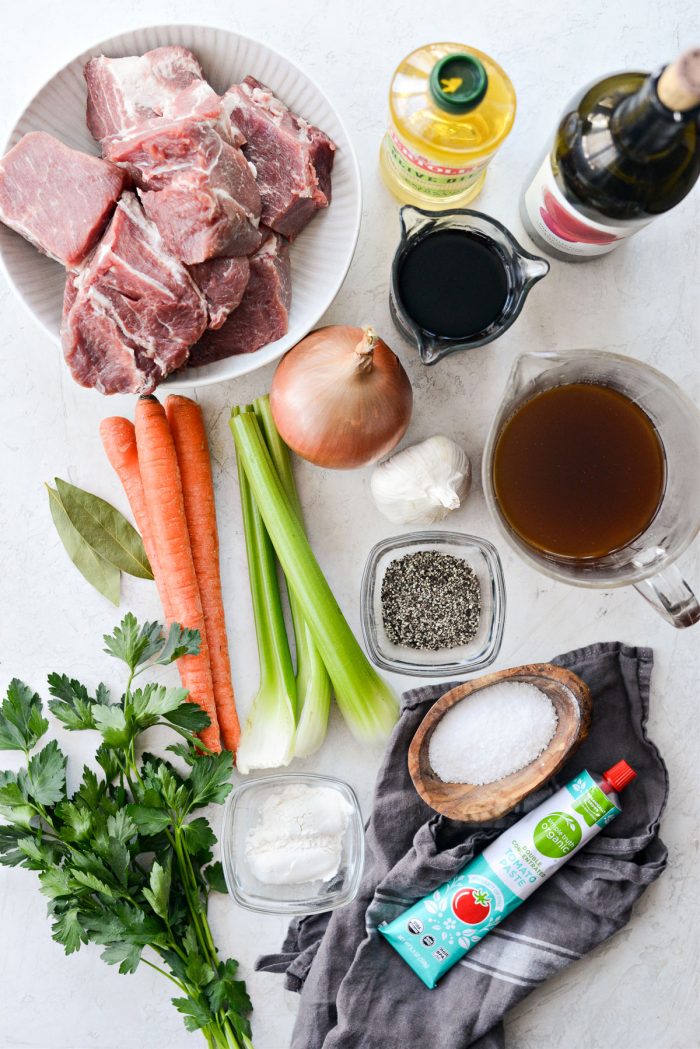 To Make This Wine Braised Pork Shoulder You Will Need:
olive oil or bacon fat
4 pound boneless pork shoulder
kosher salt
coarsely ground black pepper
yellow onion
carrots
celery
tomato paste
dry red wine
unbleached all-purpose flour
fresh parsley
head of garlic
low-sodium beef broth
bay leaves
So What Is Braising?
All in all, braising is a fancy name for using a combination of moist and dry heat and as it might sound complicate it's actually super simple. Sear meat on all sides, throw in some veggies and broth and slowly cook the meat covered in your oven for a few hours, leaving your home smelling insanely delicious. What's hard about that? Nothing.
Add 2 tablespoons of extra light olive oil (or use bacon fat) into a large dutch oven and heat on medium-high. Also, move your oven rack to the lower third of your oven and preheat your oven to 325°.
Start with a 4 pound pork shoulder. Using a sharp chefs knife, cut it into 8 equal size pieces. Do this by cutting the pork into fourths and then divide those in half leaving you with 8 total.
Don't forget:
In order to get a nice and crust when you sear the pork, you'll want to remove any excess moisture by patting it dry with a few pieces of paper towel.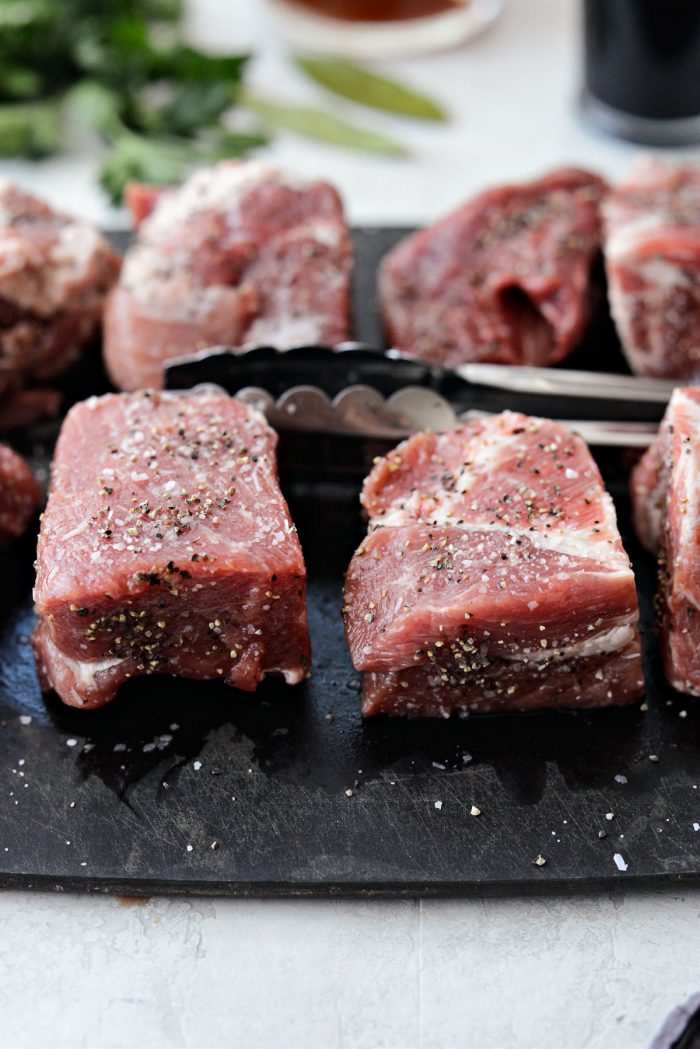 Then season all sides with a generous amount of kosher salt and black pepper.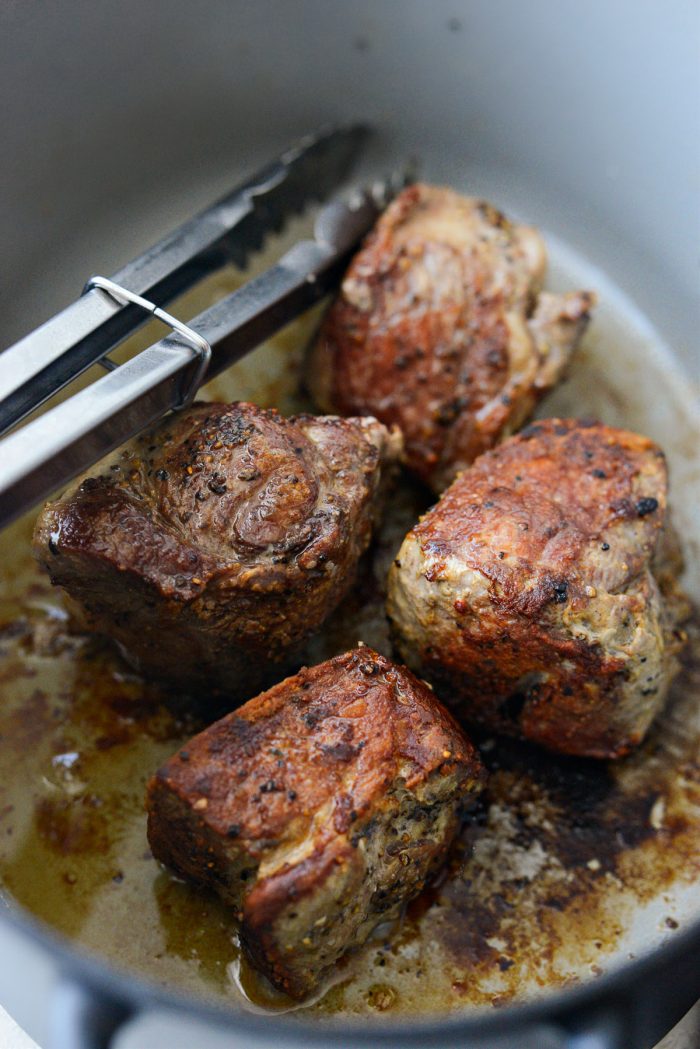 Once your dutch oven is hot and the oil shimmers, work in batches of 2, searing the pork for 3 minutes on all sides. This should take a total fo 36 minutes total for both batches.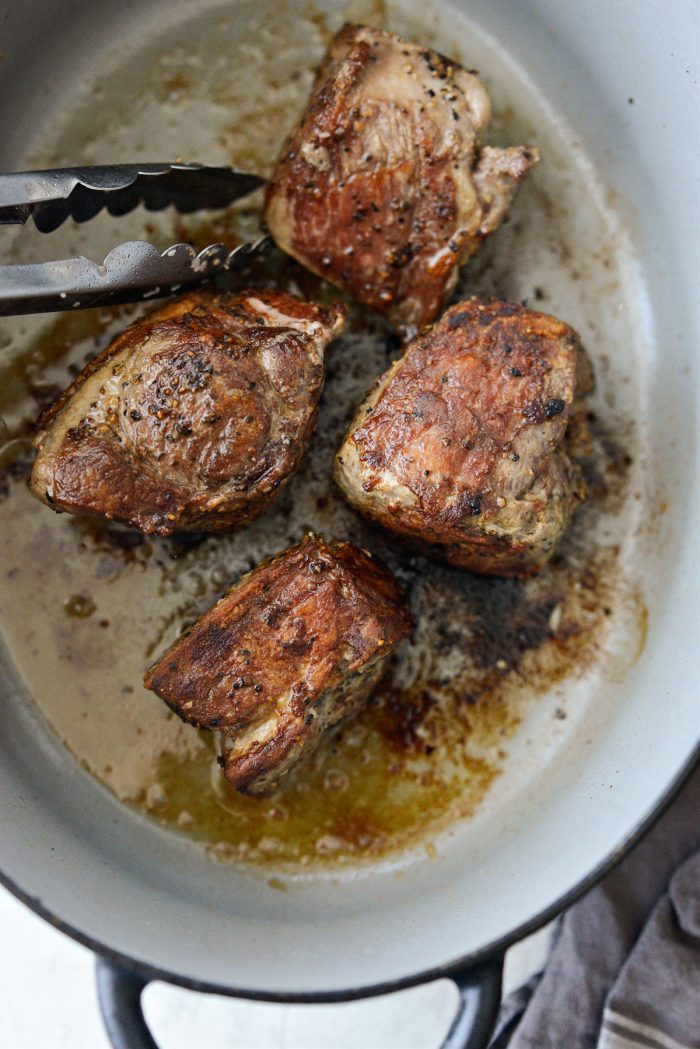 Beautiful.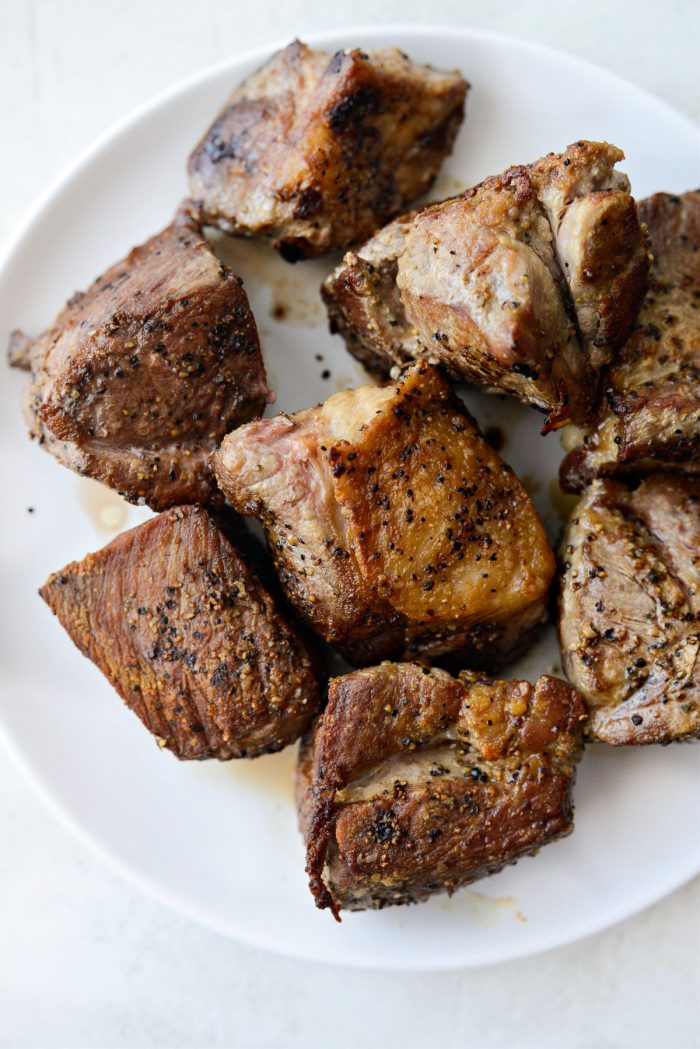 Once browned, transfer the seared pork to a clean plate and set it off to the side.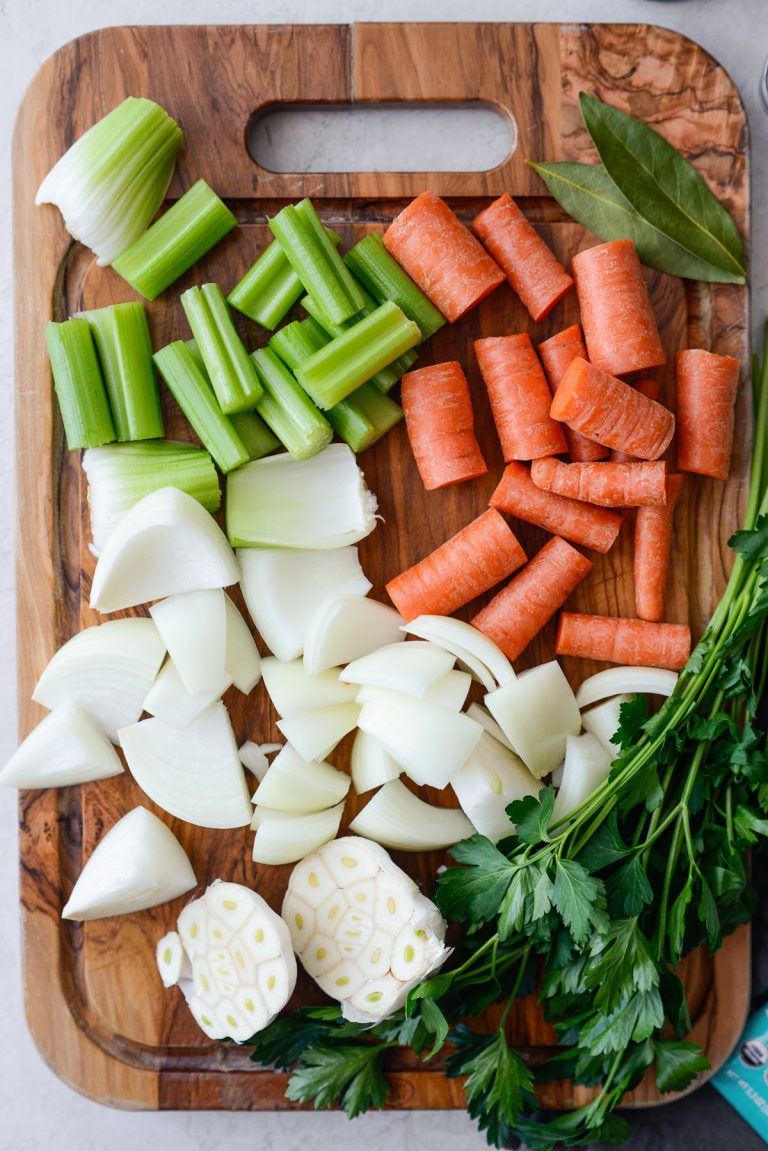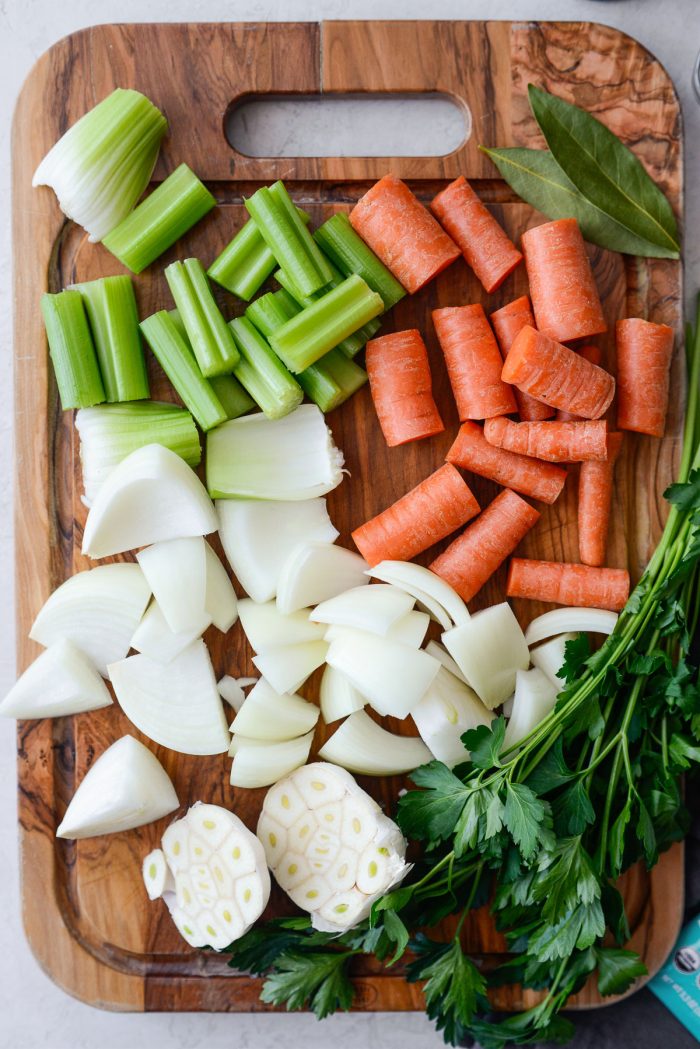 While the pork is searing, prep the vegetables.
Meanwhile, roughly chop up three carrots, three short stalks of celery and one good size yellow onion. You'll also need a head of garlic that has been cut in half and a small bunch of parsley and 2 bay leaves – 3 if small or broken.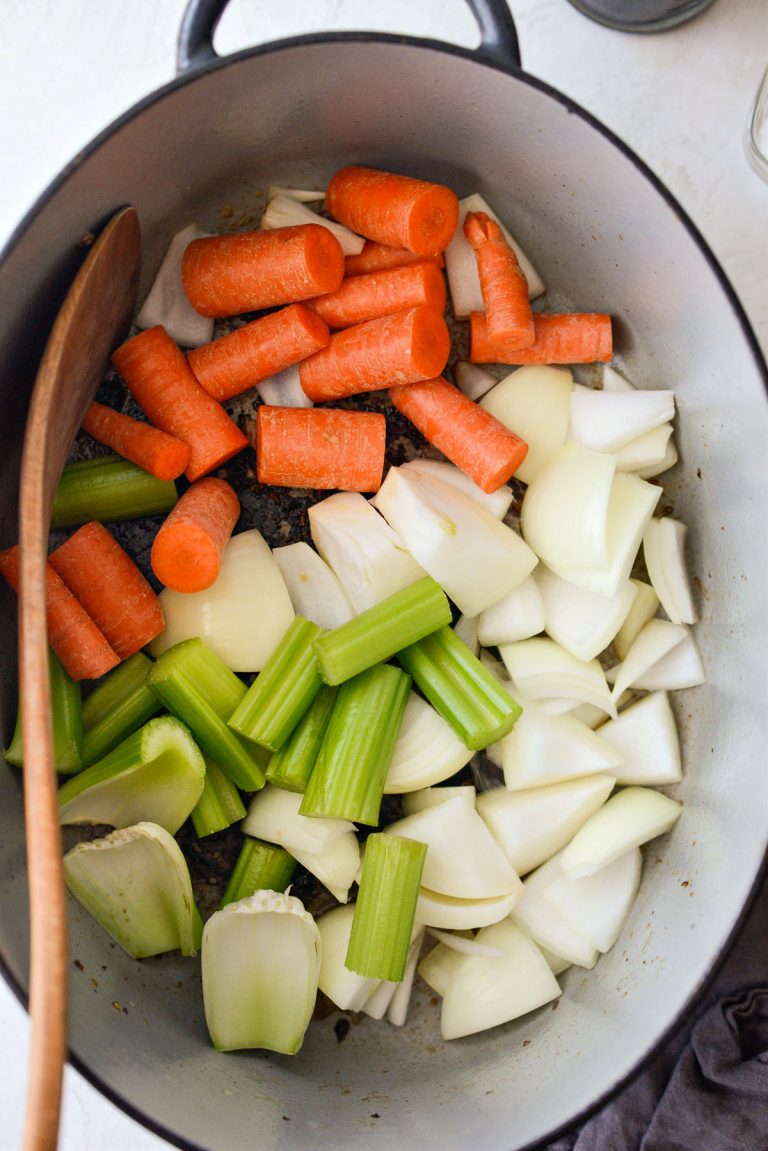 After the pork has been removed, reduce the heat to medium add in the onions, carrots and celery to the pan.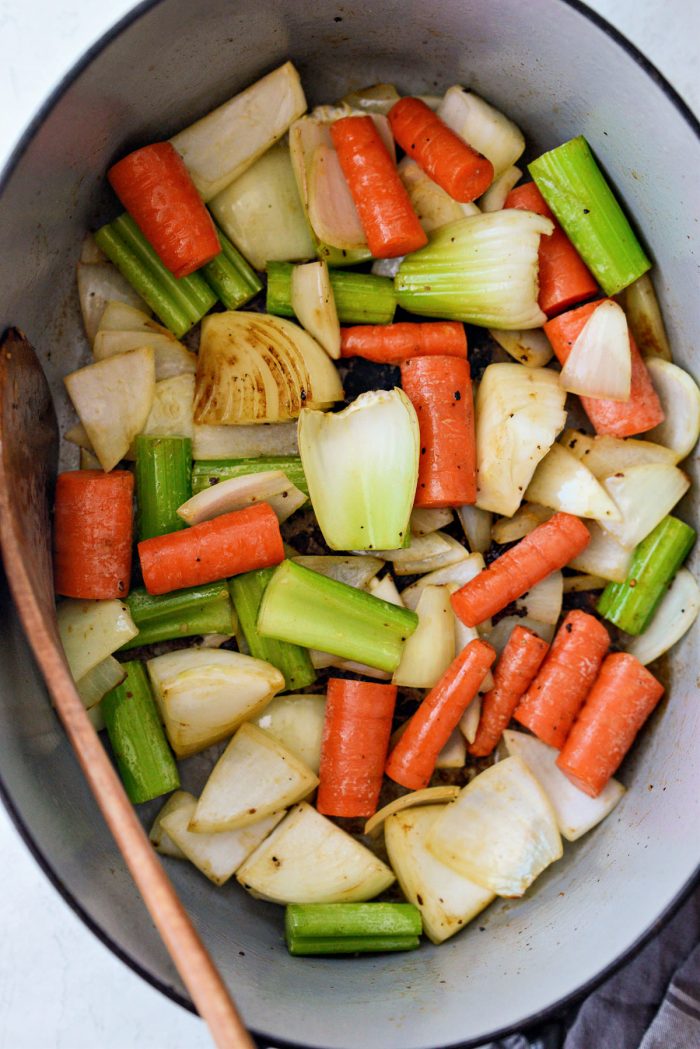 Cook until they start to get some color to them. This takes only a few minutes because the pot is still pretty hot.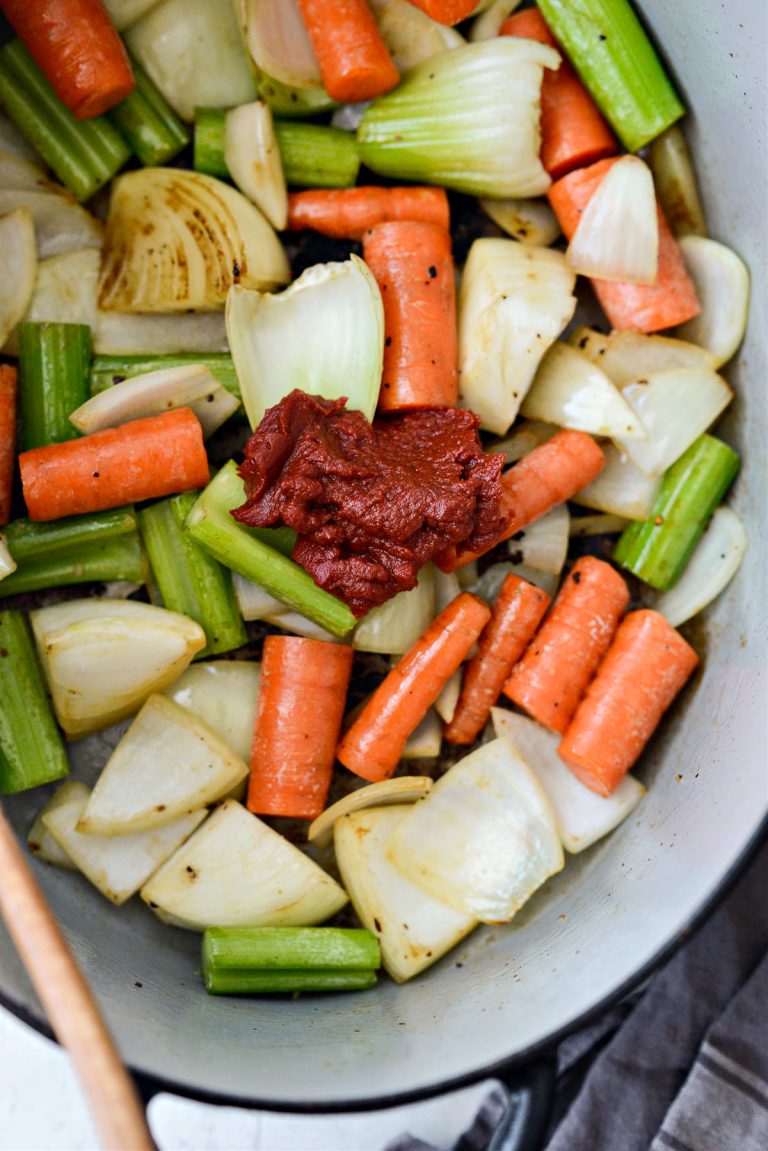 Measure and add in 3 tablespoons of tomato paste.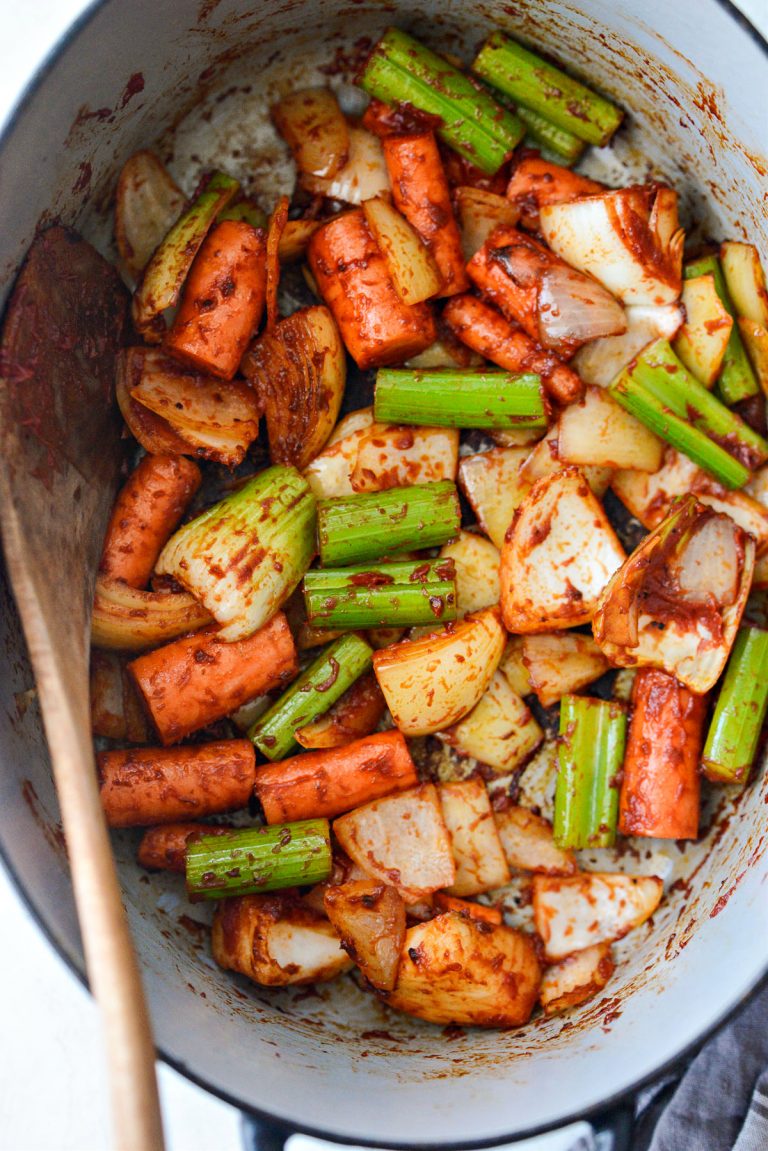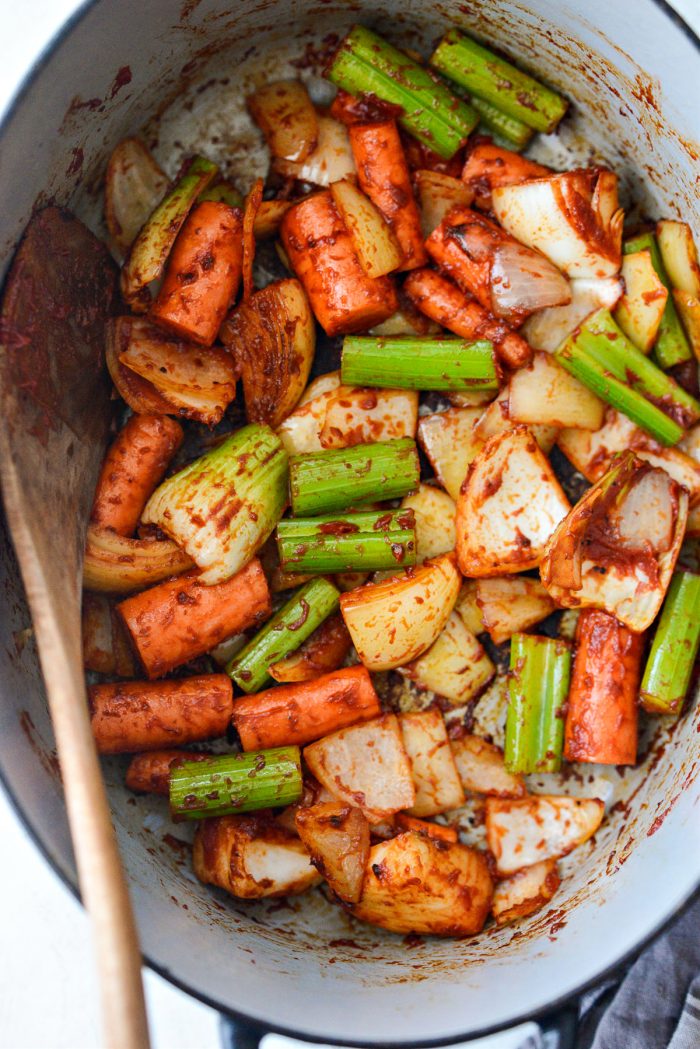 Stir and cook for 1 to 2 minutes.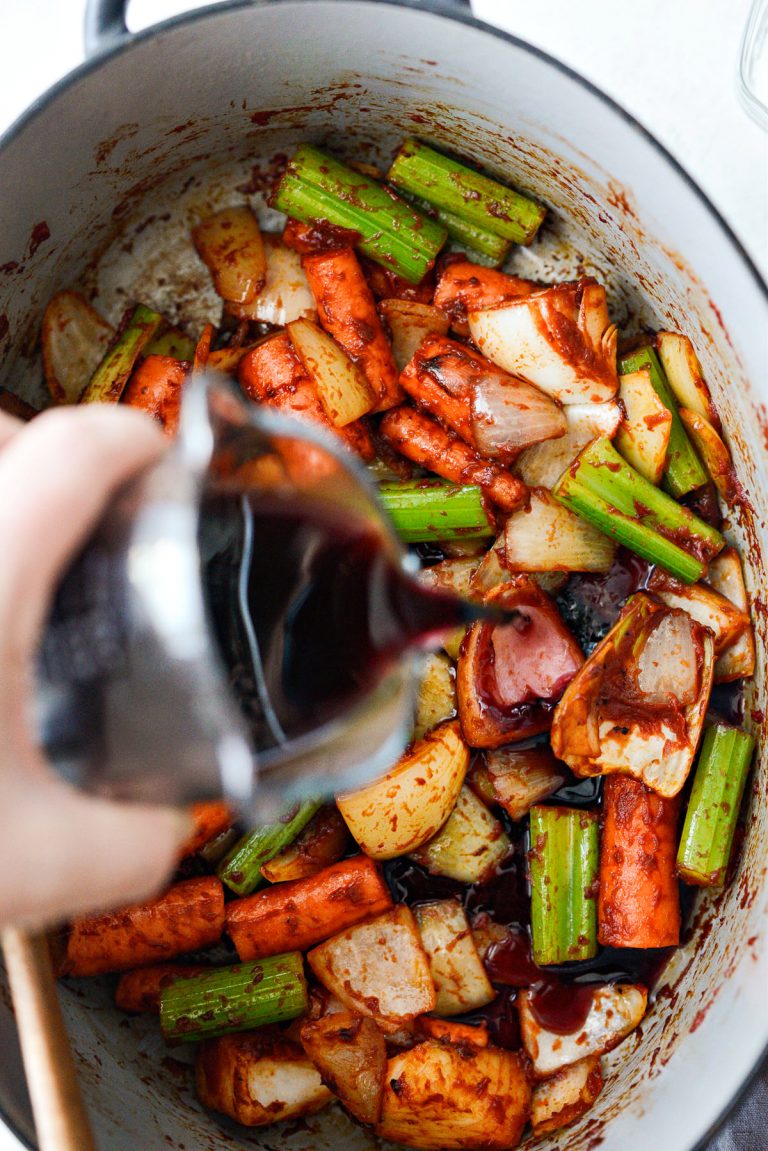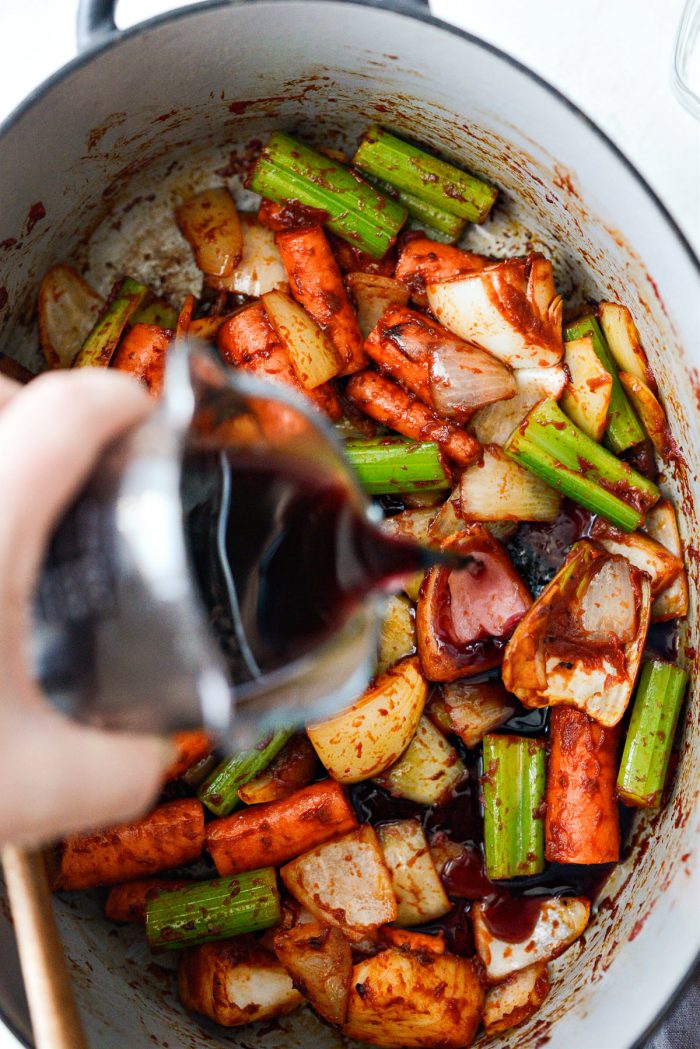 Pour in 1 cup of dry red wine.
Use a wooden spatula to scrape up any browned bits from the bottom of the pot.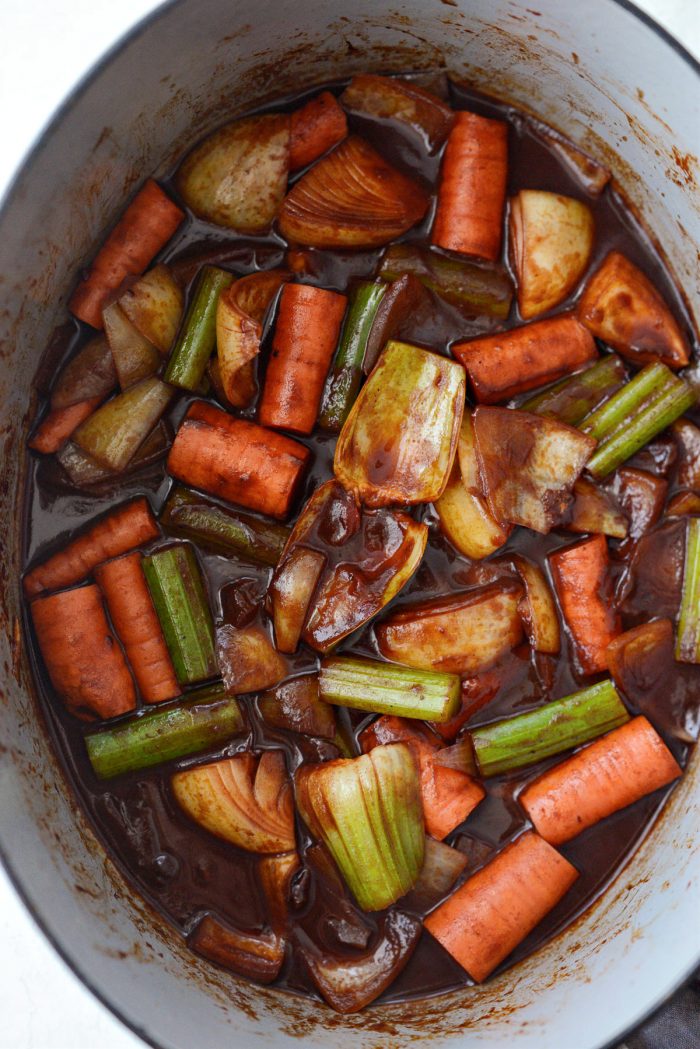 Continue to simmer, reducing it by half. I always eyeball this. Again this should only take a few minutes.
Stir in 2 tablespoons of flour, this will thicken the sauce perfectly while it's in the oven.
Next, add in the parsley and garlic halves.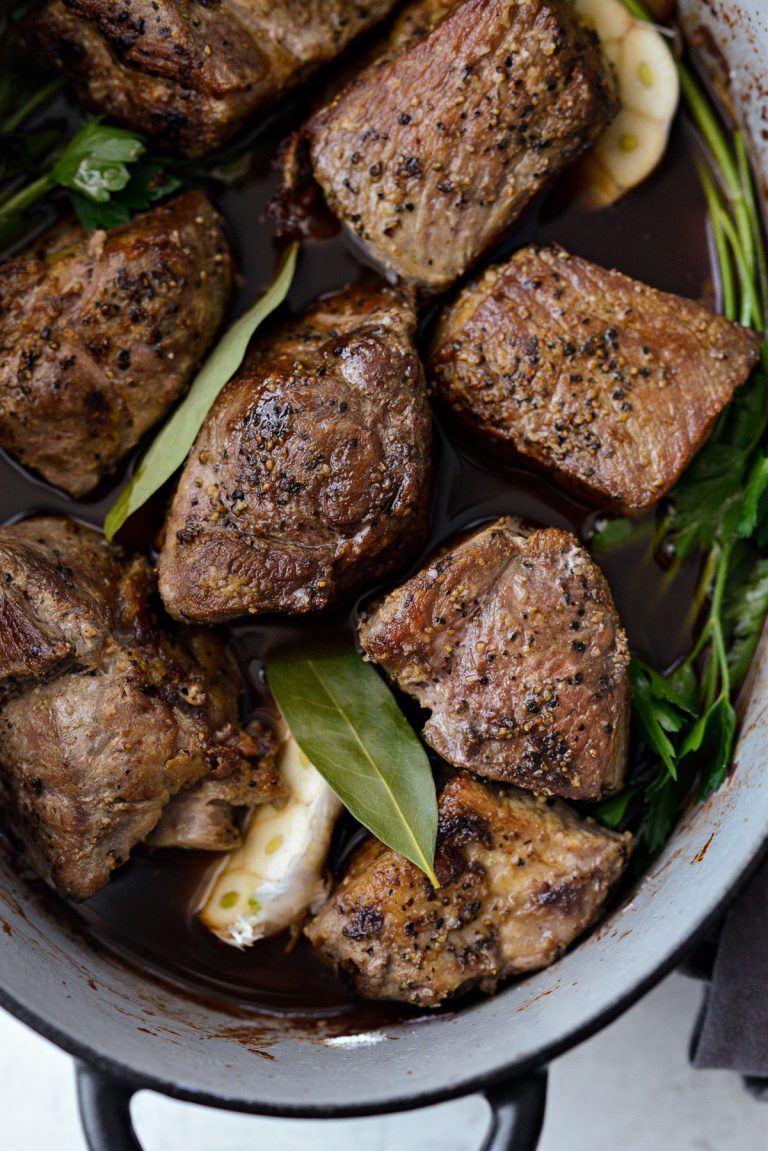 Nestle the seared pork into the broth-y, tomato-y, vegetable goodness and drop in a couple of bay leaves.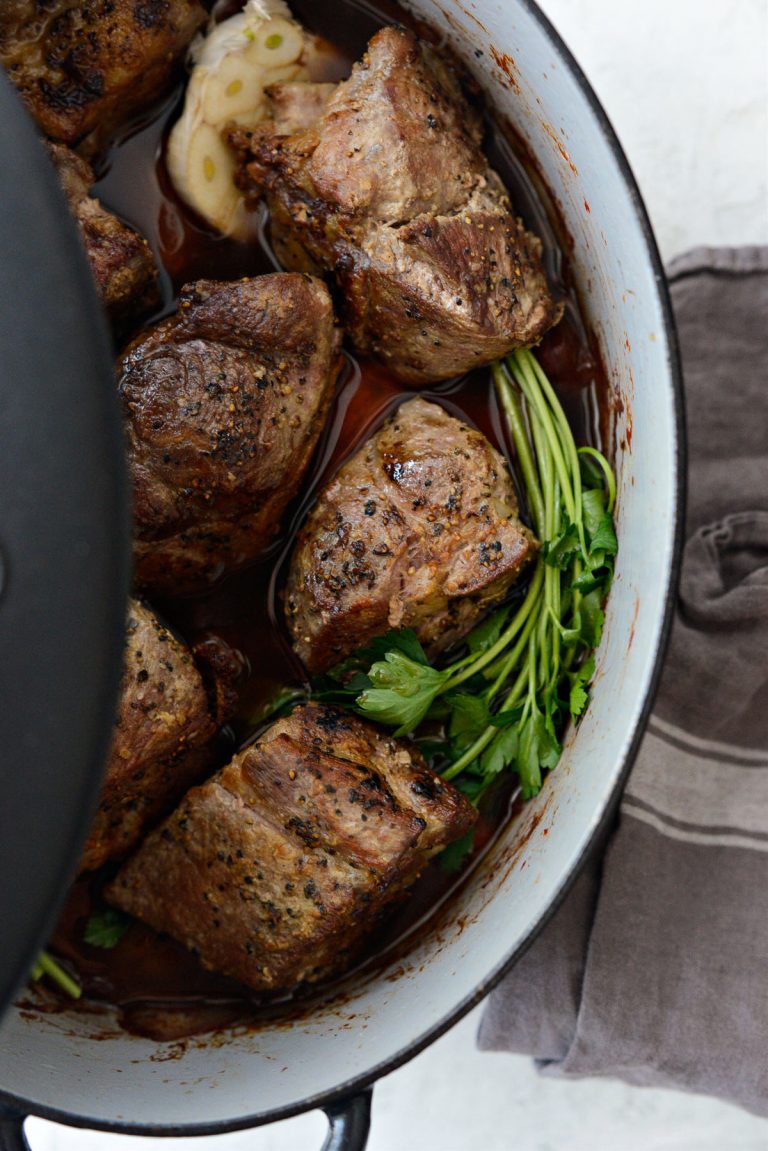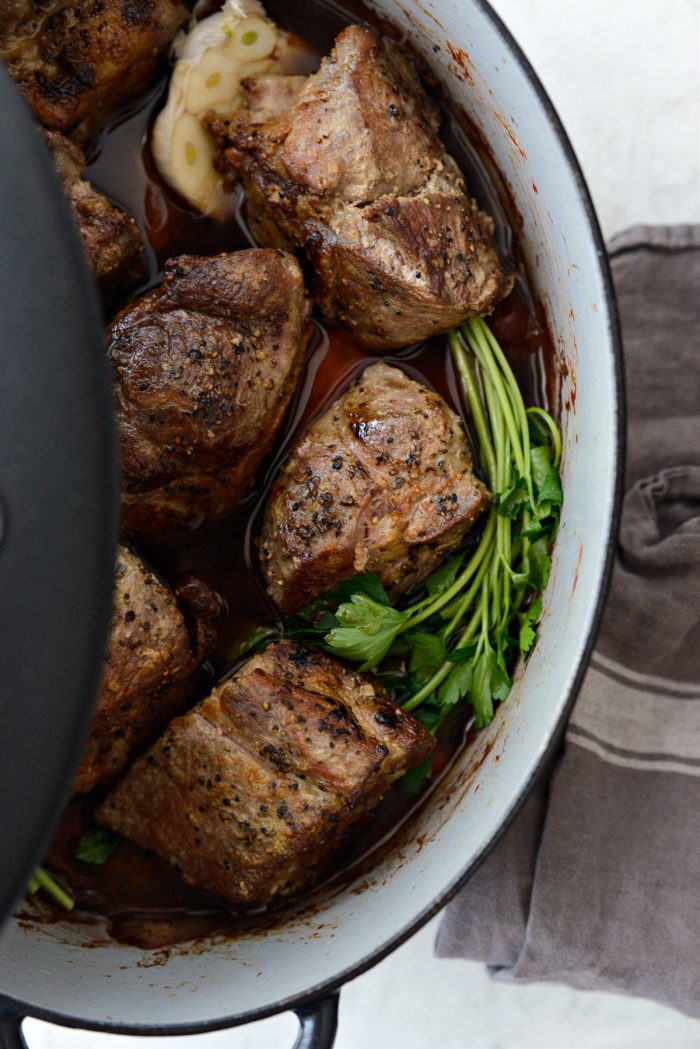 Cover and cook for about 2-1/2 to 3 hours.
At this point you won't be able to stand the amazing aroma wafting through you home from the wine braised pork shoulder. It's ridiculously mouth-watering. Use tongs to remove the pork to a cutting board or platter. What remains is a thick sauce and the vegetables I poured the sauce through a mesh strainer set over a bowl.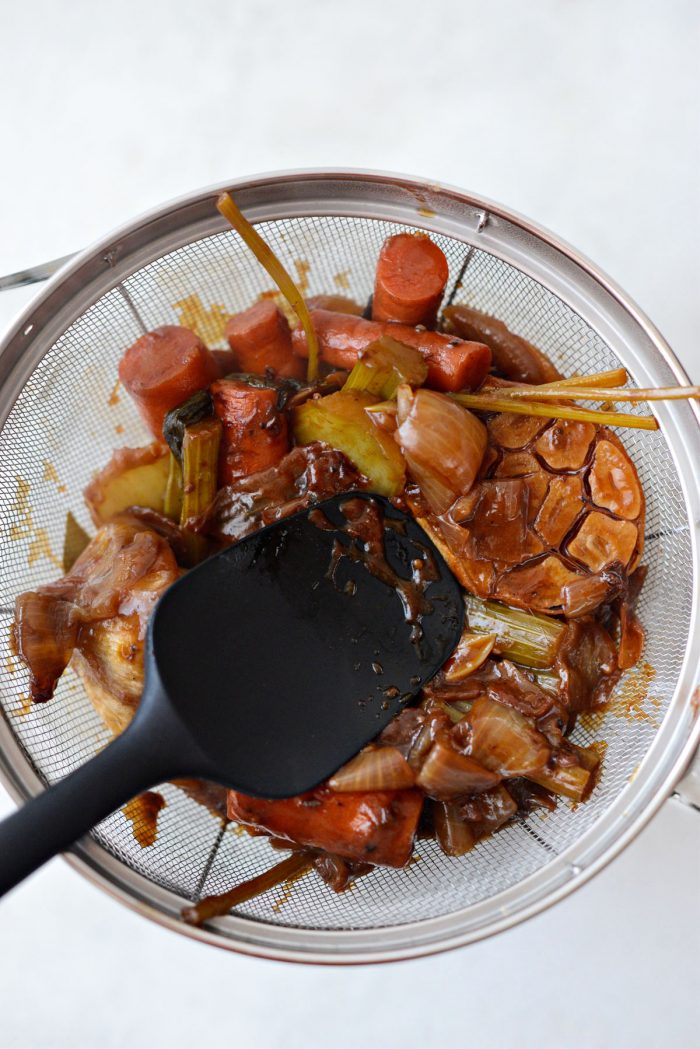 Press on the vegetables with the back of a spoon or spatula to get the maximum sauce out of the whole deal.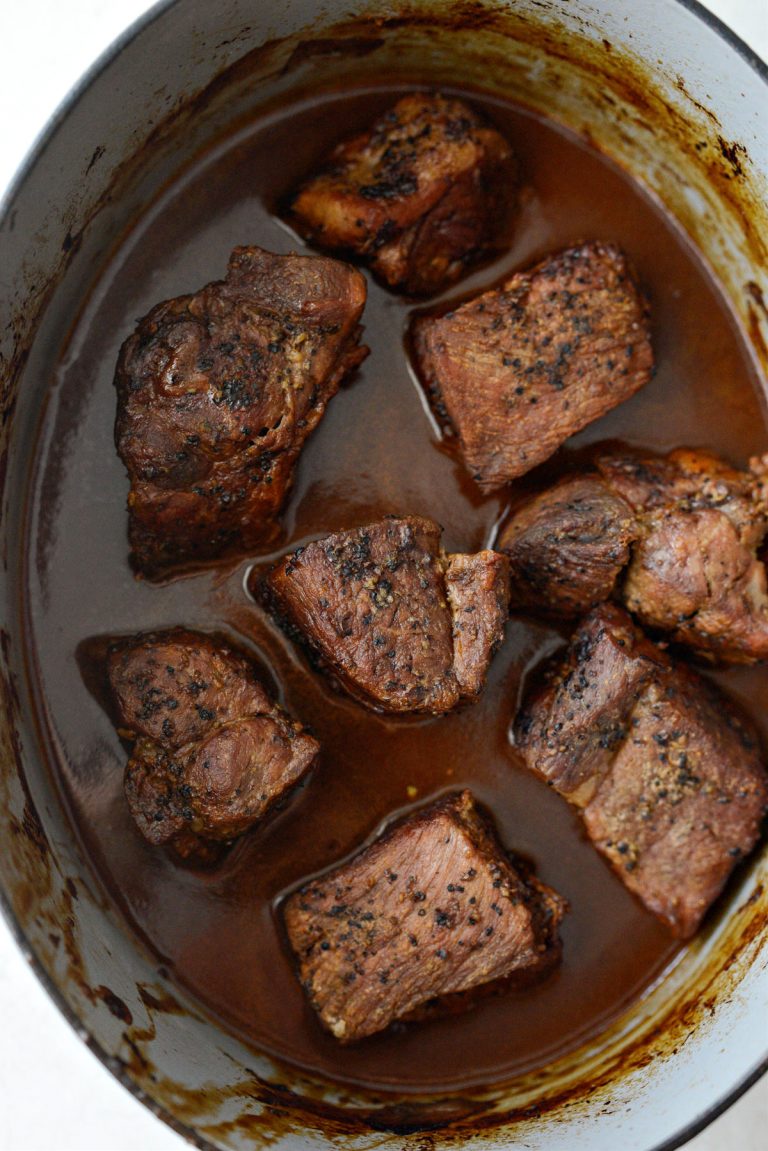 Pour the strained sauce back into the pot and discarded everything in the strainer.
They've done their job flavoring the sauce.
Next, add the pork back in, cover the pot with the lid and keep it warm in a 200° oven while making the the most delicious grits ever.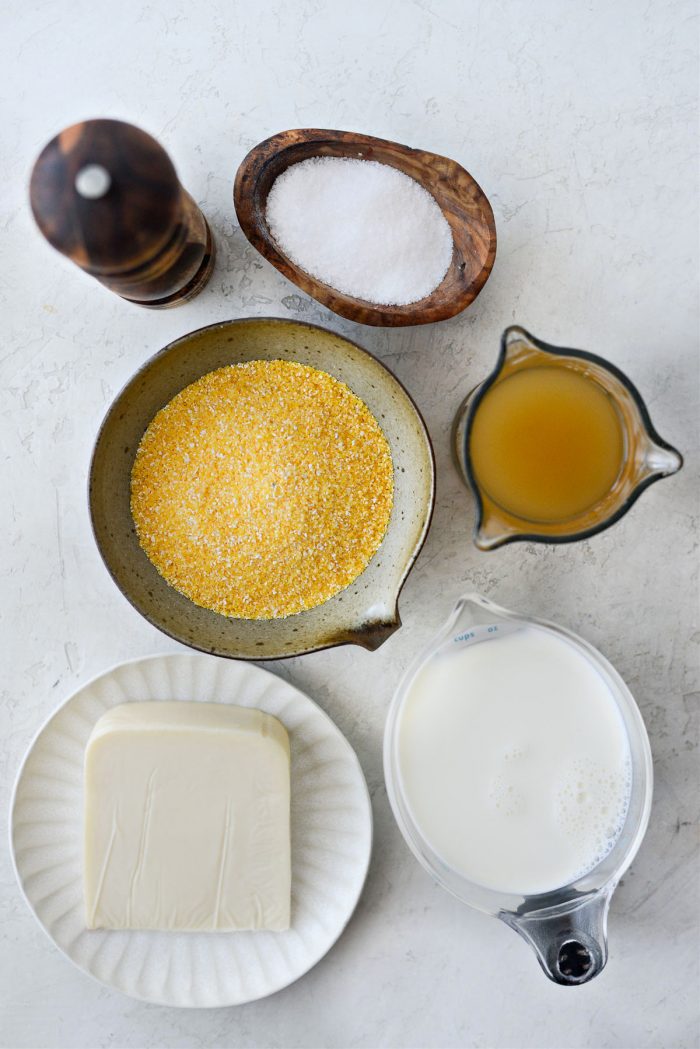 To Make The Cheesy Fontina Grits You Will Need:
milk
low-sodium chicken broth
coarse corn grits or polenta
kosher salt
fontina cheese
freshly ground black pepper.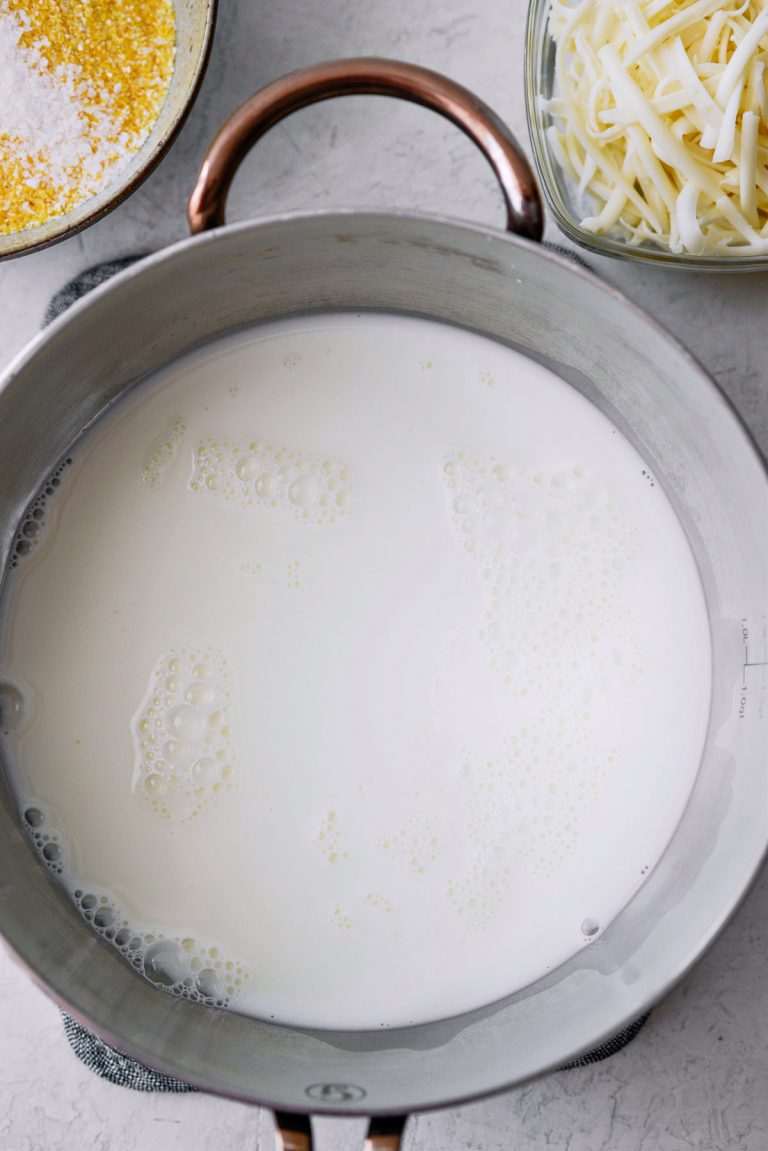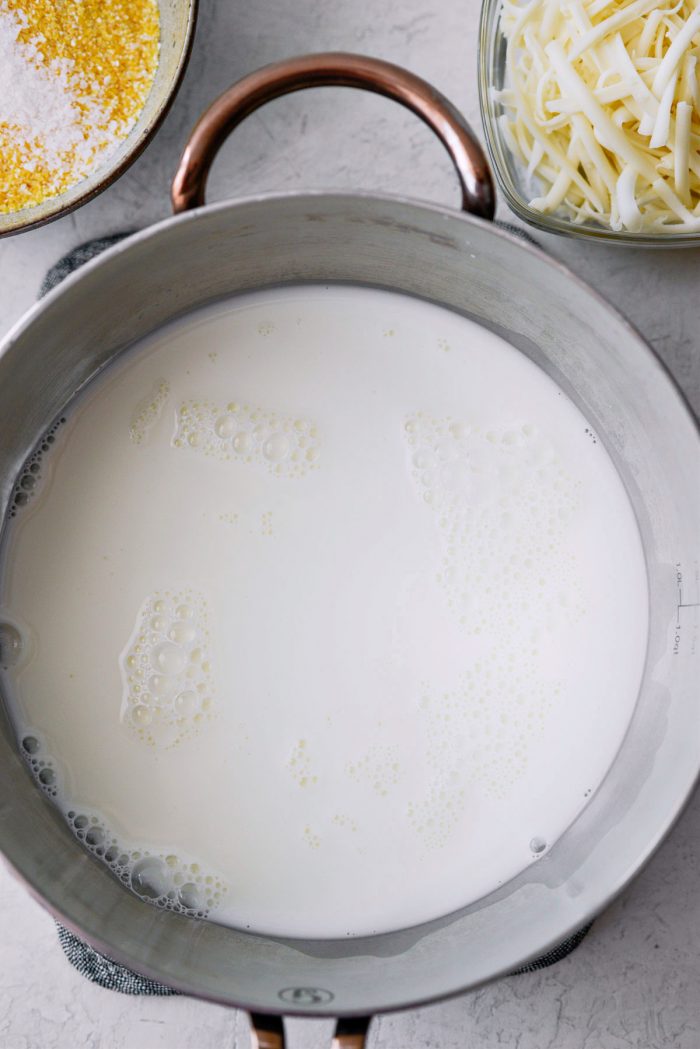 Pour 2 cups milk and 1 cup low-sodium chicken broth into a saucepan and bring to a low-boil. Watch carefully, this happens very quickly.
Do not scorch the milk or bring to a full boil.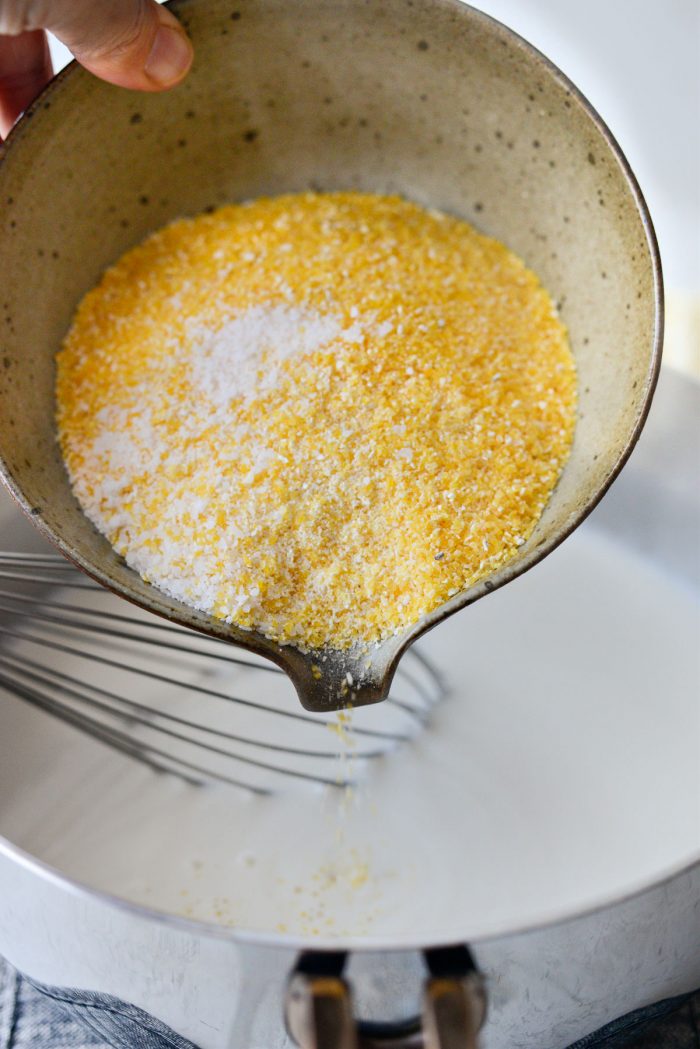 Pour in 1 cup grits and 3/4 teaspoon kosher salt. Whisk constantly while the grits start to cook and absorb the liquids. Reduce the heat to medium or medium-low as needed.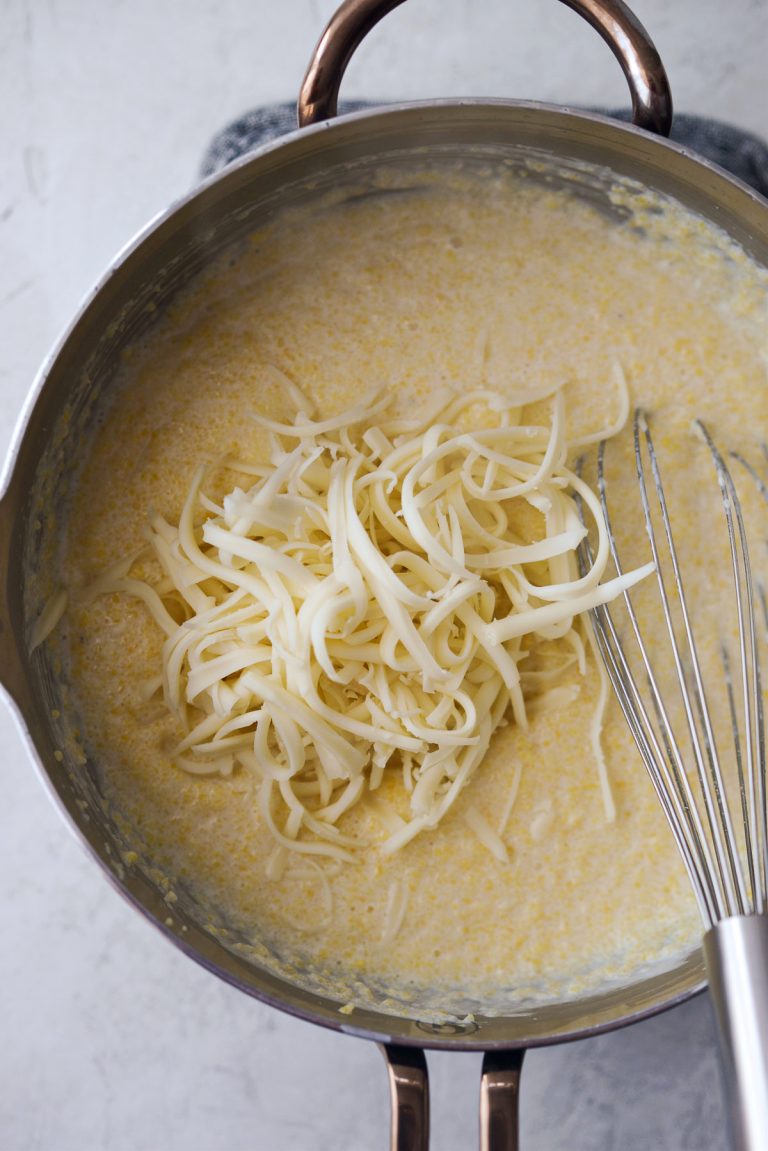 Once the liquids are absorbed and the mixture is creamy, after about 3 to 4 minutes, remove off of the heat and add roughly 1/2 cup of freshly grated fontina cheese.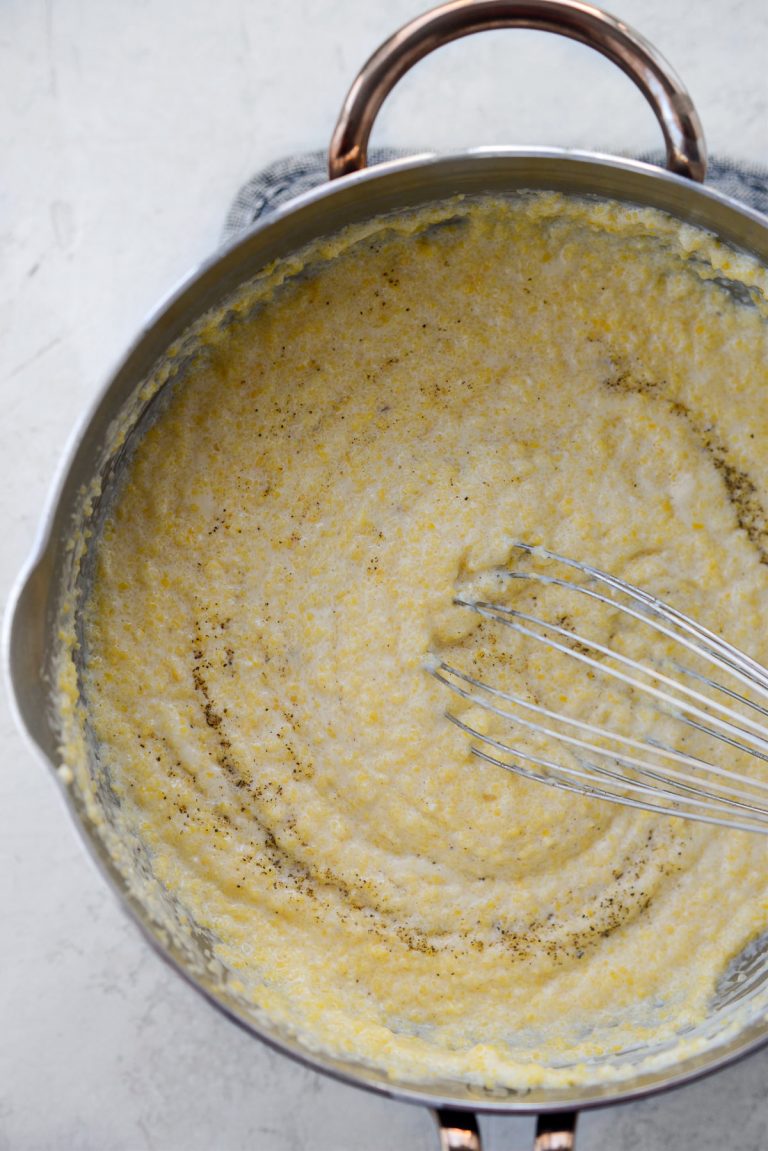 Lastly, stir in lots of freshly ground black pepper.
Whisk until the cheese is melted.
I could literally eat this whole entire pot with a spoon.
Divide the cheesy Fontina grits into bowls and topped it with one of the chunks of gloriously braised pork shoulder.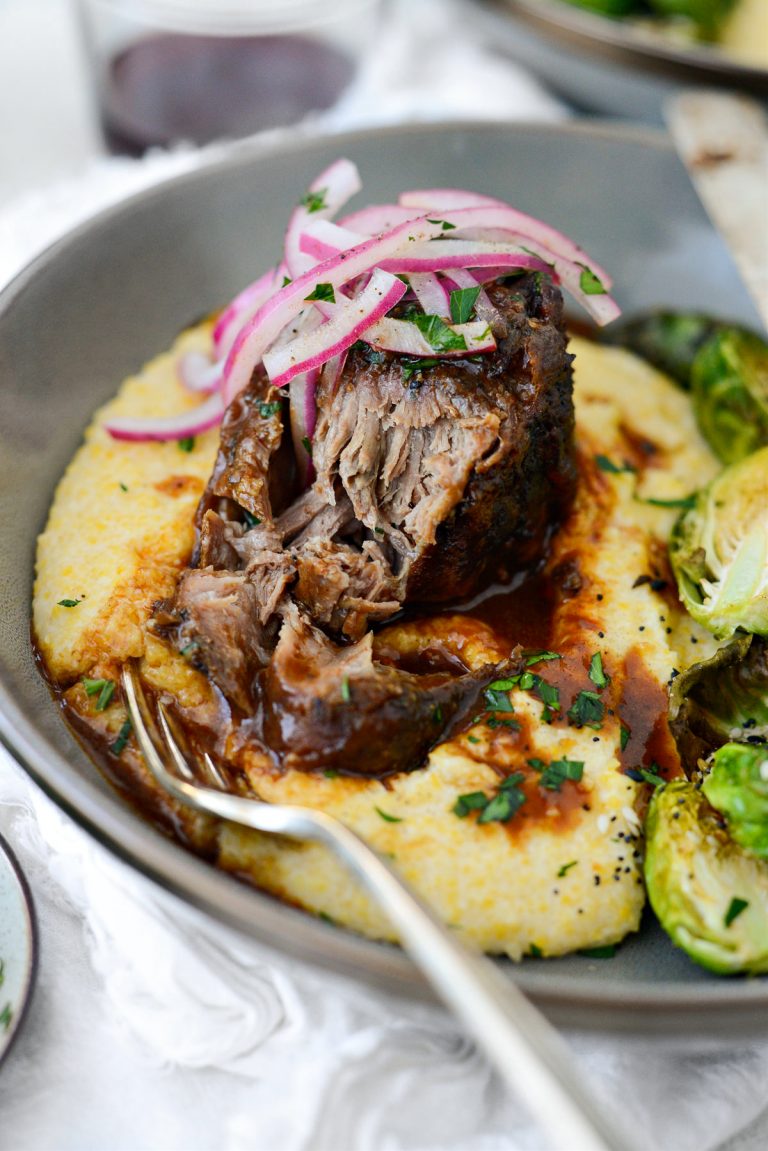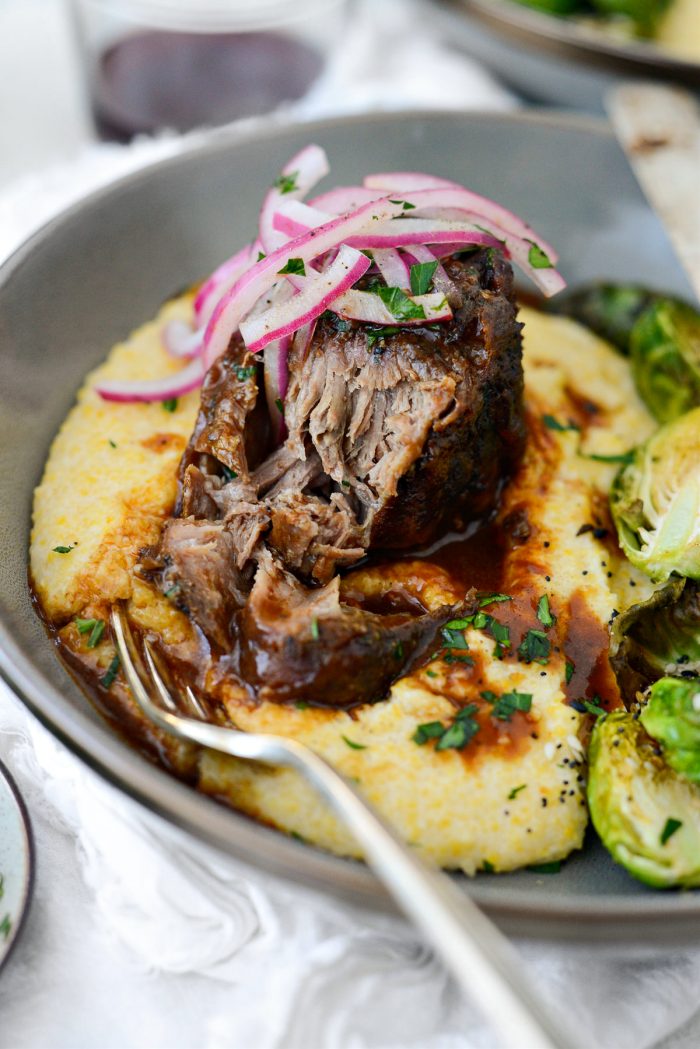 Then drizzle a little bit of the sauce from the pot and top the braised pork shoulder with homemade pickled red onions and minced parsley. The acidity from the pickled onions works really well with this fattier cut of pork.
Wine braised pork shoulder and cheesy fontina grits is my go to comfort meal.
I love that it's casual enough for a Sunday super or fancy enough for guests. It's absolutely incredible.
Enjoy! And if you give this Wine Braised Pork Shoulder recipe a try, let me know! Snap a photo and tag me on twitter or instagram!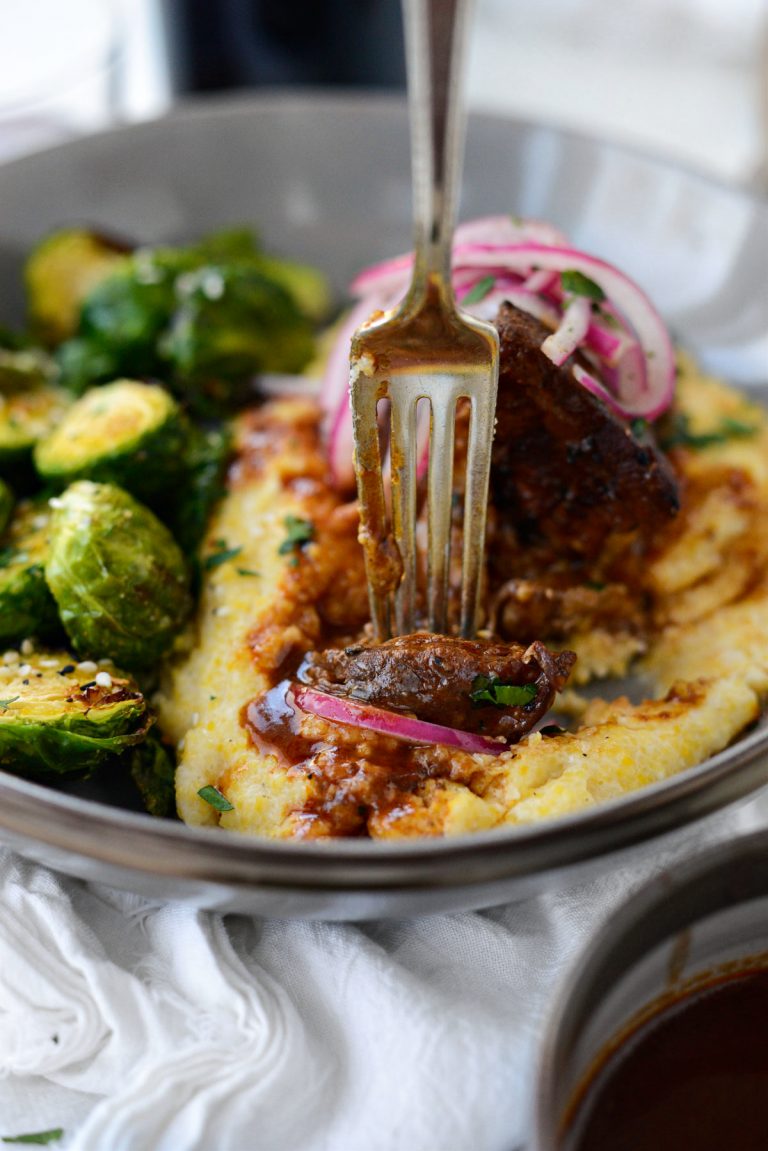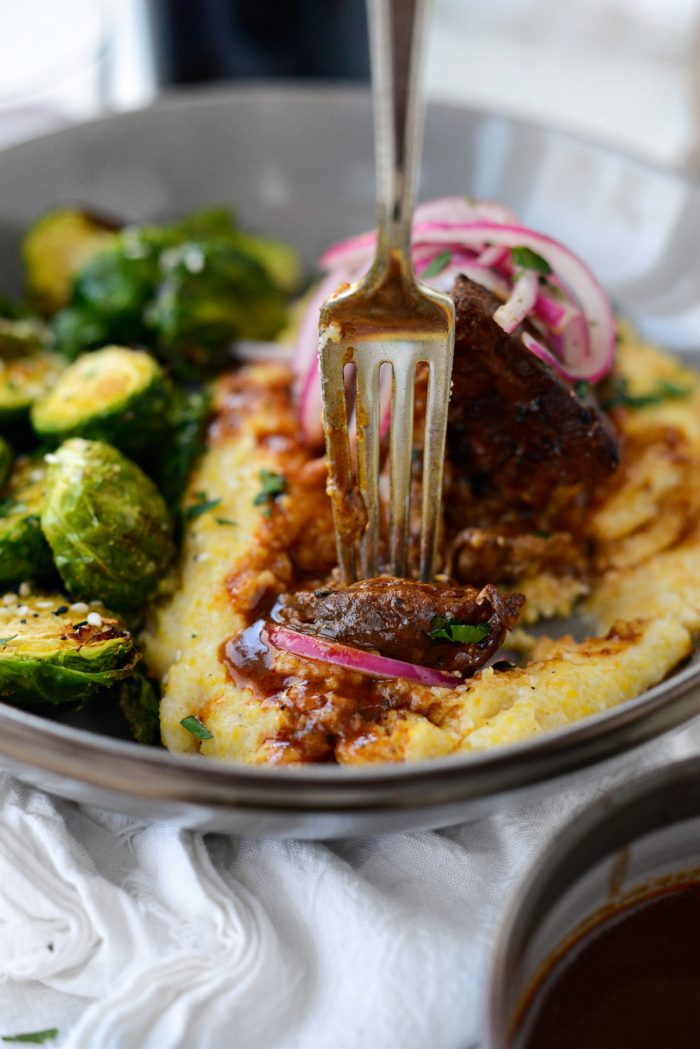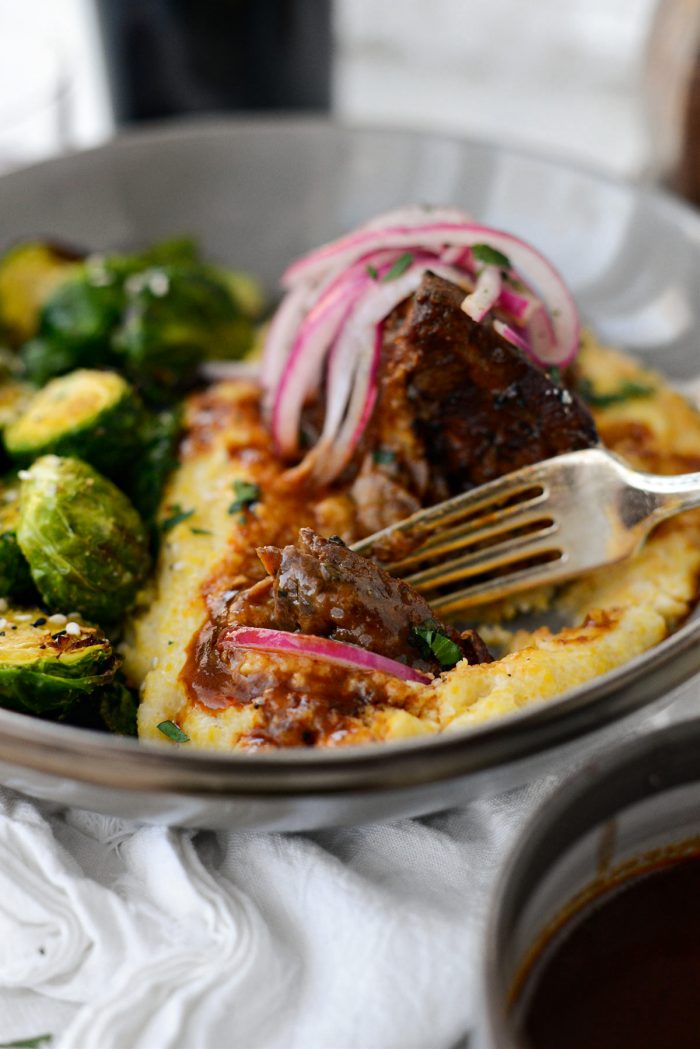 Yield: 8 servings
Braised Pork Shoulder with Cheesy Fontina Grits
Braised Pork Shoulder served over fontina grits is the cozy comfort in a bowl. Slowly braised pork nestled into creamy cheesy grits, topped with red wine pan juice gravy, pickled red onions and fresh minced parsley. It doesn't any cozier than this.
Ingredients
FOR THE BRAISED PORK:
4 pounds boneless pork shoulder
kosher salt
freshly ground black pepper
2 tablespoons light olive oil, ro bacon fat plus more as needed
1 large yellow onion, roughly chopped
3 carrots, roughly chopped
3 celery stalks, and any leafy green parts, roughly chopped
3 tablespoons tomato paste
1 cup dry red wine
2 tablespoons unbleached all-purpose flour
1 head garlic, halved
1 bunch parsley, stems and leaves
2 cups low-sodium beef broth
2 bay leaves
FOR THE FONTINA GRITS:
2 cups whole milk
1 cup low-sodium chicken broth
1 cup coarse corn grits or polenta
3/4 teaspoon kosher salt
1/2 cup freshly grated fontina cheese
1/4 teaspoon freshly ground black pepper
Instructions
MAKE THE BRAISED PORK:
Heat a large Dutch oven over medium-high heat and add in the bacon fat or olive oil. And also preheat your oven to 325°.

Meanwhile; divide the pork shoulder into 8 equal portions and pat dry with paper towel.

Season all sides of the pork generously with kosher salt and coarse black pepper.

Once the pot and oil are hot, work in batches, sear the pork for 3 minutes on all sides or until each side has formed a good crust and is a deep golden color. Once seared, remove the pork to a large, clean platter and repeat with remaining pork, adding more oil or bacon fat if needed. This whole process should take about 36 minutes.

To the Dutch oven, add in the roughly chopped carrots, onion and celery. Stir and cook. Once they start browining, add in the tomato paste, stir and cook for one minute.

Deglaze the pan by pouring in the red wine, scraping up the brown bits on the bottom of the Dutch oven. Reduce until 1/4 to 1/2 cup is left.

Stir in the flour and add the parsley and garlic halves.

Nestle the browned pork pieces into the vegetables and pour in about two cups of beef broth. The liquids should not cover the pork, just close to the top leaving the pork exposed. Add in the parsley and bay leaf before covering. Place the whole Dutch oven in your preheated oven and braise for 2-1/2 to three hours.

Once braised, carefully remove the pot from the oven. Using tongs, remove and transfer the pork to a platter.

Carefully pour the sauce and vegetables through a mesh strainer set over a large bowl. Press on the vegetables to extract all the liquids. Discard the vegetables and pour the sauce back into the Dutch oven. Return the pork (don't cover it in sauce just yet) taste the sauce and adjust the seasonings to your preference.

Cover and keep it all warm in a 200° oven while you prep the grits.
MAKE THE FONTINA GRITS:
Measure out polenta/grits and add the 3/4 teaspoon of salt to the same measuring cup.

In a medium sauce pan, bring up milk and chicken broth to a boil. Watch carefully this happens quickly. Whisk in the polenta/grits and keep whisking until the corn grits have absorbed all of the liquids. Reducing heat as necessary.

Once the liquids have been absorbed add in the grated Fontina and coarse black pepper. Stir until smooth.

Scoop the grits into 4 serving bowls. Place a piece of the braised pork in the center of the Fontina grits and drizzle with some of the sauce. Top with minced parsley and pickled red onions and serve!

These grits will serve 4. Double if serving 8 (see note below)
Notes
If serving 8 then make a double batch of the cheesy grits. Otherwise I make a fresh batch when reheating leftovers.
Serving: 1g, Calories: 531kcal, Carbohydrates: 28g, Protein: 60g, Fat: 16g, Saturated Fat: 6g, Polyunsaturated Fat: 2g, Monounsaturated Fat: 7g, Trans Fat: 1g, Cholesterol: 152mg, Sodium: 622mg, Potassium: 1337mg, Fiber: 2g, Sugar: 6g, Vitamin A: 4738IU, Vitamin C: 15mg, Calcium: 163mg, Iron: 3mg
This post may contain affiliate links.
Buy the Cookbook: Simply Scratch : 120 Wholesome Homemade Recipes Made Easy Now available on Amazon »
THANK YOU in advance for your support!