In this Blackened Salmon Salad baked blackened salmon filets sit on top of spring salad greens with red onion, crumbled blue cheese, toasted pecans, pickled strawberries and is drizzled with a simple strawberry peppercorn vinaigrette. This recipe make for a deliciously light spring salad with robust flavors. Serves 4 entree portions.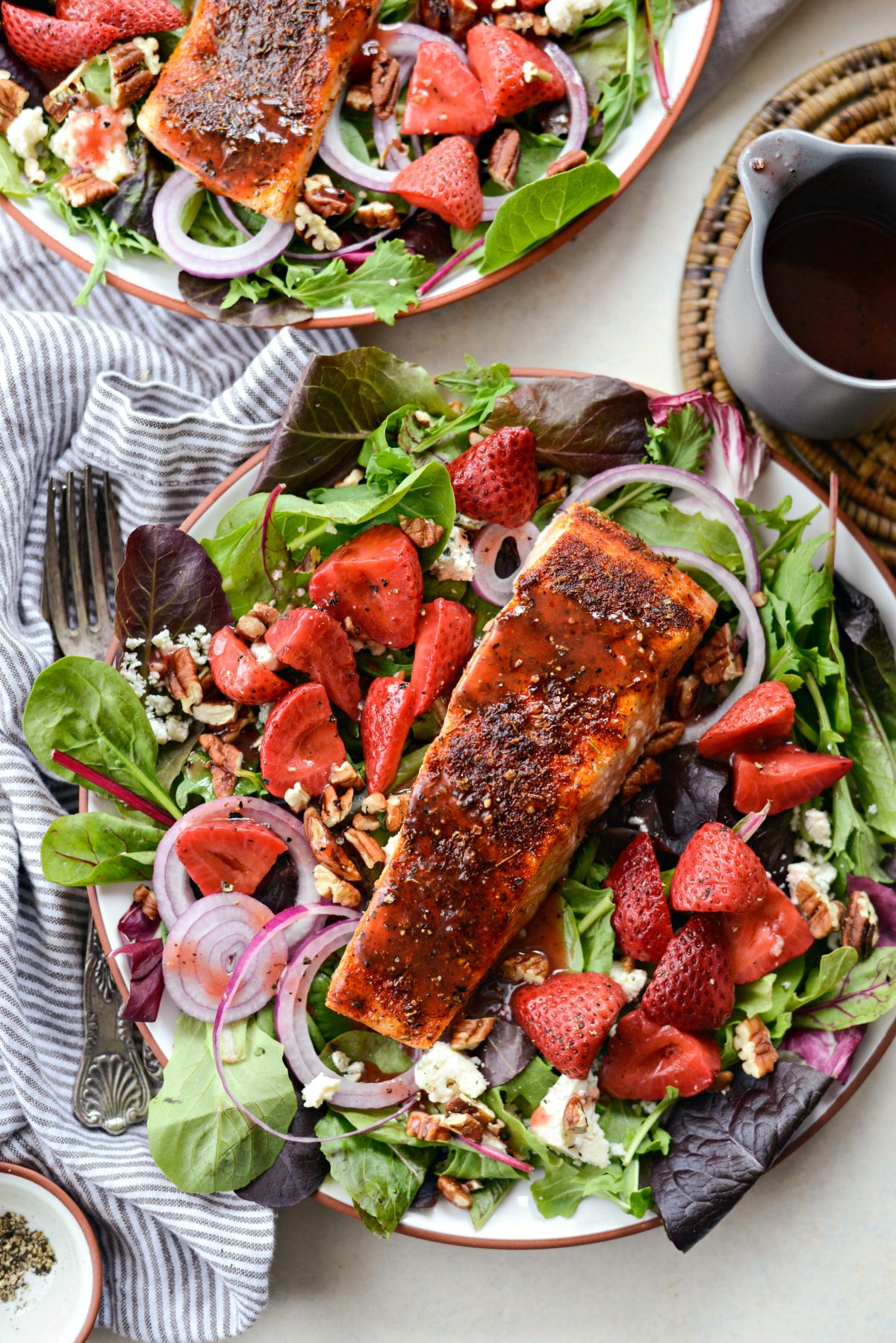 I would like to introduce to you the salad that I've obsessed about the last 5 months. Back in January Pat and I had a night out just the two of us and we stopped at a local restaurant for dinner. I ordered the seasonal chicken salad because pickled strawberries listed in the description. Hello lovelies! That grabbed my attention immediately and I was impatiently waiting for my meal because I could not wait to try them.
To be honest, at first I was a little underwhelmed with the salad.
The chicken on my salad was not warm which was kind of odd to me but I got over it and in the end really enjoyed the salad. And when I say enjoyed, what I really mean is that I couldn't shut up about it. Ask Pat, he knows. I jotted the ingredients down in my five star recipe notebook the moment I was home.
Obviously, I knew that there would be a next time with this salad. The only change would be that I would ask for it with warm chicken. And in two weeks I was back at the same restaurant celebrating my mom's birthday ordering the same salad. When I asked if it was possible the chicken could be warmed, the waitress suggested I ask for the chicken blackened. BRILLIANT.
Fast forward a few months, and although blackened chicken is delish, I really wanted to try this salad with blackened salmon. I don't eat nor blog enough salmon so here is the final masterpiece and believe me it doesn't disappoint. There's some spice from the baked blackened salmon, sweetness in thanks to the strawberry peppercorn jam vinaigrette, tang from the pickled strawberries and well you can probably imagine how delicious the blue cheese and toasted pecans are.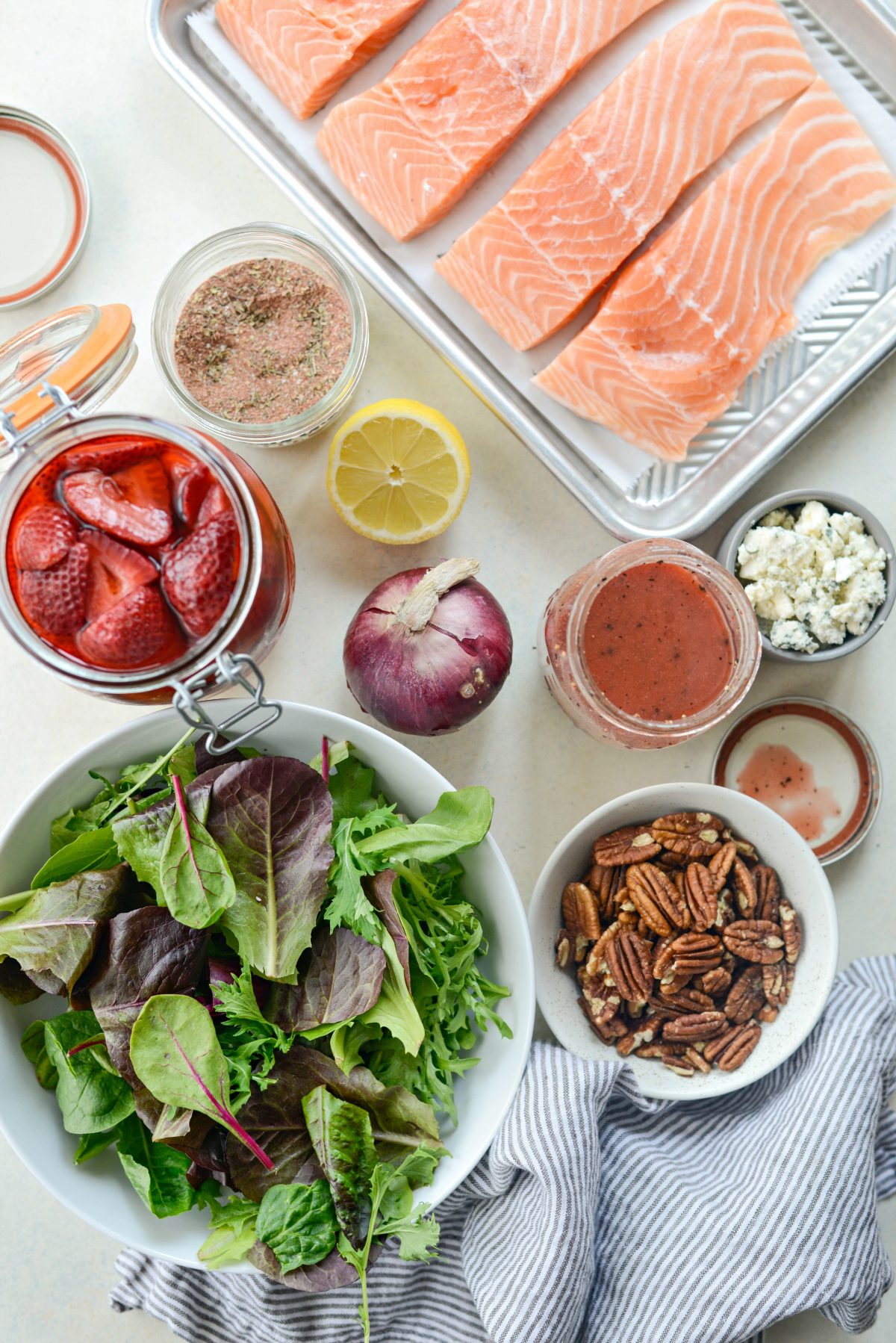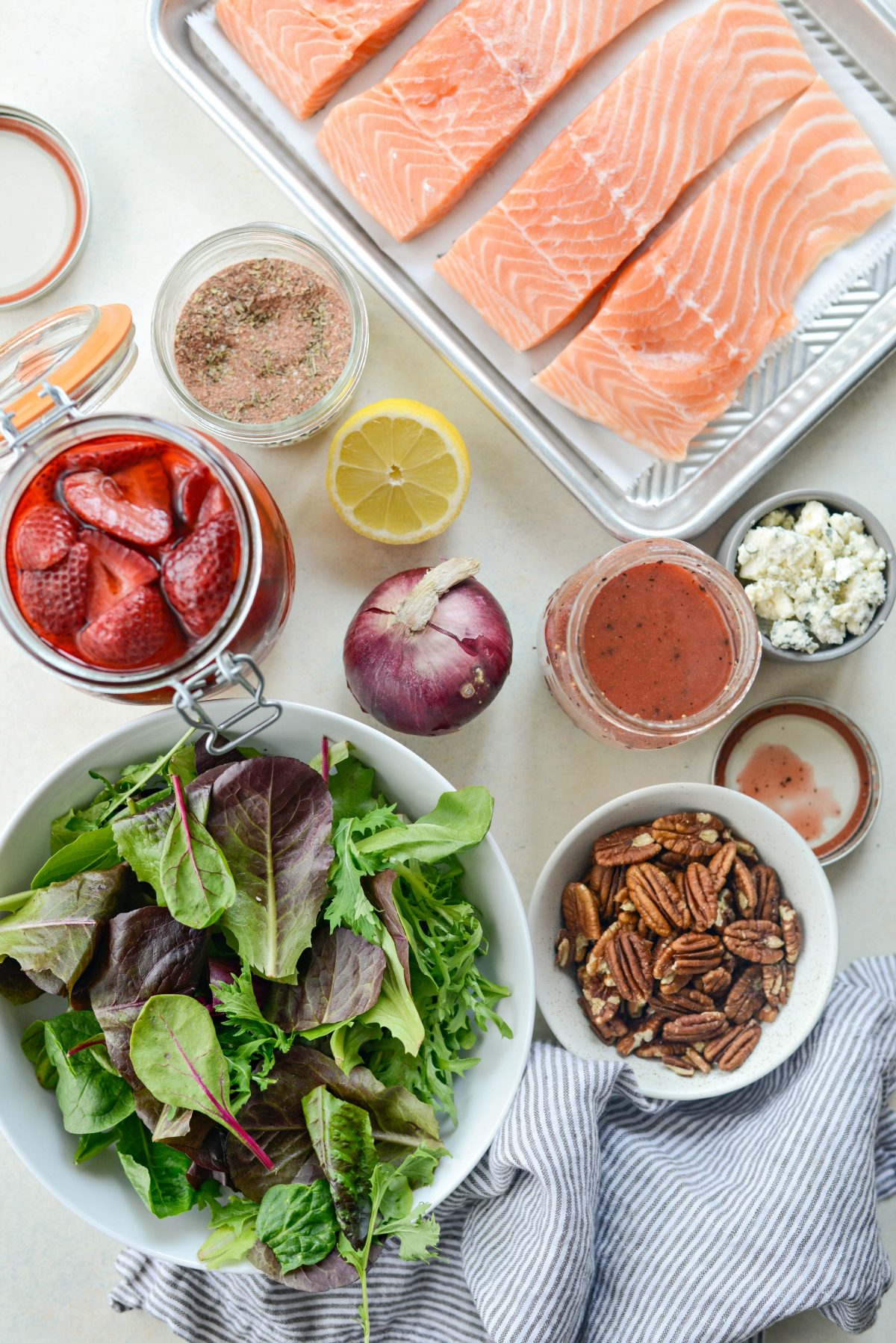 For the baked blackened salmon you will need:
2 pounds salmon cut into 4 filets
olive oil spray
4 teaspoons blackened seasoning
1 lemon
For the strawberry peppercorn vinaigrette you will need:
2 heaping tablespoons strawberry preserves
3 tablespoons olive oil
1 tablespoon red wine vinegar
1/2 a small lemon
1 teaspoon dijon mustard
1/2 teaspoon kosher salt (or to personal taste)
1 teaspoon freshly ground black pepper
Lastly, you will need 10 ounces of spring lettuce blend (or use your favorite), red onion, blue cheese, toasted pecans and pickled strawberries.
It may seem like a lot but I promise this salad comes together pretty quickly.
What are Pickled Strawberries?
Pickled strawberries may just be my new favorite thing. Ripe strawberries, sugar and salt in a white balsamic vinegar is all you need. They're sweet, tangy and addictive and can be used in a ton of different ways, like on salads, topped a goat cheese slathered crostini and spooned over ice cream to name a few. For those who missed last weeks post and are wondering how you can get you some pickled strawberries? Click here for my full post and recipe!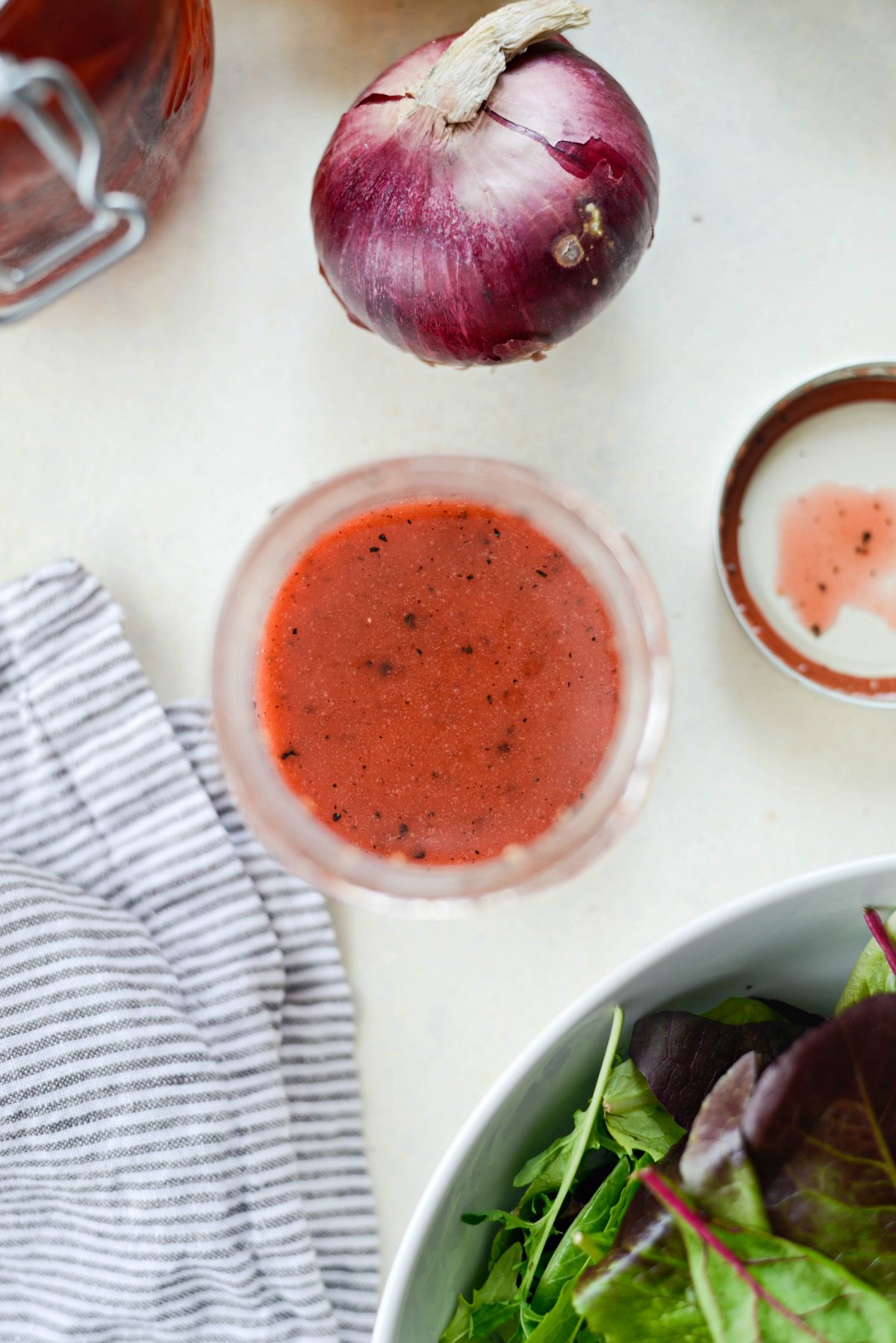 First start with making the strawberry peppercorn vinaigrette because it's easy. It's a jam dressing! I love making jam dressings because the ingredients are simple, can be added to a jar and shaken to combine.
With that said, in a glass jar that has a tight fitting lid combine 2 heaping tablespoons strawberry preserves, 3 tablespoons light olive oil, 1 tablespoon red wine vinegar, the juice of 1/2 a small lemon (about 1 tablespoon), 1 teaspoon Dijon mustard, 1/2 teaspoon kosher salt and 1 teaspoon freshly ground black pepper.
Then, after securing the lid, shake very well to combine and make sure the preserves have melted into the dressing.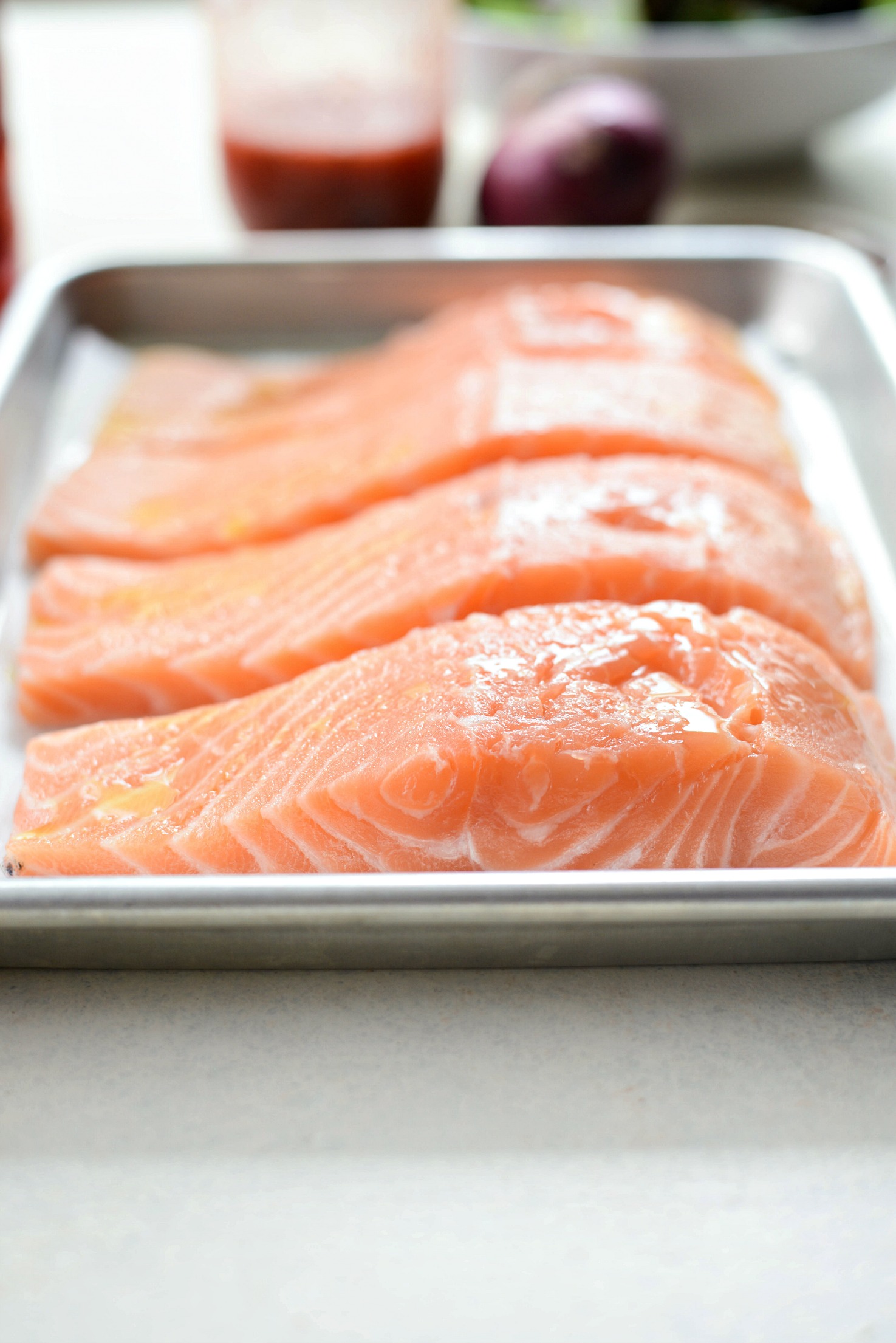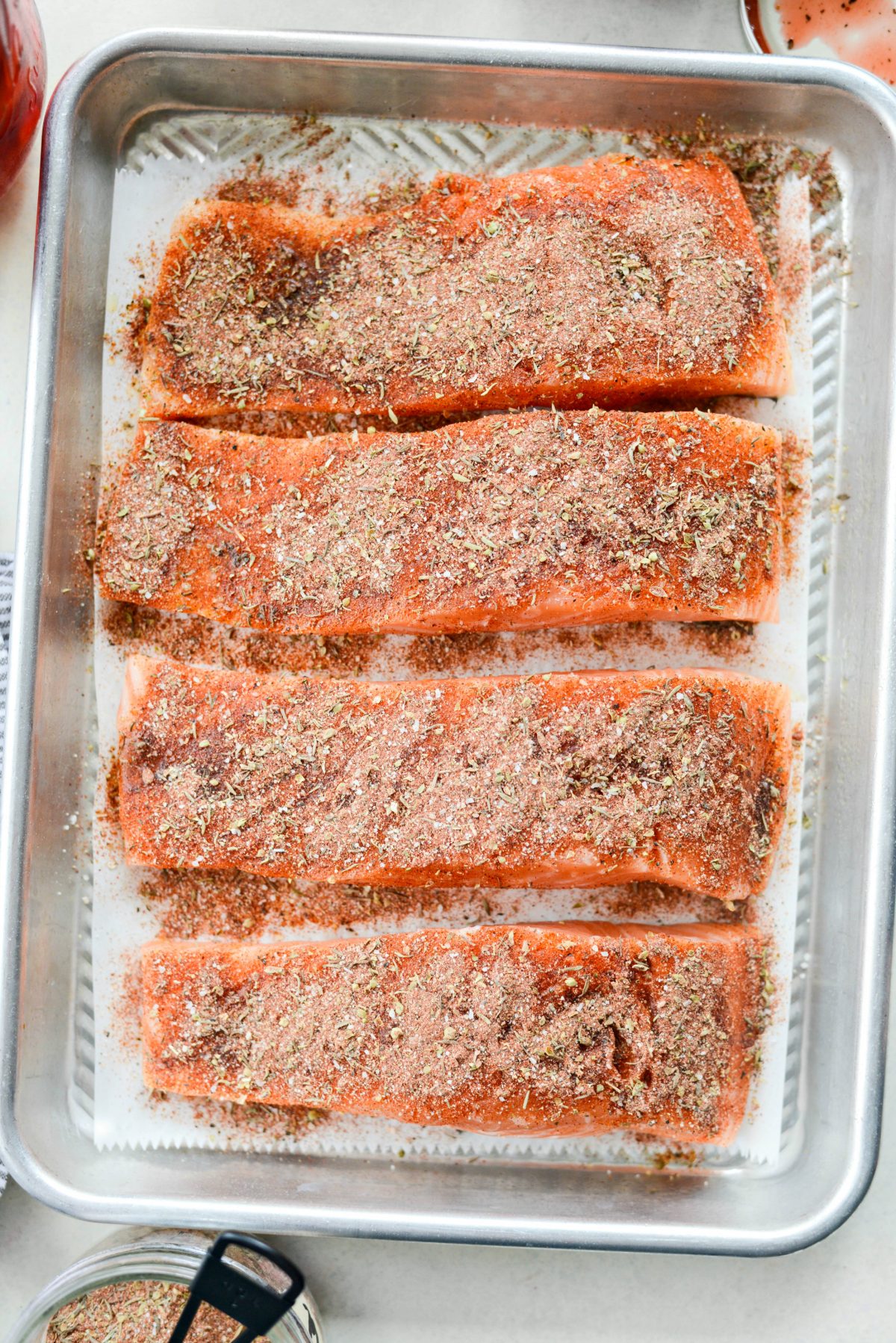 Next, for the baked blackened salmon, you will want to first blot your salmon dry with paper towel. Then spray lightly with olive oil and season with 1 teaspoon blackened seasoning per filet. Bake in your preheated 400° oven for 12 to 14 minutes, give or take depending on the size and thickness of your salmon.
What is Blackened Salmon?
For this blackened salmon salad recipe, I decided on baking the salmon and omitting frying it in a skillet with butter. Saving us all on calories but not lacking in flavor.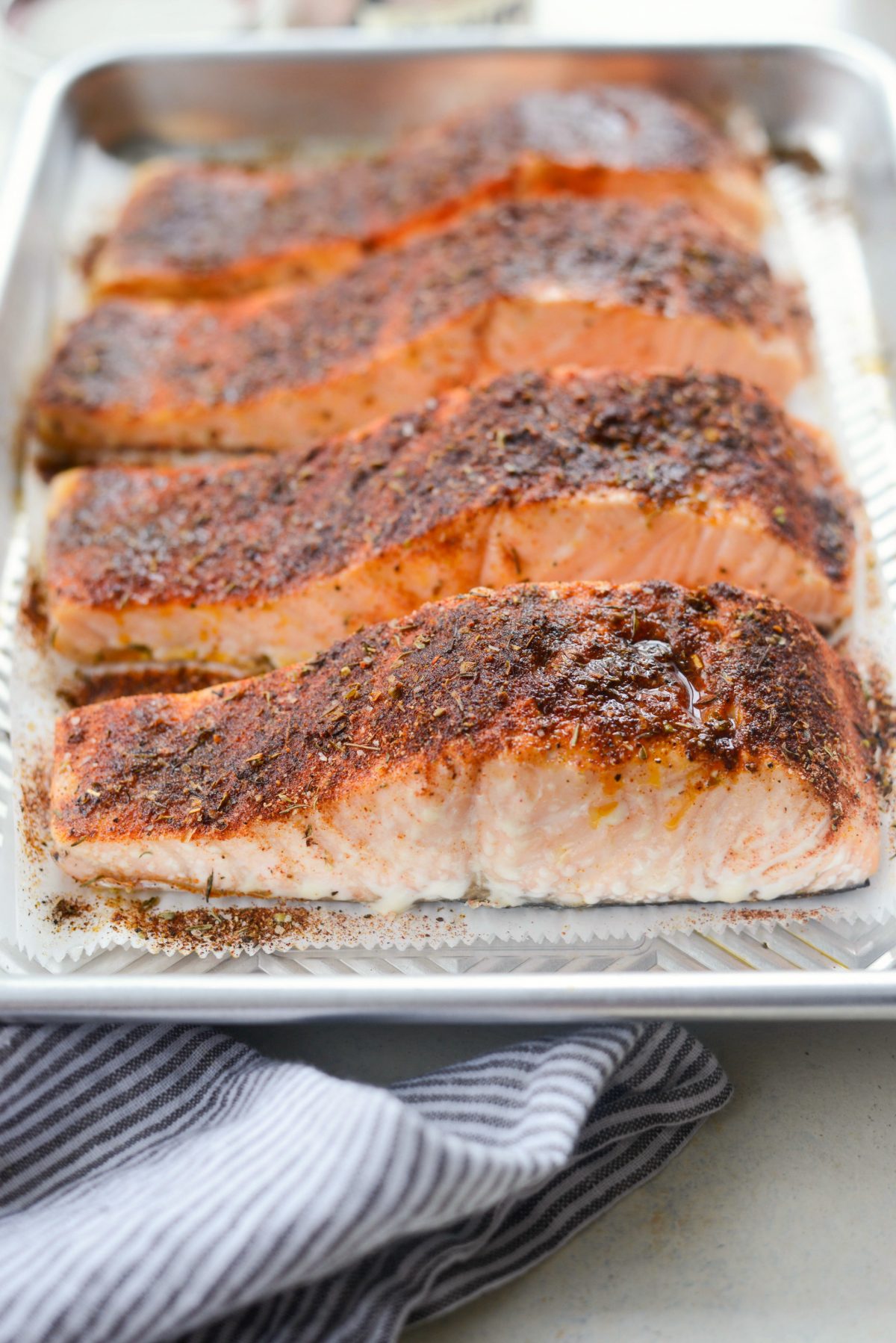 And then, because you don't want piping hot salmon on your salad, remove and allow to cool slightly. Meanwhile this would be a good time to build the salads. Start by dividing the spring lettuces, onions, blue cheese, pecans and pickled strawberries among 4 plates.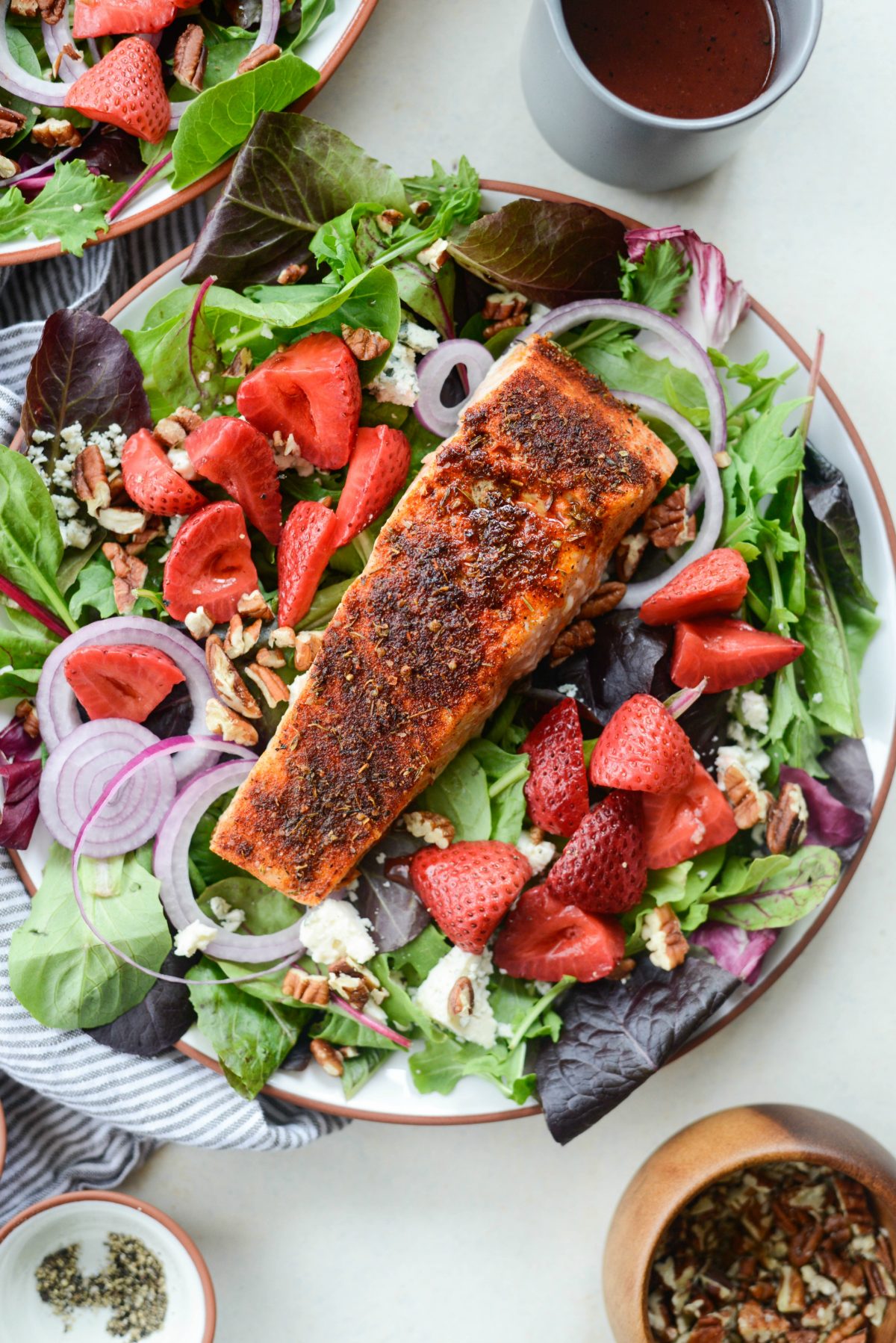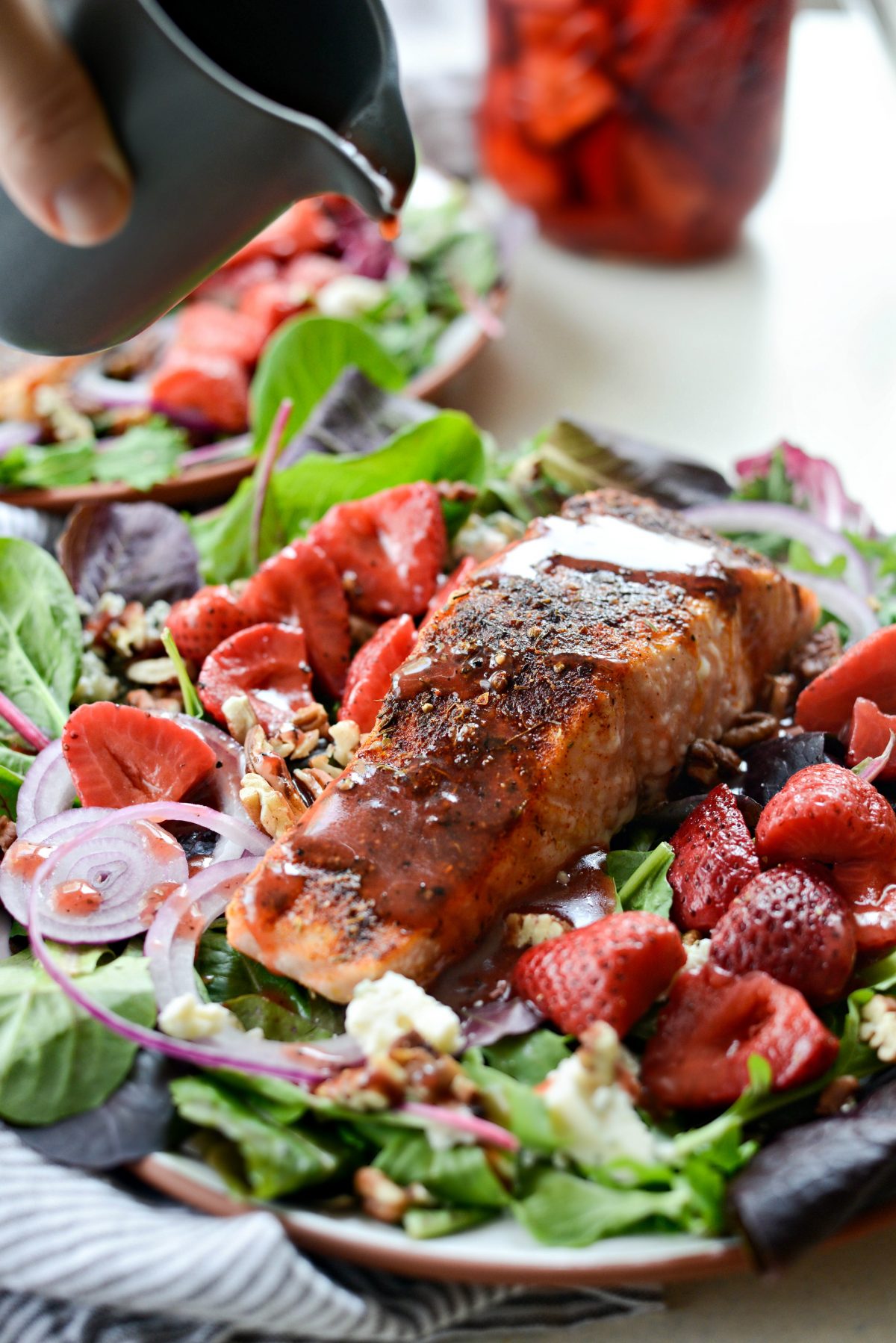 Next top with the baked blackened salmon filets. Lastly, drizzle with the strawberry peppercorn vinaigrette.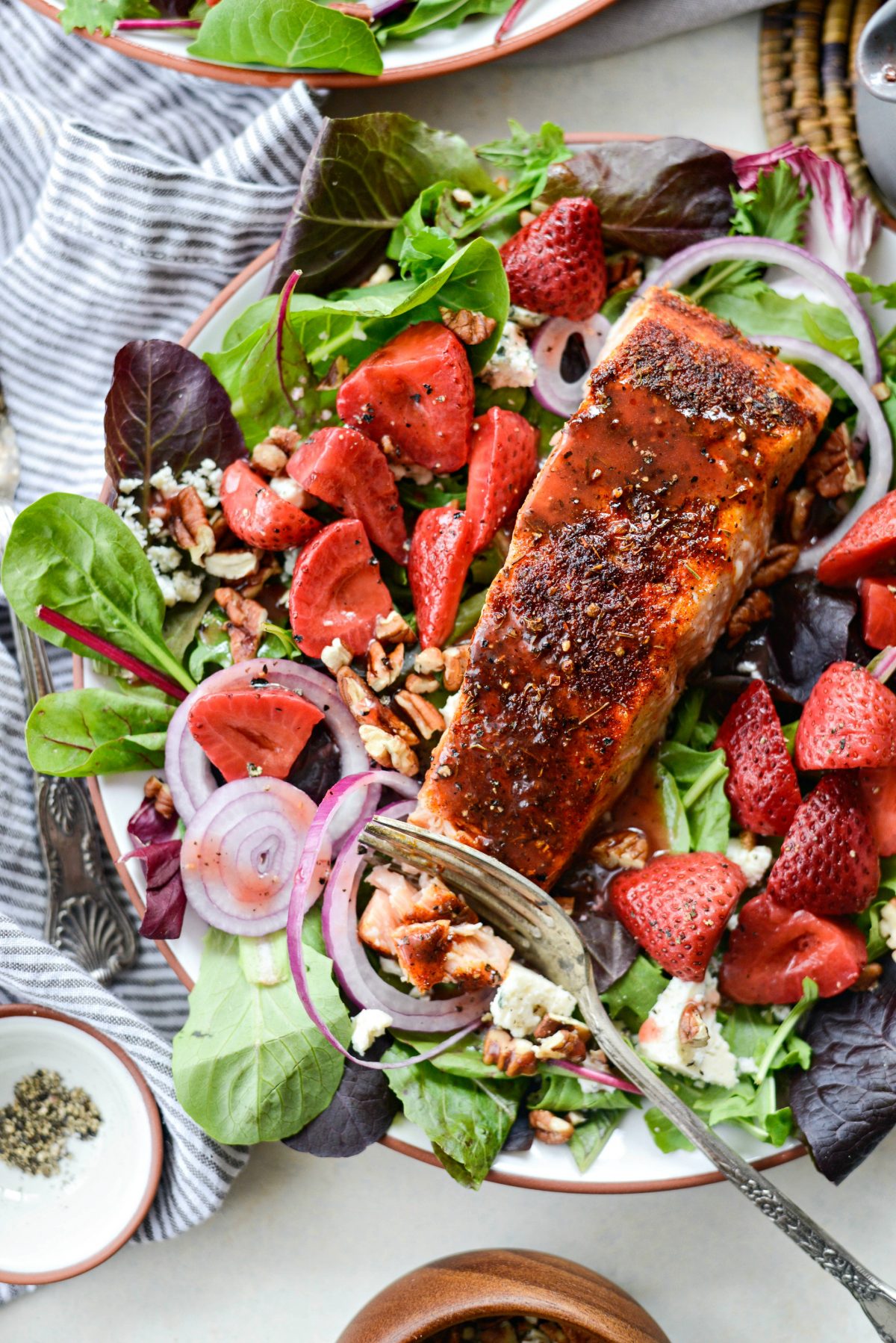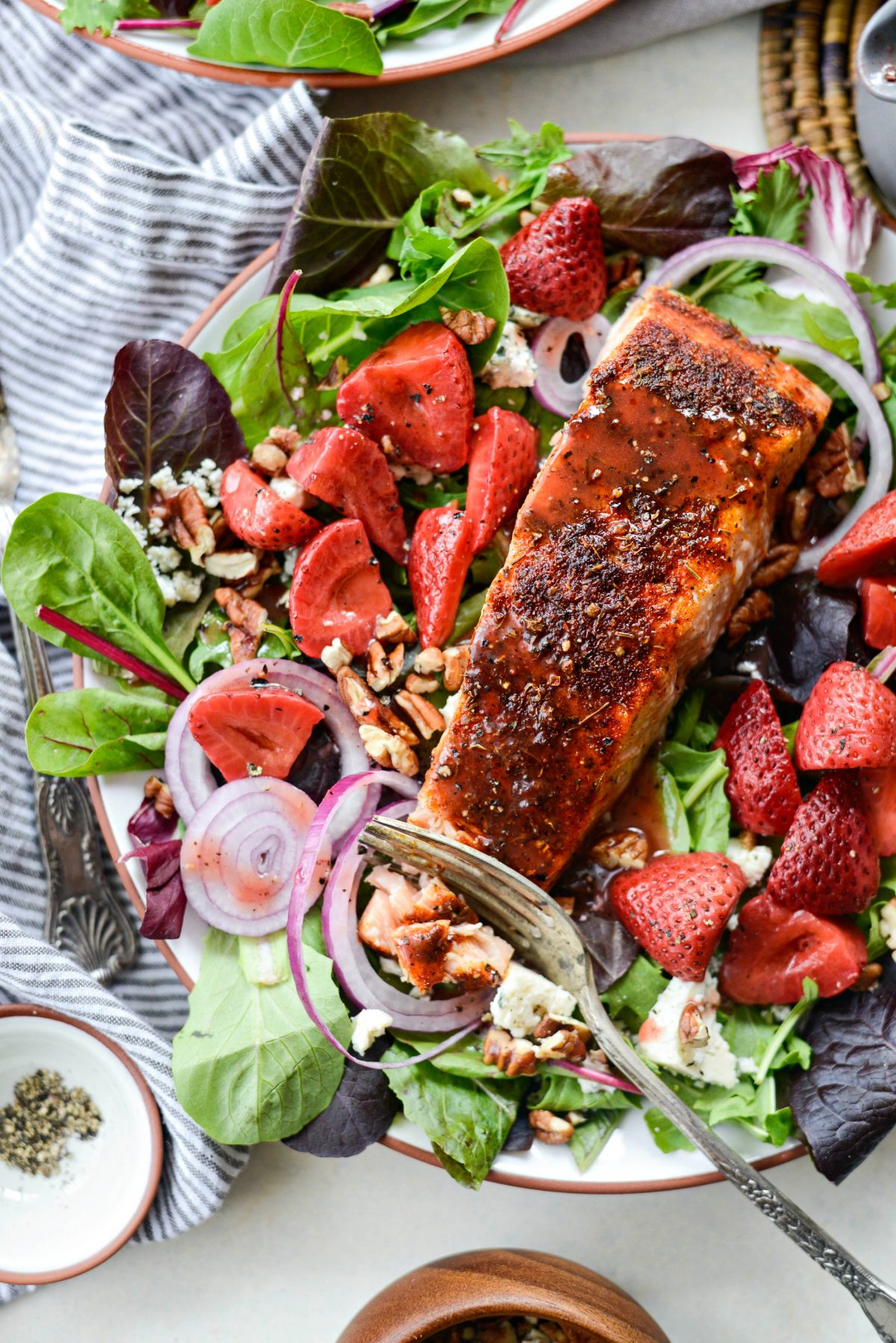 Finally, it's time to dig in!
This recipe make for a deliciously light spring salad with robust flavors!
The smoky and slightly spicy crust of the blackened salmon mingled with the tangy strawberries? Devine. Then you have blue cheese, toasted pecans and sweet vinaigrette which sends this salad over the top.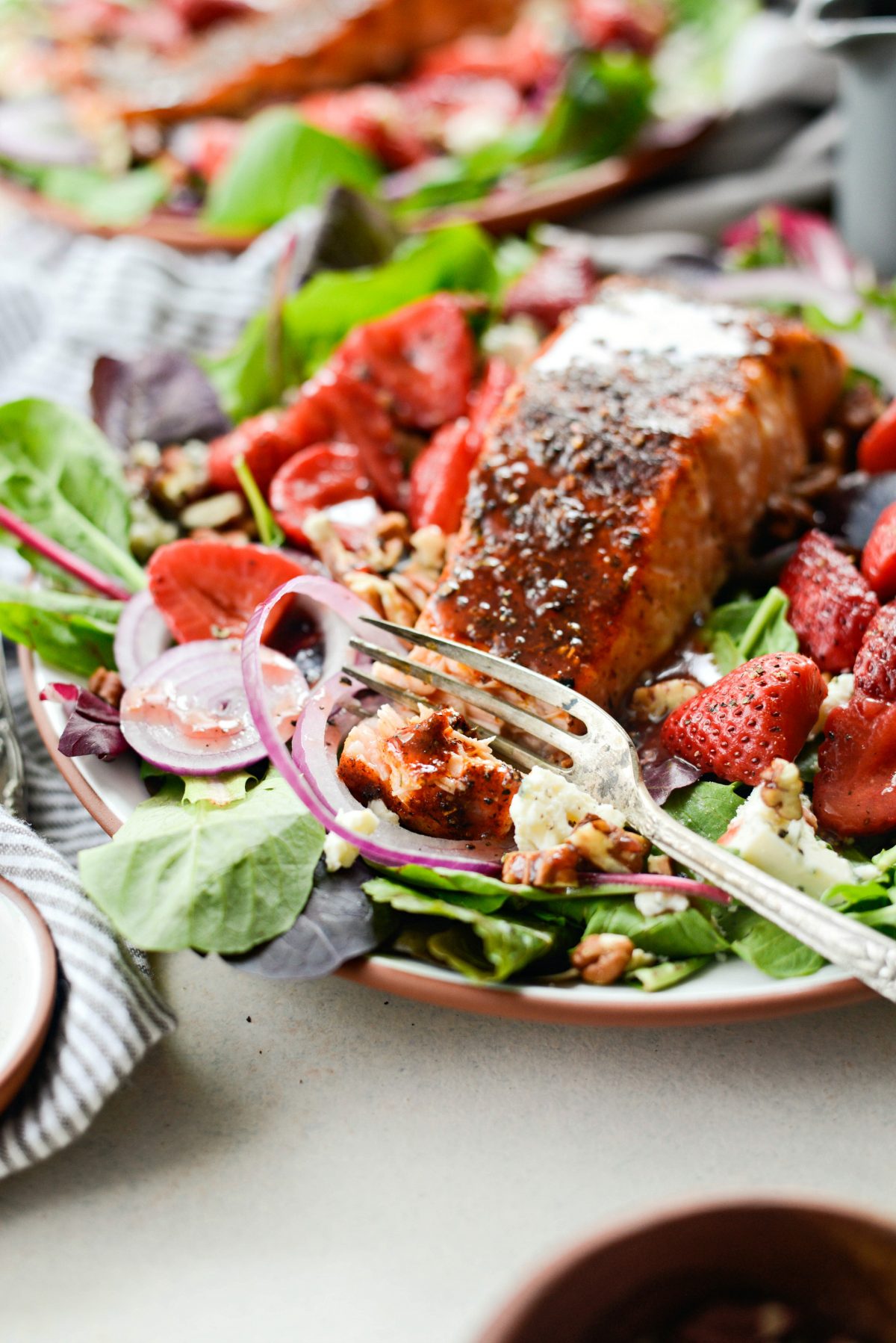 It's everything you didn't know you love thrown together for one perfect salad.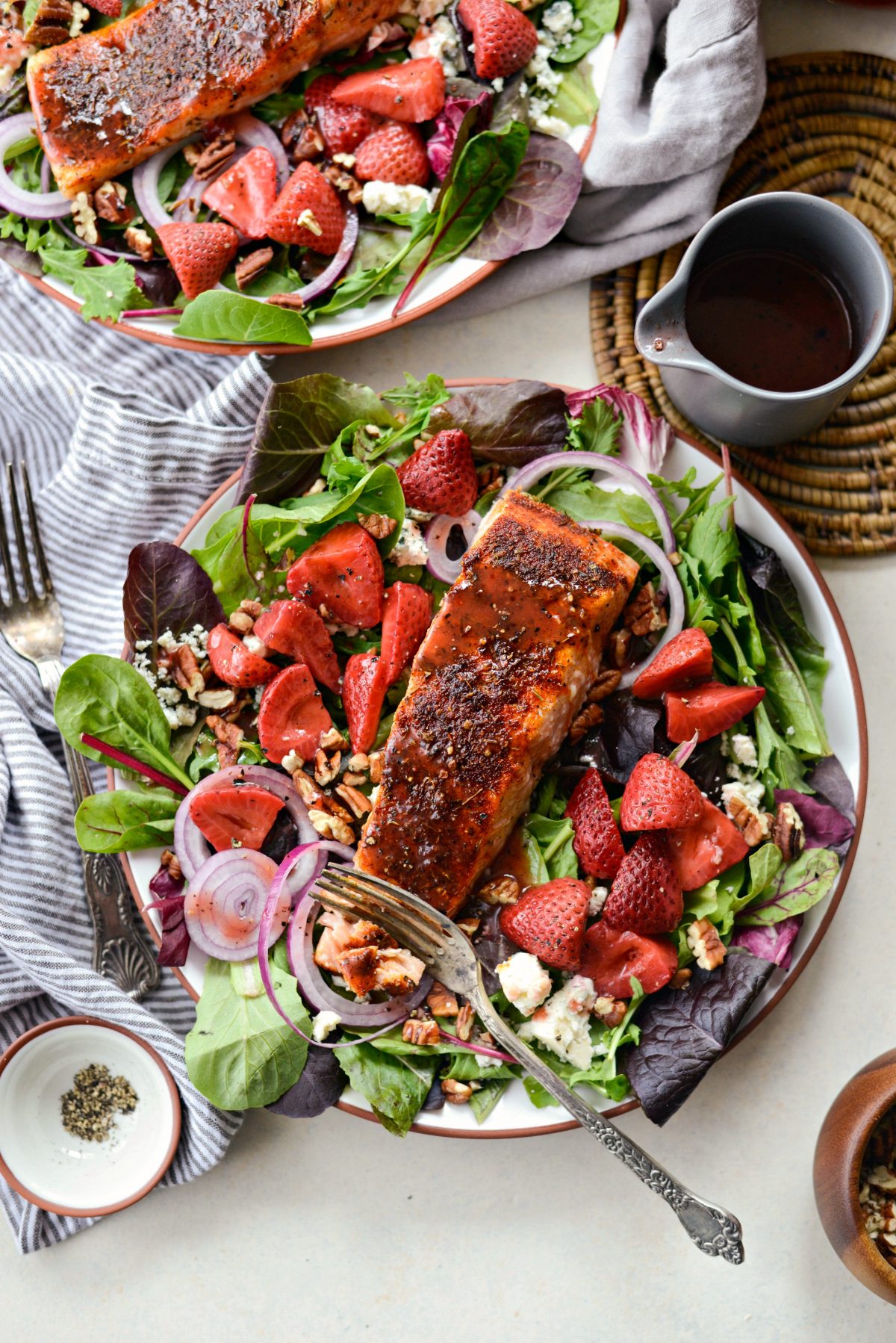 Enjoy! And if you give this recipe a try, let me know! Snap a photo and tag me on twitter or instagram!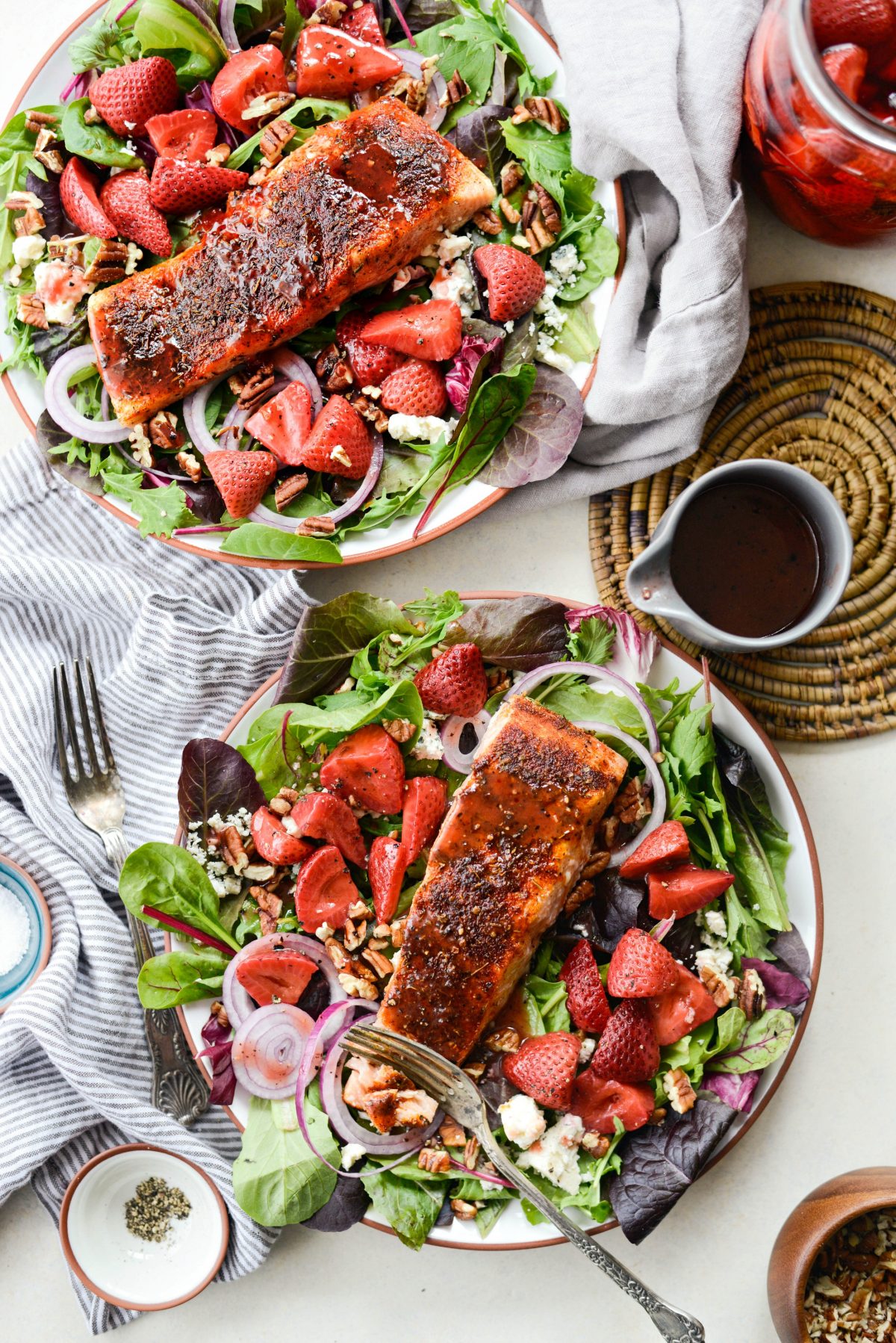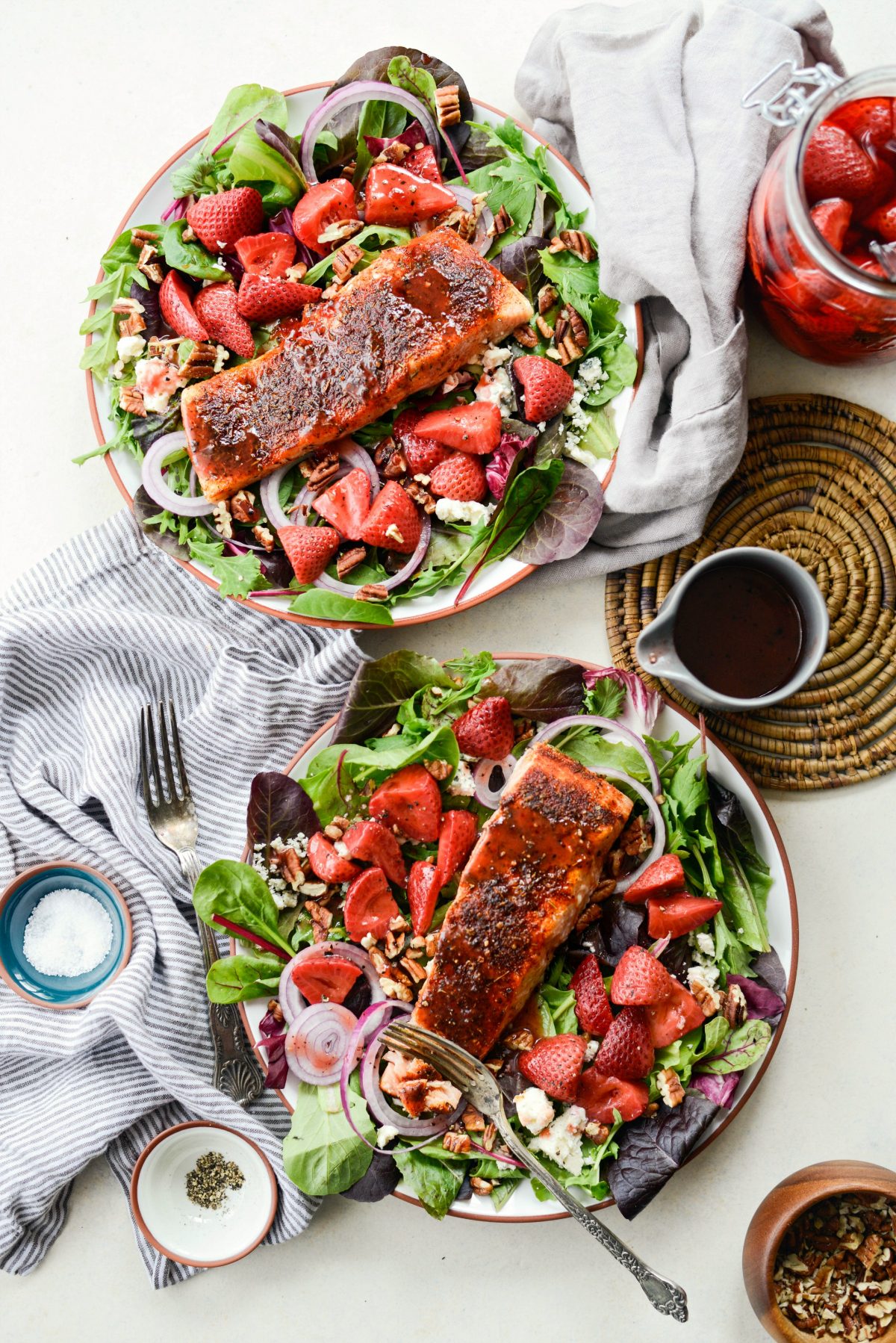 This post may contain affiliate links.
Buy the Cookbook: Simply Scratch : 120 Wholesome Homemade Recipes Made Easy Now available on Amazon »
THANK YOU in advance for your support!