These are the BEST Blackened Fish Tacos everrrr! In this recipe, soft flour tortillas are stuffed with cilantro pesto slaw, tender and flavorful blackened fish, creamy avocado and a zigzag of chipotle crema.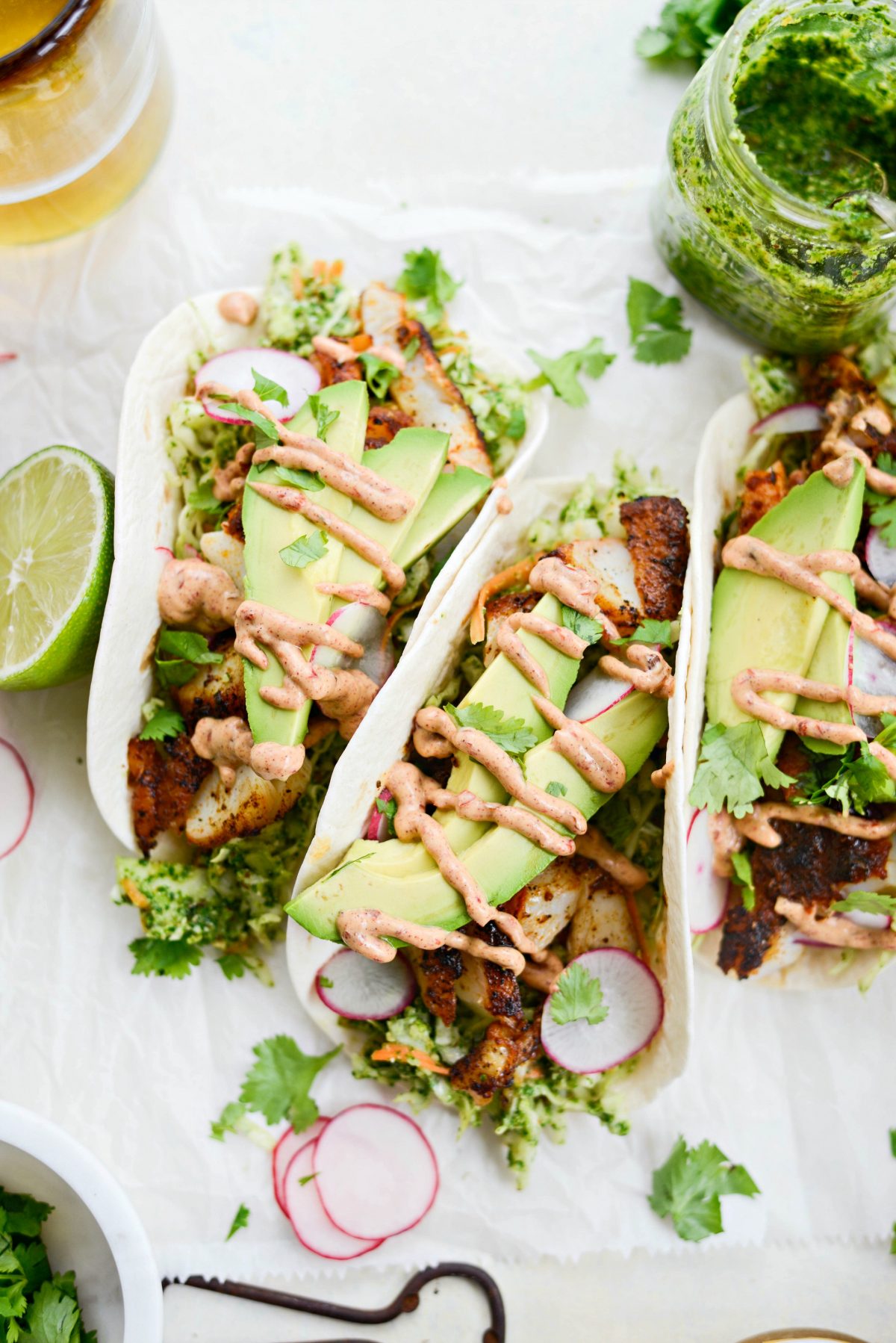 Hello and welcome the the post where I gush nonstop about the fish tacos that changed my life. It's true. After having blackened rockfish tacos in Maryland earlier this month, they were all I could think about the following week once I was back home.
So you KNOW I had to recreate them. the tacos were built like this: soft flour tortillas, cilantro pesto slaw, blackened fish, avocado and a zigzag of chipotle crema or sauce.
A colorful, flavorful and textural explosion!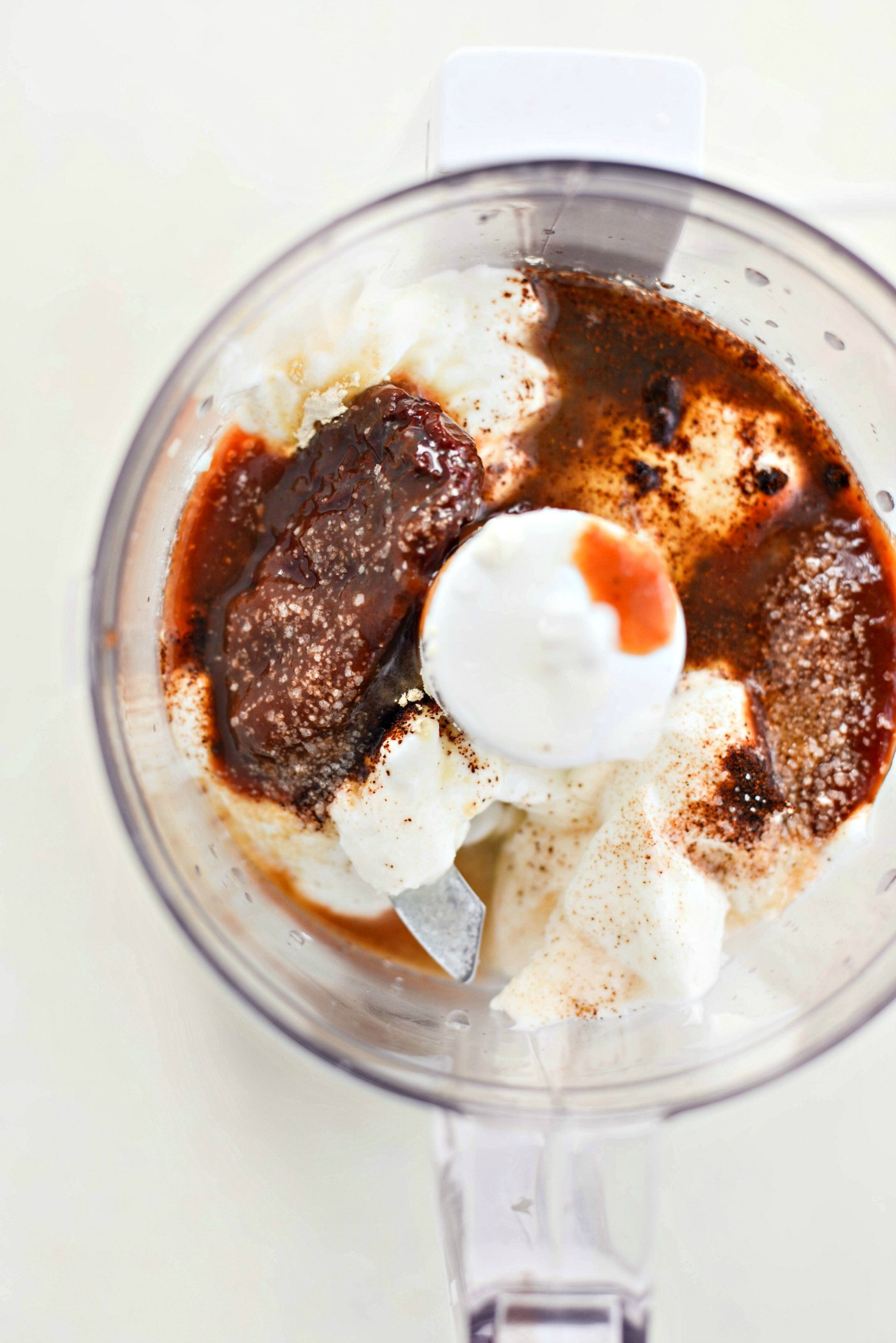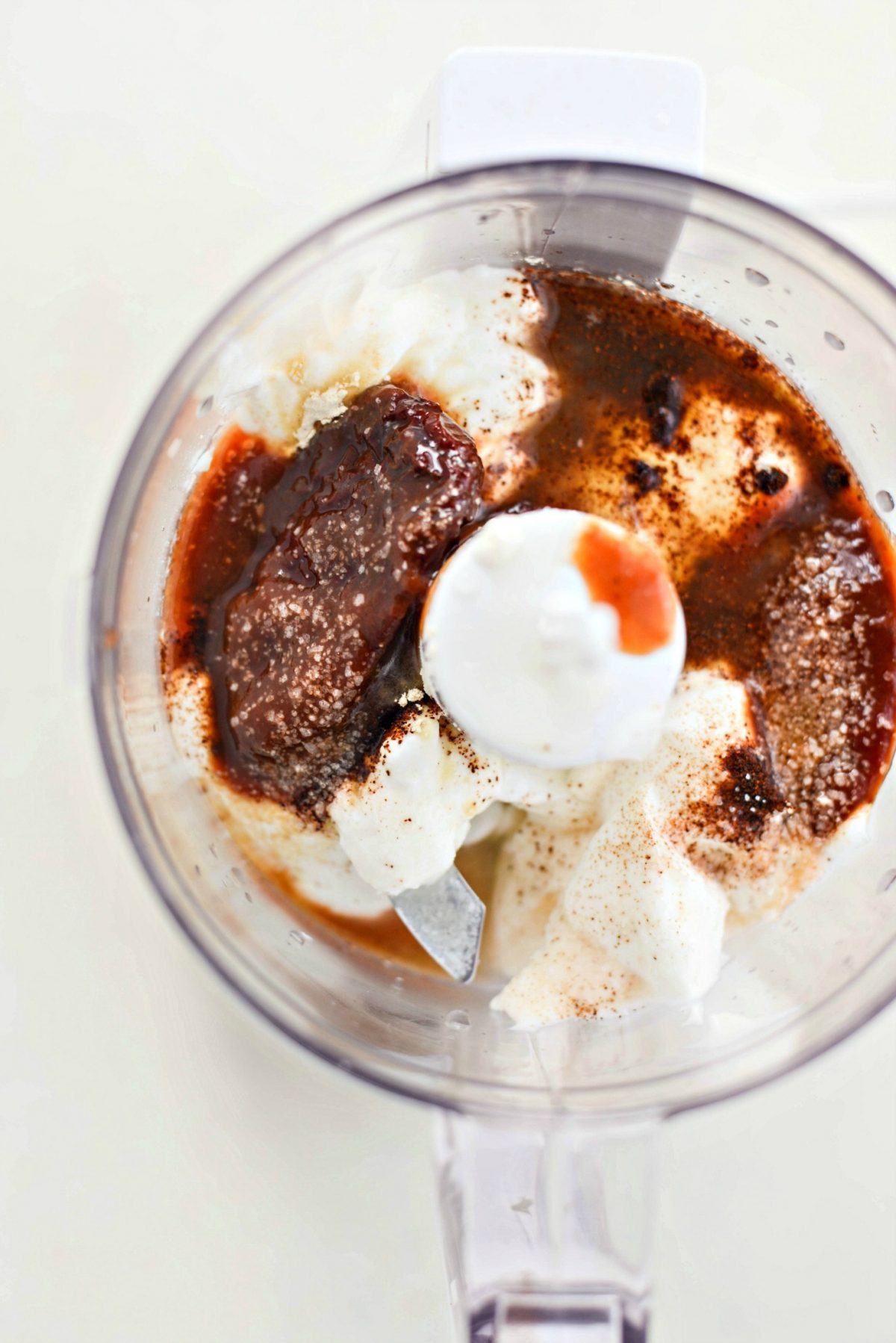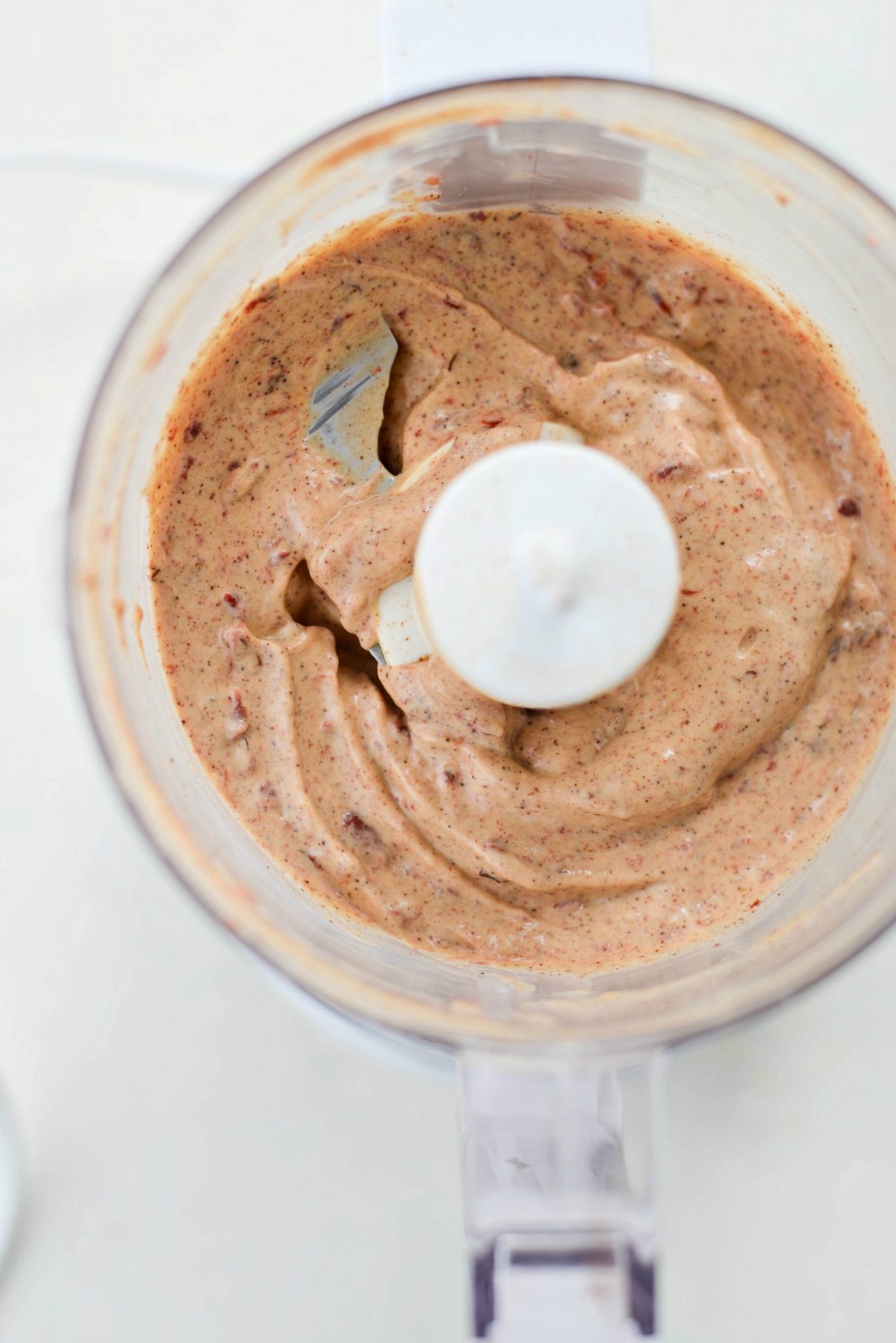 I always recommend making the chipotle crema first and popping it into the fridge. Doing this gives the flavors a chance to develop and infuse.
To make the crema; add to your blender or mini food processor 1/4 cup plain nonfat greek yogurt, 2 (rounded) tablespoons mayonnaise, the juice of 1/2 a lime, 2 small to medium chipotle peppers (in adobo sauce), 3/4 teaspoon ground chipotle powder and 1/4 teaspoon garlic powder. Turn on the food processor and blend until smooth.
Then refrigerate until ready to use. IF you have a squeeze bottle, it would be perfect for making the zigzag 🙂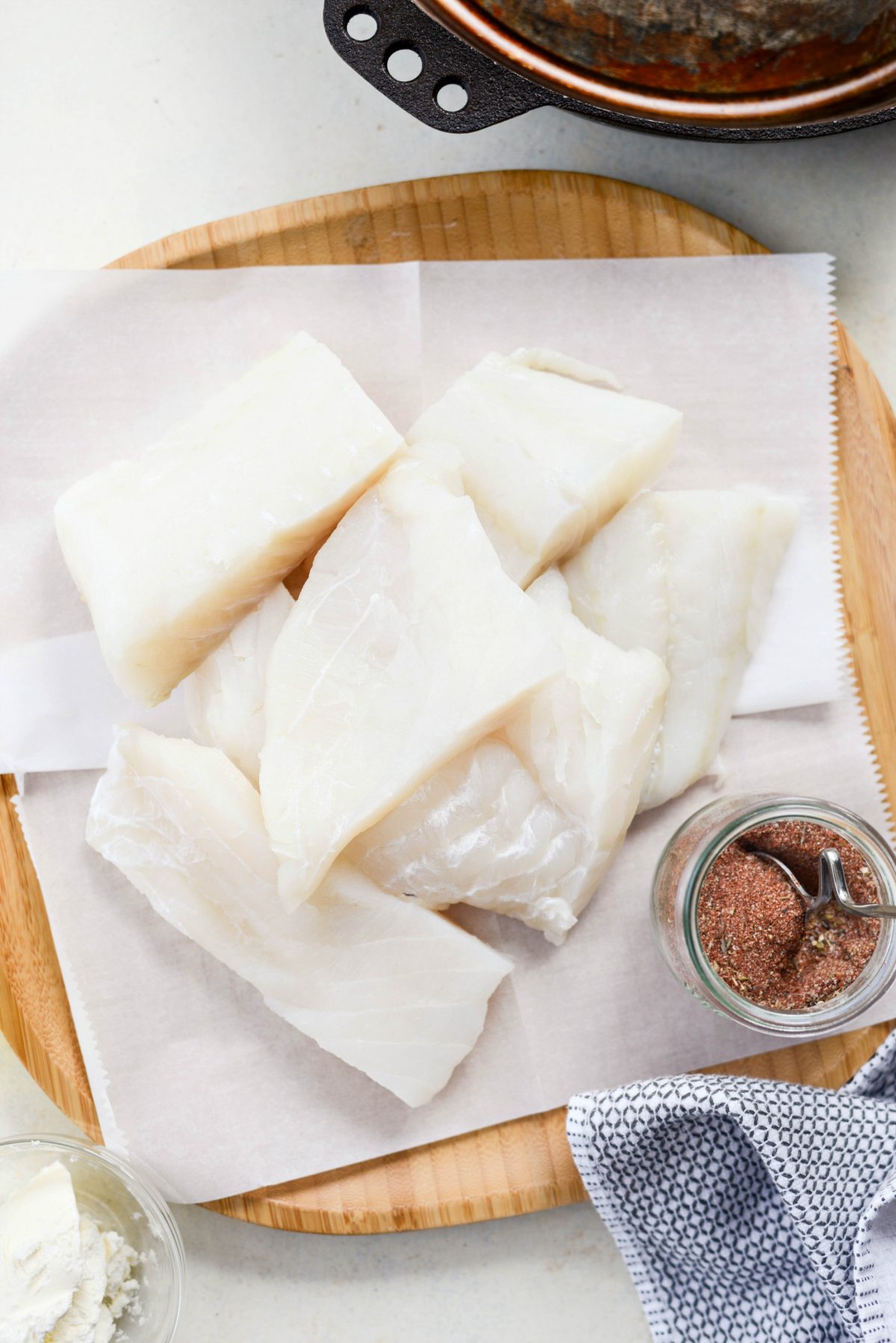 Next season 1-1/2 to 2 pounds firm white fish with homemade blackened seasoning. Since I can't find rockfish in Michigan (whomp-whomp) I went with cod because it's a mild and firm white fish. With that said, tilapia or barramundi would totally work.
What is Blackened Seasoning?
It's a mixture of garlic powder, paprika, smoked paprika, dried thyme, oregano, garlic powder, salt, pepper and cayenne. Think of it as a milder cajun seasoning. And it's delicious sprinkled on fish, chicken or vegetables! Really anything. You can grill, roast or mix it into dips, however I believe the more traditional method is searing the food in a hot skillet with butter. YUM.
Next, heat 1 tablespoon butter with 1 teaspoon extra light olive oil in a large (12-inch) cast iron skillet. Sear the seasoned fish for 4 to 5 minutes per side. As a result, the spices get all toasty and the fish is flakey and tender. Also, depending on thickness, the fish may need more or less time.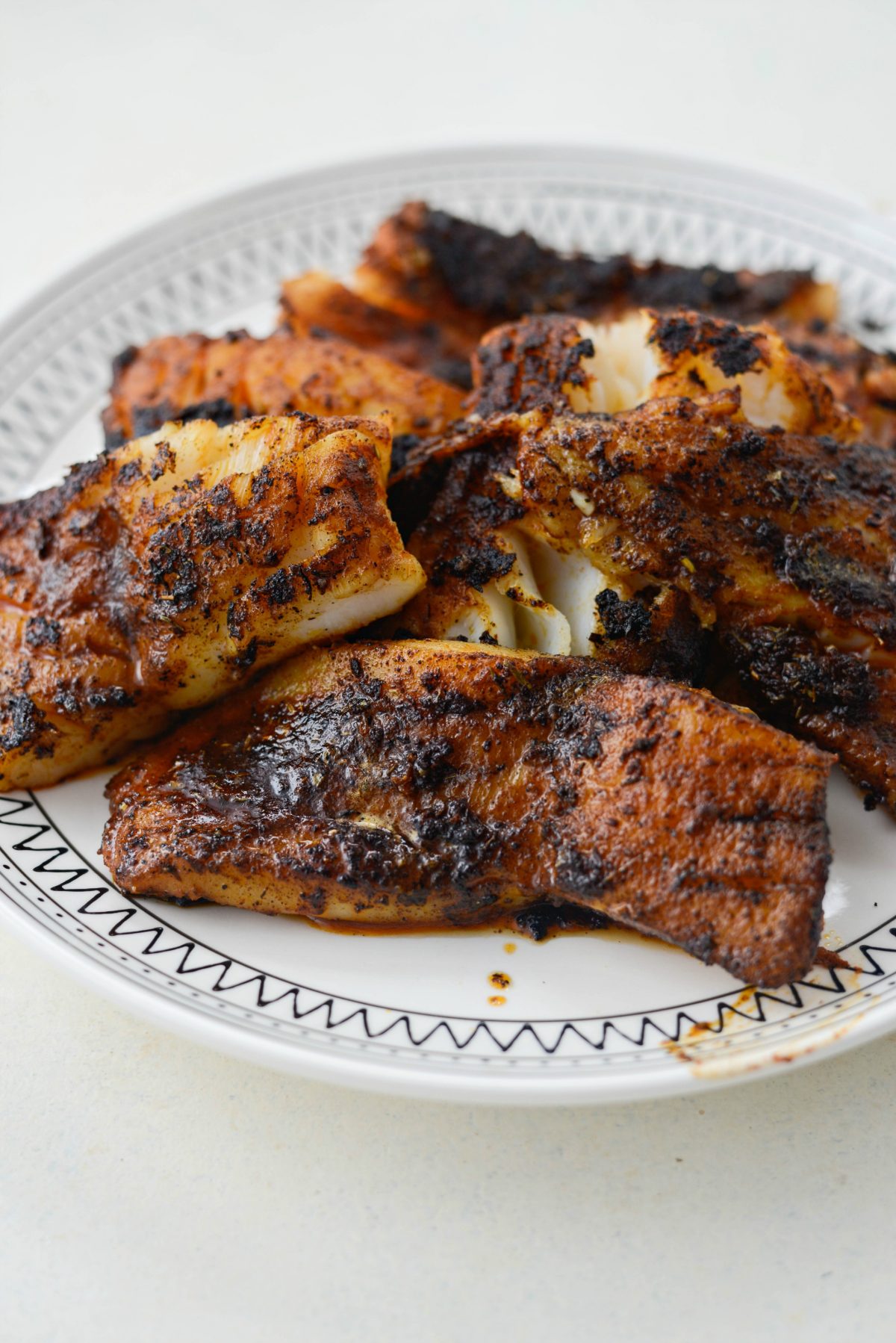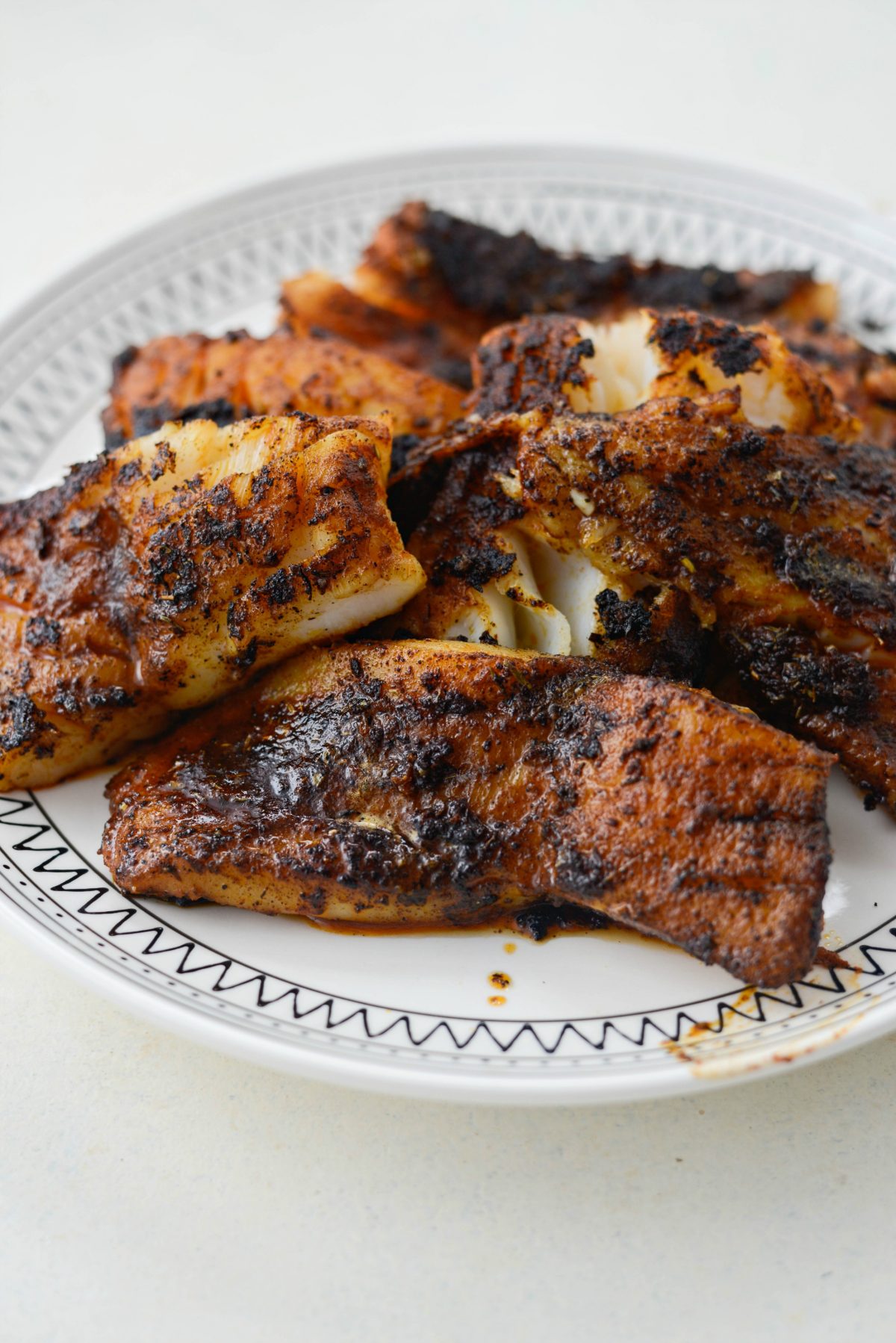 Once the fish is flakey and opaque, transfer it to a clean plate and repeat with the remaining fish. Adjust the heat under the skillet as needed. Ps. this smells amazing!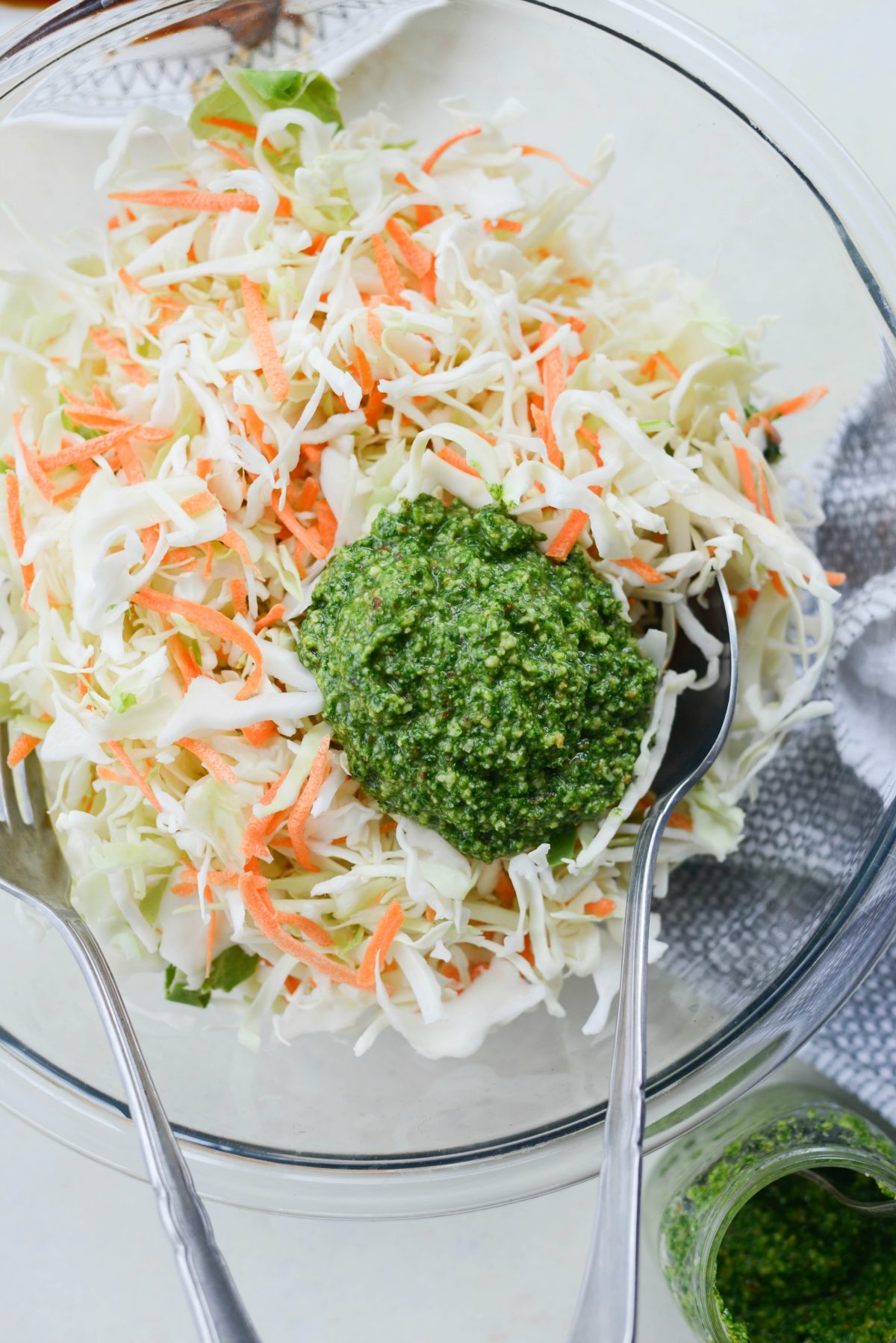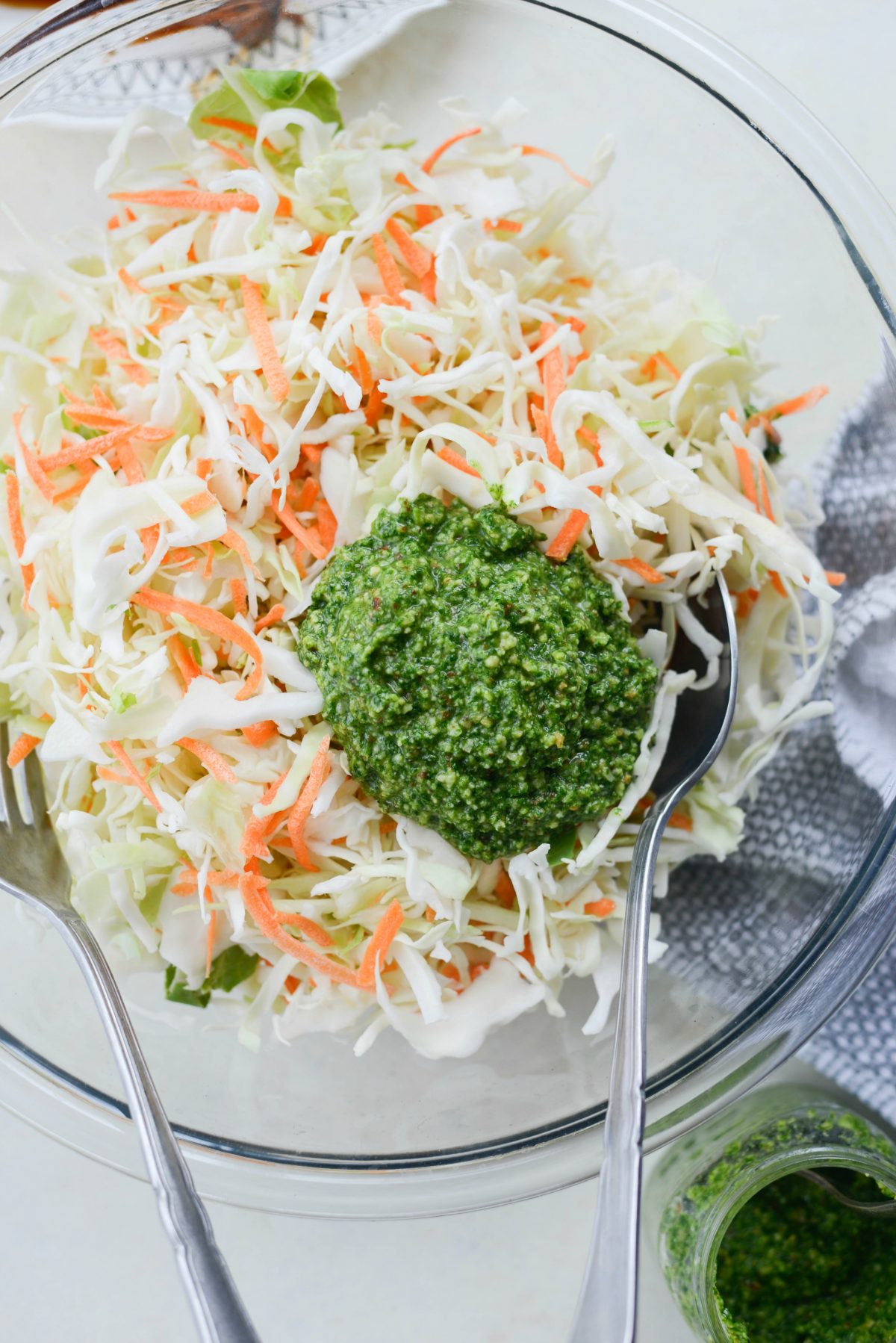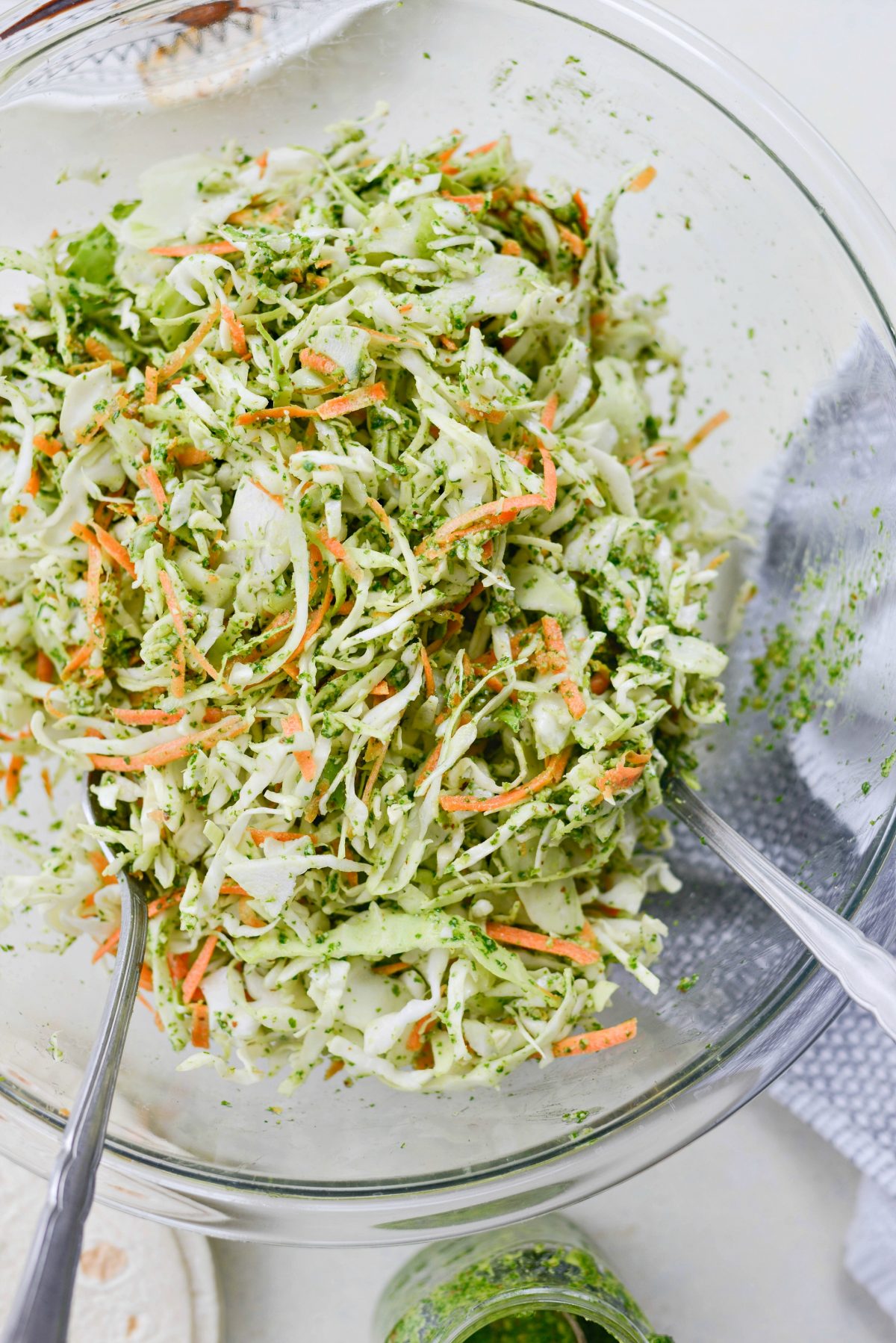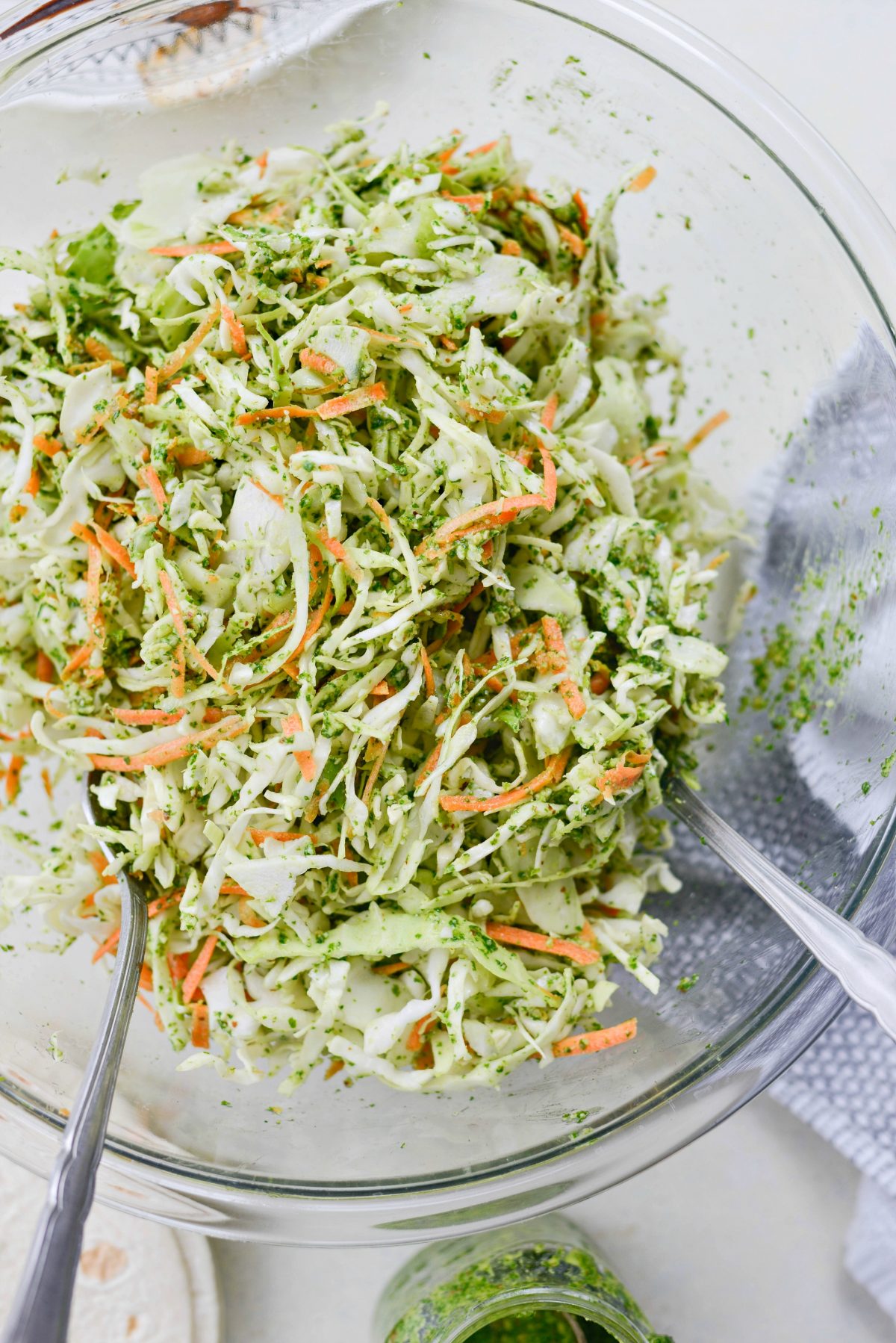 Now this SLAW! It's crazy delicious and so ridiculously simple. The day before I made this cilantro pesto. Literally just throw everything in a food processor and poof! you're done. Then, on the day of, I dumped a 16 ounce bag of pre-shredded slaw mix into a bowl and then added about 3/4 of the cilantro pesto. Toss. Boom. Done.
Finally, it's time to build the tacos. First place a generous amount of the cilantro pesto slaw onto warm flour tortillas. Next top with small pieces of the blackened fish and slices of ripe avocado. Lastly, add a zigzag of the chipotle crema and squeeze some lime over top.
How To MAKE Ripe Avocados To LAST:
The trick to storing ripe avocados so they last is a no-brainer, it's easy and effective and has saved me SO much money. First buy hard to the touch, bright green avocados and allow them to ripen on the counter. Once they are black, soft to the touch (NOT squishy) pop them into the fridge. Because here is where they will last for quite a few days! You guys this has changed my life and I owe this trick to my sisters. No more wasted avocados!
Lastly, crack open a cervasa or pour a glass of white wine, then kick up your feet and enjoy.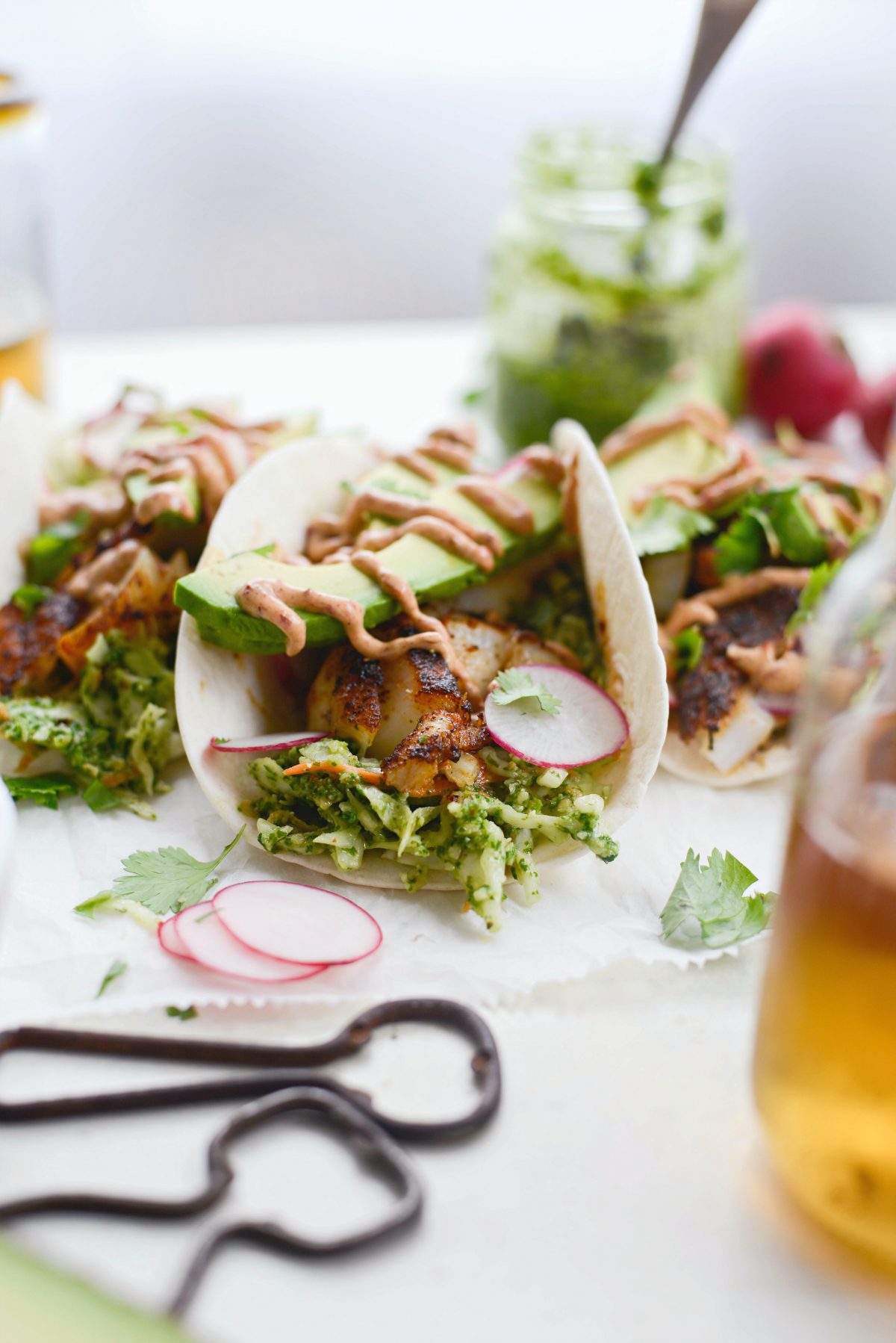 Needless to say, because these tacos are sooooo fantastic and delicious, I ate them for lunch 3 days in a row. My house smelled like fish for what seemed like forever and my family loved it. However not as much as I loved these tacos!
What's my favorite? Oooh that's tough because I do love the combination of crunchy slaw and spice-crusted fish. And also the creamy avocado and the chipotle crema. Gah! These are SO good, it's hard to choose. I think you should just make them and let me know what YOU loved about them!
Give them a try, because I have a feeling you won't regret it.
Enjoy! And if you give this Blackened Fish Tacos recipe a try, let me know! Snap a photo and tag me on twitter or instagram!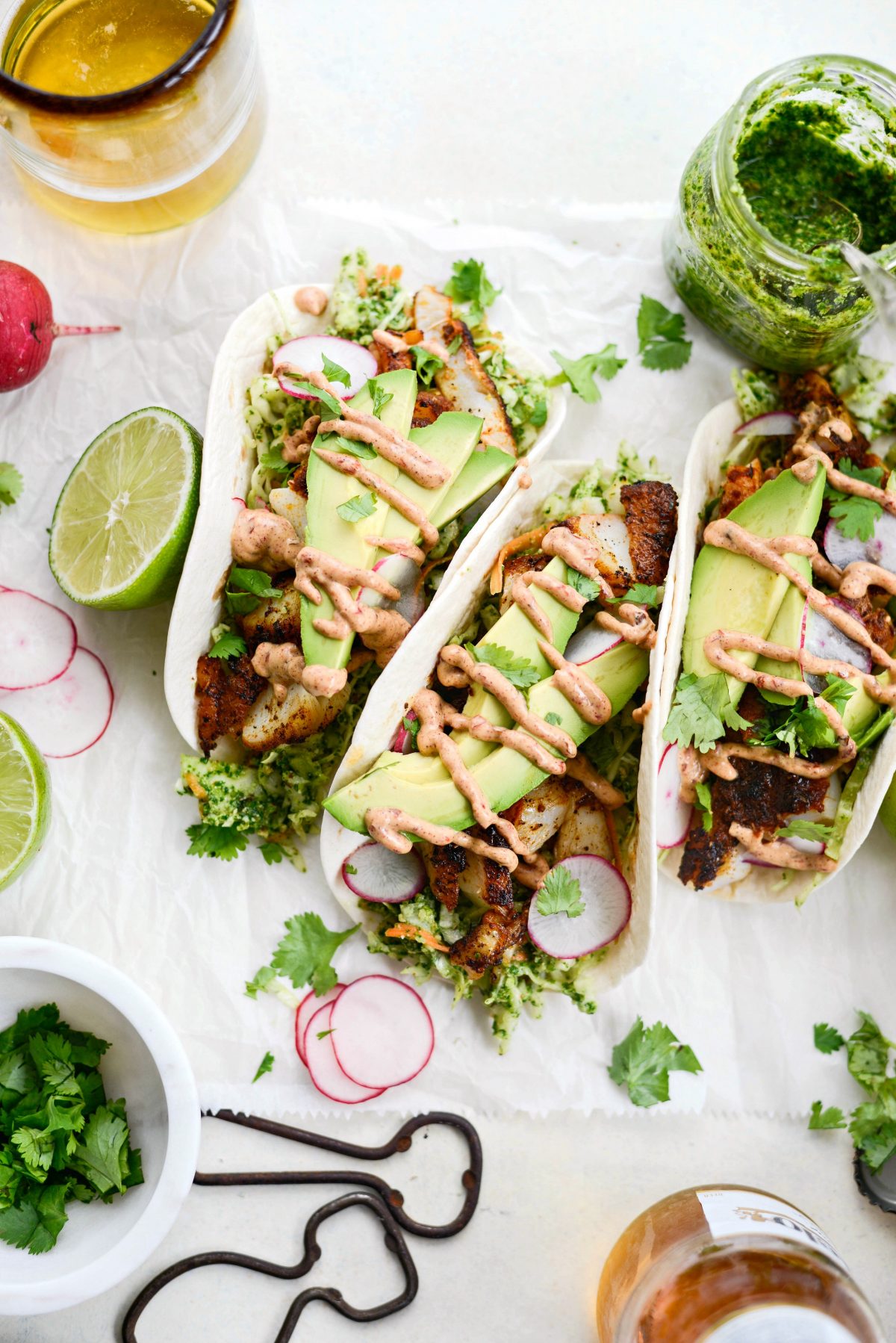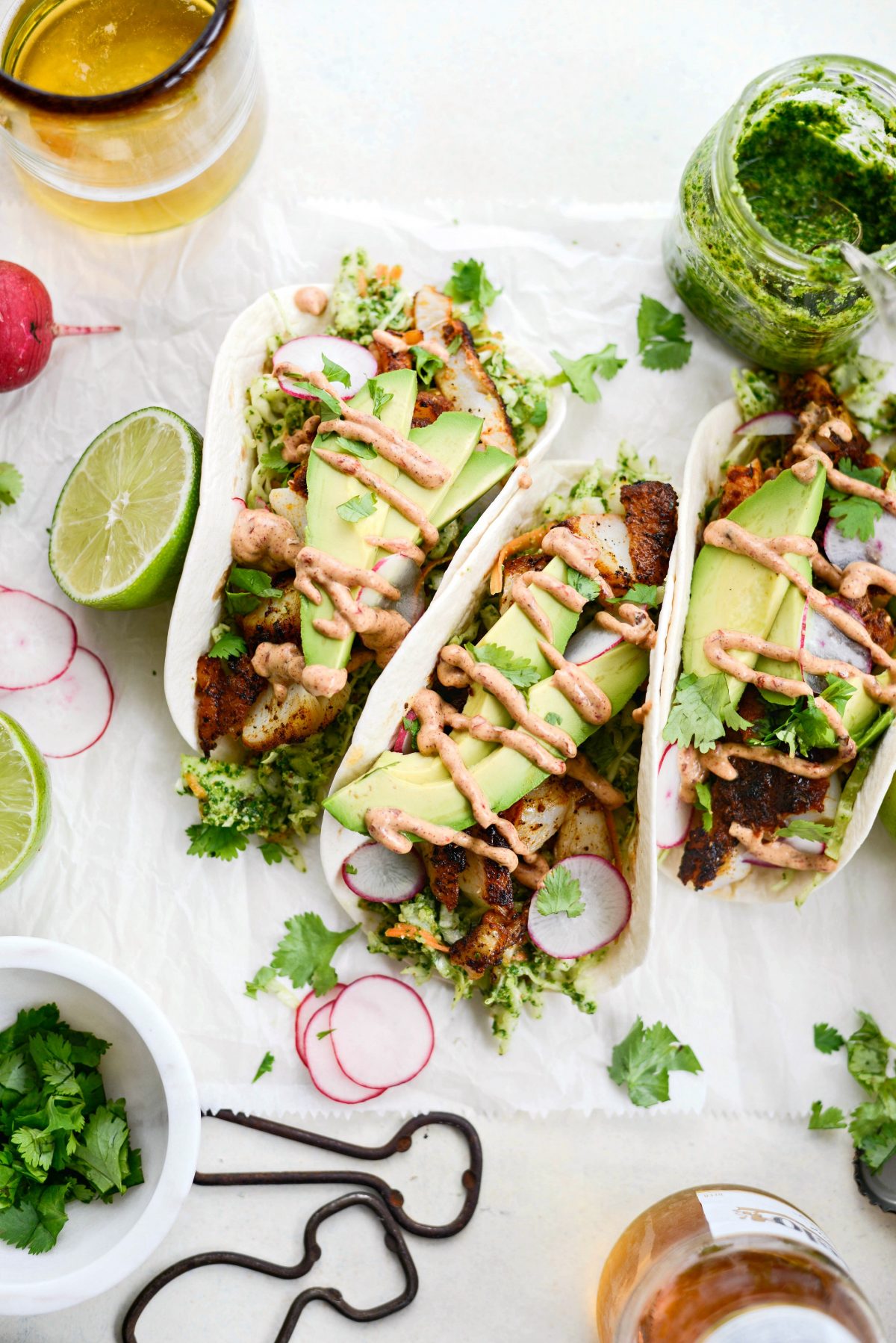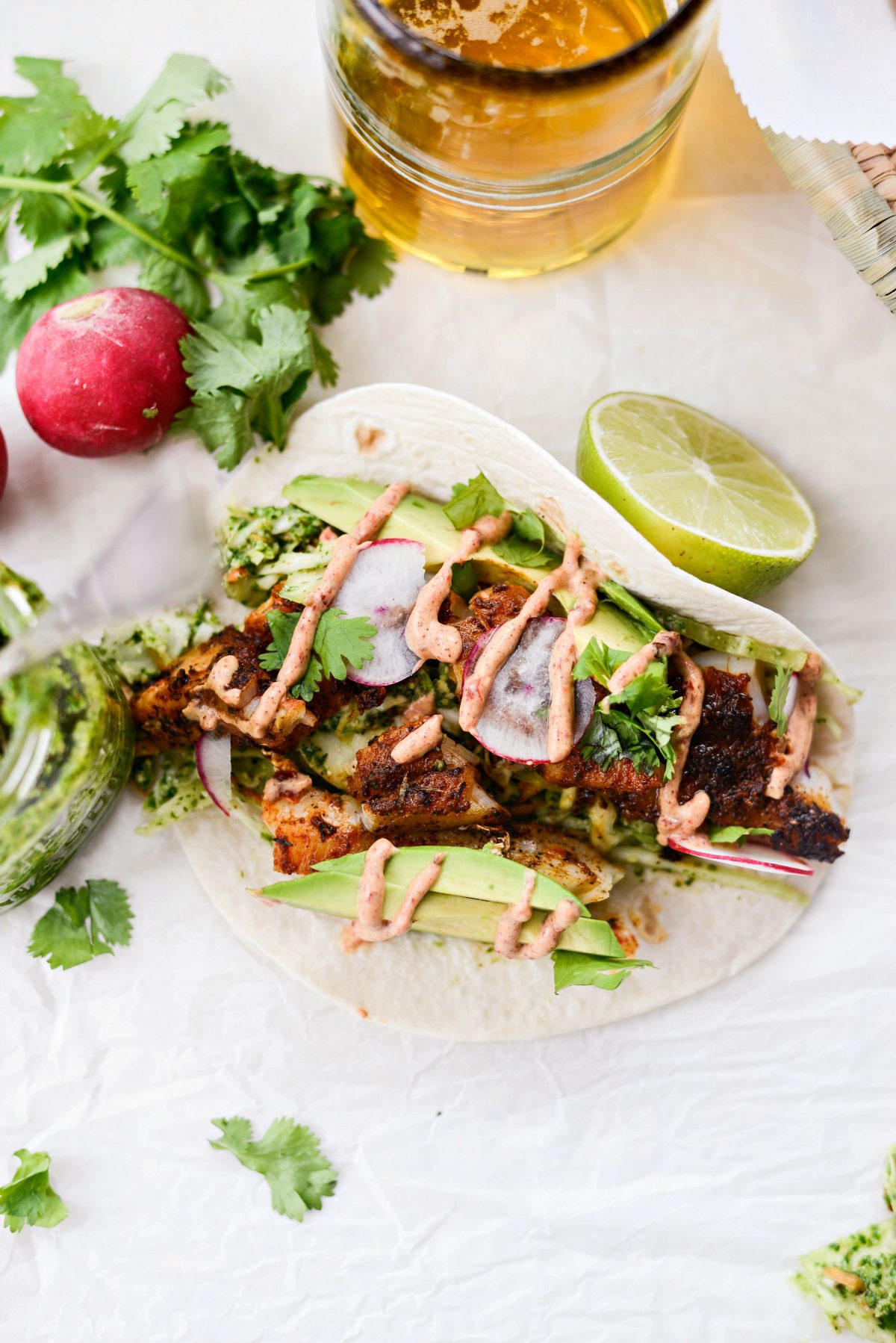 This post may contain affiliate links.
Buy the Cookbook: Simply Scratch : 120 Wholesome Homemade Recipes Made Easy Now available on Amazon »
THANK YOU in advance for your support!