The key to making the Best Homemade Guacamole Recipe is not just the ingredients, it's also the technique of preparing it. In this recipe, large, ripe avocados are mashed with fresh lime juice, red onion, garlic and cilantro. Simple and yet so incredible! This recipe will yield about 6 cups.
I try really hard not to put the word BEST in the title of recipes. There's hundreds of recipes that claim they are the best, but are they? A lot of the time, it's to get ranking in the almighty Google. But I prefer to ration out my "bests" for the ones that truly are just that.
This guac has been made hundreds of times over the last 5 years. What I love most about this particular recipe is that it makes a lot of guacamole. SIX cups of guac and yet it's like it's never enough because it always goes so fast, probably because it's the best. 😉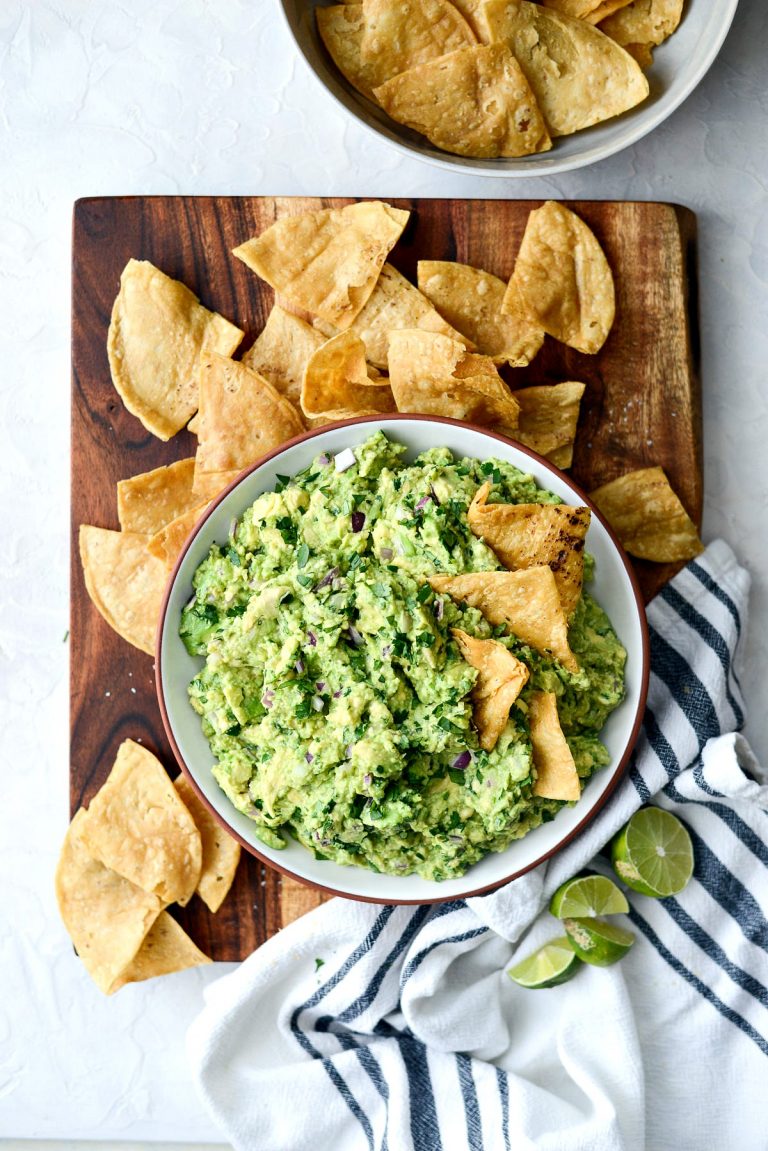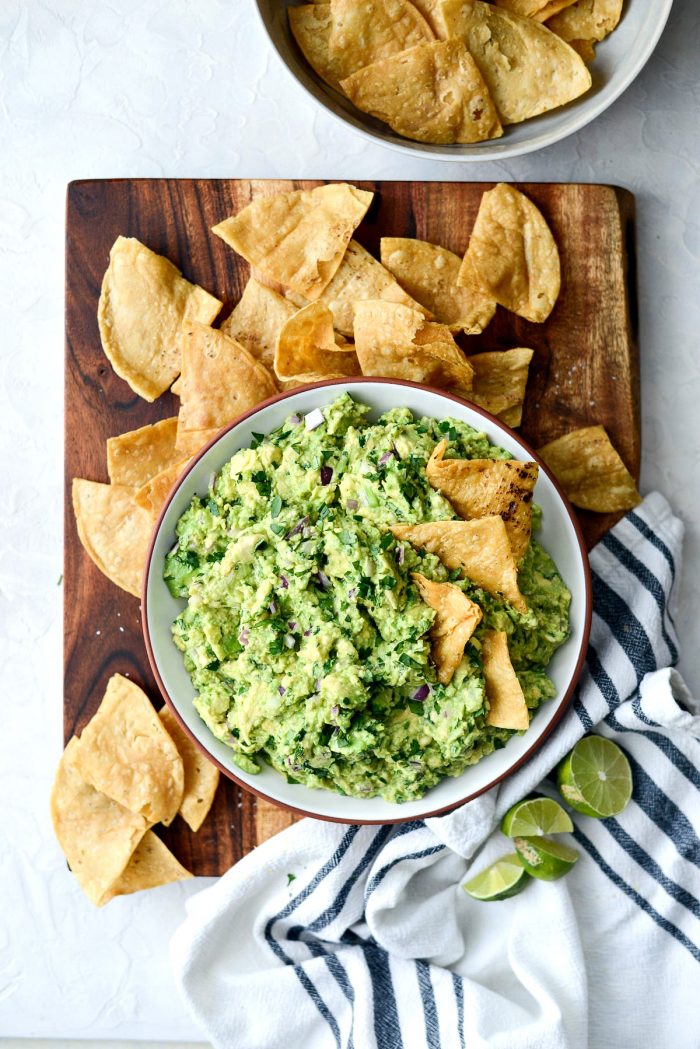 I recently made this when my side of the family came over for our annual appetizers-only Christmas get together. My nephew works at Chipotle and he even said, and I quote: "this is better than chipotle guac" (!!!) that's right ladies and gents! What better of a compliment could a girl ask for? I considered naming this recipe "Better Than Chipotle Guac" just because my nephew said so. It's no like he's wrong, he's a teenager and teenagers know these things.
To Make The Best Homemade Guacamole Recipe You Will Need:
avocados – ripe but not too ripe
lime juice – fresh, always.
red onions
garlic – please no jarred!
kosher salt
tortilla chips – sturdy and good quality.
Add 5 ripe but not too ripe avocados. I run my knife around the pit, top to bottom and then twist and then use a knife to remove the pit.
Next, squeeze in the juice of a juicy, medium-sized lime. If you're in the produce section to pick out limes, skip the rock hard ones. I tend to always go for the limes with smooth skin and have some give to them.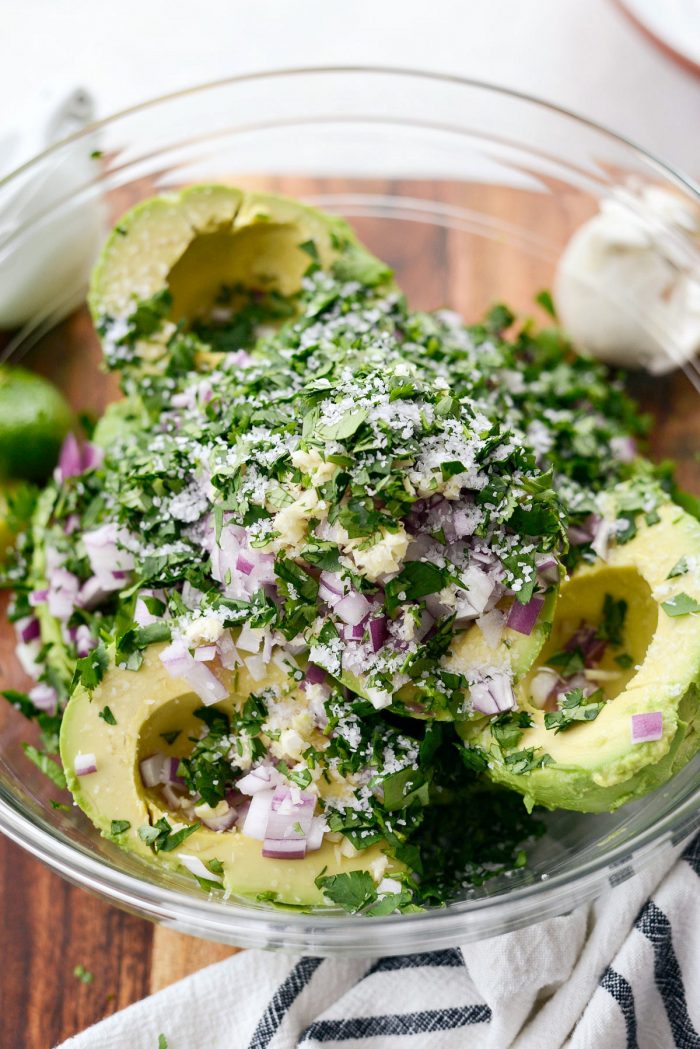 Then add in 1/2 a medium red onion that has been finely diced, 2 medium cloves of garlic – also minced, 1/3 cup cilantro leaves – minced! and a generous pinch of kosher salt.
Salt and lime are both key ingredients next to the avocados of course. Salt maybe more so because if you've tasted guac and it's just meh… more times than not it needs more salt.
Use a potato masher to smash the ingredients together. THIS is what I think makes a good guacamole great. Don't mash the avocado first, you want the onions and garlic to meld with the avocado and to bruise the cilantro so it releases its herby flavor.
Mash until it's the consistency you prefer. I love a chunky guac so I make sure to stop while I'm ahead.
Stir once with a spatula before transferring it to a serving bowl. The best way I've found to store guacamole is by pressing clingwrap or plastic wrap directly to the surface of the guac, doing your best to no allow air to touch the surface, and then secure the lid. This usually will help keep the guacamole that bright green. I do this when I store leftovers in the fridge.
Now if you'll excuse me, I have 6 cups of guac I need to finish.
For More Guacamole Recipes Click Here!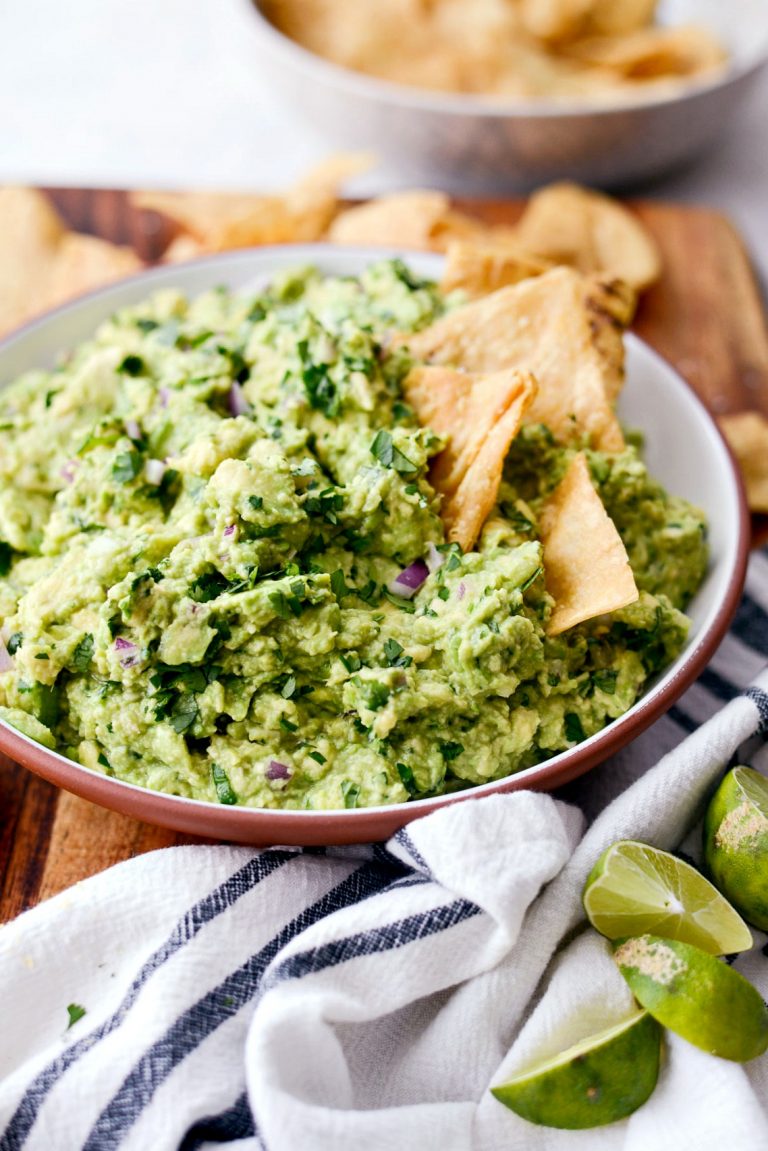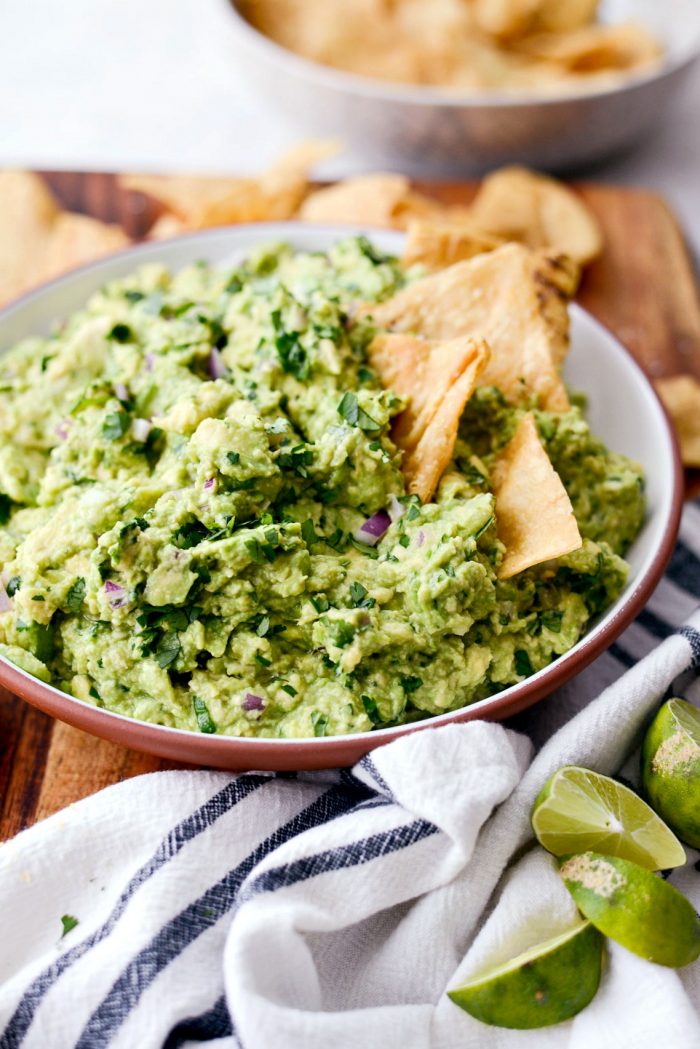 Enjoy! And if you give this Best Homemade Guacamole recipe a try, let me know! Snap a photo and tag me on twitter or instagram!
This post may contain affiliate links.
Buy the Cookbook: Simply Scratch : 120 Wholesome Homemade Recipes Made Easy Now available on Amazon »
THANK YOU in advance for your support!