Bacon tomato avocado smashed toast is avocado smashed toast topped crispy bacon, ripe tomatoes and drizzled with a thick, glossy balsamic reduction.
Sometimes a girl craves toast.
Toast topped an inch thick with smashed fresh avocado, crispy bacon, ripe tomatoes and drizzled with a thick, glossy balsamic reduction. I've got a crush on an open-faced BLT, minus the L, because the lettuce just gets in the way. I was close to calling these a B-A-T sandwich, replacing the L [lettuce] with the A [avocado] but then I imagined people saying "bat" sandwich, and well you can see where it would be a bad idea right?
Alright so get ready, you're about to see ZERO cooking in this post.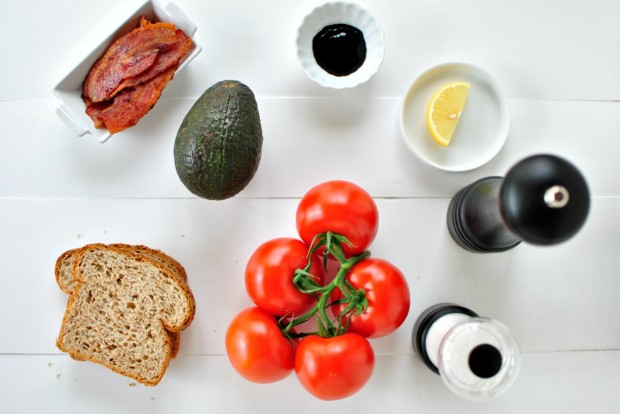 I have so many recipes in my brain that I don't blog about because they may seem too simple or there really isn't a "recipe" to them. But then I remembered this is my blog and I can post a recipe that isn't a recipe if I want to. So here goes.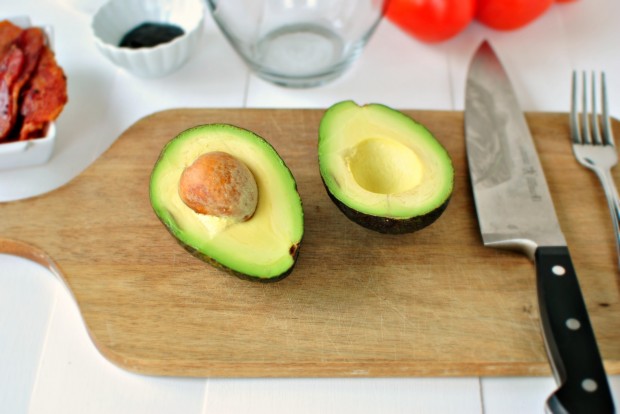 I buy avocados every.single.time. I go to the grocery store. We make guacamole on the regular here and with a bag of Garden Fresh tortilla chips… PAH! my girls and I can put it down in no time. This is sort of like guacamole… which is probably why I loved it so.
SO go on and cut the avocado around the pit in the middle.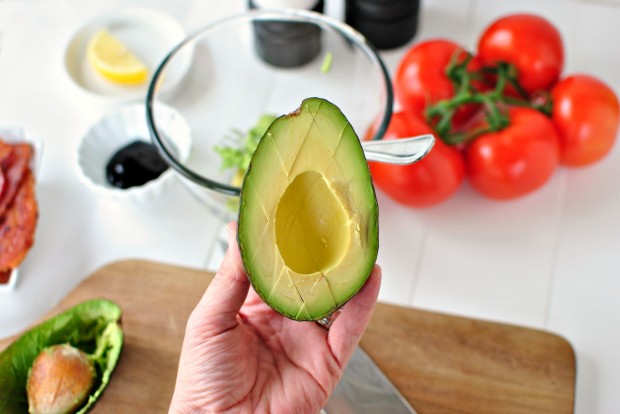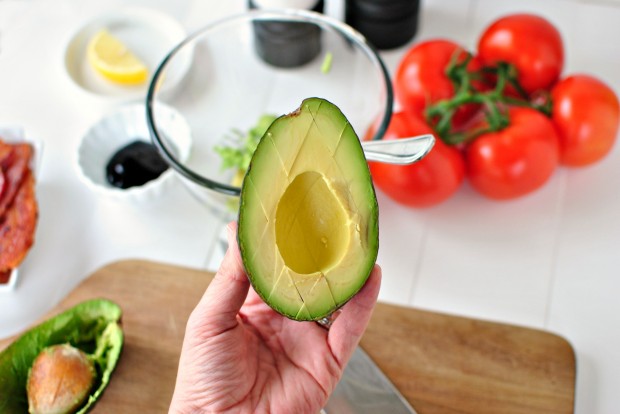 Carefully remove the pit, score it up…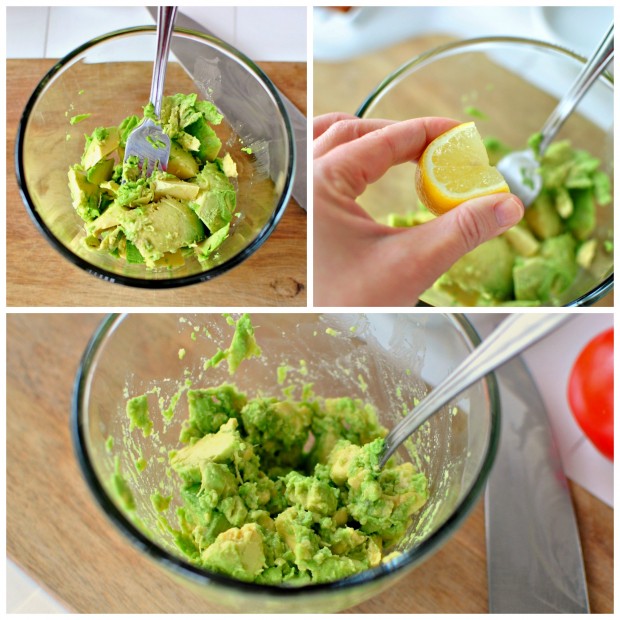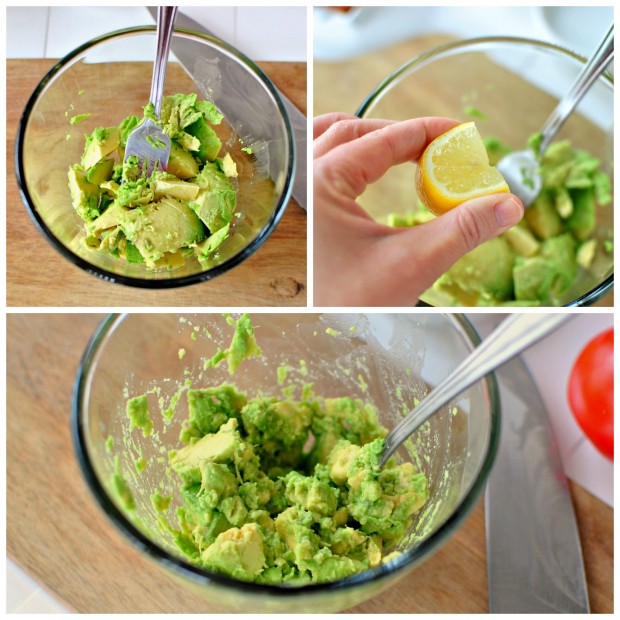 …and scrape both avocado halves into a bowl. Squeeze in just a wee bit of lemon juice. Not even the whole wedge, you don't want the avo to taste lemony. Mmm-k?
How To Get Ripe Avocados To LAST:
The trick to storing ripe avocados so they last is a no-brainer, it's easy and effective and has saved me SO much money. First buy hard to the touch, bright green avocados and allow them to ripen on the counter. Once they are black, soft to the touch (NOT squishy) pop them into the fridge. Because here is where they will last for quite a few days! You guys this has changed my life and I owe this trick to my sisters. No more wasted avocados!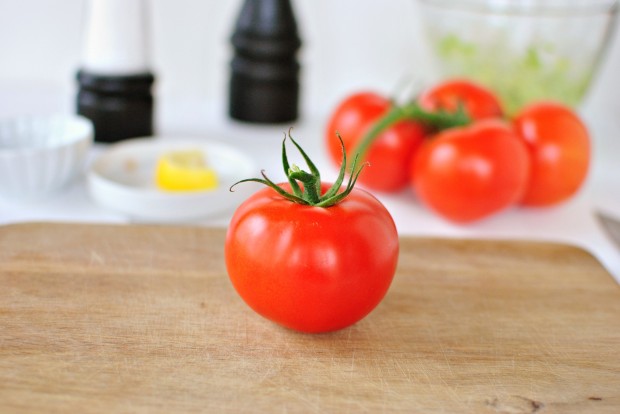 My grocery store had these Michigan-grown tomatoes on the vine. Like I'm totally sure they're from a greenhouse and not a farm, but I don't even care because they smell AMAZING! That tomato-plant-stem-smell… you know what I'm talking about. It's a smell I'd make into perfume. At risk of sounding like a totally crazy person… I stood there for a good second or seven smelling the vine part of my tomato. Yup. Like that.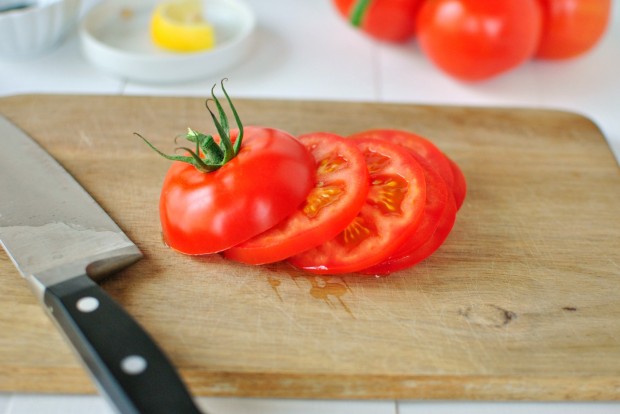 Slice the tomato thinly.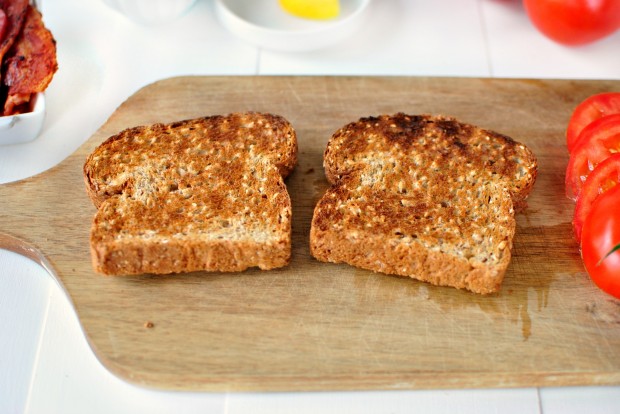 Then toast up some hearty, seedy, whole grain bread.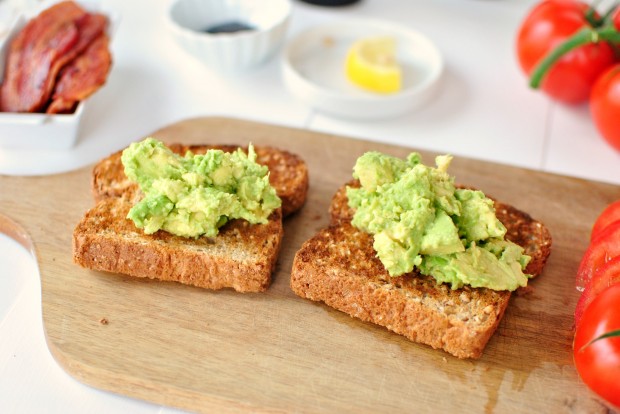 Next, top it with as much of the mashed avocado as you want…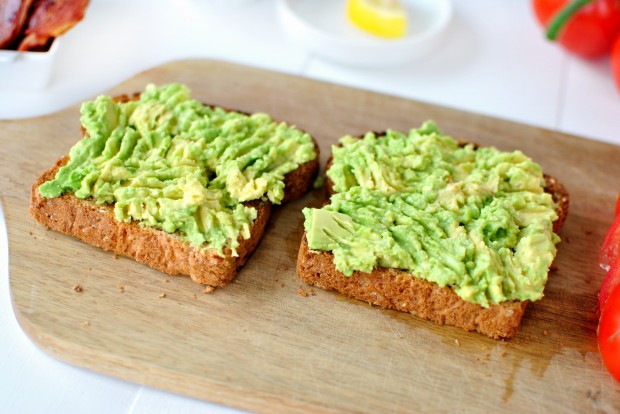 Then use the fork and smash it to the toast. Fork marks required.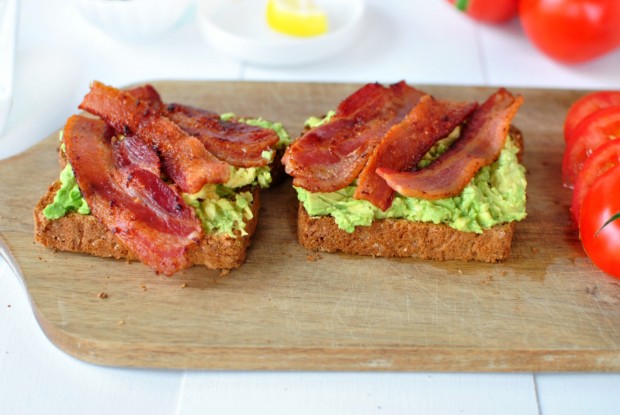 Next, top with crispy applewood smoked bacon. Is there any other kind? 😉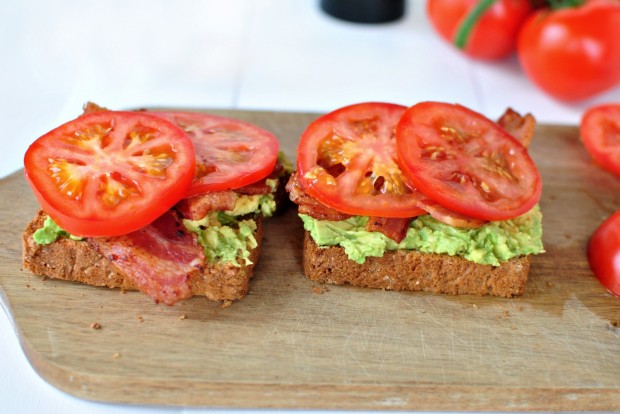 Then a couple tomato slices…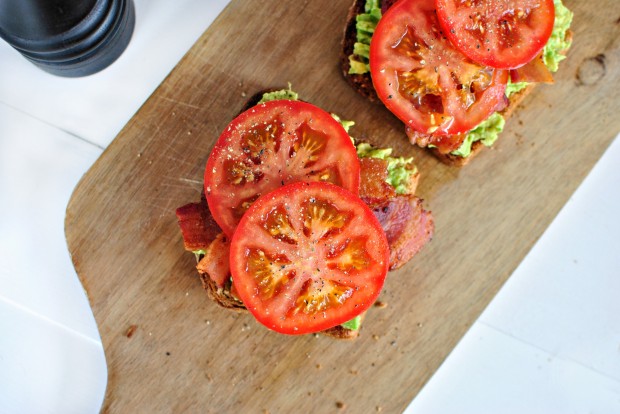 S & P…
And then add a drizzle of the syrupy balsamic reduction. Fancy. Yes.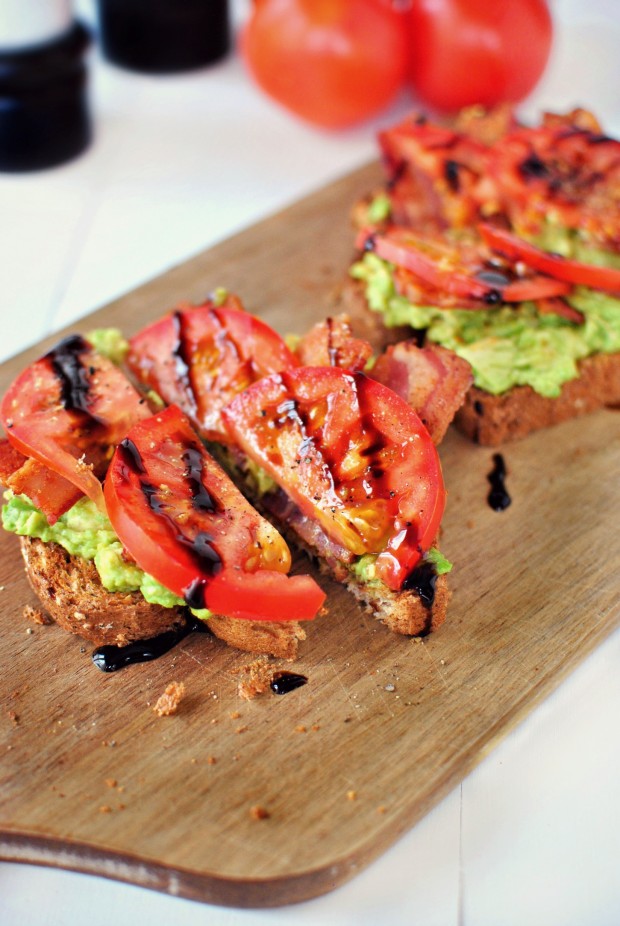 Then hardest part is cutting it in half. I'm amazed that I managed.
Sandwich Breakdown. The avocado and toast are amazing just by themselves. The tomato and avocado are basically family since pico and guac are pretty much essentials for any Mexican meal at least in our house. And of course balsamic and tomatoes just go together, naturally. So I thought why not get fancy and stack them together? So SO glad I did.
Like I said earlier, sometimes a girl craves Bacon Tomato Avocado Smashed Toast. Annnd sometimes a girl makes a recipe for "two" and eats both for lunch. This is why I'll never be a size 4. It's simple.
I just like food too much to exercise. But in my defense, the bread slices were teeny.
Enjoy! And if you give this Bacon Tomato Avocado Smashed Toast recipe a try, let me know! Snap a photo and tag me on twitter or instagram!
My cookbook Simply Scratch : 120 Wholesome Homemade Recipes Made Easy is now available! CLICK HERE for details and THANK YOU in advance!
Yield: 2 servings
Bacon, Tomato + Avocado Smashed Toast with Balsamic Drizzle
Toast topped an inch thick with smashed fresh avocado, crispy bacon, ripe tomatoes and drizzled with a thick, glossy balsamic reduction.
Ingredients
3 slices thick-cut applewood bacon, cut in half
2 slices whole wheat bread, toasted
1 small avocado
1 wedge lemon, or lime
1 medium tomato, sliced
1 pinch kosher salt, to taste
freshly ground black pepper, to taste
1 tablespoon balsamic vinegar
Instructions
In a skillet, cook the bacon halves until crispy.

In a small bowl, mash the avocado and a little juice from the lemon wedge (you might not need all of it) and a pinch of kosher salt.

Mash until desired consistency.

Divide the smashed avocado on to each piece of toast. Top each toast with three pieces, two slices of tomato and a pinch of kosher salt and black pepper.

Drizzle balsamic glaze over top and enjoy!
Serving: 1toast, Calories: 273kcal, Carbohydrates: 19g, Protein: 9g, Fat: 18g, Saturated Fat: 5g, Polyunsaturated Fat: 3g, Monounsaturated Fat: 9g, Trans Fat: 1g, Cholesterol: 22mg, Sodium: 357mg, Potassium: 439mg, Fiber: 5g, Sugar: 5g, Vitamin A: 569IU, Vitamin C: 16mg, Calcium: 46mg, Iron: 1mg
[this post contains affiliate links.]
This post may contain affiliate links.
Buy the Cookbook: Simply Scratch : 120 Wholesome Homemade Recipes Made Easy Now available on Amazon »
THANK YOU in advance for your support!