In this Avocado Corn Salsa masterpiece, grilled fresh sweet corn, halved cherry tomatoes are tossed together with green onion, cilantro, jalapeño, lime juice and avocado. Get your chips ready!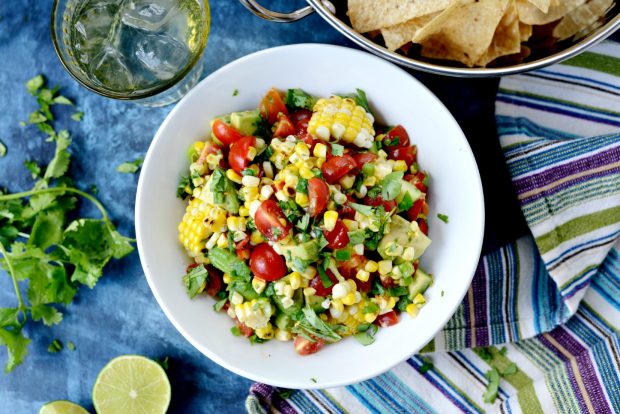 If any sort of corn salsa is in front of my face, I will consume it. That's a fact. That probably explains why this is the 6th corn salsa recipe that I've posted. I will not apologize. I'm perfectly fine with admitting to being a corn salsa addict. It could always be worse.
I don't know if it's the youngest sibling in me or what, but I feel this overwhelmingly desire to hover over the bowl and not share a kernel of it with anyone. That is until I realize how psycho I look and mentally have to talk myself into dropping my kung-fu arms, relaxing the protective stance and then finally stepping away (but not too far) from the bowl of salsa. <—- like I said, cray cray.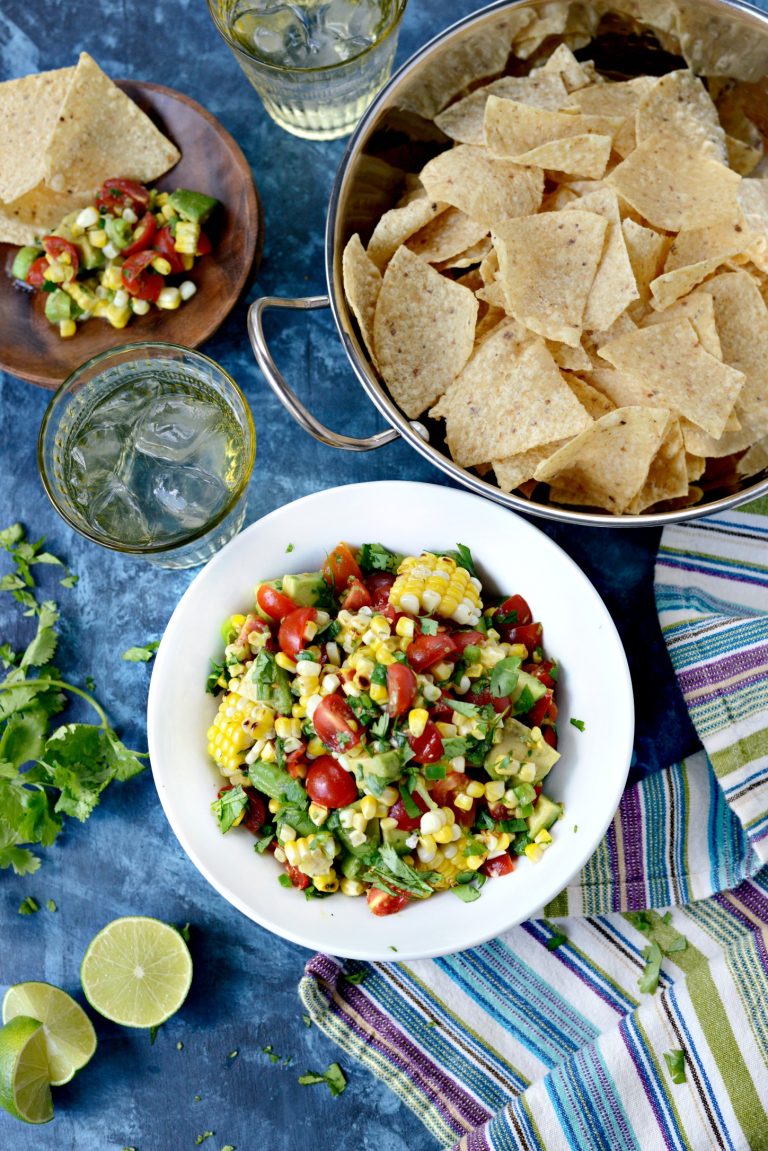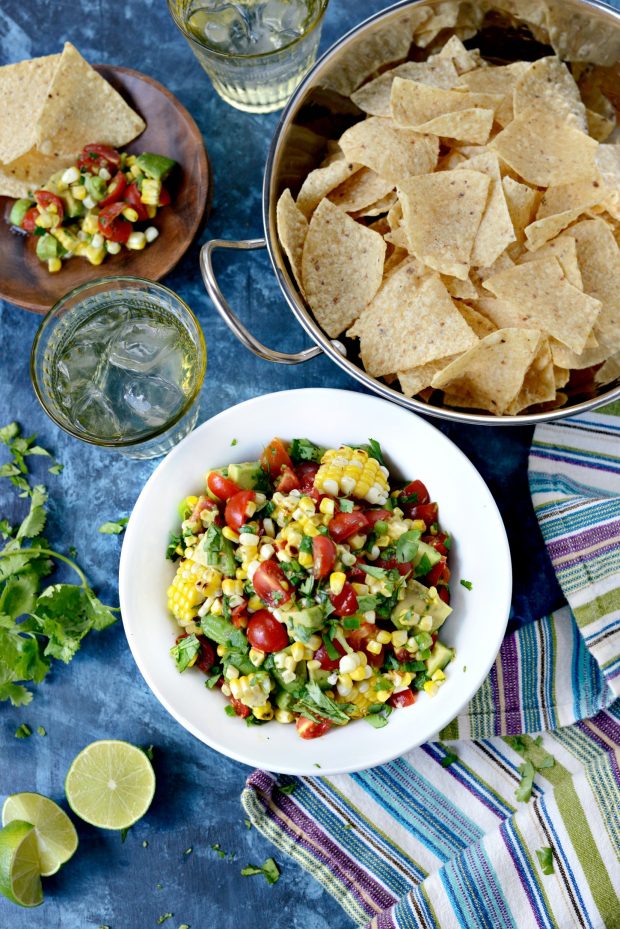 In this particular salsa, and what's missing from the other 5 recipes, is avocado. Oh how I love me some avocado! I buy avocado every time I go to the store because we are an avocado-loving family and eat it on the regular; smashed on toast, in salad or as guac. In this avocado corn masterpiece, I grilled up a couple ears of fresh sweet corn, halved some cherry tomatoes and tossed that together with green onion, cilantro, jalapeno, lime juice and a secret, but soon to be not-so-secret ingredient.
After that all that's done, all that is required is tortilla chips. But we also spoon it on our fajitas, tacos or nachos. Basically what I'm saying is that even a shovel would as a perfectly good vehicle to get the salsa from point A (the bowl) to point B (your face)- that's if you can get past me, of course. 😉
How To Get Ripe Avocados To LAST:
The trick to storing ripe avocados so they last is a no-brainer, it's easy and effective and has saved me SO much money. First buy hard to the touch, bright green avocados and allow them to ripen on the counter. Once they are black, soft to the touch (NOT squishy) pop them into the fridge. Because here is where they will last for quite a few days! You guys this has changed my life and I owe this trick to my sisters. No more wasted avocados!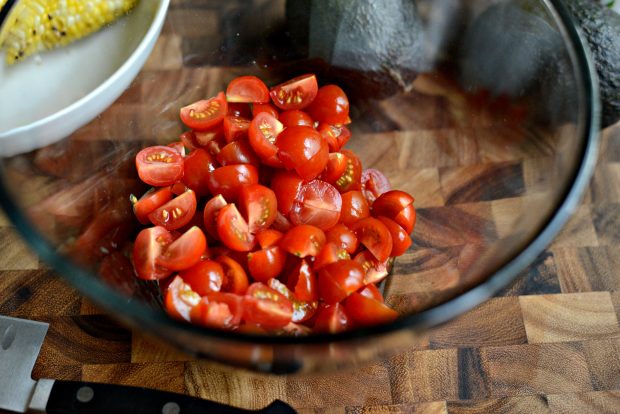 Quarter up a pint of cherry tomatoes…
…kernels from 2 ears of grilled corn…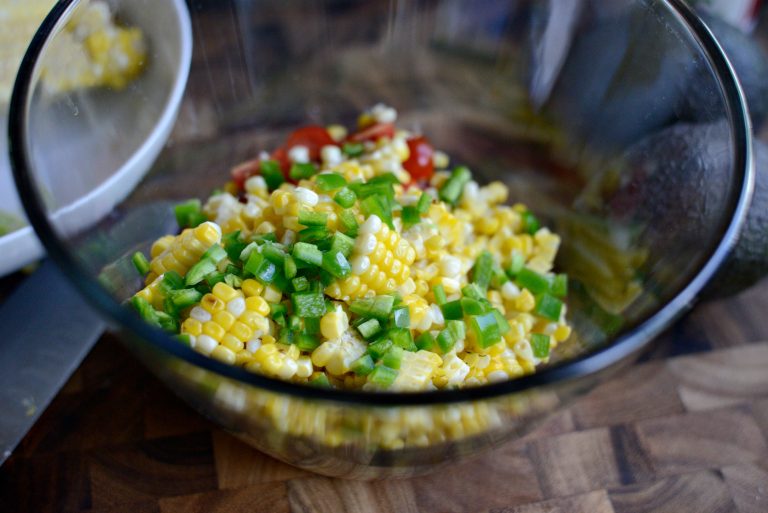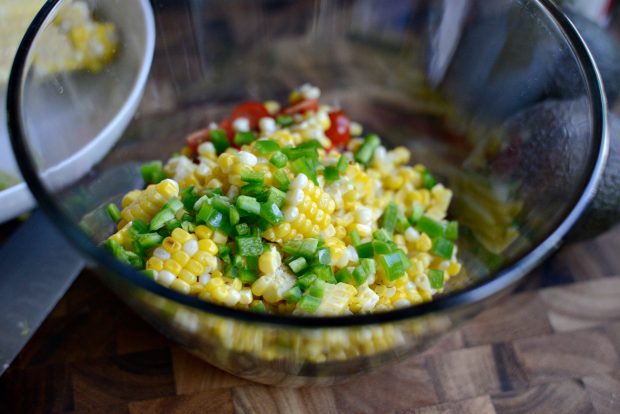 …1 (seeded and diced) jalapeno, keep the rips and some seeds for more heat…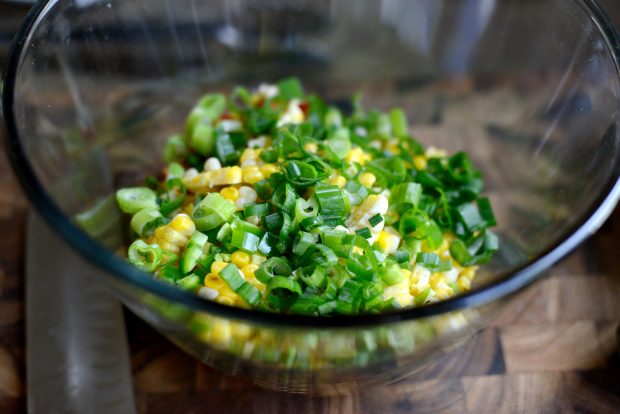 …2 green onions, sliced…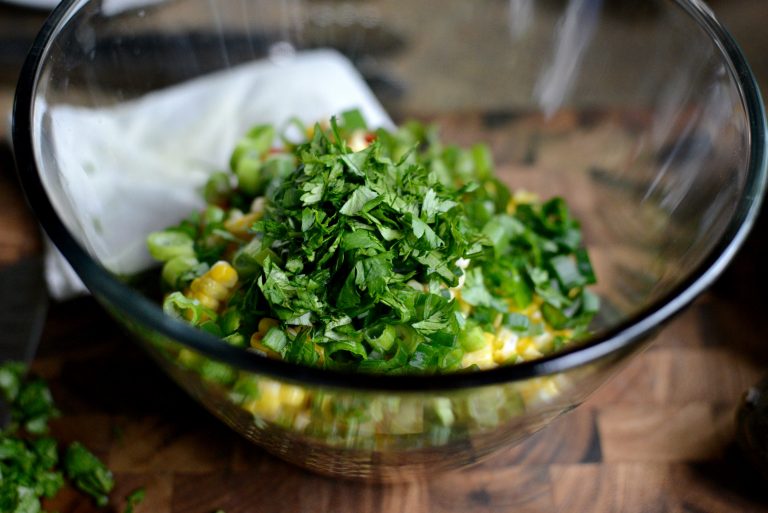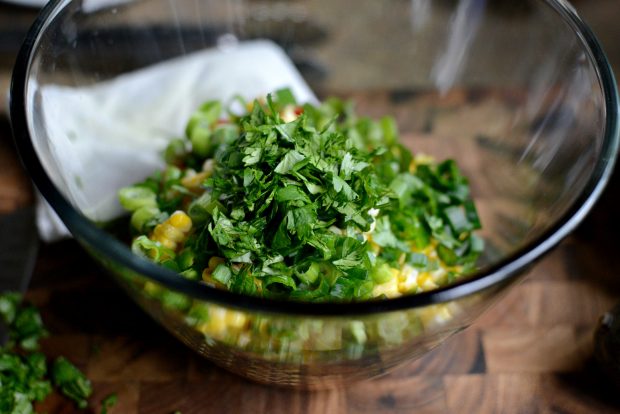 …1 handful chopped cilantro (about 1/4 cup)…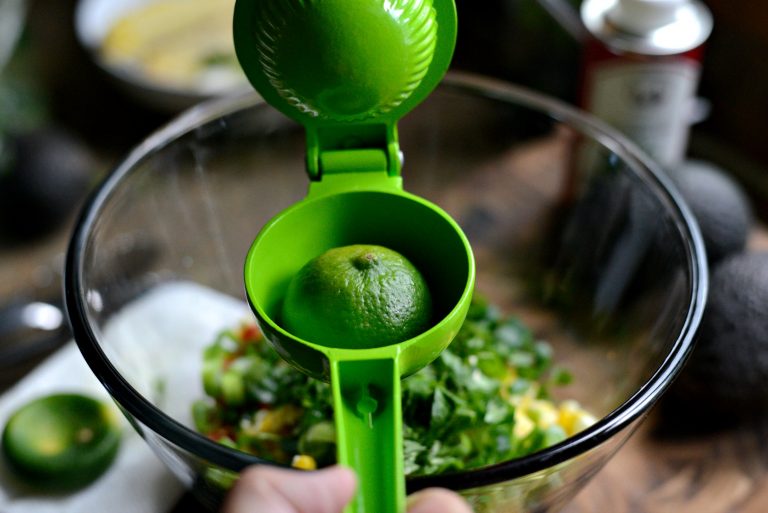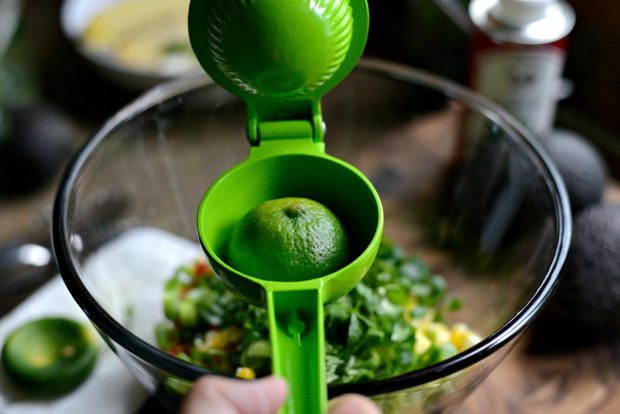 …the juice of one small lime…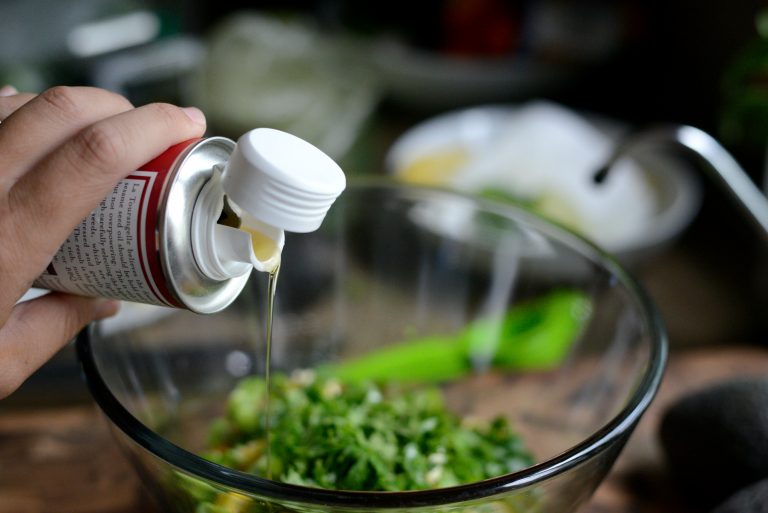 and (secret ingredient alert!) 1/4 to 1/2 teaspoon of toasted sesame oil, I eyeball it. This gives it a subtle and delicious somethin-somethin.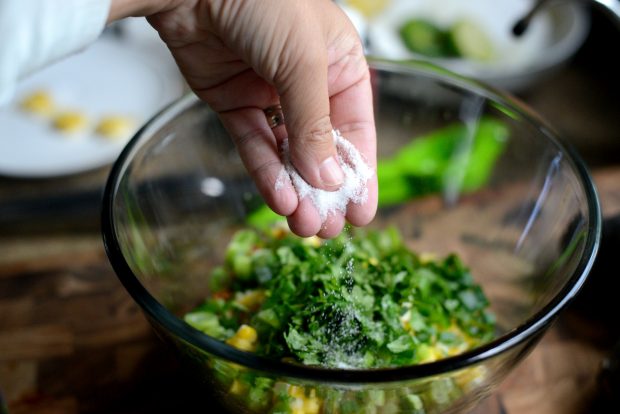 Next season with a generous pinch of sugar…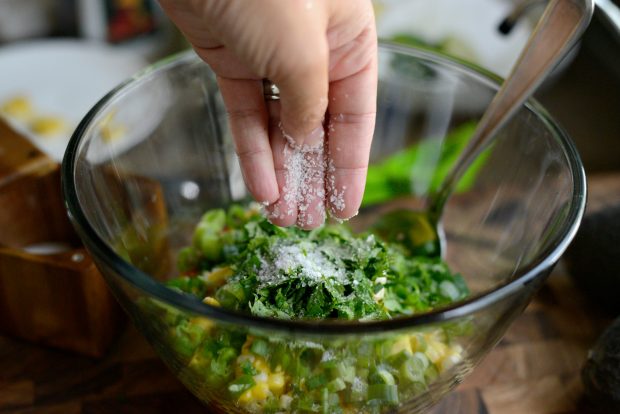 …and kosher salt.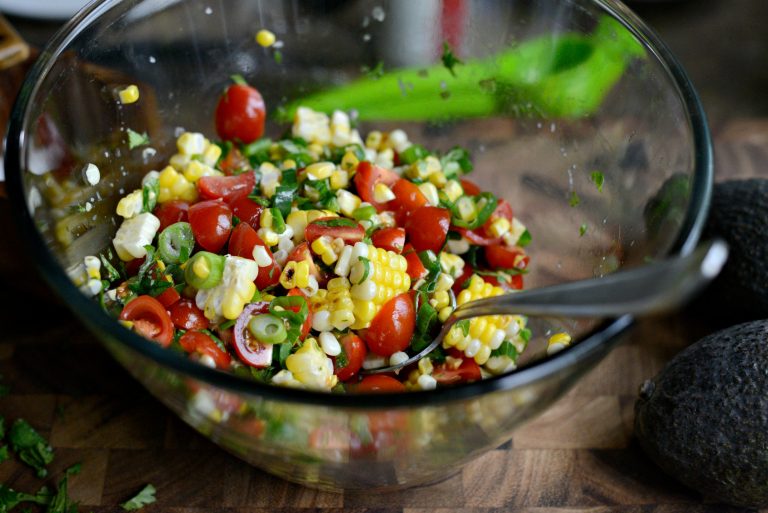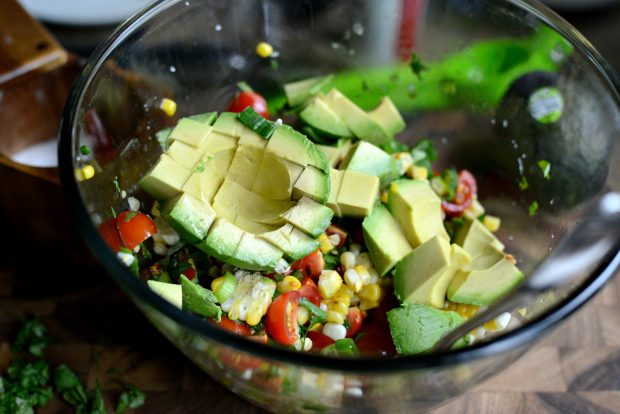 Toss to combine before adding in the avocado. Depending on their size, I use 1 to 2 avocados.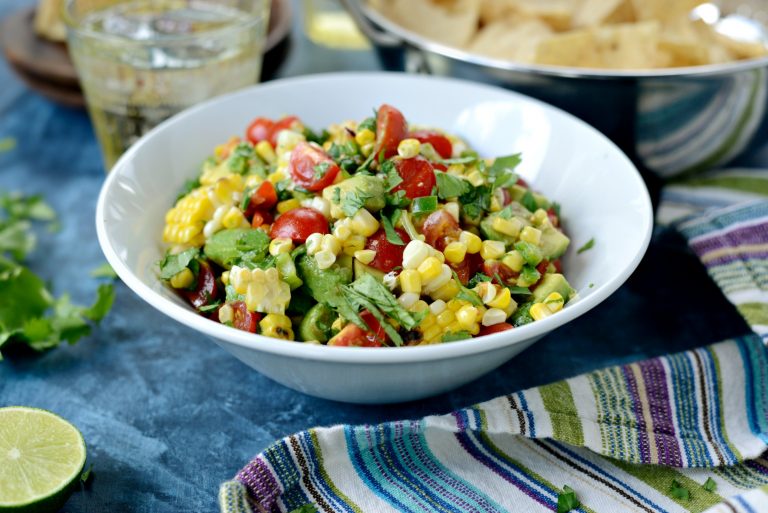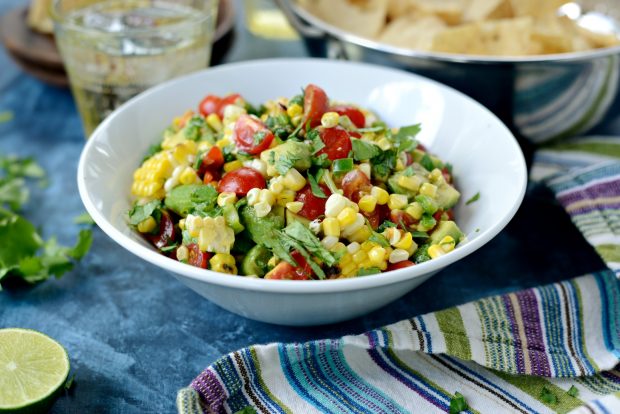 Finally, gently toss the avocado in to the salsa and that's it!
Finally, serve immediately with tortilla chips or tacos or fajitas or nachos.
And margs. It's Friday so definitely margs.
Enjoy! And if you give this Avocado Corn Salsa recipe a try, let me know! Snap a photo and tag me on twitter or instagram!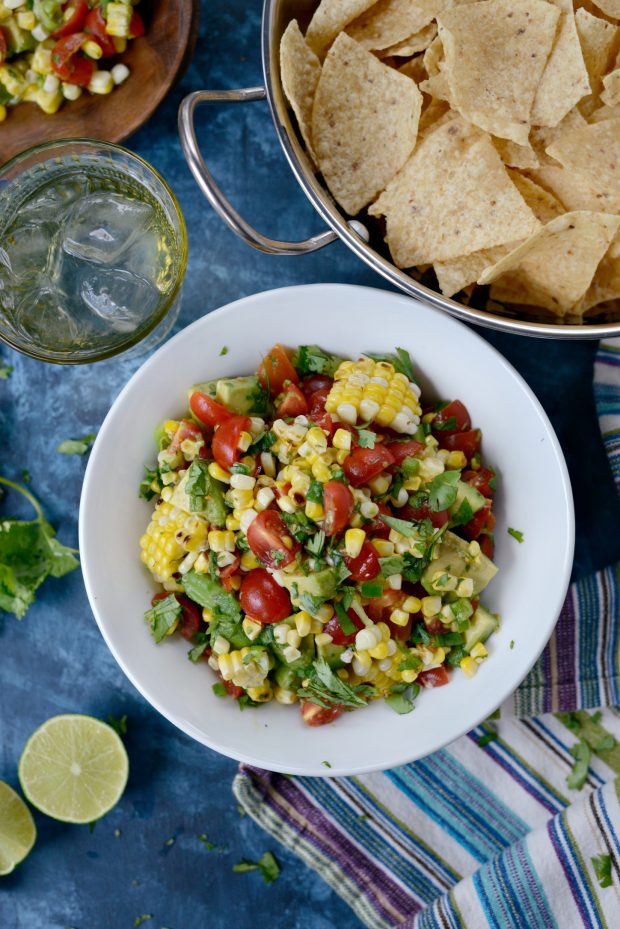 My cookbook Simply Scratch : 120 Wholesome Homemade Recipes Made Easy is now available! CLICK HERE for details and THANK YOU in advance!
[this post contains affiliate links.]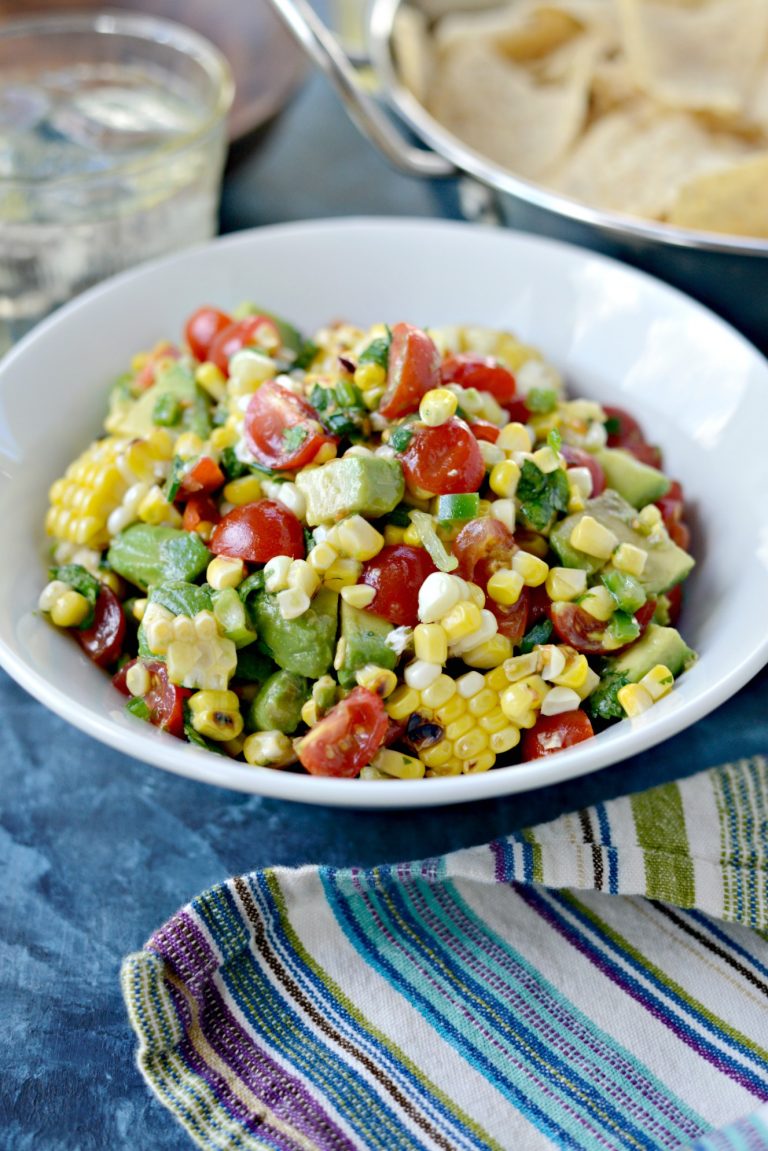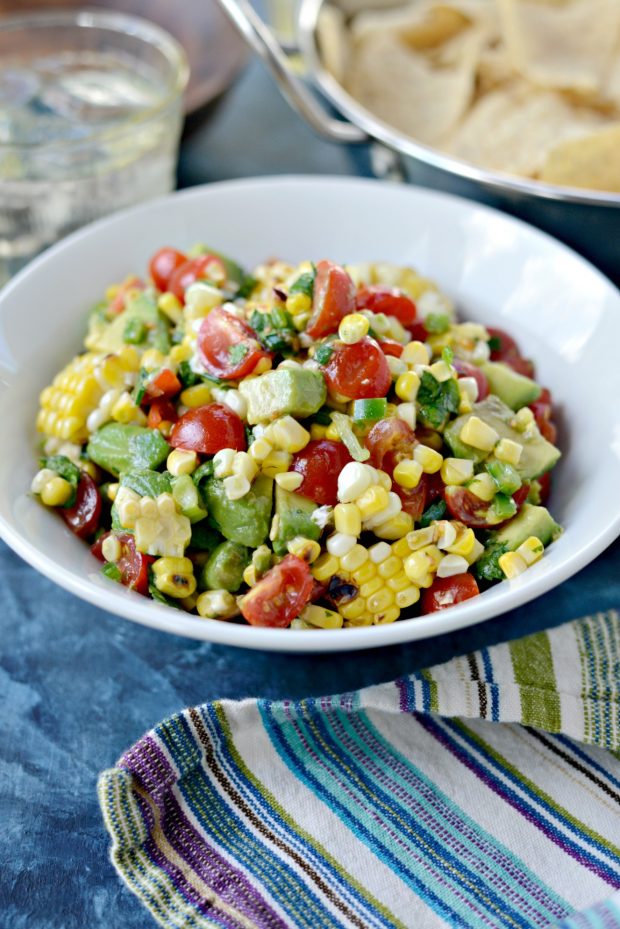 This post may contain affiliate links.
Buy the Cookbook: Simply Scratch : 120 Wholesome Homemade Recipes Made Easy Now available on Amazon »
THANK YOU in advance for your support!