Air Fryer Baja Fish Tacos are a healthier version of the deep-fried classic we all know and love. Cod is lightly breaded in seasoned panko and air-fried until golden. The crisp and flavorful fish is then tucked into toasty corn shells and topped with thinly shredded cabbage, avocado, homemade pico and chipotle crema. This recipe yields 12 tacos.
Baja Fish Tacos are my love language.
And our favorite Mexican restaurant makes the BEST baja fish tacos. (yes, you Sagebrush!) Deep fried fish tucked into warm corn tortillas and topped with all the fixings. The only downside is the calories – which is obviously why they're so dang good!
As you know, ever since getting my air fryer, I've tried to recreate all my beloved deep-fried foods to make them healthier. It started with coconut shrimp, then beer battered onion rings, french fries… you get the picture. Recently, I tried making my version of I tossed pieces of cod in a little egg beaten with beer, rolled them in some baja seasoned panko crumbs and air fried them for 8 minutes or golden brown. Filled corn shells with them and topped them with all my favorite Sagebrush toppings. Plus avocado. Always avocado.
These tacos are everything. A huge hit in our house and just in time for Cinco de Mayo!
To Make Air Fryer Baja Fish Tacos You Will Need:
for the chipotle crema
plain nonfat greek yogurt
mayonnaise
lime juice
chipotles in adobo
chipotle powder
garlic powder
onion powder
for the fish tacos
cod (loins if possible)
egg
Mexican beer
panko breadcrumbs (try making your own!)
olive oil spray
white corn tortillas
finely shredded cabbage
sliced avocado
chipotle crema (above)
lime wedges, for serving
In the bowl of your mini food processor, measure and add; plain greek yogurt, mayonnaise, lime juice, 1 large or 2 small chipotle peppers in adobo, 3/4 teaspoon chipotle powder and 1/4 teaspoon each onion and garlic powder.
Blend until smooth. Transfer it to a bowl or a squeeze bottle and refrigerate until ready to serve.
I like to use cod for this recipe, however any firm white fish would be fine. When shopping, I look for cod loins. Loins are cut from the middle (fattest) section of the the fillet. The are shorter and thicker which I find easier to cut and are easier to batter and air fry.
Now set up your breading station.
You will need; cod that have been cut into 1-1/2 to 2 inch pieces, panko bread crumbs, baja seasoning, an egg and Mexican beer.
In a medium bowl, combine the panko with some of the baja seasoning.
If desired, you can omit the egg mixture and panko and just season the fish with the baja seasoning before air frying.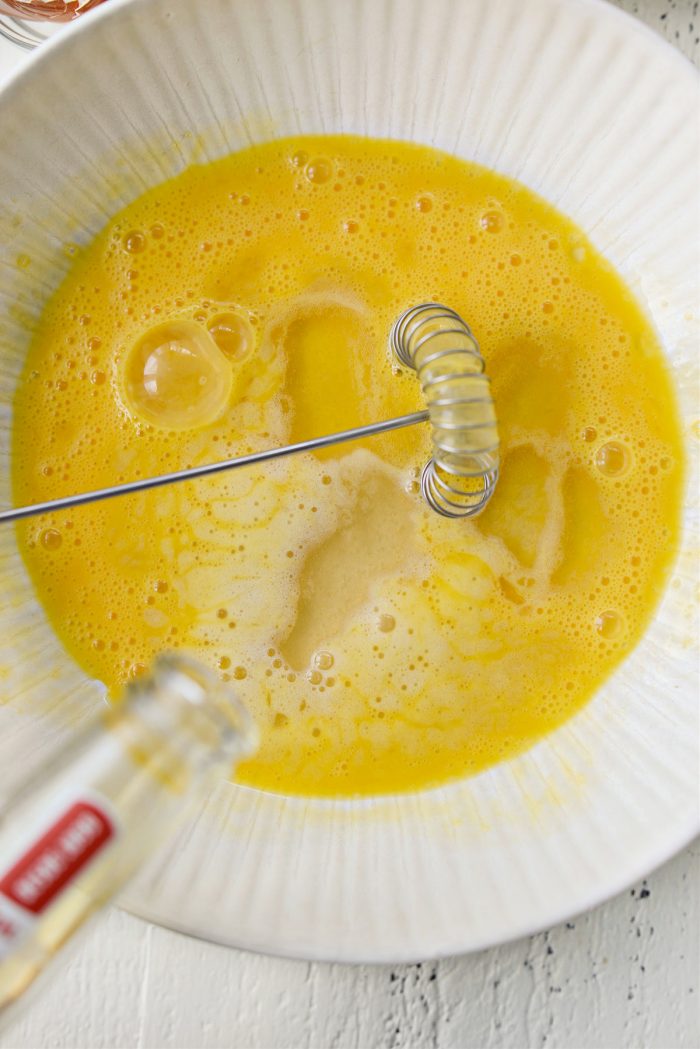 In a separate bowl, beat the egg with a little Mexican beer.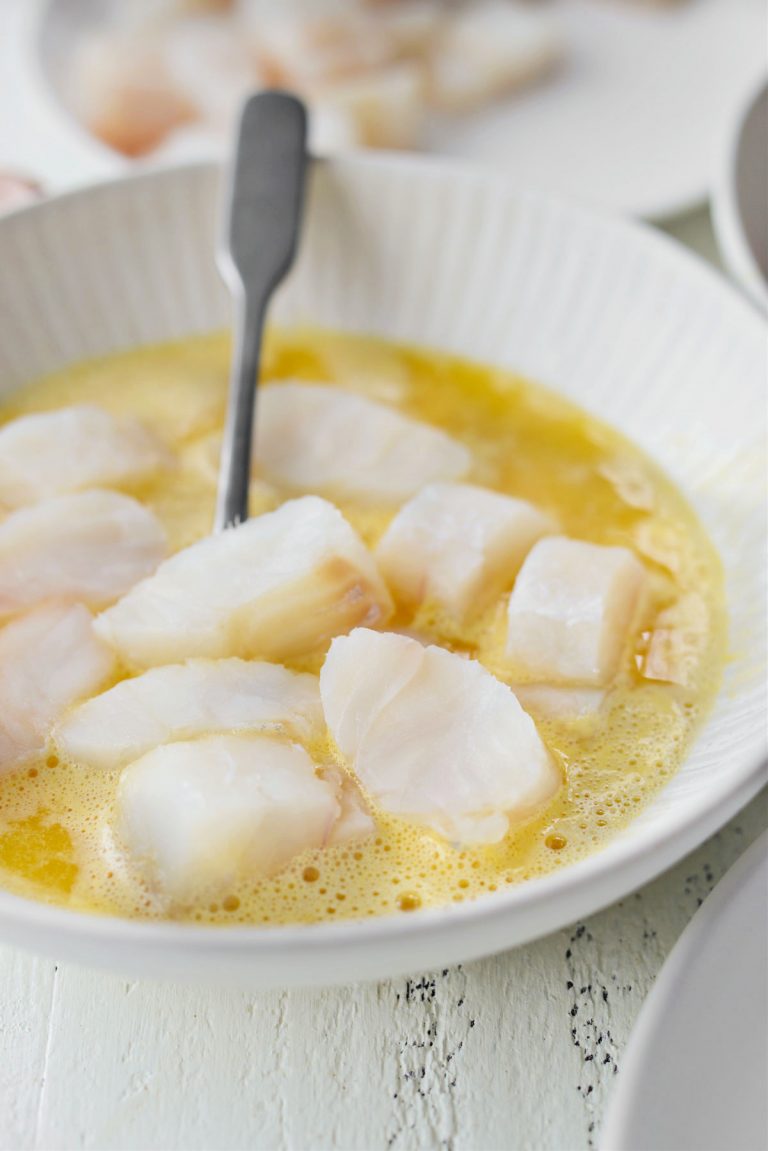 Working in batches, dip the fish into the egg mixture.
Drain excess back into the bowl.
Roll and press the fish into the seasoned panko mixture.
Making sure they are coated on all sides.
Transfer to a clean platter. Repeat. Once you are finished breading the fish, lightly spray the top of the coated fish with olive oil spray.
Preheat your air fryer to 390° and spray the basket or pan.
What Is Air Frying?
An air fryer is a counter top appliance that requires less oil (anything from a few spritz to 1 tablespoon) yet produces crispy food that rivals most deep fried foods. By using circulating hot air, it moves at a high speed so the food tends to cook in a fraction of the time.
There are a bunch of different makes and models of air fryers. My husband did the research (as he's known to do) and found this air fryer [affiliate] to be one of the best. But do your research and purchase one that fits your lifestyle.
How is Air Frying Healthier?
Air frying is healthier because only a thin layer of oil coats the food and when the hot air comes in contact it will crisp. Saving you a ton of fat and calories (without sacrificing any flavor!) because food is not being submerged in a vat of hot oil.
Keep in mind, not all air fryers are equal. Some preheat and some do not. Some are smaller than others therefore you may need to work in smaller batches to air fry.
For more Air Fryer recipes, click here for my growing collection.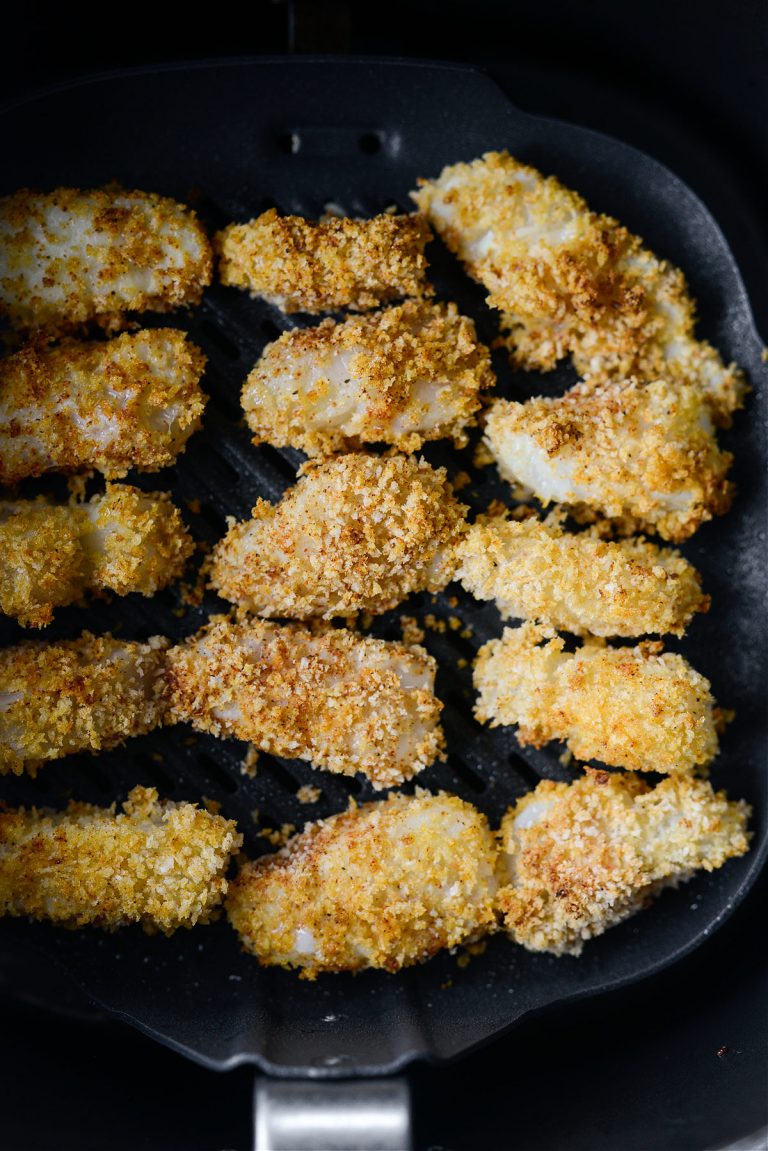 Once your air fryer is preheated, spray the basket or pan with olive oil. Work in batches, air frying the breaded fish for 8 minutes or until the internal temperature is 145°.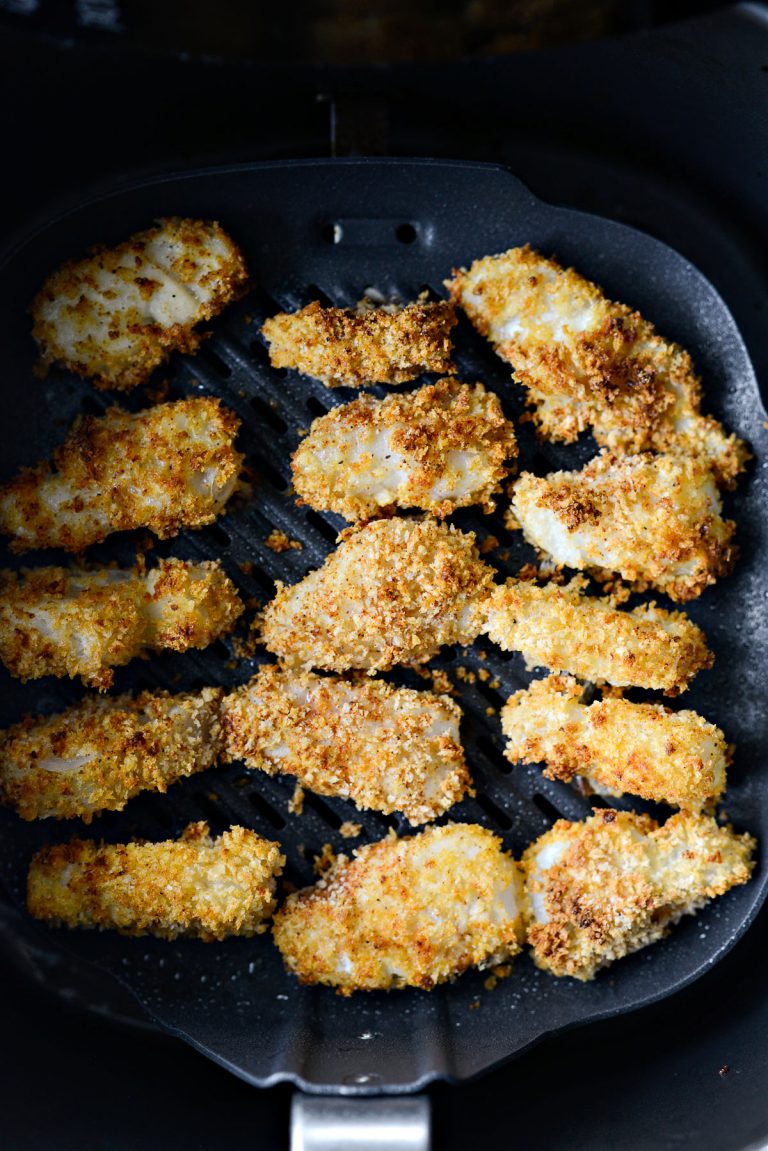 They should golden brown and smell incredible.
Meanwhile, lightly toast the white corn shells in a dry skillet over medium-high heat, until warm and lightly golden in spots. About 30 seconds a side in a preheated skillet. Keep warm in a clean kitchen towel.
Tuck a couple pieces of fish (per taco) into the toasty shells.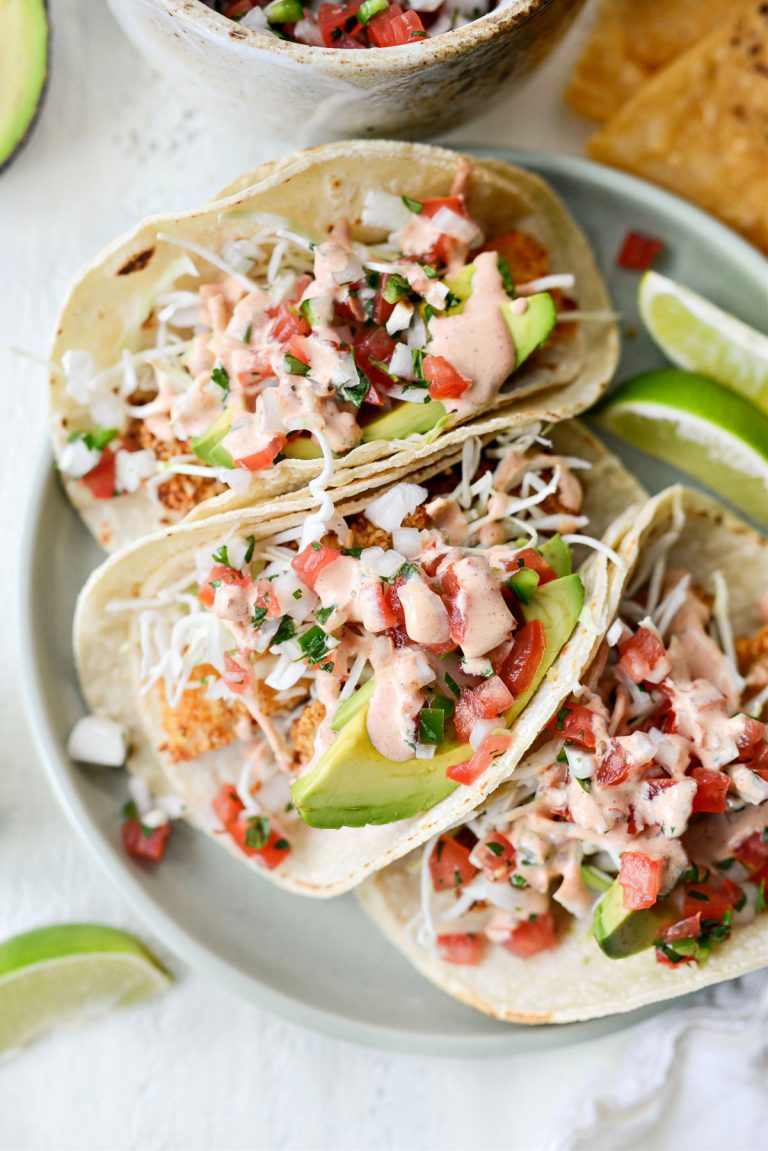 Top with shredded cabbage, avocado, pico de gallo, a zigzag of the chiptole crema and squeeze a wedge of lime over top!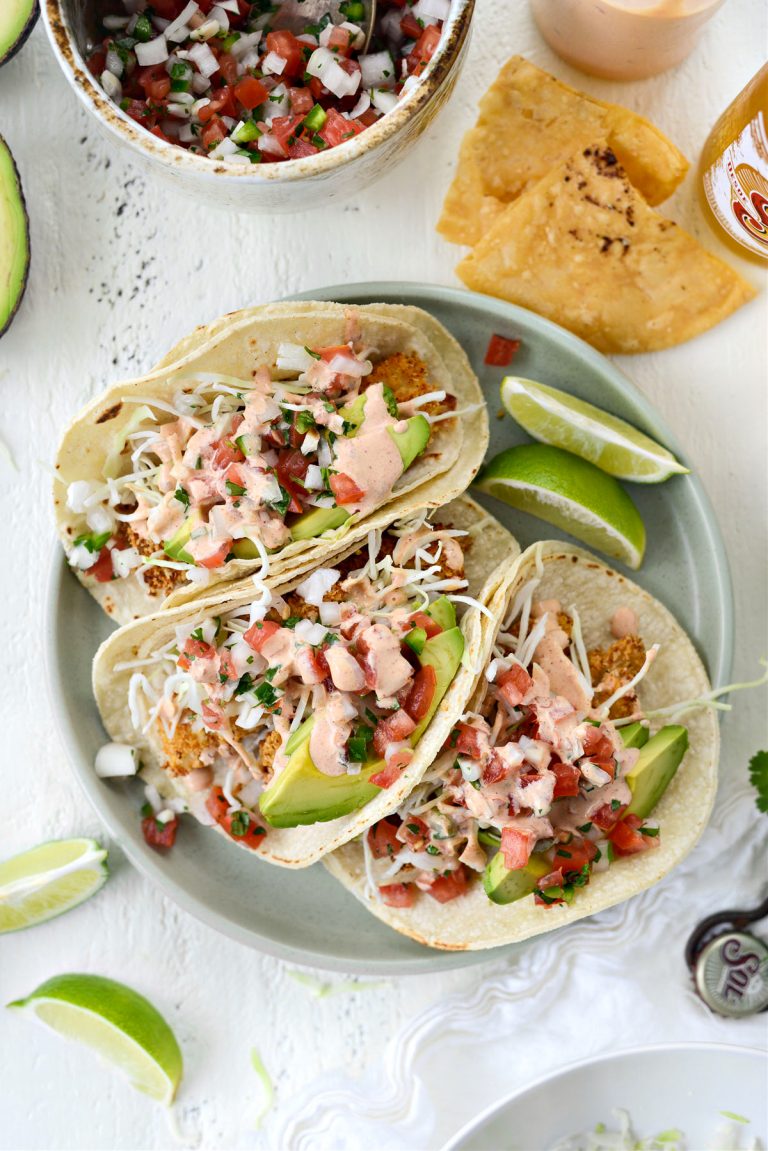 Serve with cervezas, extra pico and tortilla chips.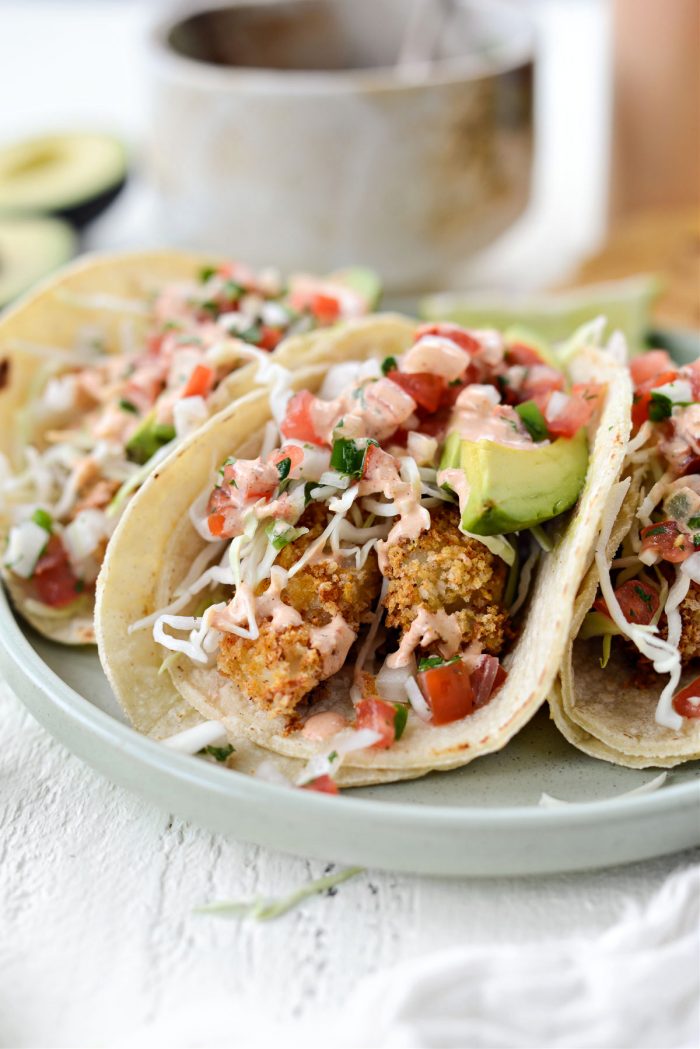 Fresh. Flavorful. Delicious. And a fraction of the fat and calories.
You're going to love these!
Enjoy! And if you give these Air Fryer Baja Fish Tacos a try, let me know! Snap a photo and tag me on twitter or instagram!
This post may contain affiliate links.
Buy the Cookbook: Simply Scratch : 120 Wholesome Homemade Recipes Made Easy Now available on Amazon »
THANK YOU in advance for your support!