Smoked Chile Con Queso is a simple dip loaded with a ton of flavor! Toss cooked ground beef with decide tomatoes, green chiles, jalapeños and cheese and smoke it in your grill. Makes about 8 cups.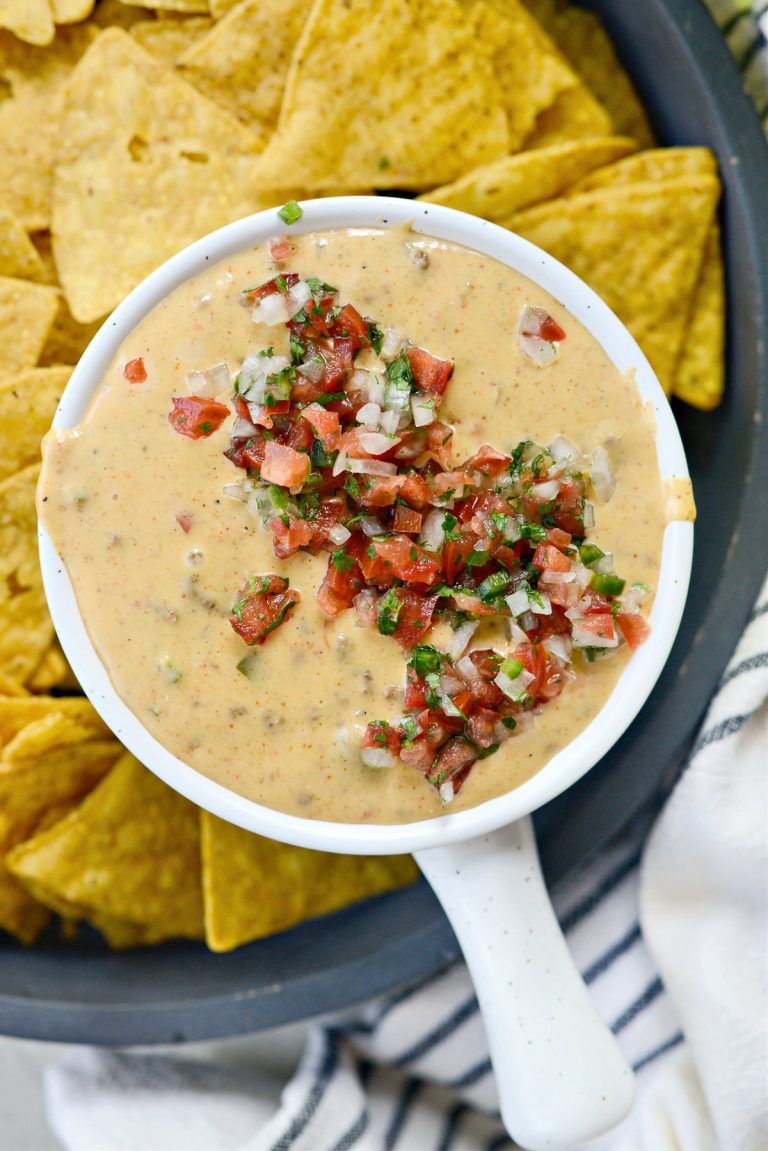 What is better than a bowl of queso?
A 9×13 pan filled with creamy smoked chile con queso! If you haven't smoked your queso YOU MUST! It's deliciously addictive and couldn't be any easier to make. This recipe makes a lot, so it's great for a crowd or enjoying all by your self.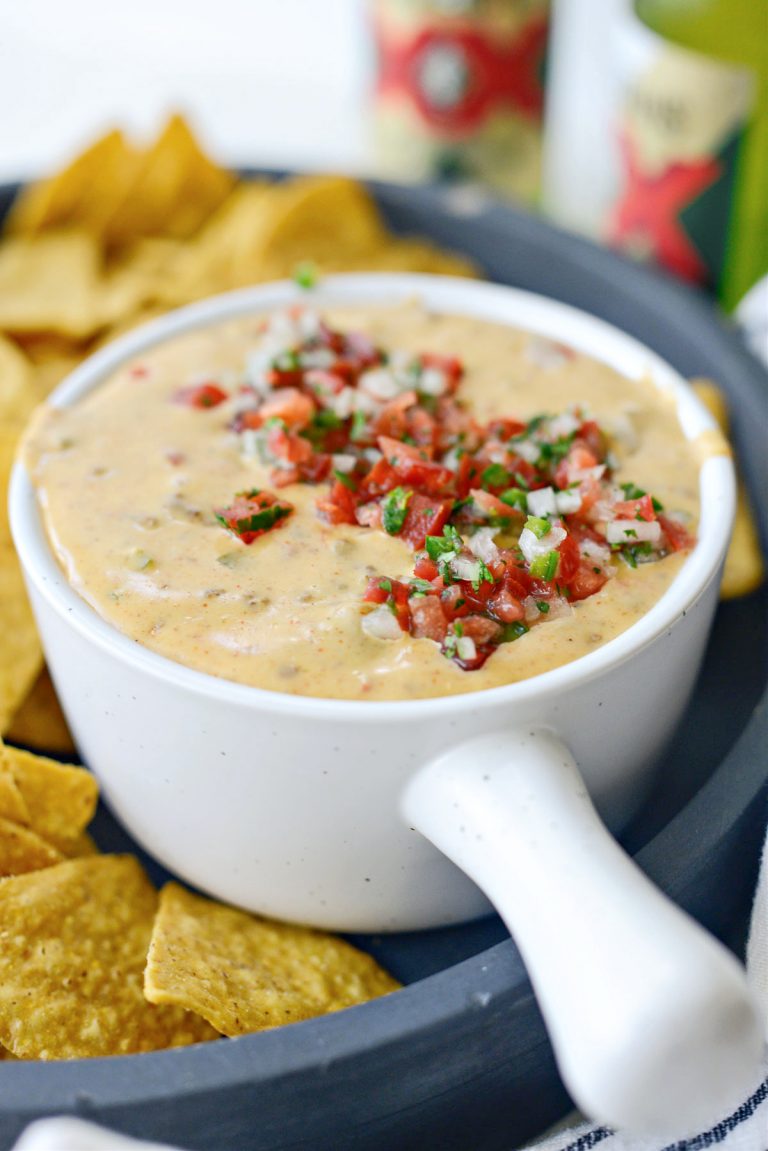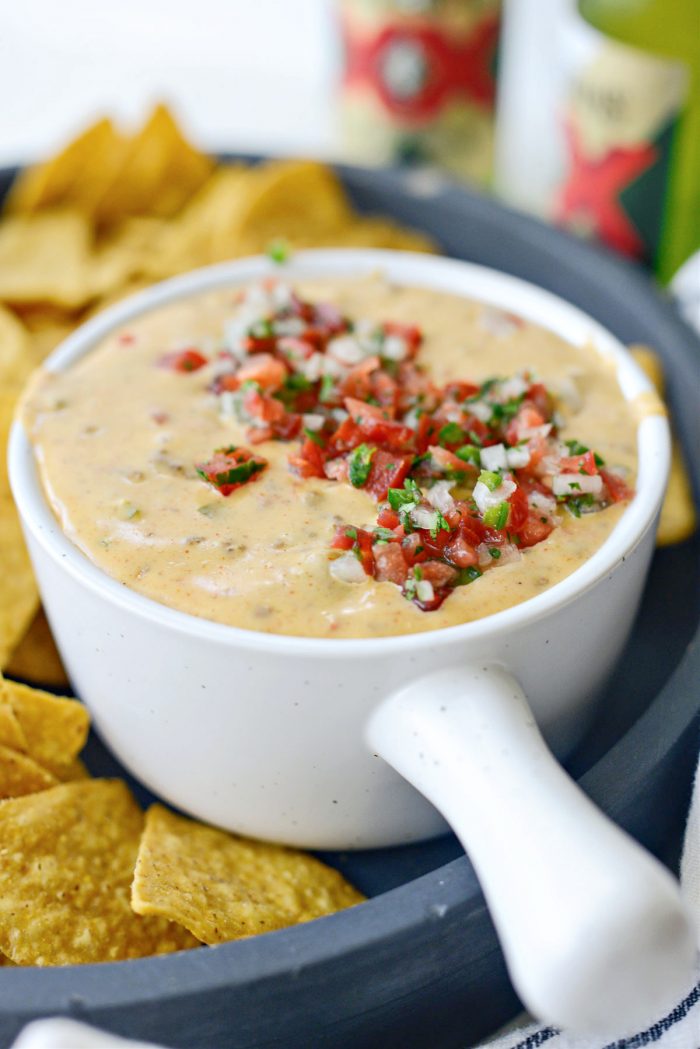 Side note: queso is not my favorite thing to photograph.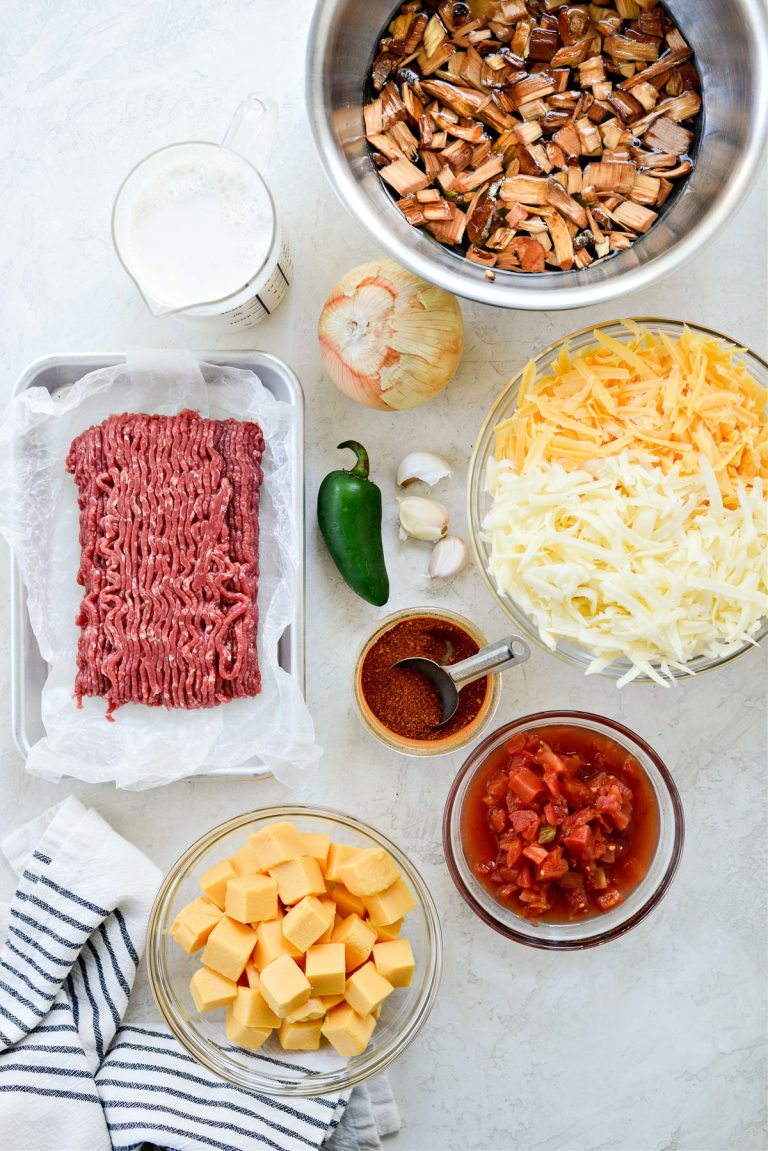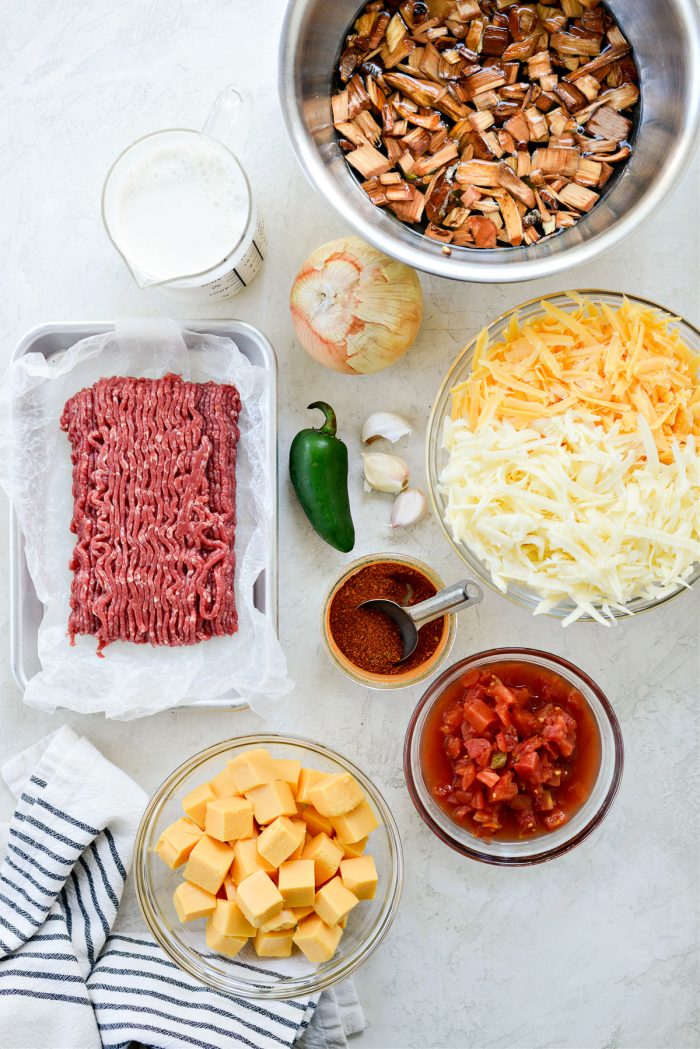 To Make This Smoked Chile Con Queso You Will Need:
apple wood chips
lean ground beef
yellow onion
garlic
diced tomatoes with green chiles
jalapeño
velveeta
sharp cheddar cheese
monterrey jack cheese
half & half
tortilla chips
To a large bowl, add lots of apple wood chips bowl and cover with water. Let those soak for no less than 30 minutes.
Next, add 1 pound of 96% lean ground beef, 1/2 a diced yellow onion and 3 cloves minced garlic into a 12-inch skillet.
Use a wooden spatula to break up the meat until fully cooked and no longer pink. Drain and discard any excess fat.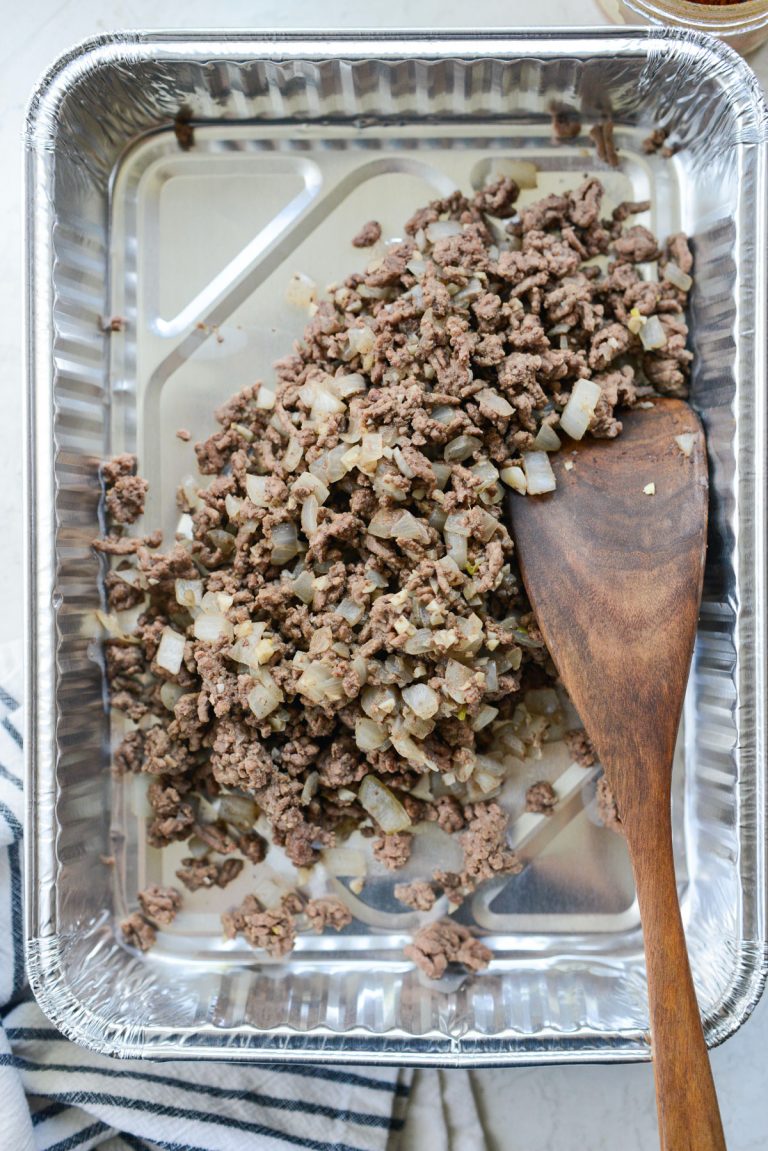 Transfer the meat and onion mixture to a disposable aluminum pan. Because these pans tend to be flimsy, I doubled up. BTW this is a 13×9 "stuffing" pan.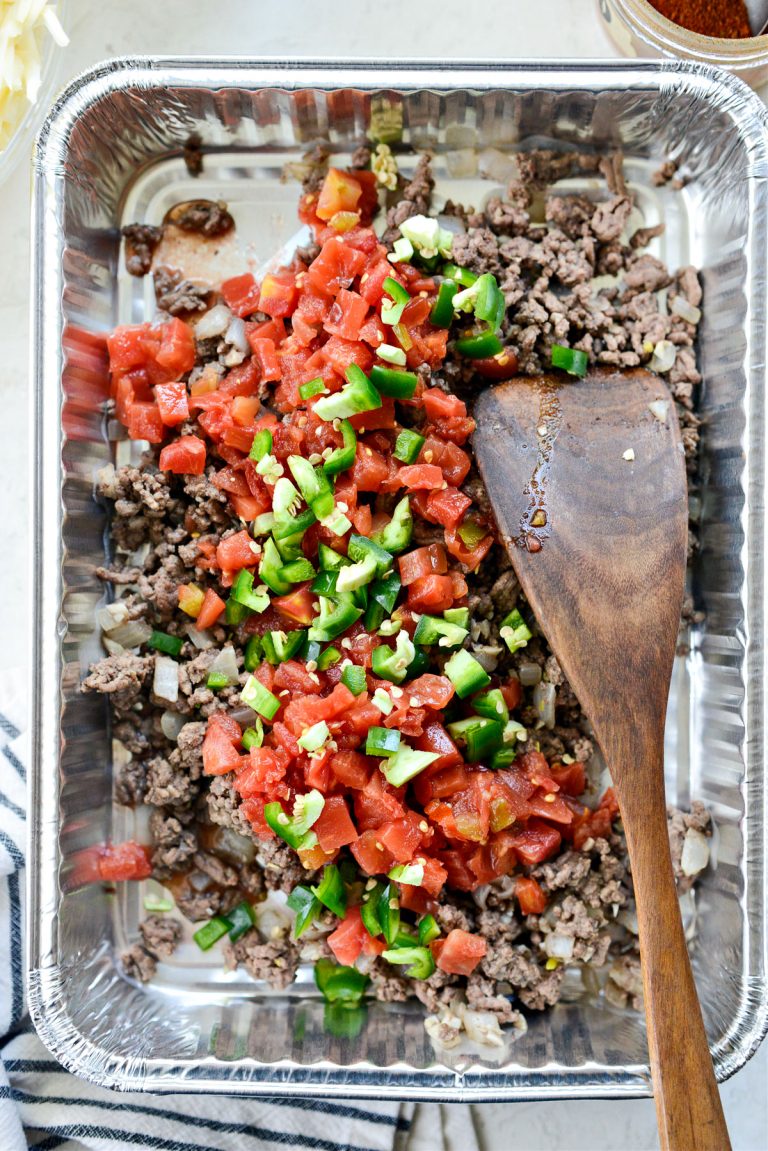 To the meat mixture add 1 (10 ounce) can diced tomatoes and green chiles (aka Rotel), 1 chopped medium jalapeño (leave the seeds and ribs in for more heat!).
And then measure and add 1 and 1/2 tablespoons taco seasoning.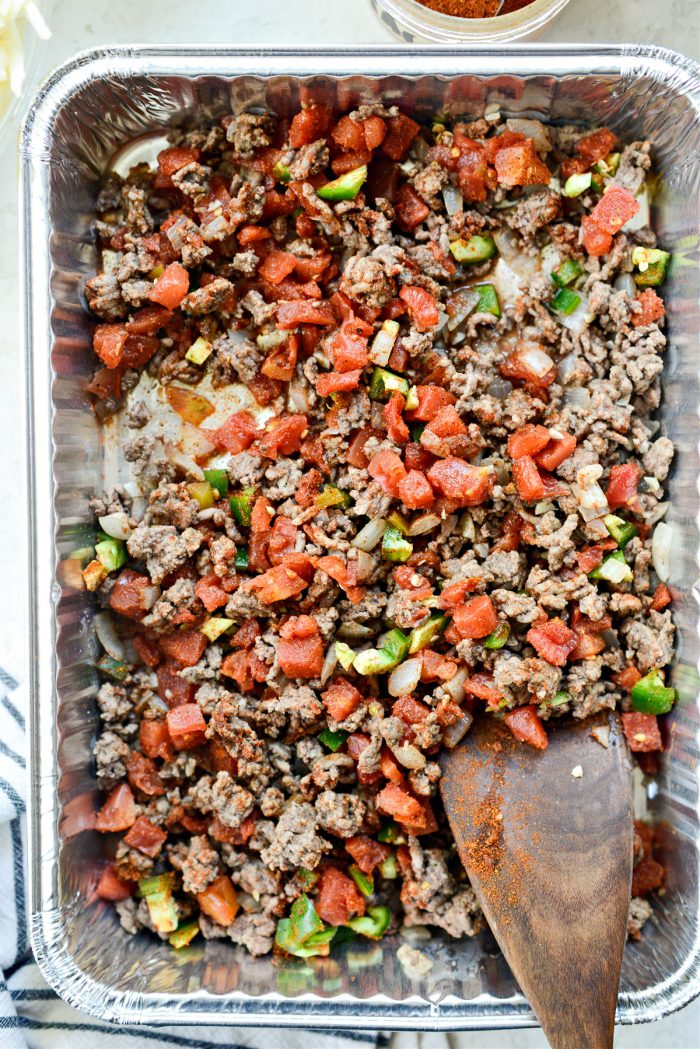 Toss those together.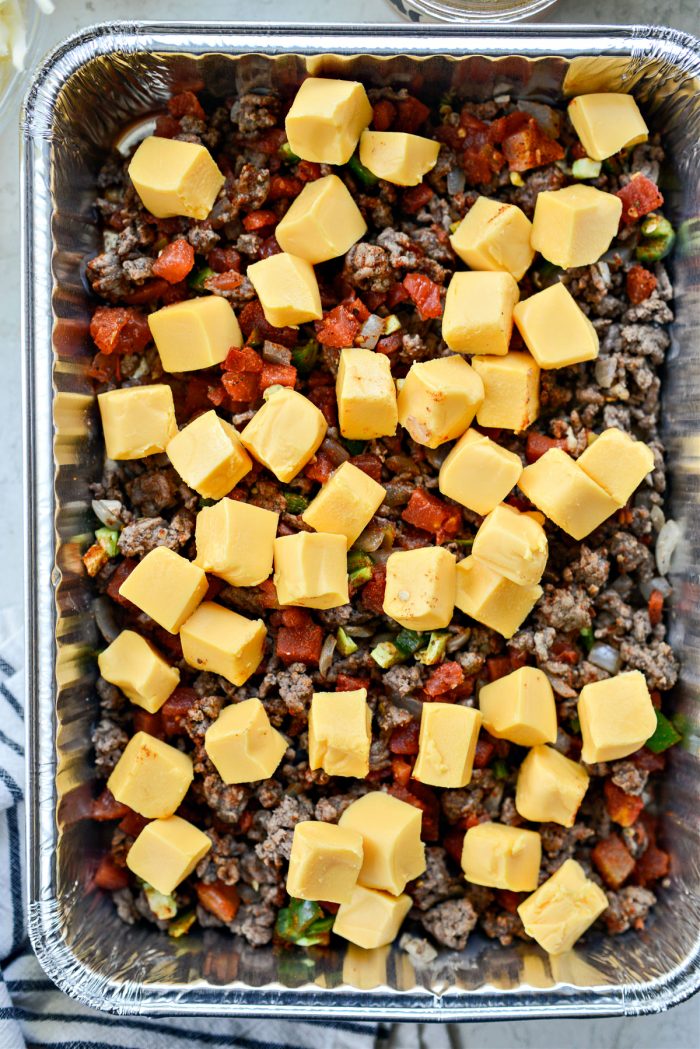 Add the cheese. Yes, I'm using velveeta BUT this is like the only exception in my life. In my opinion, this queso needs it so it doesn't separate and get all oily.
To that, add 1 (8 ounce) block each of sharp cheddar cheese and Monterey Jack that has been grated on the large holes of your box grater.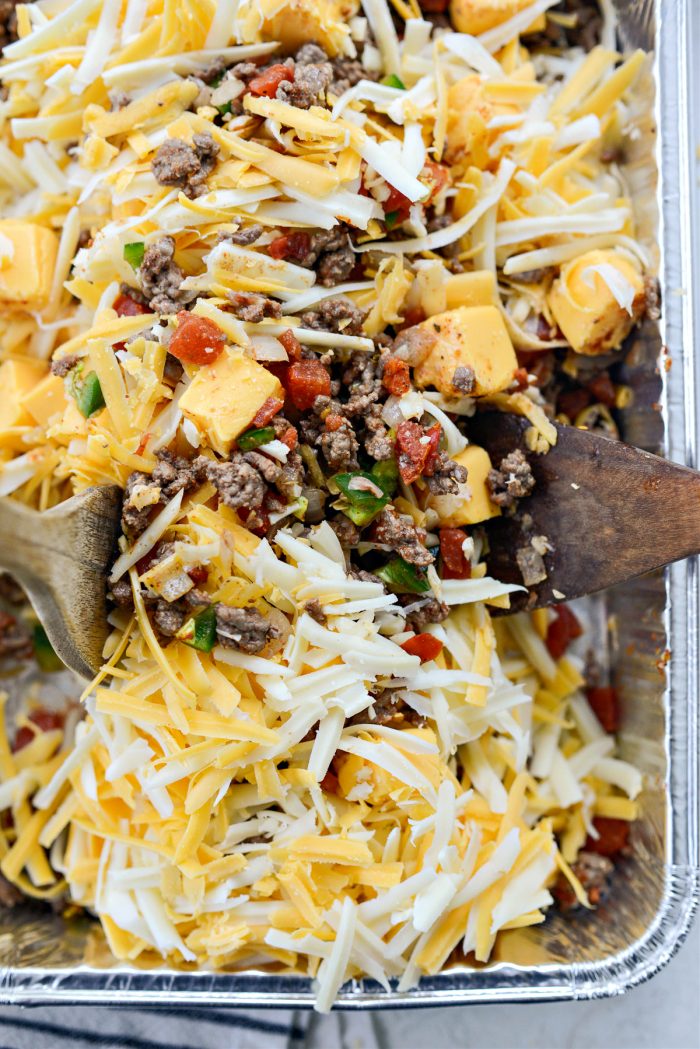 Give it all a toss.
Lastly pour 1 cup of half & half over top.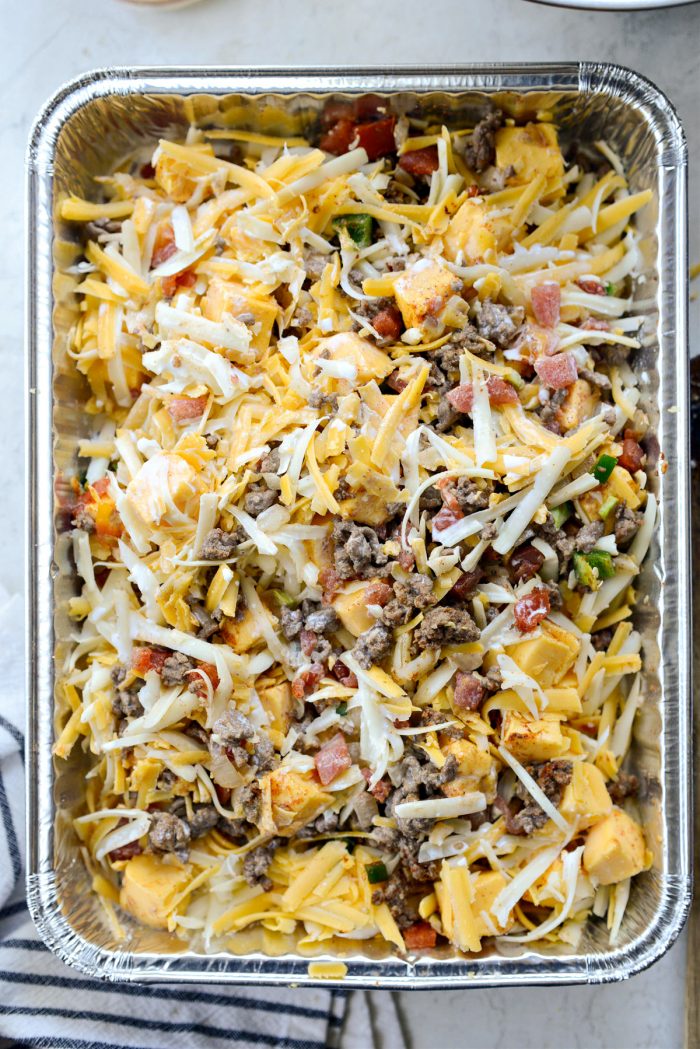 Now prep your grill and smokebox.
First, preheat your grill on high for 15 minutes.
Once hot, clean grates and use tongs to open the smokebox. Use the same tongs to grab the soaked wood chips (2 to 3 tongs full), dripping excess water back into the bowl.
And add to the smokebox and then close the lid. Ignite the burner under the smoke box.
If your grill does not come with a smokebox, you can purchase one online or at hardware store.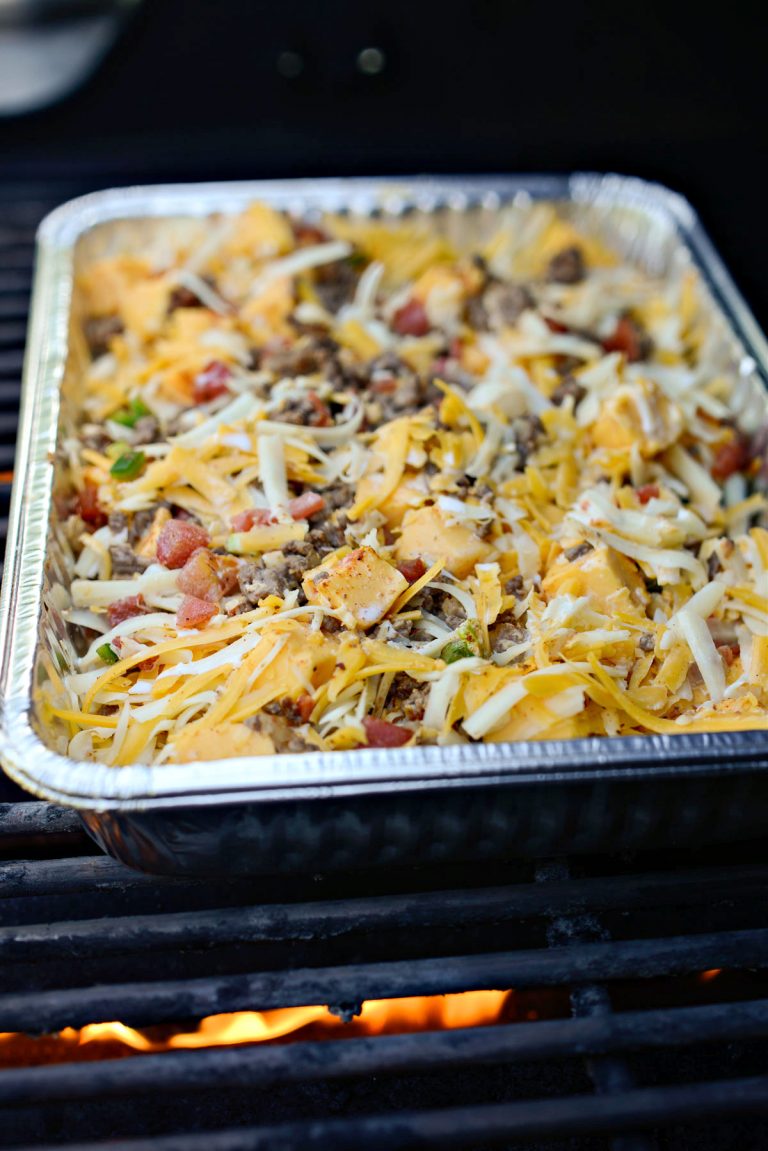 Place the dip on the grill grates.
The closer to the smokebox the more smokier the dip.
Close the lid and turn off all the burners with the exception of the one under the smoke box. On my Weber grill, that one burner is enough to keep the grill at 250-300°. Smoke the queso for 30 minutes.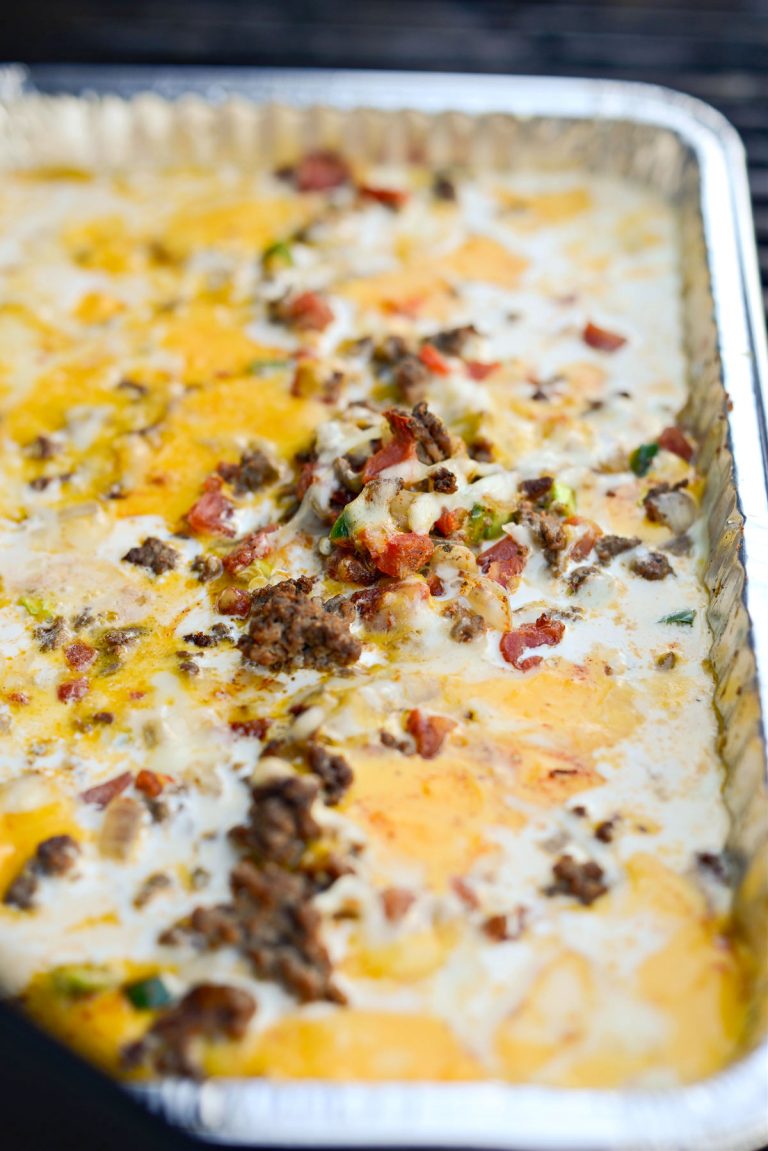 This is it after smoking for 30 minutes.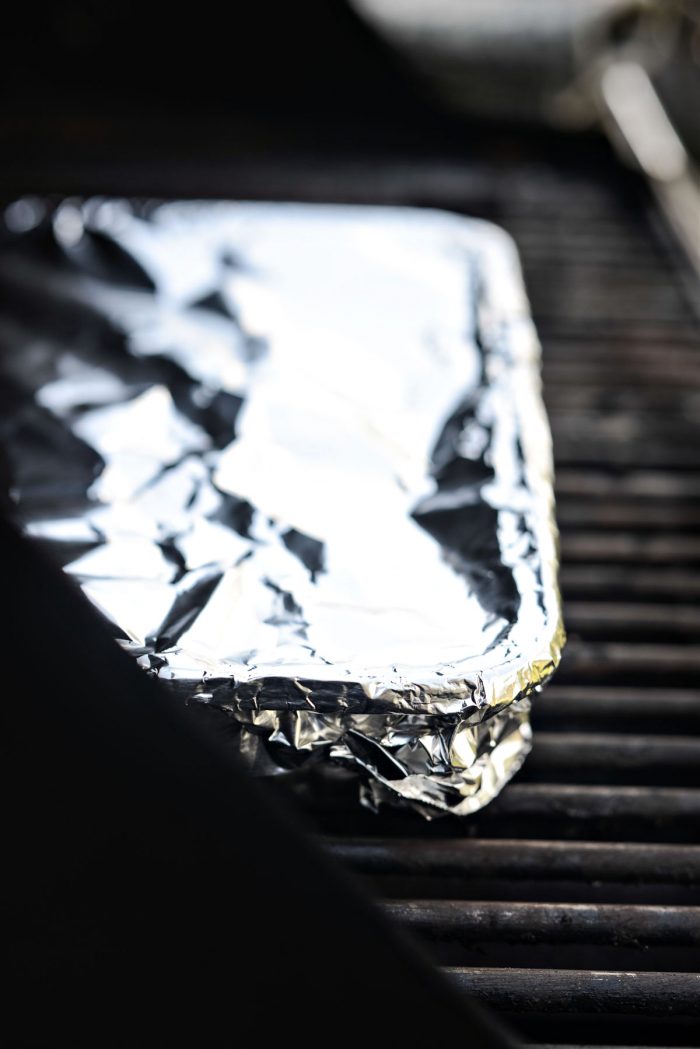 Cover with foil and close the lid, for 30 more minutes.
Remove, stir and add more half and half to thin the queso out. I usually do this on the grill to keep the dip warm. Alternatively, you could heat the half & half in a saucepan and then gradually add it.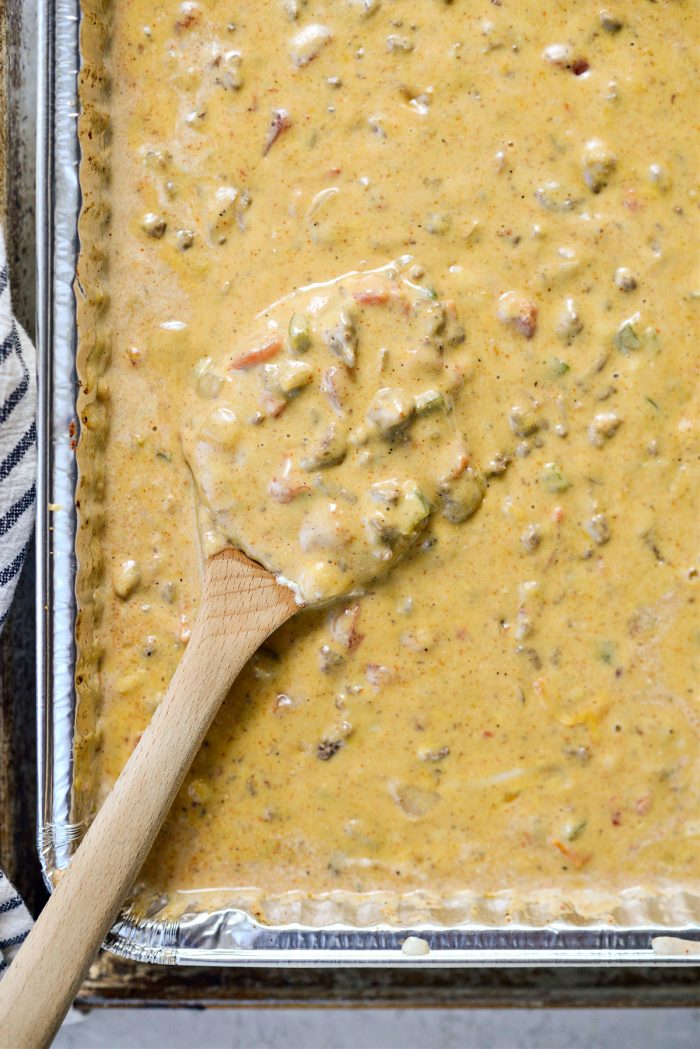 Delicious.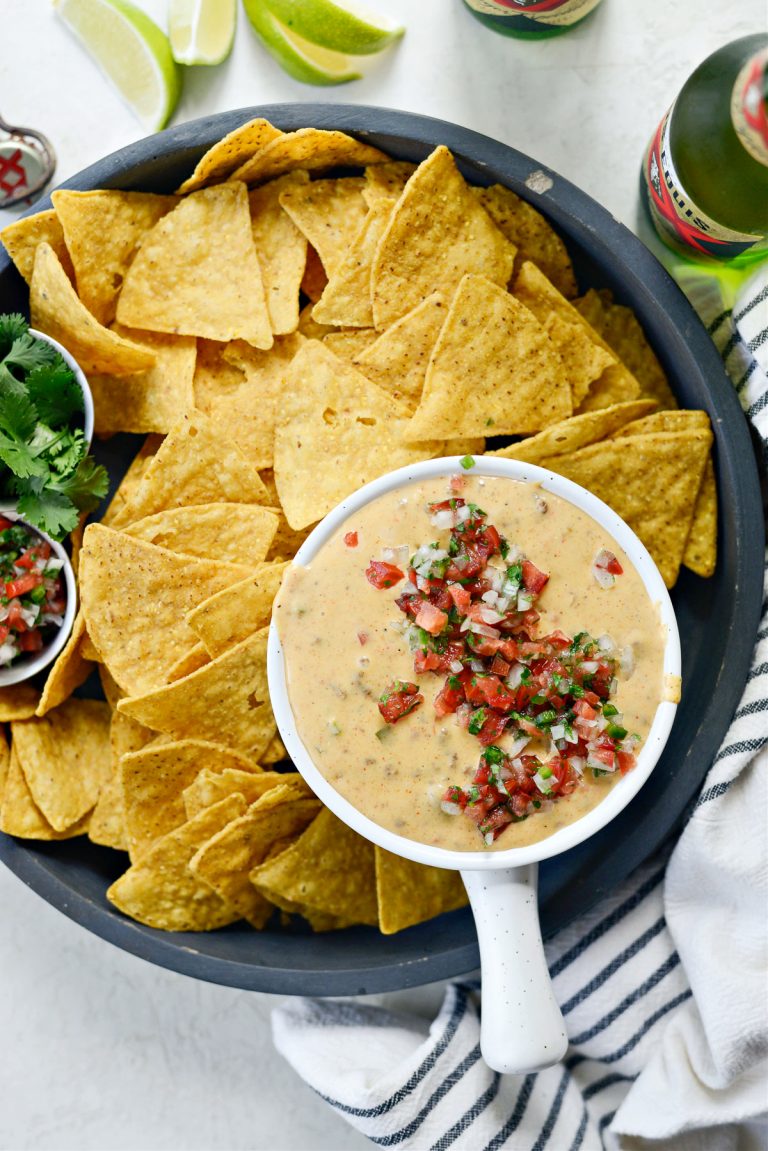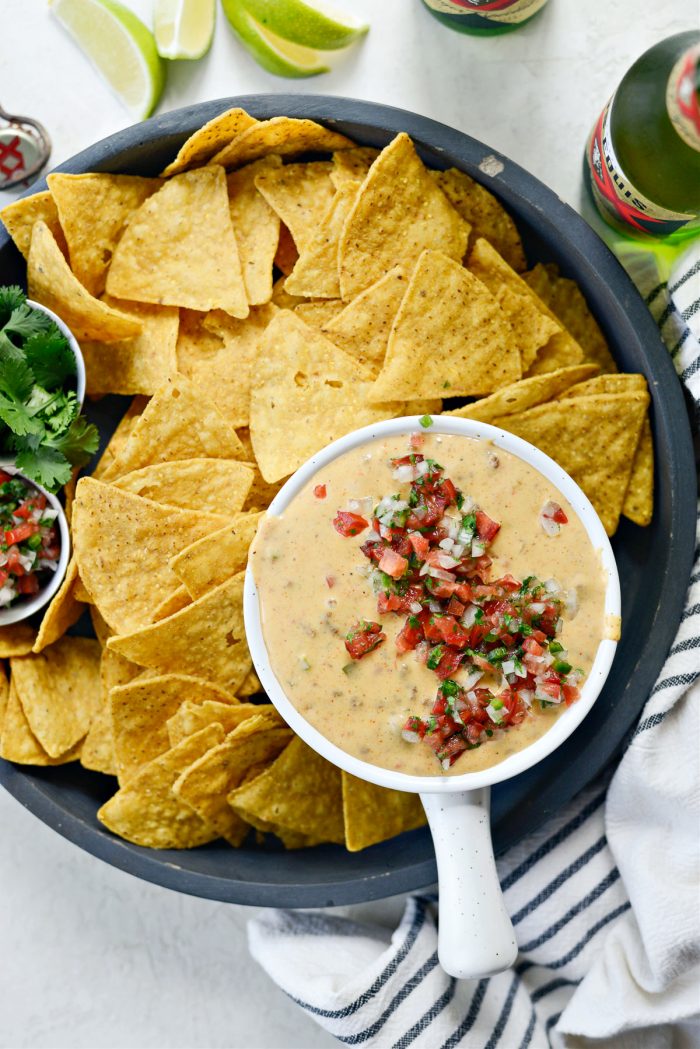 Normally, I would put the pan out and let the crowd devour it. But you could also prep a batch and reheat small amounts if you want.
Enjoy as is or top with pico de gallo – which is equally good.
The flavor of this queso is AMAZING! Cheesy, beefy, subtly spicy and smoky and will no doubt be a hit at your next get together.
Click Here For More Smoked Recipes!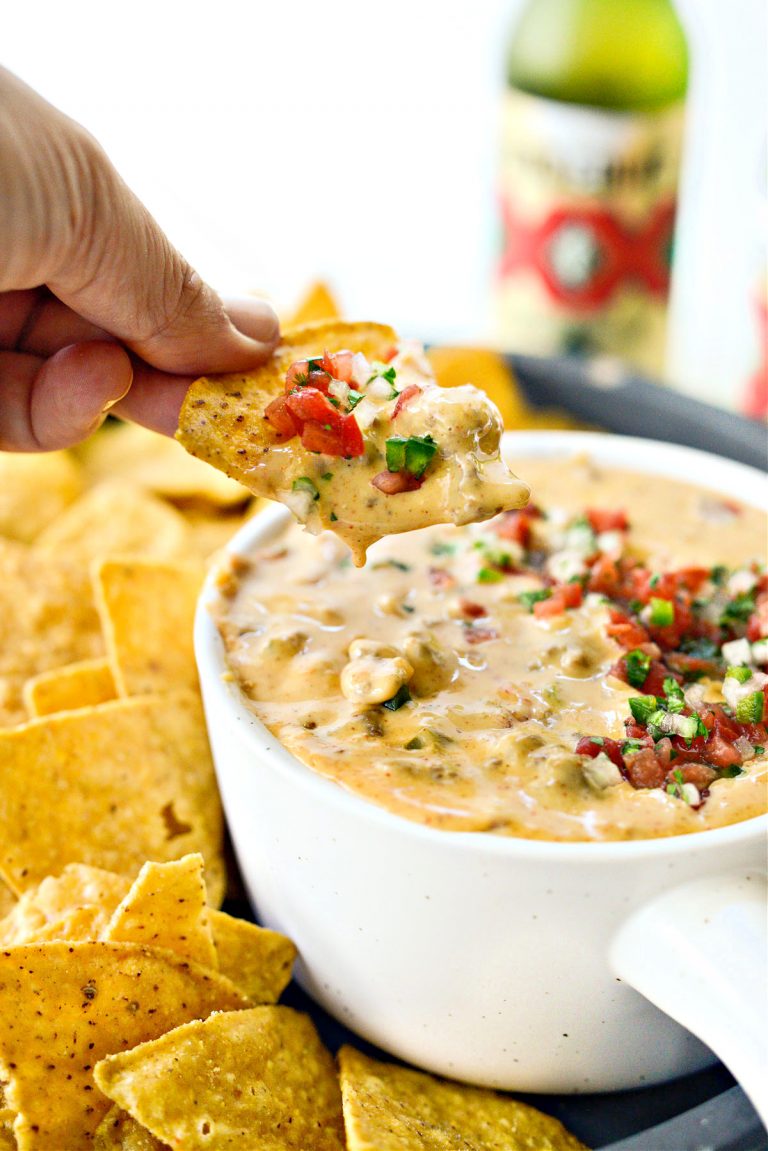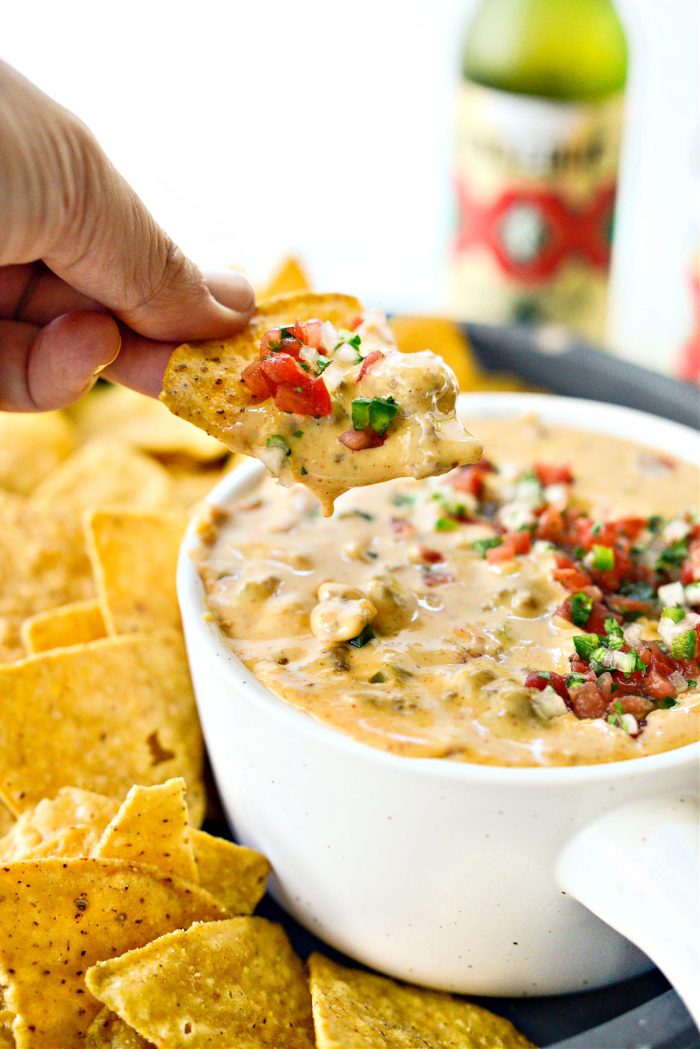 Enjoy! And if you give this Smoked Chile Con Queso recipe a try, let me know! Snap a photo and tag me on twitter or instagram!
This post may contain affiliate links.
Buy the Cookbook: Simply Scratch : 120 Wholesome Homemade Recipes Made Easy Now available on Amazon »
THANK YOU in advance for your support!