No-Churn Heavenly Hash Ice Cream is chocolatey, nutty and absolutely incredible! A rich and chocolatey ice cream studded with roasted almonds, mini chocolate chips and creamy marshmallow ribbons throughout.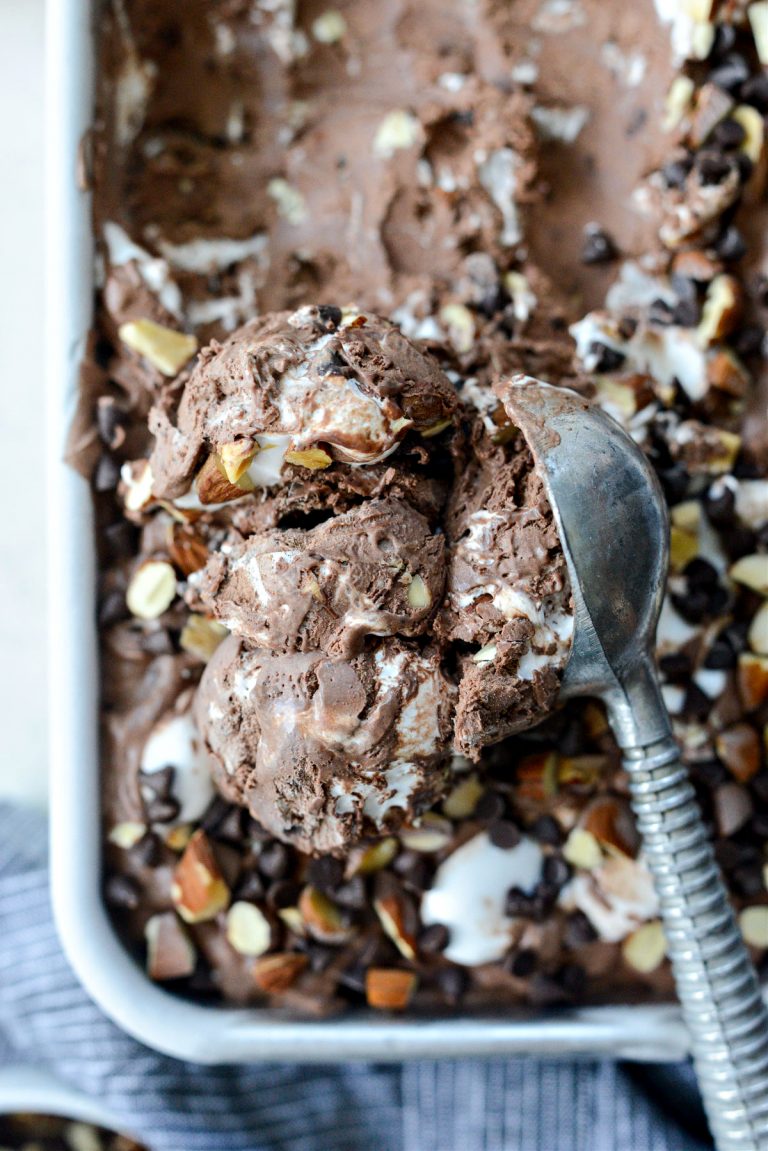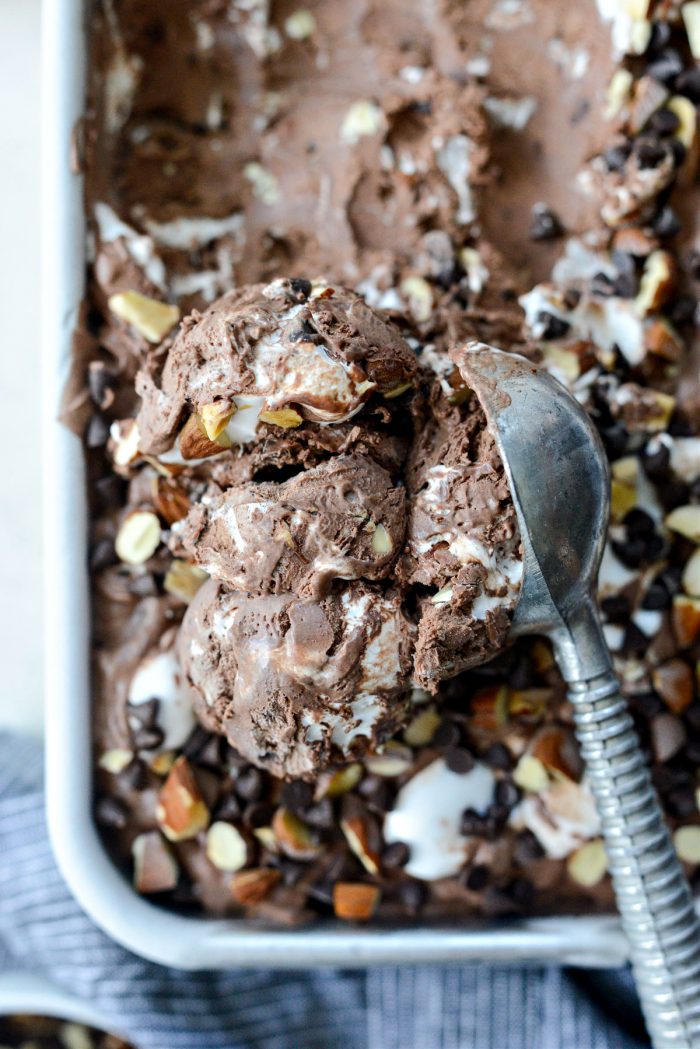 What happens when a brand stops making your favorite ice cream?
You make it yourself! A prominent Michigan grocery store that carries their own brand of ice cream also used to carry my favorite flavor – you guessed it, heavenly hash. I think it's been about 10 years since they stopped making it and I have been missing it every single day since. Other brands come close, but the flavor isn't the same.
So after discovering how easy it is to make no-churn ice cream, I decided to try making my own version. And it was love at first bite – or lick? My husband said it was even better than store bought. And I happen to agree.
What is Heavenly Hash Ice Cream?
A rich chocolate ice cream with ribbons of marshmallow creme, roasted chopped almonds and chocolate chips. Aka the best ice cream ever.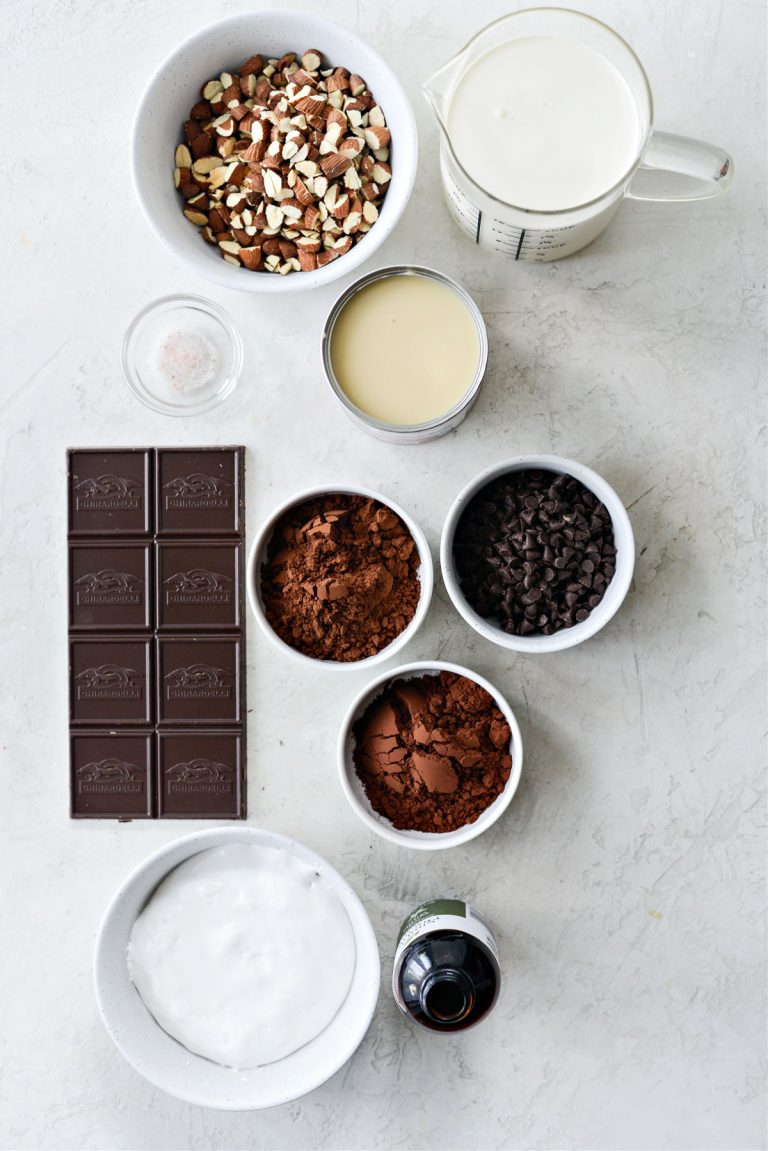 To Make This No-Churn Heavenly Hash Ice Cream You Will Need:
whole unsalted almonds
bittersweet chocolate
sweetened condensed milk
vanilla extract
unsweetened dutch processed cocoa powder
dark cocoa powder (unsweetened)
fine salt
heavy whipping cream
mini chocolate chips
marshmallow creme
First things first, roast the almonds! Preheat your oven to 325°. Roughly chop enough almonds to yield 3/4 cup. Spread the chopped almonds onto a parchment lined baking pan and roast for 6 minutes, tossing halfway through. Once golden brown, remove and transfer to a clean bowl.
Next, add 4 ounces bittersweet chocolate to a glass (heat safe) mixing bowl that will fit inside a saucepan. Fill a sauce pan with about an inch of water and bring to a simmer. Set the bowl on the pot – the water should not reach or touch the bottom of the bowl.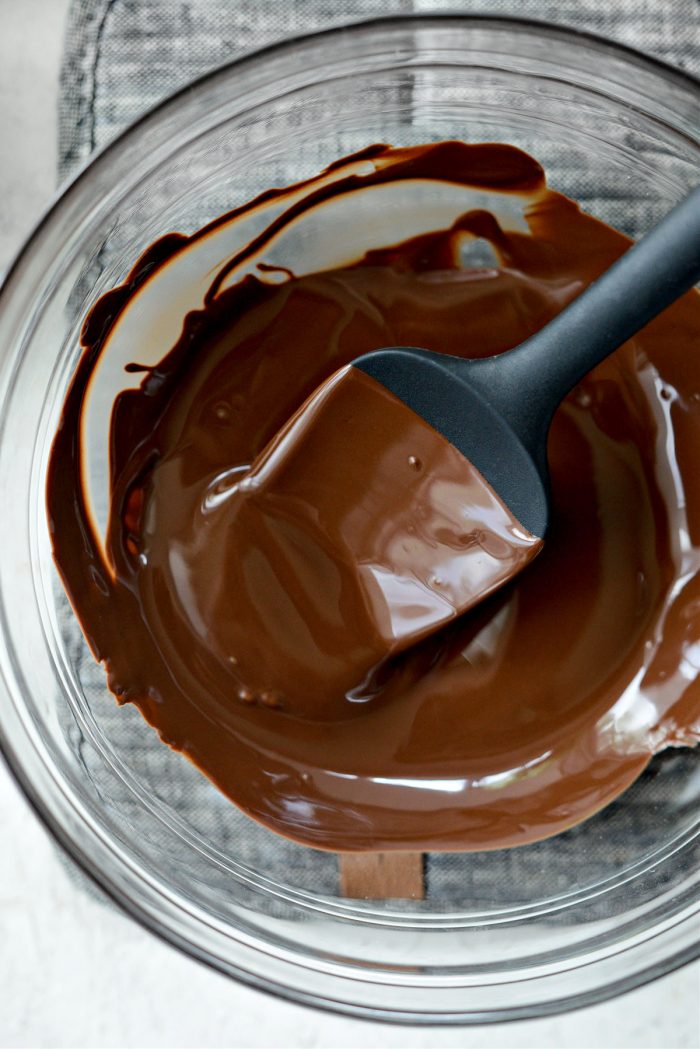 Stir until the chocolate has melted. Use oven mitts to remove the bowl to trivet.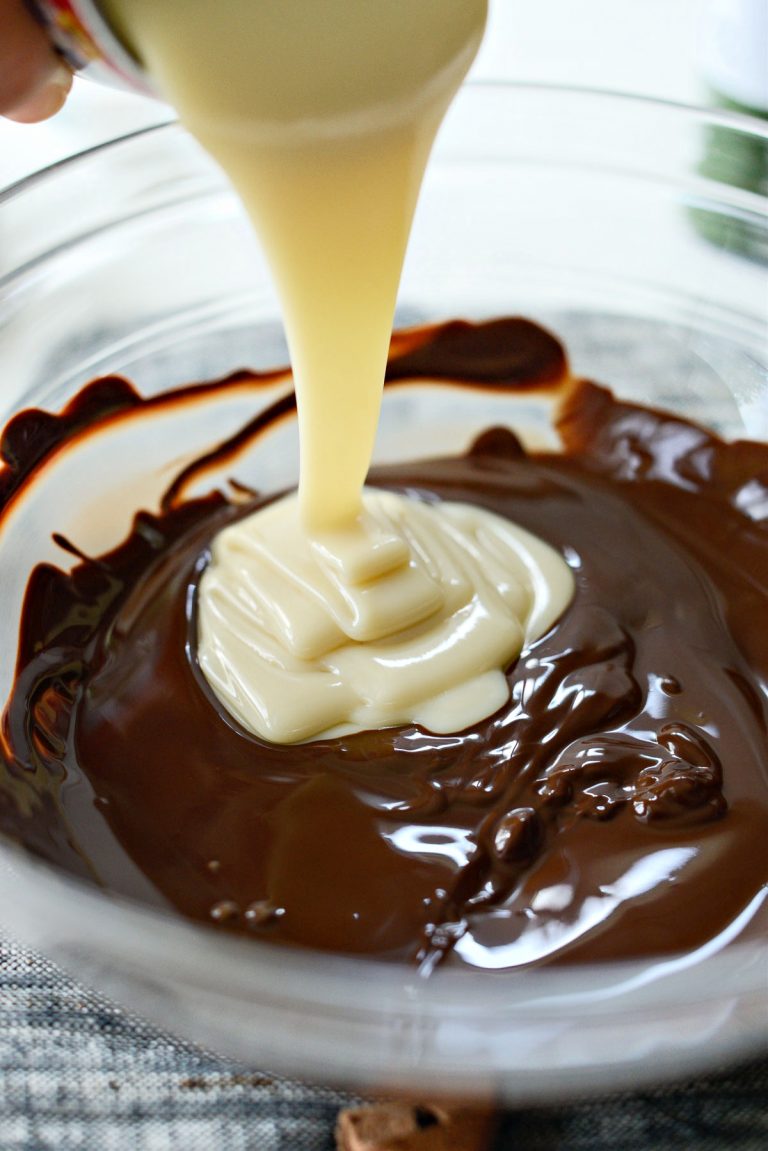 To the melted chocolate, add 1 (14 ounce) can sweetened condensed milk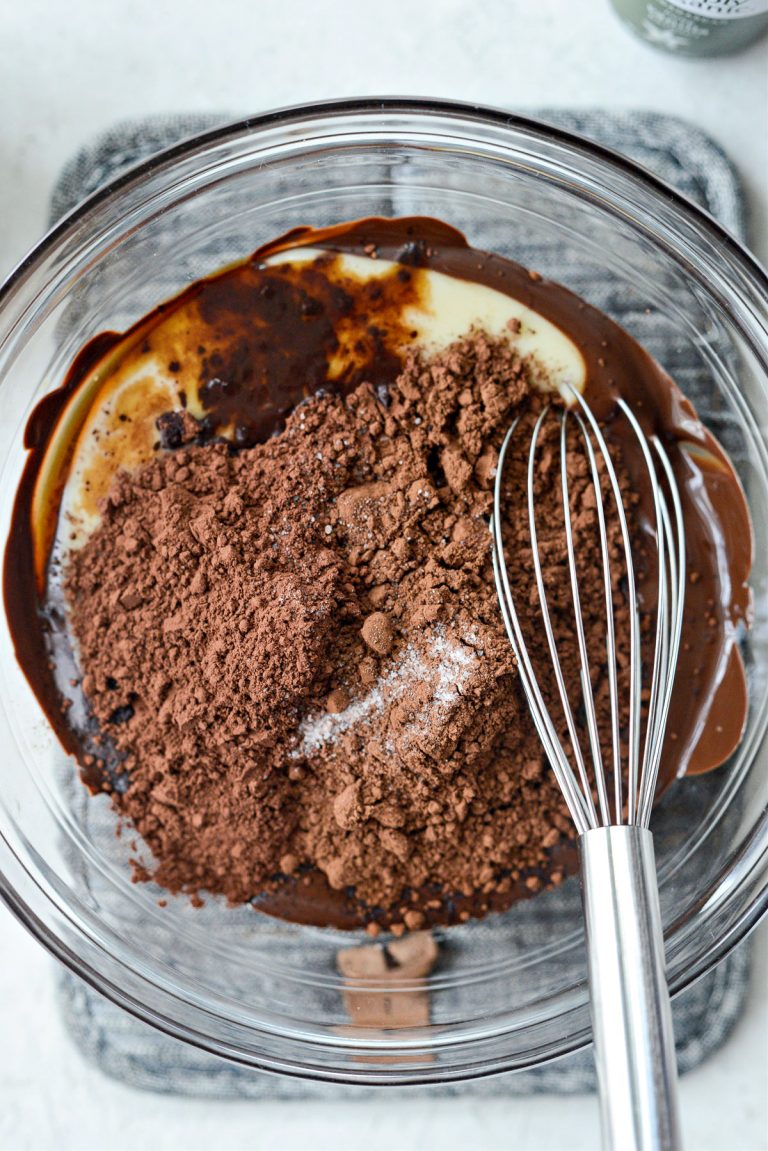 Then measure and add 3 tablespoons unsweetened dutch process cocoa, 3 tablespoons unsweetened dark cocoa, 1/4 teaspoon fine salt and 1 teaspoon vanilla extract.
What Is Dutch Process Cocoa?
It is the process in which cocoa solids are treated with an alkalizing agent which reduces the natural acidity of the cocoa so it is less bitter.
Stir to incorporate, transfer the chocolate mixture to a large mixing bowl and set aside.
Next, add 2 cups heavy whipping cream to a chilled bowl. I pop my bowl into the freezer for about 30 minutes before hand. This helps speed up the process. Whip until stiff peaks form.
Add the (non-sweetened) whipped cream in to the large bowl with the chocolate mixture.
Using a large spatula, gently and carefully fold the two together using big sweeps until combined and no streaks remain.
Be patient with this. This process will take some time and give your arm muscles a workout.
Once combined, add a 1/2 cup of the roasted chopped almonds and 1/3 cup of the mini chocolate chips. Save the remaining for later.
Fold those in as well.
Lastly, add 1 cup marshmallow creme. This is store-bought (no shame!) but there are recipes out there for homemade marshmallow creme. Since no-churn ice cream is meant to be easy, I personally didn't want the extra steps. But you do you!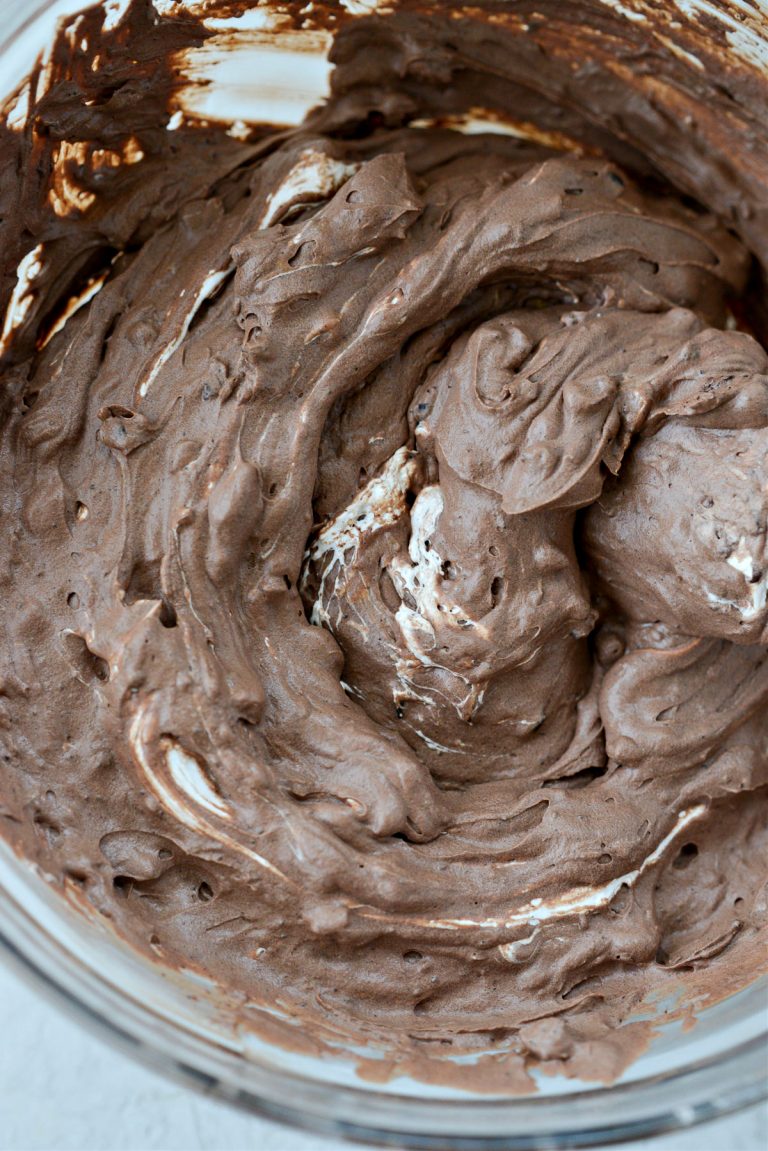 Gently fold this into the ice cream base as well creating ribbons.
DO NOT OVER MIX.
Transfer the ice cream base into a freezer-safe dish and add dollops of the remaining marshmallow creme to the top. Use a butter knife to swirl slightly.
Sprinkle with the remaining roasted almonds and mini chocolate chips over top before freezing for 8 hours or overnight.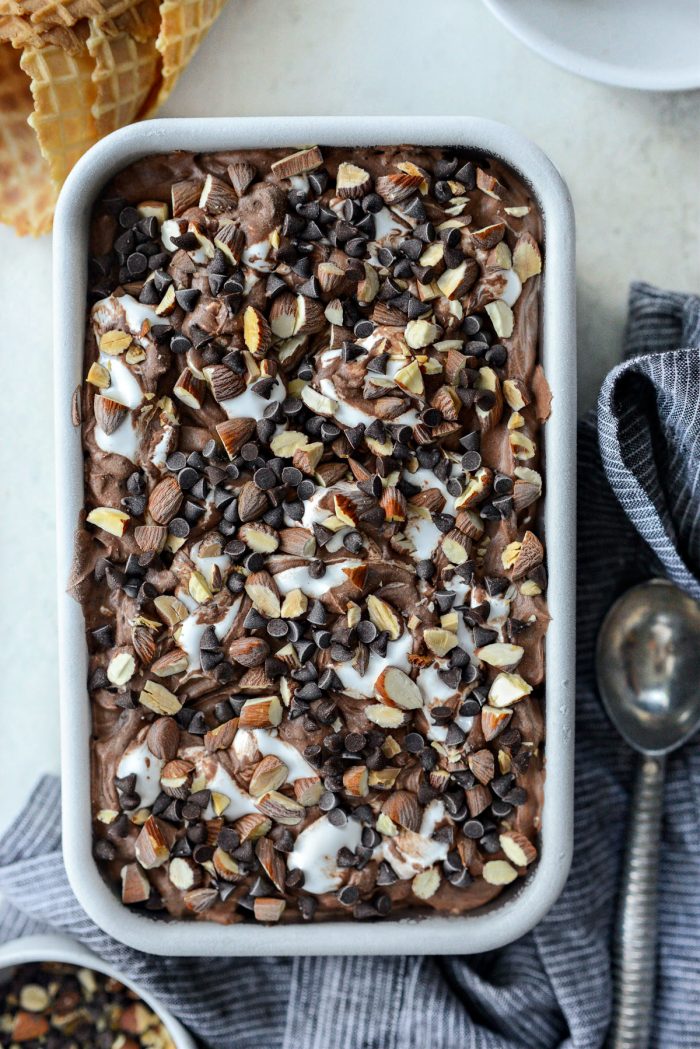 When ready to serve, remove from the freezer at least 20 to 30 minutes before serving. Using a ice cream scoop that has heated under running hot water helps too.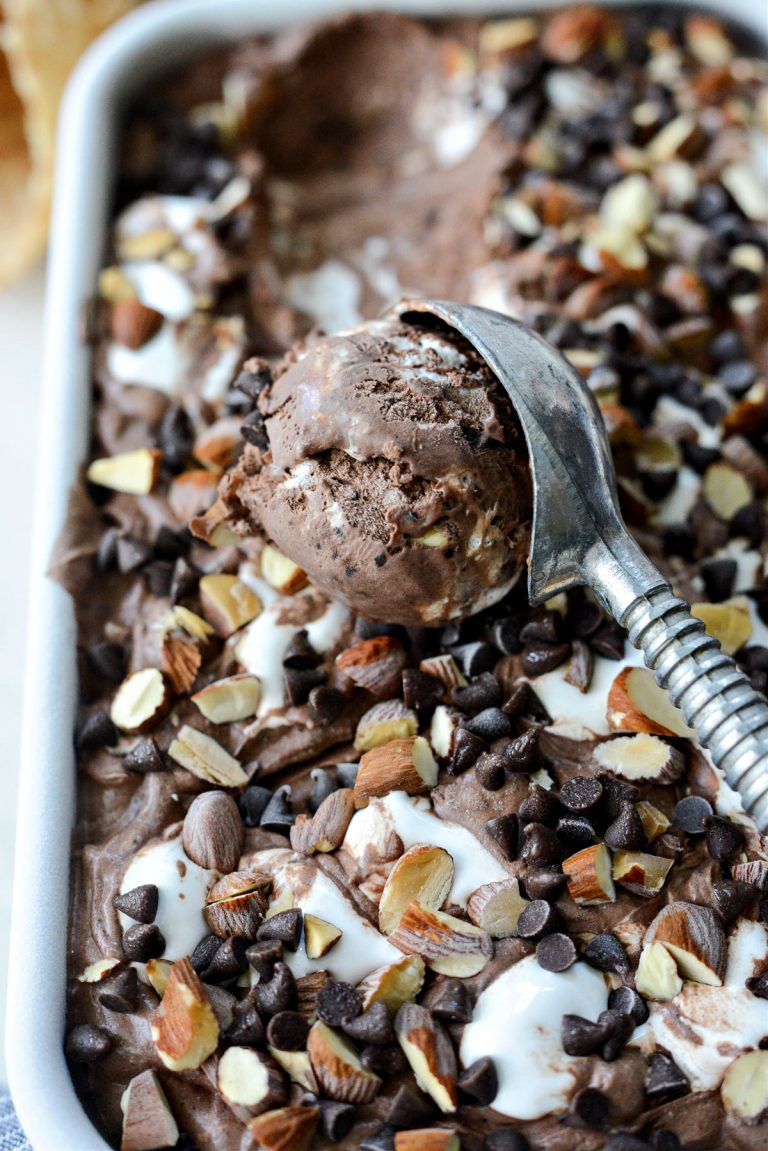 So rich and chocolatey but the real secret to this amazing ice cream is the marshmallow creme and roasted almonds.
Prepare to fall in love!
Click Here For More No-Churn Ice Cream Recipes!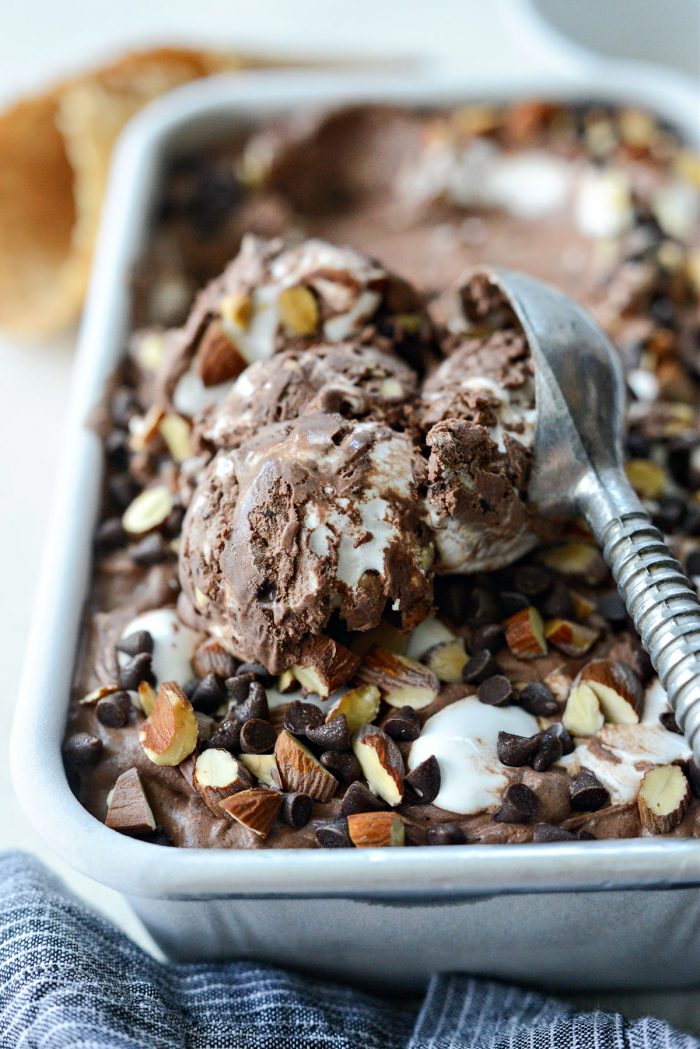 Enjoy! And if you give this No-Churn Heavenly Hash Ice Cream recipe a try, let me know! Snap a photo and tag me on twitter or instagram!
This post may contain affiliate links.
Buy the Cookbook: Simply Scratch : 120 Wholesome Homemade Recipes Made Easy Now available on Amazon »
THANK YOU in advance for your support!