Strawberry Goat Cheese Spring Salad is a light and fresh salad. Spring greens topped with juicy strawberries, crumbled goat cheese, sliced avocado, grilled chicken and candied pecans before being drizzled with a simple raspberry walnut vinaigrette. This recipe serves 4 individual entree salads.
I've eaten this salad just about everyday for weeks.
I prep everything with the exception of the strawberries on Sunday or Monday and enjoy it all week long. Am I sick of it yet? Absolutely not. If it wasn't so easy to make I probably would be but I'm just so in love with the simplicity and flavors, I just can't and won't quit it yet.
The combination of juicy strawberries, tangy goat cheese, sweet and crunchy candied almonds with the raspberry walnut dressing is to die for.
To Make This Strawberry Goat Cheese Spring Salad You Will Need:
spring mix salad greens
strawberries
avocado
crumbled goat cheese
homemade raspberry walnut vinaigrette
black pepper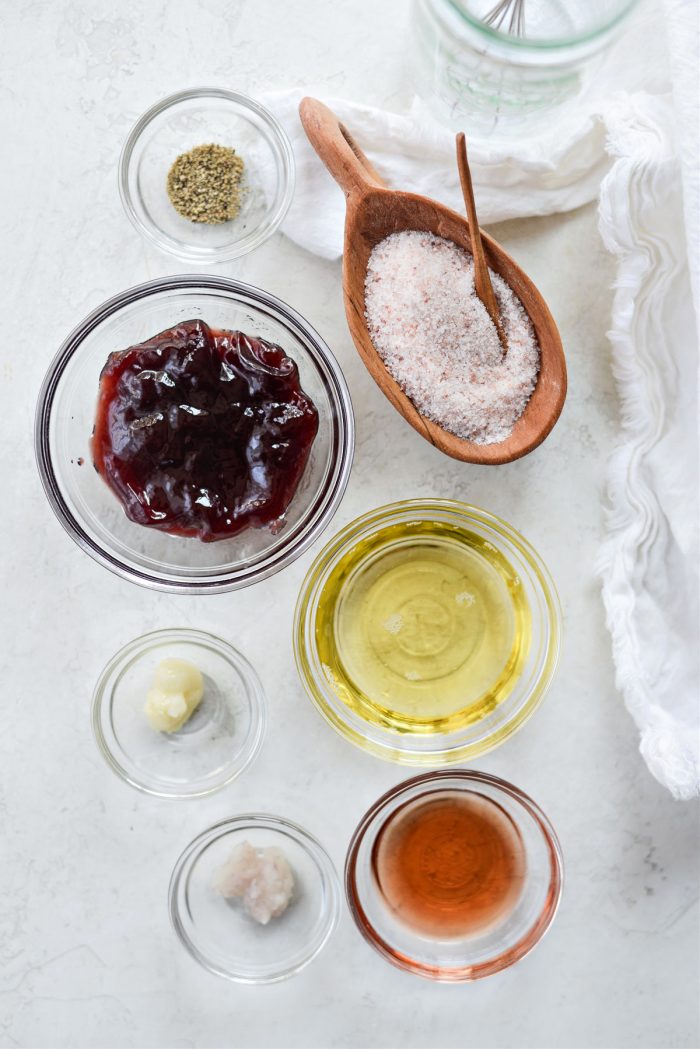 to make the raspberry walnut dressing you will need:
seedless raspberry jam
raspberry blush white vinegar
walnut oil
shallot – grated
garlic – grated
fine salt
freshly ground black pepper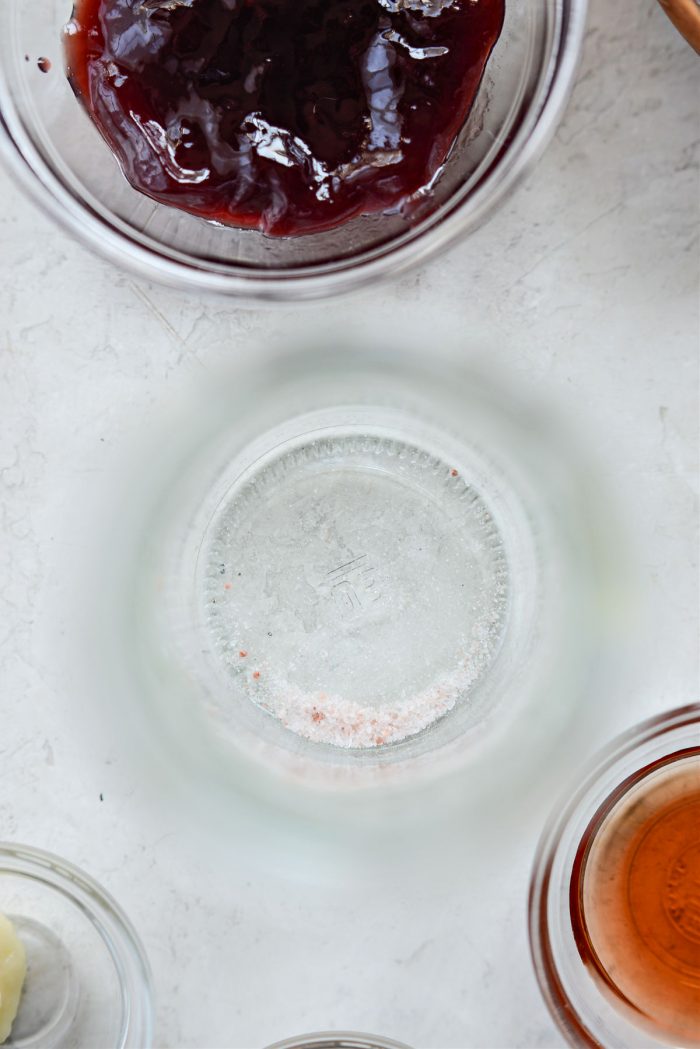 Start by adding a few pinches of fine salt to a jar.
Then add 1 tablespoon raspberry blush white vinegar to the salt. Stir until dissolved.
This is the best way to ensure the dressing is thoroughly seasoned. Once I learned this little trick, I start just about all my vinaigrettes this way.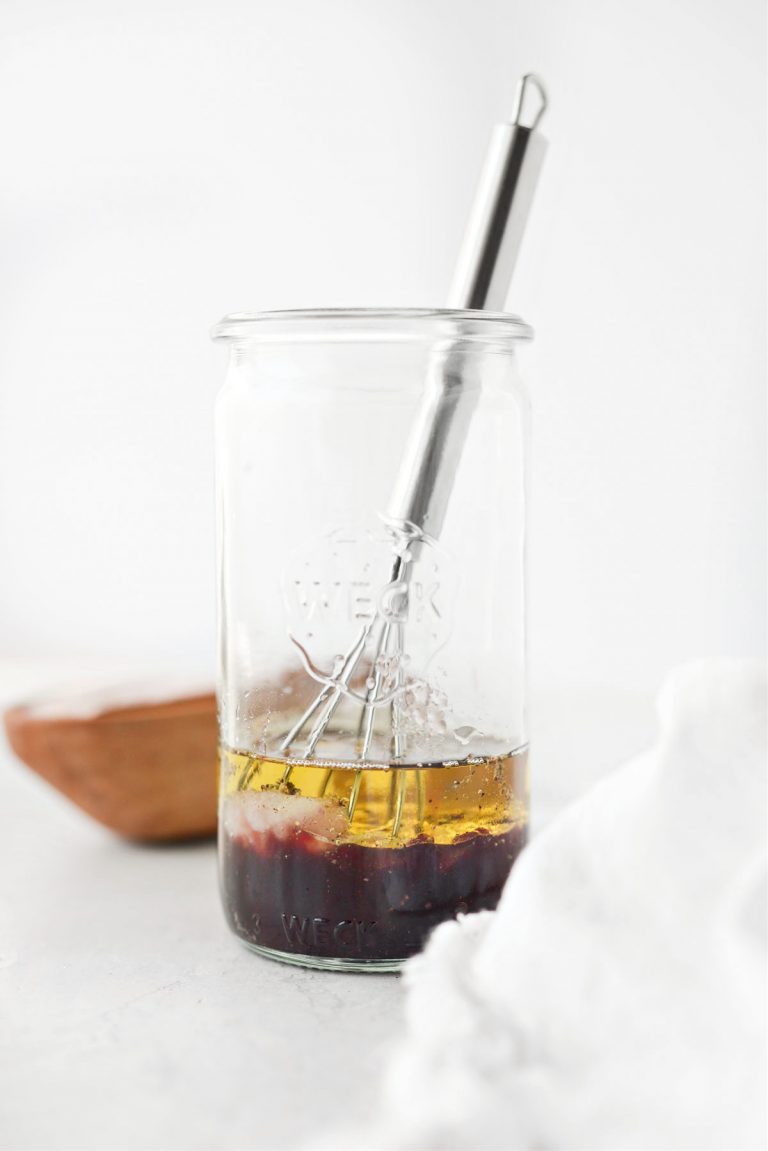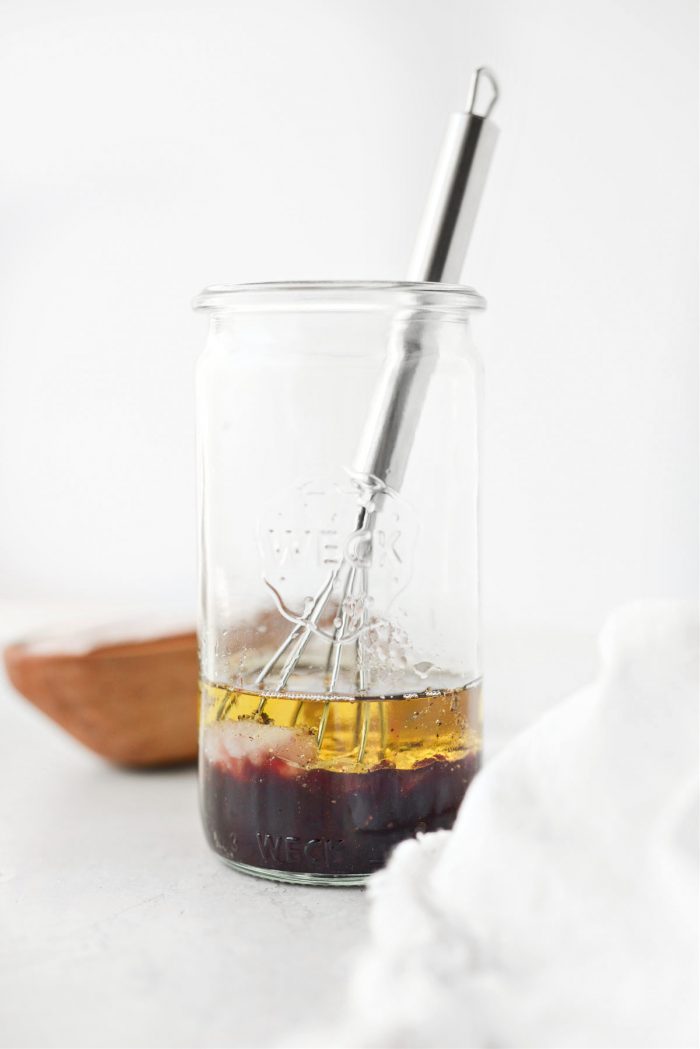 Next measure and add in 2 generous tablespoons of seedless raspberry jam, 3 tablespoons roasted walnut oil (I use La Tourangelle – not sponsored), 1/2 teaspoon each grated shallot and garlic. Lastly add freshly ground black pepper to taste.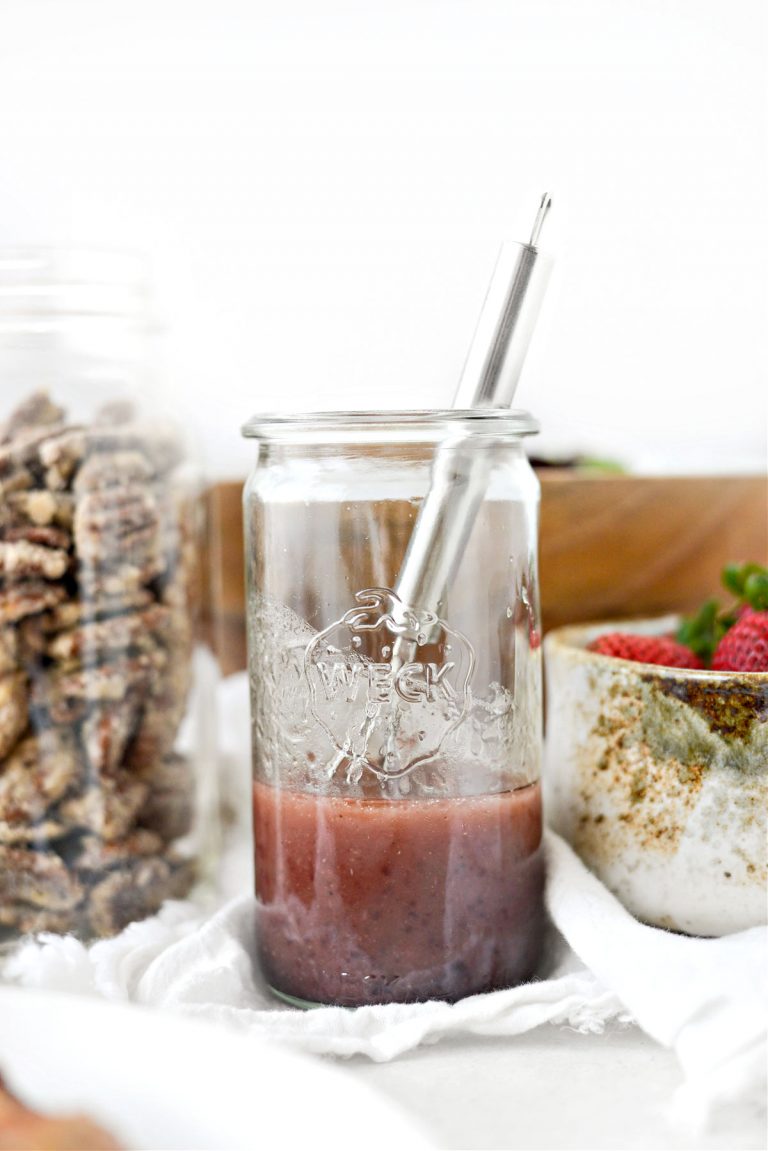 Whisk to combine. Taste and add more vinegar or jam as desired. If in a pinch, Ken's Steak House makes a lite raspberry walnut dressing (hello, inspiration👋🏼) that's delicious.
Grab bowls and divide the spring mix.
Top with sliced strawberries, avocado and crumbled goat cheese.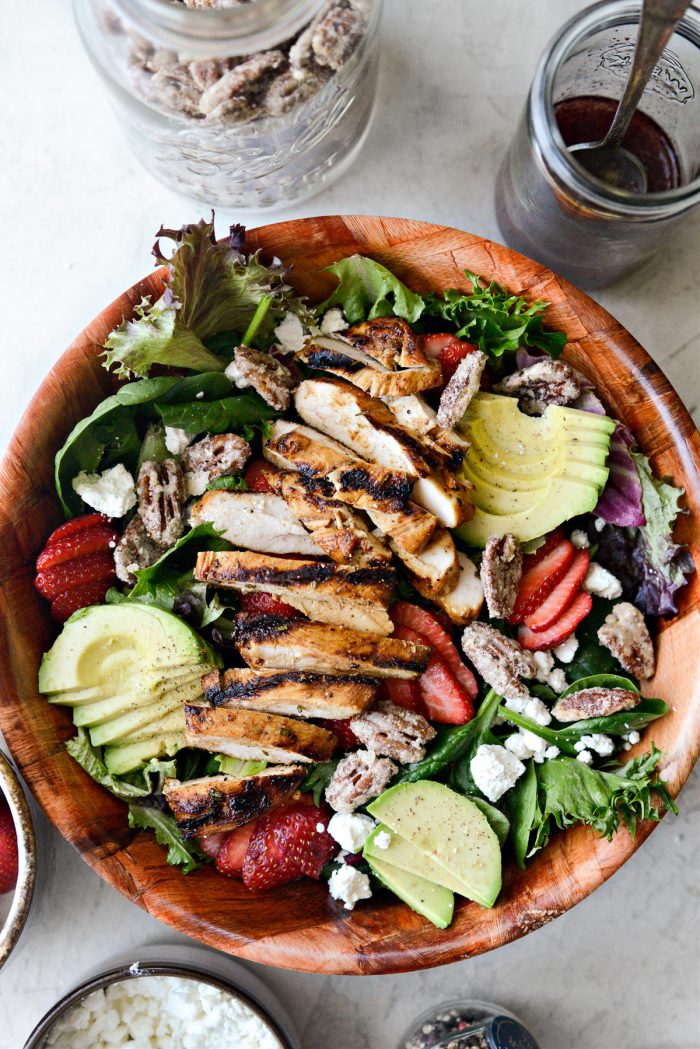 After that, top with grilled chicken and candied pecans. I also season it all with freshly ground black pepper.
Lastly, drizzle with 1 to 2 tablespoons of the dressing.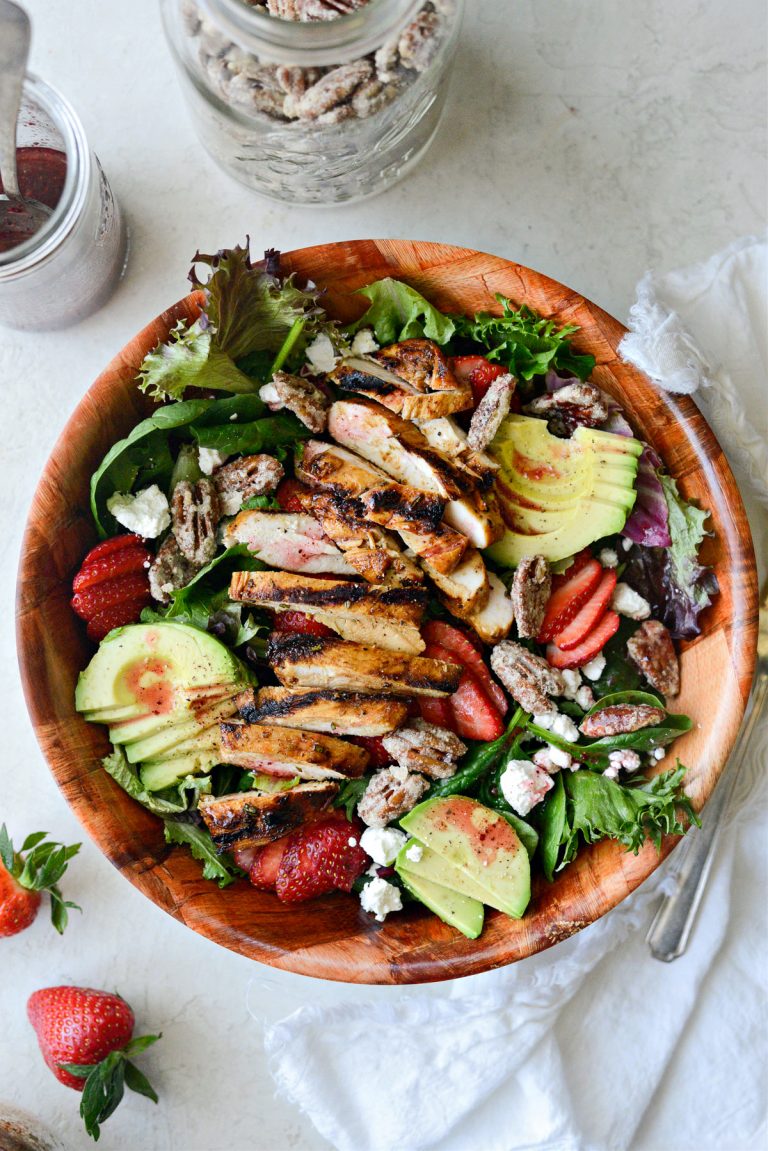 Such simple yet wholesome, satisfying and deliciously impressive salad that's perfect for spring and summer.
Enjoy! And if you give this recipe a try, let me know! Snap a photo and tag me on twitter or instagram!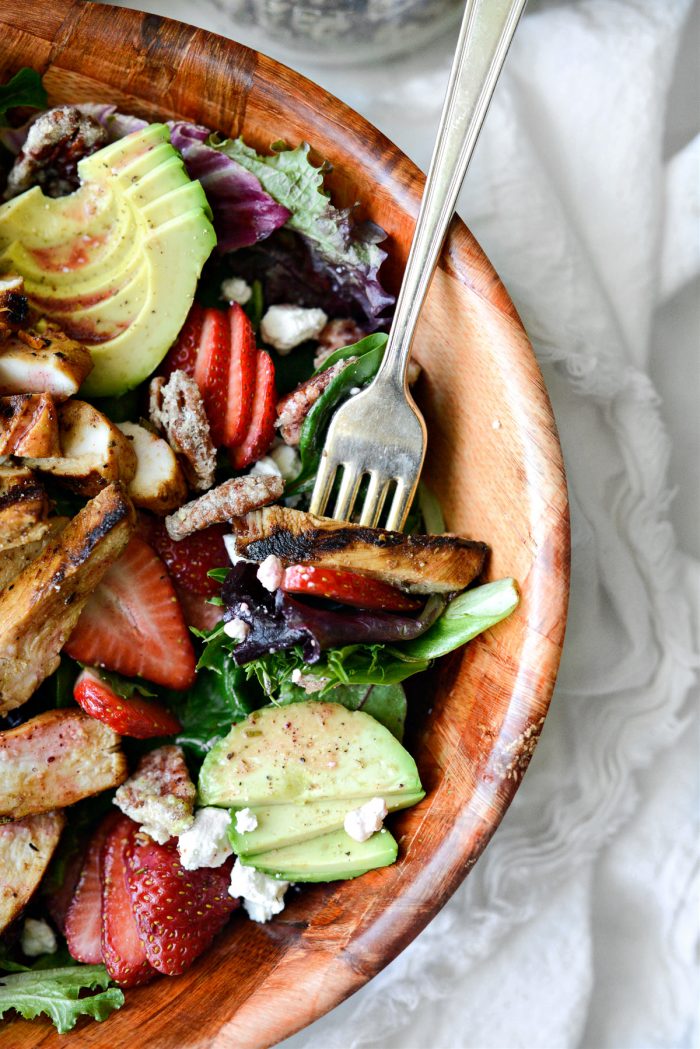 This post may contain affiliate links.
Buy the Cookbook: Simply Scratch : 120 Wholesome Homemade Recipes Made Easy Now available on Amazon »
THANK YOU in advance for your support!