Dinner isn't complete without these Easy Homemade Garlic Herb Knots! Homemade pizza dough is transformed into into knots and brushed with a quick garlic herb butter and baked until golden brown! Perfect next to pretty much anything, but extra delicious when served with pasta. This recipe yields 8 giant knots.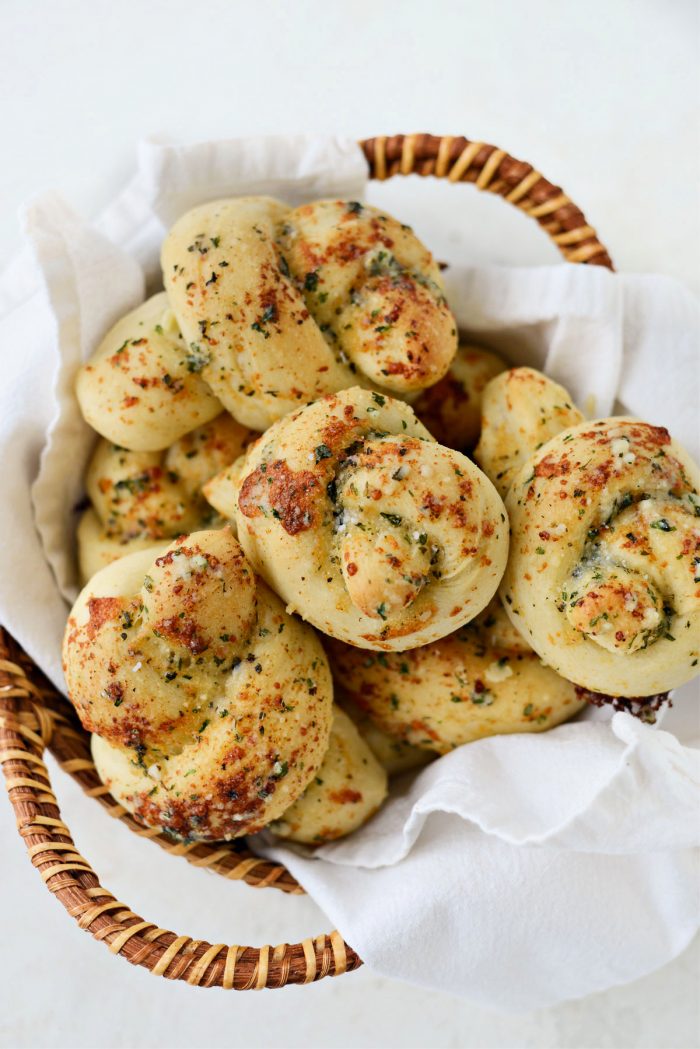 Why hello giant garlicky, buttery, herby parmesan knots.
Okay so confession time. Last weekend Malloree wanted to make us a particular pasta recipe she found. Earlier that day while shopping for the ingredients, I picked up store-bought garlic knots because, easy. And although delicious, they were so very small. I knew I could do better. So the following week, not only did I shoot/blog her version of the pasta recipe – which will be coming your way this Wednesday- but I also made these homemade garlic herb knots.
What's great about this recipe is that the garlic knots are made with pizza dough. I took my go-to pizza dough recipe and the only difference is that I used bread flour instead of all-purpose. I did this just so that the texture would be more tender. Once the dough had finished rising, these knots came together so quickly! Now these aren't 4-minutes in a 425° oven quick… but for homemade bread, it felt fast. And while they were baking the most intoxicating aroma snaked through our home. Which is reason enough to make these.
So yeah, the moral of this story is that I will never buy a box of teeny tiny knots again.
To Make These Easy Homemade Garlic Herb Knots You Will Need:
pizza dough (plus extra flour for dusting)
butter
parmesan cheese
garlic powder
parsley (dried)
oregano (dried)
basil (dried)
kosher salt
Prepare the dough. Instructions are in the printable, however here is my step-by-step post just in case you need it. Even though I used bread flour, you can totally us all-purpose flour to make these. Just keep in mind that the texture will be slightly different.
Once the dough has risen, preheat your oven to 400°
Tip the dough out onto a floured surface.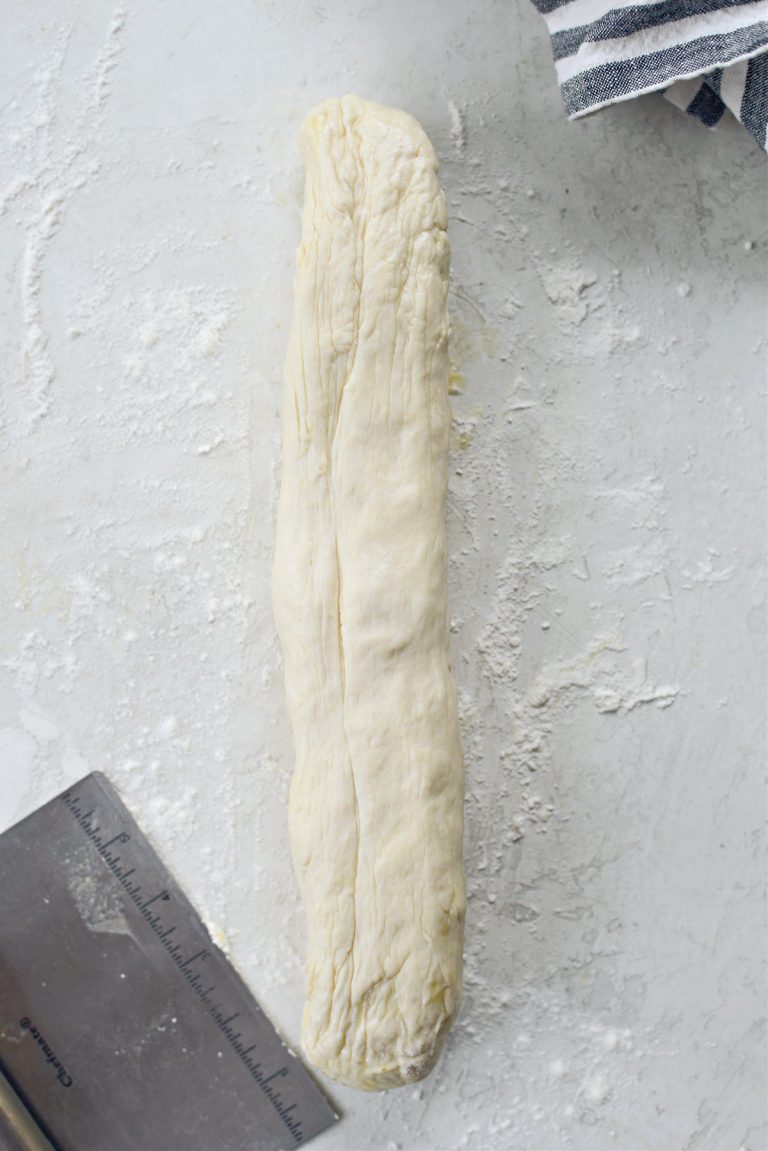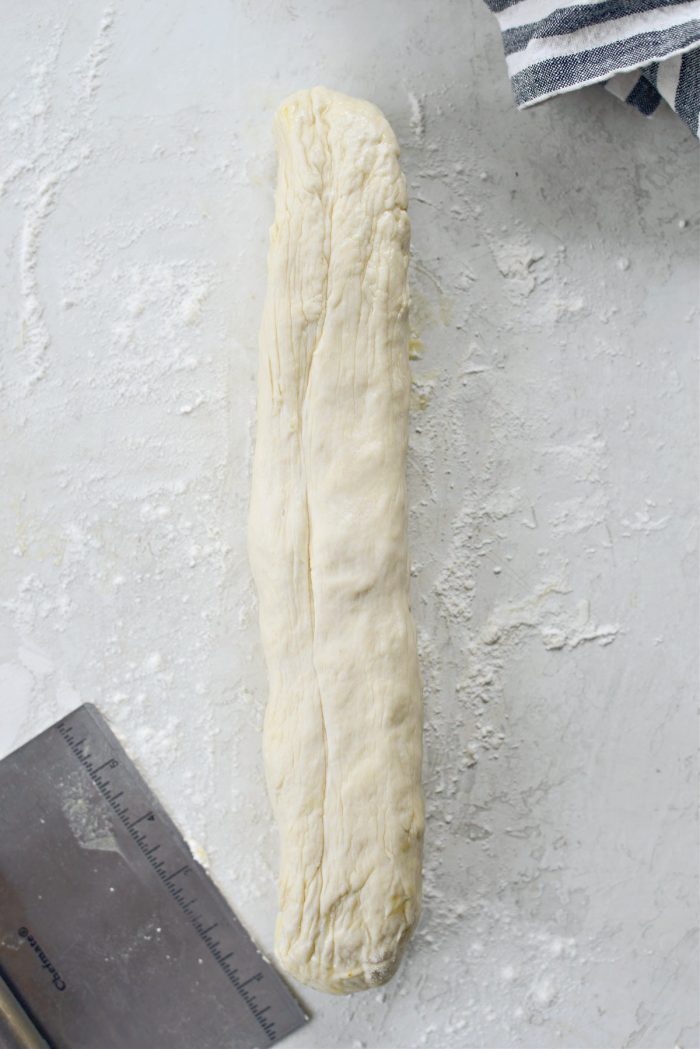 Stretch and shape the dough about 10 inches or so. I seriously just eyeball this.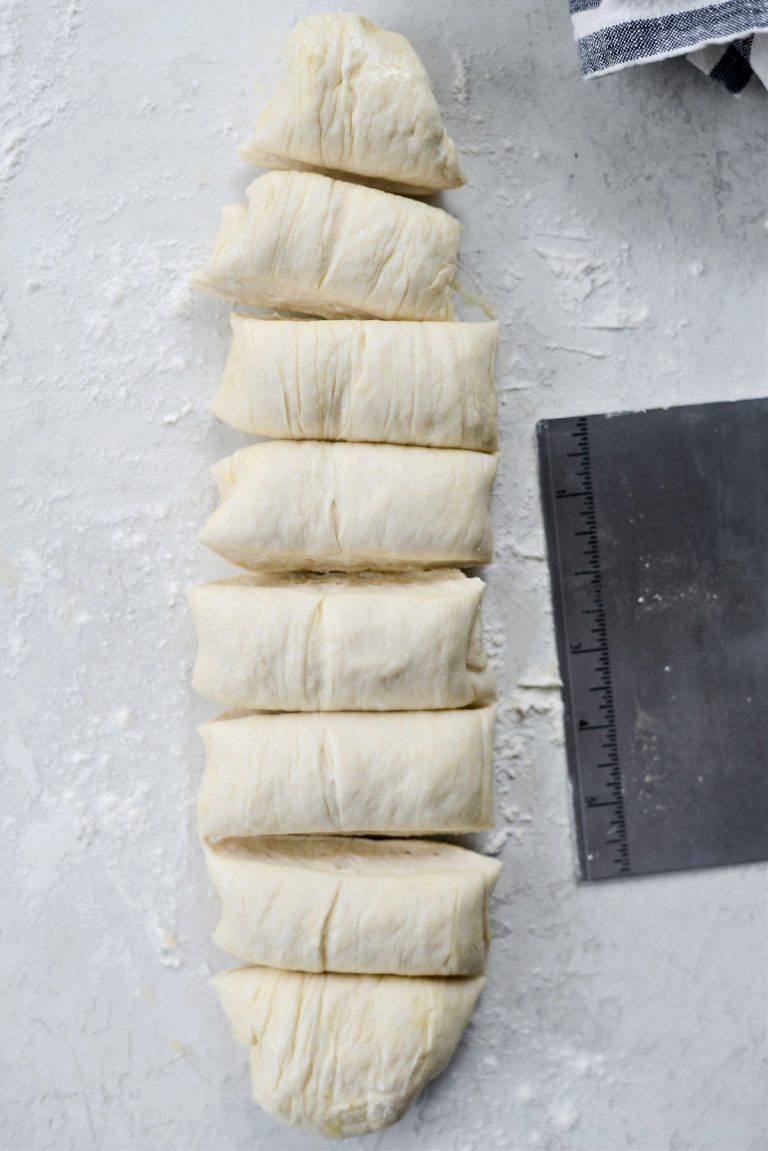 Cut in half. Then cut each half in half and repeat once more to have 8 pieces.
Roll each piece of dough between your hands to form an 6 to 8 inch rope.
The length of the rope doesn't have to be exact, you just want to be able to tie it into a knot.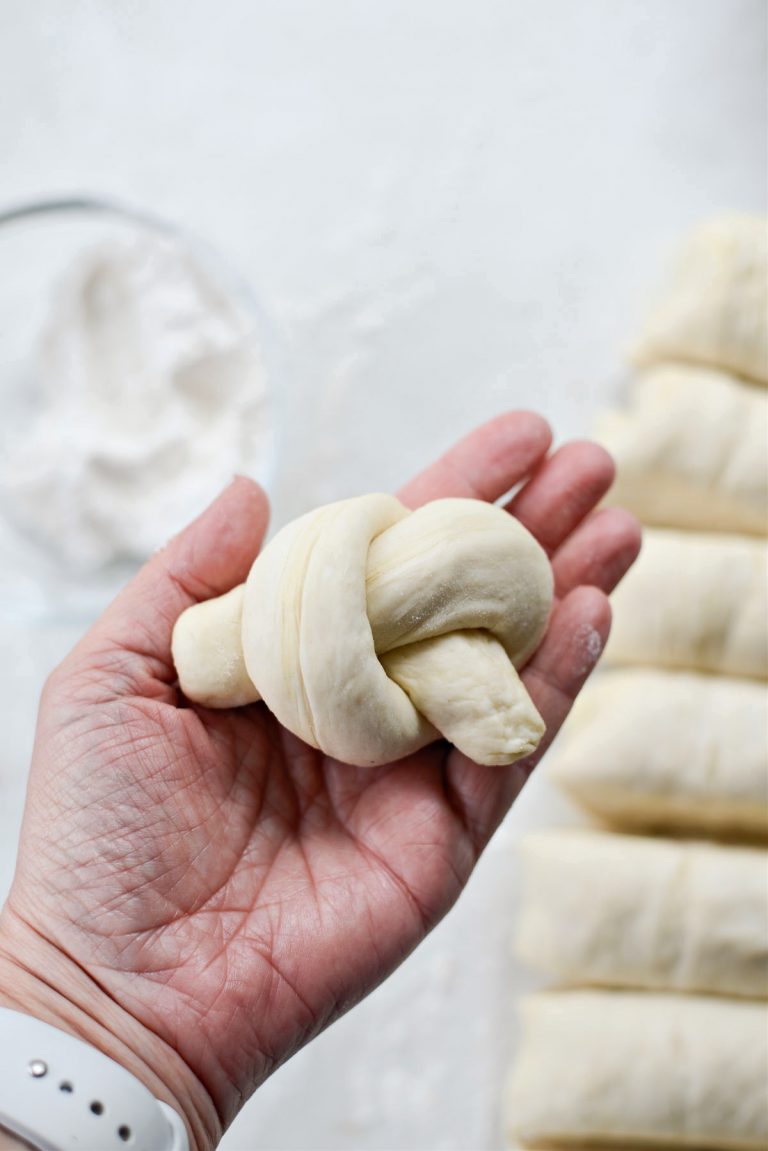 Like so.
Place each knot onto a lined rimed baking sheet and repeat with the remaining pieces.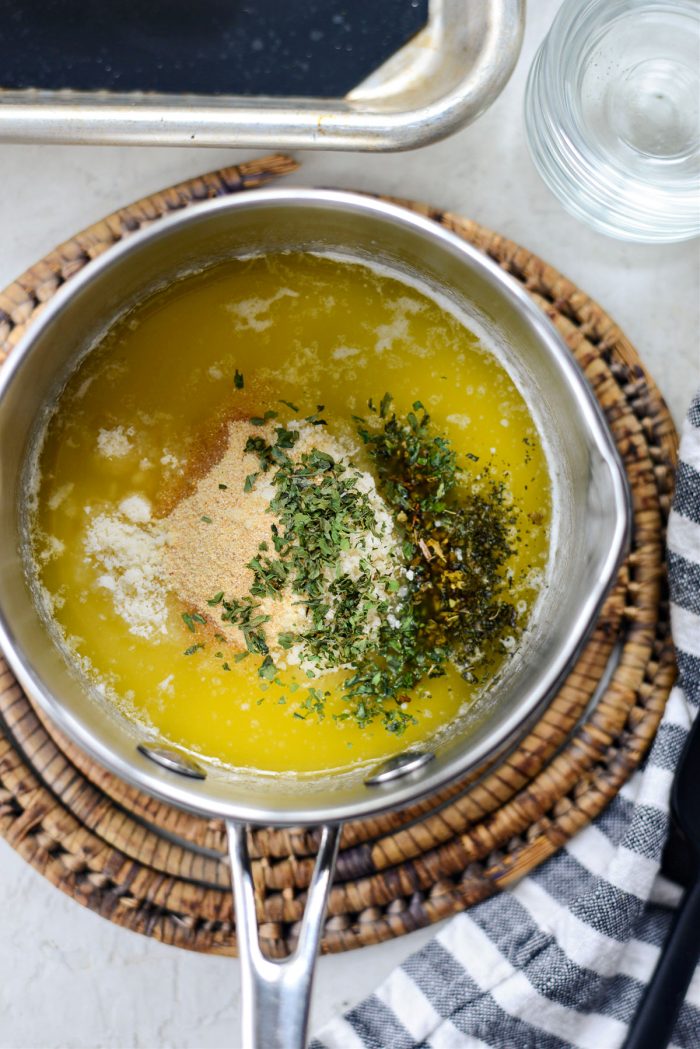 Next, into a small sauce pan, melt 6 tablespoons unsalted butter. You want the butter to be warmed and not bubbling. Remove the butter off of the heat, measure and add in 1/4 cup parmesan cheese, 1 teaspoon garlic powder, 1 teaspoon dried parsley, 1/2 teaspoon dried oregano, 1/4 teaspoon dried basil and a pinch or two of kosher salt.
Stir to combine.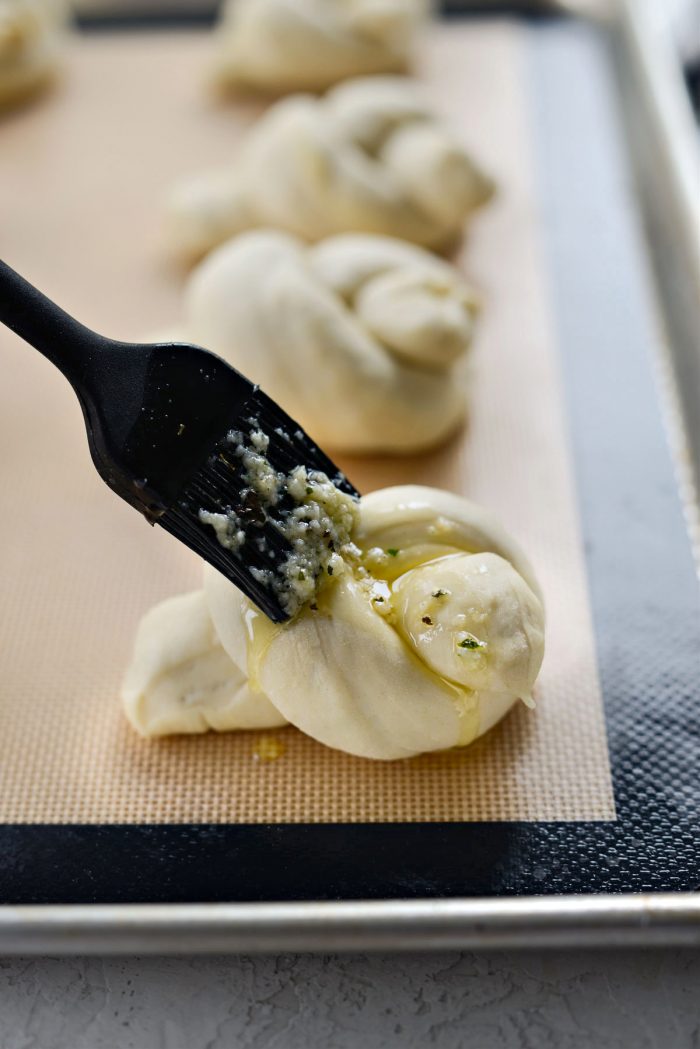 Brush half of the garlicky herb butter over the knots.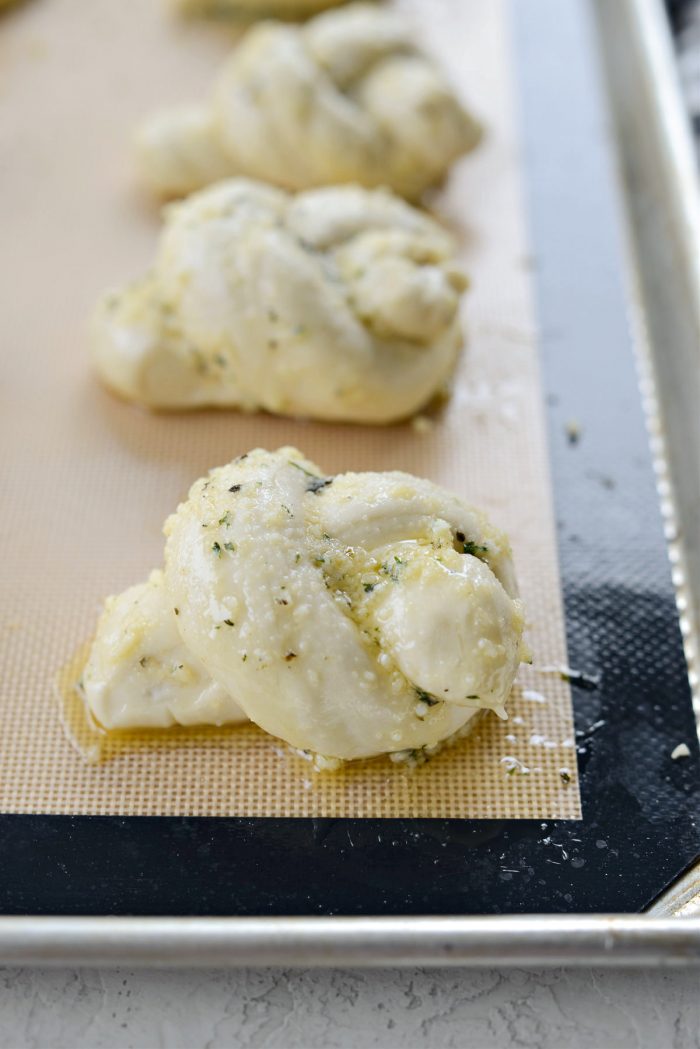 YUM.
Bake on the middle rack of your preheated oven for 12 to 14 minutes. Rotating the pan halfway through to ensure even browning.
Once baked, remove and immediately brush with the remaining butter.
I seriously wish you could smell these.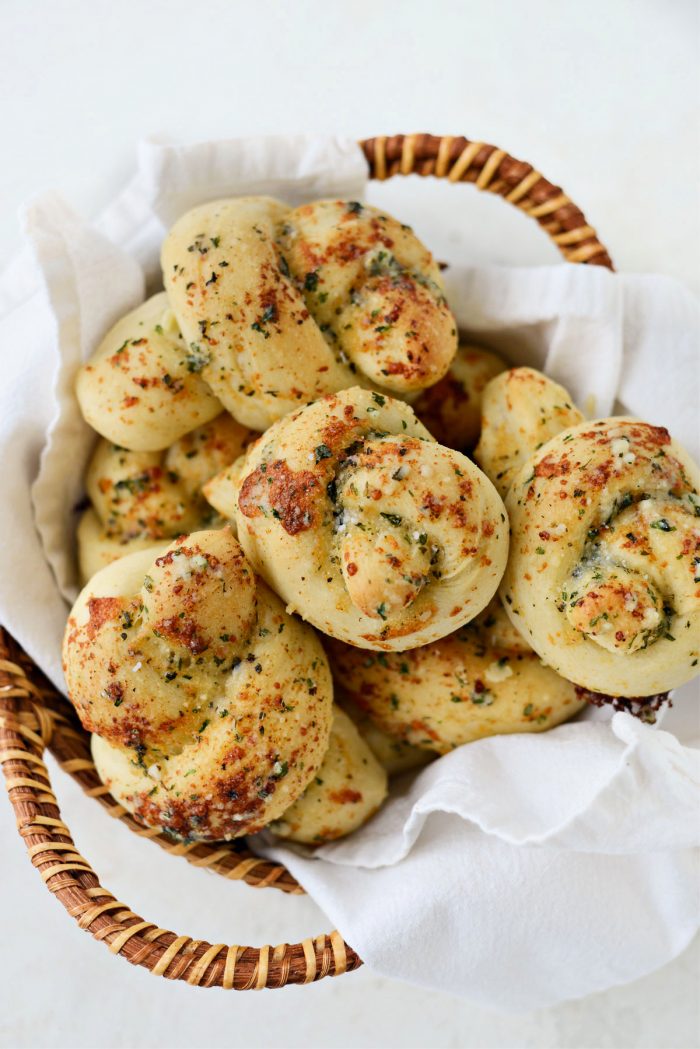 Serve warm with your favorite bowl of pasta, soup or salad. Really these go with anything.
And they are a million times better (and bigger) than store-bought knots.
Enjoy! And if you give this Easy Homemade Garlic Herb Knots recipe a try, let me know! Snap a photo and tag me on twitter or instagram!
This post may contain affiliate links.
Buy the Cookbook: Simply Scratch : 120 Wholesome Homemade Recipes Made Easy Now available on Amazon »
THANK YOU in advance for your support!