Honey Vanilla Bourbon Pecans are are sweet and savory with a subtle kick of unexpected flavor. Pecans are tossed in a simple vanilla bourbon mixture, baked until caramelized and tossed is demerara sugar which adds delicious texture!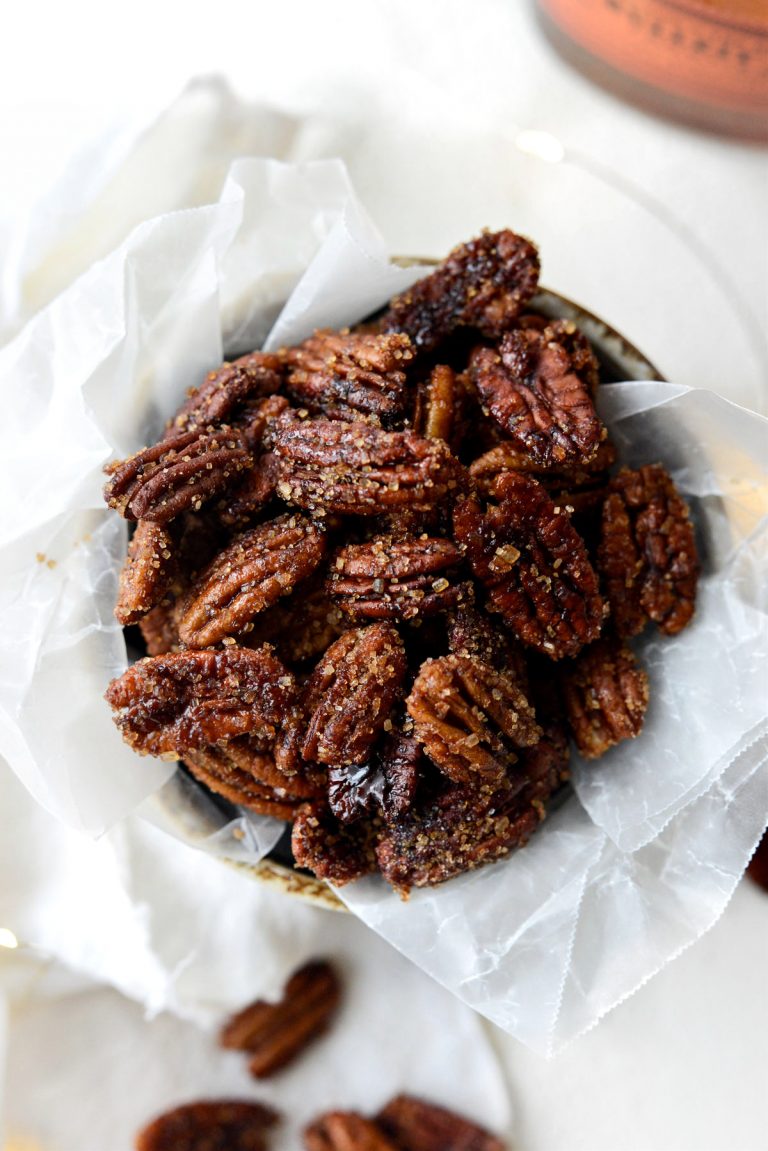 What can I possibly say about these sweet and savory nuts?
Besides, I love them. My kids love them. Even my husband said these are pretty damn good. I mean with ingredients like bourbon, vanilla and honey, how can it be bad, right? The best way I can describe the flavor is like sweet vanilla and caramel pecans with a hint of toffee and a secret ingredient that gives them a little extra something special.
And don't say I didn't warn you, they are deliciously addictive.
Whether you serve these in a small bowl for light snacking before dinner, pair them with cheeses and meats on a charcuterie board or roughly chop and sprinkle over vanilla ice cream. These nuts are incredible. And take under 30 minutes to prepare.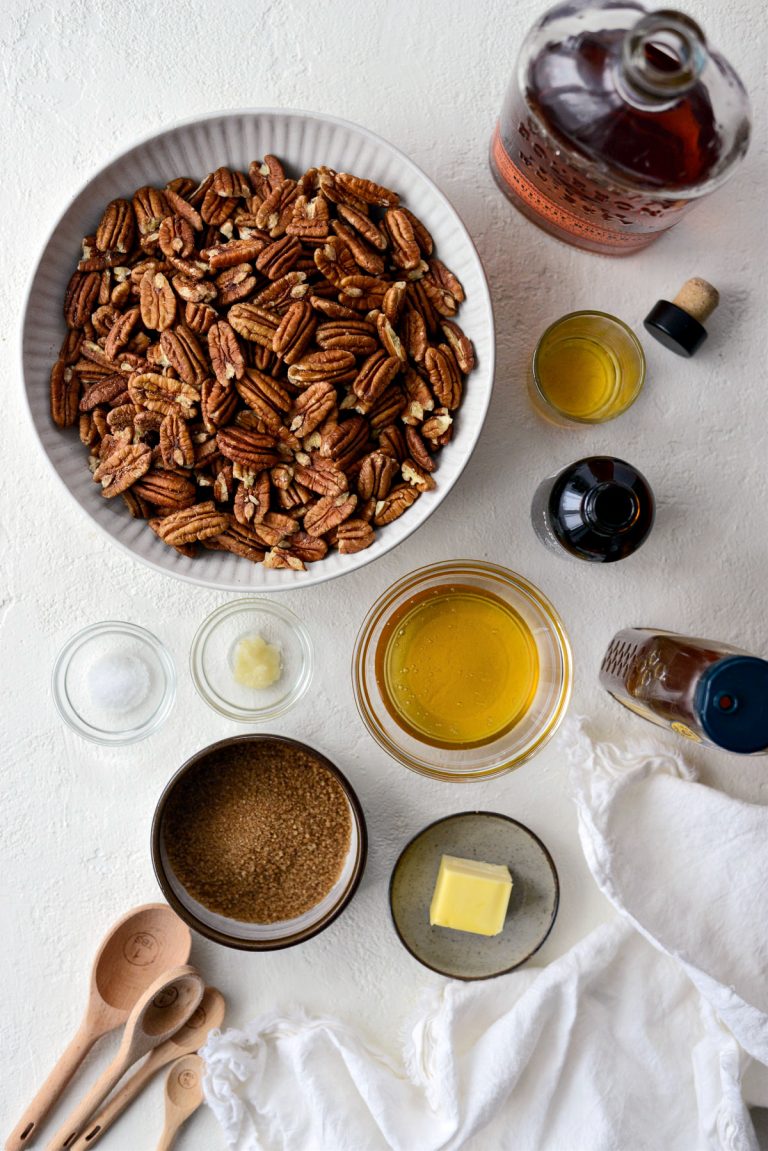 To Make These Honey Vanilla Bourbon Pecans You Will Need:
honey
bourbon
vanilla
unsalted butter
garlic
pecans
demerara sugar (or sub with Turbinado sugar)
fine sea salt
Start by measuring 3 tablespoons honey, 1 tablespoon bourbon, 2 teaspoons vanilla extract, 2 tablespoons butter and 1/4 to 1/2 teaspoon of grated garlic. I used the tube of fresh grated garlic because I cannon grate garlic fine enough on my microplane alone.
So, I know what you're thinking. GARLIC? Yes! It adds an oh-so-subtle savoriness that works with the vanilla, honey and bourbon. I promise. Now if you want it super subtle, go with 1/4 teaspoon. Want the garlic to be a little more pronounced? Go with 1/2 teaspoon.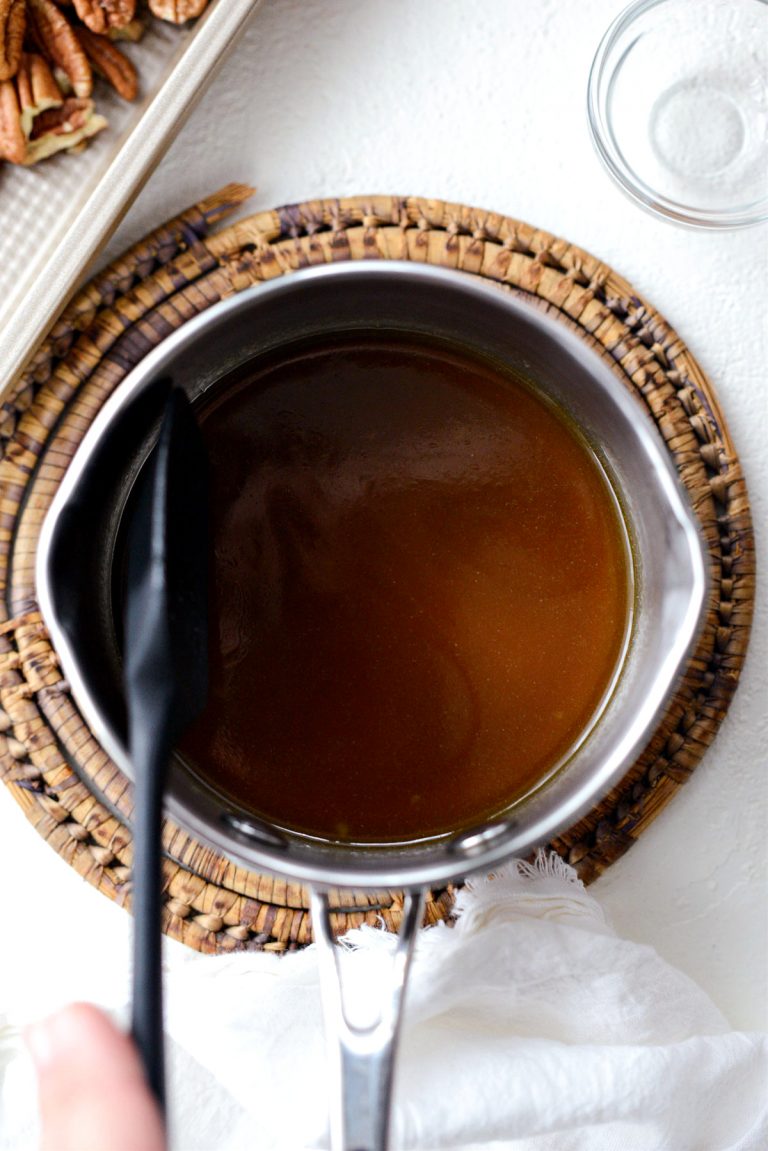 Stir over low heat until the butter has melted and ingredients are thoroughly combined.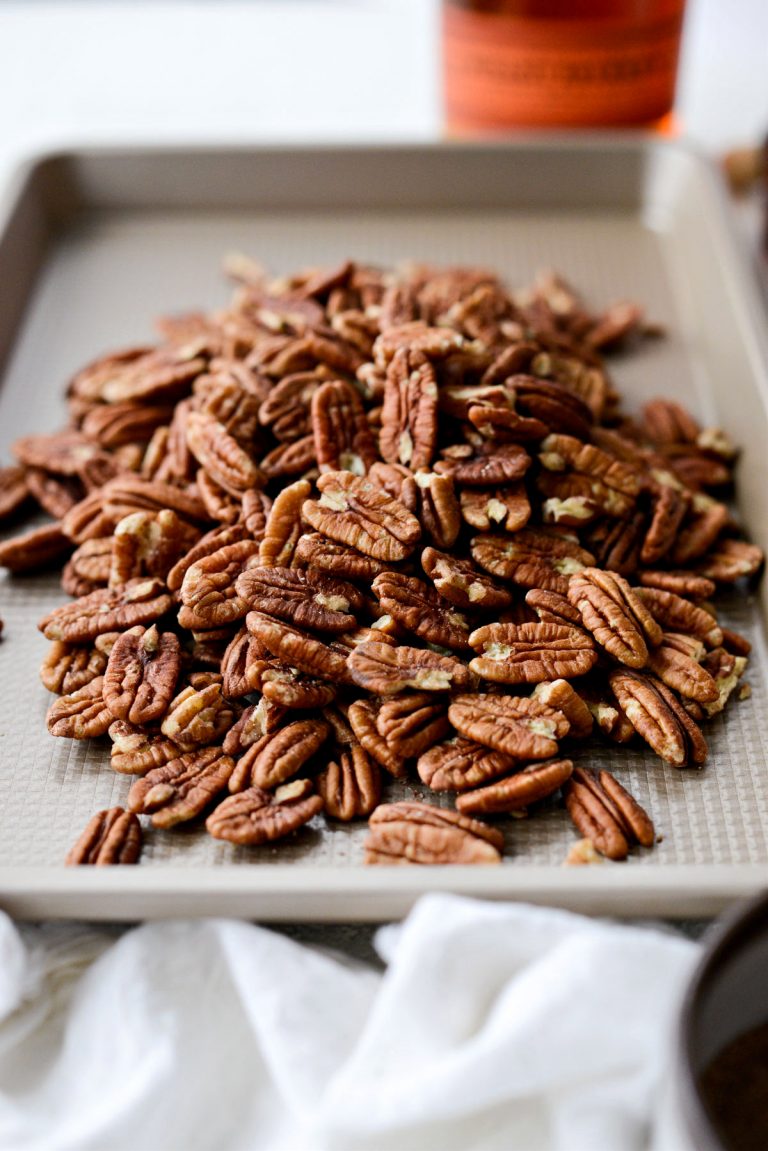 Preheat your oven to 350° and add 1 pound pecans to a 9×13 rimmed baking sheet.
Pour the warm honey, vanilla and bourbon mixture over top.
Tossing well to coat.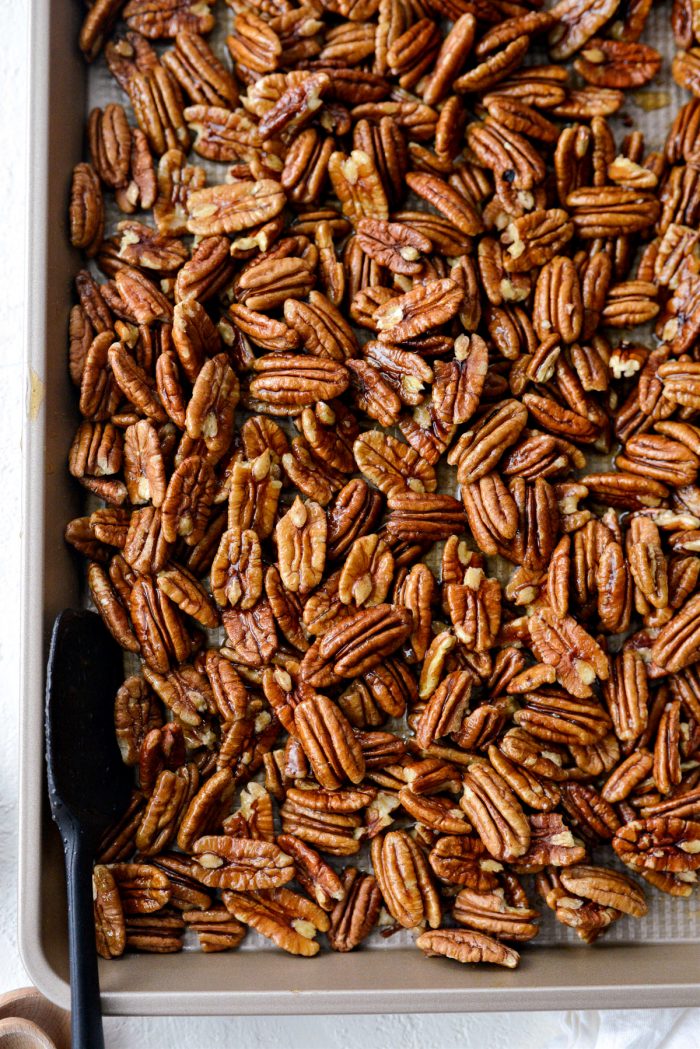 Spread evenly and bake for 6 minutes.
Toss, and bake for an additional 6 minutes. Repeating this step 1 more time for a total of 18 minutes.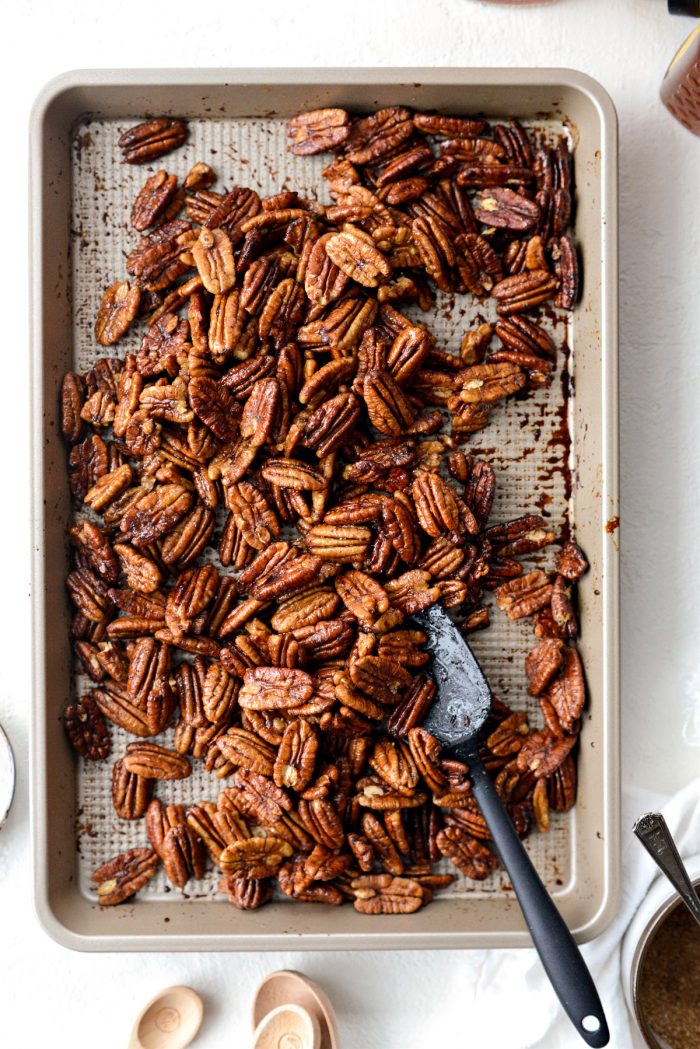 Remove and toss one last time.
The pecans should be toasted in spots and sticky.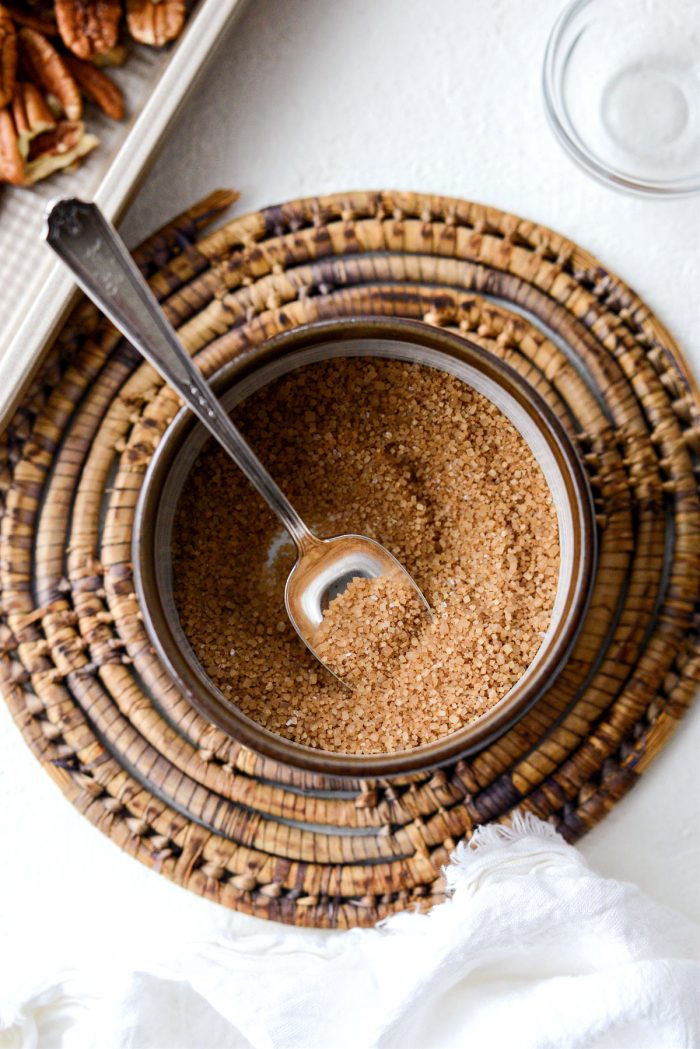 In a small bowl, combine 1/4 cup demerara sugar and 1/4 teaspoon fine sea salt.
What Is Demerara Sugar?
Demerara sugar is less refined, pale amber in color and has a fairly large grain. It is crystallized, partially evaporated sugar cane juice and then spun in a centrifuge to remove almost all of the molasses. Demerara Sugar has a toffee like flavor and is great sprinkled on top of bakery goods, oatmeal and nuts 😉.
What can be substituted for Demerara Sugar?
Turbinado or cane sugar. However these sugar grains may be smaller.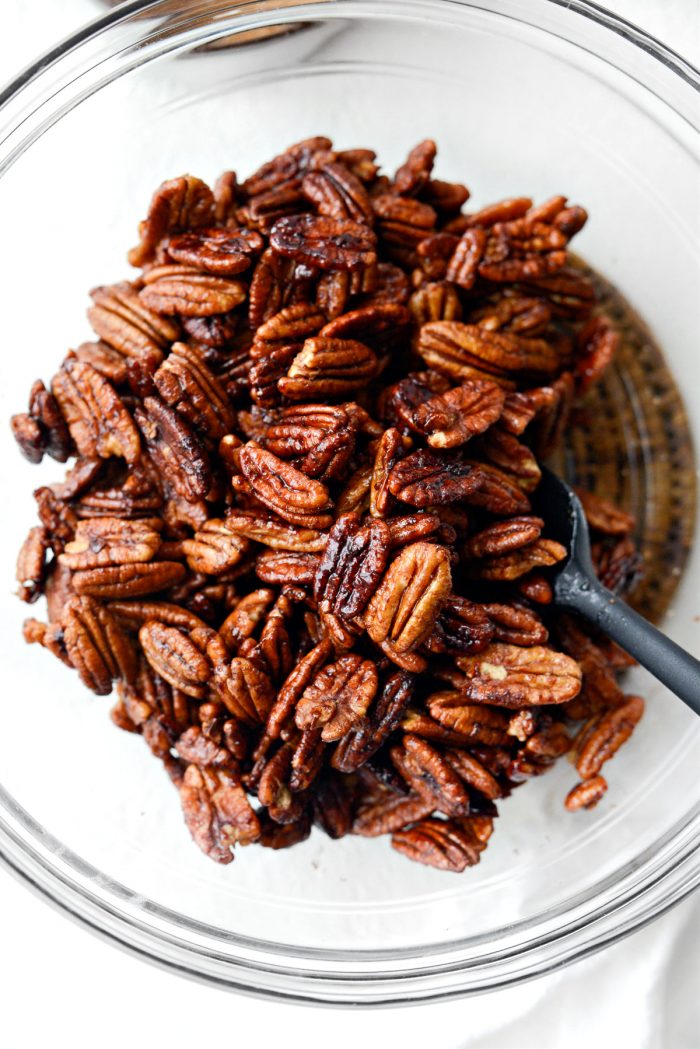 Transfer the glazed pecans to a bowl.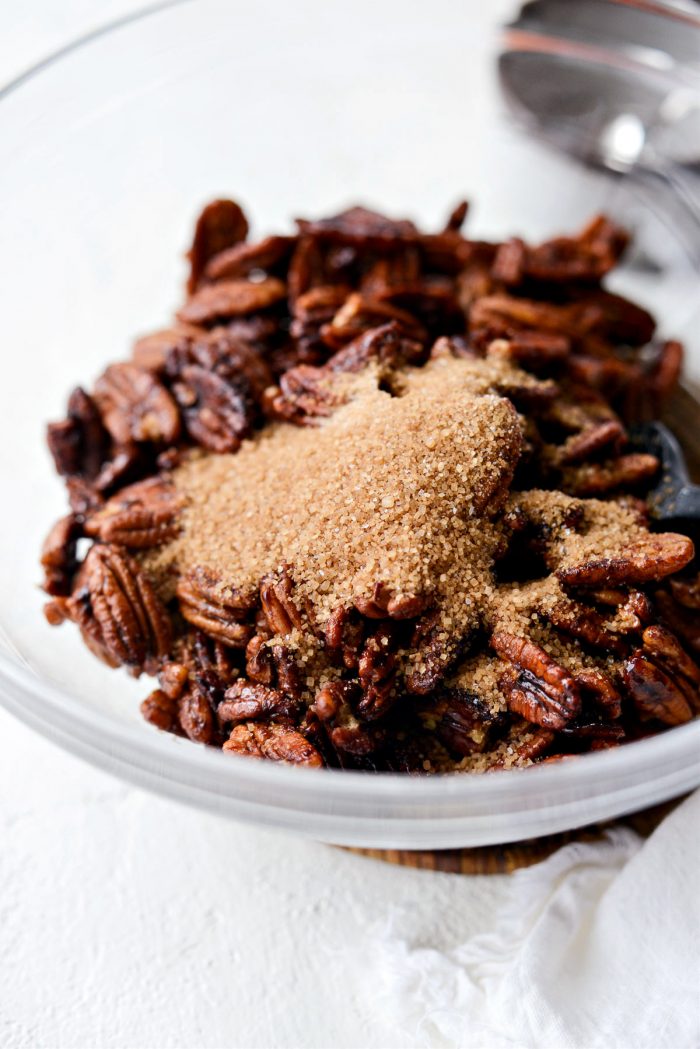 Add the sugar mixture to the bowl with the nuts.
Toss well to coat. The sugar mixture will stick to the glazed pecans adding sweetness and texture.
Spread the nuts out on a lined pan and let cool completely.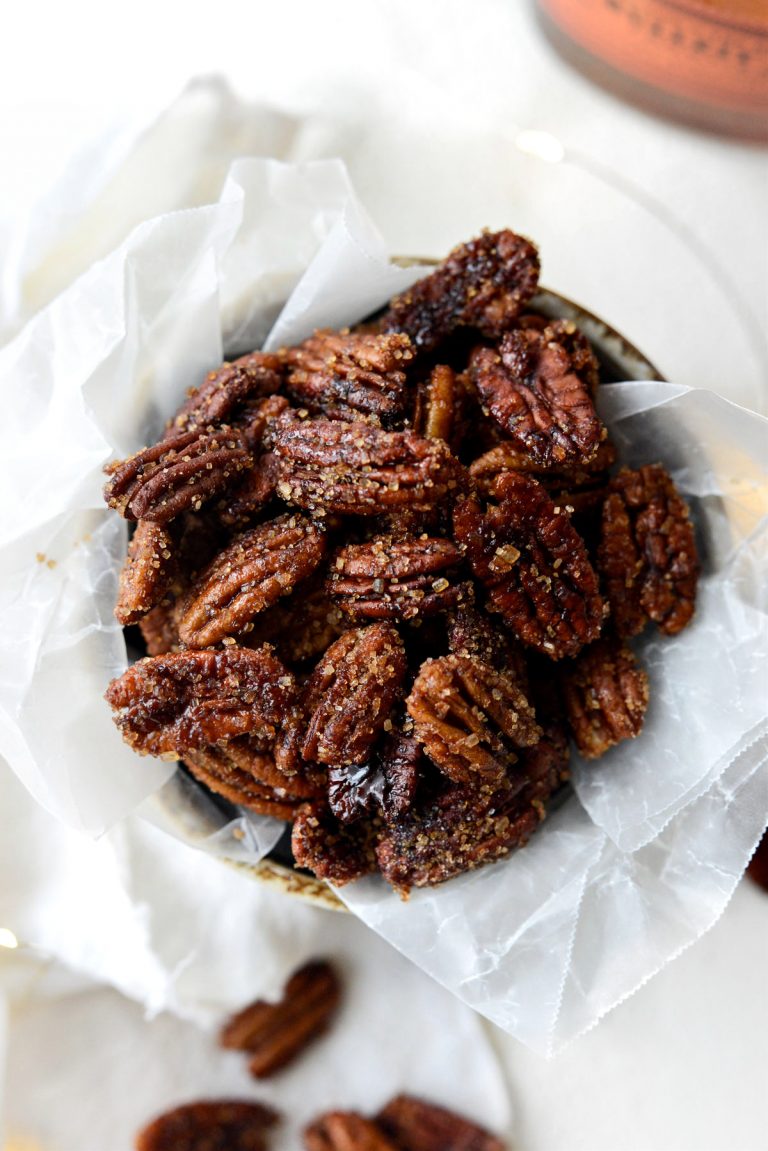 Once cool, add to a bowl and serve.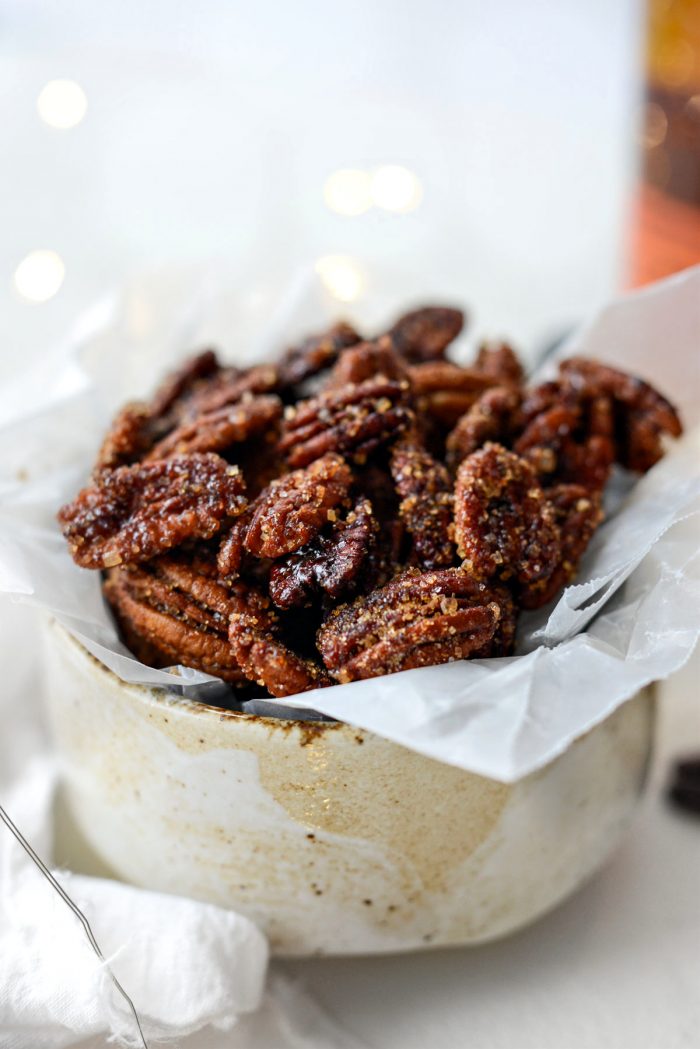 Sweet and crunchy, and the ever so subtle kick of garlic is absolutely incredible.
Click here For more nut recipes.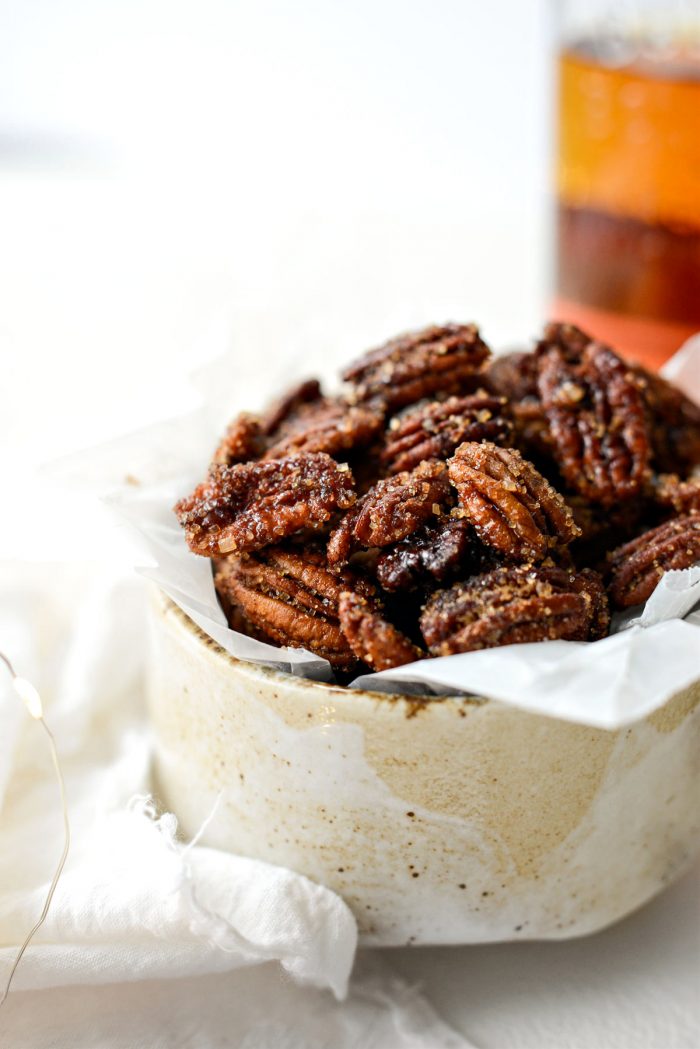 Enjoy! And if you give this Honey Vanilla Bourbon Pecans recipe a try, let me know! Snap a photo and tag me on twitter or instagram!
This post may contain affiliate links.
Buy the Cookbook: Simply Scratch : 120 Wholesome Homemade Recipes Made Easy Now available on Amazon »
THANK YOU in advance for your support!