This Bacon Pear and Blue Cheese Stuffed Pork Loin is a simple, yet impressive and flavorful recipe! A butterflied pork loin is stuffed with fresh pear, bacon, raisins, pecans and blue cheese. Tied and stuffed with fresh rosemary and thyme before roasting. Serve with cranberry sauce and your favorite sides. This recipe serves 8 to 10.
This one goes out to all the non turkey fans.
This year I decided to flip the script and make a stuffed pork loin instead of turkey. Why? Well, the past few years I've shared lots of different turkey recipes whether it be sheet pan, slow cooker or oven roasted. And then with the leftovers from those recipes I make new recipes. And basically I get turkey-d out by Thanksgiving. Therefore this year, I'm taking a break (well sort of) and decided that even the non turkey fans need a delicious holiday recipe to enjoy as well.
Enter this stuffed pork loin.
I made a simple stuffing of fresh pear, raisins, bacon, pecans and blue cheese and stuffed it into a butterflied center cut pork loin. Tied it with string and tucked in sprigs of fresh herbs before roasting.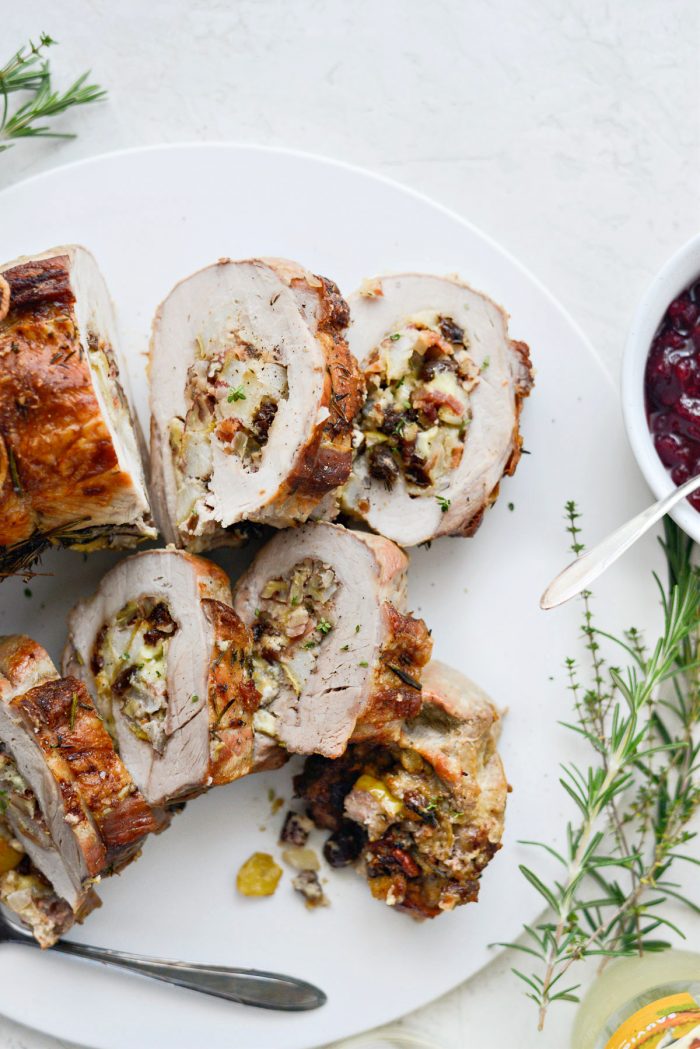 The whole house smelled absolutely incredible! And it's served with cranberry sauce so it's still very thanksgiving-ish.
To Make This Bacon Pear and Blue Cheese Stuffed Pork Loin You Will Need:
boneless center cut pork loin
olive oil
kosher salt
freshly ground black pepper
4 strips applewood bacon (thick cut if possible), cooked until crispy
bacon fat (reserved)
shallot
breadcrumbs
low-sodium chicken broth
anjou pear
crumbled gorgonzola or blue cheese
chopped pecans
raisins
thyme
rosemary
kitchens string
cranberry sauce – for serving
First, spray your roasting rack with olive oil spray and preheat your oven to 450°.
Add 1 tablespoon (reserved from cooking the bacon) bacon fat and add it to a small skillet with 1 finely diced shallot and a pinch of kosher salt.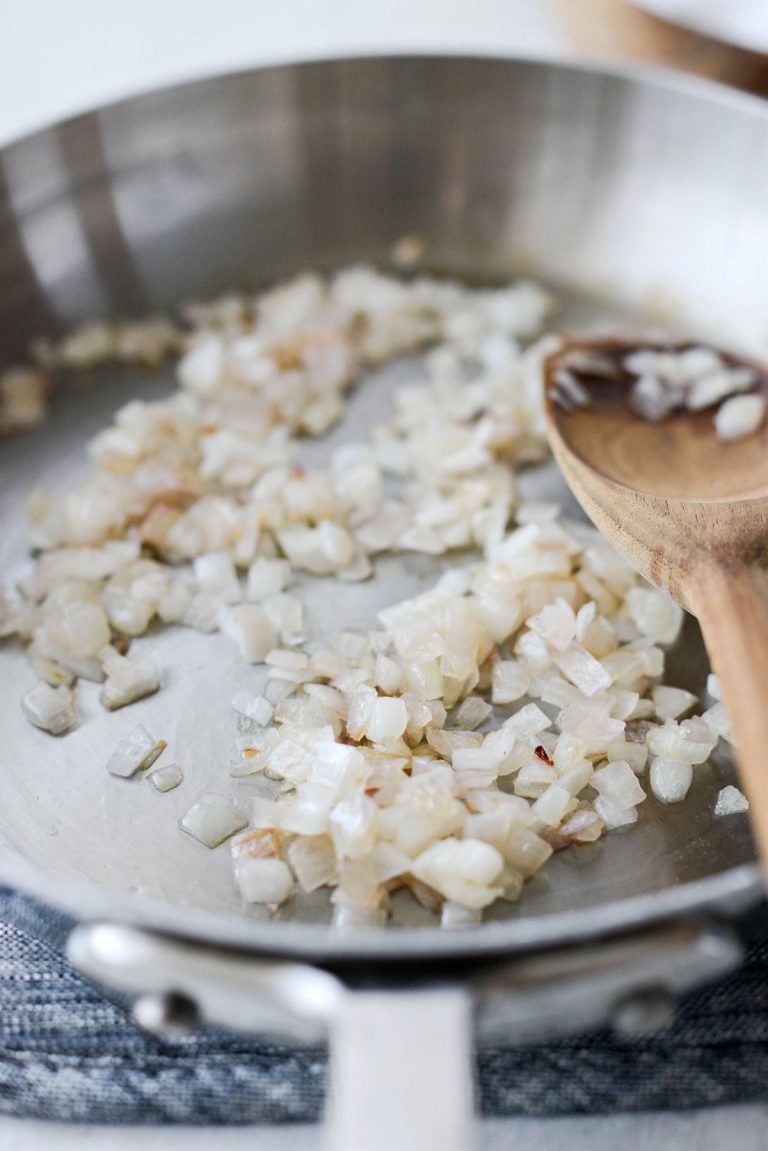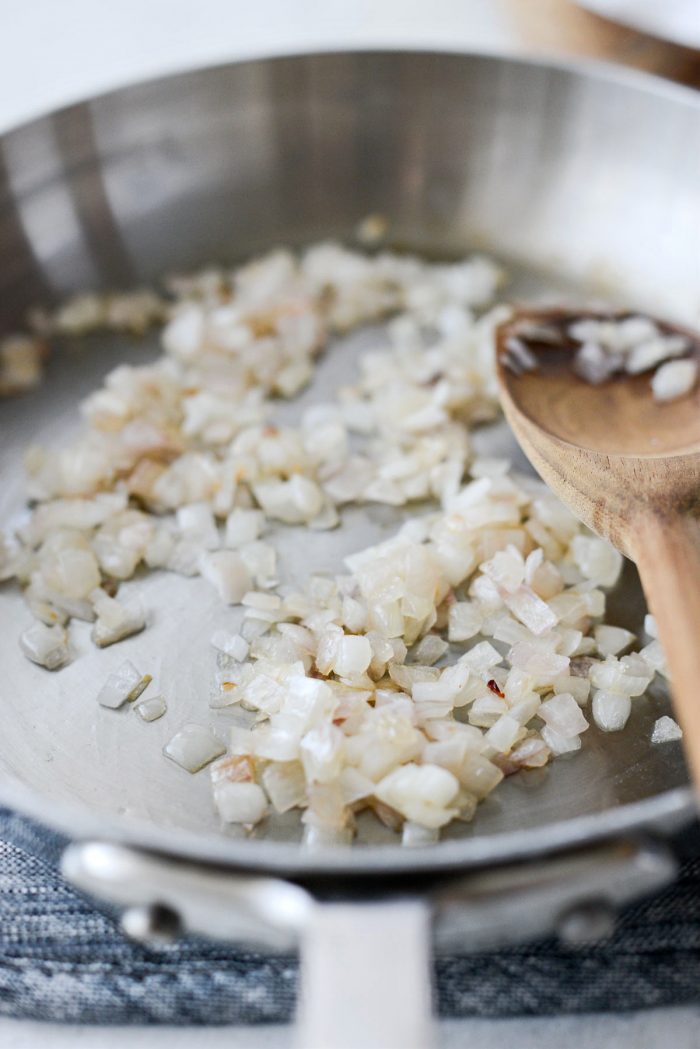 Heat over medium-low, stirring occasionally until soft and translucent. About 5 minutes.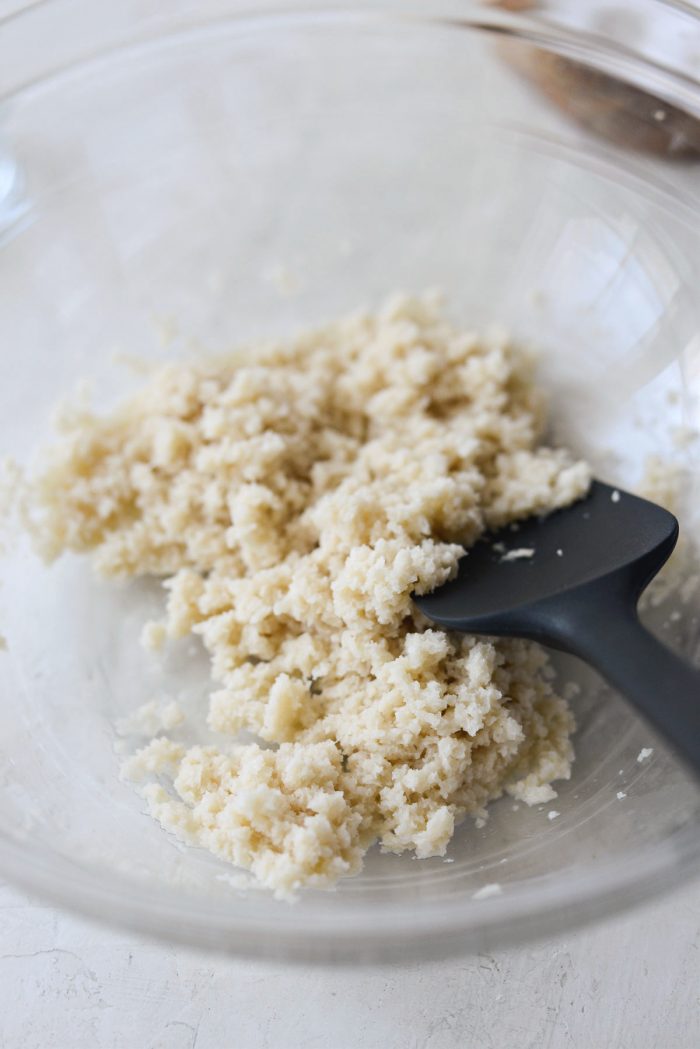 Meanwhile combine 1/2 cup plain breadcrumbs (I only had panko on hand so use what you've got) and pour in 1/2 cup low-sodium chicken broth. Stir and give it a few minutes so that the breadcrumbs can absorb the broth.
Then, to the bowl with the breadcrumbs add; in the 4 strips of cooked and chopped bacon, sautéed shallot, 1 cored and diced anjou pear, 1/2 cup crumbled gorgonzola or blue cheese, 1/3 cup both chopped pecans and raisins
Season with a generous pinch of kosher salt and some freshly ground black pepper.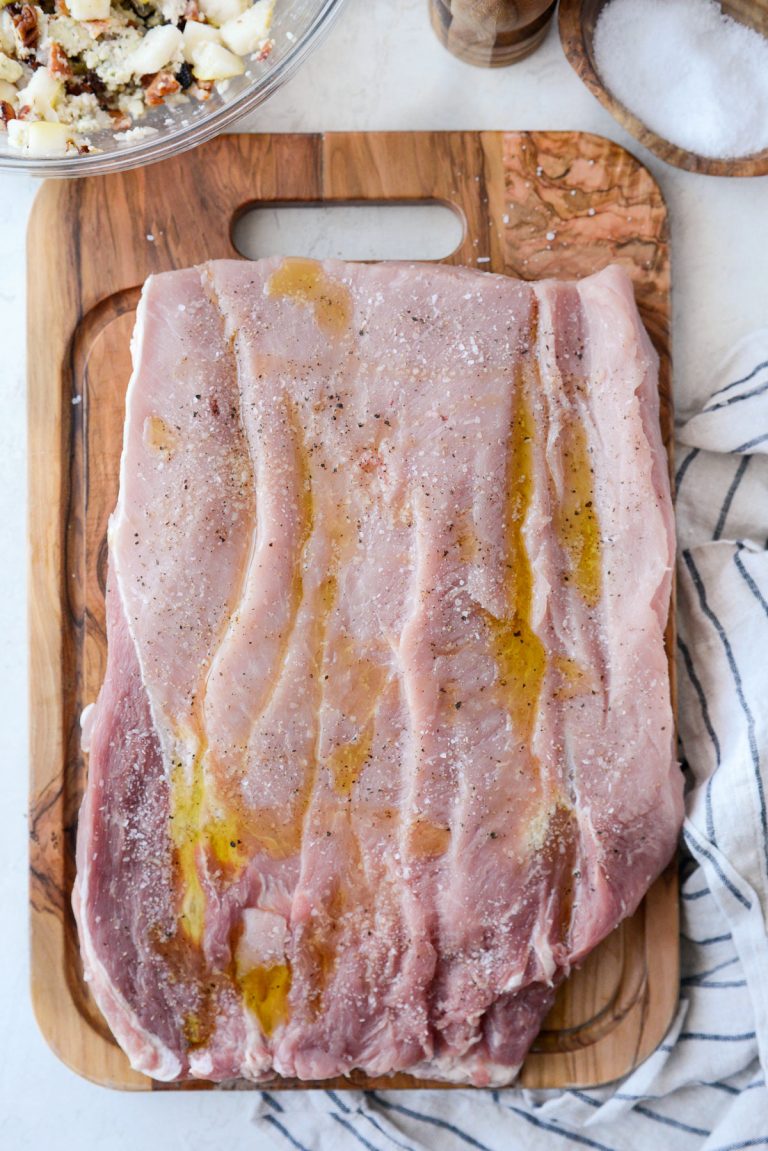 Butterfly your pork loin and drizzle with with olive oil before seasoning with kosher salt and freshly ground black pepper.
This video is a great tutorial.
Spoon the stuffing onto the pork loin and spread evenly.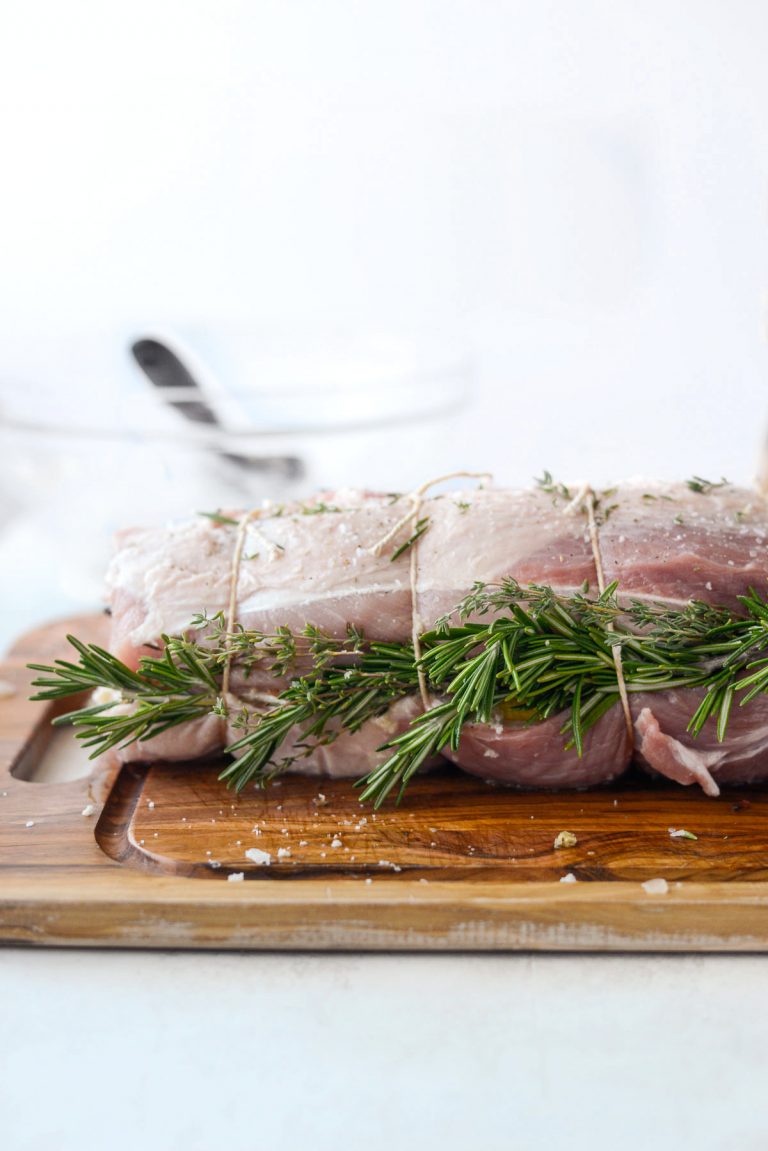 Roll and tie with kitchen string. Tuck sprigs of fresh thyme and rosemary along under the kitchen string along the seam.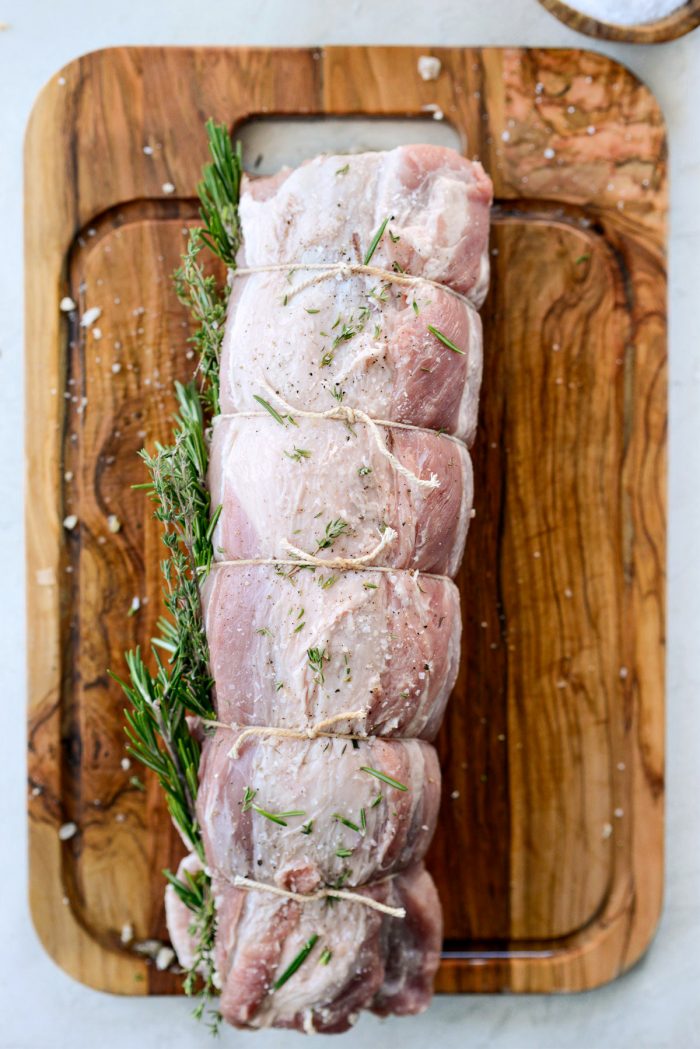 Season the top with kosher salt and black pepper and any rogue herbs nearby.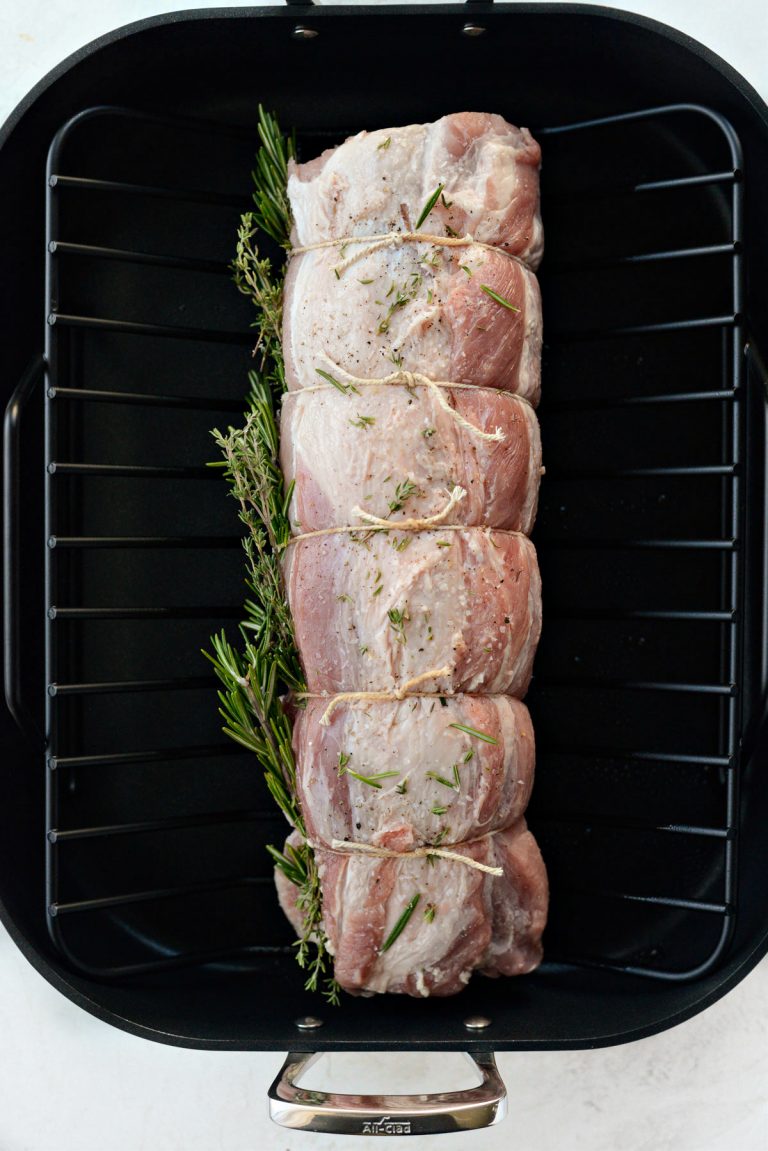 Place your stuffed pork loin onto the rack set into your roasting pan.
Roast for 15 minutes at 450° and then reduce the oven temperature to 325° and continue cooking until the temperature of the thickest part of the meat reaches 145 to 150°. You'll need roughly 20 minutes of cooking time per pound of meat.
Smells (and looks) incredible!
Before serving, transfer to a carving board and tent with foil. Allow it to rest 10 to 12 minutes before snipping the string (and discarding the herbs) the string and slicing.
The best combination of sweet and savory!
This bacon pear and blue cheese stuffed pork loin is delicious served with garlicky green beans almondine and this classic homemade cranberry sauce knocks it out of the park.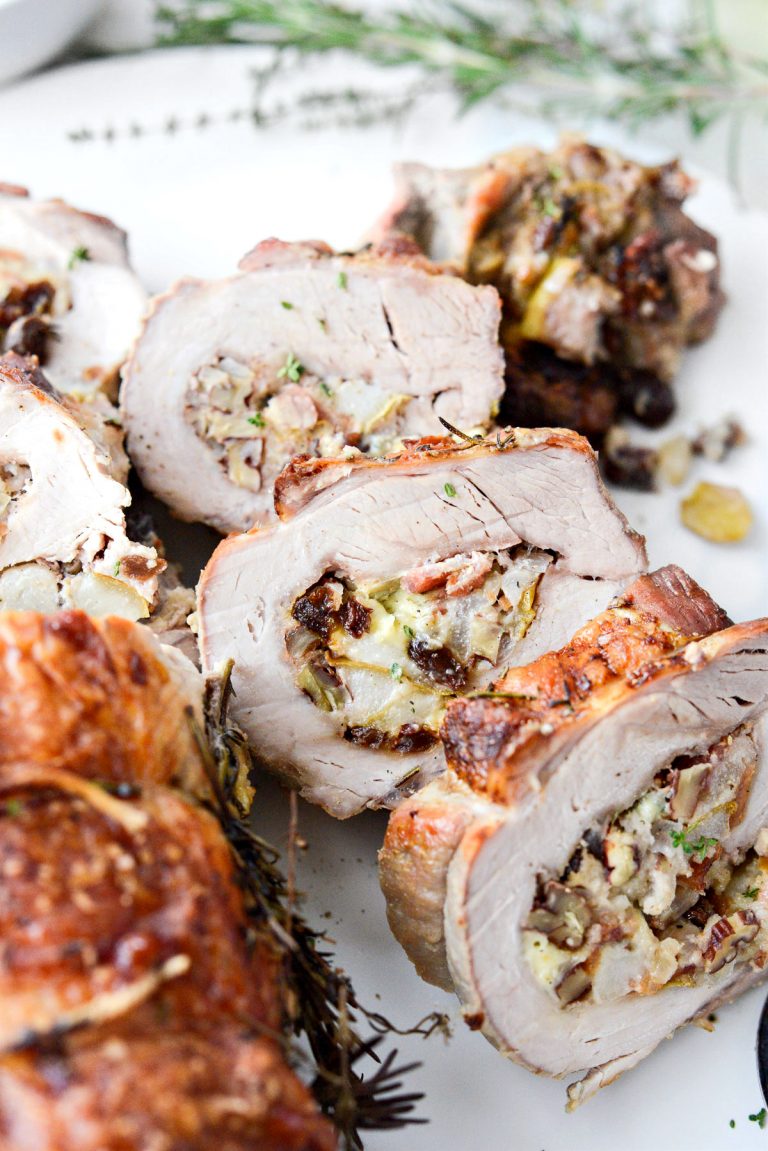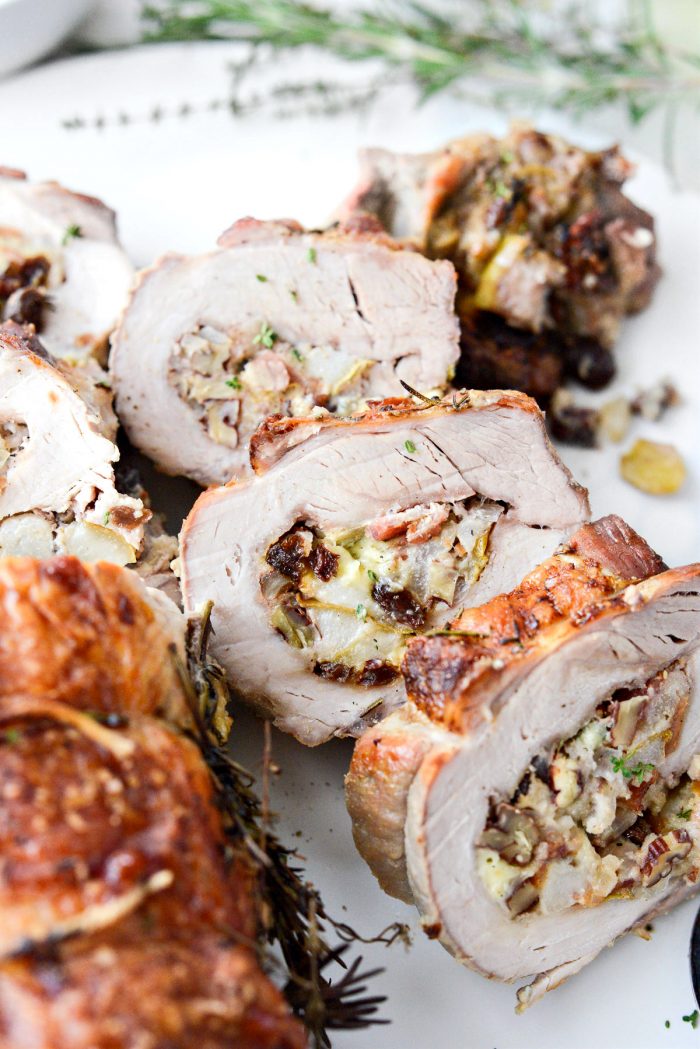 Enjoy! And if you give this Bacon Pear and Blue Cheese Stuffed Pork Loin recipe a try, let me know! Snap a photo and tag me on twitter or instagram!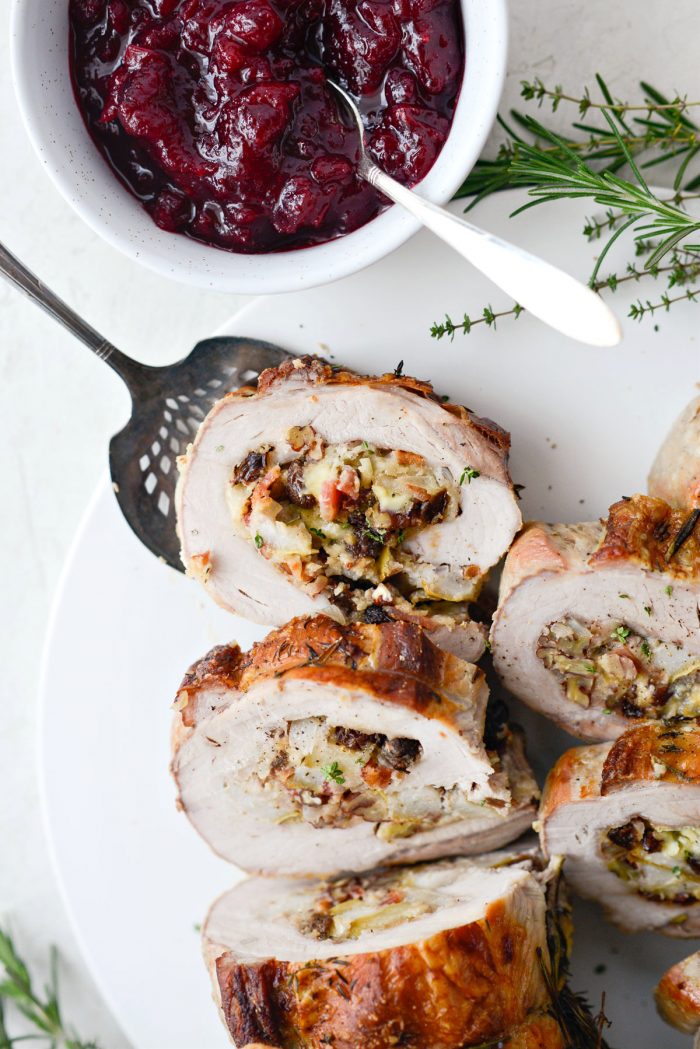 This post may contain affiliate links.
Buy the Cookbook: Simply Scratch : 120 Wholesome Homemade Recipes Made Easy Now available on Amazon »
THANK YOU in advance for your support!