Wake up to breakfast already made with this Vanilla Peach Overnight Oats recipe. The day (or night) before, combine old fashioned rolled oats, cinnamon, peaches and almonds with milk in a jar and let time do its thing. Enjoy this wholesome breakfast straight out of the jar or add to a bowl and reheat until warm.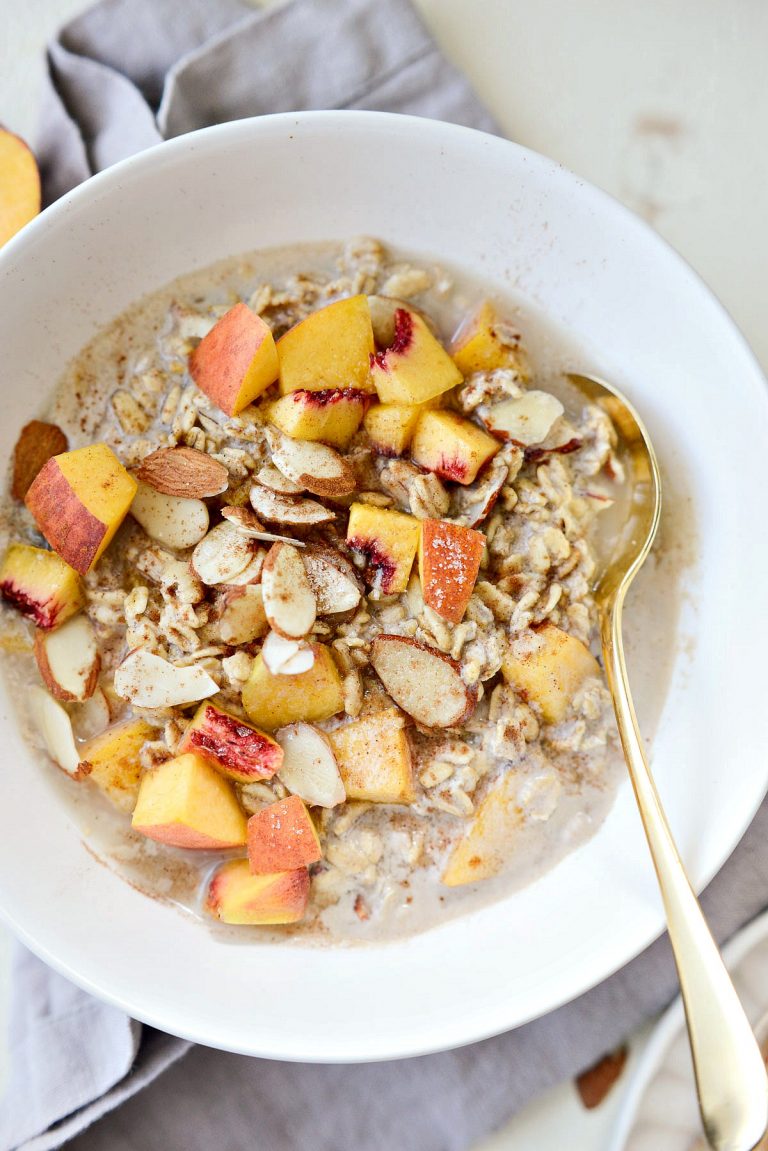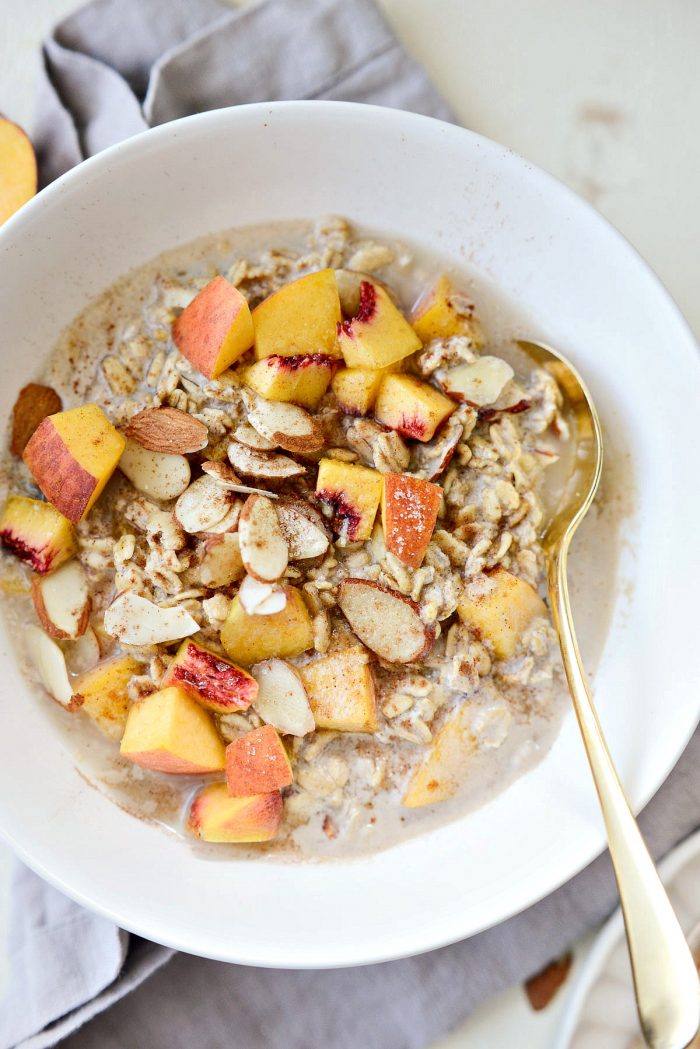 Waking up to breakfast already made in the fridge is my new favorite thing.
Since Haileigh has been back from college, she has made quite a few overnight oat recipes. Sometimes she'll add peanut butter, vanilla protein powder (a boost of protein to keep her fuller longer), mix it with almond milk and top with a few mini chocolate chips. Other times she'll keep it simple with cinnamon and fresh fruit. I was so inspired by her constant creations that I decided to whip up a summer peach version.
On a typical morning I have 2 eggs and turkey sausage. But every once and again I get in the mood for a warm comforting bowl of oatmeal – especially in the colder months of Michigan. However, fresh peaches are so good right now so you'll fine me making this all.the.time.
Plus, who doesn't like the idea of waking up knowing a wholesome delicious breakfast is already made and in the fridge?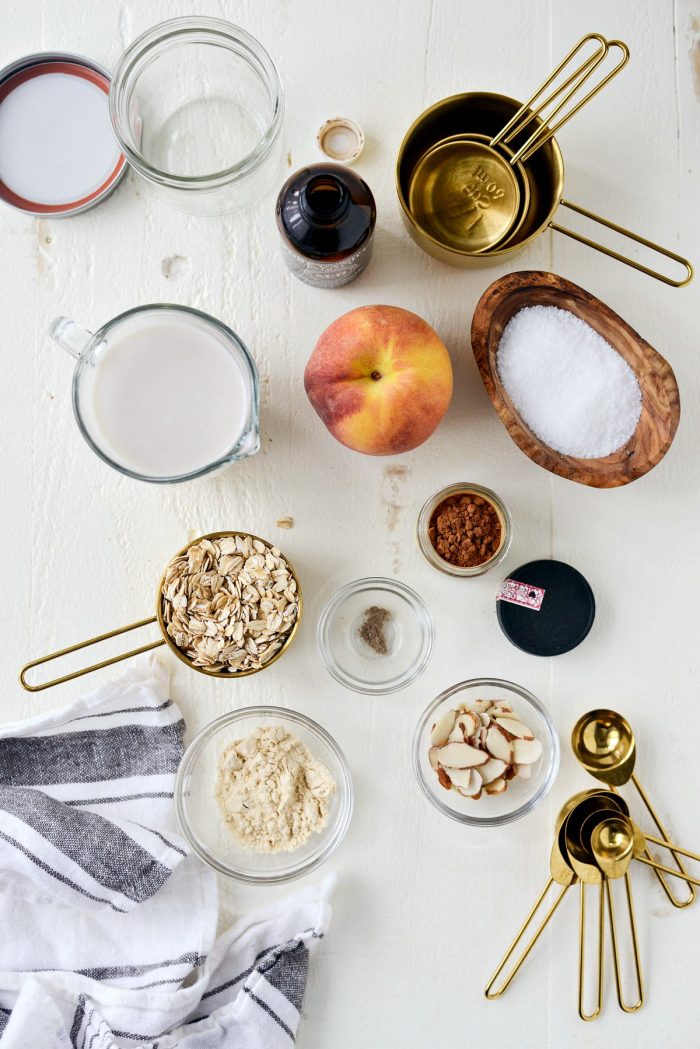 To Make Vanilla Peach Overnight Oats You Will Need:
old fashioned rolled oats
vanilla protein powder (optional)
cinnamon
cardamom
kosher salt
sliced almonds
milk
vanilla extract
fresh peach
In a medium mixing bowl, measure and add; 1/2 cup rolled oats, 1 tablespoon vanilla protein powder, 1/4 teaspoon ground cinnamon, 1/8 teaspoon ground cardamom, a pinch of kosher salt and 1 tablespoon sliced almonds.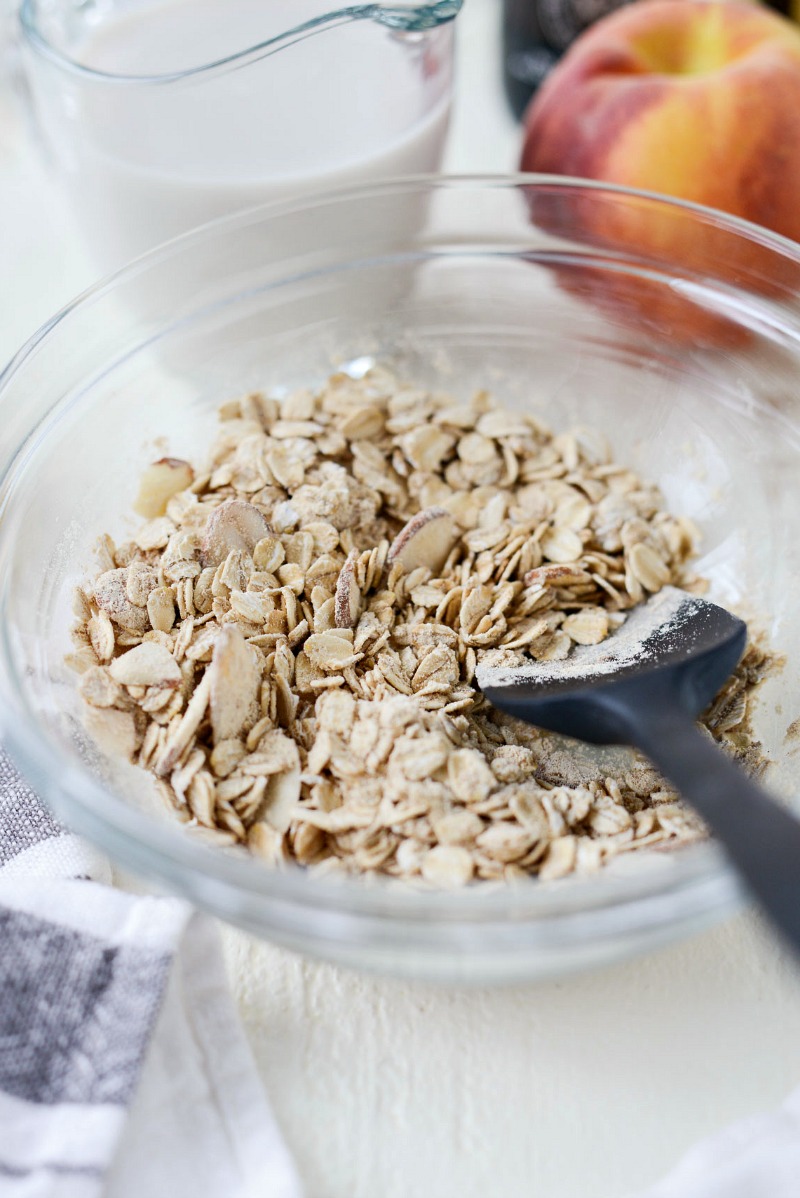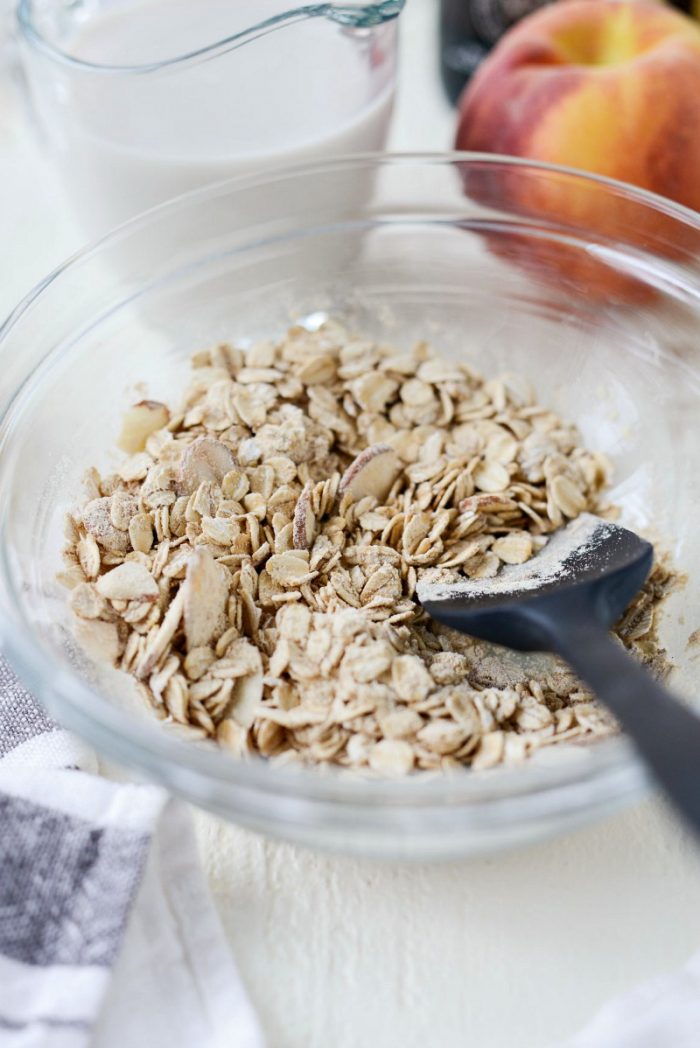 Mix well to combine.
Pour in 3/4 cup milk. I'm not much of a milk drinker these days, but I do keep unsweetened vanilla almond milk on hand for my oldest daughter. So I used that.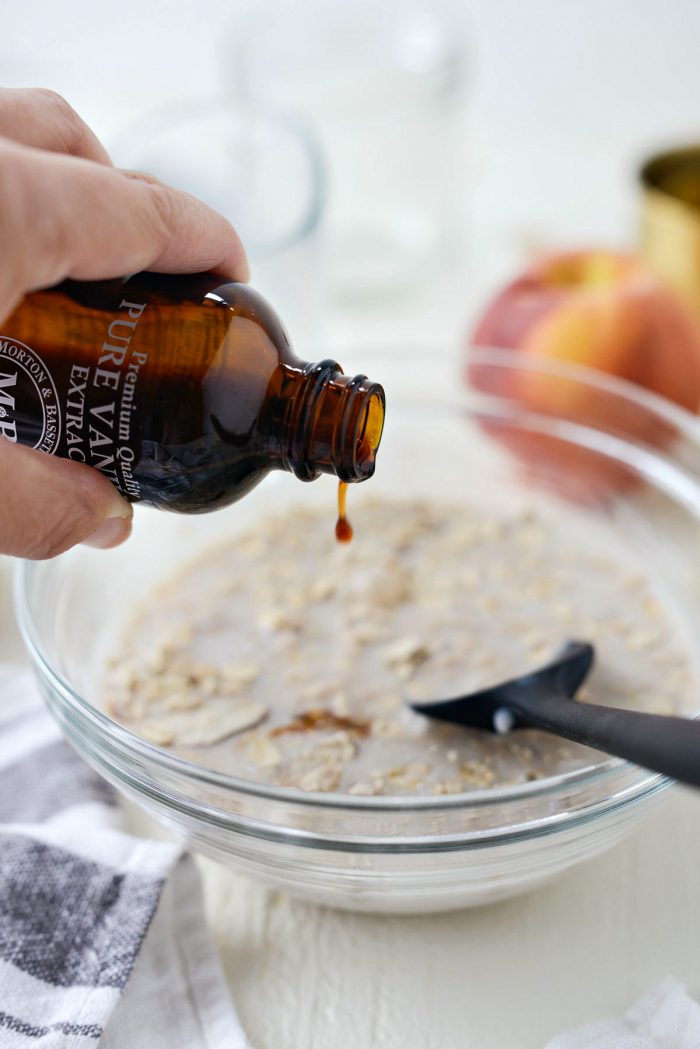 Lastly add in a splash of pure vanilla extract.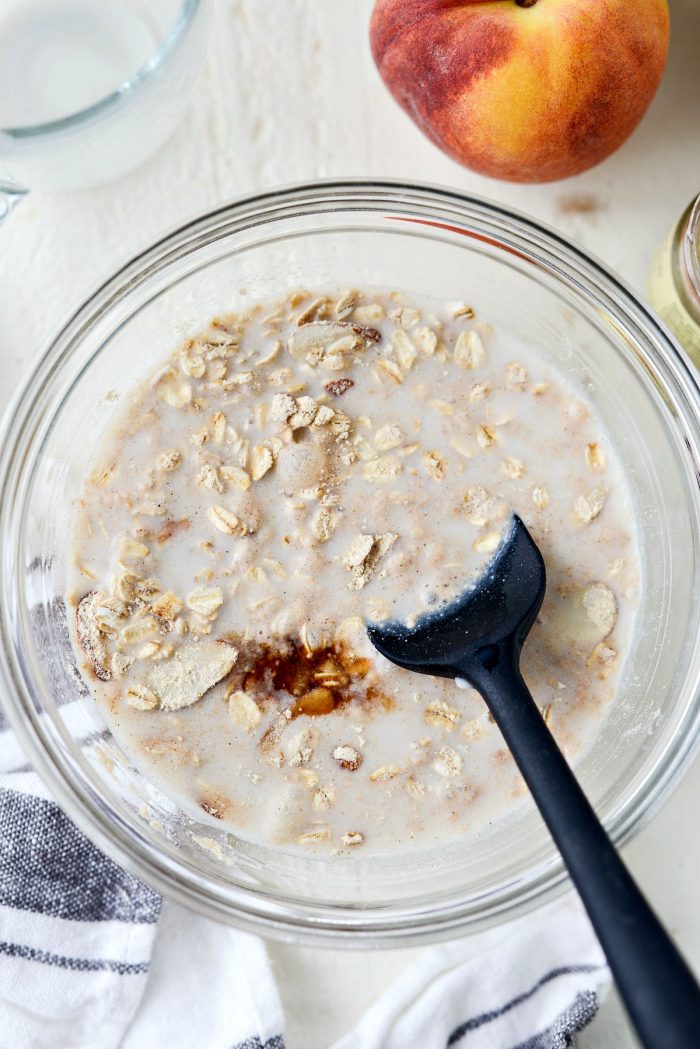 If not using vanilla protein powder, add a second splash of vanilla.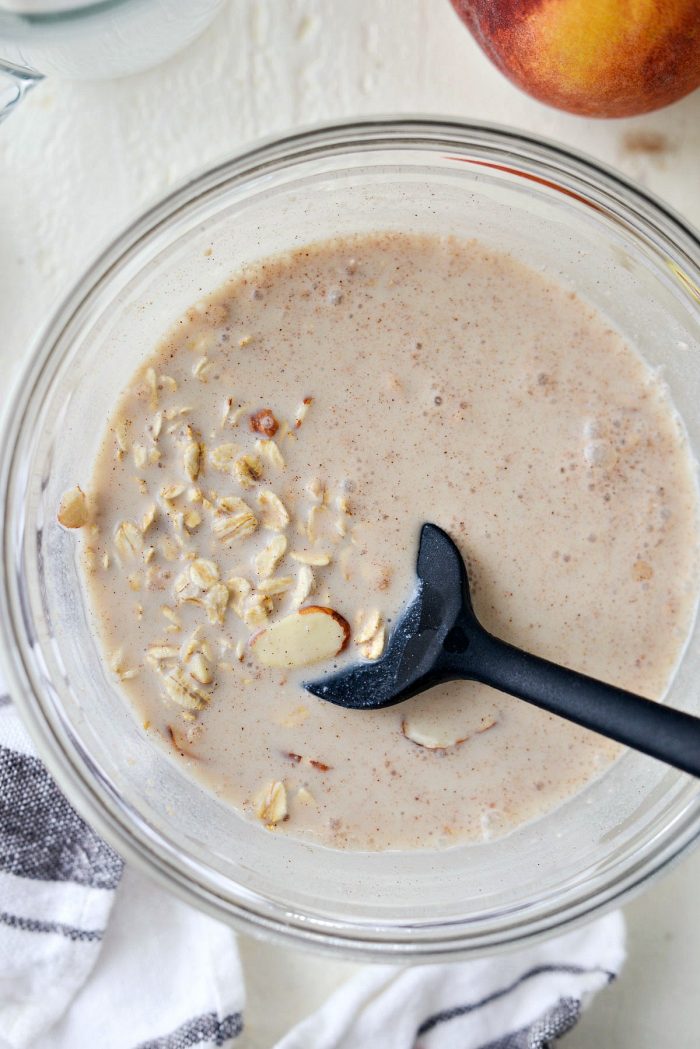 Stir well to combine.
Toss in 1/2 a peach that has been diced.
Add the oat mixture into a glass jar.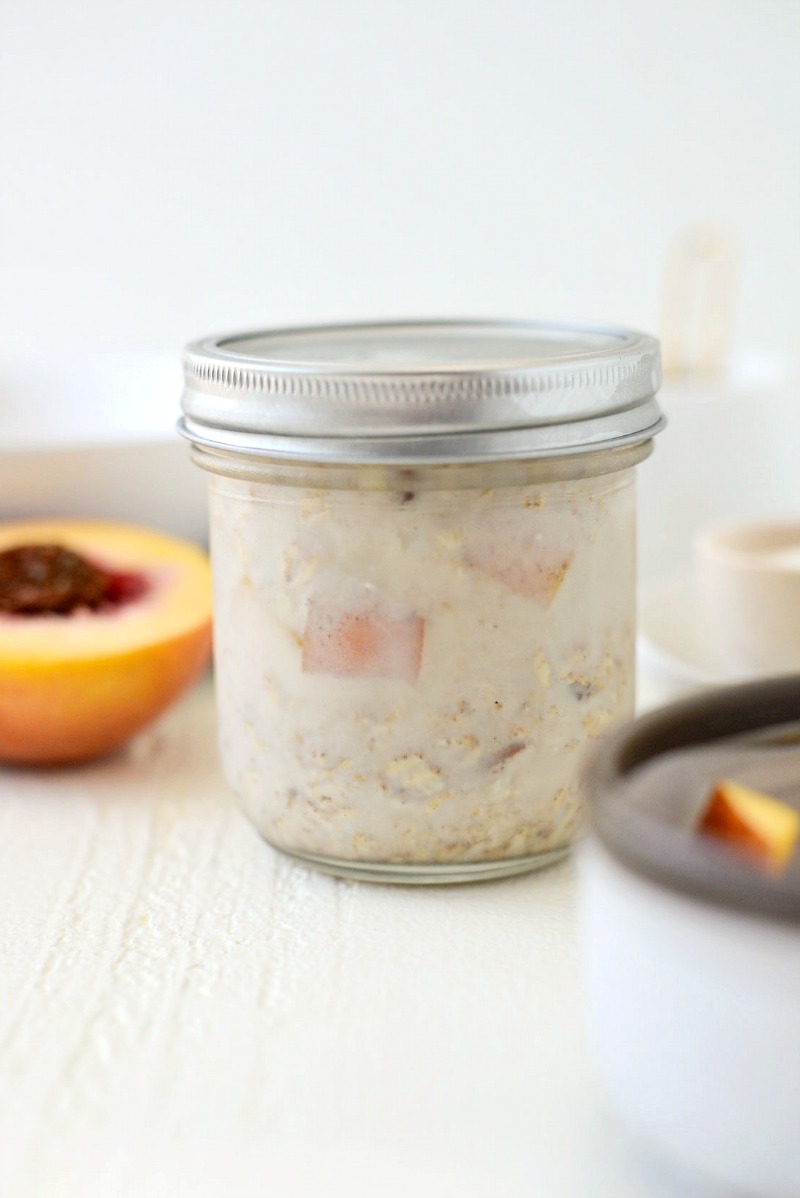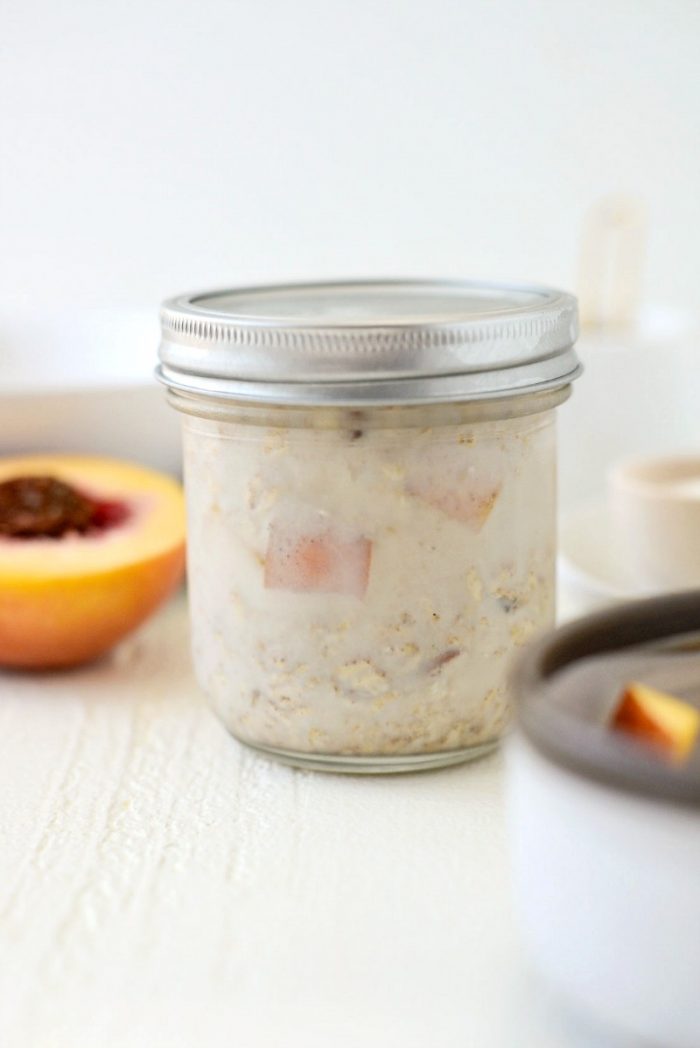 And secure the lid and pop it into your fridge and refrigerate overnight.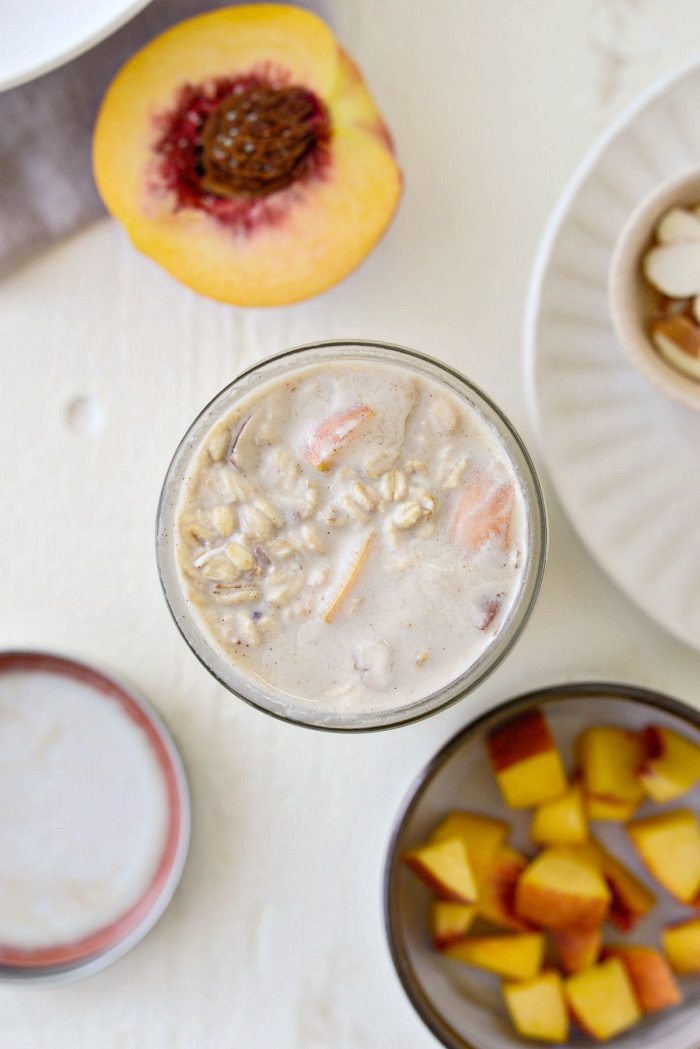 Fast forward to the morning.
Now you can one of two things the morning of. You can a) eat it cold straight out of the jar. Or b) add the contents of the jar to a bowl and warm in the microwave.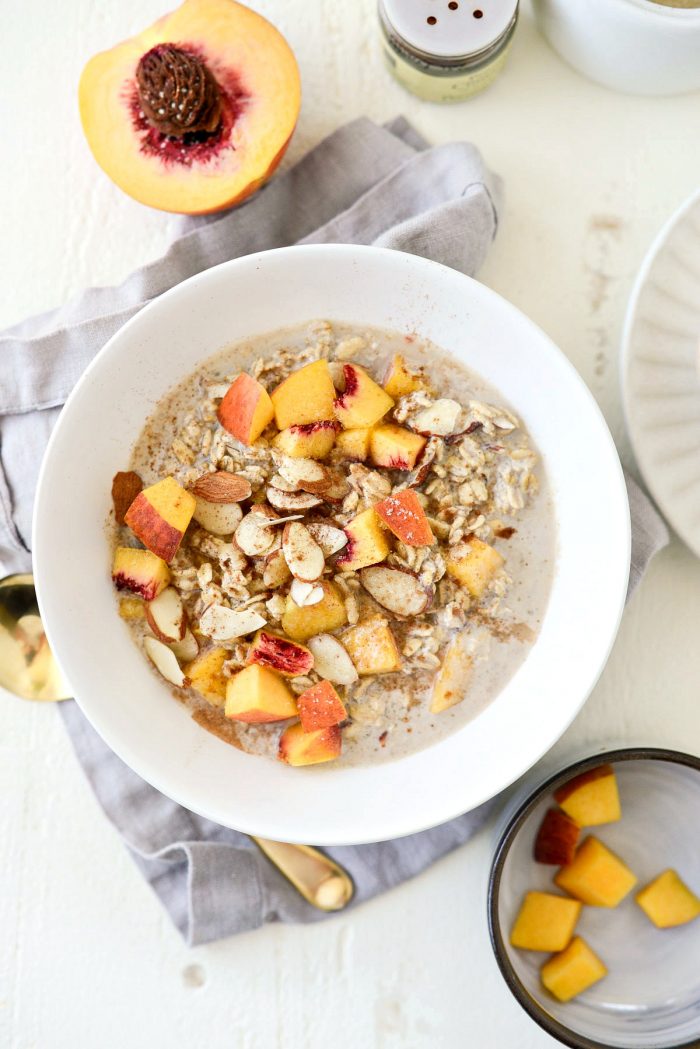 And if you're feeling it, top it with extra peaches (I add half of a half of peach to the oatmeal and save the rest for topping), almonds, a dash of more cinnamon and a sprinkle of sugar.
So healthy, filling and satisfying.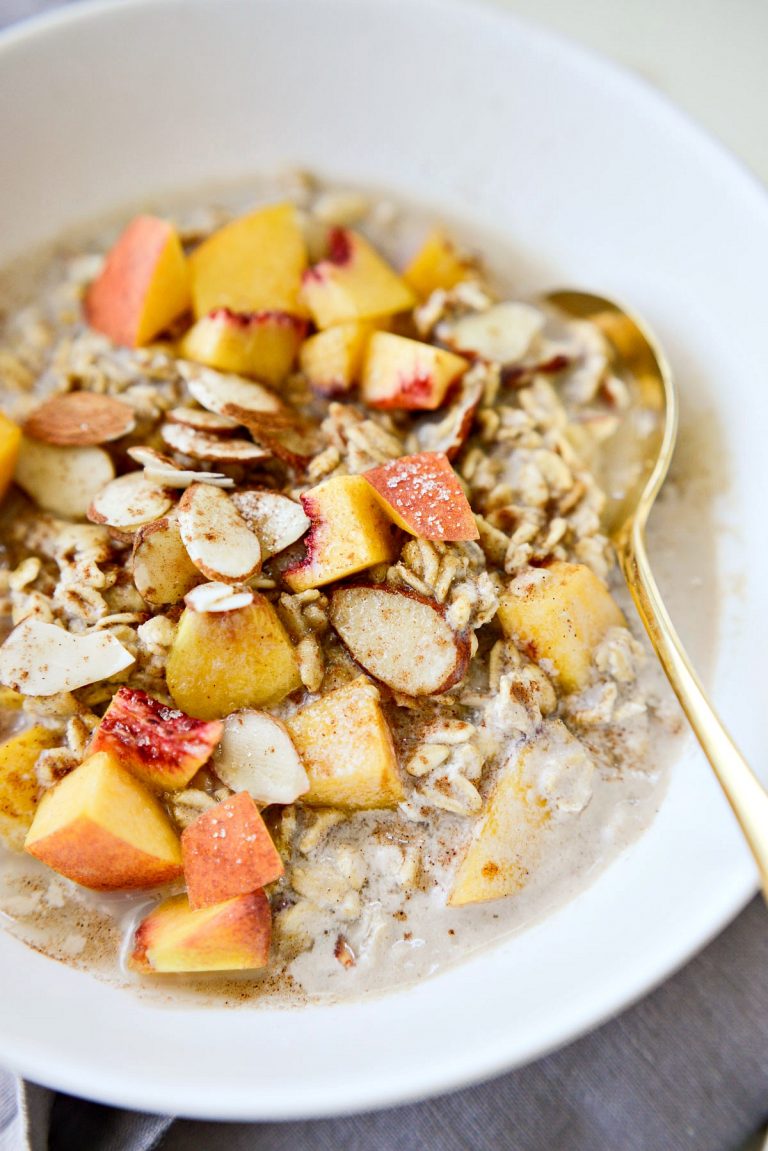 For more peach recipes click here!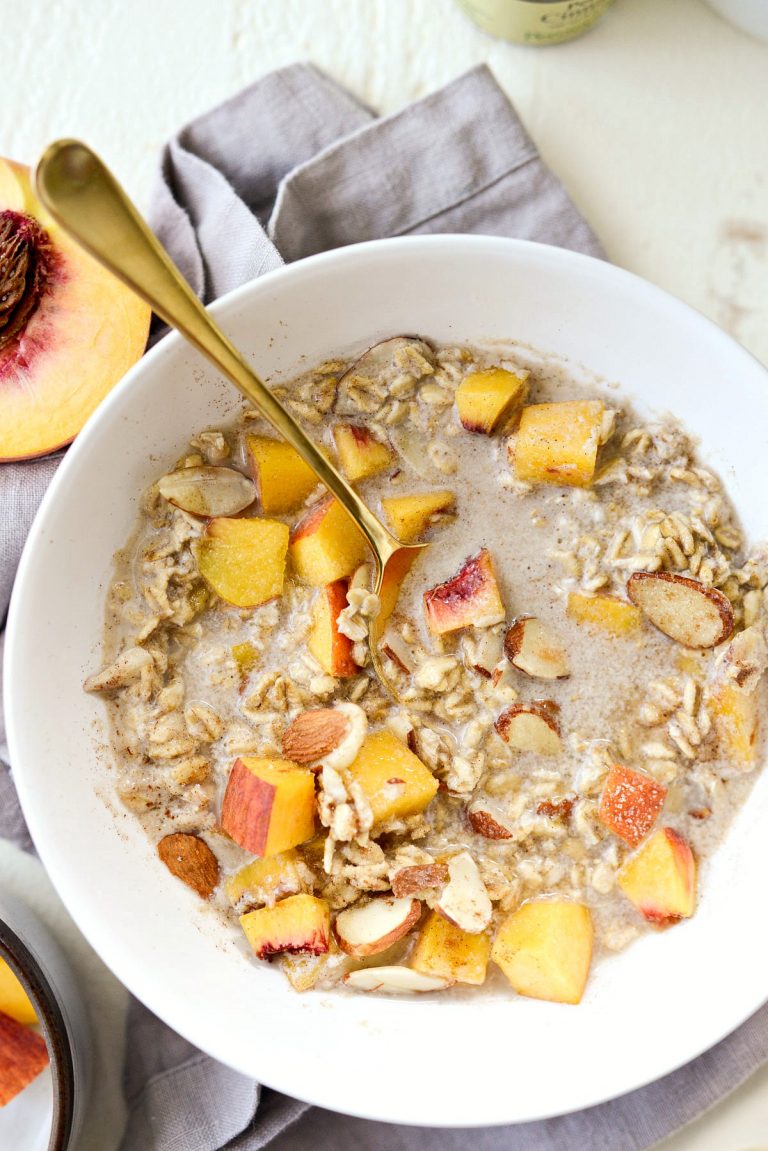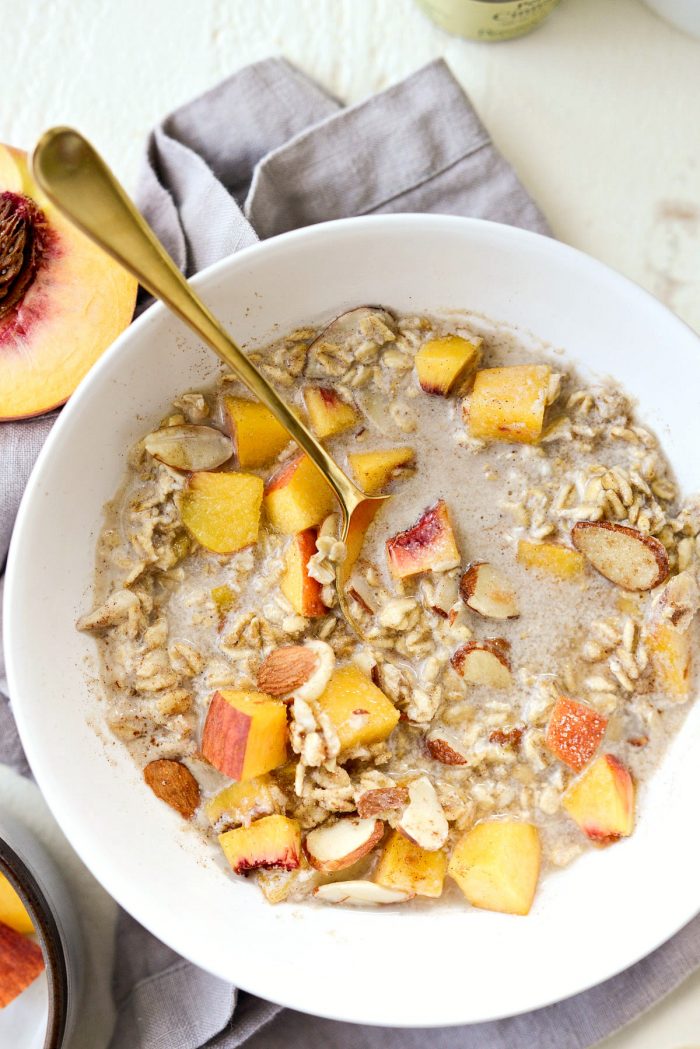 Enjoy! And if you give this Vanilla Peach Overnight Oats recipe a try, let me know! Snap a photo and tag me on twitter or instagram!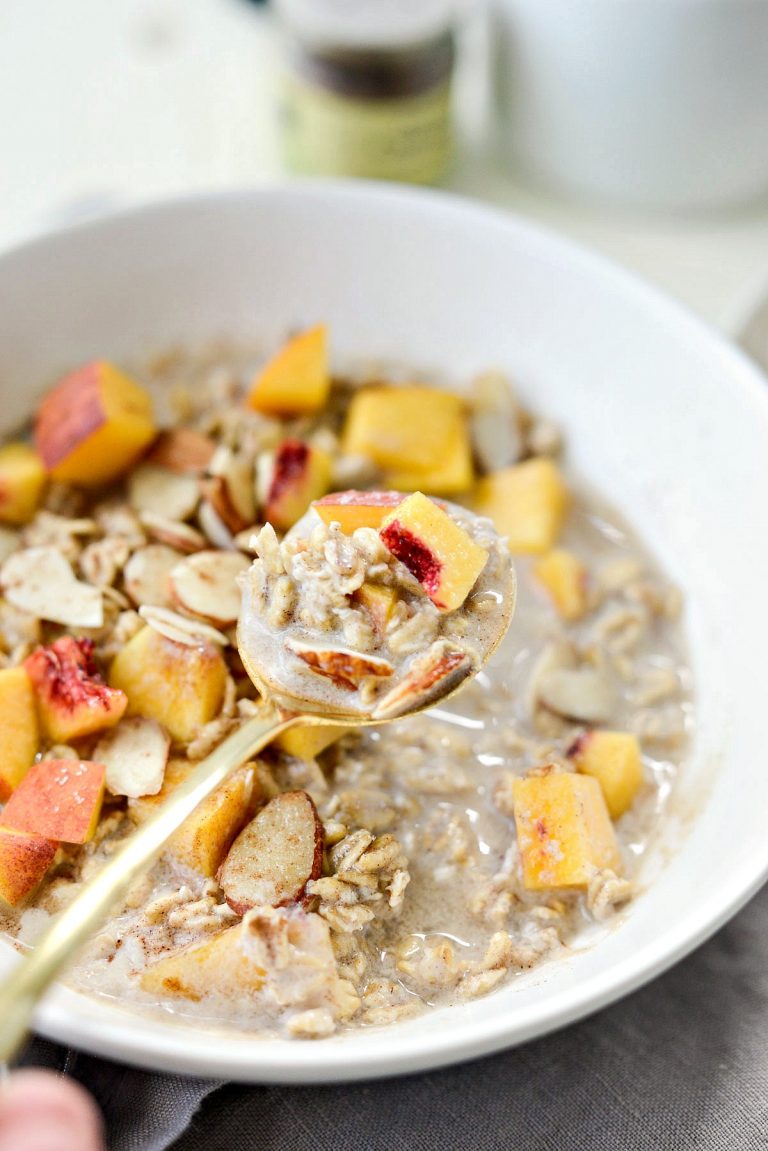 This post may contain affiliate links.
Buy the Cookbook: Simply Scratch : 120 Wholesome Homemade Recipes Made Easy Now available on Amazon »
THANK YOU in advance for your support!