Stay cool this summer with this Easy Homemade Cold Brew Coffee for your iced coffees! It starts with whole coffee beans that are coarsely ground and soak in water overnight. Once strained, pour over ice and add in your favorite sweetener and milk!
End of summer. Hot days. Iced coffee.
While these summer months linger for a little while, you'll find me at 2pm every day sipping on a cold brew iced coffee. I'll fill my glass Ball jar with ice, pour in my cold brew, add my favorite flavored vanilla coffee syrup and splash or two of milk. To me it's mellow, not too strong and not too weak, and I love that I can still get my caffeine fix without breaking a sweat.
On a hot summer day, this cold brew is deliciously refreshing.
To Make This Homemade Cold Brew You Will Need:
whole coffee beans
water
24 hours
nut milk bag or layers of cheesecloth
add-ins like; sweetener, milk or spices
What kind of coffee beans?
The type of coffee is up to you! I like a medium roast, and first fell in love with Ferris' West Coast Blend (not sponsored 😉 ) after a recommendation from a kind gentleman at the grocery store. You can buy ground, but it HAS to be coarsely ground so it can be filtered in the nut milk bag or cheesecloth.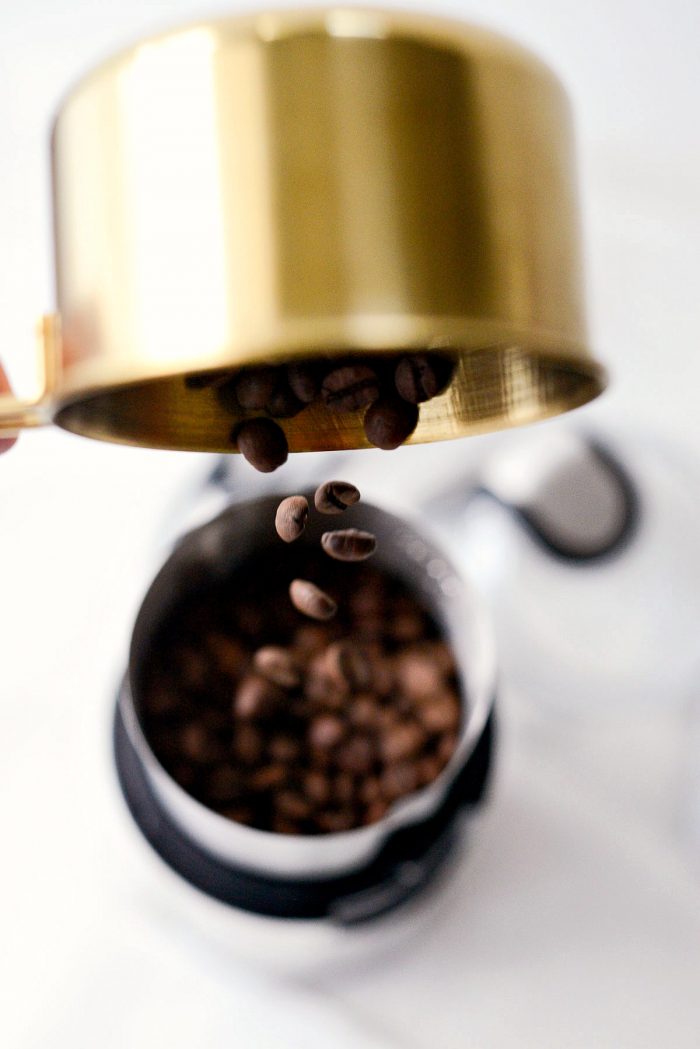 Add 1 cup whole coffee beans to a grinder. If you want it stronger add more. I'll link mine in the recipe printable for those who are in the market to buy one. I actually have two of them – one for coffee and one for grinding spices.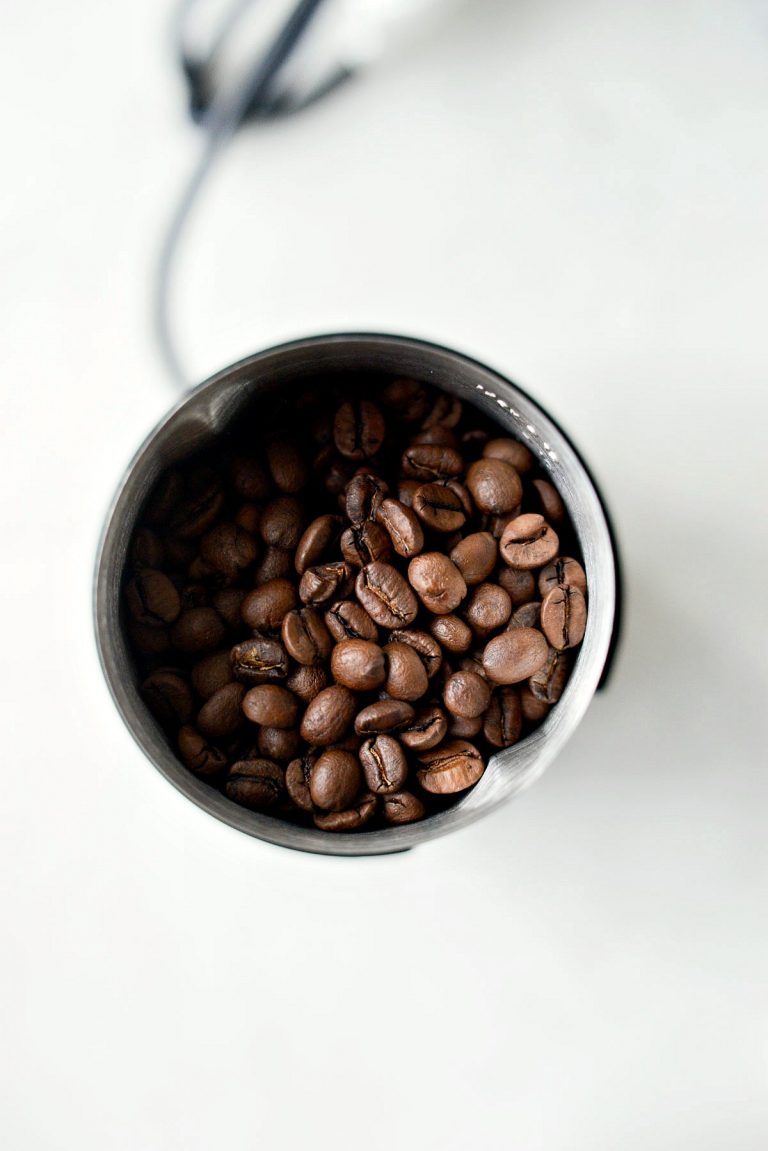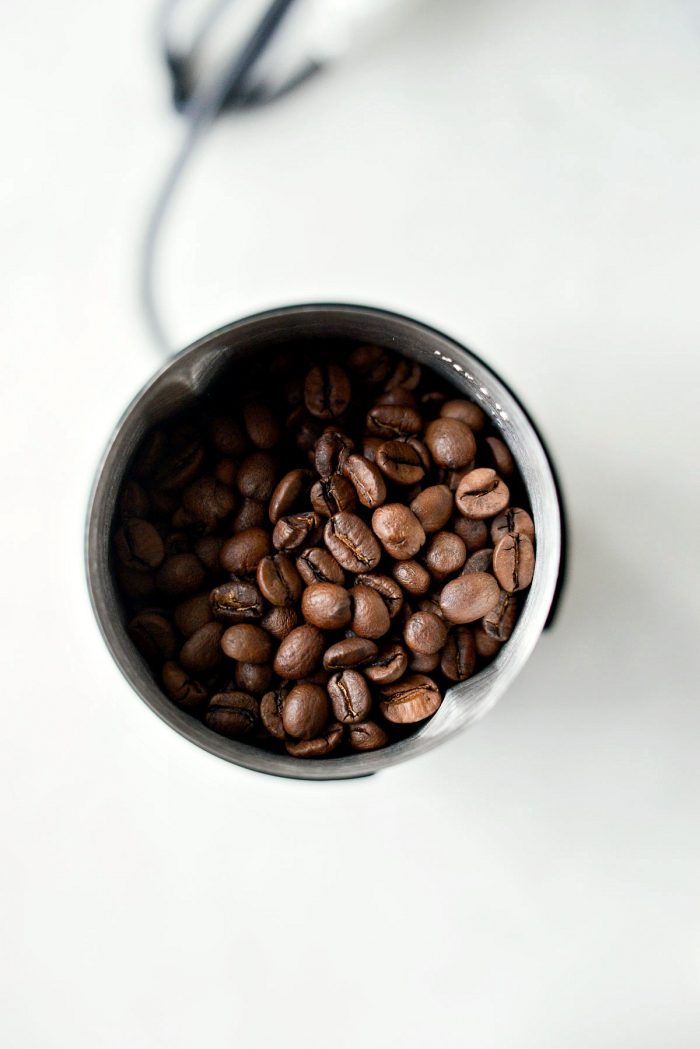 Before.
After.
Freshly ground coffee beans smell amazing.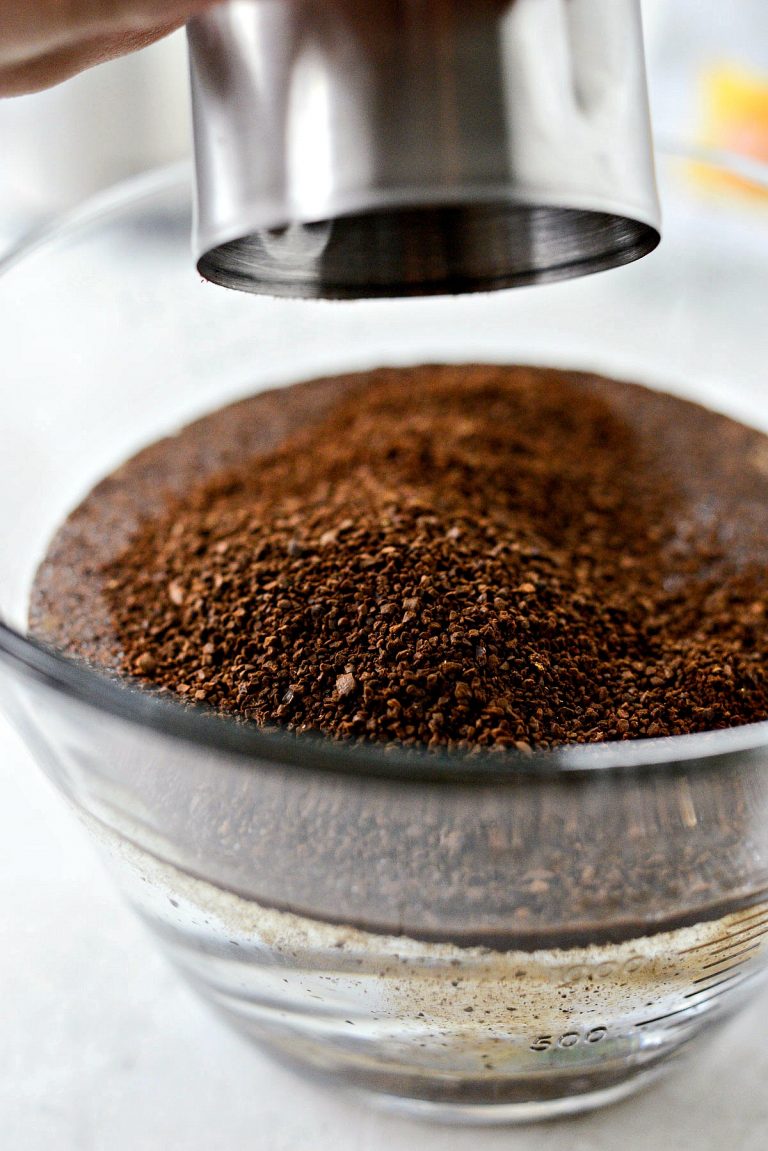 Add the coffee grounds to 5 cups of cool water.
Give it a stir.
Cover and pop it into the fridge or simply leave it on the counter for 24 hours.
The next day, you'll notice the coffee has swelled a little and the water is now coffee. Obviously.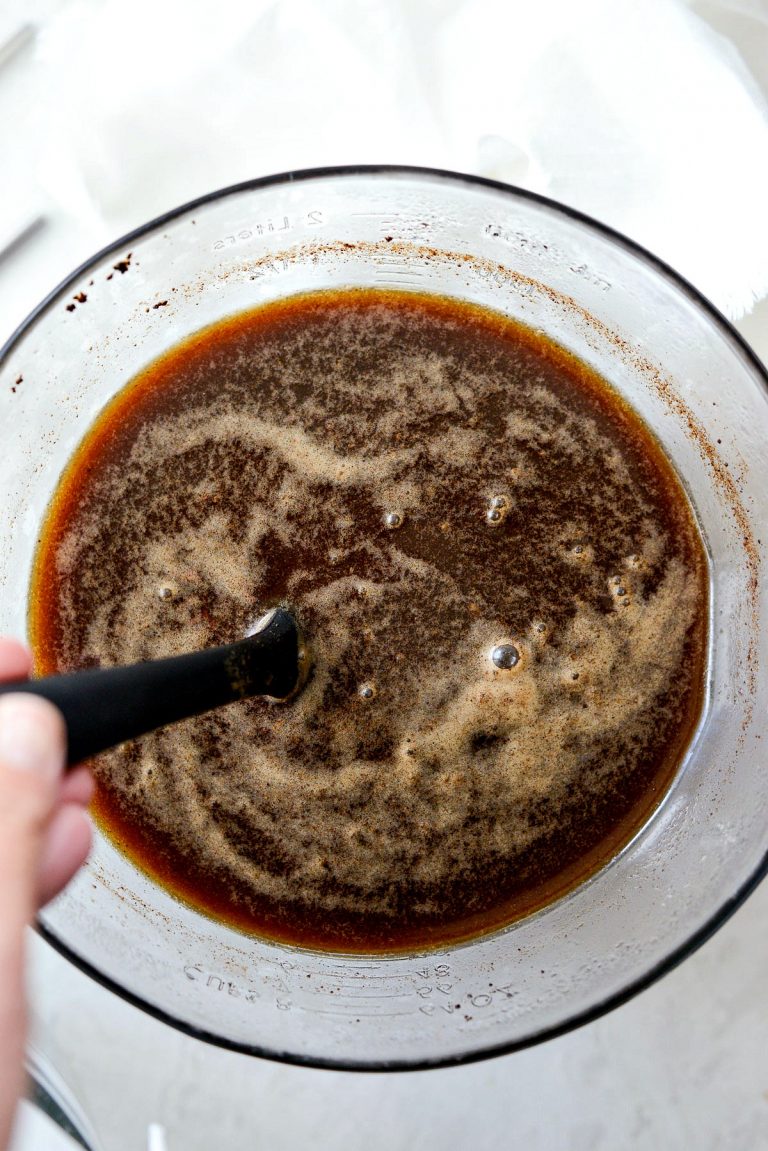 Give it a good stir one last time.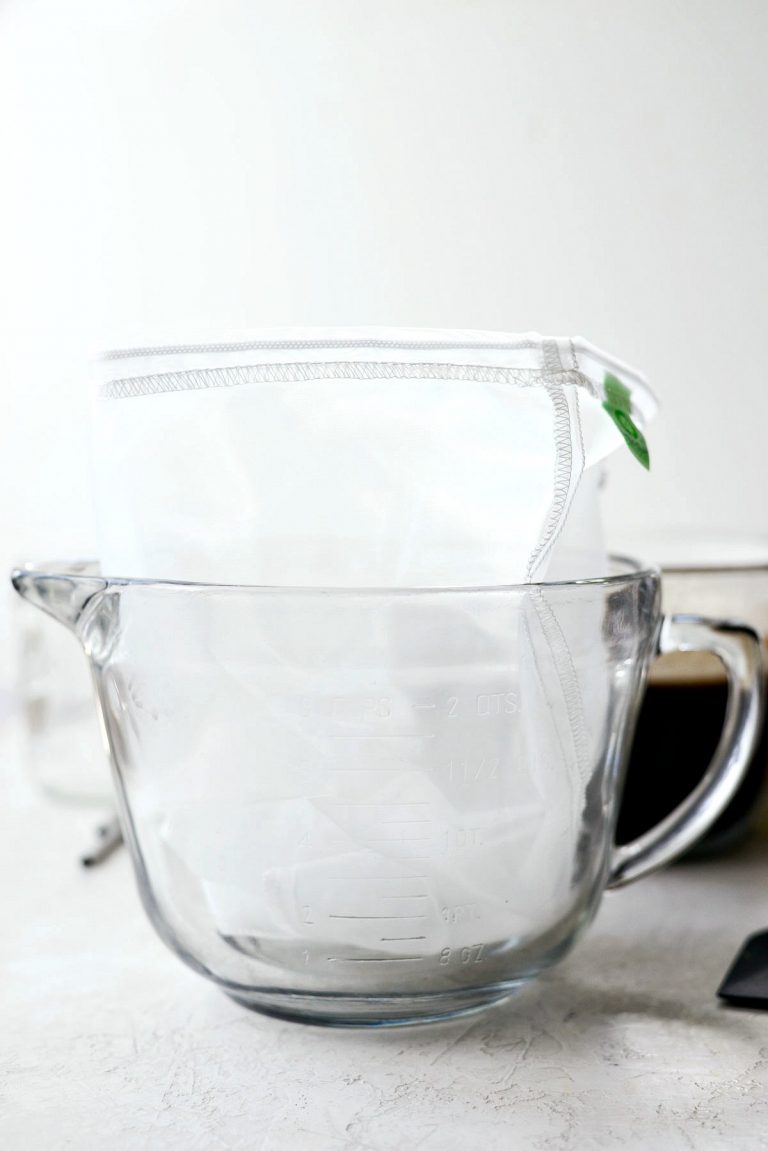 In a large clean bowl, place a nut milk bag. I find this WAY easier than cheesecloth, personally. I will also link this in the recipe printable.
Pour the coffee into the nut milk bag.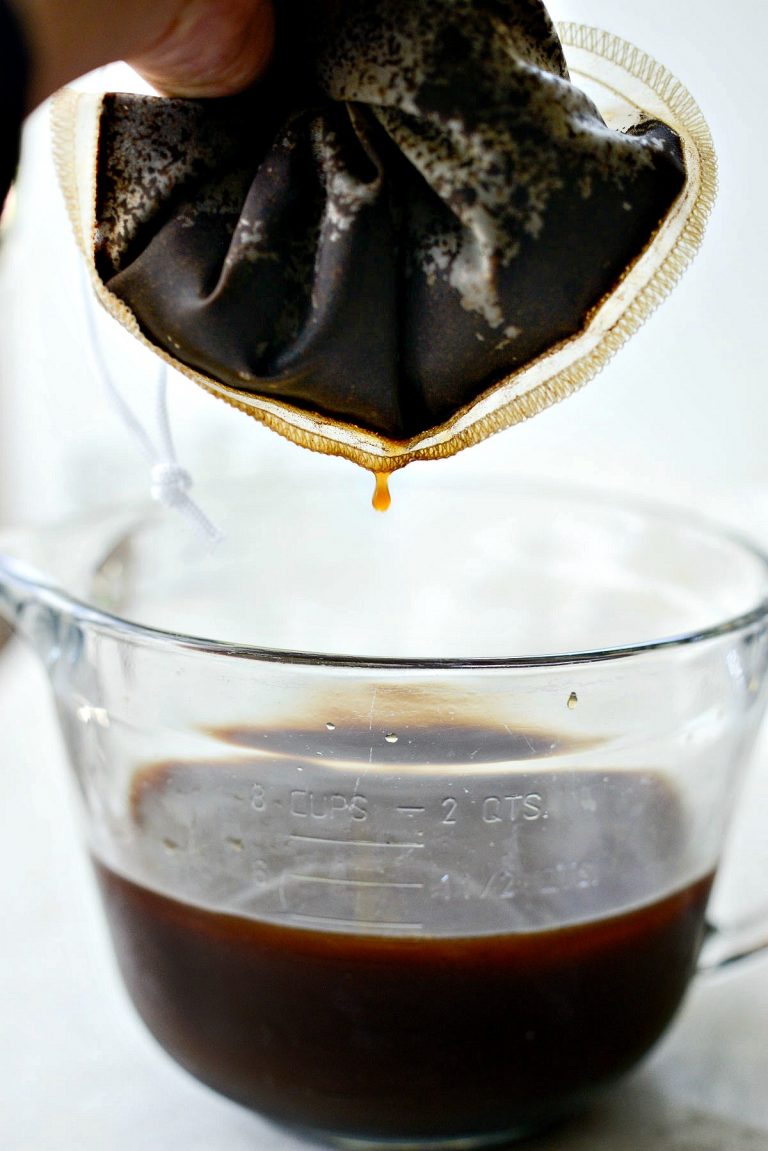 Squeeze the coffee into the bowl.
At this point, I may or may not have just realized I never turned this bag right side out.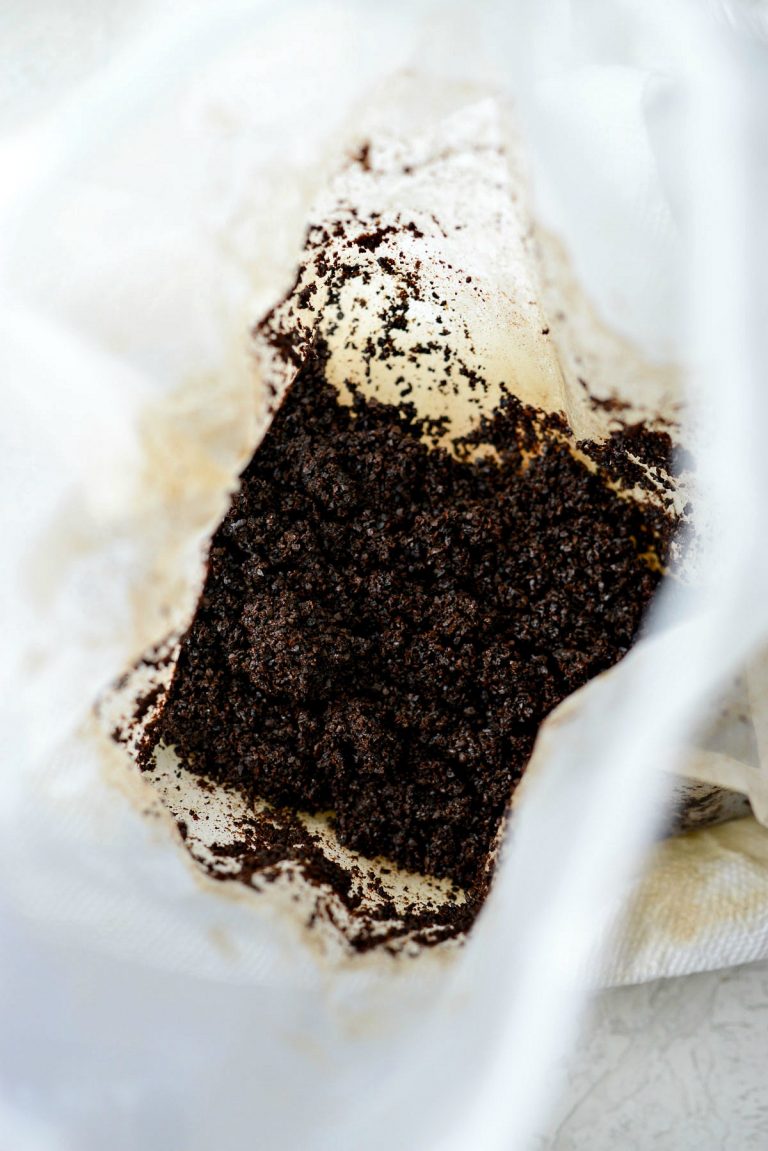 What can you do with the leftover coffee grounds?
compost it
add it to your garden
in a natural foot or body scrub
use to scrub stuck on spots on your pots and pans
I'm sure there are lots of ways to use up coffee grounds, please fee free to share them in the comment section!
Once the coffee has been strained go grab a pitcher, carafe or a couple of large jars.
Pour. It. In. If there is any coffee ground that made their way to through the nut milk bag (hey, it happens) I'll let those sink to the bottom and slowly pour the cold brew into the pitcher, leaving them behind.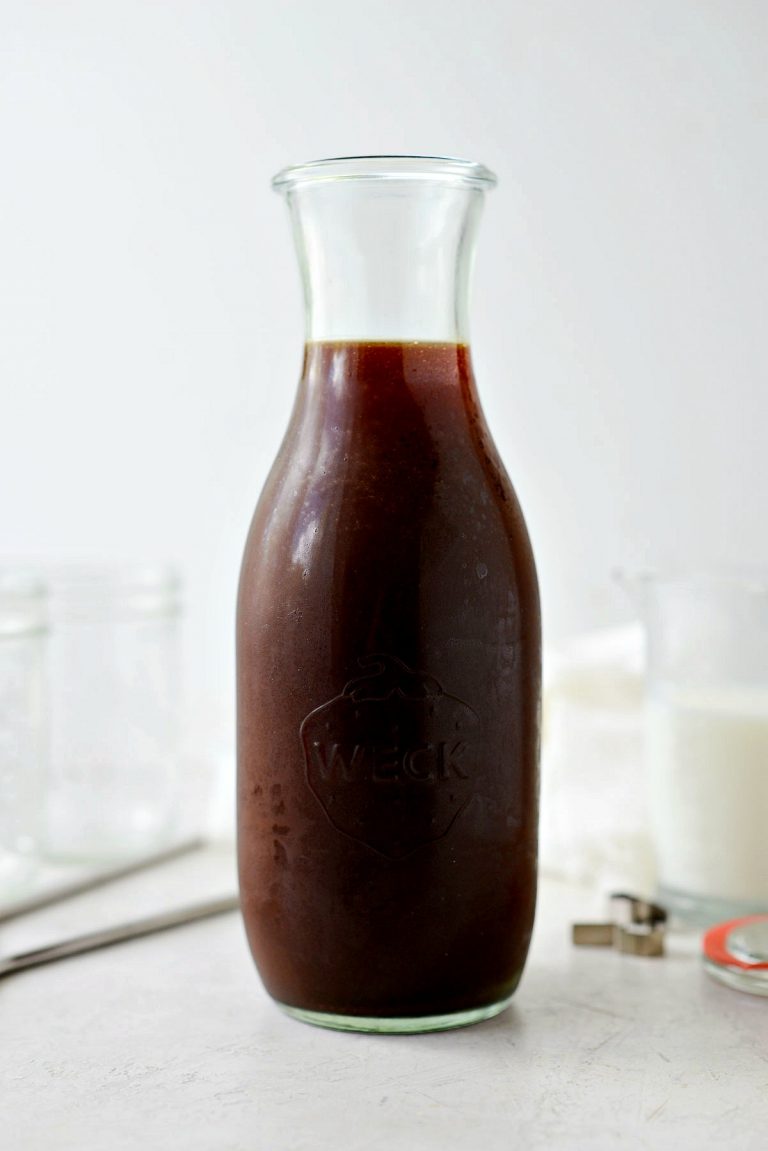 Now it's time to make an iced coffee with your cold brew.
Fill a glass or jar with ice and pour 3/4 to 1 cup (depending on the size of the glass).
And if you want, add your sweetener. I added 1 tablespoon of vanilla coffee syrup.
Add your favorite milk of choice or don't and sip on it black.
Either way enjoy the deliciousness that is cold brew coffee.
Enjoy! And if you give this Easy Homemade Cold Brew Coffee recipe a try, let me know! Snap a photo and tag me on twitter or instagram!
recipe respectfully borrowed from thehealthymaven.com
This post may contain affiliate links.
Buy the Cookbook: Simply Scratch : 120 Wholesome Homemade Recipes Made Easy Now available on Amazon »
THANK YOU in advance for your support!