Cacio e Pepe Pizza is simple yet flavorful. Homemade pizza dough is drizzled with olive oil and topped with pecorino Romano, parmesan and freshly ground black pepper for a salty, cheesy and peppery pizza.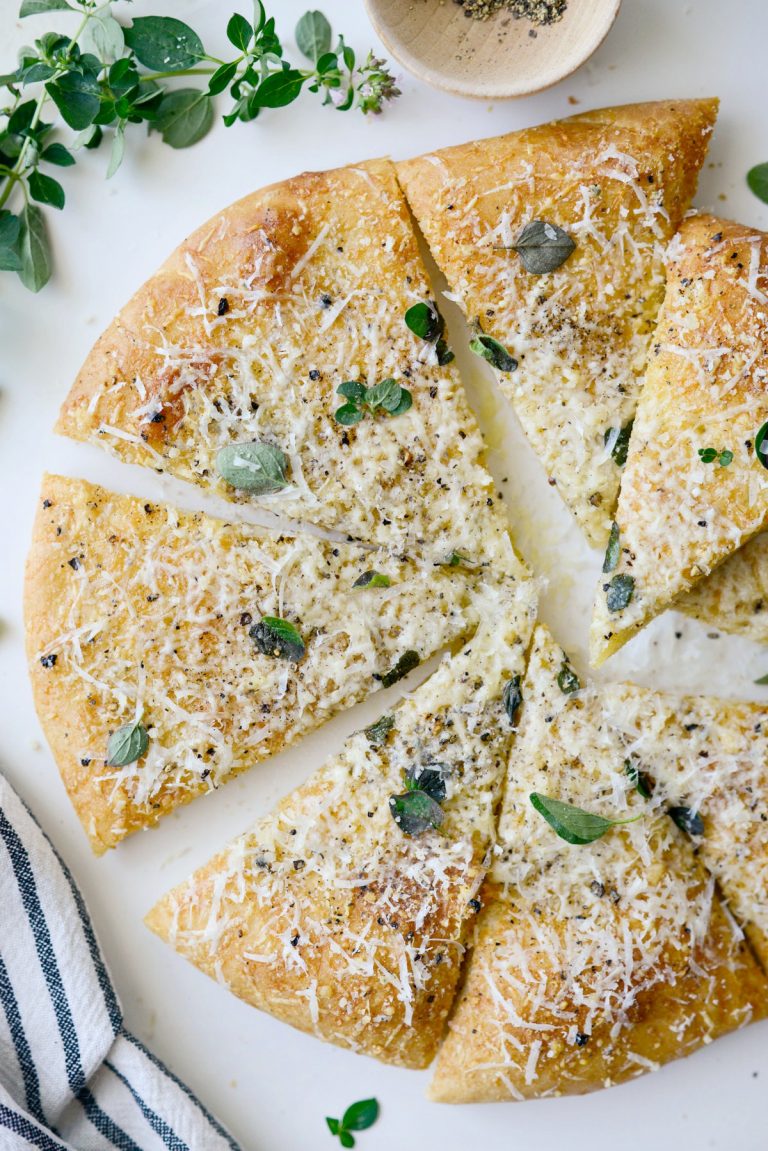 Originally cacio e pepe is pasta. Today it's pizza!
Essentially, cacio e pepe means cheese with pepper. And that's exactly what this is, just in pizza from.
Early summer I ordered a pizza stone without really knowing if I'd love it or not. My last experience with a pizza stone was as a teenager when I slipped a frozen pizza onto a (my Mom's) hot pizza stone and it cracked in half. FYI I never slid a frozen anything onto a hot stone ever again. A lesson learned the hard way. (sorry mom!)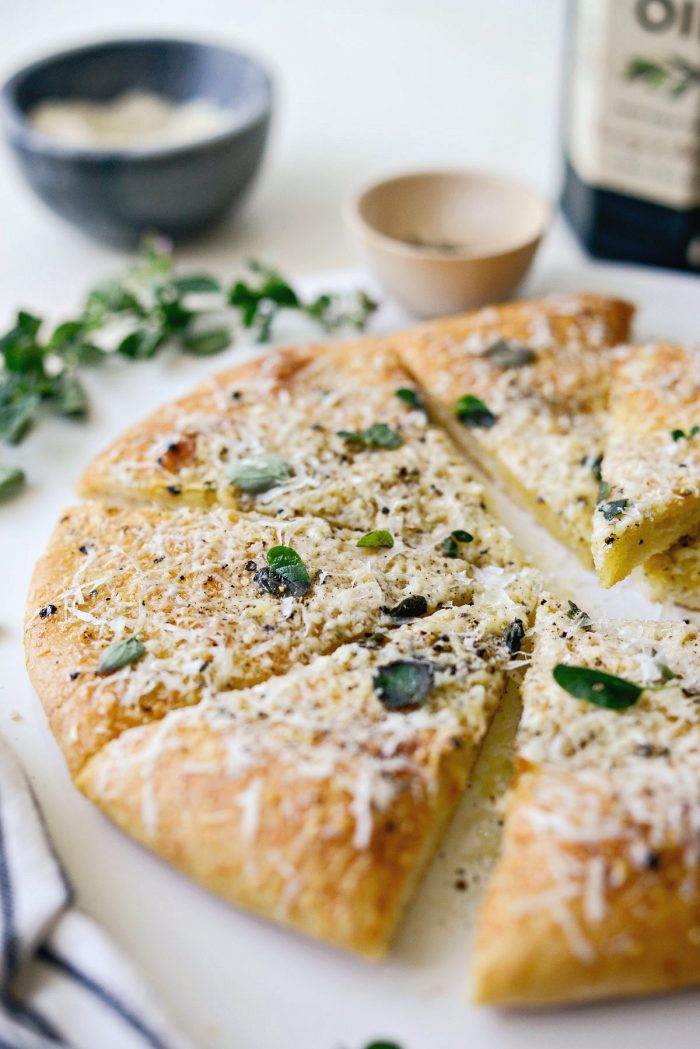 Needless to say, this time around I planned on making a fresh pizza. And the pizza stone yielded a evenly crisp bottomed pizza, leaving me totally impressed. Alternatively, you can use an inverted (dark is best) metal baking sheet.
To Make Cacio e Pepe Pasta You Will Need:
1/2 of homemade pizza dough recipe
olive oil
pecorino romano cheese
parmesan cheese
coarse freshly ground black pepper
fresh oregano leaves (optional, for garnish)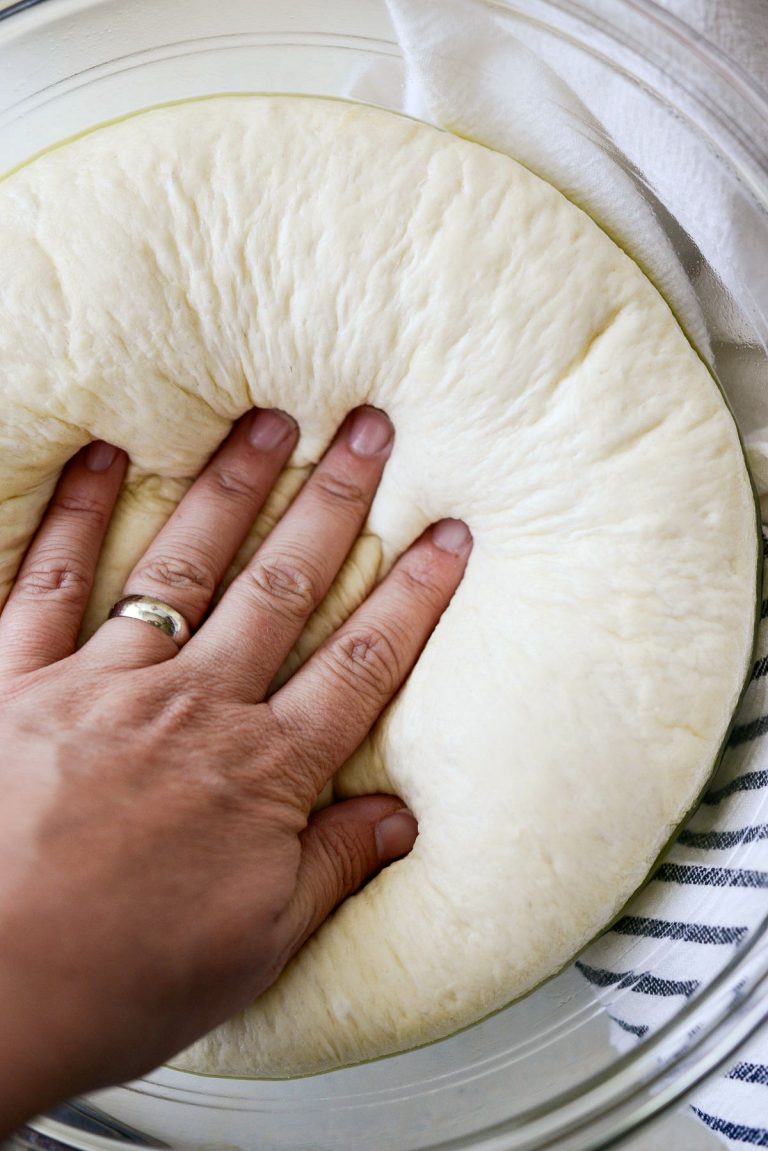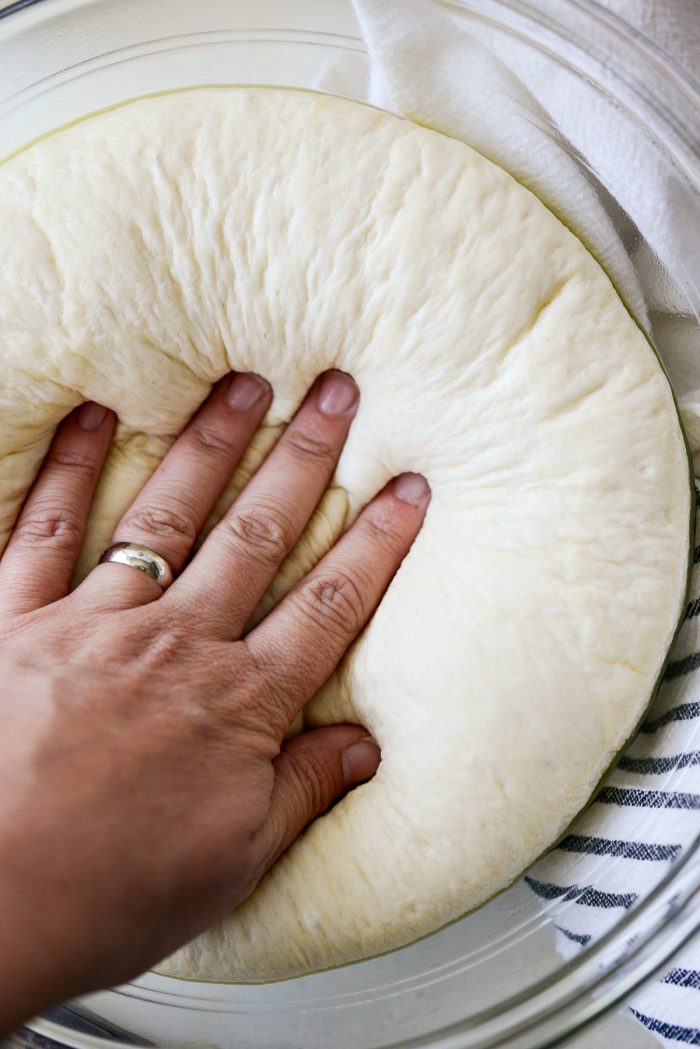 Prepare the dough as instructed. Once it has risen, press or "punch" it down to express all the air of the dough.
Next I divide the dough in half to make 2 medium size pizzas (I made 1 regular and 1 cacio e pepe), however you could totally make this into a large if desired, just double the toppings and know baking times may vary.
Place half of the dough onto a lightly floured surface.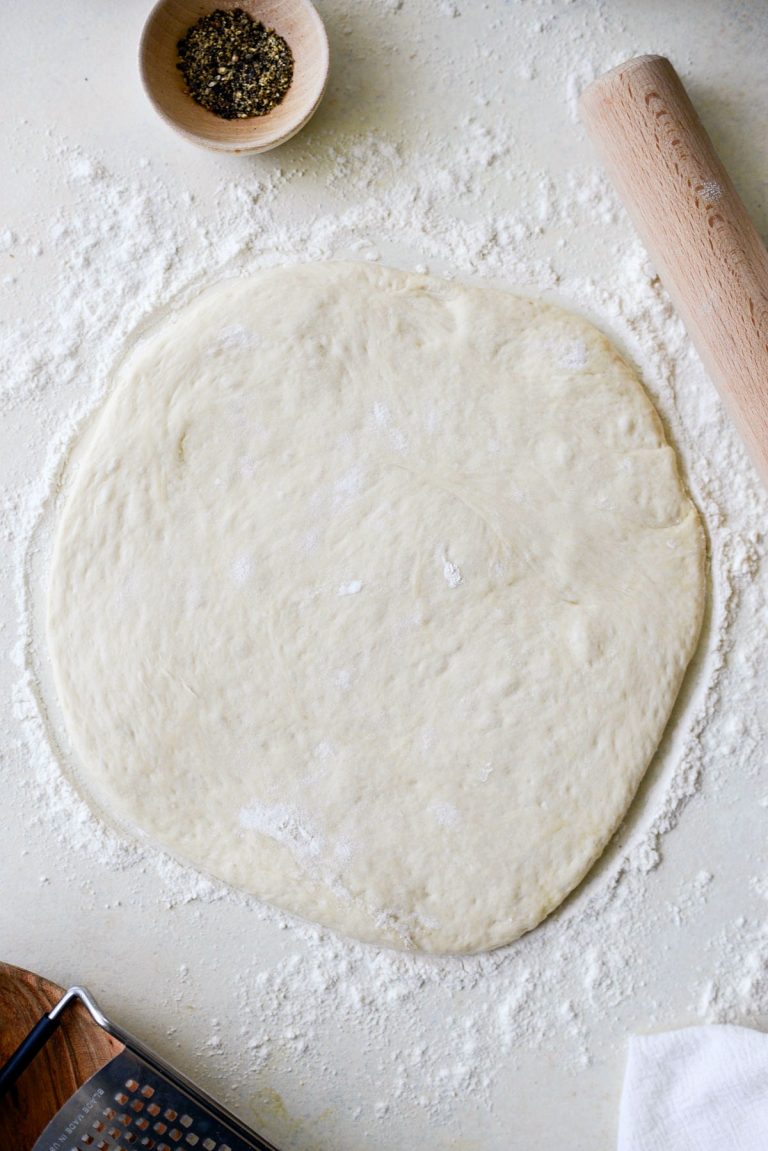 With a floured rolling pin, roll out the dough to roughly 12 inches.
Prick the middle of the dough with a fork and brush with olive oil.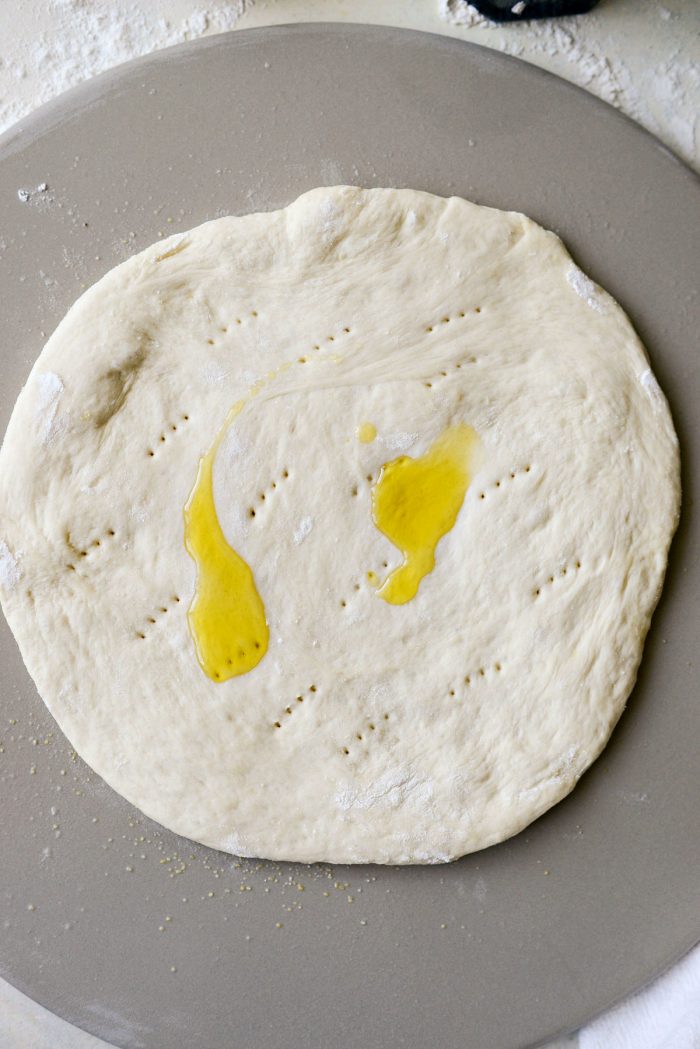 Transfer to a lightly oiled pizza stone (or inverted metal baking pan). I also sprinkled the stone with a little cornmeal.
Sprinkle with parmesan, pecorino and freshly ground black pepper. I honestly don't measure, but its about 2 to 3 tablespoons each.
Bake on the bottom rack of your preheated 450° for 12 to 14 minutes or until golden brown and crispy.
Fresh out the oven sprinkle with more of the parmesan and pecorino about 1 tablespoon each – give or take. It will instantly melt into the hot pizza.
Add a fine drizzle of good quality olive oil and I like to add extra black pepper and fresh oregano leaves.
This pizza is a great meatless option or as a delicious appetizer.
The crisp pizza dough melts into the salty cheese.
And the coarse black pepper adds a delicious spicy bite while the arugula gives a burst of herbaceous freshness. Serve with a light salad and crisp glass of white wine.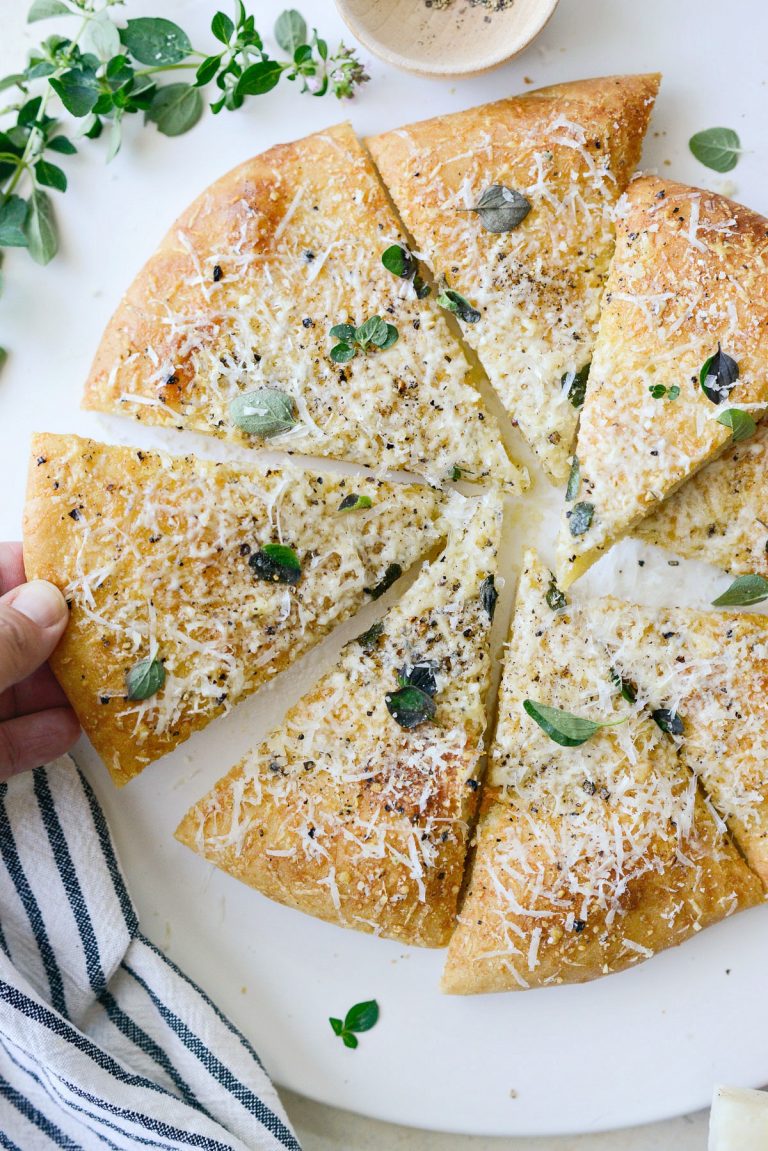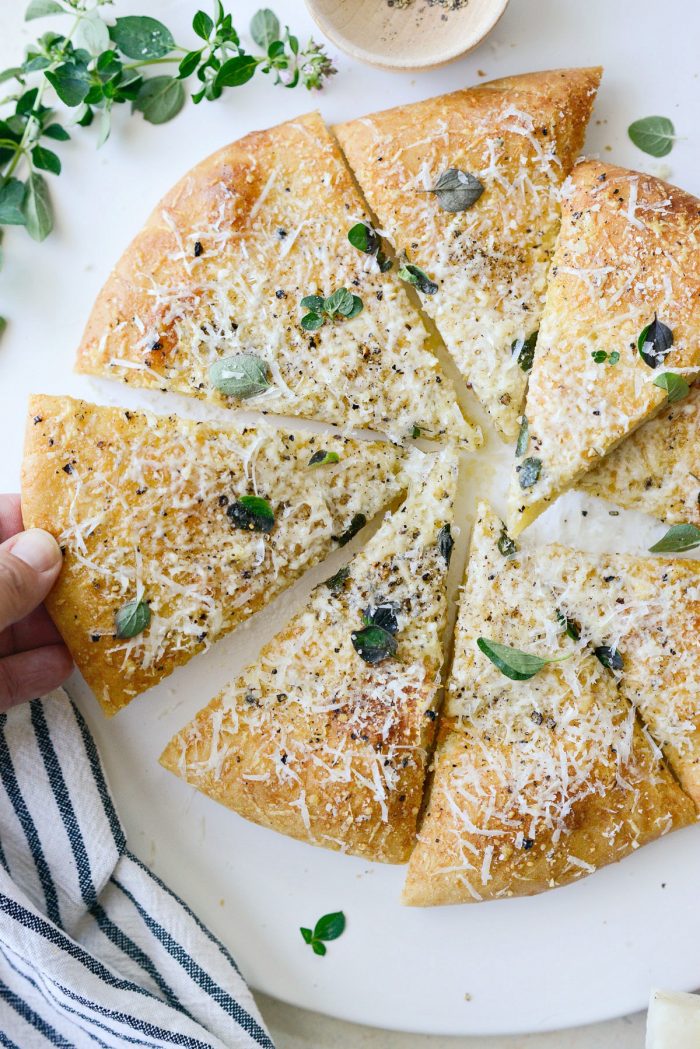 Enjoy! And if you give this Cacio e Pepe Pizza recipe a try, let me know! Snap a photo and tag me on twitter or instagram!
This post may contain affiliate links.
Buy the Cookbook: Simply Scratch : 120 Wholesome Homemade Recipes Made Easy Now available on Amazon »
THANK YOU in advance for your support!