Tuck's Potato Salad is a family favorite. Small Yukon golds are grilled with onions and peppers and tossed in a garlicky balsamic dijon dressing. Perfect as a side dish to kebabs, grilled chicken or steak. Serves 12+.
Tuck's Potato Salad comes from my mom's recipe box.
Recently my sister Julie and her husband Jeff, along with Pat and I, went to my mom's for a low key dinner. We all brought our own kebabs to grill over my mom's wood fire grill. It was amazing. I also brought this salad, julie brought this incredible berry crisp and my mom made her Tuck's potato salad. It was a feast!
I don't remember having this potato salad before that night, although I remember my mom making it (weird, I know). Needless to say, after my first bite I immediately asked her for the recipe. And then turned to my sister, with my palm out for her berry crisp.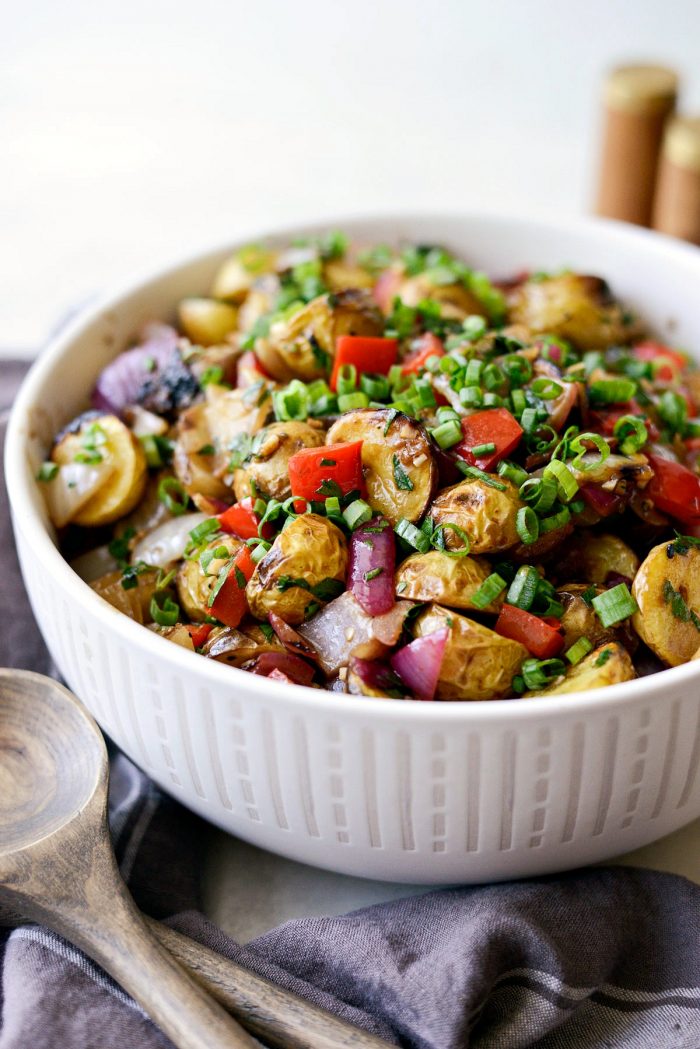 Tuck's potato salad is mayo-less side dish. In it, petite Yukon gold potatoes, red pepper and onions are grilled and tossed with fresh minced parsley and a homemade dijon balsamic dressing. It's delicious served warm or at room temperature. And if you're feeling a little extra, I think it would be great with a little chopped bacon in it too.
To Make Tuck's Potato Salad You Will Need:
baby Yukon gold potatoes
red onion
vidalia onion
a red bell pepper
parsley
balsamic dressing (see below)
kosher salt
freshly ground black pepper
green onions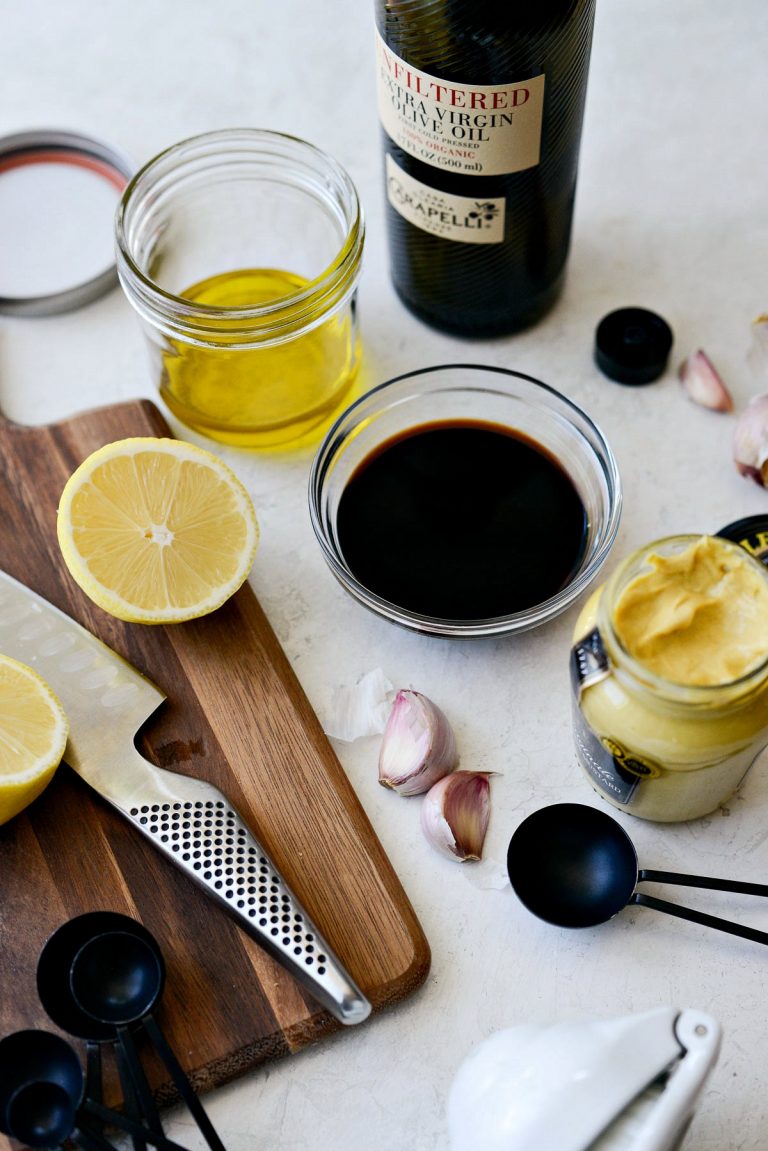 The dressing is simple. You'll need 1/4 cup olive oil, 1/4 cup balsamic vinegar, 1 tablespoon dijon mustard, 1 tablespoon minced fresh garlic and juice of 1/2 a lemon.
Add all of that to a jar or container with a tight fitting lid.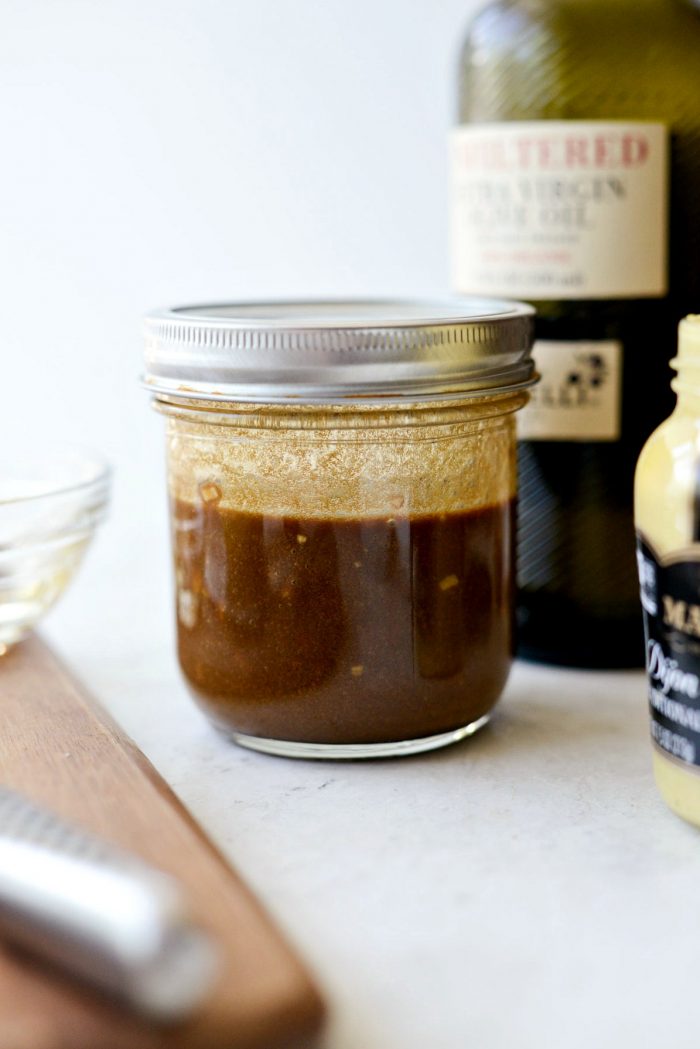 Shake well to combine. Set aside while you make the potato salad.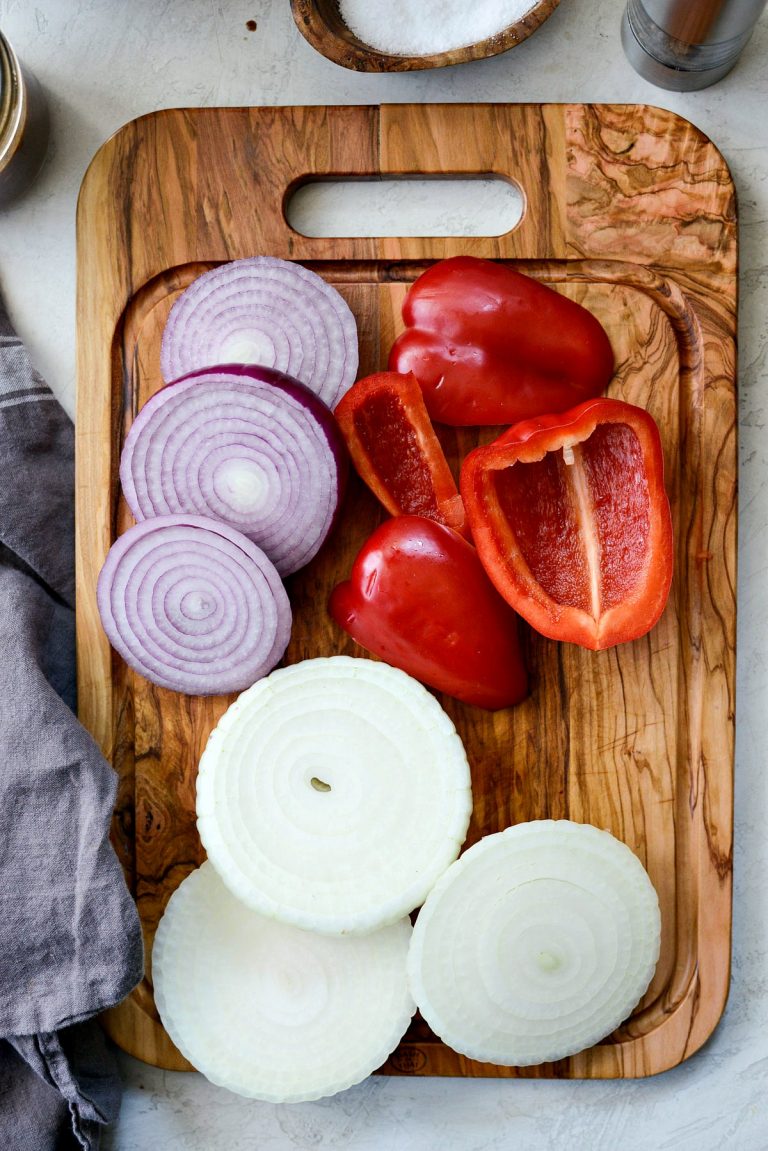 Preheat your grill to 400°.
Meanwhile, cut the "cheeks" off of the red pepper and peel the outer tough layers of the onions. Cut the onions into 1/2-inch thick slices and spray all sides of the vegetables with olive oil spray.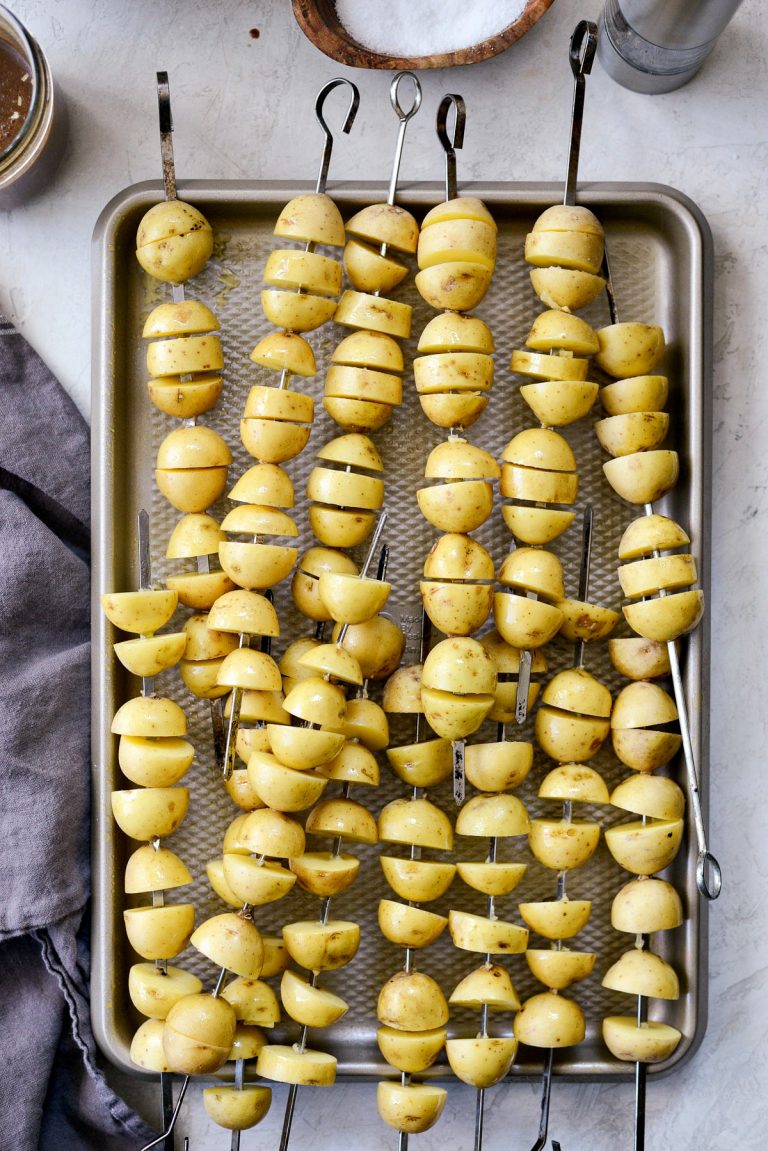 Next cut the baby potatoes in half (thirds if larger) and thread onto metal skewers spray all sides with olive oil spray.
Fun fact: the metal of the skewer will conduct some of the grills heat, cooking the inside of the potatoes while they're on the grill.
Place the potato skewers down onto your preheated grill.
Make sure you have room for your peppers and onions too!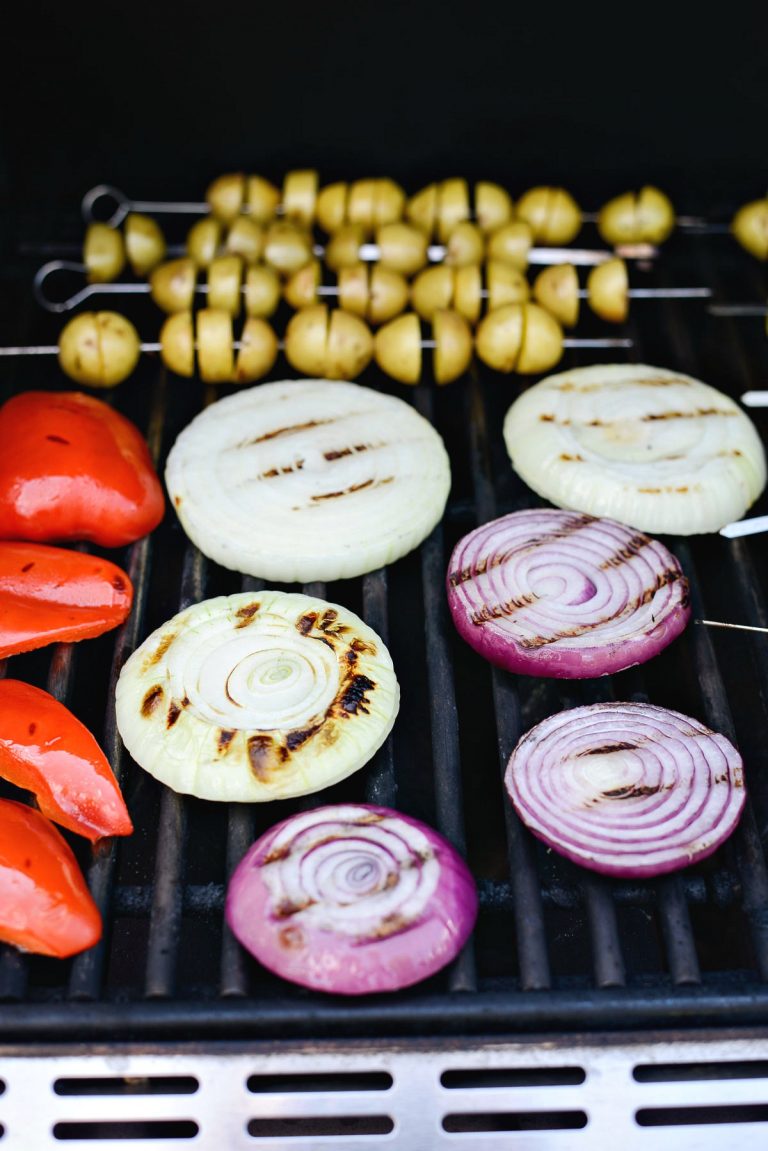 Grill and turn the potatoes, peppers and onions as they develop grill marks.
Check the potatoes for doneness by inserting a fork into the larger potatoes. If the fork glides in effortlessly, they are done.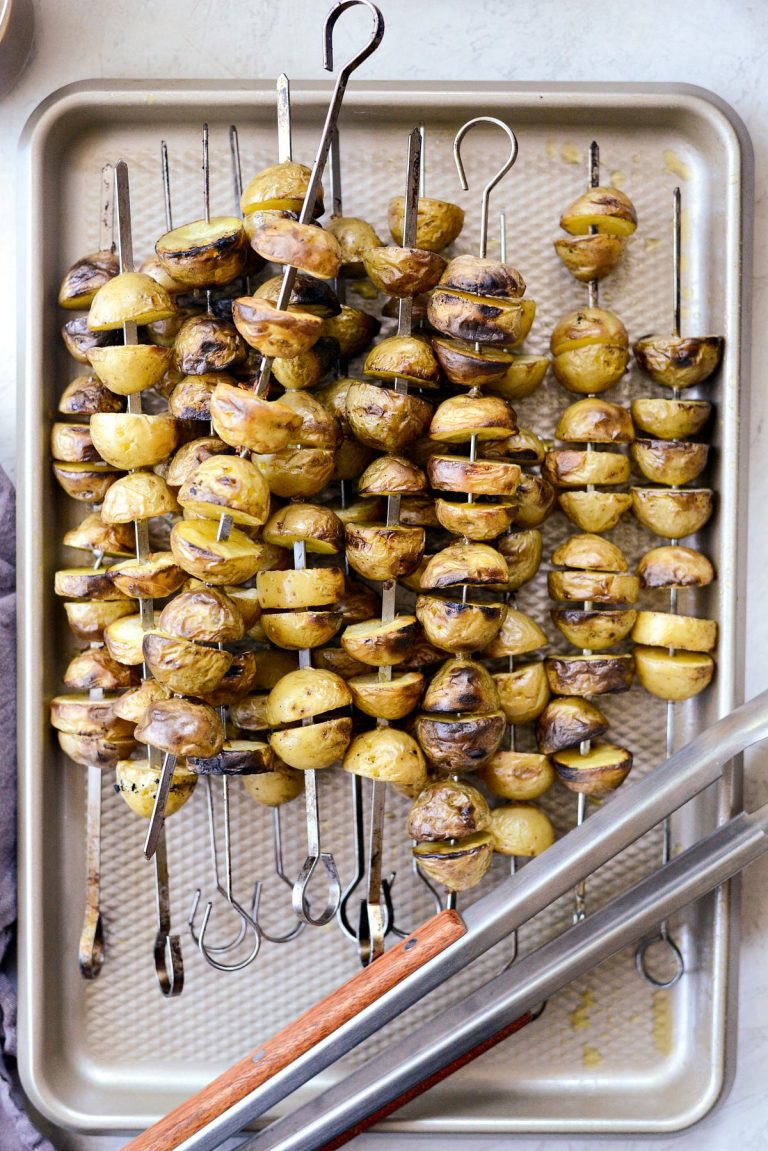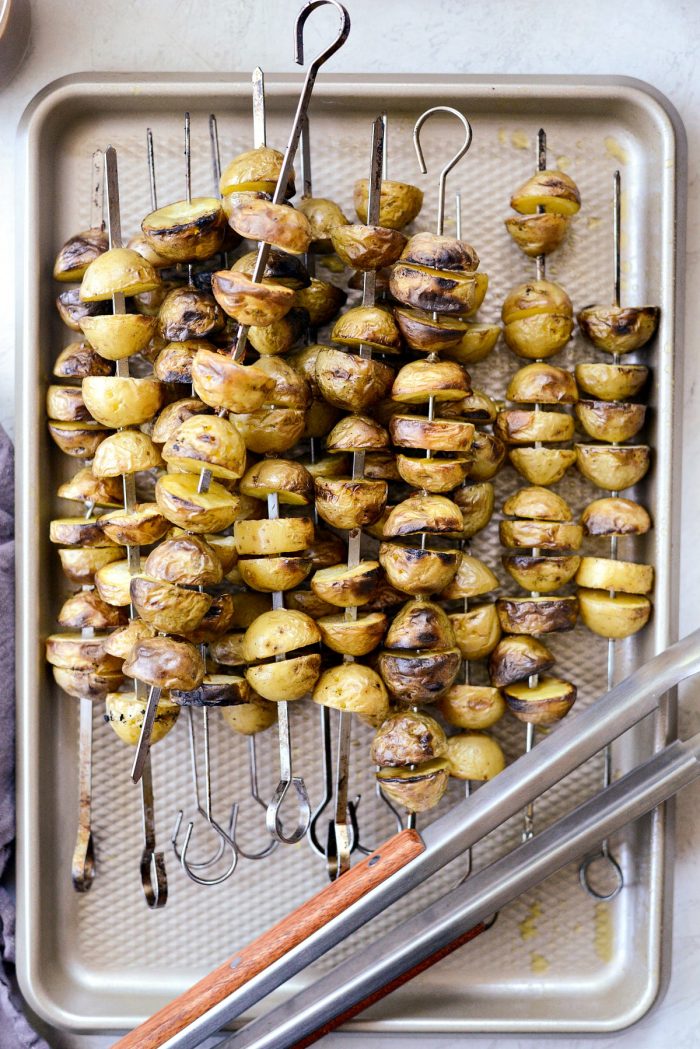 Transfer the grilled potatoes to a rimmed baking sheet as they come off the grill.
And move the grilled peppers and onions to a cutting board.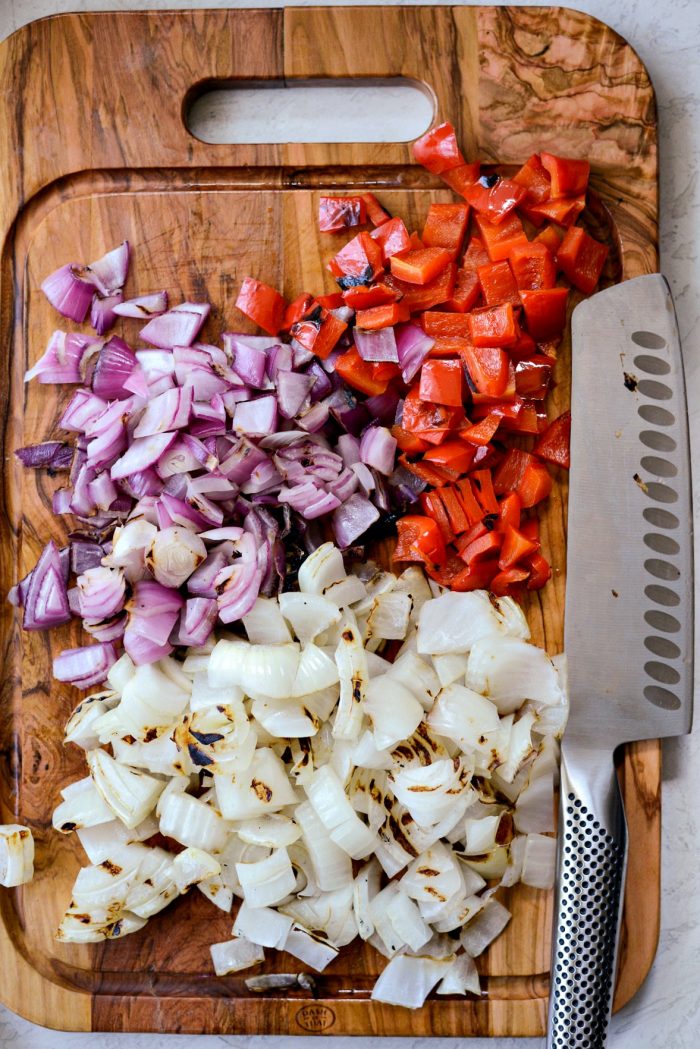 Give the grilled onions and peppers a rough chop.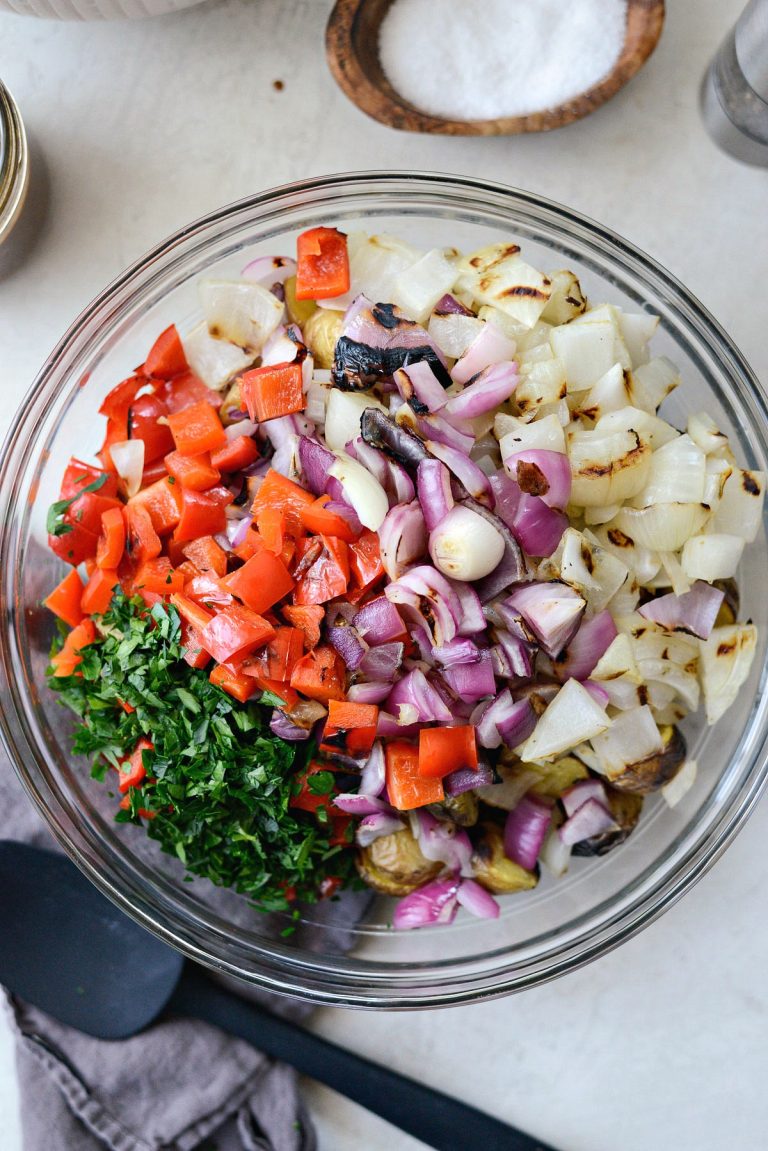 Once the potatoes skewers are safe to handle, slide the potatoes off and into a large mixing bowl. To them, add the chopped peppers, onions and 2 tablespoons minced fresh parsley.
Lastly, pour in all of the balsamic dressing.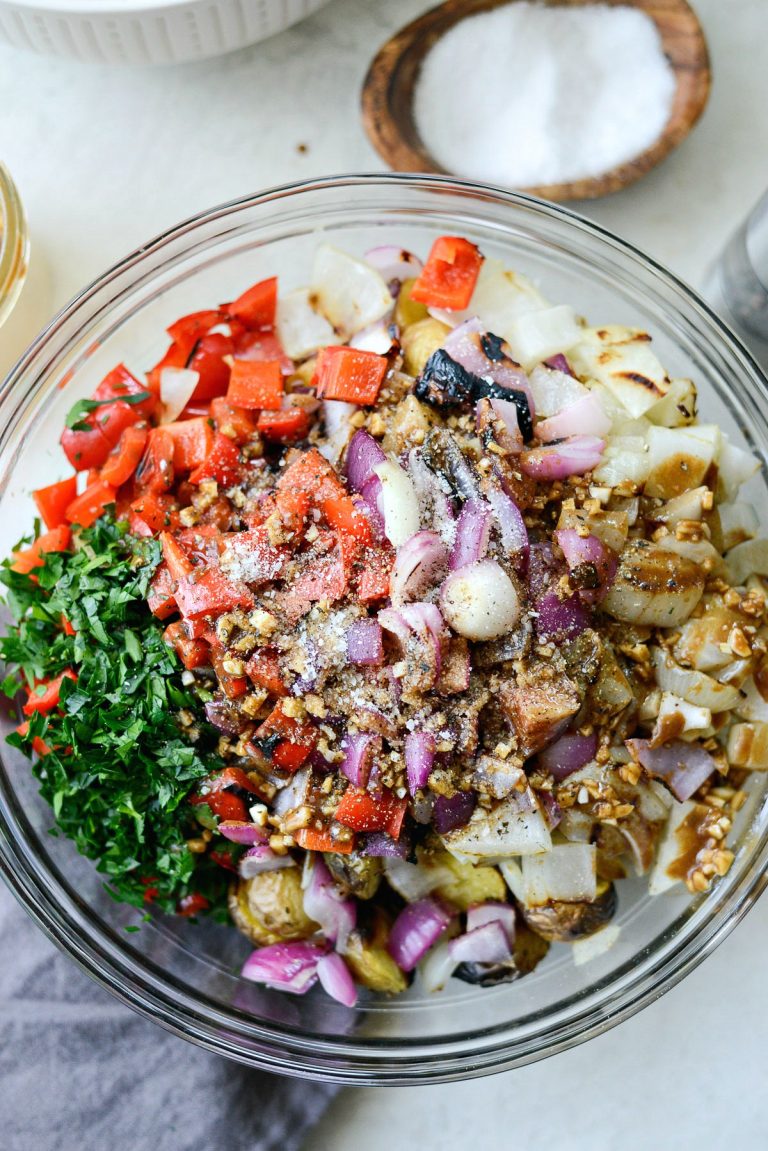 And then season generously with kosher salt and freshly ground black pepper, to taste.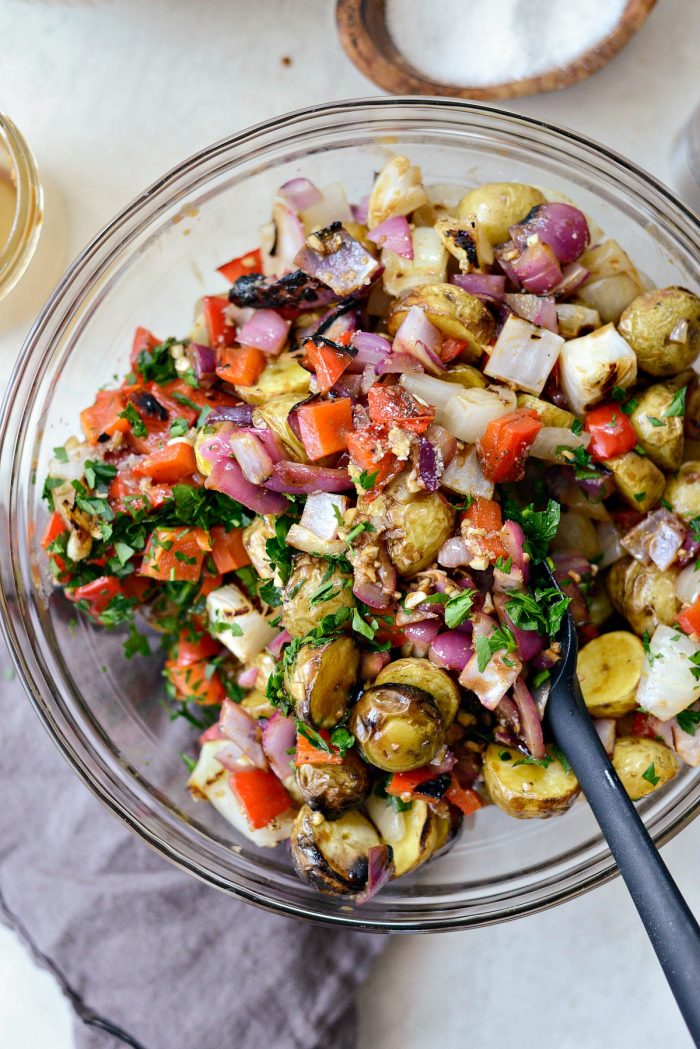 Toss well to combine.
Serve warm with a sprinkle of sliced green onions.
Warm and tangy and SO delicious. It makes about 1o cups so it's great for serving a large crowd or for leftovers.
Simple. Colorful. Delicious. Everything you could want in a potato salad.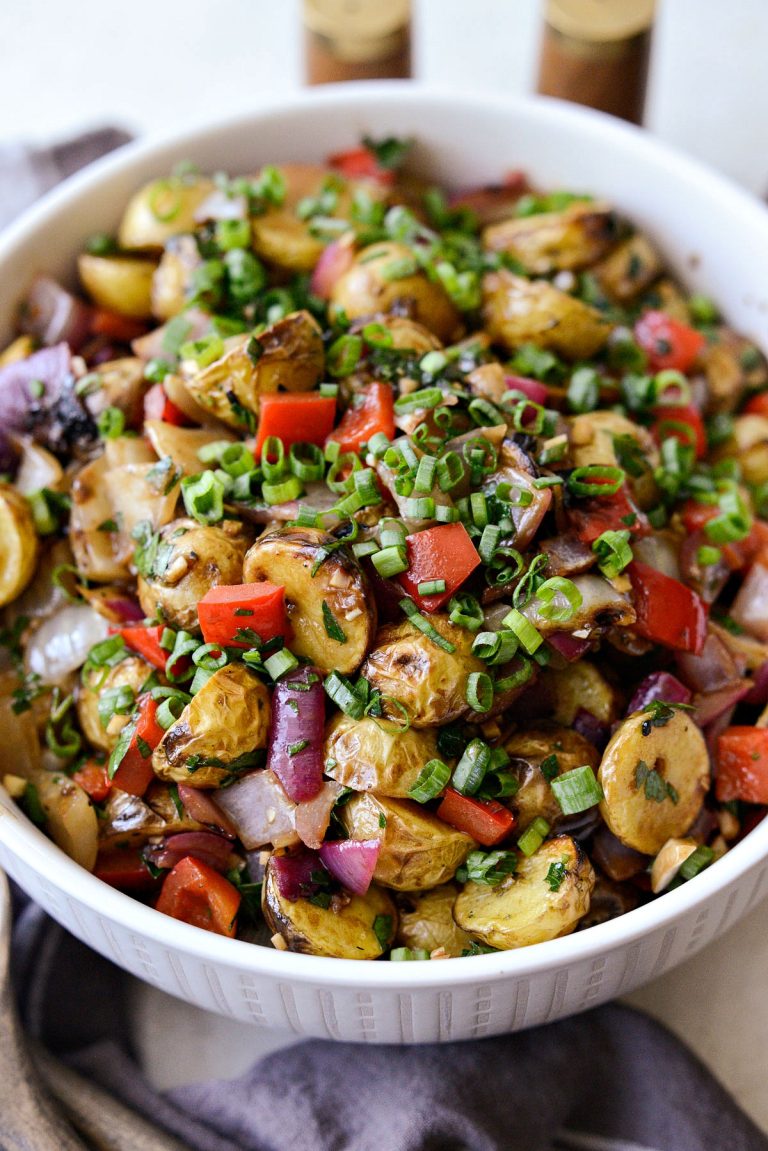 Enjoy! And if you give this Tuck's Potato Salad recipe a try, let me know! Snap a photo and tag me on twitter or instagram!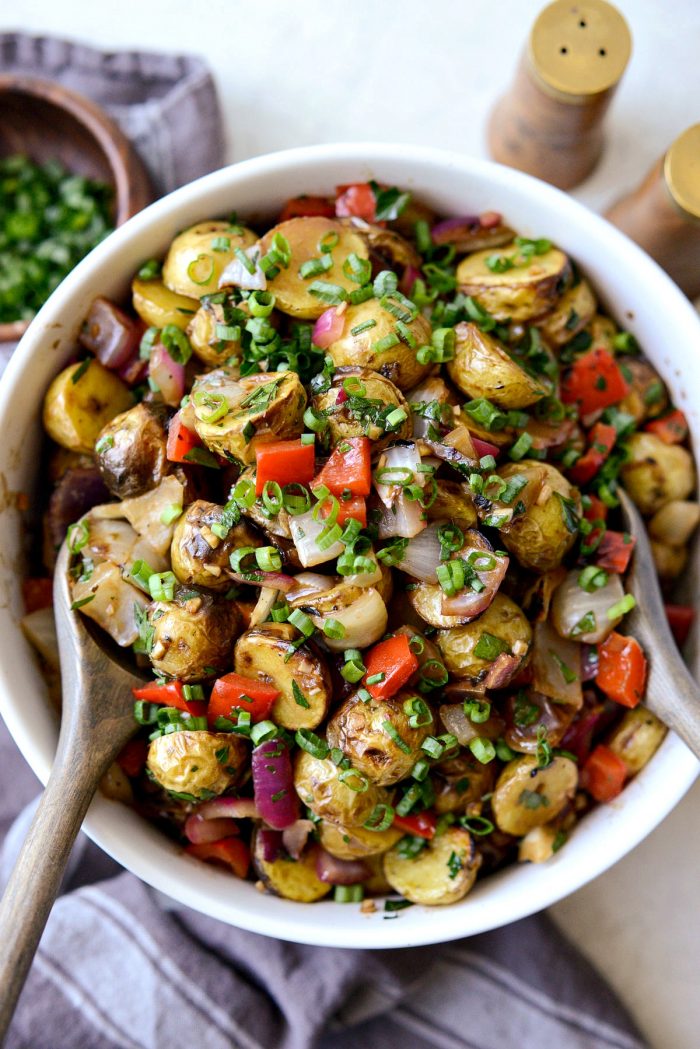 This post may contain affiliate links.
Buy the Cookbook: Simply Scratch : 120 Wholesome Homemade Recipes Made Easy Now available on Amazon »
THANK YOU in advance for your support!