Grilled Romaine Salad is this summers go-to for an easy and delicious side. Romaine lettuce is grilled and topped with bacon, toasted hand-torn croutons, parmesan cheese and the creamiest lemon dressing. Serves 4 in about 30 minutes!
This summer is all about this Grilled Romaine Salad!
Grilling romaine adds delicious flavor while slightly wilting the leaves making them even more tender and delicious. This is my go-to summer salad right now because it has all my favorite things like; bacon, parmesan, crisp hand-torn croutons and pickled red onions – which if you haven't noticed I put on everything. All that deliciousness gets a drizzle of the creamiest lemon dressing.
A summer MUST if you ask me.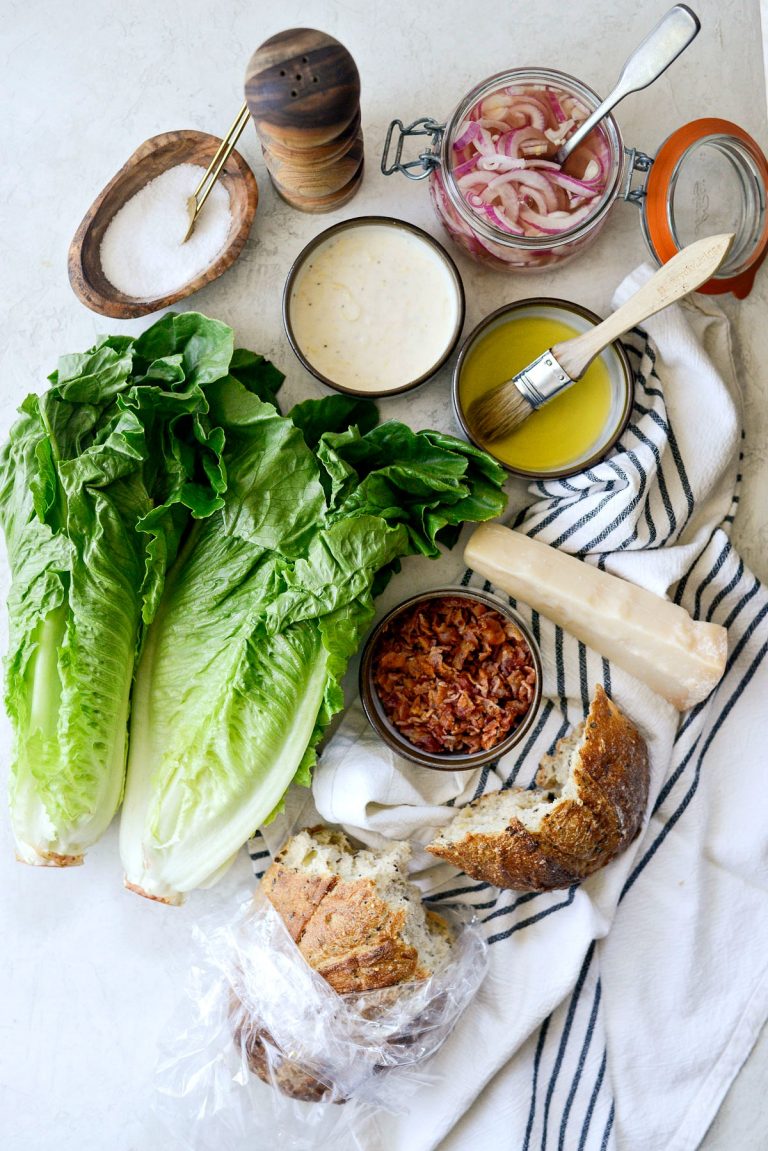 To Make This Grilled Romaine Salad You Will need:
romaine
olive oil – I use roasted garlic infused, but any will do
kosher salt
bacon
a sturdy seedy whole grain bread – or use your favorite
parmesan cheese
black pepper
creamy lemon dressing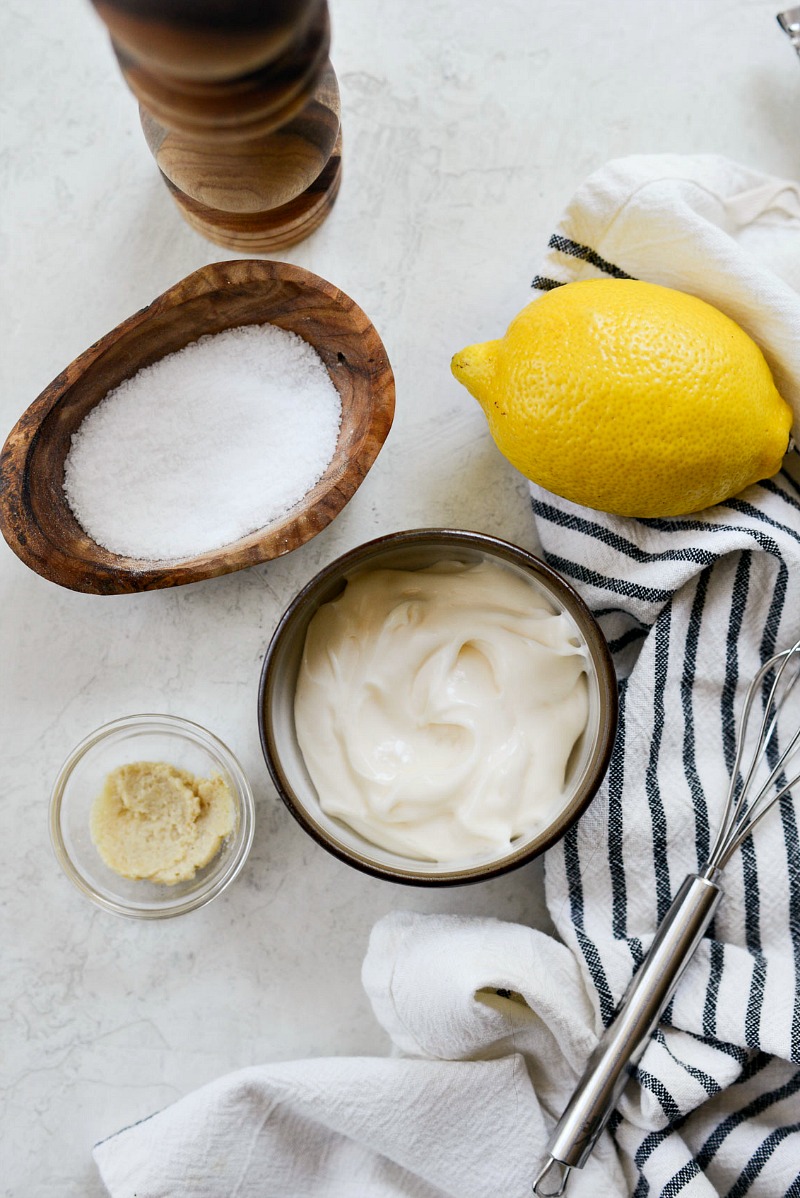 The dressing is SIMPLE. All you will need is mayonnaise (personally, I use a light mayo), garlic (the kind in a squeeze tube is your friend!), lemon zest and juice, kosher salt and freshly ground black pepper.
In a small bowl or jar, measure and add 1/3 cup mayonnaise, 1 teaspoon grated garlic, zest and juice of 1/2 a lemon, 1/4 teaspoon kosher salt (or to taste) and lots of freshly ground black pepper.
Whisk well to combine. I add a splash of water to thin it out. I love a runny dressing, it's a weakness.
Cover and refrigerate until ready to use.
Earlier I cooked up 8 slices of center cut bacon and gave it a really fine chop.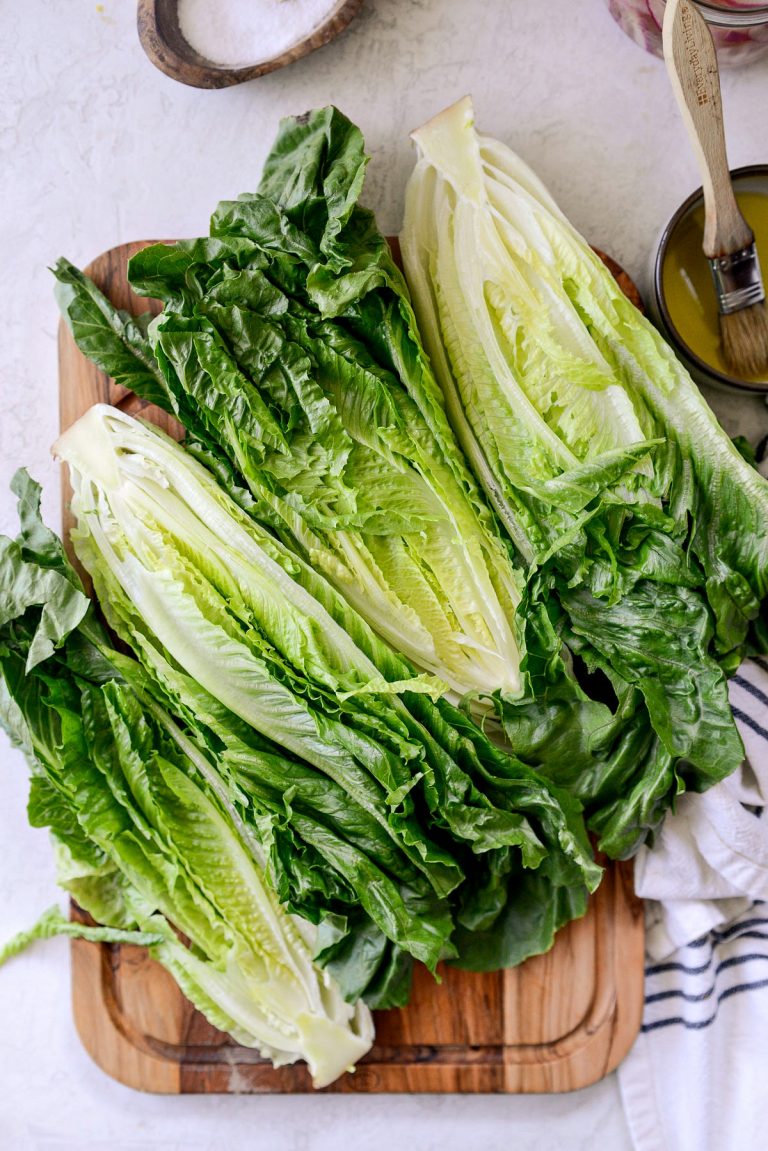 Next preheat your grill to 500°. Then slice 2 medium heads of romaine in half lengthwise.
As far as what type of romaine to buy?
I like using the ones that come in a pack of 3 or more. Those seem to be the perfect size and are held more tightly together than larger heads of romaine.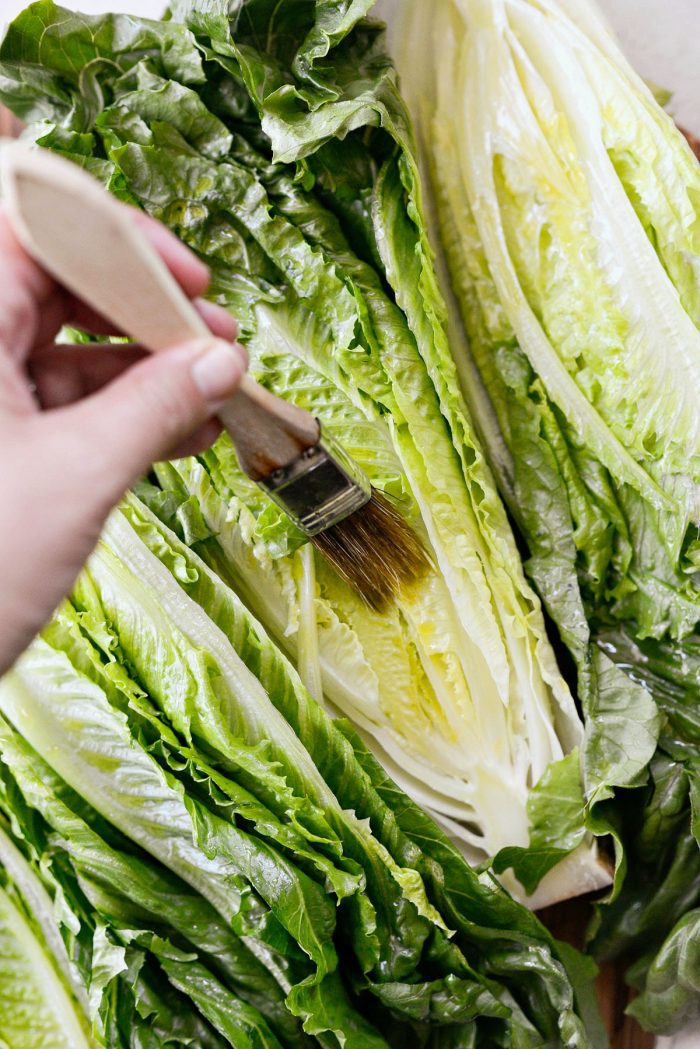 Brush the cut side of the romaine lettuce halves with olive oil. Like I noted earlier, I love this roasted garlic olive oil I picked up at Costco and use it on all the things lately. But any olive oil will work just fine.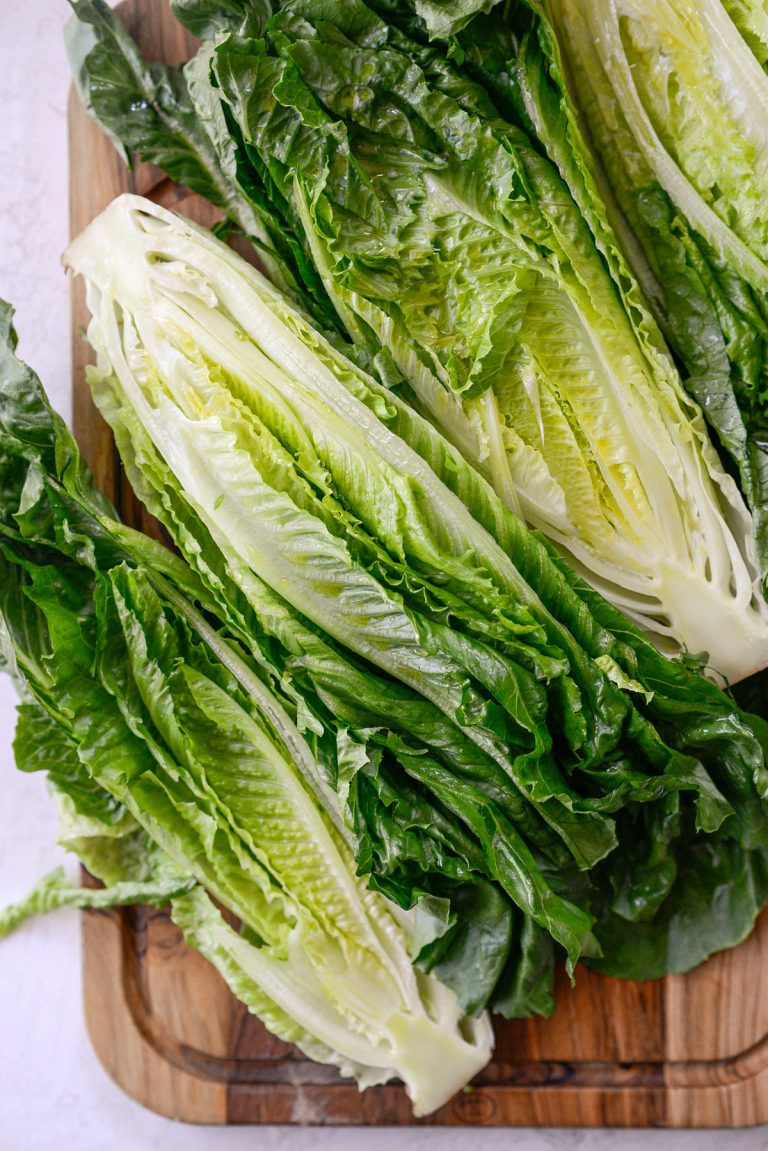 And season with a few small pinches of kosher salt.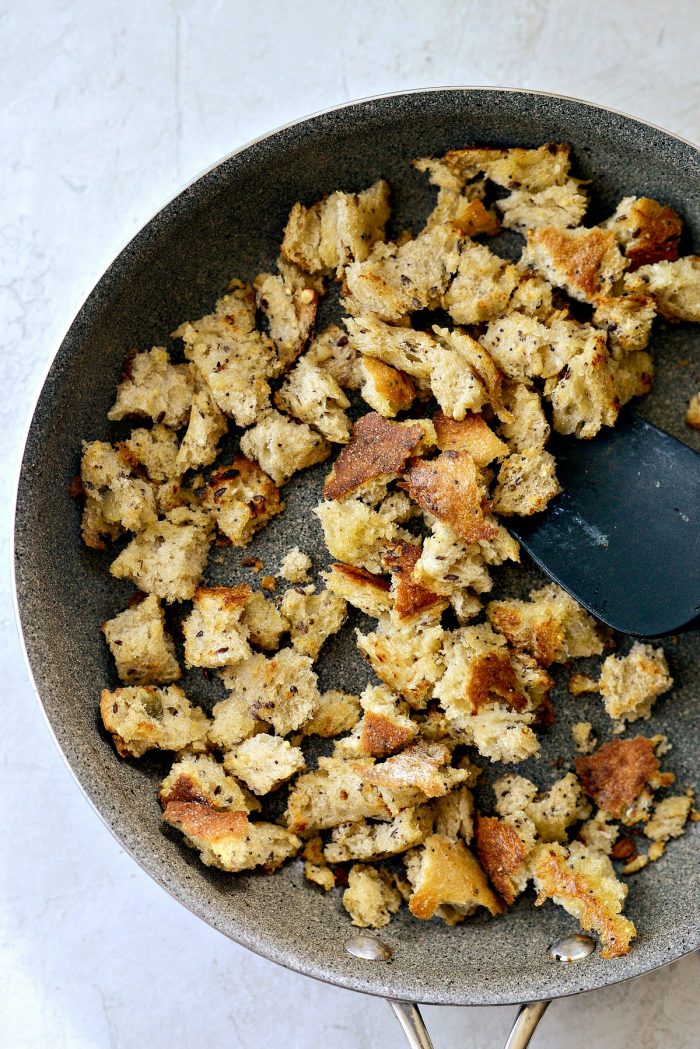 Once I cooked the bacon, I drained off most of the bacon grease. Then I threw in a couple cups of torn, seedy bread – to be honest, I didn't measure – and toasted it over medium heat in the skillet until golden brown.
When your grill has preheated, place the romaine cut-side down onto the grill grates. Use tongs to gently press each half to the grates. Grill for 2 to 3 minutes.
I also threw on a couple lemon halves. These make for beautiful garnish, and will add an extra punch of lemon if you want to squeeze it over top.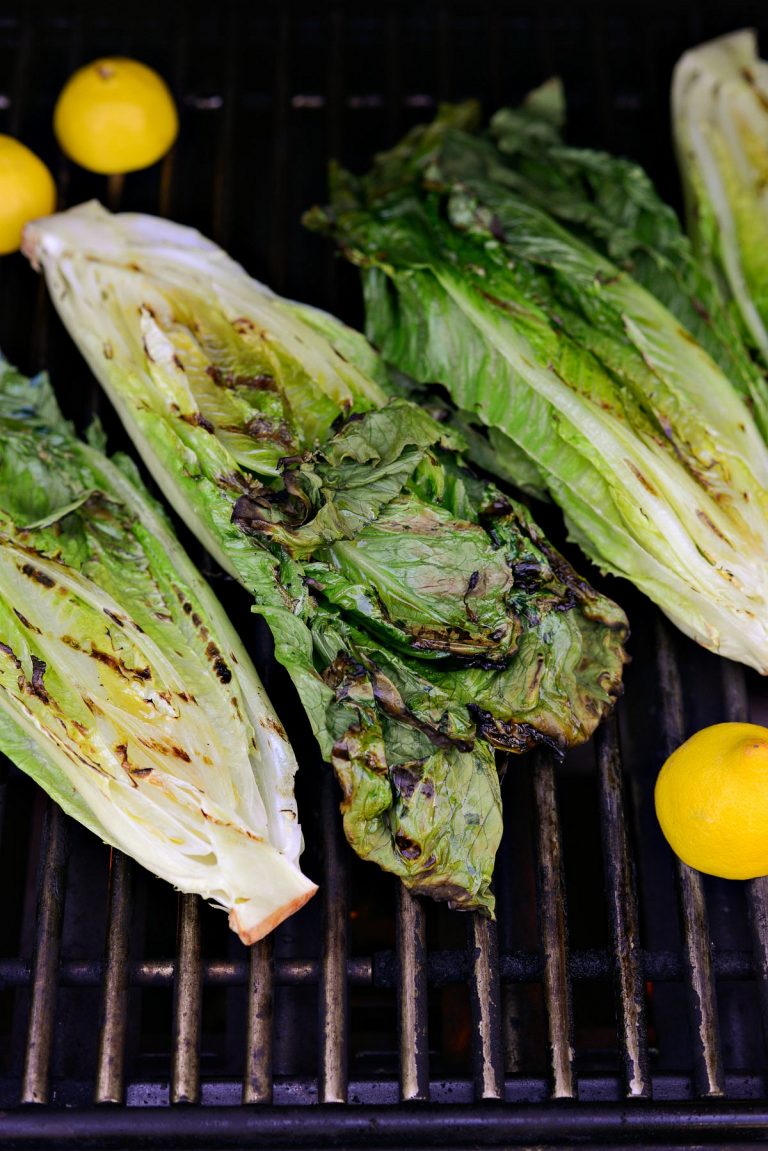 Turn and grill for an additional 2 to 3 minutes – the lettuce and not the lemons. Just to be clear 😉
Transfer to a platter.
And top with spoonfuls of dressing, pickled red onions, crumbled bacon, crunchy croutons, parmesan shavings and lots of freshly ground black pepper.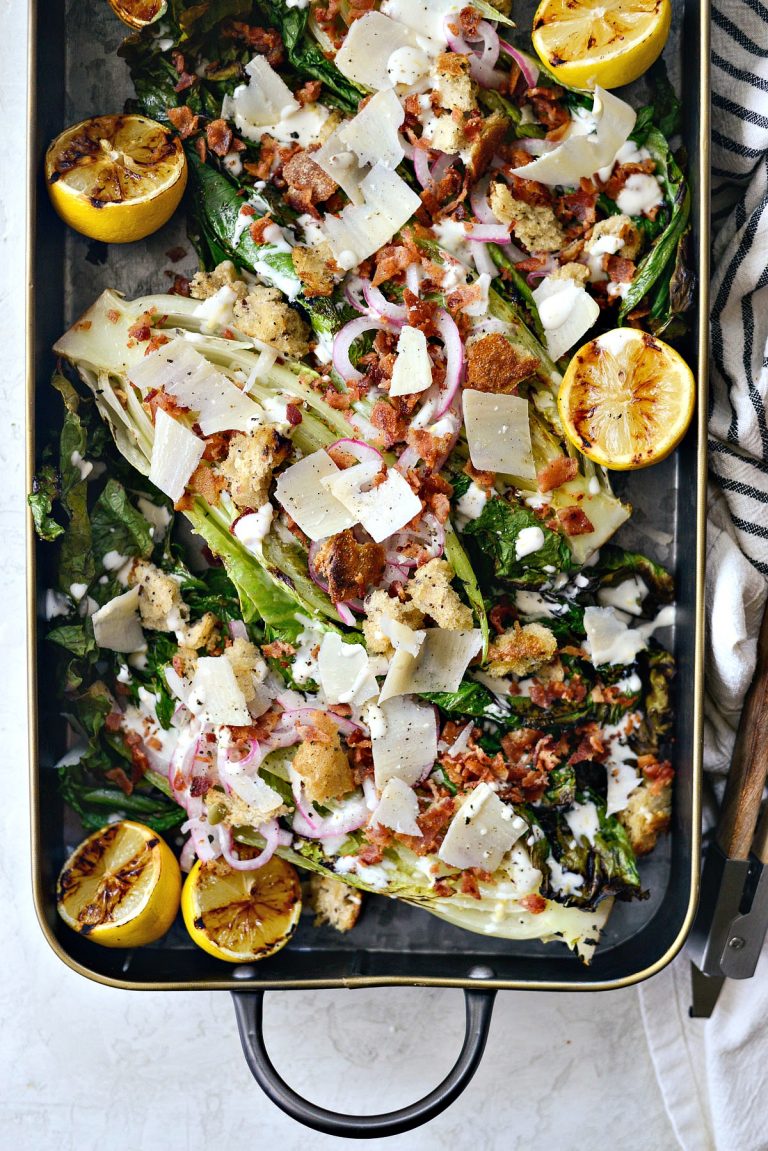 And then more dressing.
The char on the lettuce adds a nice depth of flavor in contrast to the salty bacon and the bite of the onion. The dressing is ridiculously good. So fresh from the lemon and then there's a light punch of garlic.
It's addictive and I'm totally okay with that.
Enjoy! And if you give this Grilled Romaine Salad recipe a try, let me know! Snap a photo and tag me on twitter or instagram!
This post may contain affiliate links.
Buy the Cookbook: Simply Scratch : 120 Wholesome Homemade Recipes Made Easy Now available on Amazon »
THANK YOU in advance for your support!