Chicken Yakitori is beyond easy and delicious! Skewered chicken and green onions are grilled and brushed with a simple soy and sake based sauce. Basting the skewers as they grill caramelizes the sauce making them sticky and addictive. Serves 6.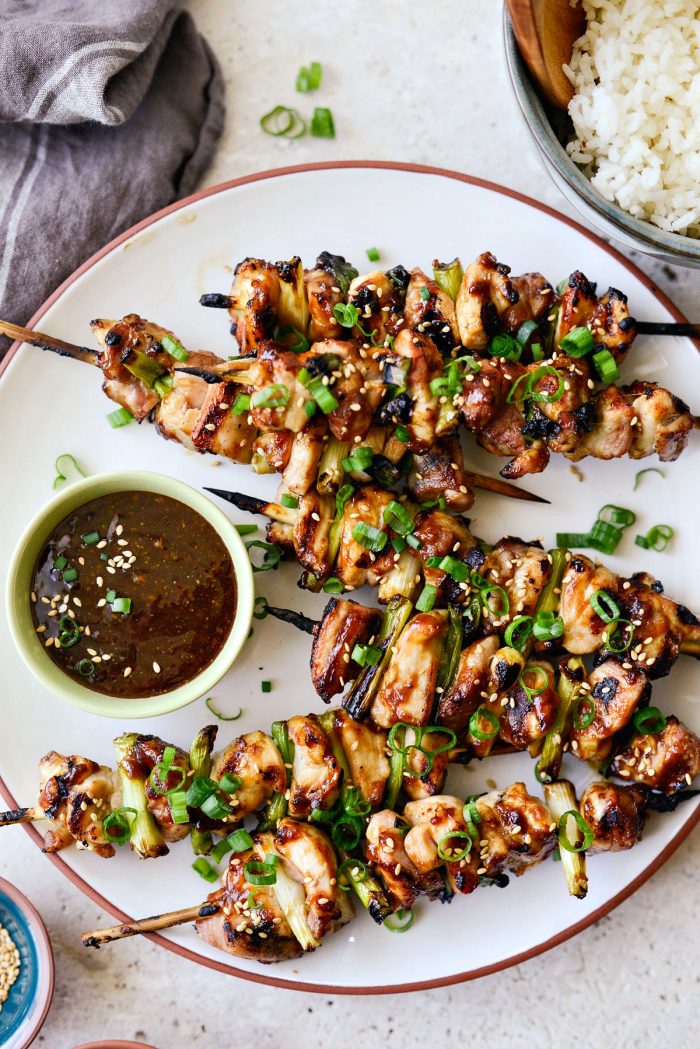 Chicken Yakitori hot off the grill!
If you haven't yet tried these delicious skewers you must make them asap! Skewers of chicken thighs and green onion are grilled and brushed with a simple sauce that get's all nice and caramelized on the grill.
This recipe is quick to prepare and delicious reheated the next day.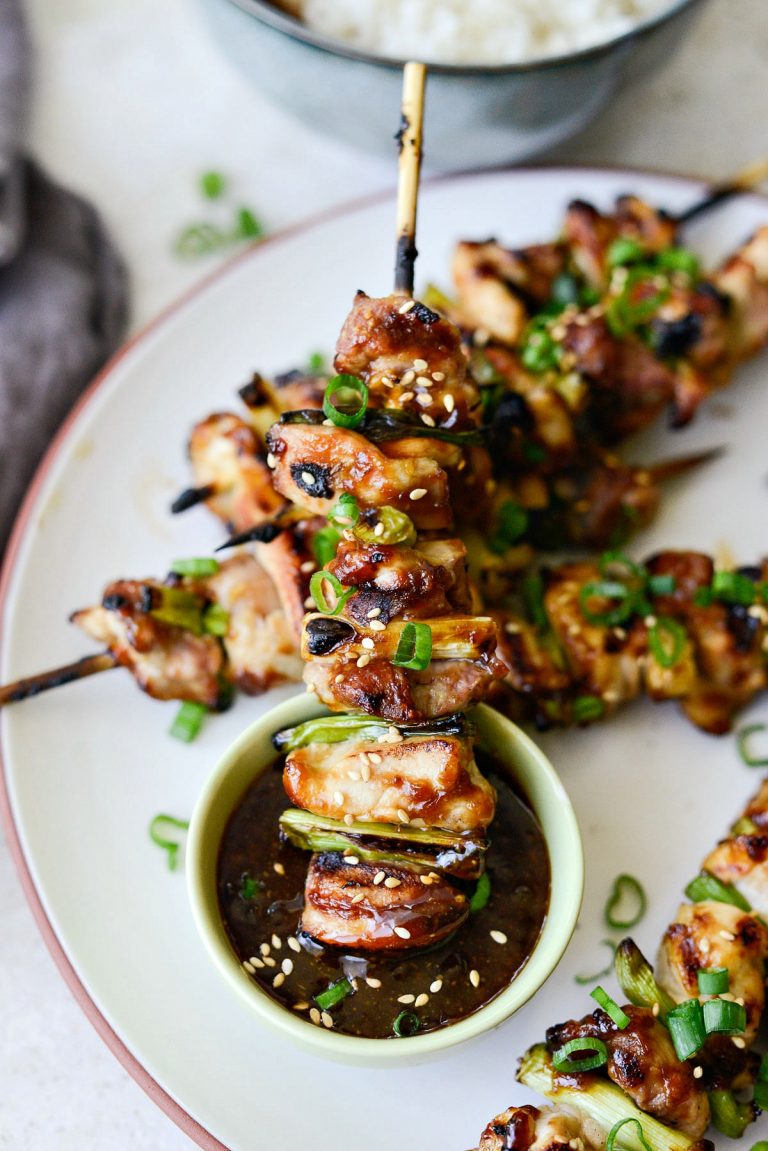 The dark meat is so tender and the flavor of the sauce is sweet and salty and addictive! The BEST combo.
To Make Chicken Yakitori You Will Need:
low-sodium soy sauce (use tamari if gluten free)
sake
water
dark brown sugar
cornstarch
white pepper
grated fresh ginger
grated fresh garlic
boneless skinless chicken thighs
olive oil spray
green onions
toasted sesame seeds
12 to 16 wooden skewers soaked in water for at least 20 minutes.
In a sauce pan or deep-sided skillet, measure and add in 1/2 cup low-sodium soy sauce (or low-sodium tamari), 1/4 cup both sake and water, 2 tablespoons dark brown sugar, 1 tablespoon cornstarch, 1/2 teaspoon white pepper, 2 teaspoons grated fresh ginger and 1 teaspoon grated garlic. To save time, I use the tubes of fresh (pre-grated) ginger and garlic.
Bring to a low boil, reduce to low and simmer, stirring often, until the sauce has visibly thickened. This should only take a few minutes. Reserve 1/2 cup of sauce for basting and save the rest for serving. You may need to add a little extra splash or two of water to thin out the sauce before serving.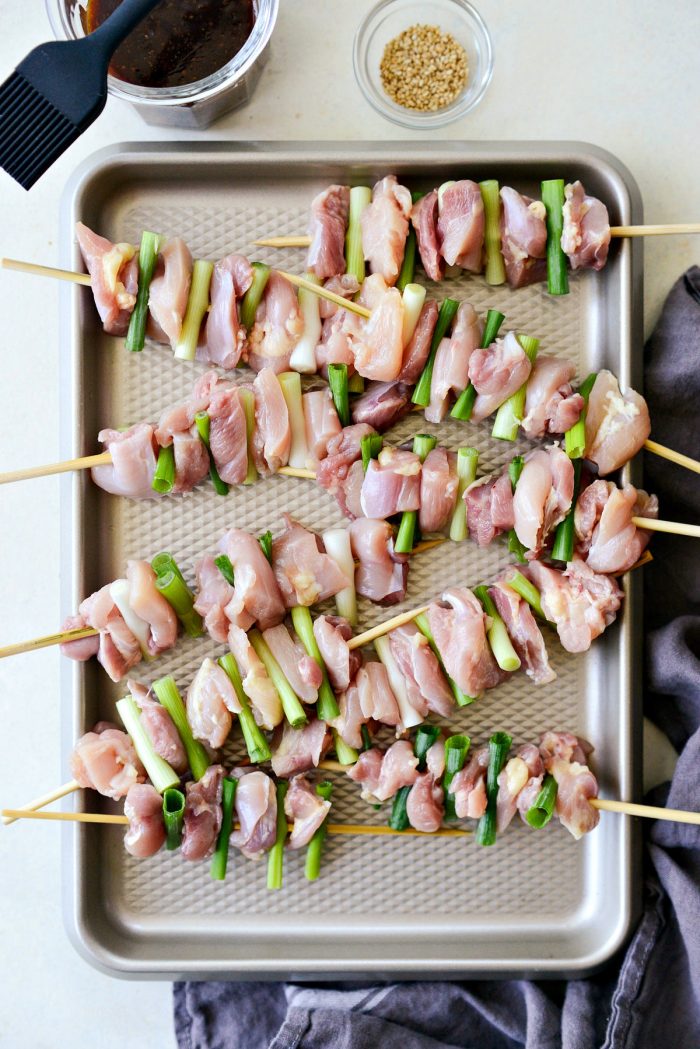 Dice the chicken thighs into 1-inch or so bite-size pieces. On a clean separate cutting board, cut the green onions into generous 1-inch pieces. Thinly slice the dark green ends and save for garnishing.
Lightly spray your grill grates before preheating to medium-high (500-600°).
Once the wooden skewers have soaked in water for no less than 20 minutes, thread the chicken alternating with a piece of green onion. I usually add 5 to 6 pieces per skewer. After you've built the skewers lightly spray all sides with olive oil spray.
When your grill has preheated, place the skewers onto the hot grates. Close the lid and cook 2 to 3 minutes before turning and repeating until no longer pink and fully cooked.
I utilize the outer sides of my grill by keeping the blunt side of the skewers away from the hot grates to keep them from burning.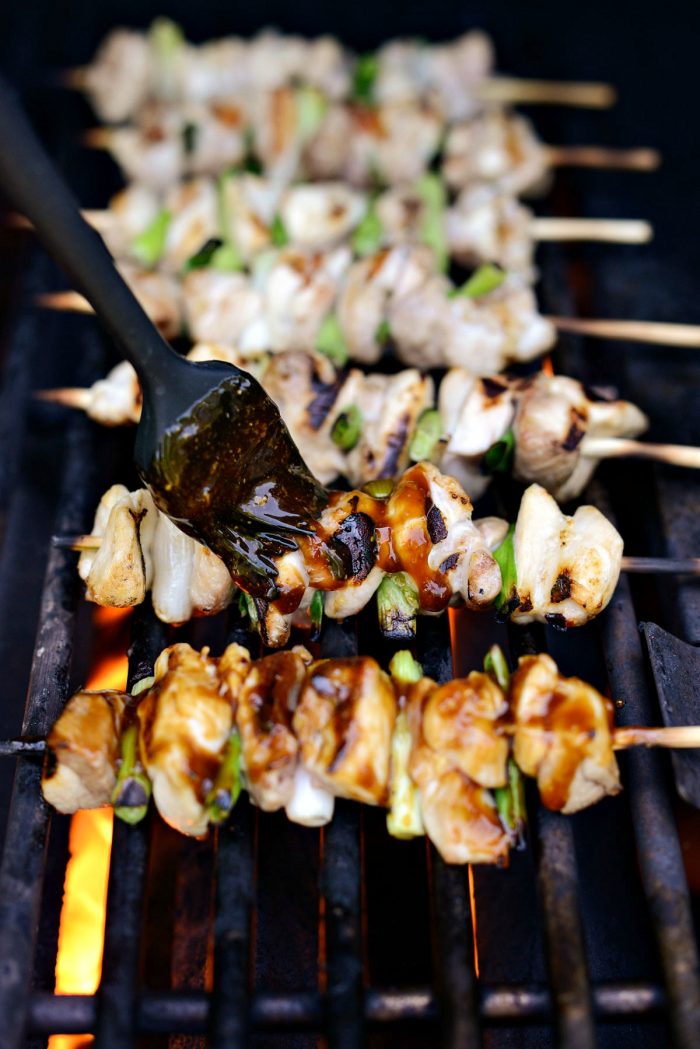 Using the reserved 1/2 cup, baste the yakitori sauce over the grilled chicken skewers.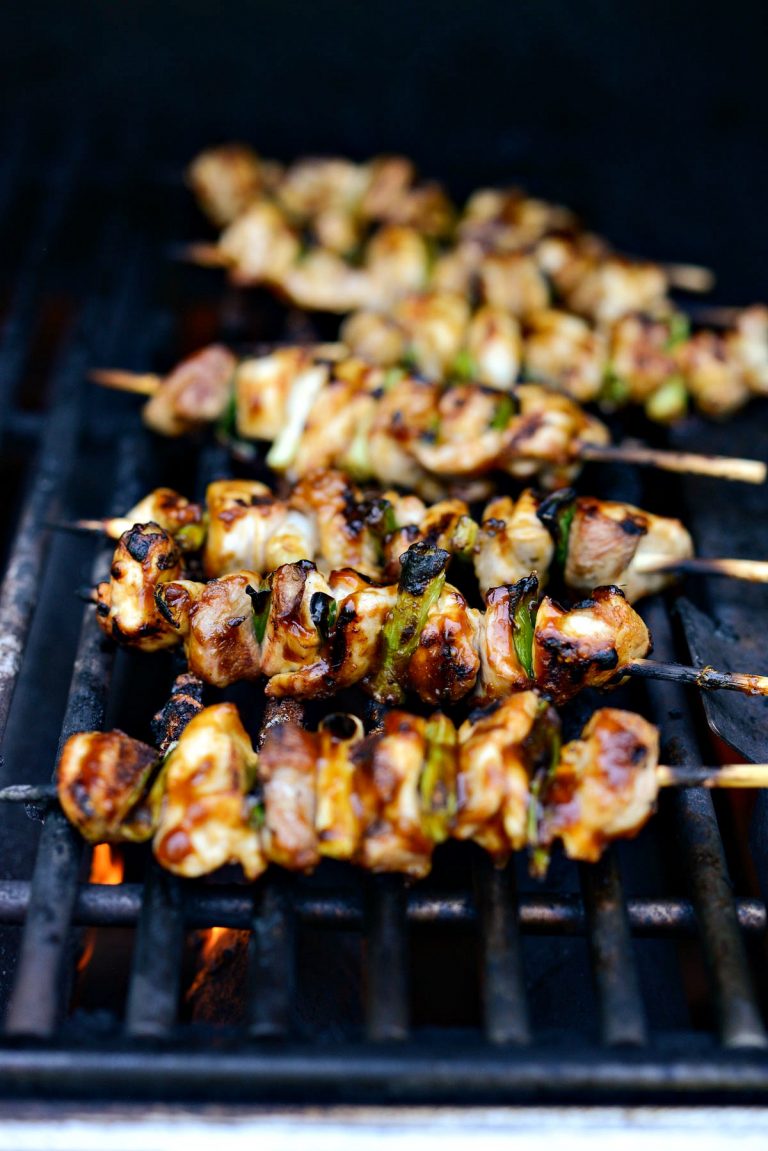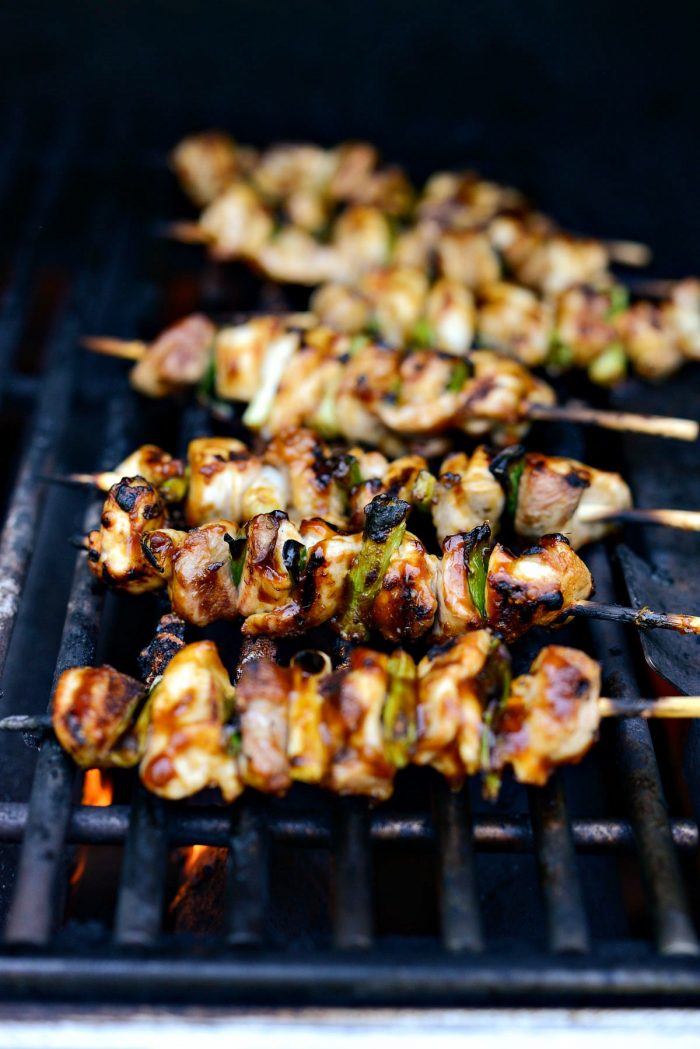 Turn and repeat until all sauce is gone and the chicken is saucy and sticky.
Remove off of the grill and serve.
Sprinkle toasted sesame seeds and thinly sliced green onions over the chicken yakitori and serve with cooked rice.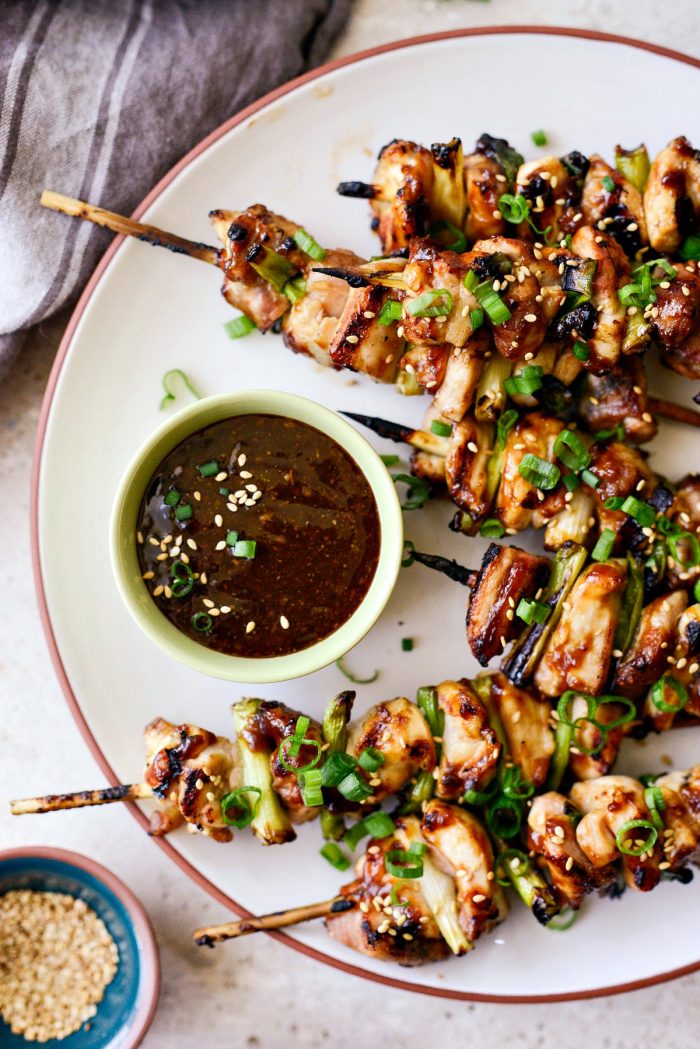 Enjoy theses skewers right off the stick with a dipping cup of extra sauce on the side. As far a healthy vegetable side dish to serve with these, we like grilled this grilled baby bok choy recipe that's drizzled with a simple ginger chili sauce.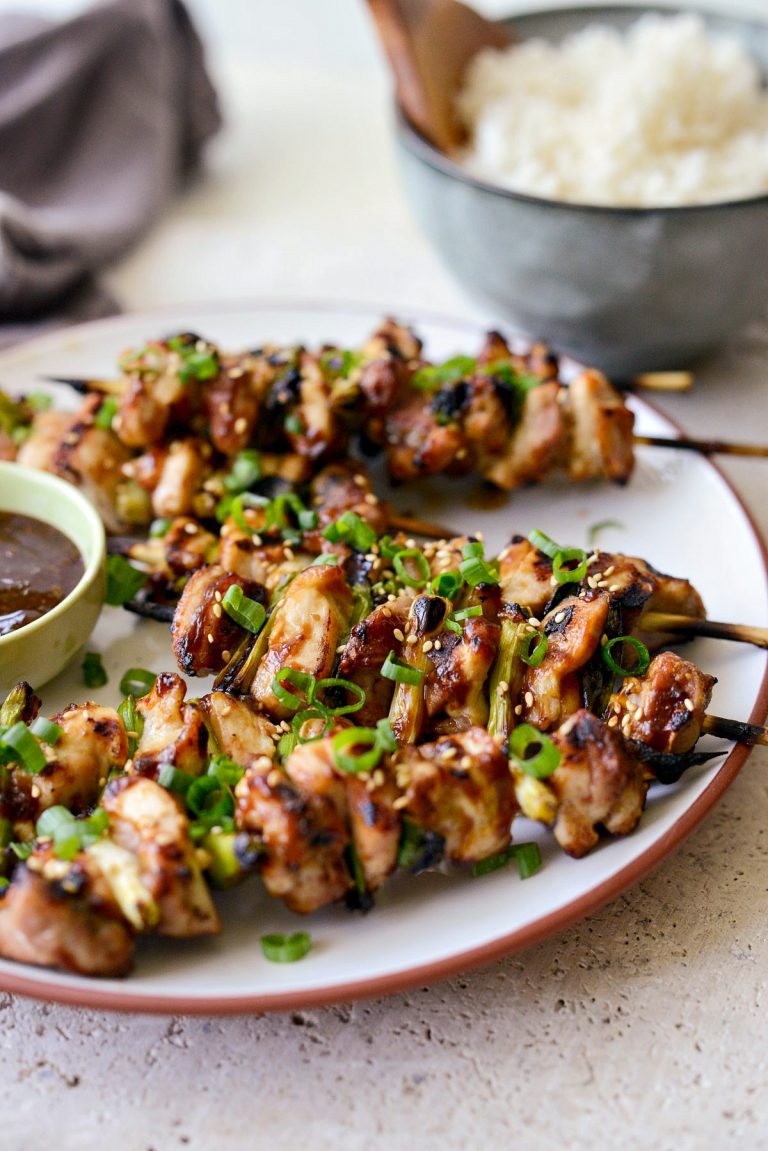 Enjoy! And if you give this Chicken Yakitori recipe a try, let me know! Snap a photo and tag me on twitter or instagram!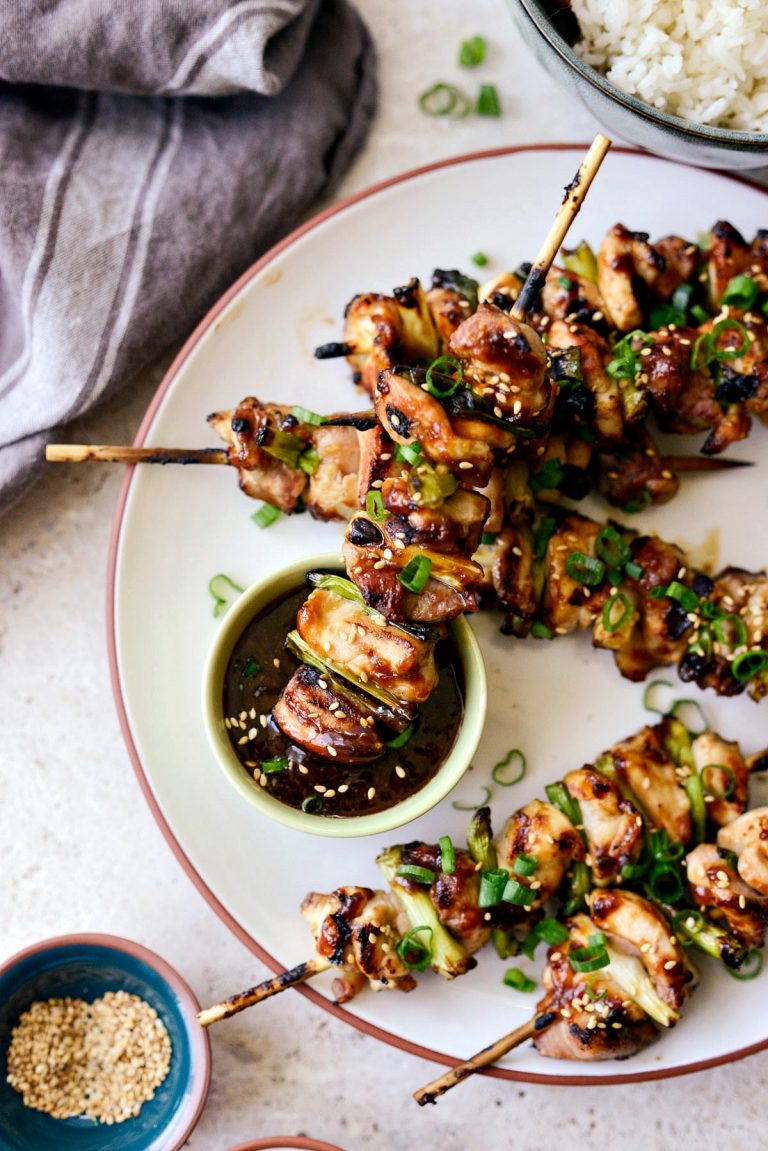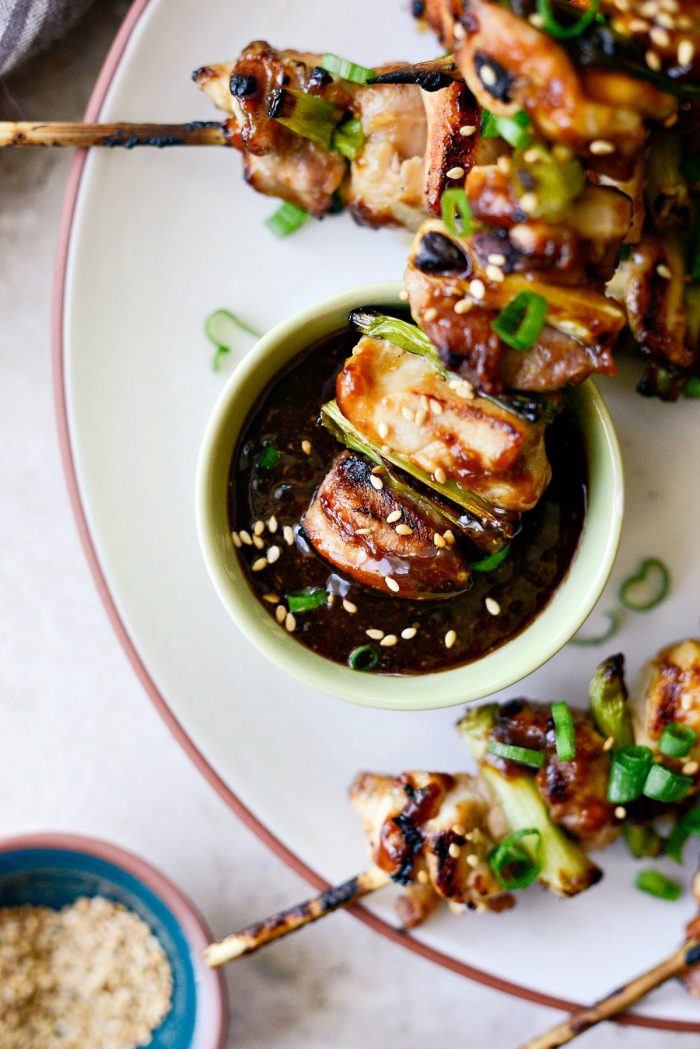 This post may contain affiliate links.
Buy the Cookbook: Simply Scratch : 120 Wholesome Homemade Recipes Made Easy Now available on Amazon »
THANK YOU in advance for your support!