Air Fryer Zucchini Fries are not only crispy and addictive but healthy too! Zucchini sticks are tossed in egg and seasoned parmesan breadcrumb mixture before air fried until crisp and golden. Serve with marinara or basil ketchup!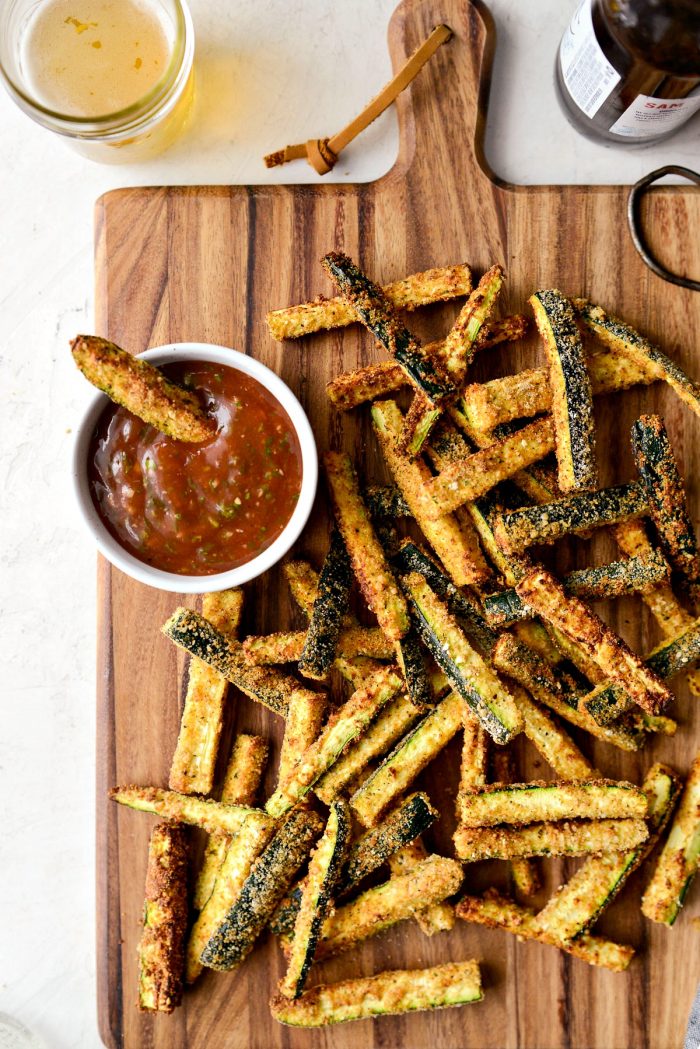 Craving something crispy but without the guilt?
Me too! Every day of my life, actually.
And although regular French fries are delicious and I could eat them every single day, air fryer zucchini fries are much healthier. Lower in fat and calories. And after being cooped up in my house for 2 months eating all the snacks, I need a lighter, healthier french fry alternative.
Making zucchini fries is easy. Cut fresh zucchini into fries and coat in egg and then the perfectly seasoned parmesan breadcrumb mixture. That's it! The air fryer does the rest. To go with these zucc fries, I whip up a super simple basil ketchup. Yet if you have an open jar of marinara or pizza sauce, you could use that as well.
It's the best snack.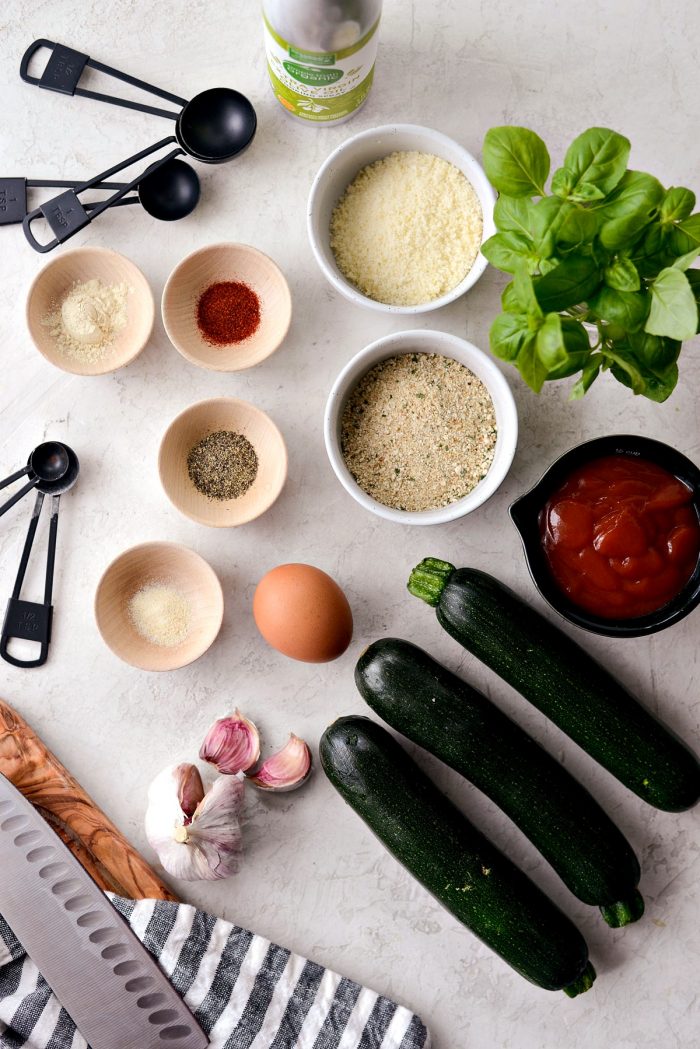 To Make These Air Fryer Zucchini Fries You Will Need:
zucchini
italian breadcrumbs
parmesan cheese
onion powder
garlic powder
paprika
black pepper
kosher salt
egg
olive oil spray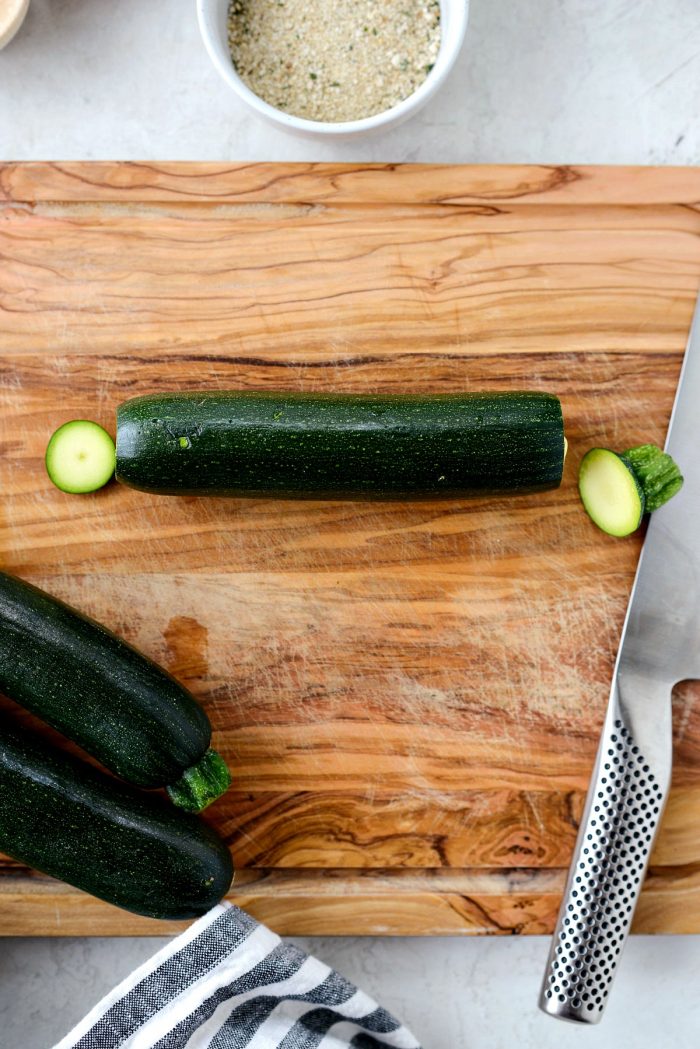 Trim off the ends of the zucchini. Look for 6 to 7 inch long zucchinis. Use 2 zucchini if they are thick and 3 if thin and narrow.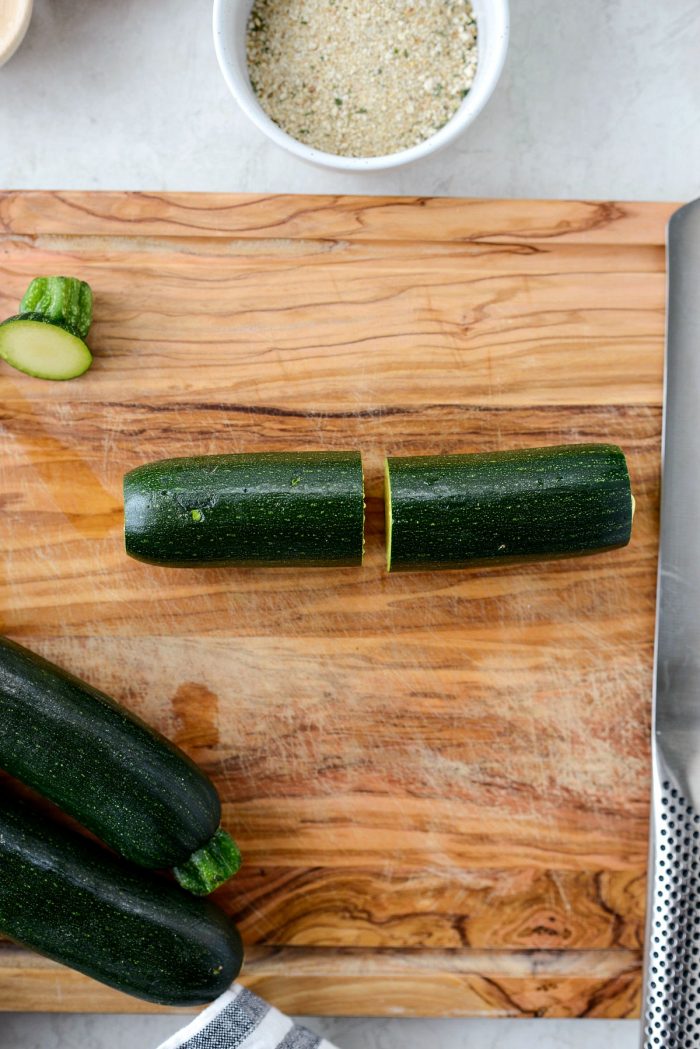 Cut each zucchini in half, so you have two 3-inch pieces.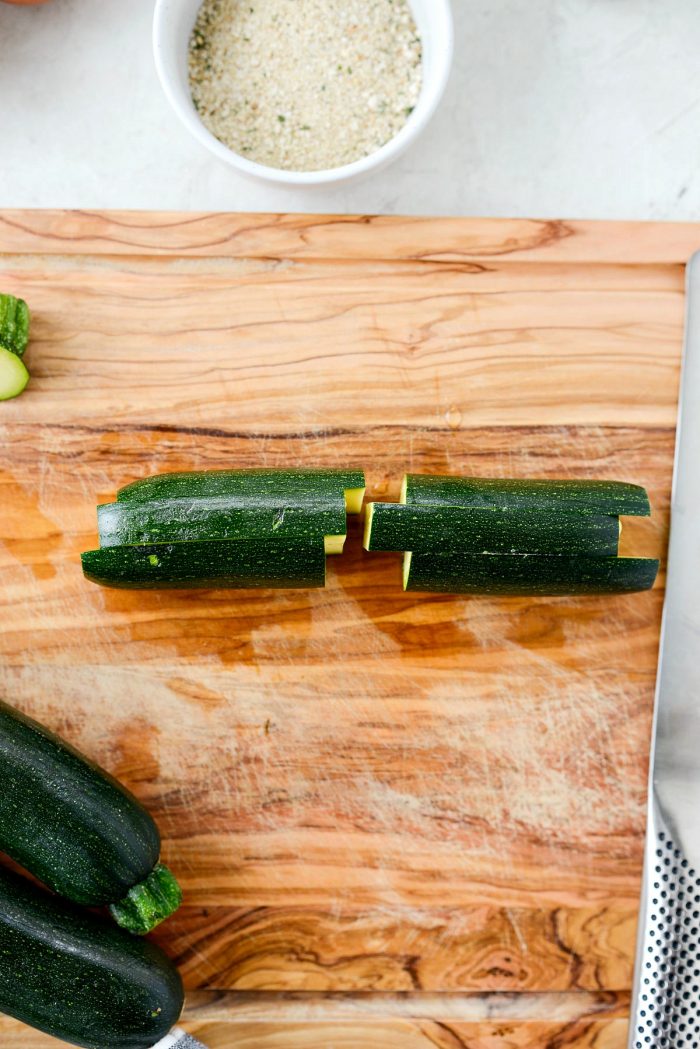 Slice each half into 3 (or more) 1/2-inch slices.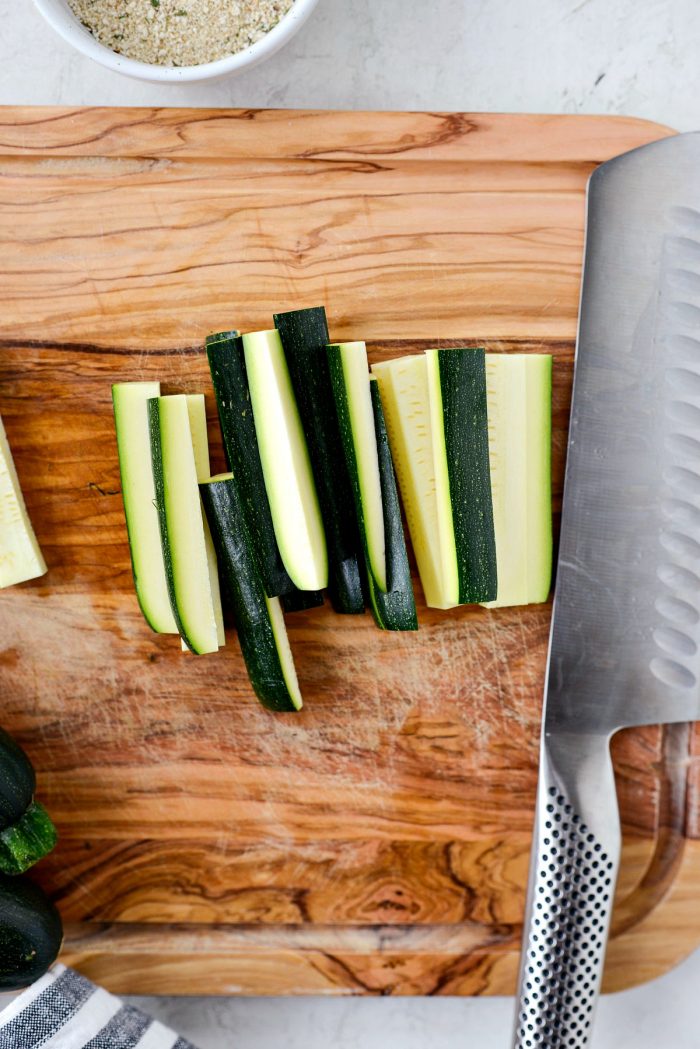 Lastly, cut each slice into 1/2-inch sticks or "fries". Repeat with the remaining zucchini.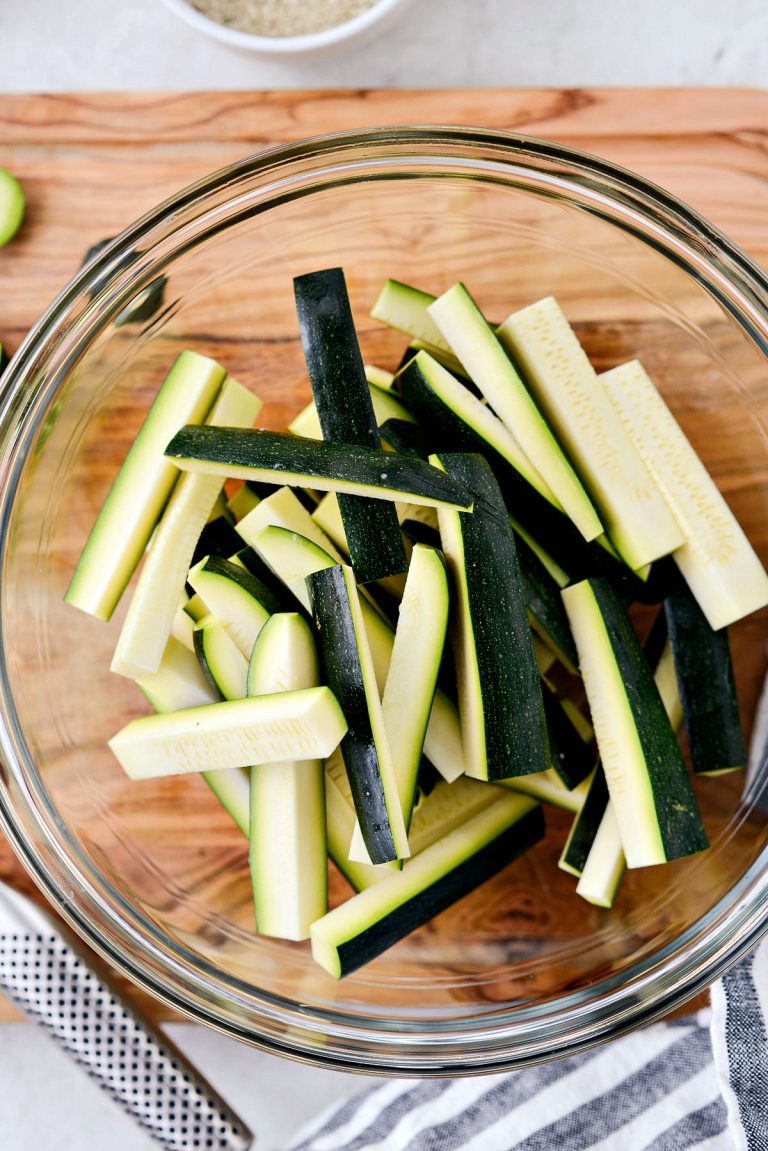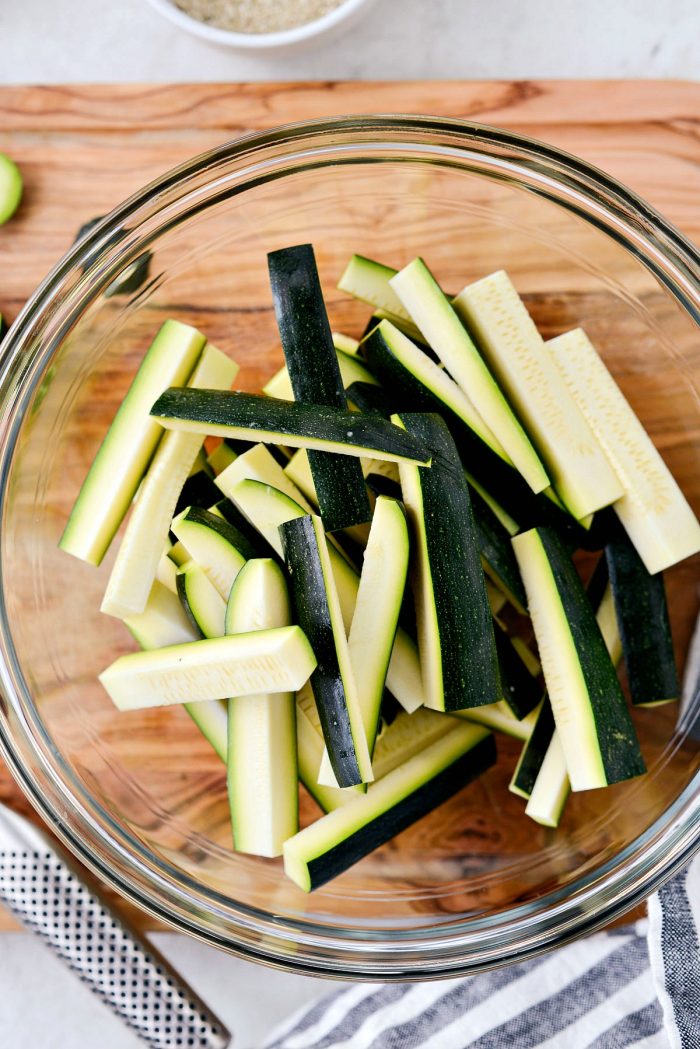 Set the zucchini off to the side.
In a shallow bowl, add 1/4 cup italian breadcrumbs, 1/4 cup parmesan cheese, 1/2 teaspoon garlic powder, 1/4 both teaspoon onion powder and paprika, and 1/4 teaspoon both kosher salt and black pepper.
Stir well to combine.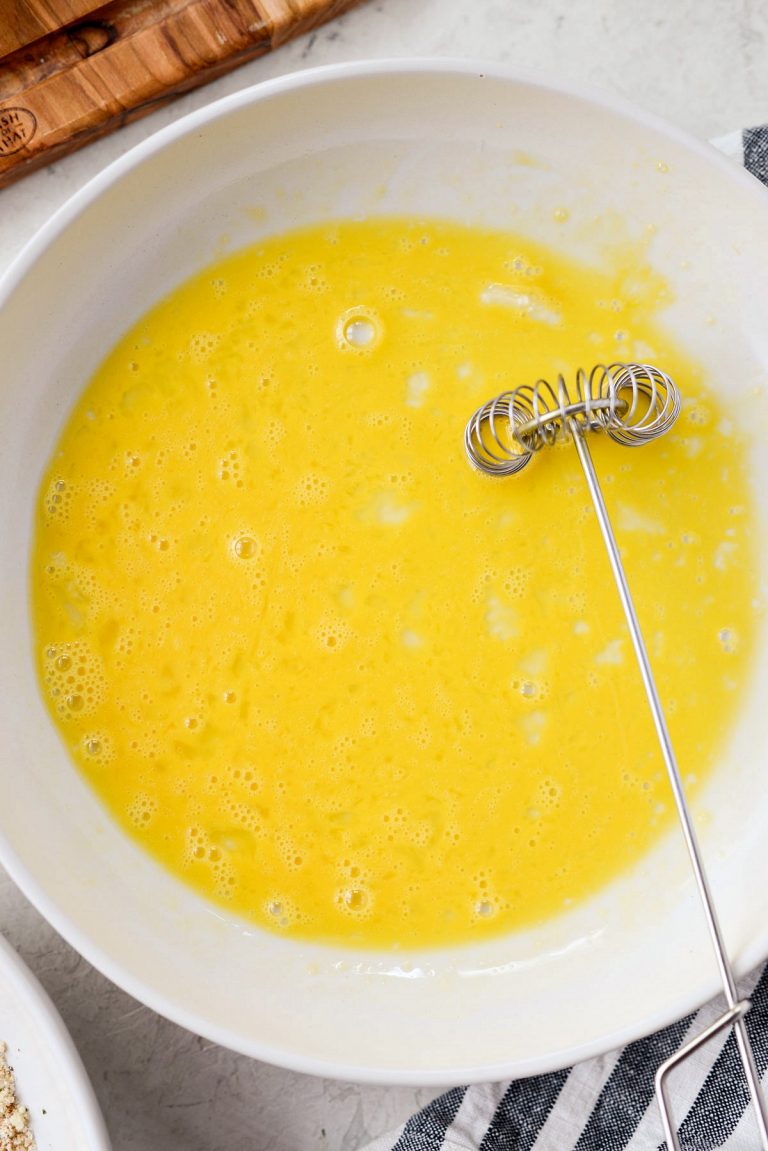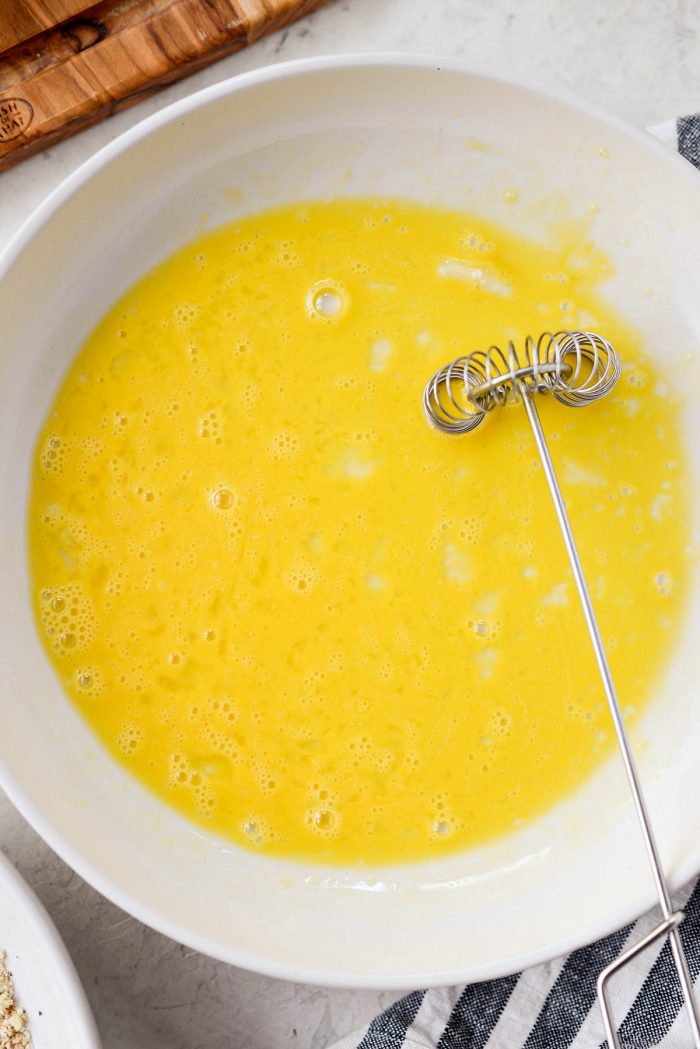 Then in a second shallow bowl, beat 1 large egg.
Work in batches dipping the zucchini into the egg.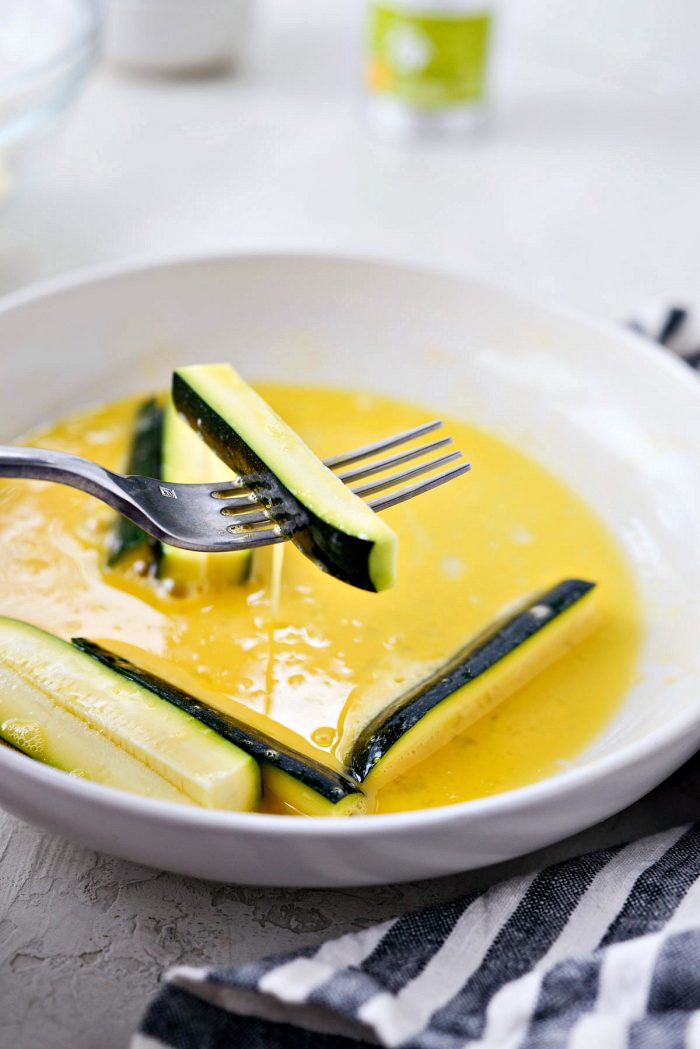 Allow any excess egg drip off back into the bowl.
Transfer the zucchini into the bowl with the parmesan and breadcrumbs and toss to coat.
Look at that texture!
Place on a wire rack, repeat with remaining zucchini and preheat your air fryer to 390°.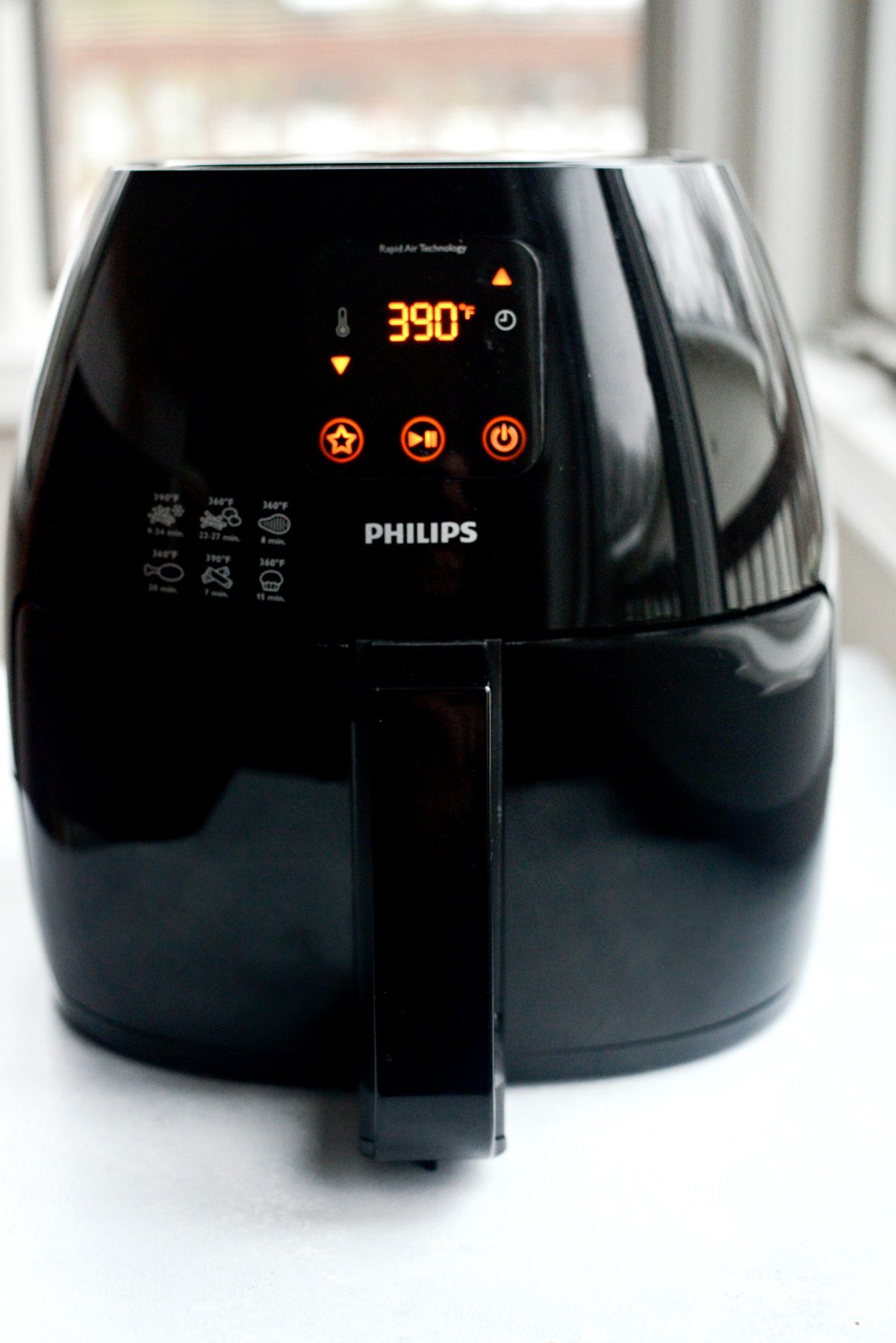 What Is Air Frying?
An air fryer is a counter top appliance that requires less oil (anything from a few spritz to 1 tablespoon) yet produces crispy food that rivals most deep fried foods. By using circulating hot air, it moves at a high speed so the food tends to cook in a fraction of the time.
There are a bunch of different makes and models of air fryers. My husband did the research (as he's known to do) and found this air fryer [affiliate] to be one of the best. But do your research and purchase one that fits your lifestyle.
How is Air Frying Healthier?
Air frying is healthier because only a thin layer of oil coats the food and when the hot air comes in contact it will crisp. Saving you a ton of fat and calories (without sacrificing any flavor!) because food is not being submerged in a vat of hot oil.
Keep in mind, not all air fryers are equal. Some preheat and some do not. Some are smaller than others therefore you may need to work in smaller batches to air fry.
For more Air Fryer recipes, click here for my growing collection.
Arrange the zucchini fries in an even layer and air fry for 5 to 6 minutes or until golden and crisp.
Remove and repeat with remaining zucchini fries.
In the meantime, make the basil ketchup by measuring and adding 1/2 cup ketchup plus 1/3 cup basil (loosely packed), 1 clove chopped garlic and some black pepper.
Blend until the garlic and basil is finely minced.
Pour into a bowl and serve with your crispy zucchini fries.
So incredibly good and nothing to feel guilty about. I love that!
The parmesan and seasoned breadcrumbs and flavor and give these zucchini fries texture, while also making these deliciously addictive.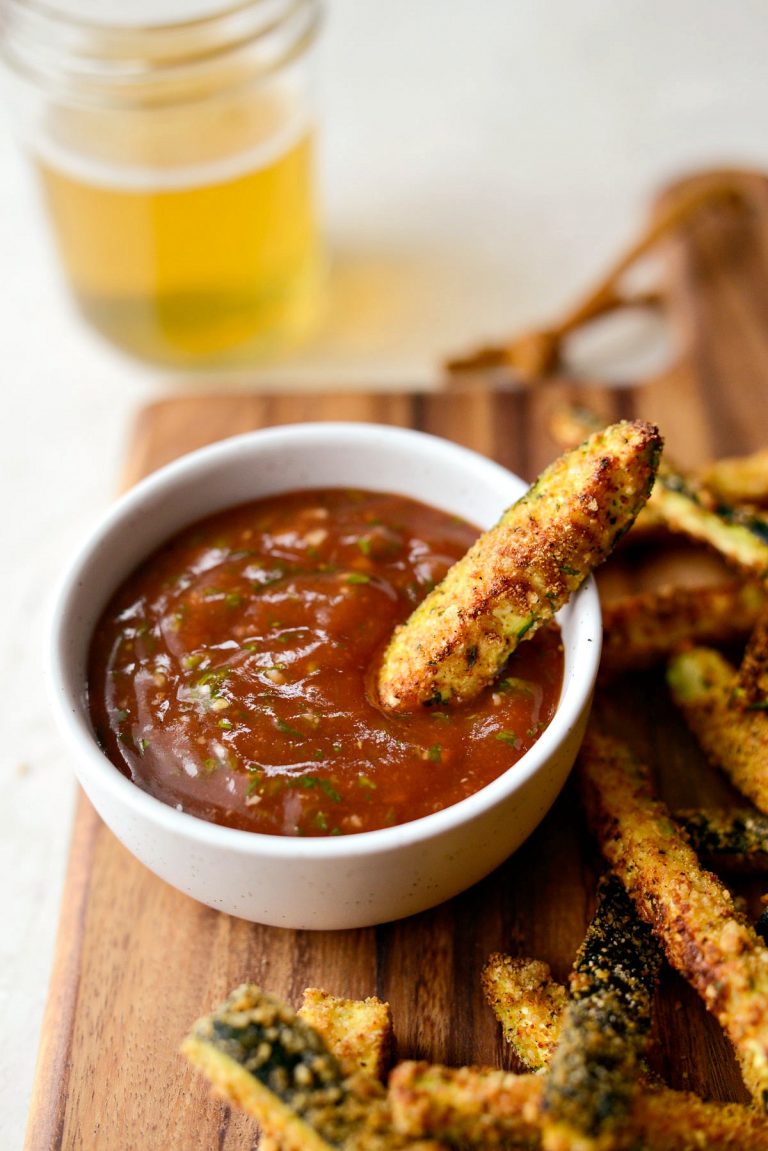 Dip.
Eat.
Repeat.
Enjoy! And if you give this Air Fryer Zucchini Fries recipe a try, let me know! Snap a photo and tag me on twitter or instagram!
This post may contain affiliate links.
Buy the Cookbook: Simply Scratch : 120 Wholesome Homemade Recipes Made Easy Now available on Amazon »
THANK YOU in advance for your support!