Lobster Mac and Cheese is rich, decadent and oh so cheesy! Cooked pasta and lobster are tossed in creamy white cheese sauce and baked with a parmesan crumb topping. Serves 6 to 8 in under an hour.
If for some reason, I should require a "last meal" it would be filet mignon, lobster mac and cheese and endless stemless glasses of sauvignon blanc. Because omg is this dish heavenly.
Picture this: elbow shell (shellbow?) pasta and lumps of cooked lobster in a white cheese cream sauce. Sound decadent? IT IS!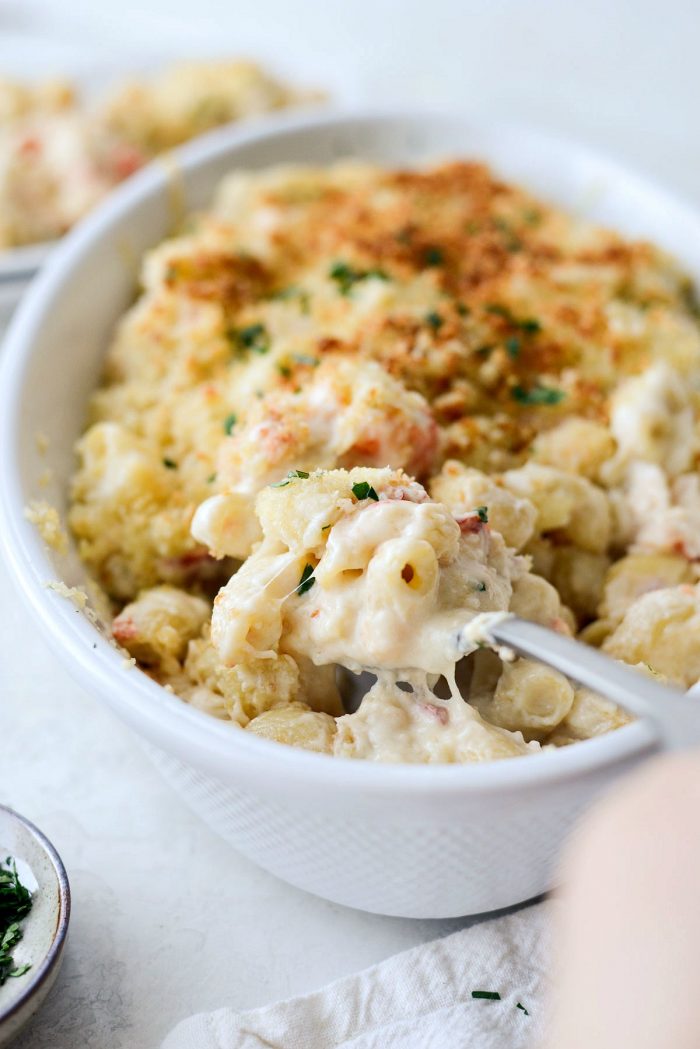 With that said, put on your comfiest of pants because this is going to get cheesy.
To Make This Lobster Mac and Cheese You Will Need:
10 ounces dried pasta (like large macaroni or XX)
1-1/2 cups sharp white cheddar
1 cup grated fontina
3/4 cup freshly grated parmesan cheese
4 tablespoons unsalted butter
1/4 cup unbleached all-purpose flour
2 cups half & half
kosher salt
white pepper
nutmeg (freshly grated)
chopped cooked lobster
panko
2 tablespoons unsalted melted butter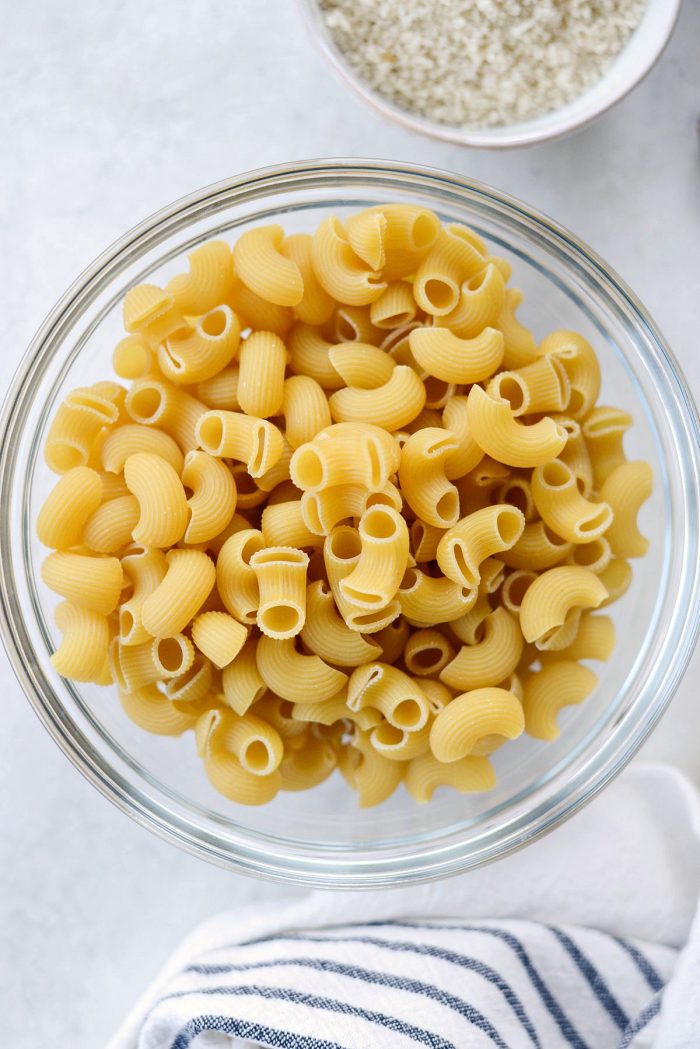 I love this pasta shape! Depending on the brand will decide the name, so look for jumbo macaroni with ridges, shellbow or pipe rigate. You'll need 10 ounces.
Before starting the recipe, spray a 2 quart baking dish with olive oil spray and preheat your oven to 325°.
Bring a large pot of water to boil. Once boiling, you'll want to stir in a palmful of sea salt before adding in the pasta. Cook the pasta to al dente. Note: I always try to aim for the sauce and pasta to be done at the same time. So add the pasta to the water right when you're starting the sauce.
Then, freshly grate 1-1/2 cups sharp white cheddar cheese, 1 cup fontina and 1/2 cup grated real parmesan (not the stuff in the can).
Roughly chop 10 ounces cooked lobster.
To make the sauce, add 4 tablespoons unsalted butter to a large saucepan and heat on medium-low.
When melted, sprinkle in 1/4 cup unbleached all-purpose flour.
Whisk to combine.
Continue to whisk while pouring in 2 cups half & half. You can substitute the half & half with 1 cup whole milk and 1 cup heavy cream. Season with 1/2 to 3/4 teaspoon kosher salt, 1/4 teaspoon white pepper and a pinch of freshly grated nutmeg.
Stir until the sauce thickens and resembles a creamy soup – so not too thick.
Add in 1/3 of the cheese mixture.
Stir until smooth, then remove off of the heat.
Drain the pasta.
And add it to the cheese sauce.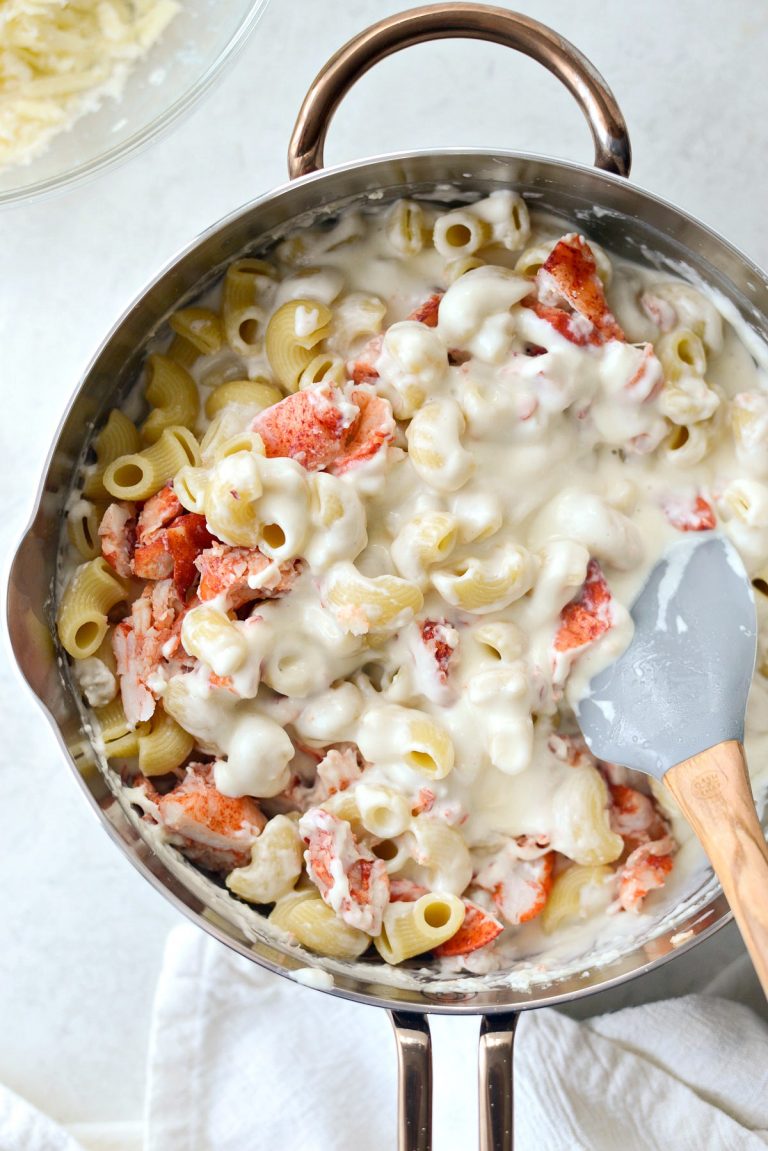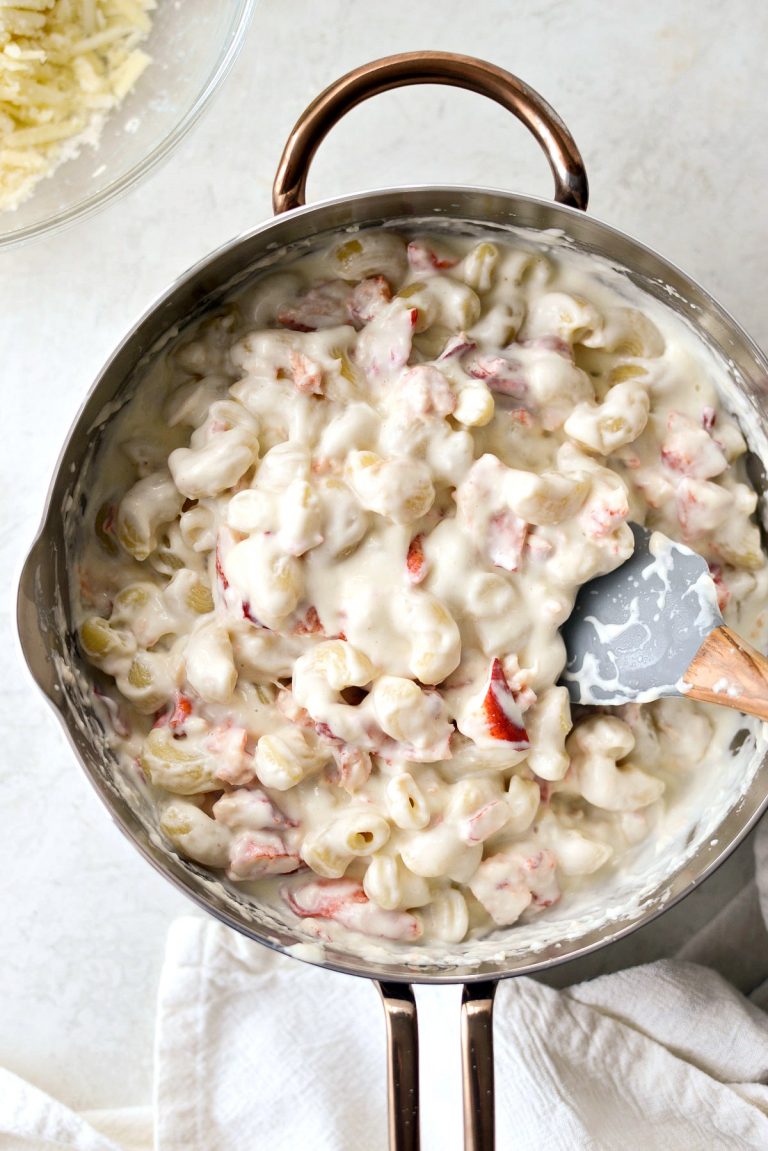 Stir well to combine.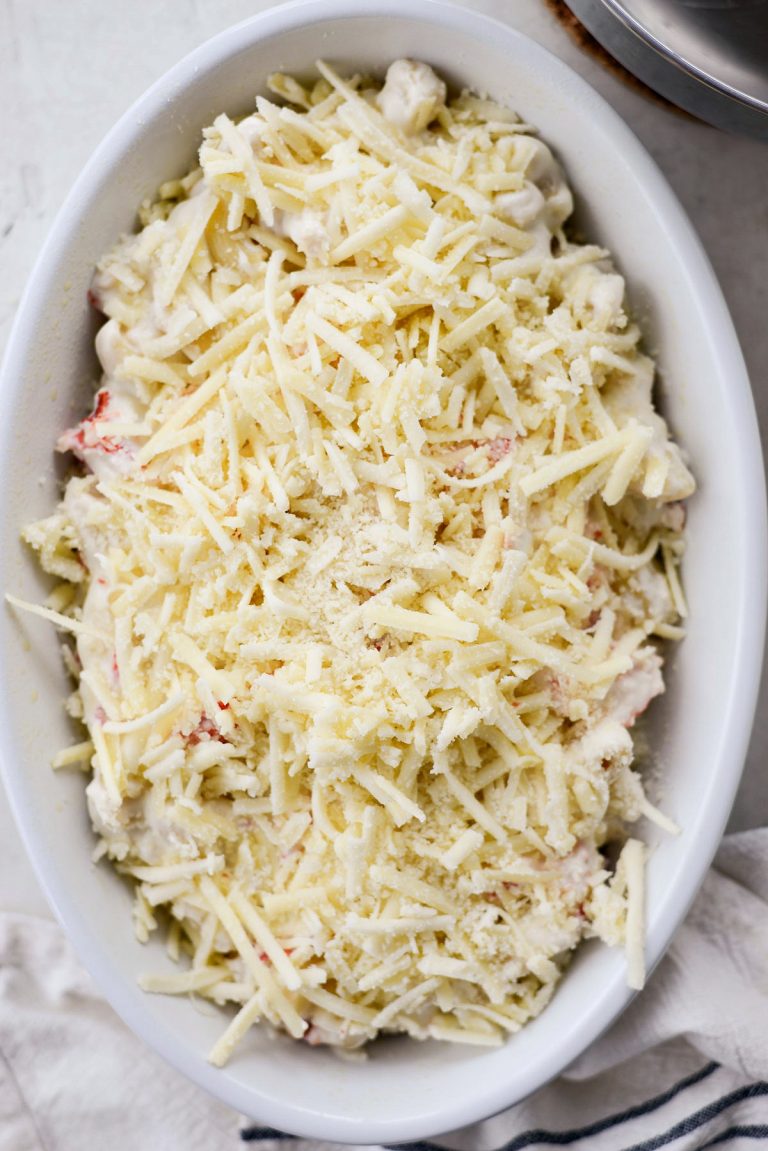 Place half of the lobster Mac and cheese into your prepared dish and top with half of the remaining cheeses. Spoon on the remaining lobster Mac and sprinkle with the last of the cheese in the bowl.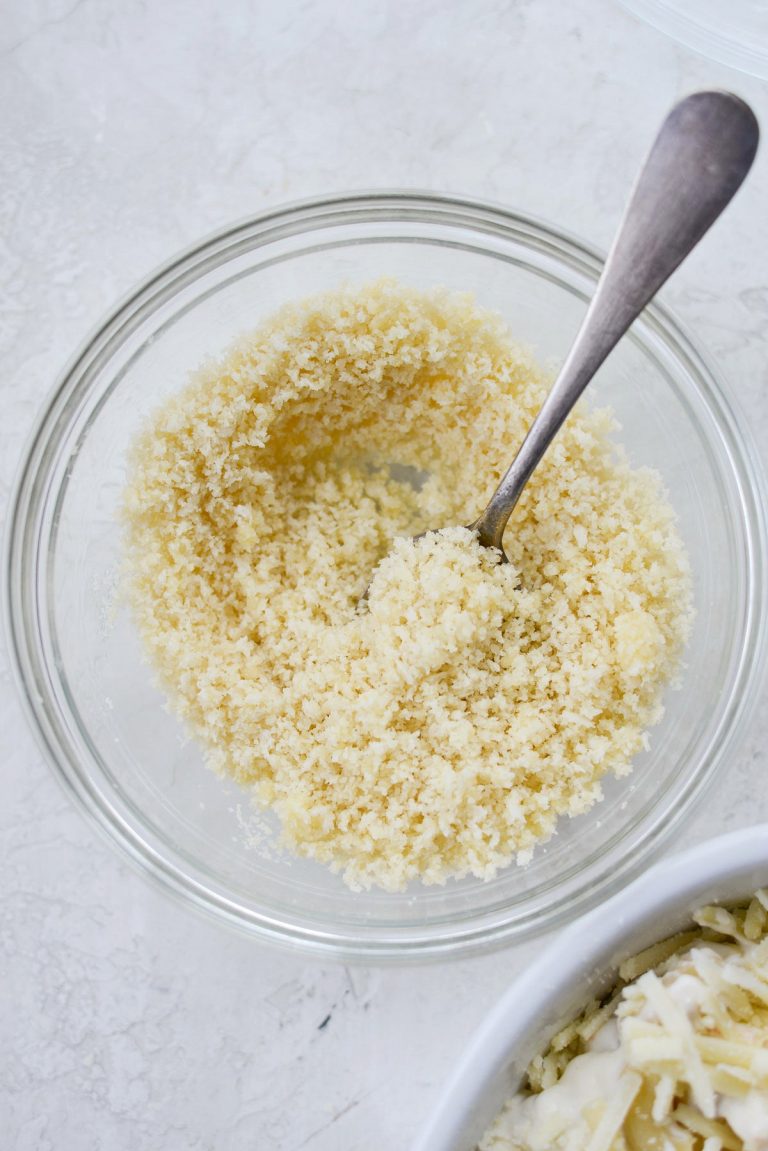 Quickly toss, 1/2 cup panko breadcrumbs with 1/4 cup parmesan cheese and 2 tablespoons melted butter and toss to combine.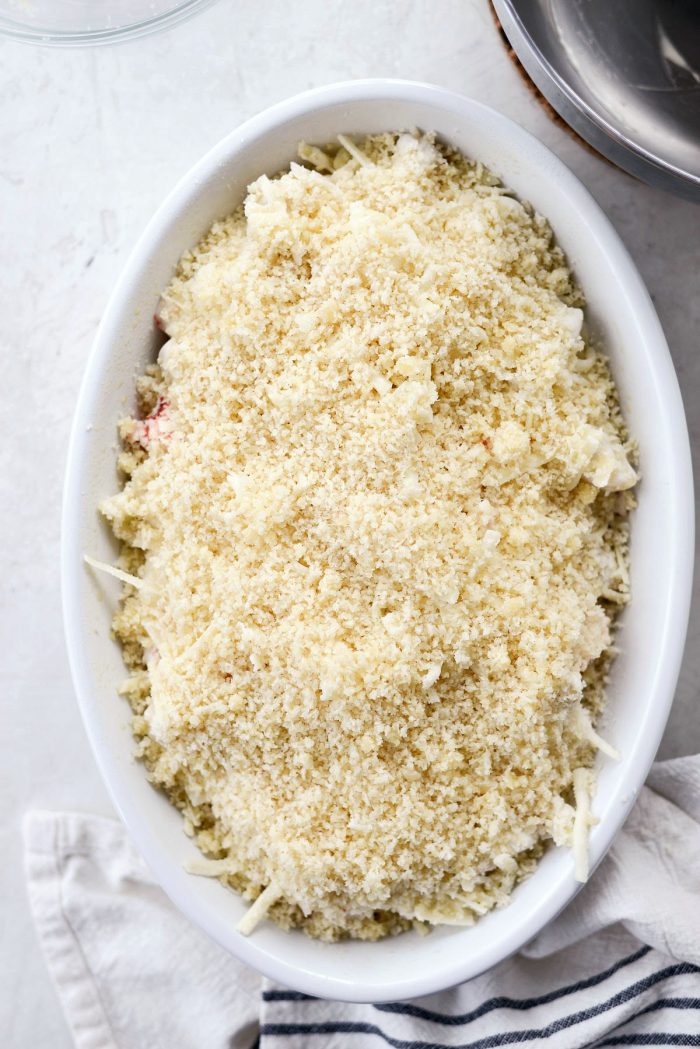 Top the mac with the crumb mixture before sliding the pan onto the middle rack of your preheated 325° oven and bake for 10 minutes.
Once baked, switch your oven to broil and carefully move the lobster macaroni and cheese to the highest rack in your oven. Watch carefully and broil until the top is golden brown.
Hello gorgeous cheesy baked pasta!
I honestly don't know what I love more; the creamy cheesy sauce or the pasta or the lobster or the parmesan crumb topping.
For more Mac and Cheese Recipes Click Here!
Enjoy! And if you give this Lobster Mac and Cheese recipe a try, let me know! Snap a photo and tag me on twitter or instagram!
This post may contain affiliate links.
Buy the Cookbook: Simply Scratch : 120 Wholesome Homemade Recipes Made Easy Now available on Amazon »
THANK YOU in advance for your support!