Start your morning off right with these wholesome Sausage Egg and Cheese Breakfast Sandwiches! English muffins are toasted and topped with homemade turkey sausage, scrambled egg and cheese! These sammies are freezer friendly and reheat easily!
For those mornings when you hit snooze. Twice. Or when the thought of peanut butter toast again makes you want to crawl back under the covers.
Just reach into your freezer!
It's on those days you'll be glad you meal prepped a batch of these freezer friendly sandwiches. We've talked about it before, so you are well aware how much I LOVE a meal prep breakfast. Lunch is great but remade breakfast is where it's at! Having homemade breakfast sandwiches on hand is a life saver and most importantly, a time saver.
For example, Pat reheats one of these on workdays because he wakes up early without time to eat. This way he can reheat it and eat it on his way into work.
To Make These Sausage Egg and Cheese Breakfast Sandwiches You Will Need:
toasted english muffins
breakfast sausage (homemade or store-bought)
eggs
kosher salt
cheese (cheddar or american – use your favorite)
First up is the English muffins. Before anyone gets on me for buying English muffins, just know that I've yet to find a recipe I feel worthy of sharing on SS. So until then, I will purchase. That's how I work. But know that I will not give up! And if you have a recipe, feel free to send it to me via the contact form at the top of this page.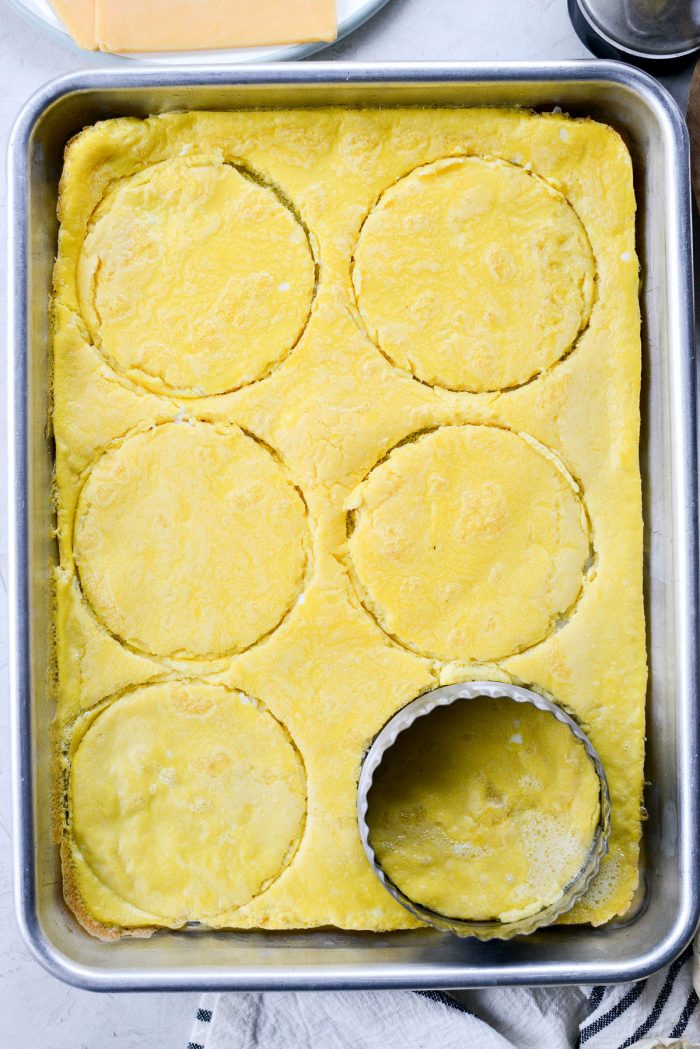 Place a quarter (small) rimmed metal baking sheet into your oven and preheat your oven to 425° with the pan inside. Meanwhile, whisk 8 eggs with a pinch of kosher salt. When the pan and oven have preheated, use oven mitts to remove the pan and then immediately spray with olive oil spray and pour in the whisked eggs. Bake for 8 to 10 minutes or until set.
Allow the eggs to cool slightly before using a biscuit cutter (the size of your English muffin) to stamp out rounds of eggs. Save any scraps for breakfast burritos or use in stir fries.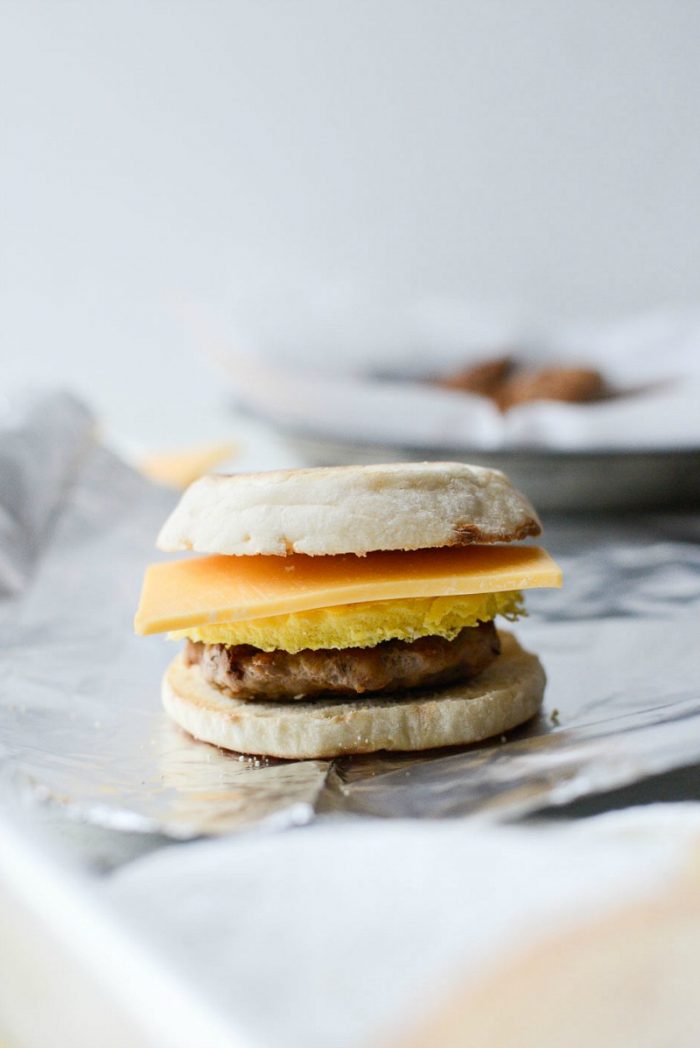 On the bottom half of the toasted English muffin, stack with a breakfast patty, scrambled egg round and a sliced of cheese. Replace the top of the English muffin. If freezing, make sure everything has cooled to room temperature before assembling. Otherwise, heat in a microwave or slip (without the muffin top) under the broiler to get the cheese melted.
To reheat if frozen:
Remove and discard the foil. Wrap the sandwich in paper towel and microwave for 2 to 2-1/2 minutes, flipping halfway through.
Enjoy! And if you give this Sausage Egg and Cheese Breakfast Sandwich recipe a try, let me know! Snap a photo and tag me on twitter or instagram!
This post may contain affiliate links.
Buy the Cookbook: Simply Scratch : 120 Wholesome Homemade Recipes Made Easy Now available on Amazon »
THANK YOU in advance for your support!