Asian Cabbage Chopped Salad is a simple and fresh salad of finely chopped cabbage and romaine lettuce tossed with fresh cilantro, shredded carrot, green onion and celery. Topped with toasted almonds, cashews and a flavorful sesame ginger dressing!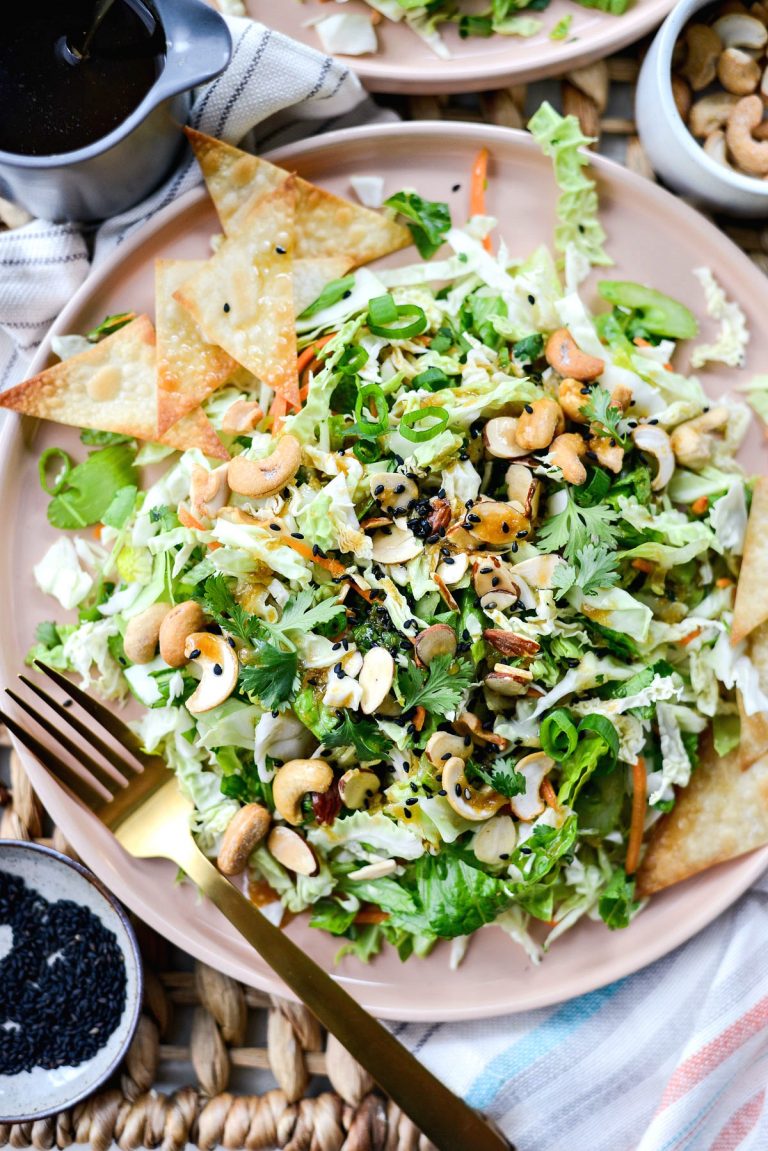 Meet my latest salad craving! Back in early July, my friend Nichole brought a version of this salad over and it was love after first bite. The combination of the cabbage and celery, cashews and almonds with the flavorful dressing was mind blowing. If you're familiar with the Taylor Farms bagged salad you can get at Costco, then you already know.
This Asian Cabbage Chopped Salad has a blend of chopped cabbage, carrots, and celery is mixed with fresh cilantro and topped with toasted almonds and salty, buttery cashews and then drizzled with a sesame ginger dressing. The only thing I do differently is add green onions and I bake my own wontons instead of purchasing fried store-bought wontons. Making this salad a little lighter than the original.
It's a phenomenal vegetarian salad but would be equally delicious with chopped grilled or roasted chicken on top for some added protein!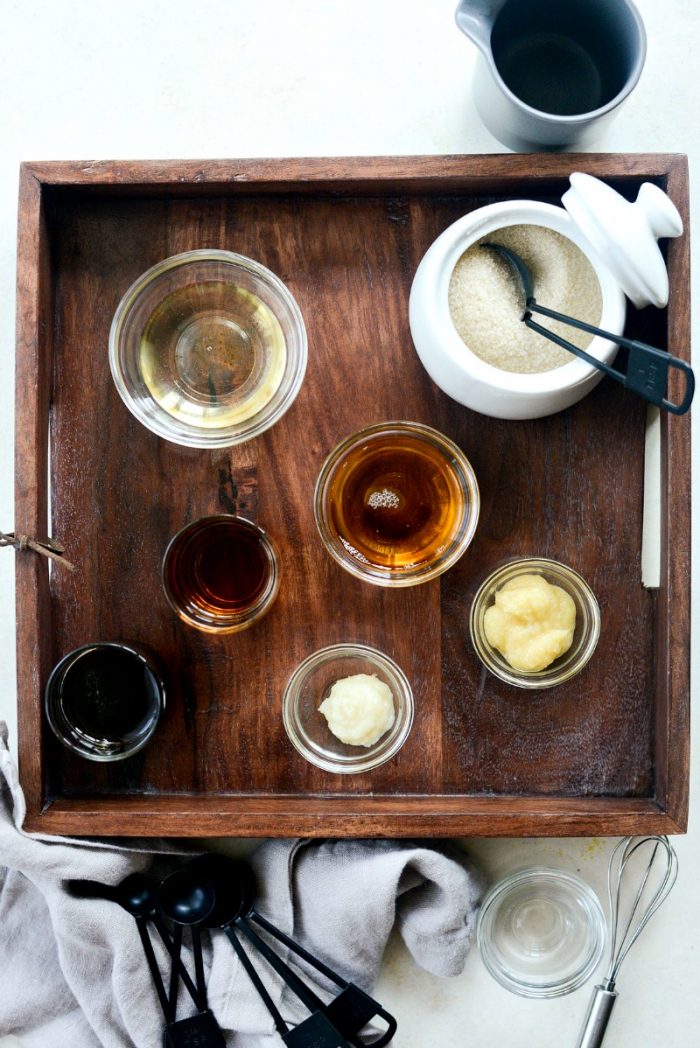 To Make The Sesame Ginger Dressing You Will Need:
coconut aminos or low-sodium tamari
rice wine
toasted sesame oil
extra light olive oil
sugar
fresh ginger
garlic
To a mixing bowl, measure and add in 3 tablespoons coconut aminos (or low-sodium tamari), 3 tablespoons rice wine, 2 tablespoons toasted sesame oil, 2 tablespoons extra light olive oil, 1 tablespoon sugar, 1 tablespoon grated fresh ginger and 1 teaspoon grated fresh garlic.
What Is Coconut Aminos?
Coconut aminos is a flavorful and salty sauce made from the fermented sap of coconut palm and sea salt, yet it does not taste like coconut at all. Its consistency and deeply brown color is similar to soy sauce. It's also happens to be soy, gluten and wheat-free too. With that said, coconut aminos is a healthy substitute for those with a restrictive diet.
Whisk to combine and then set off to the side.
To Make This Asian Cabbage Chopped Salad You Will Need:
savoy cabbage
green cabbage
romaine lettuce
carrots
celery
cilantro
green onions
toasted almonds
cashews
black sesames
sesame ginger dresssing
crispy wontons
First, the crispy baked wontons!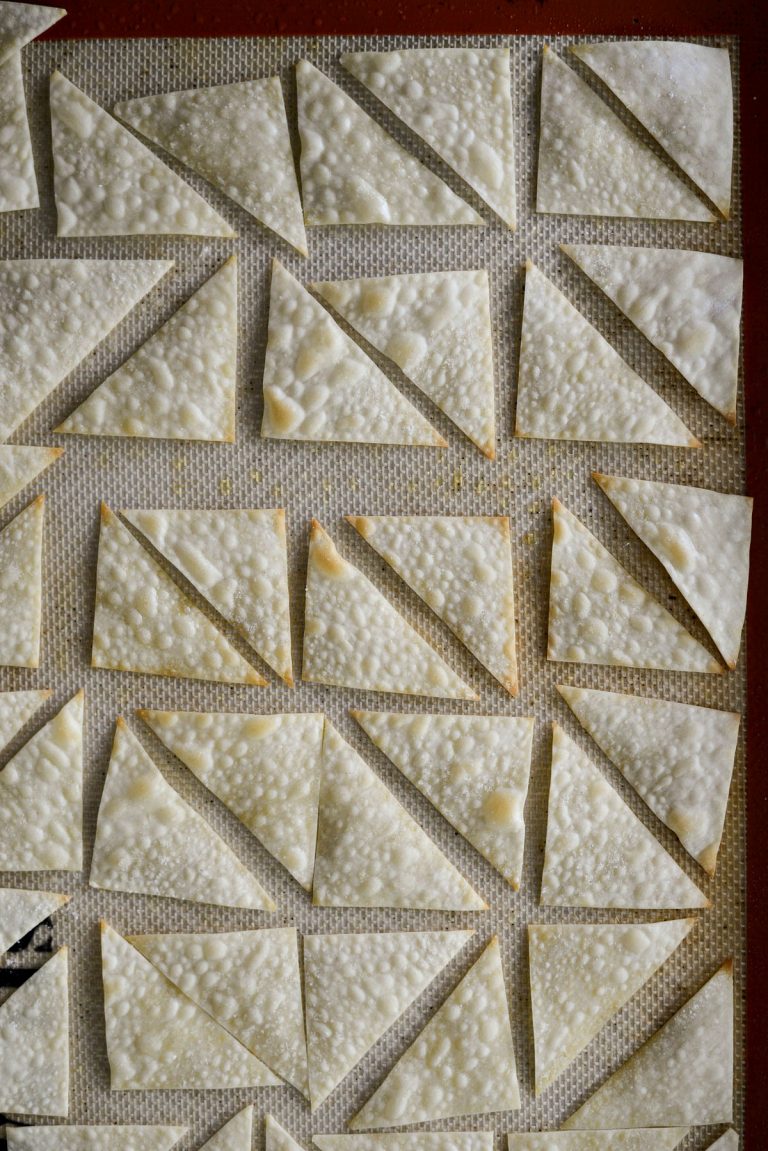 To Make the Crispy Baked Wontons You Will Need:
4 ounces fresh wonton wrappers
olive oil spray
fine kosher salt
Using a sharp knife, cut the wonton wrappers in half diagonally and then half again, so you get 4 triangles per sheet. Line a rimmed metal baking sheet with a silicone mat or parchment before spraying with olive oil. Arrange the wonton triangles onto the prepared pan and spray again with olive oil. Season with salt and bake on the middle rack of your preheated 400° oven for 3 to 5 minutes or until the edges are golden brown and the wontons are crispy. If the wontons are still chewy, bake for an additional 30 seconds to a minute.
I prefer to save calories by spraying them with olive oil and baking them in the oven because they're just as crispy and delicious as deep-fried.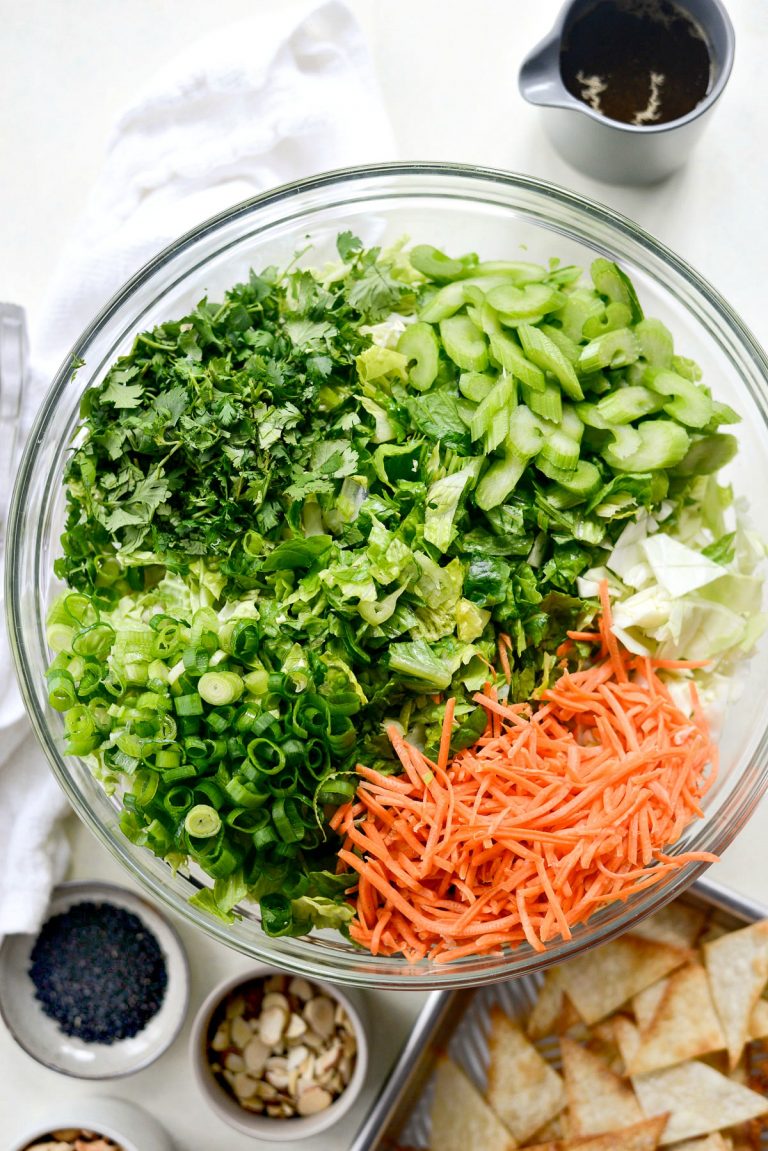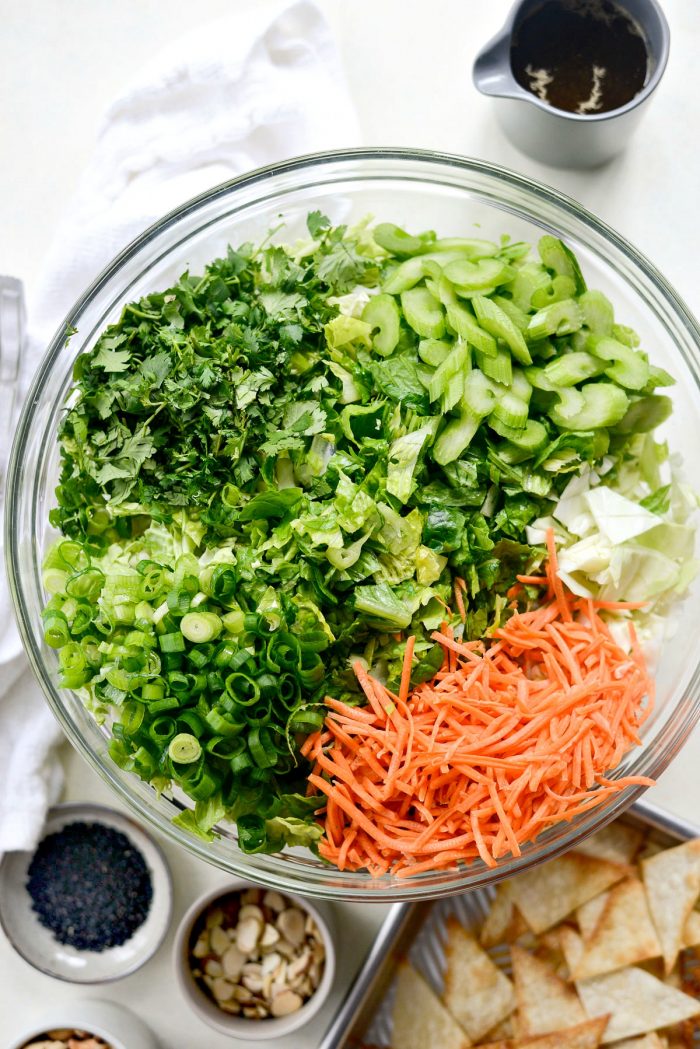 In a large mixing bowl, add 3 cups each chopped savoy and green cabbage. Add in the chopped romaine, 1 cup shredded carrot, 1/2 cup thinly sliced celery, 1/3 cup chopped cilantro and 2 sliced green onion.
Use tongs to toss everything together.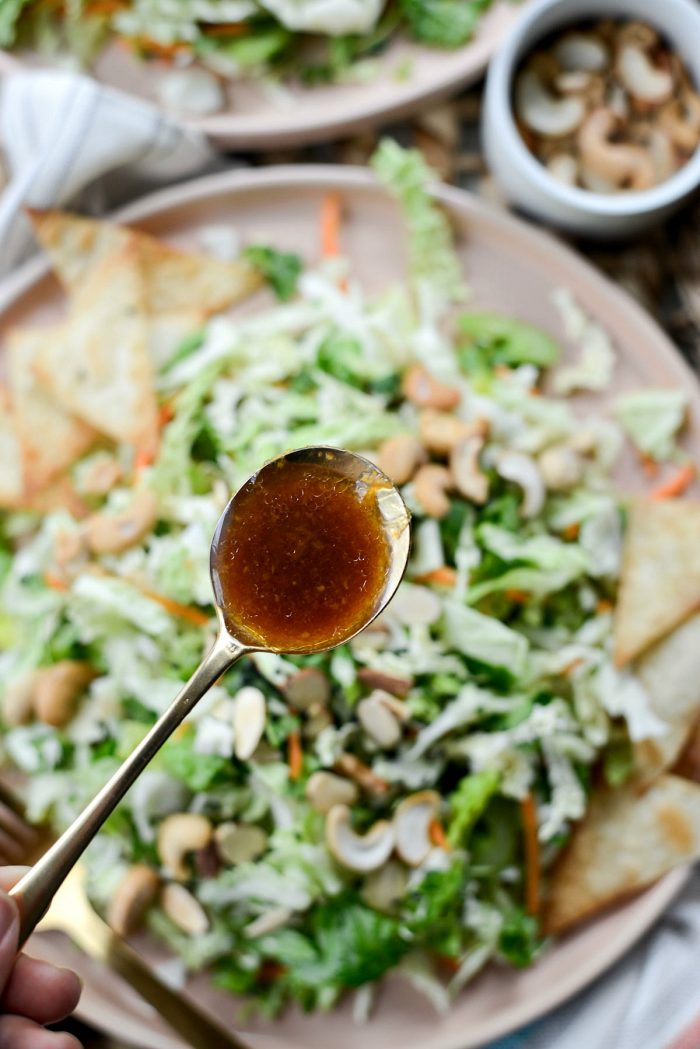 Divide the cabbage mixture among plates and top with a tablespoon of toasted almonds, cashews and a sprinkle of the black sesame seeds, more or less as desired. Drizzle with the sesame ginger dressing and wedge a few crispy wontons on the side. Or crush them over top of your salad.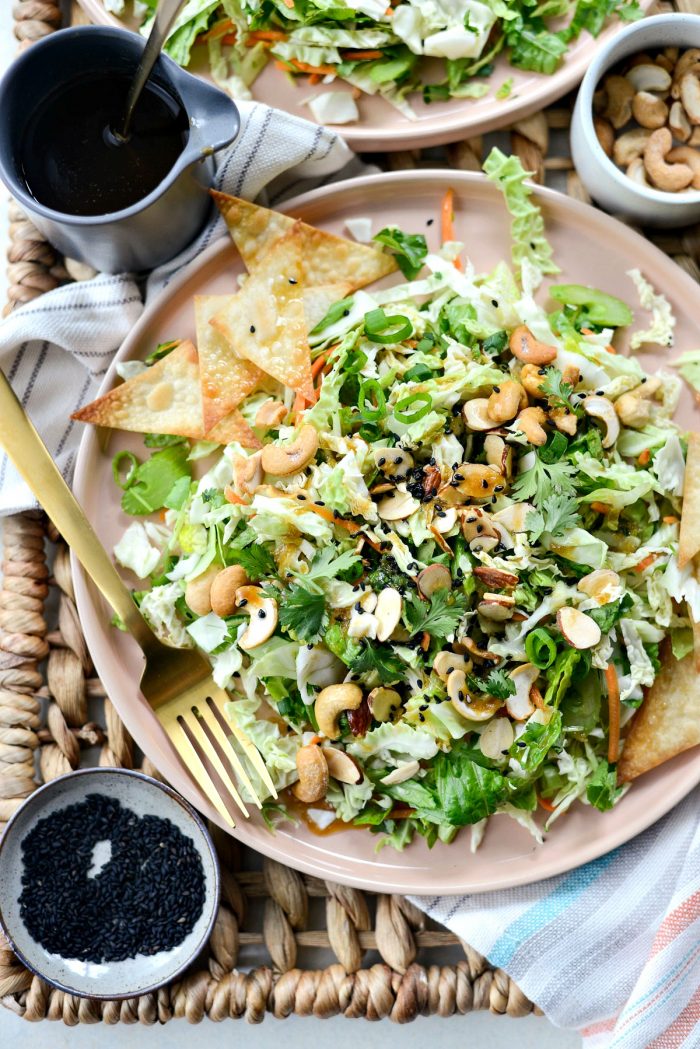 A crunchy, flavorful and light!
However if you're looking for a little more protein, this salad is delicious with chopped grilled chicken on top. SO good!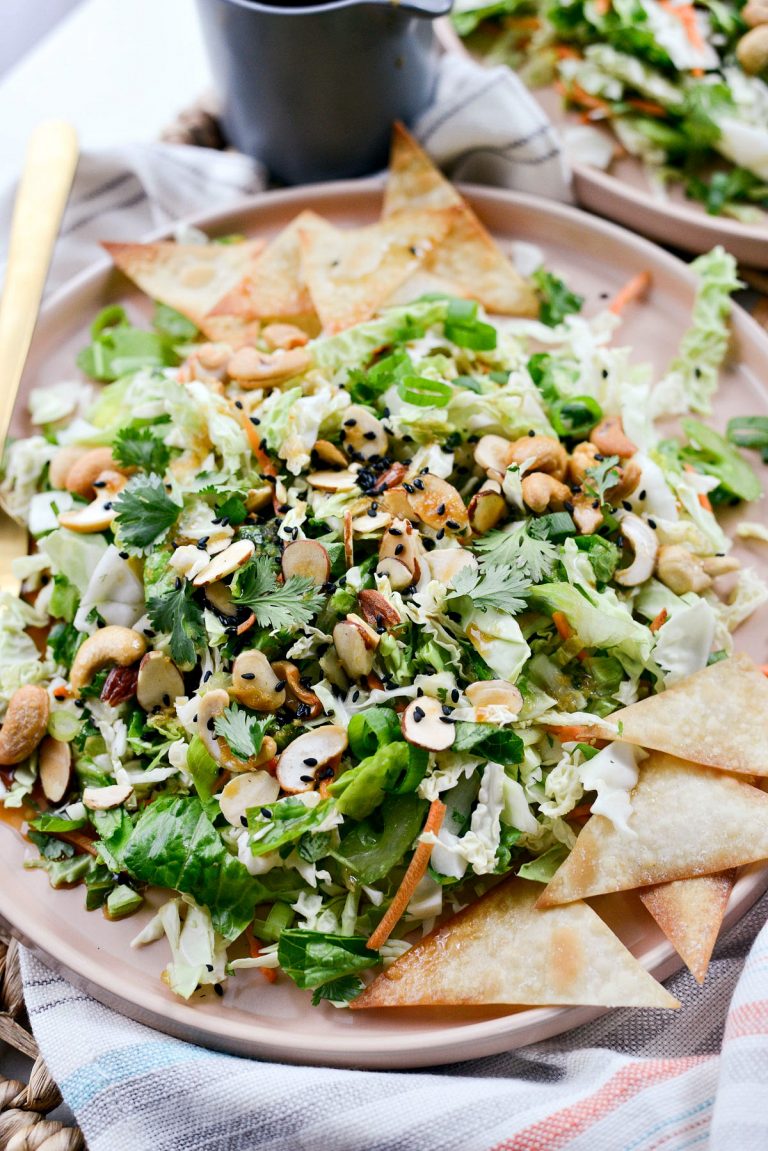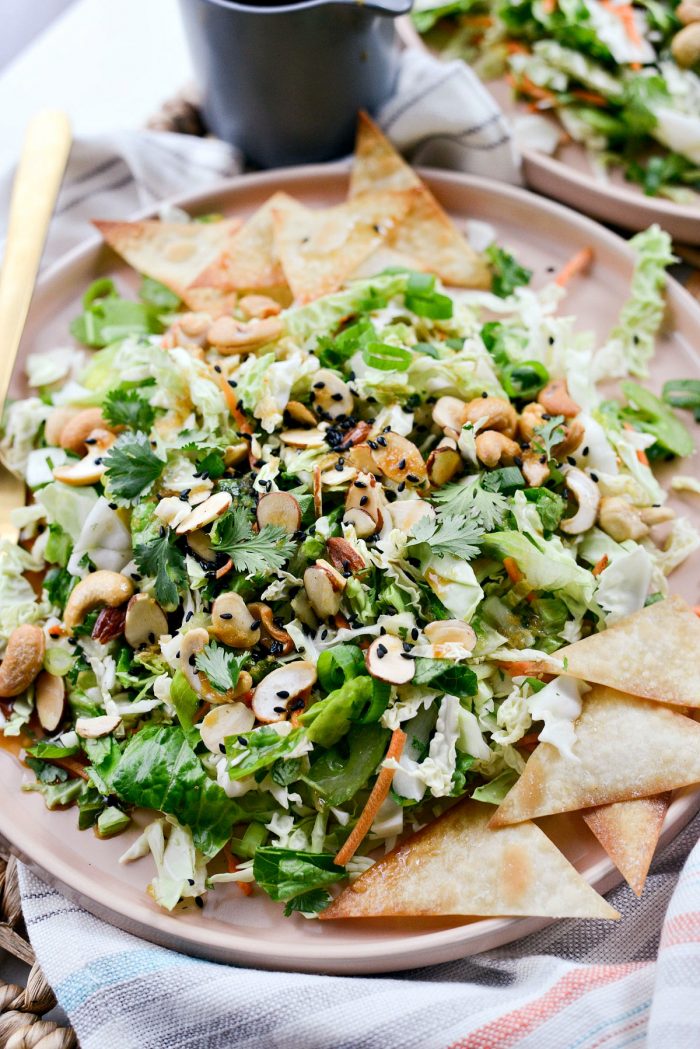 Bonus! You can make this asian cabbage chopped salad in advance for a week of delicious meal prep! Just keep the dressing, wontons and nuts off to the side and packaged separately.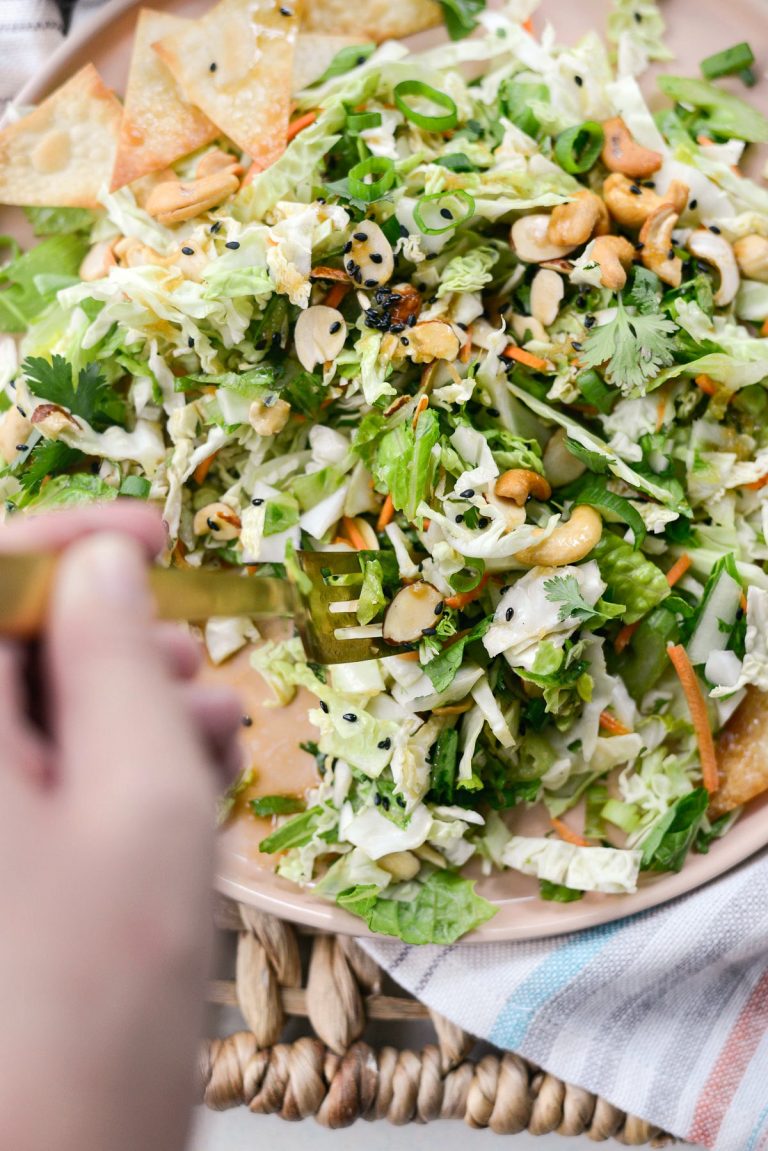 Enjoy! And if you give this Asian Cabbage Chopped Salad recipe a try, let me know! Snap a photo and tag me on twitter or instagram!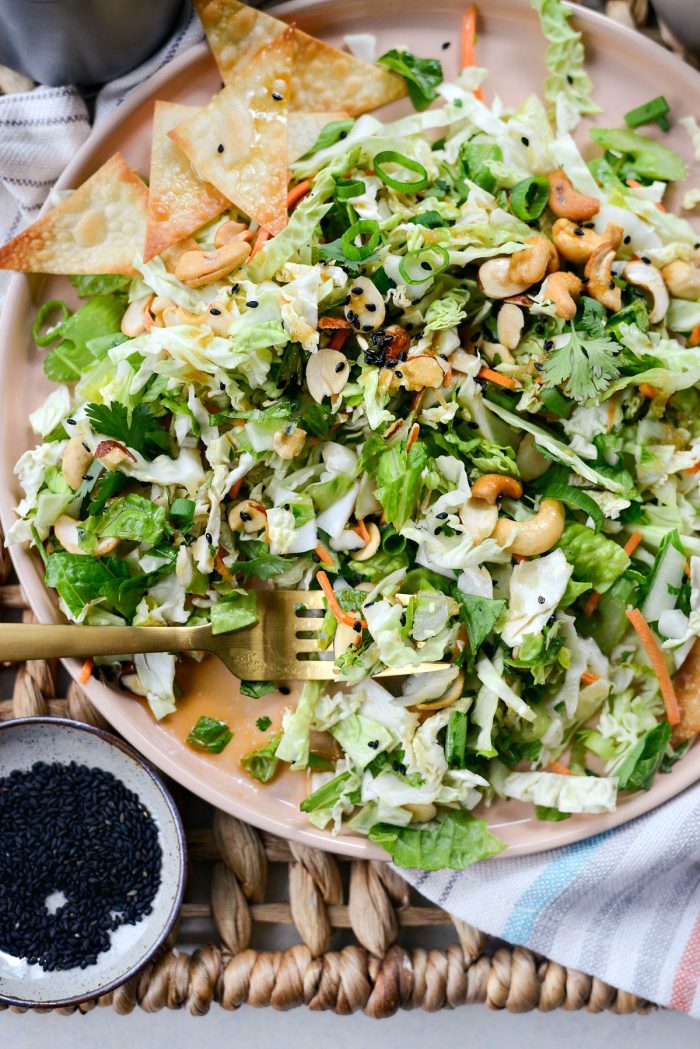 This post may contain affiliate links.
Buy the Cookbook: Simply Scratch : 120 Wholesome Homemade Recipes Made Easy Now available on Amazon »
THANK YOU in advance for your support!