You only need a handful of ingredients to make these Easy Homemade Cannolis! Crisp cannoli shells are filled with a lightly sweetened whipped ricotta with hints of citrus and vanilla. The ends are dipped in chocolate chips, toasted almonds or pistachios.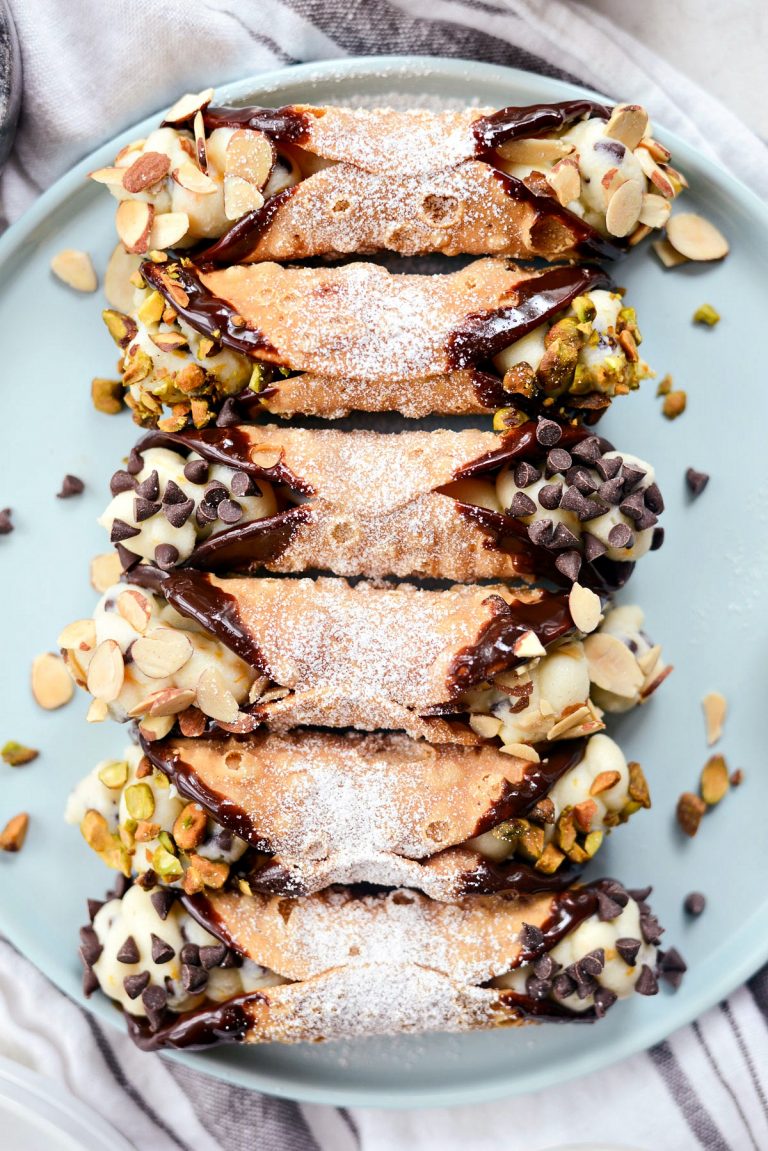 Cannolis are something I've grown to love, especially in the summertime. You get the crispy crunchy shell and then the cool, lightly sweetened whipped ricotta follows with it, hints of citrus and bits of chocolate throughout! It's a dreamy combination.
I do however make a quick espresso chocolate sauce to dip the ends in before I fill them with the most ridiculously addictive ricotta filling.
They are super simple and the perfect cool treat on a hot summer day.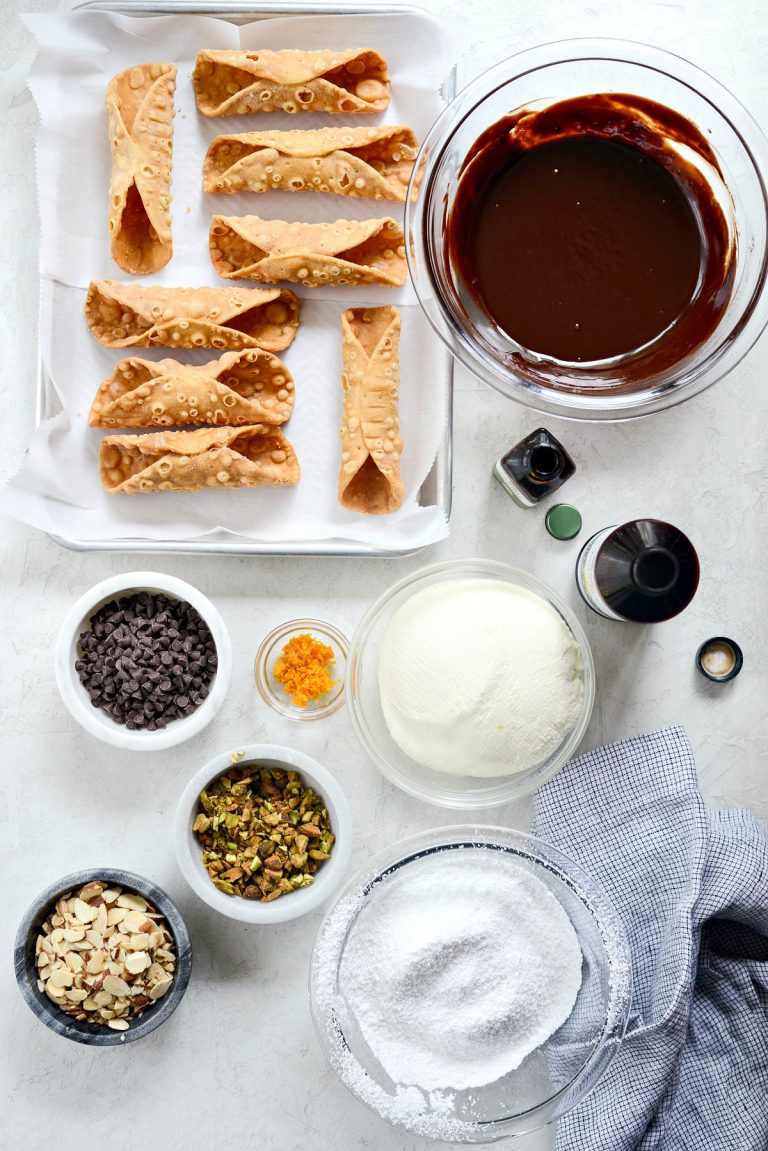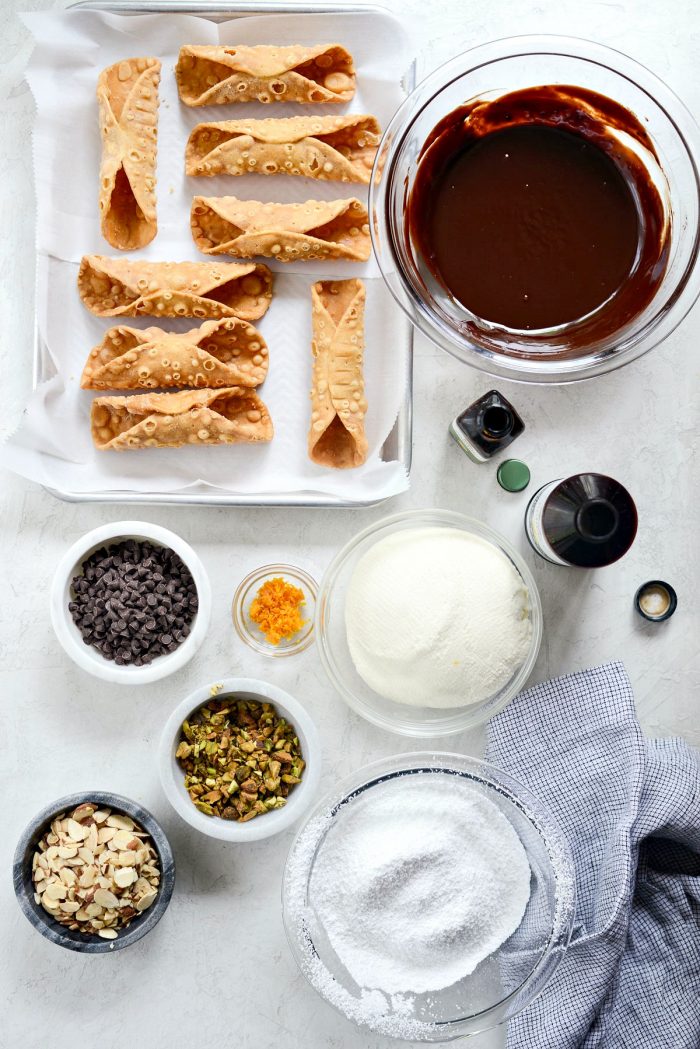 Here's what you need to make these easy homemade cannolis:
2 cups ricotta cheese, drained
8 cannoli shells [homemade or store bought]
4 ounces semi-sweet chocolate
1 tablespoon espresso powder dissolved in 1/4 cup boiling water
3 tablespoon coconut oil
1 cup powdered sugar, sifted
1 teaspoon orange zest
1-1/2 teaspoons pure vanilla extract
1/4 teaspoon lemon extract
1/4 cup mini chocolate chips, plus more for dipping cannolis
chopped pistachios, for dipping cannolis
toasted sliced almonds, for dipping
With that said, I'll admit I don't make my own shells. You know me and my fear of deep frying, so I leave that to the pros aka. Alessi.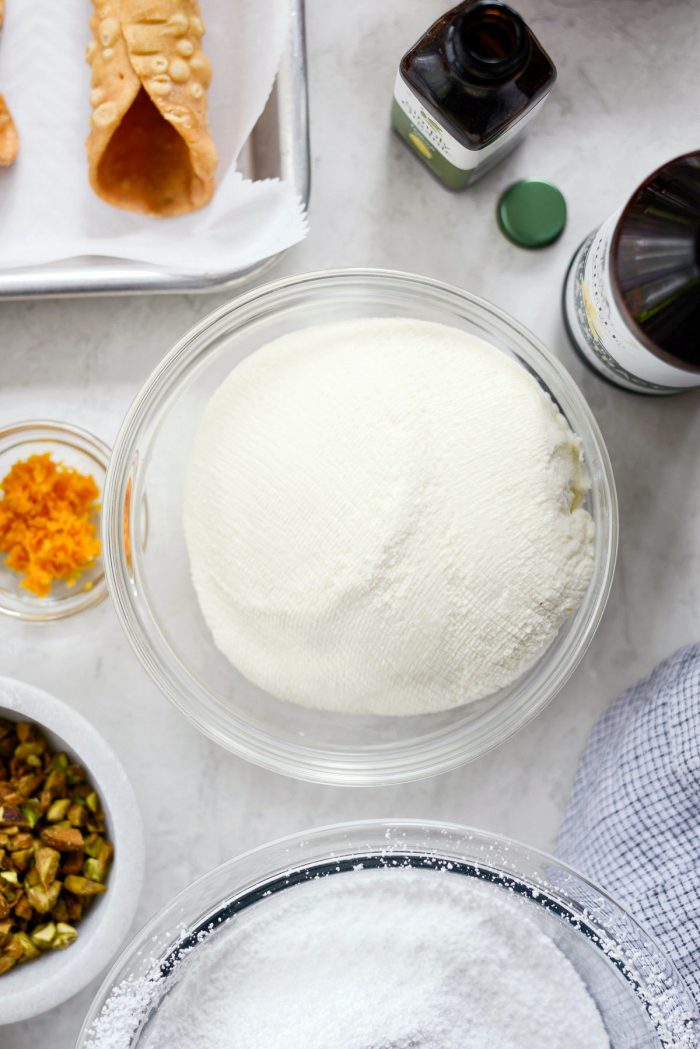 First, the ricotta. The day before you plan on making cannolis, wrap the ricotta in a couple layers of cheesecloth. Next, place it into a fine mesh strainer that is set over a larger bowl. Place a small plate on top of the wrapped ricotta and weigh it down with a heavy can or two. Lastly, place the whole thing into your fridge for 18 to 24 hours. This is enough time to drain any liquid from the ricotta.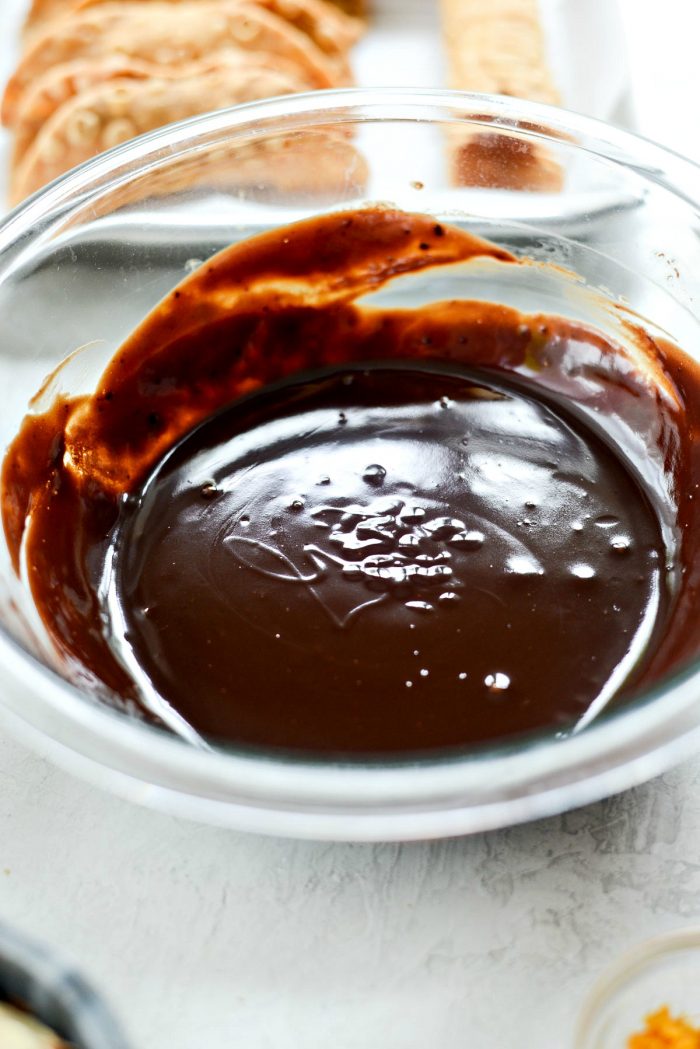 Meanwhile, here's how to make the espresso chocolate sauce: In a medium bowl, set over a pot with simmering water; melt the chocolate with the prepared espresso (1 tablespoon + 1/4 cup boiling water) and the coconut oil until smooth. The simmering water shouldn't touch the bottom of the bowl.
Then allow this mixture to cool and set up a bit before dipping the cannoli shells.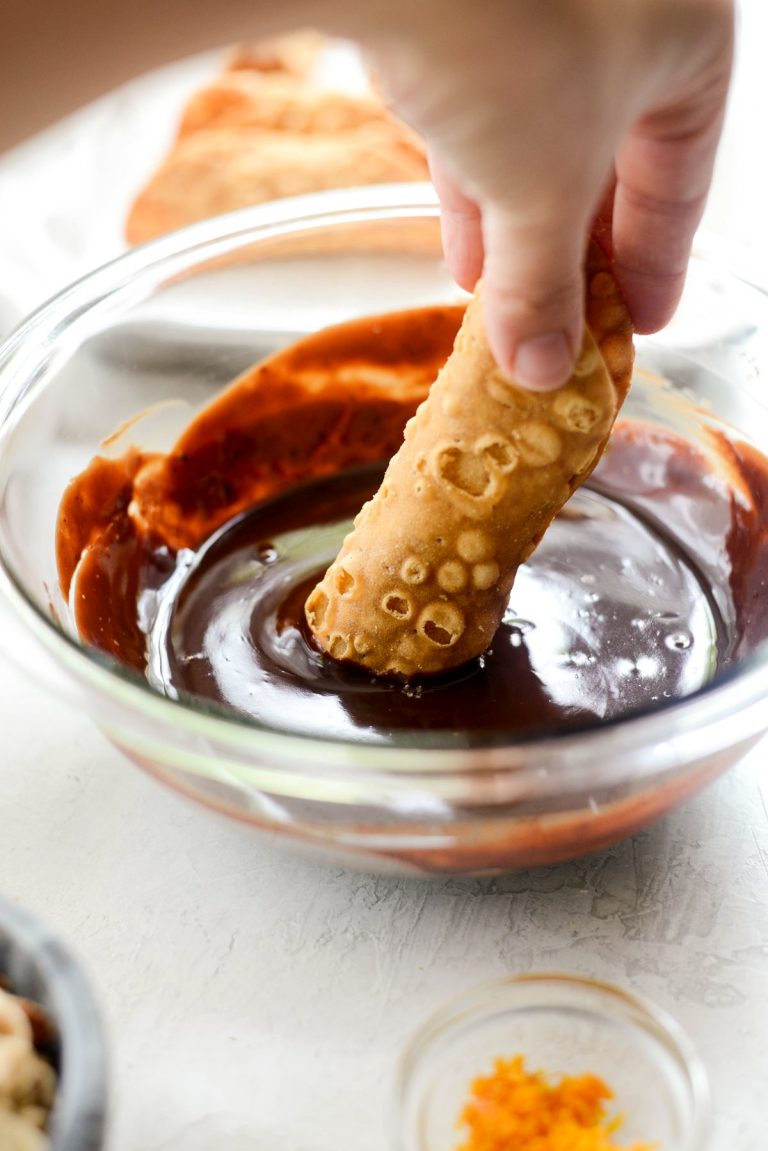 Next, dip the ends of each side of the cannoli shells into the espresso chocolate. Then place onto a parchment lined baking sheet and pop them into your fridge. This will harden the chocolate, creating a shell.
For the filling:
Meanwhile, in a medium mixing bowl, whip the strained ricotta, sifted powdered sugar, orange zest, vanilla and lemon extract until smooth.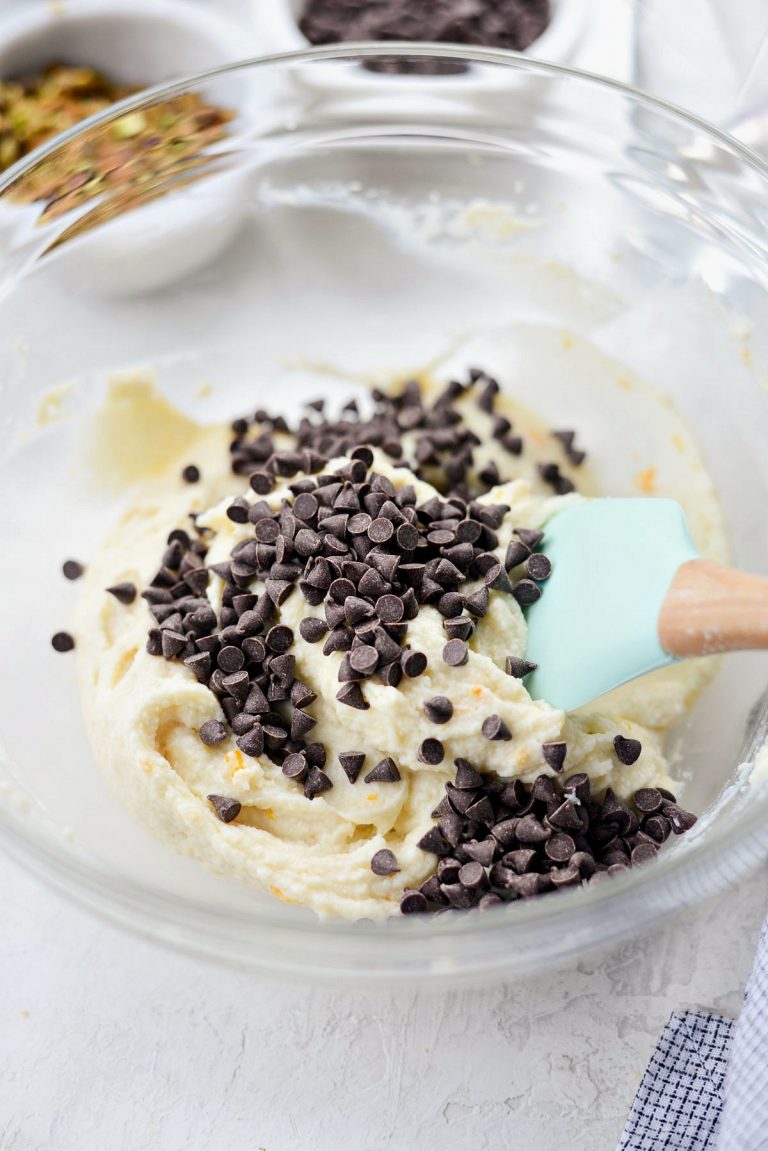 Next, fold in 1/4 cup of the mini chocolate chips and then transfer this mixture to a piping bag that is fitted with a piping tip. Make sure the hole in the tip is large enough to pass a mini chip because otherwise it may get clogged.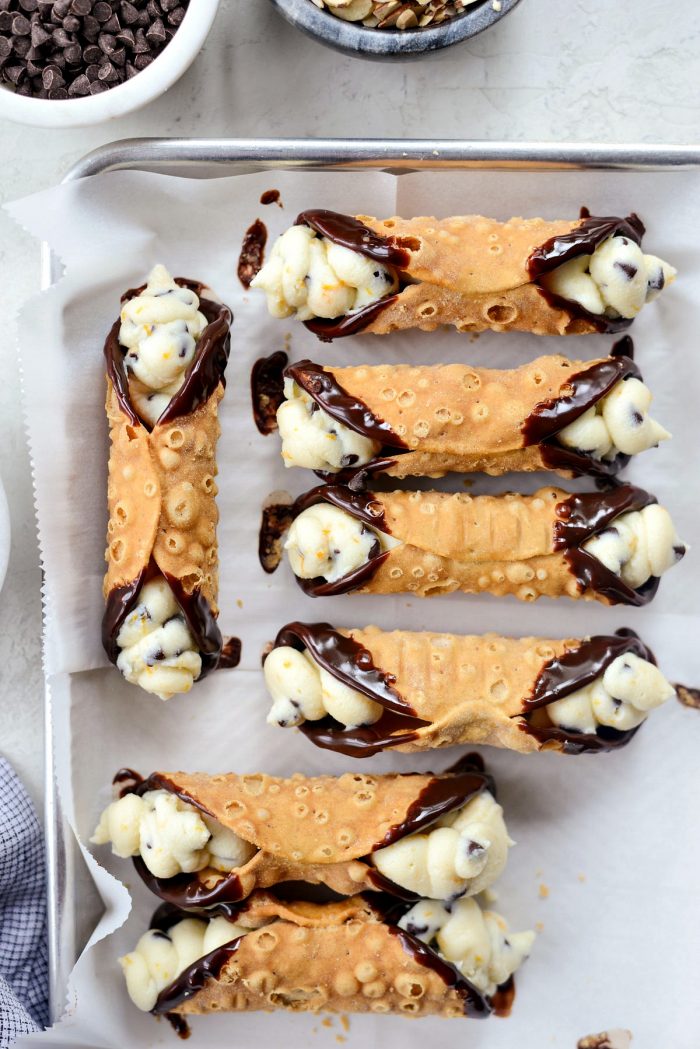 Then grab the bag with the filling and pipe it into both ends of each of the cannoli shells.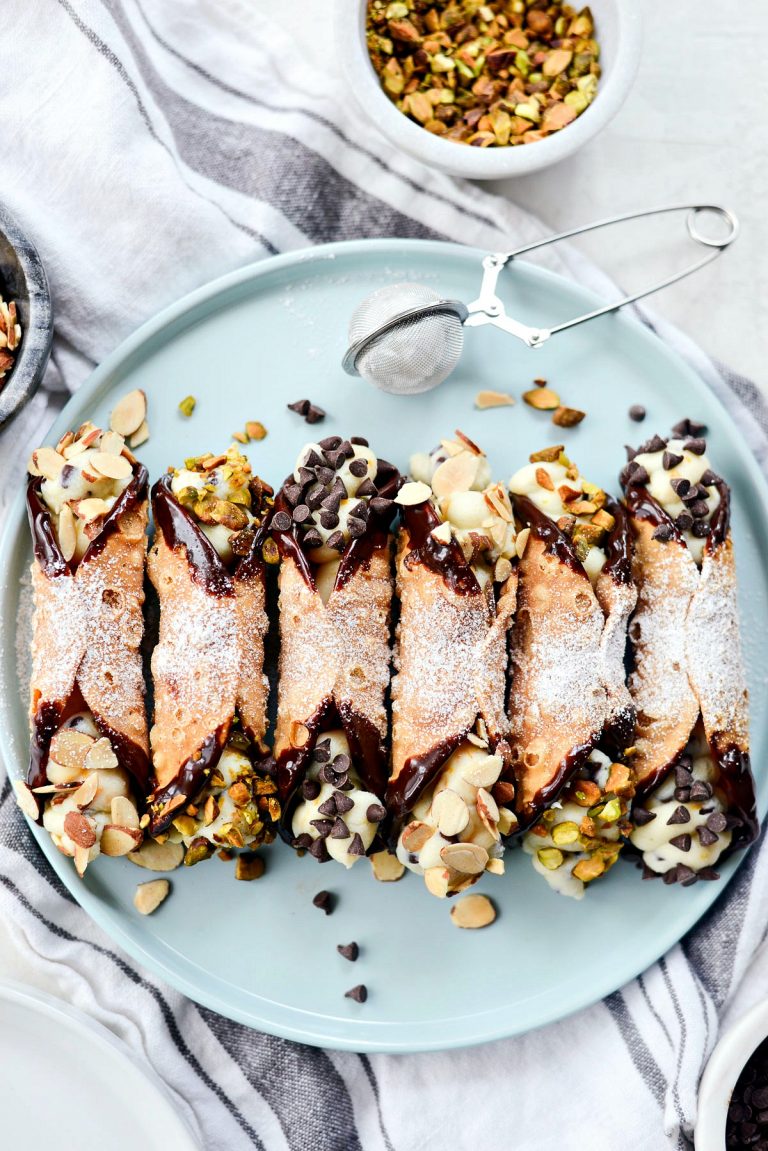 Lastly, dip the end of each filled cannoli into mini chocolate chips, toasted almonds or chopped pistachios or leave them plain. Then keep chilled until ready to serve.
Let's get a close up shall we?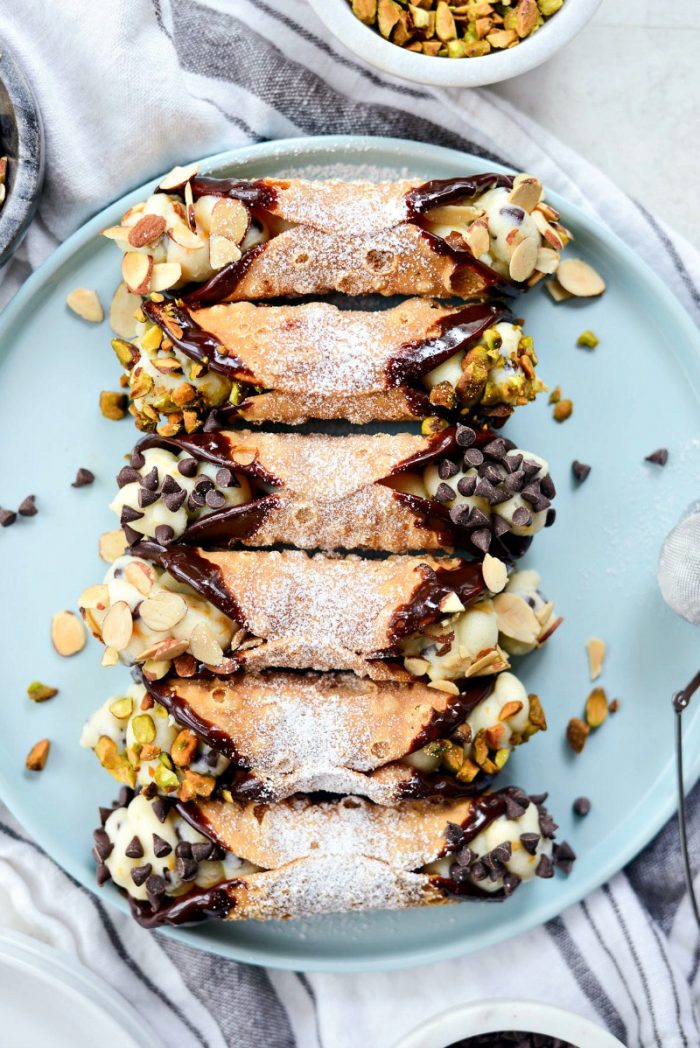 These easy homemade cannolis are best if served the same day as made. They can still be enjoyed the next day, however the shells just might lose a little bit of their crunchy texture. However they're still just as delicious!
Enjoy! And if you give these Easy Homemade Cannolis a try, let me know! Snap a photo and tag me on twitter or instagram!
This post may contain affiliate links.
Buy the Cookbook: Simply Scratch : 120 Wholesome Homemade Recipes Made Easy Now available on Amazon »
THANK YOU in advance for your support!