Making a Classic Moscow Mule is simple! all you need is vodka, fresh lime juice and ginger beer. Serve in a copper mug with a wedge of lime and sprig of mint for the ultimate refreshing cocktail! This recipe yields 2 adult beverages but can easily be doubled or tripled to serve more. As always, please drink responsively.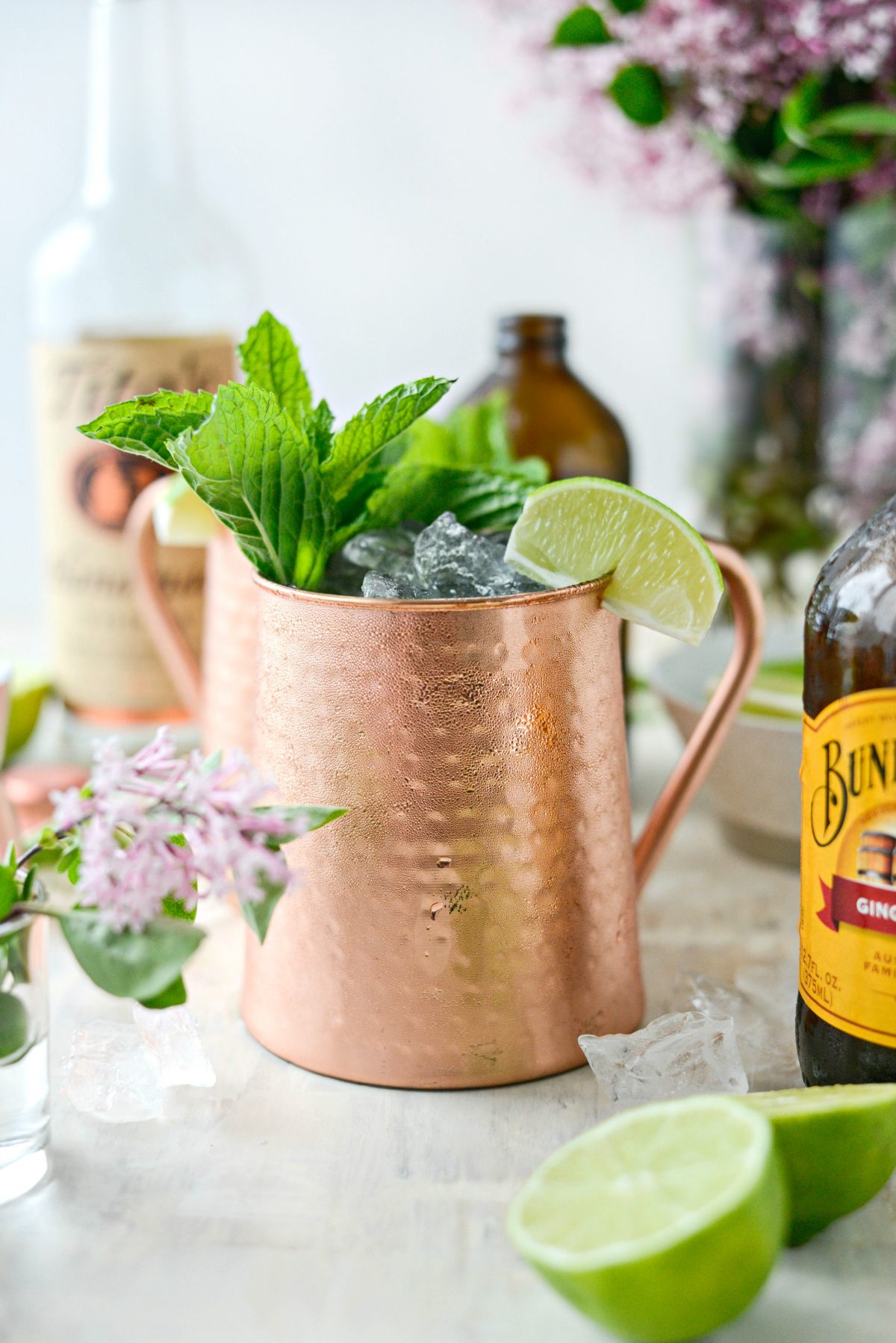 As spring comes to a close in the next week, things are going to (hopefully) start heating up around here. I can think of nothing better than a frosty copper mug of a classic Moscow mule to cool down and quench my thirst. Really any icy cold adult beverage will do, I'm not picky.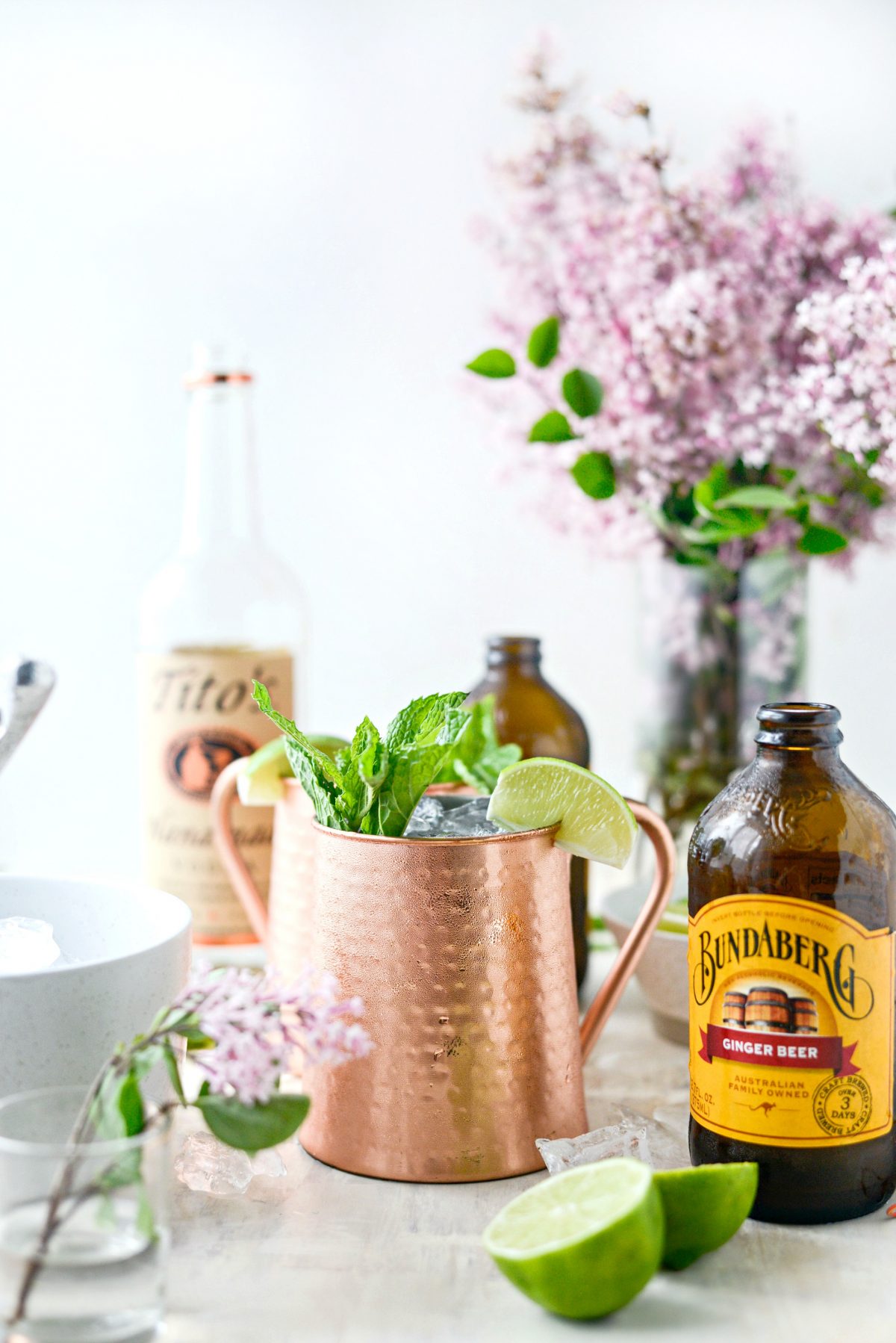 I'm not really sure when I had my first mule, but it was definitely within the last 5 years or so. Before then, my life was so boring. I remember only ordering it because a) my friends were and b) the copper mugs. However, it was love after first sip. Vodka, lime juice and ginger beer – what's not to like? Now if this was me at home on a Friday night, I'd have about 3 more wedges of lime in my copper mug because there's no such thing as too much lime.
At least, in my opinion.
Here is what you need to To make this classic Moscow mule recipe:
vodka [we like Tito's]
fresh lime juice
ginger beer
ice
lime wedges
mint
The better quality ginger beer, the better the Moscow mule. Again, this is my opinion (and totally not sponsored) but Bundaberg is my go-to. I've found Costco carries a giant case of them.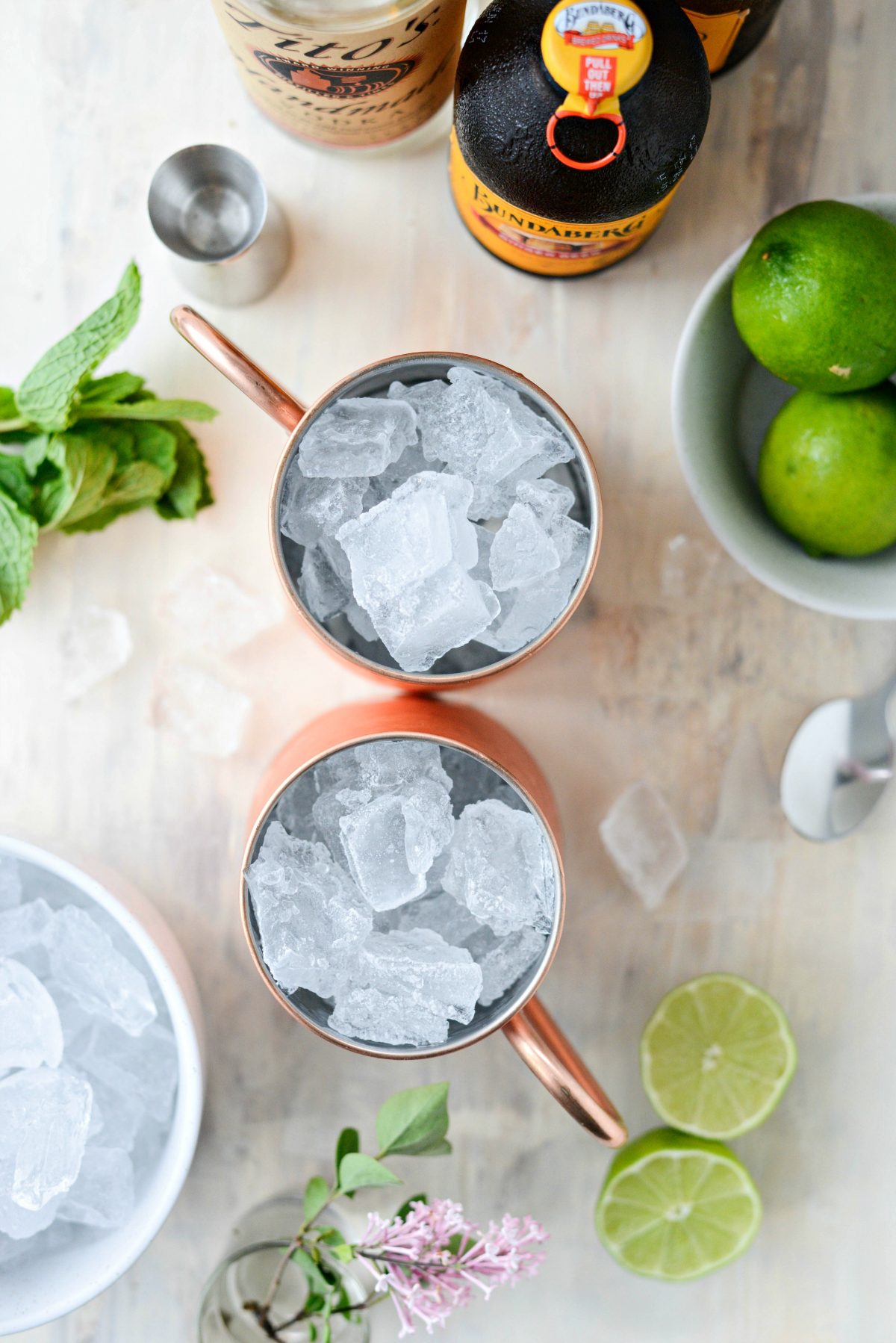 First, fill your copper mugs to the top with ice. This is how I make most of my drinks, especially if the liquor or mix-ins are room temperature.
Next measure and pour 2 ounces vodka, 1/2 ounce lime juice and 8 to 12 ounces of ginger bear into each mug. Please note, that the amount of ginger beer will depend on the size of your mug. Also, if using smaller glasses or mugs, scale back the vodka to 1 to 1-1/2 ounces.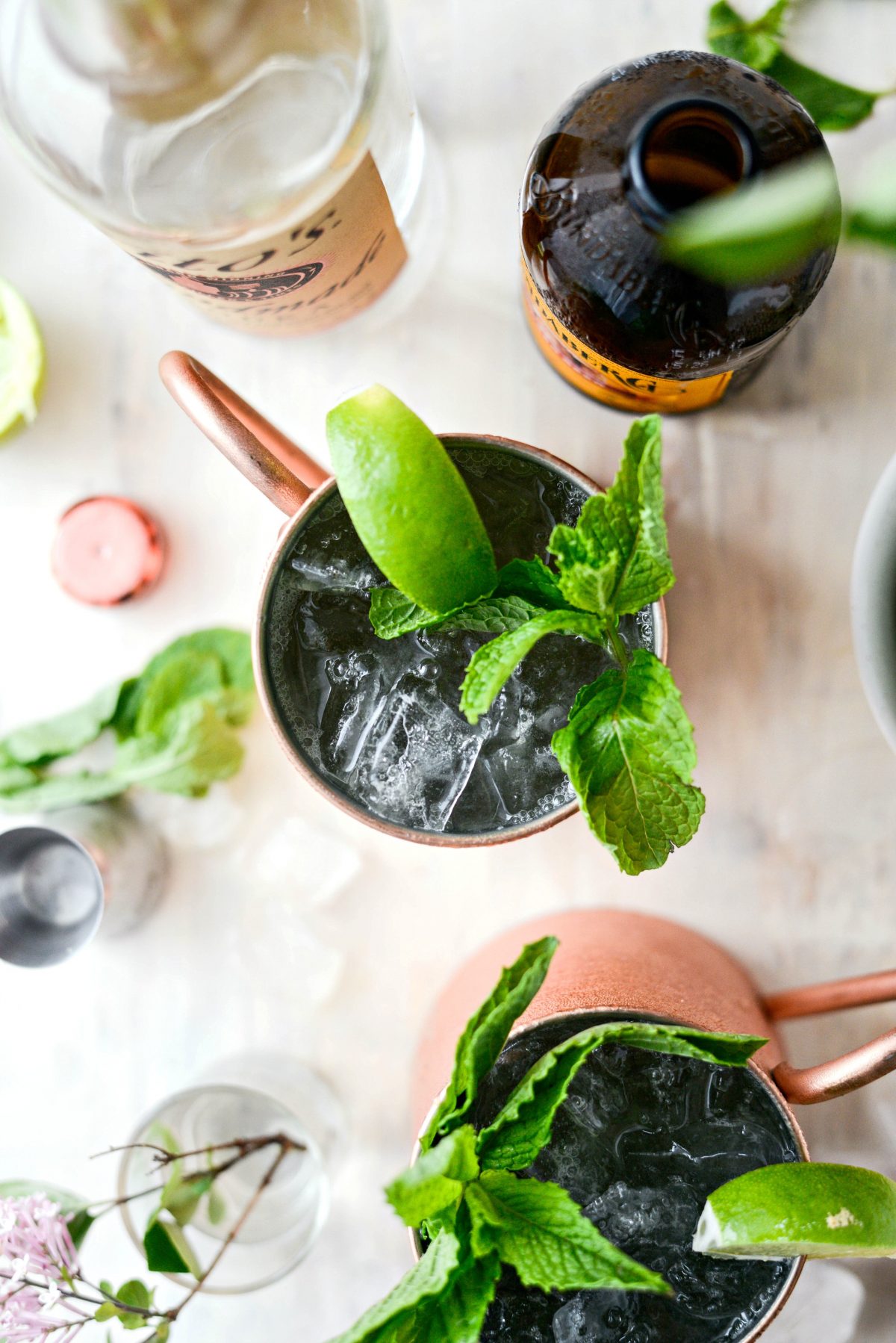 Lastly, garnish with a sprig of fresh mint and a wedge (or 3) of lime.
Finally squeeze in the lime, sip and relax.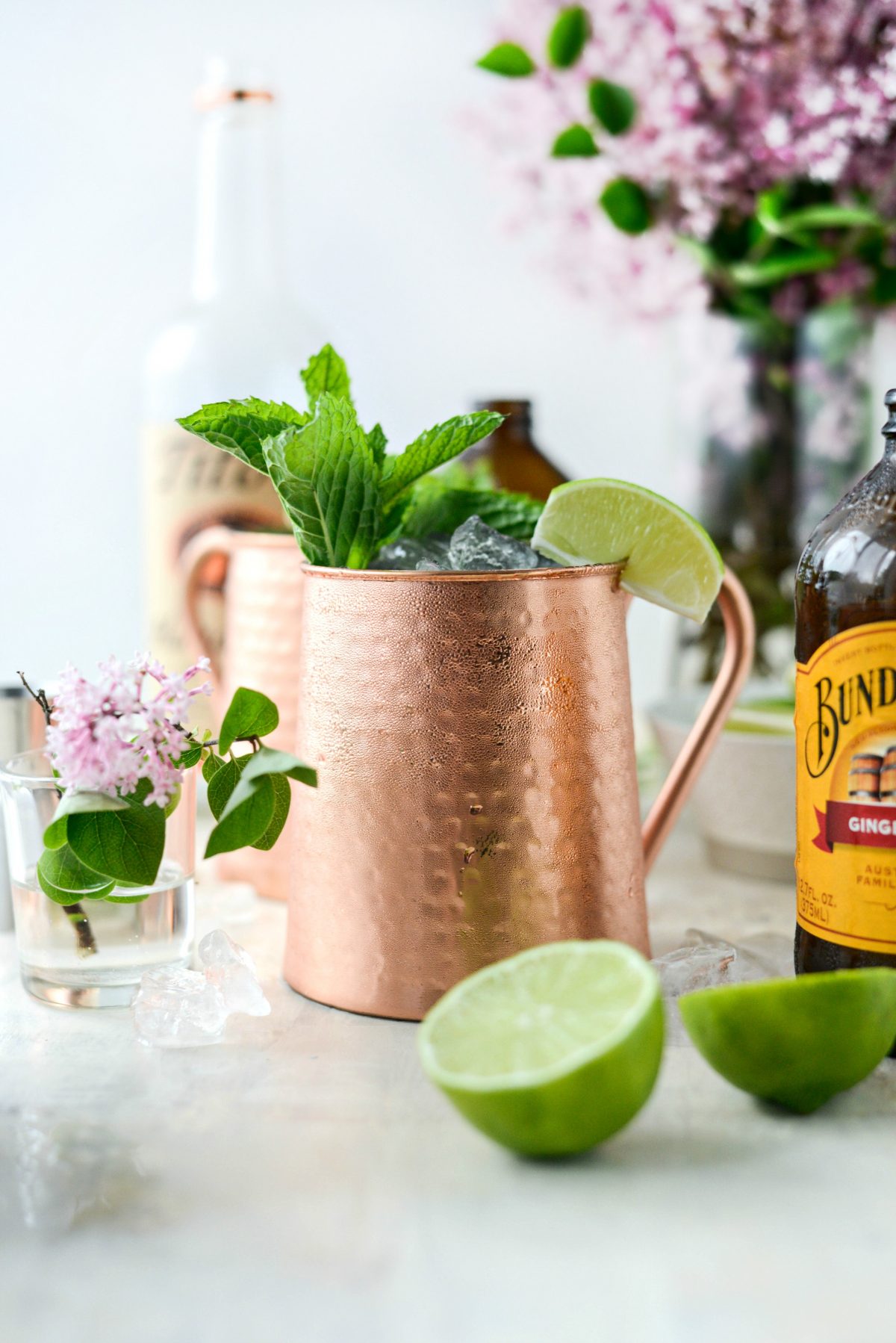 Enjoy! And if you give this Classic Moscow Mule recipe a try, let me know! Snap a photo and tag me on twitter or instagram!
This post may contain affiliate links.
Buy the Cookbook: Simply Scratch : 120 Wholesome Homemade Recipes Made Easy Now available on Amazon »
THANK YOU in advance for your support!