Breakfast is served and on the menu is this Lemon Ricotta Puff Pancake. Also known as a dutch baby, this recipe calls for the usual pancake ingredients, plus fresh lemon zest and creamy luxurious ricotta cheese. Topped with a simple wild blueberry syrup.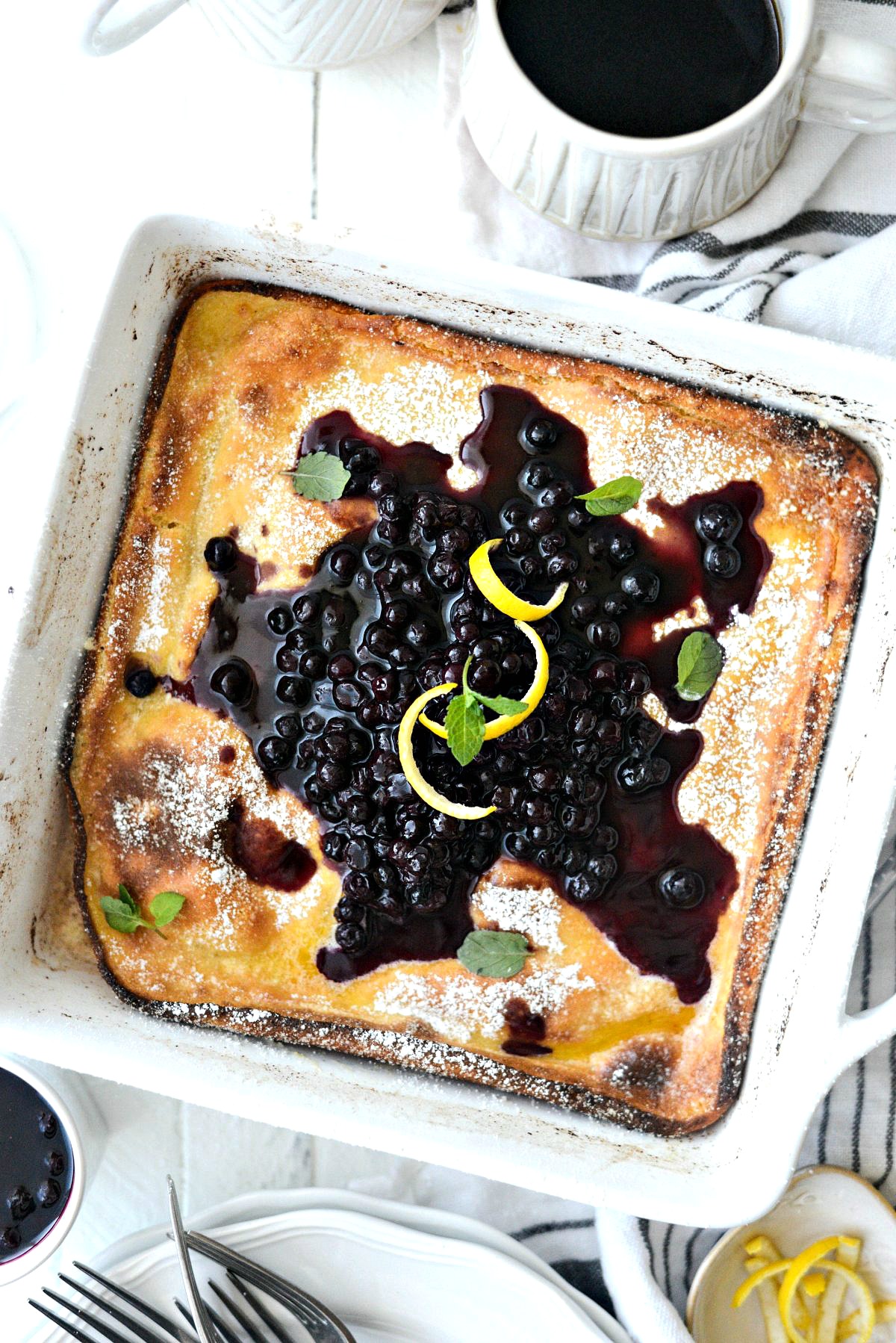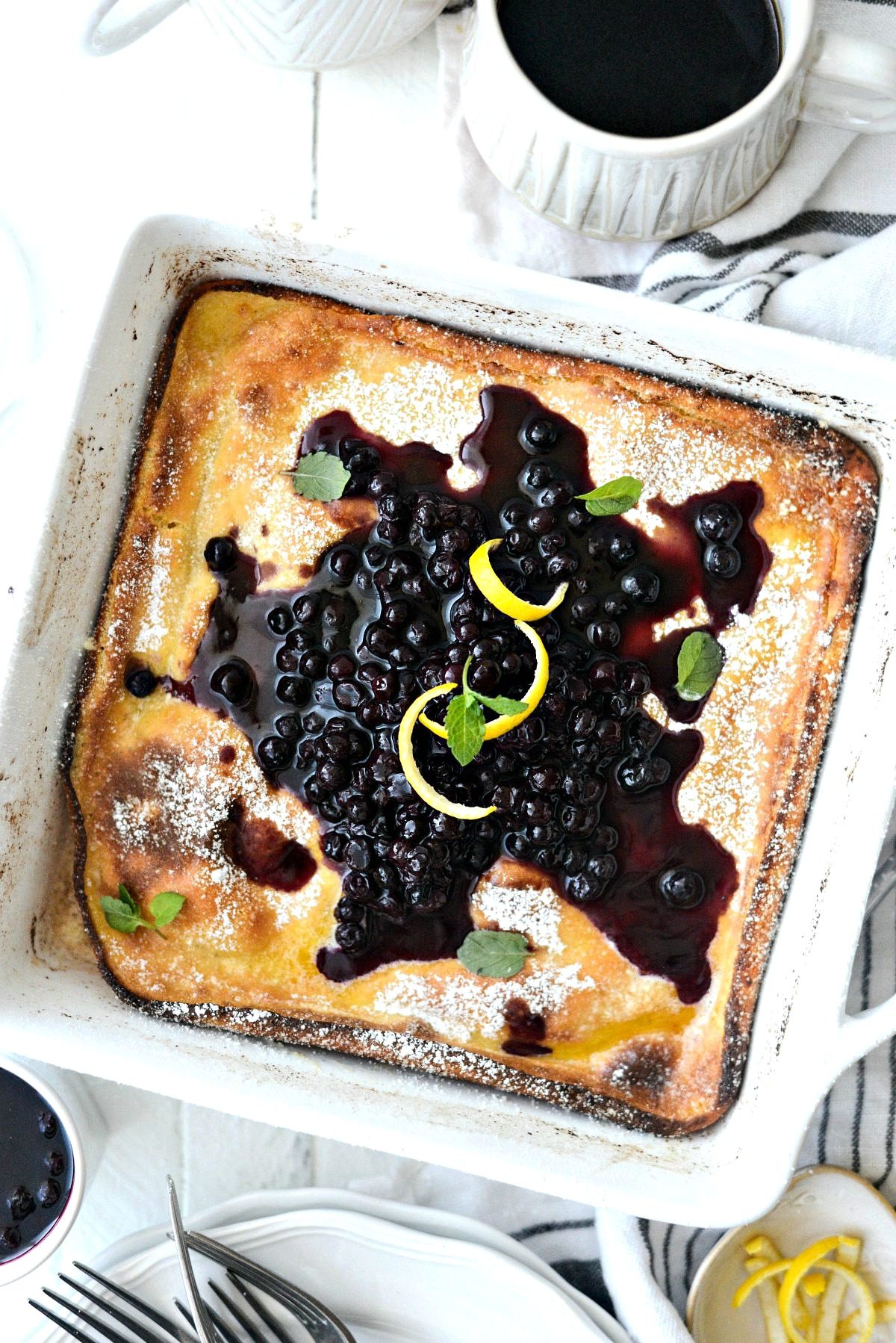 I love breakfast. This is not new. And I especially love pancakes, bonus points if it's lemon and blueberry. Speaking of pancakes (and lemon and blueberries)… I made us a puff pancake! Similar to a dutch baby, a puff pancake is literally the same thing. Instead of a hot skillet, the pancake batter is poured into a hot buttery casserole dish and then bakes until golden and of course puffy.
In this particular puff pancake, fresh lemon zest is combined with ricotta cheese in a simple pancake batter. It bakes and puffs and is oh-so-glorious. And if that wasn't amazing, I also made a wild blueberry syrup . Spoon this over once the pancake is baked and golden.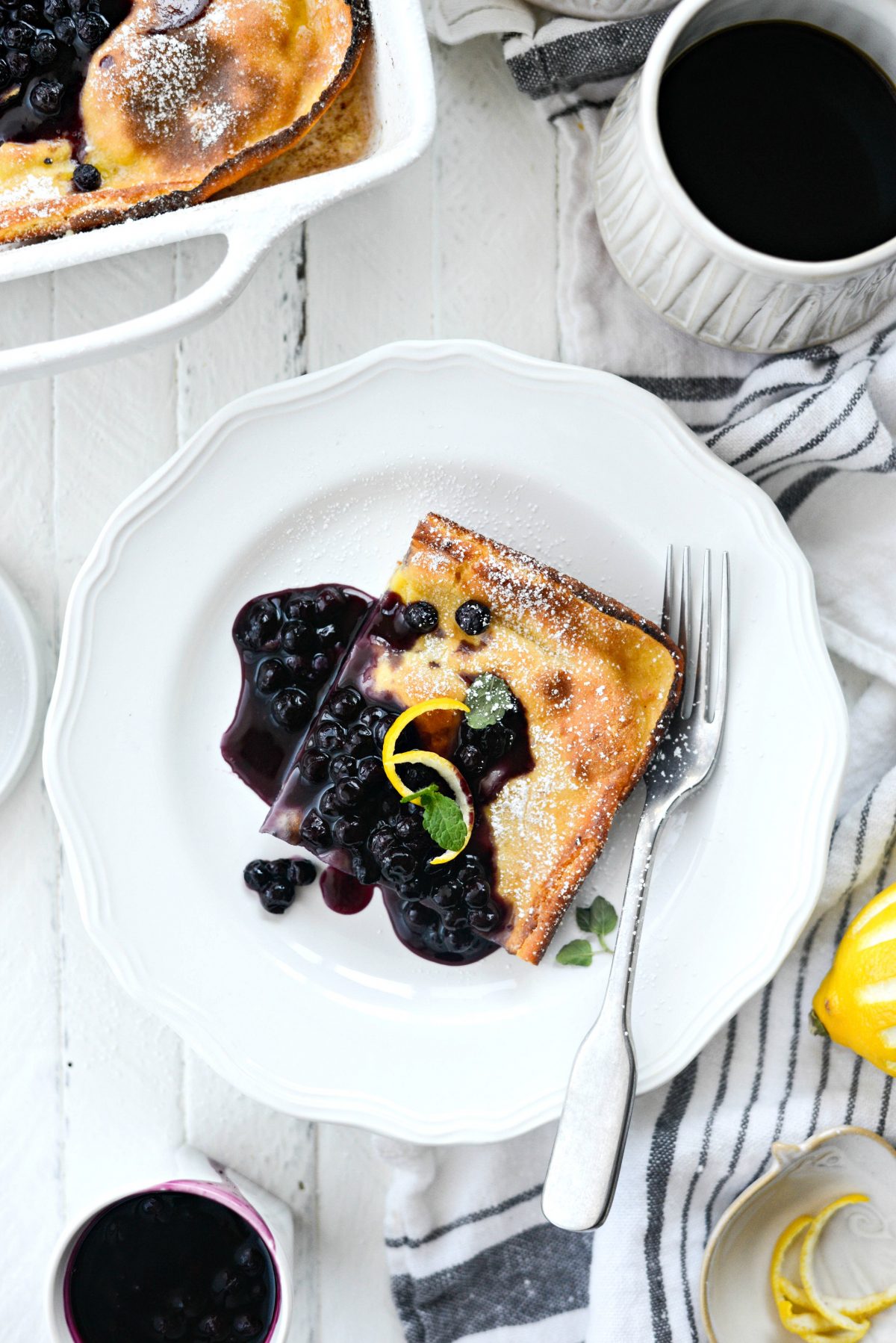 Heaven is the combination of lemon and wild blueberries. Prepare to fall in love!
To make this Lemon Ricotta Puff Pancake You Will Need:
3 large eggs
10 tablespoons or 1/2 cup plus 2 tablespoons unbleached all-purpose flour
1/2 cup ricotta cheese (regular or low-fat)
3 tablespoons milk
2 tablespoons granulated sugar
3/4 teaspoon pure vanilla extract
1/4 teaspoon kosher salt
zest from 1 lemon
2 tablespoons unsalted butter
For the wild blueberry syrup you will need:
2 cups wild blueberries (fresh or frozen)
1/3 cup granulated sugar
1 cup water
1 tablespoon cornstarch
In a saucepan, add the wild blueberries, sugar and water. Bring to a simmer on medium-high heat, stirring until the sugar dissolves.
Once bubbling, make the cornstarch slurry by stirring 1 tablespoon of cornstarch with 1 tablespoon cool water. Pour this into the bubbling blueberries and turn off the heat. Remove the pot from the heat and set off to the side to cool slightly.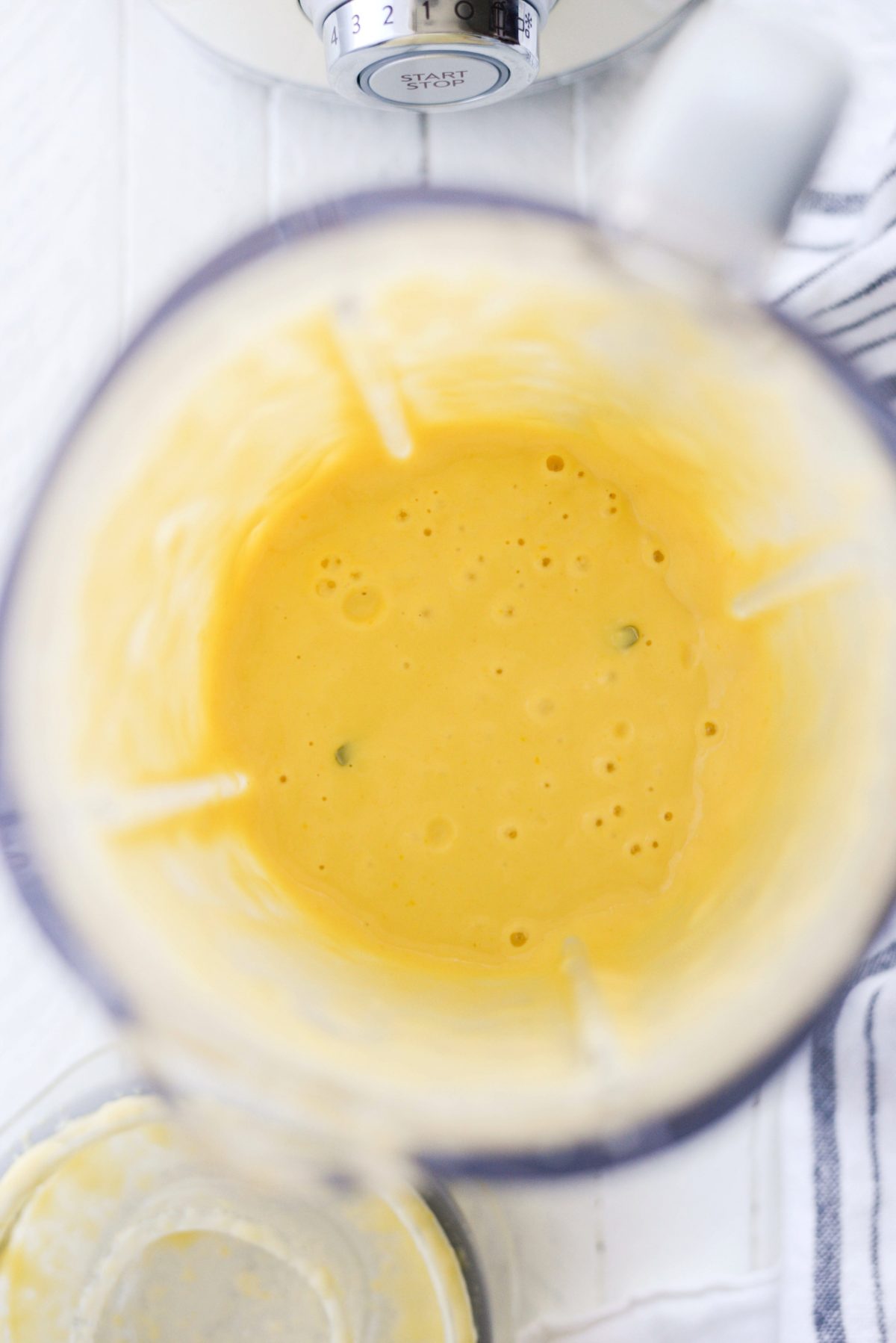 Next, in your blender add the 3 large eggs, 1/2 cup plus 2 tablespoons unbleached all-purpose flour, 1/2 cup ricotta cheese (regular or low-fat), 3 tablespoons milk, 2 tablespoons granulated sugar, 3/4 teaspoon pure vanilla extract, 1/4 teaspoon kosher salt and the zest from 1 lemon.
Secure the lid and pulse to combine. Let this batter rest for a few while your oven preheats to 425°.
Once the oven has preheated, place 2 tablespoons of butter into your 8×8 or 9×9 ceramic casserole dish. Slide the pan into your oven for 4 to 6 minutes or until the butter has melted. Watch carefully to avoid the butter from burning.
Next, use pot holders to remove the baking dish from the oven and place on a trivet. Immediately pour the pancake mixture from the blender into the butter dish. Use a spatula to scrape as much as possible out of the blender. Lastly, slide the baking dish into your oven and bake for 15 to 20 minutes.
Once the top of the puff pancake is golden and puffed up, remove and dust with powdered sugar. No additional butter is needed.
Allow the pancake to rest for to minutes before serving.
Then top the lemon ricotta puff pancake with the warm wild blueberry syrup.
Finally slice and serve with extra blueberry syrup and a cup of coffee.
The texture of this puff pancake is different from regular pancakes (thank you ricotta!) as it's more decadent and cake-like verses bread-y. The flavor of the lemon with the wild blueberries is pure perfection and although this recipe is suppose to feed 4… it's definitely perfect for 2. 😉
Enjoy! And if you give this Lemon Ricotta Puff Pancake recipe a try, let me know! Snap a photo and tag me on twitter or instagram!
This post may contain affiliate links.
Buy the Cookbook: Simply Scratch : 120 Wholesome Homemade Recipes Made Easy Now available on Amazon »
THANK YOU in advance for your support!