Why order take-out when you can make this homemade Kung Pao Chicken Stir-fry in the comfort of your own kitchen? A delicious sweet and spicy dish consisting of tender pieces of chicken, peanuts, zucchini and bell pepper in a flavorful sauce! Serve over rice or noodles. Yields 4 generous portions in about 1 hour.
Awhile ago Pat and I had our first Panda Express experience. We love Chinese food in any form. From a favorite family-owned restaurant to the popular chains – bonus points if there's a drive through! Once on a I'm-in-no-mood-to-cook night, Pat suggested getting carryout. Uh okay, twist my arm. And so we drove 35 minutes to the nearest Panda Express. Yes, it had a drive through and yes it was everything and then some!
We ended up ordering a bunch of different items from the menu, like orange chicken, broccoli beef, chow mein noodles and fried rice. Kung Pao chicken was also in one of the adorable red paper cartons and it was my personal favorite. Deliciously spicy, subtly sweet and lots of veggies! I was instantly smitten and dedicated my time to making my very own Kung Pao Chicken Stir-fry.
Needless to say, this is now a favorite in our household.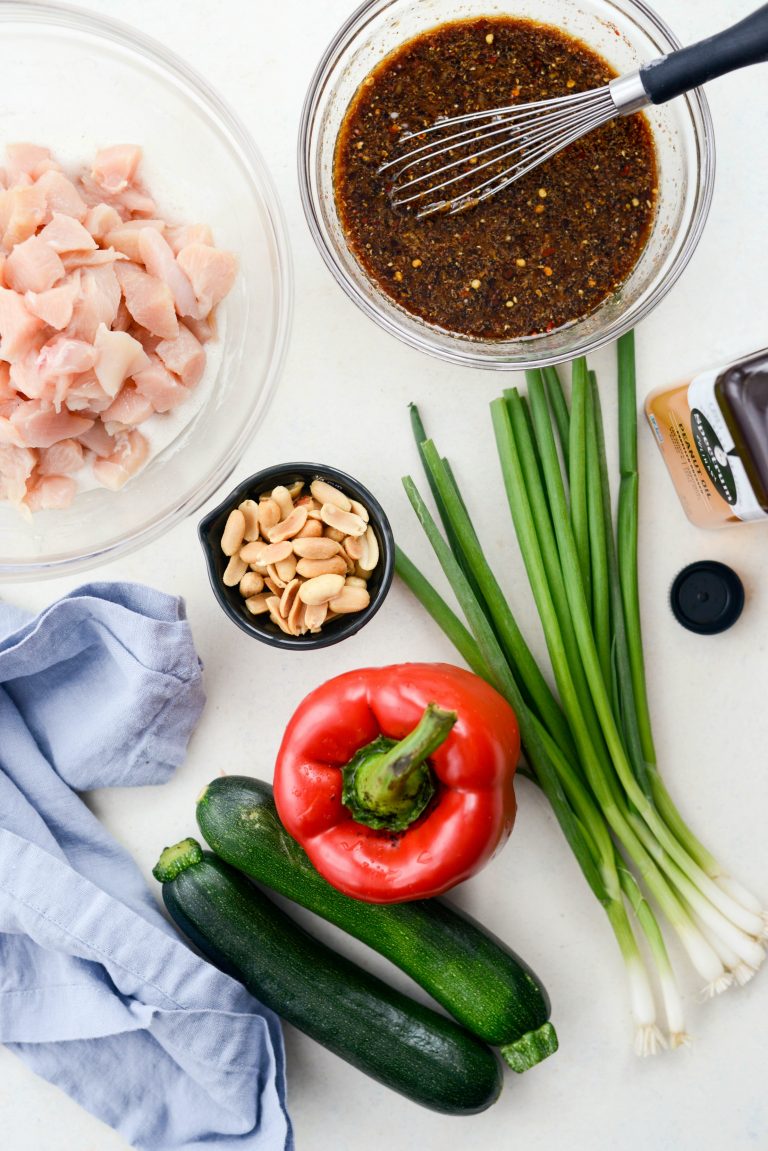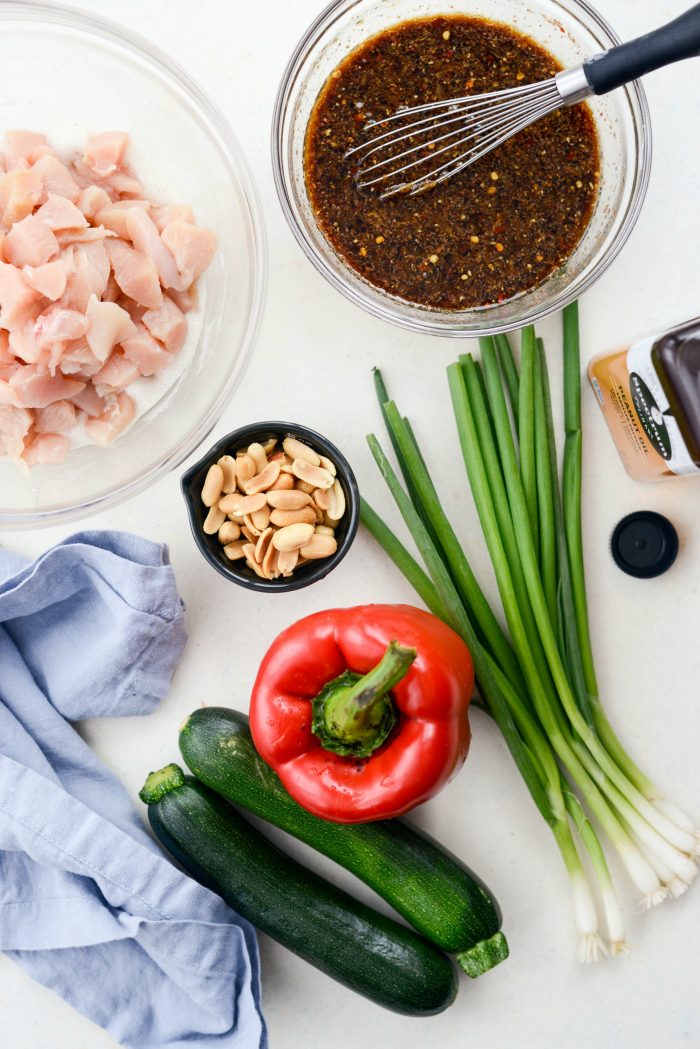 To make this Kung Pao Chicken while in your pj's, here's what you will need:
1-1/4 pounds boneless
skinless chicken breasts
an egg white (not pictured – face meet palm)
1/4 teaspoon white pepper
4 teaspoons peanut oil
2 medium zucchini
1 red bell pepper
1 bunch green onions
1/3 cup roasted peanuts
Oh and the most delicious Kung Pao sauce ever. Naturally.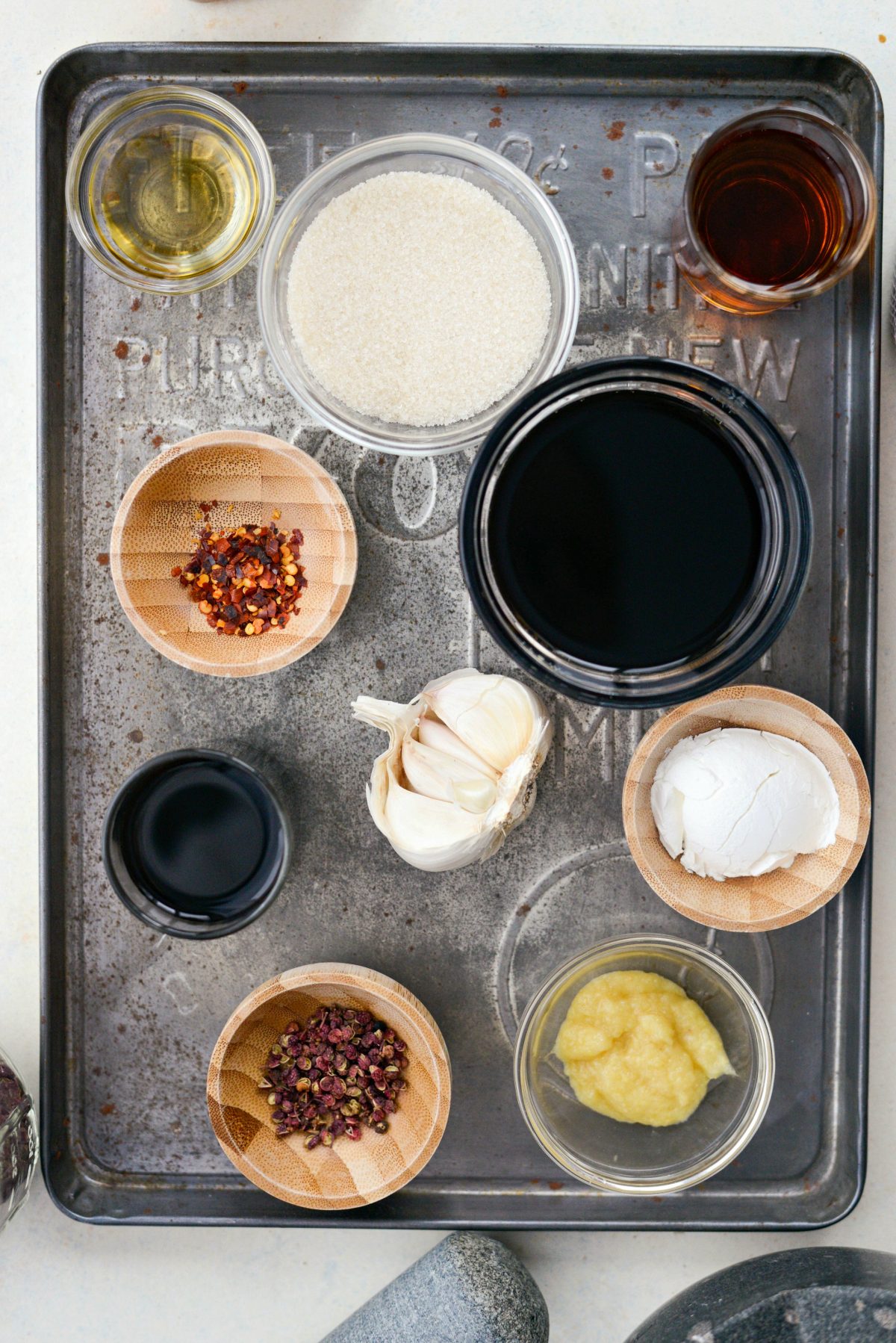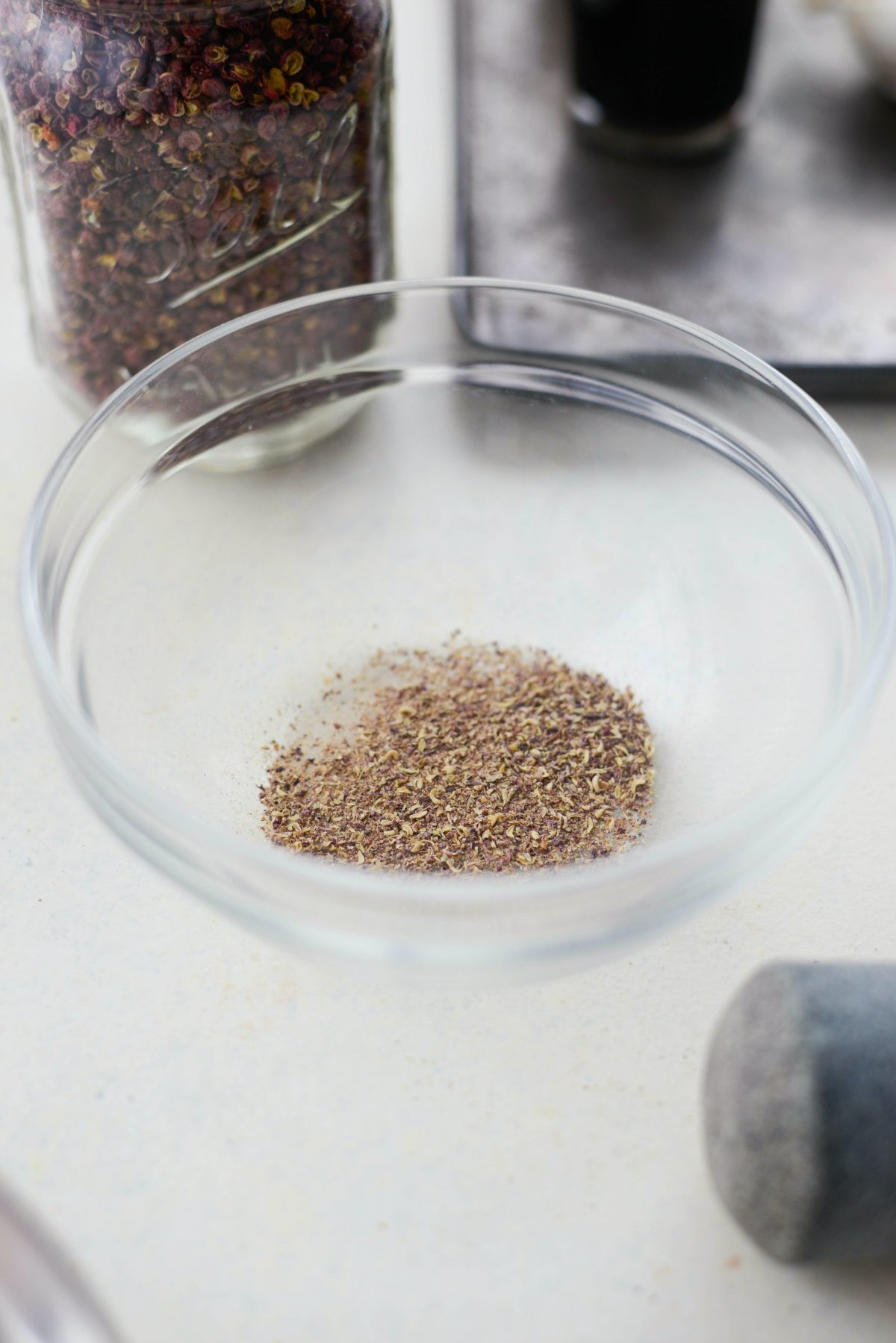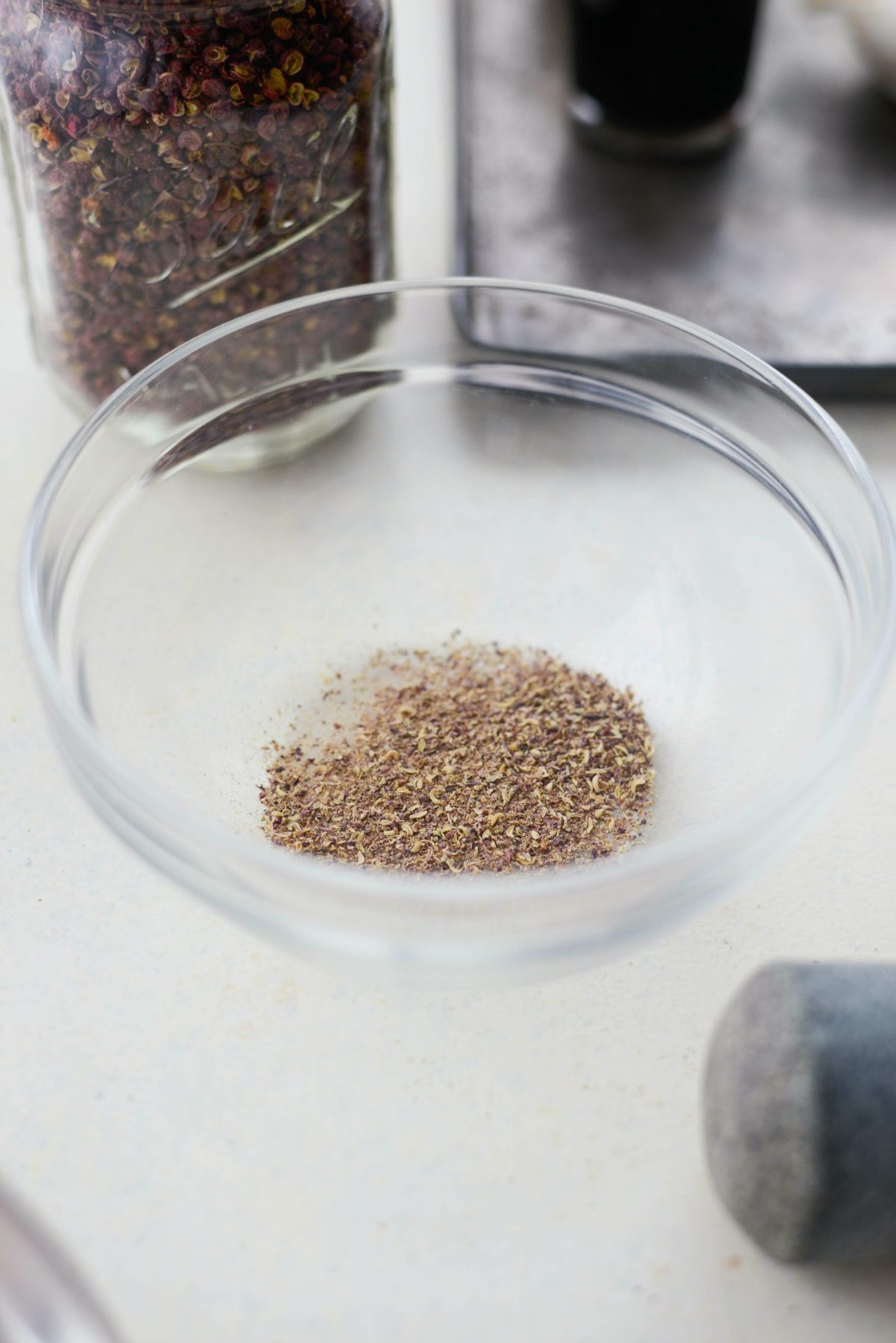 To make this homemade Kung Pao sauce, you will need:
1/3 cup sugar
1 tablespoon cornstarch
a teaspoon (ground) Szechuan peppercorns – click here to see the best way to prepare/ground your own Szechuan peppercorns
1 teaspoon red pepper flakes
6 large cloves of garlic
2 teaspoons grated fresh ginger
1/3 cup chinkiang vinegar
1/4 cup low-sodium tamari
1/4 cup shaoxing wine
1 tablespoon peanut oil.
You can play with these a little, for a more vinegar-y sauce up the chinkiang vinegar or add more sugar for a sweeter sauce.
My guess is that a couple of these ingredients may seem unfamiliar to some of you. However, in order to make an authentic tasting stir-fry sauce, these ingredients are needed. I don't know of any substitutes to tell you to swap in for these that would yield the same result. I've linked to the items/brands I use in the recipe printable and the end of this post. If you're viewing this on your cellphone, there's a chance they won't show up and you'll need to go to a laptop/desktop or iPad.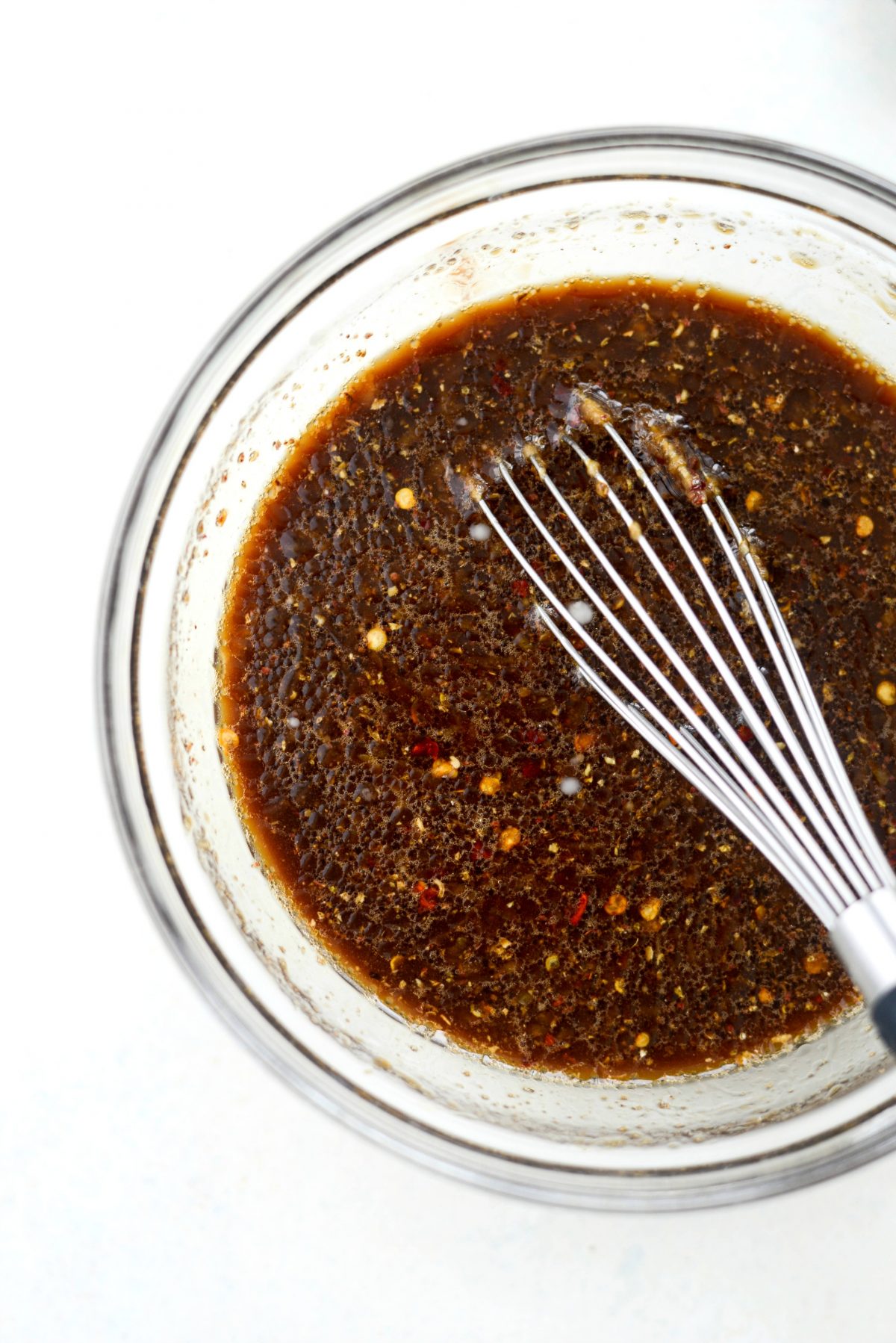 So, with that said, into a mixing bowl measure the sugar, cornstarch, ground Szechuan peppercorns, red pepper flakes (if using), garlic, ginger, vinegar, low-sodium tamari and shaoxing wine. Then whisk well to combine and then scoot this off to the side.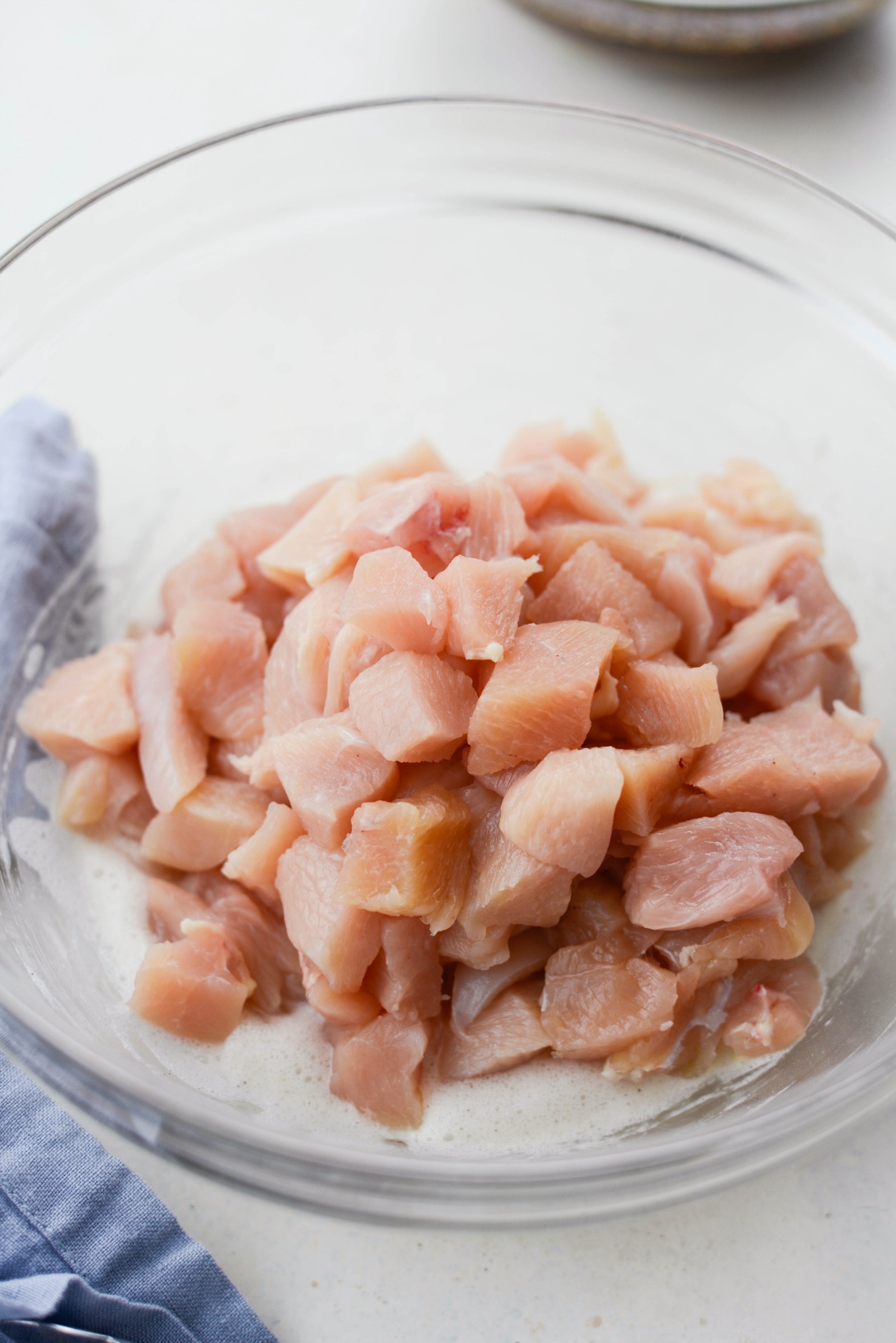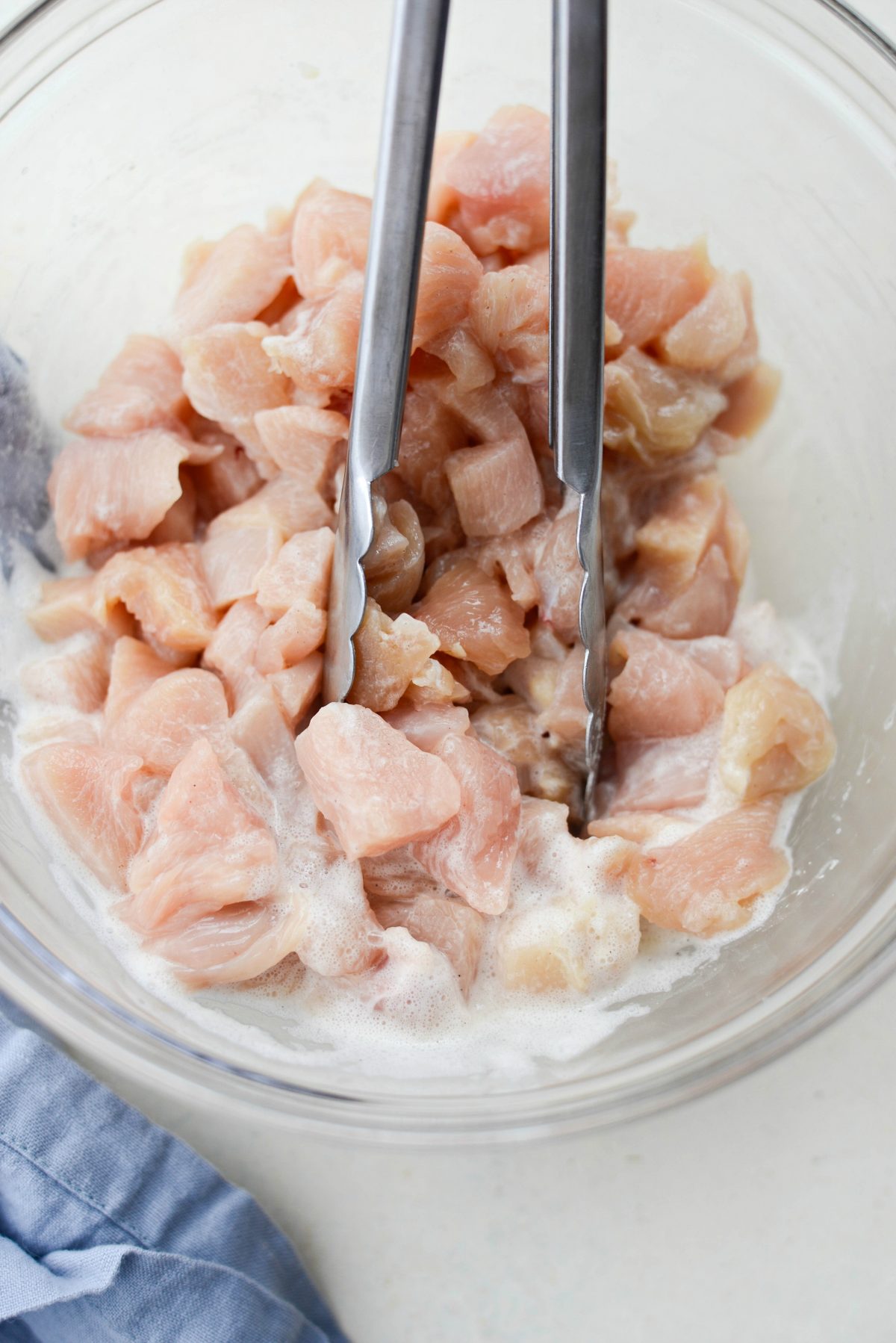 Next, heat 1 teaspoon of peanut oil a wok or large chefs pan over high heat. Then in a larger mixing bowl, whisk the egg whites until frothy. Measure and add in 2 teaspoons cornstarch and the white pepper, stirring to combine. Add in the diced chicken and toss until coated evenly.
This coating will give the chicken a crispy "breading like" texture when seared in the hot wok.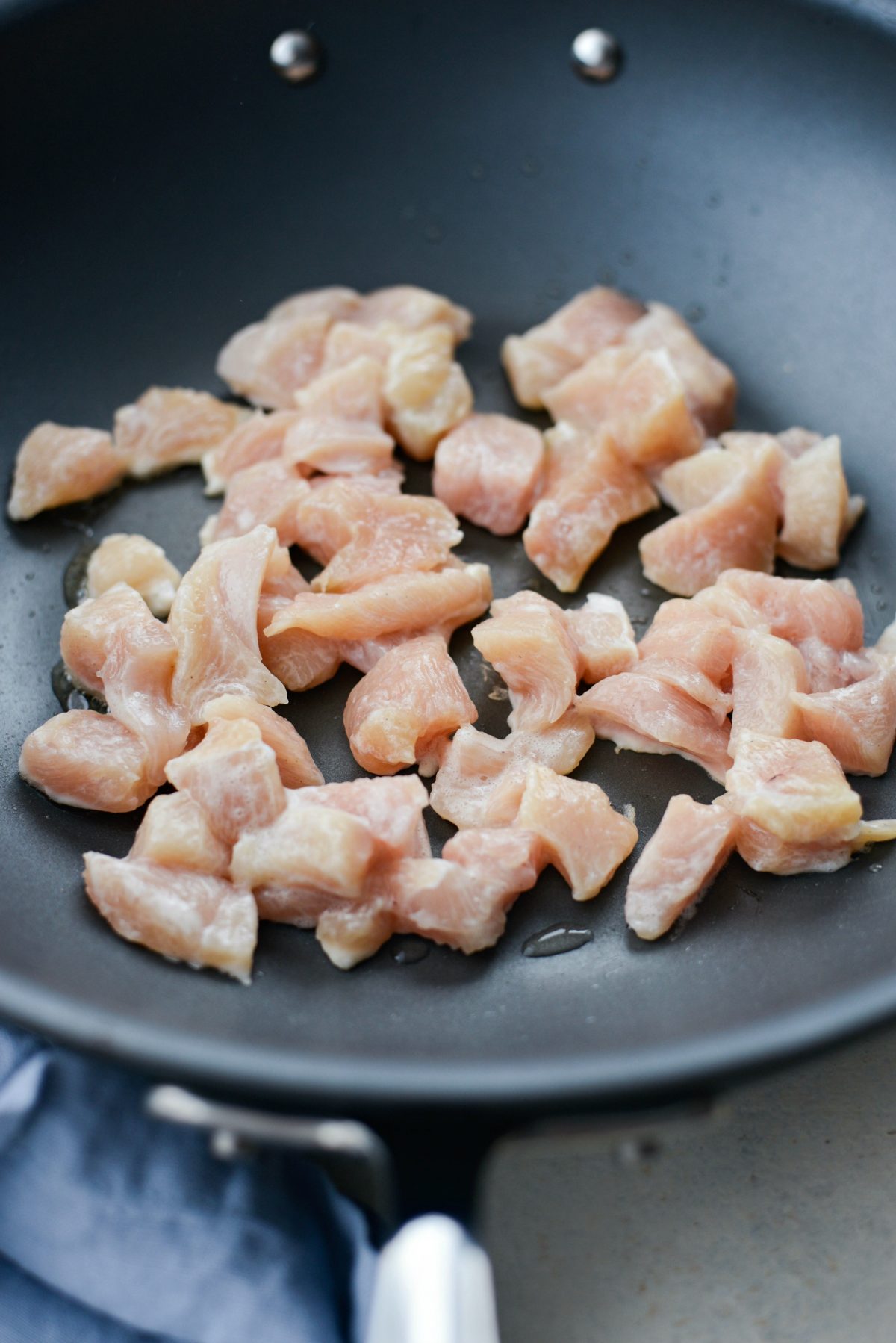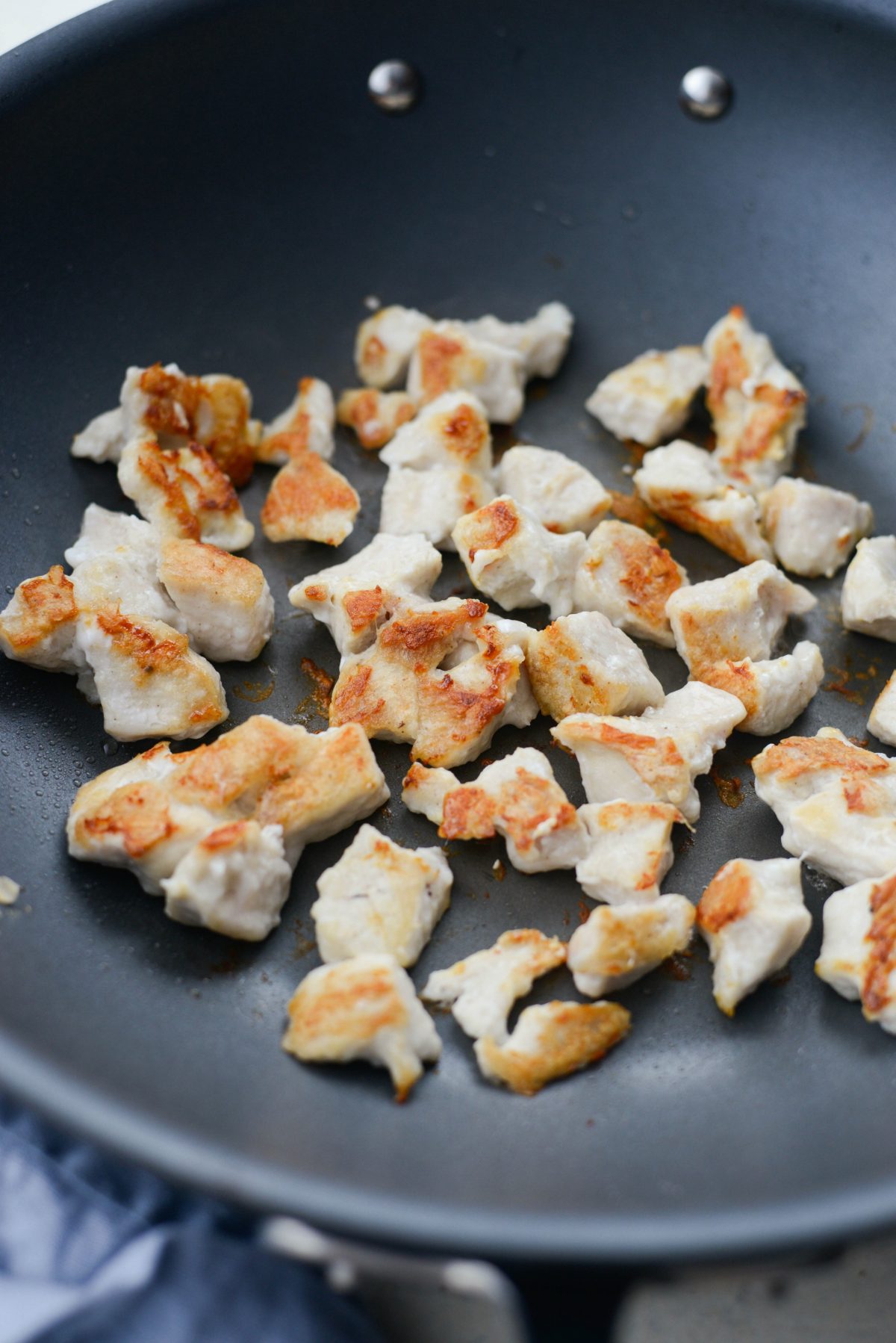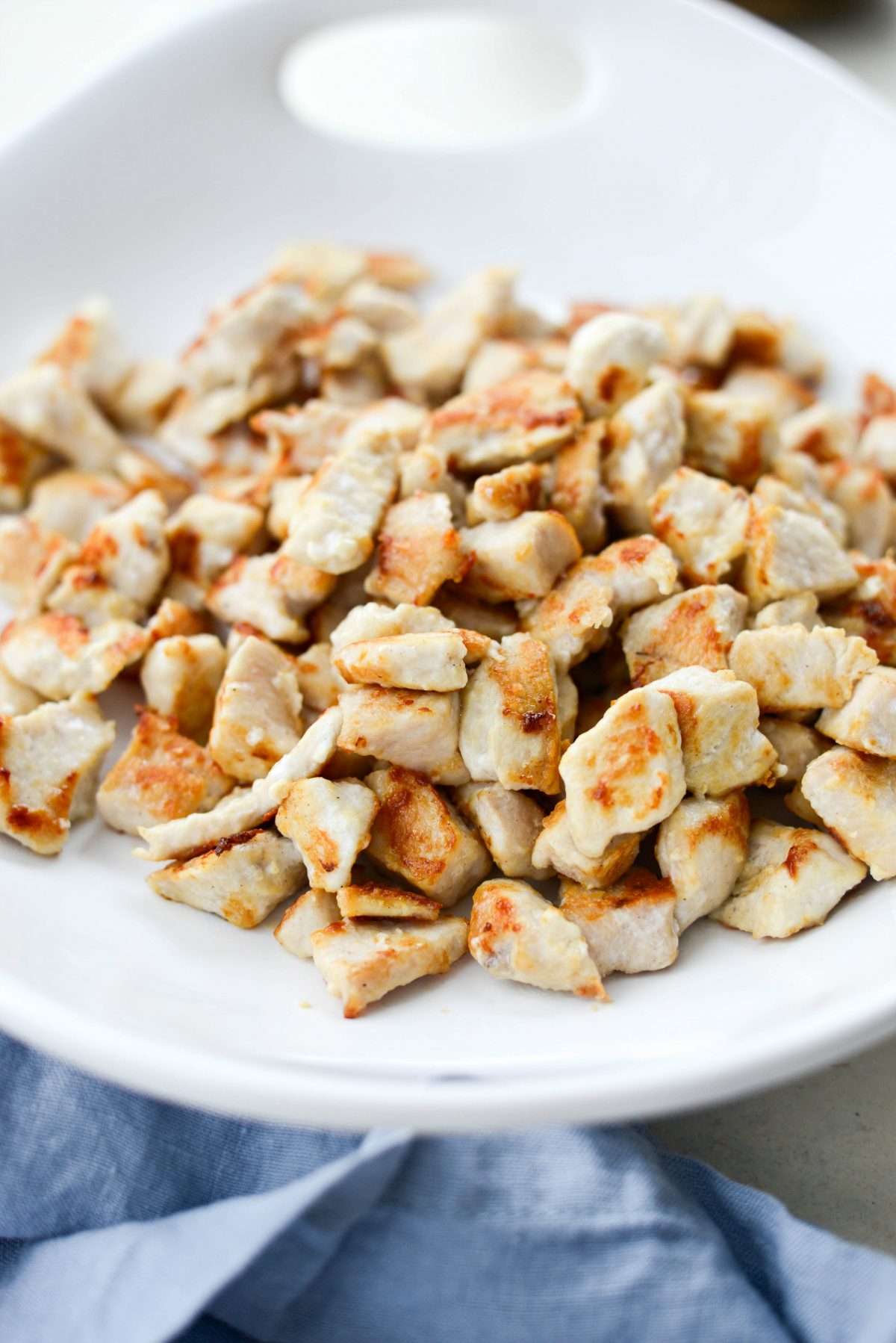 Get your wok HOT!
Once it's hot, work in batches (of 3) adding the chicken in an even layer, let the chicken cook for 5 to 6 minutes to form a deeply golden crust before turning and continuing to cook. Then when the chicken is fully cooked, transfer it to a clean dish and repeat with the remaining chicken, adding up to 2 more teaspoons of oil as needed.
Don't rush this step. Allow your pan to get REALLY hot and don't overcrowd the pan, or else you'll risk steaming the chicken instead of searing, thus missing out on those caramelized edges and flavor.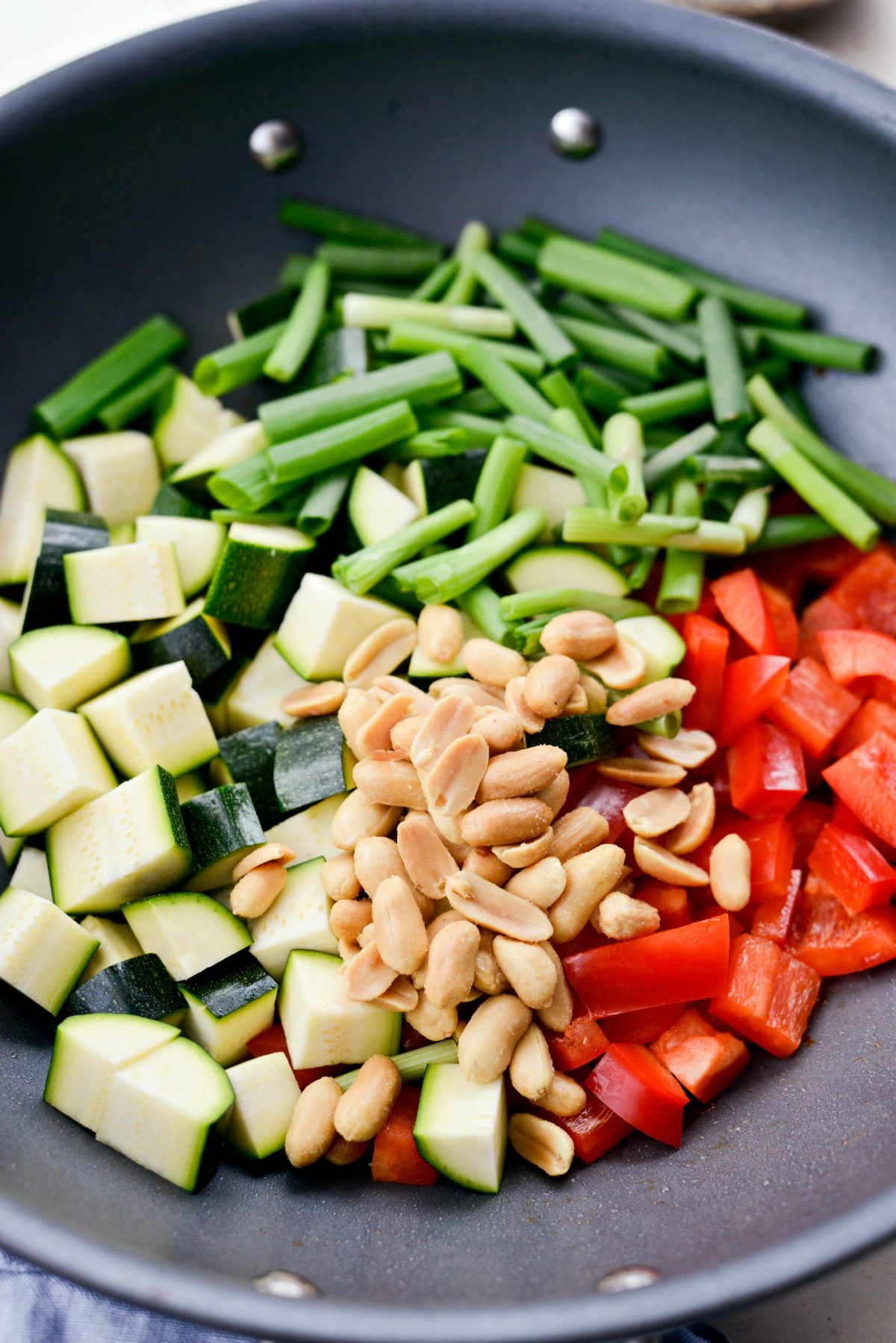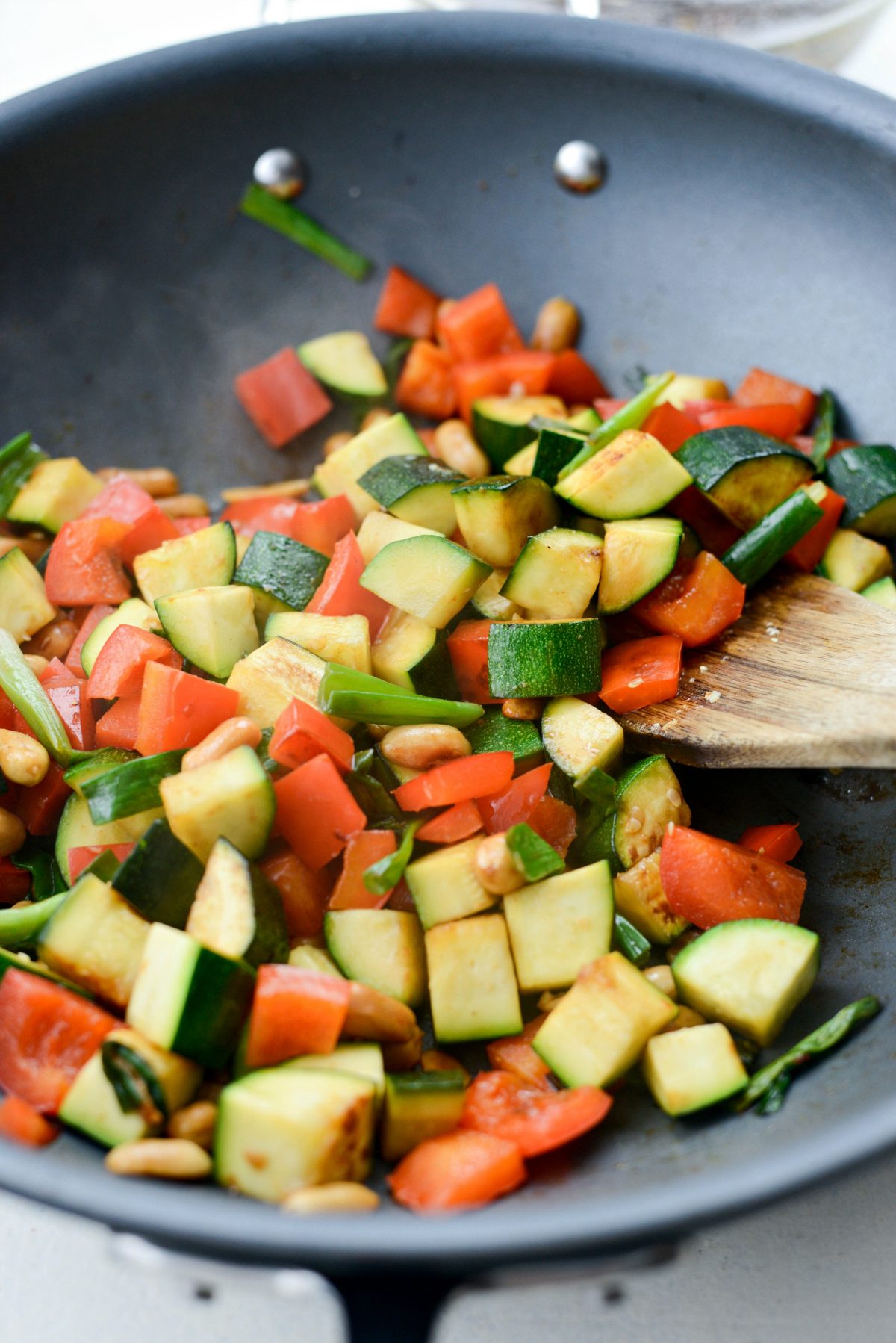 Next add in the final teaspoon of peanut oil to the wok along with the diced zucchini, peppers, green tins and peanuts and a pinch of kosher salt. Toss to coat and let the vegetables cook for about 3 minutes only stirring occasionally so they have a chance to caramelize.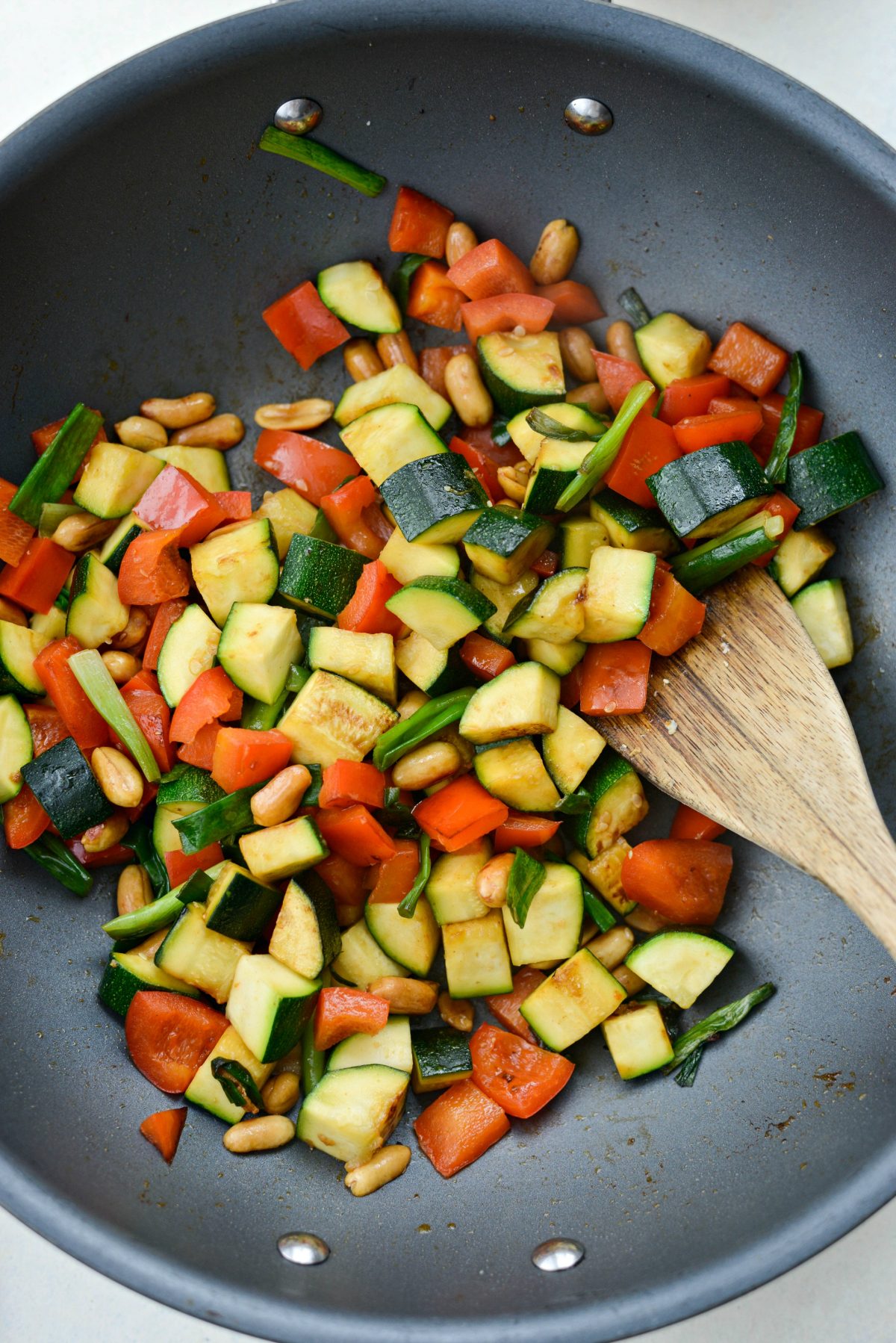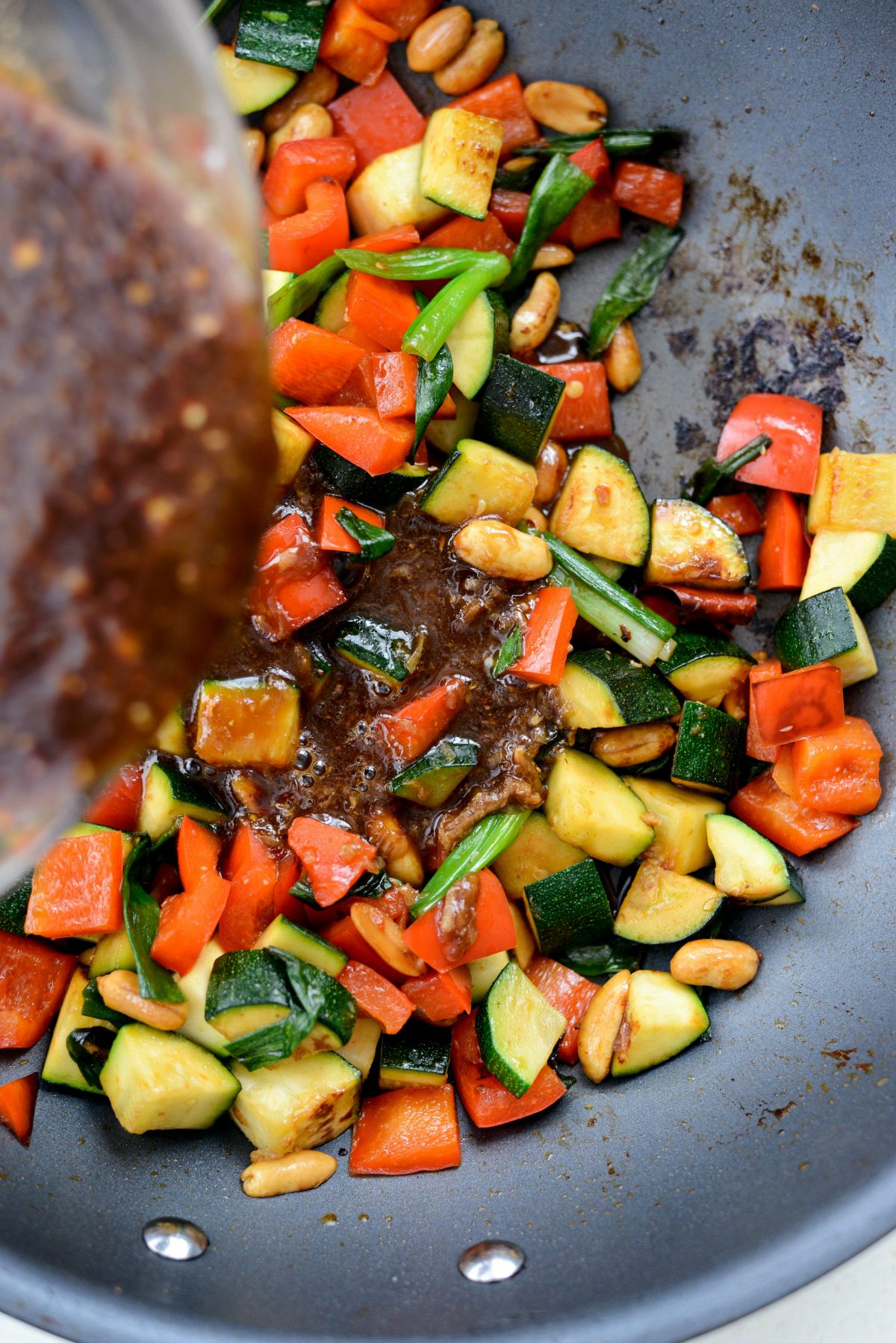 When the vegetables have some color and have soften, pour in the Kung Pao sauce and stir until thickened. About 1 to 2 minutes. Next, stir in the (fully) cooked chicken, tossing to coat until heated through.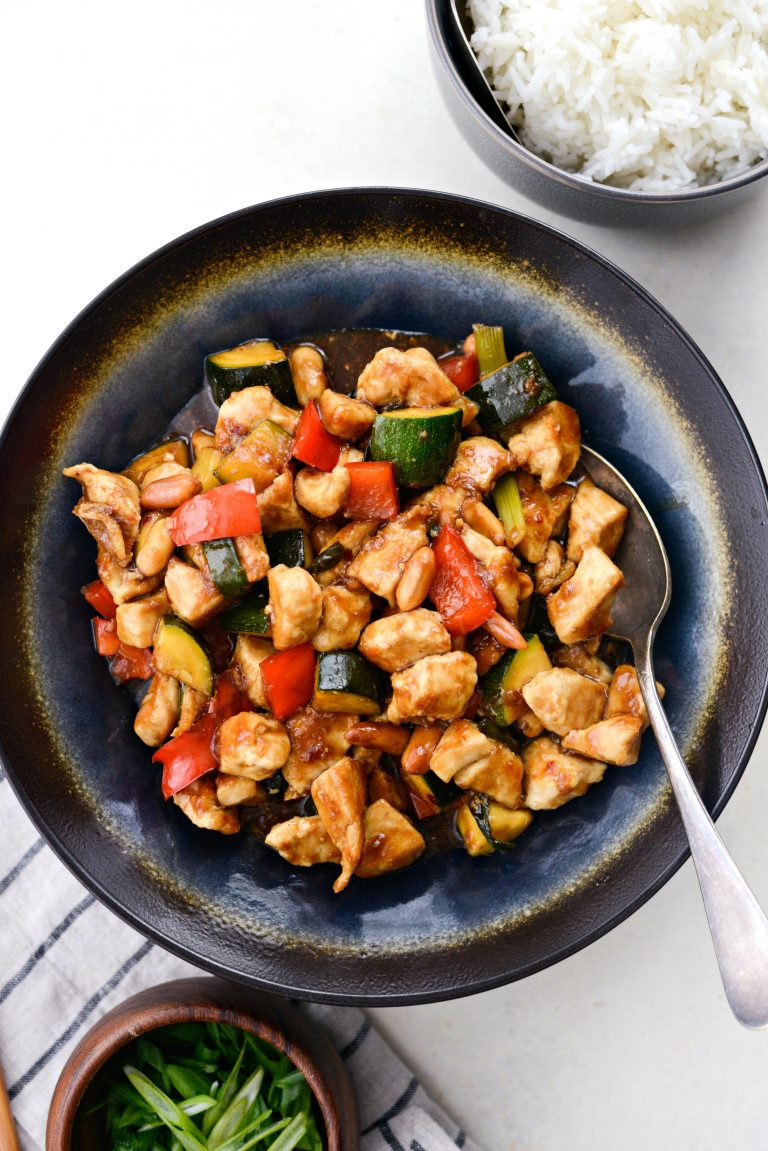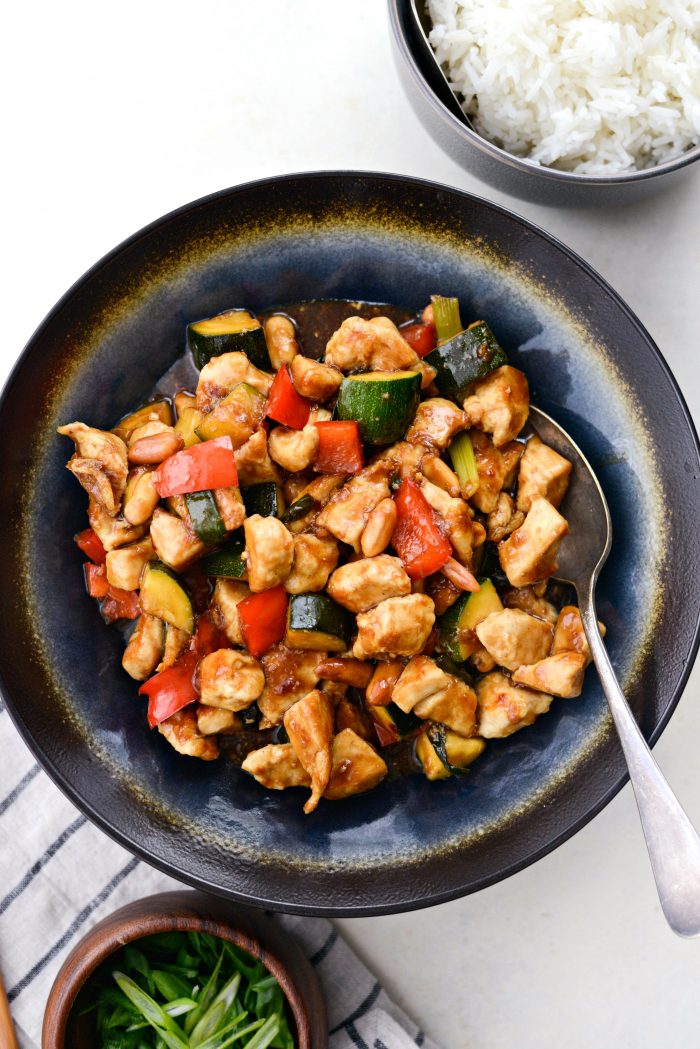 Serve with rice or rice noodles. Sprinkle with green onions, more chopped peanuts and pepper flakes for some spicy heat.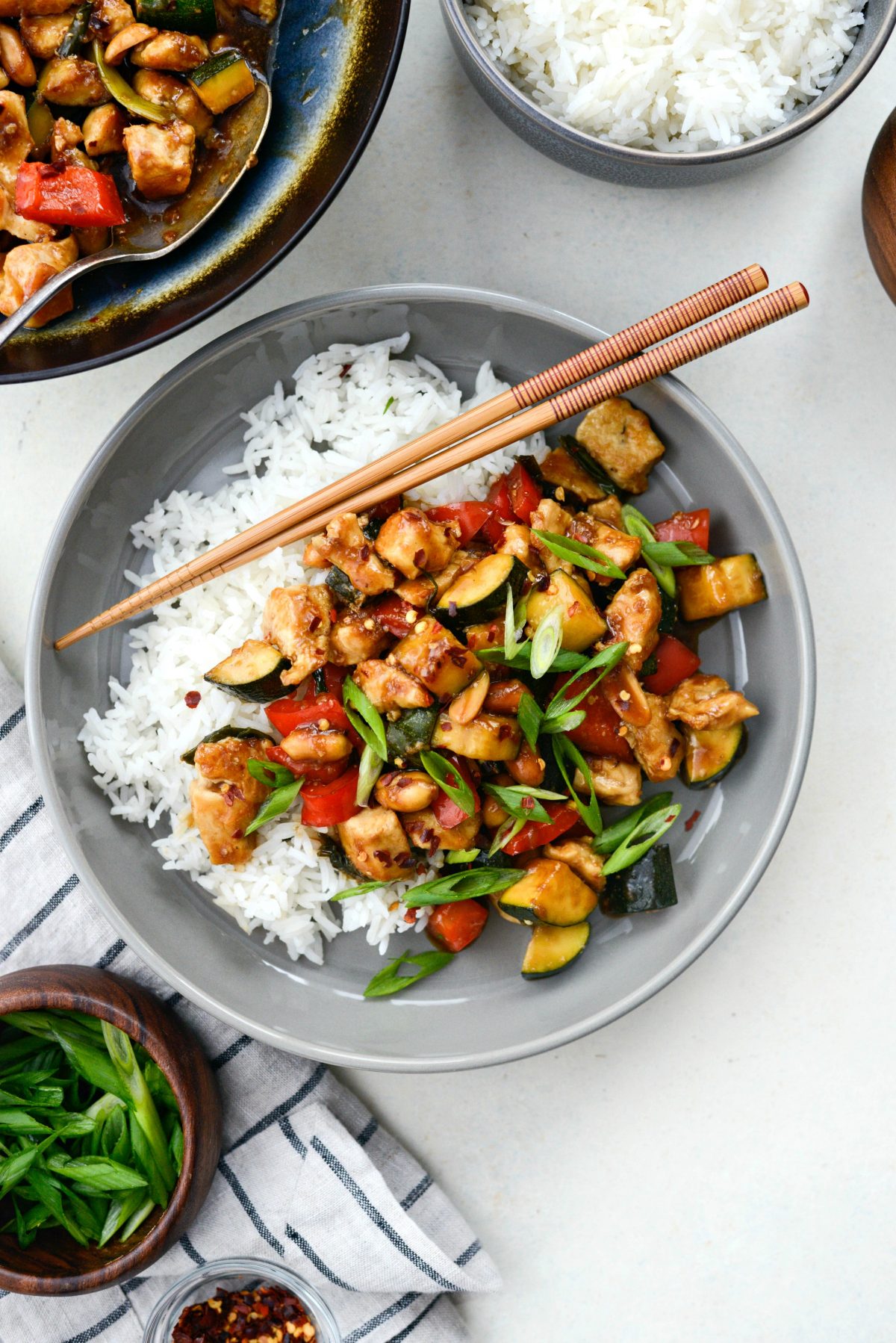 Chopsticks optional.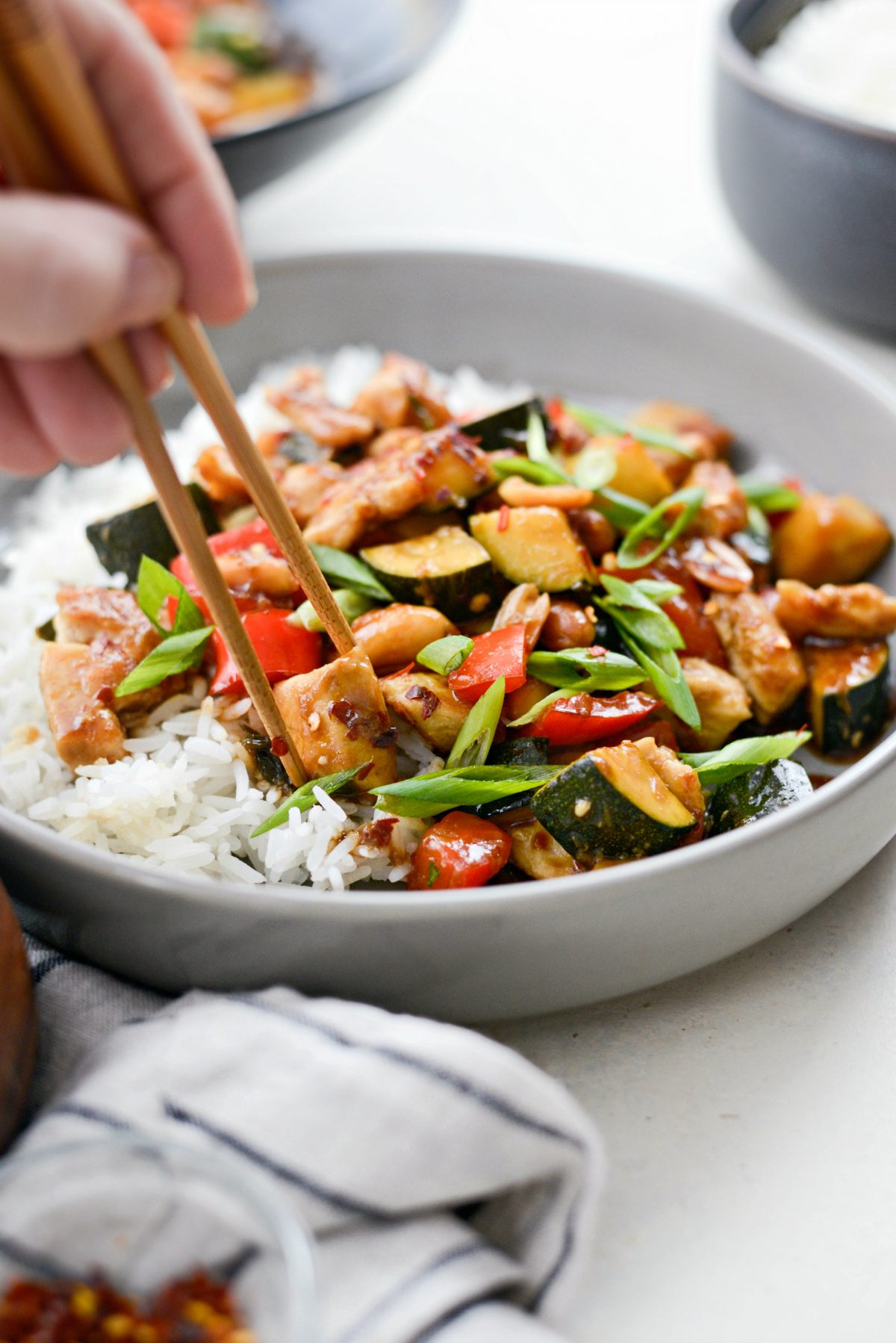 Enjoy! And if you give this Kung Pao Chicken Stir-fry recipe a try, let me know! Snap a photo and tag me on twitter or instagram!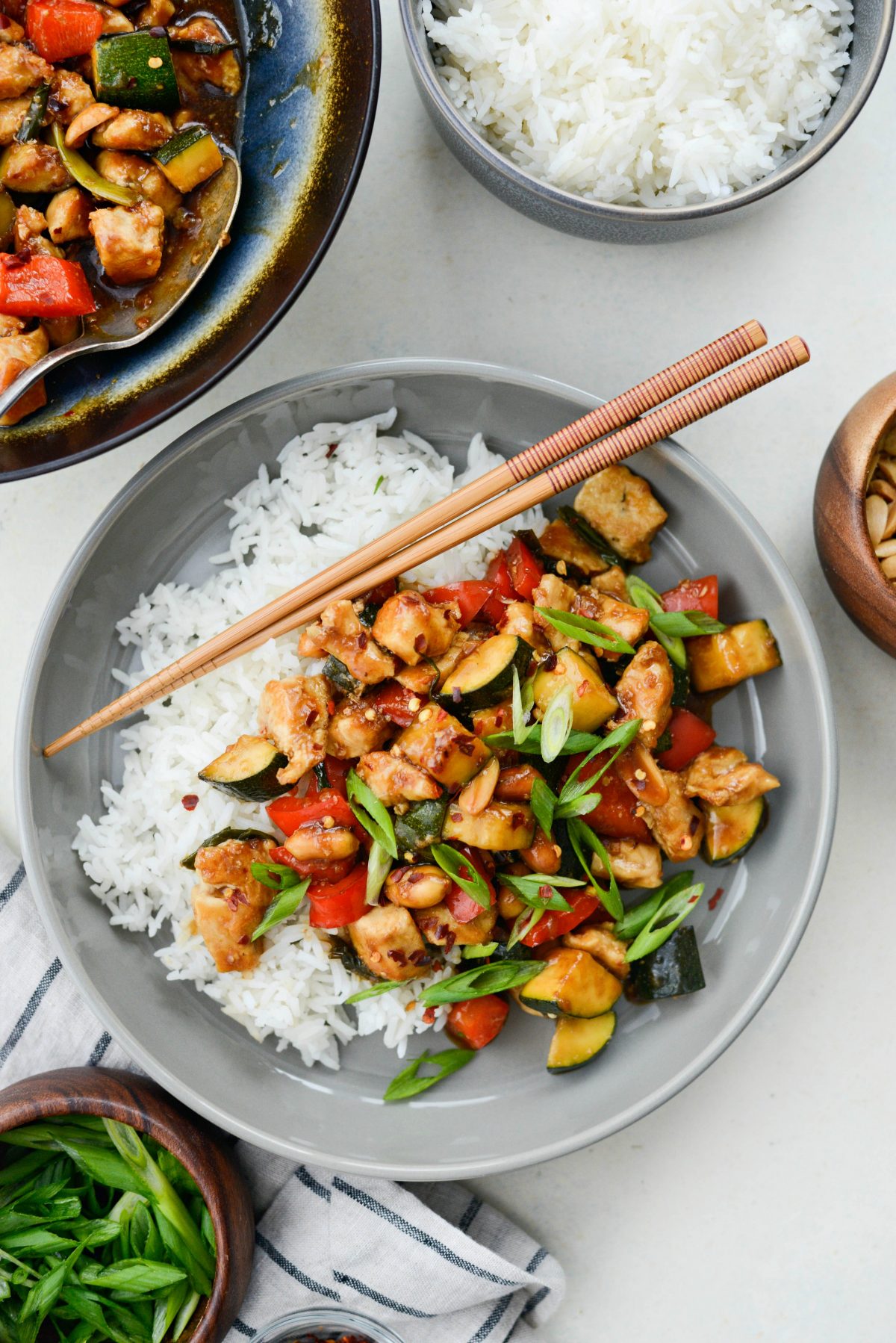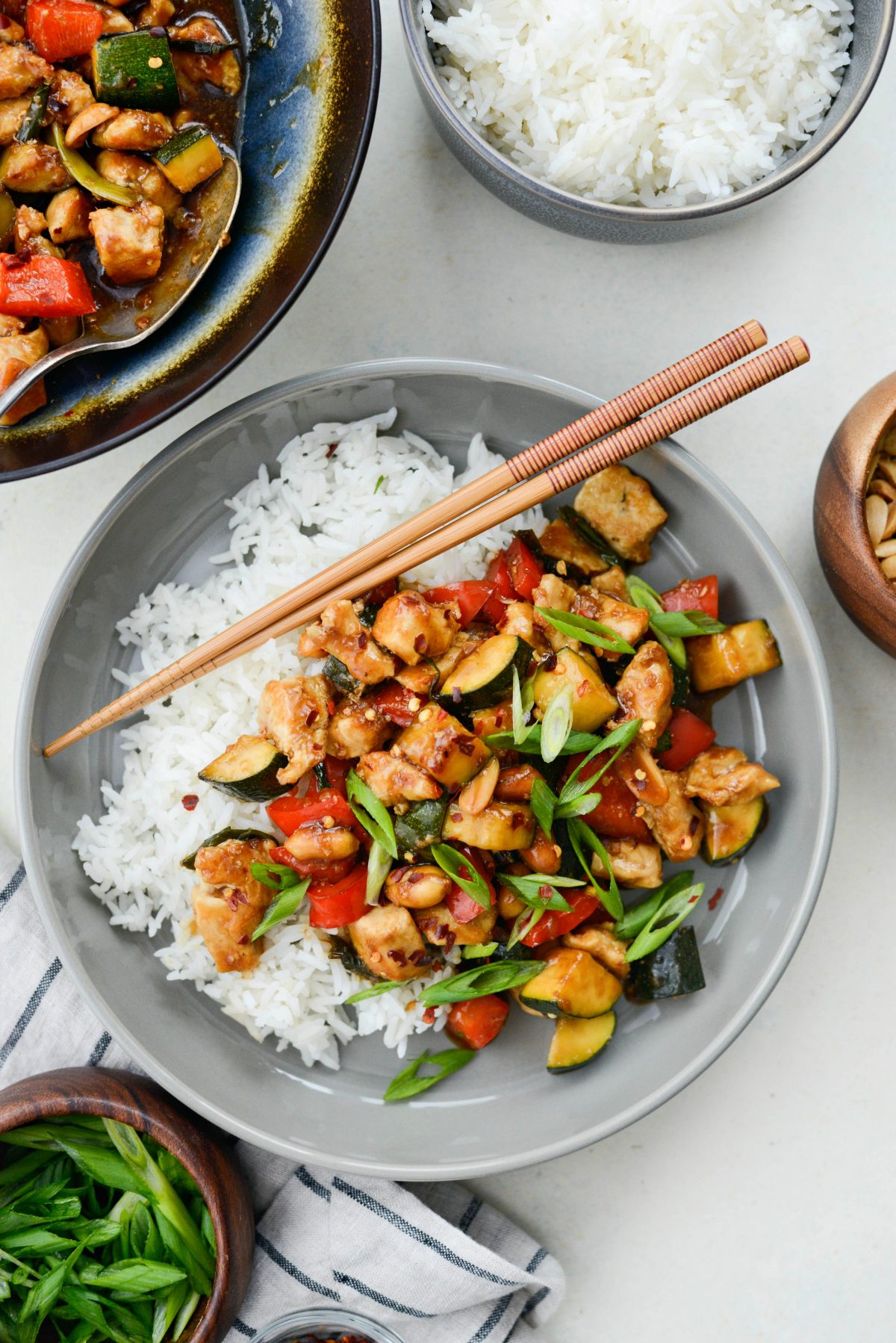 This post may contain affiliate links.
Buy the Cookbook: Simply Scratch : 120 Wholesome Homemade Recipes Made Easy Now available on Amazon »
THANK YOU in advance for your support!